We had never been to Greece until our trip to Santorini. So the thought of island hopping from Santorini to Ios was hard to pass on. We booked our accommodation using booking.com and our ferry over with Ferryhopper. Look at what we got up to. We hope it inspires you to visit this awesome little island.
TRAVELLING TO IOS VIA FERRY
Having boarded our Seajets ferry from Santorini, our journey would take approximately 40 minutes to Ios. Not knowing what to expect, and then seeing this huge catamaran ferry pull into the harbour, we were excited.
Entering through the back of the ferry, we showed our tickets and proceeded to the level above us. We took our seats, and it surprised both of us at just how nice the passenger deck was. The seats were very comfy. There was also a bar and a snack station. The crossing was very smooth.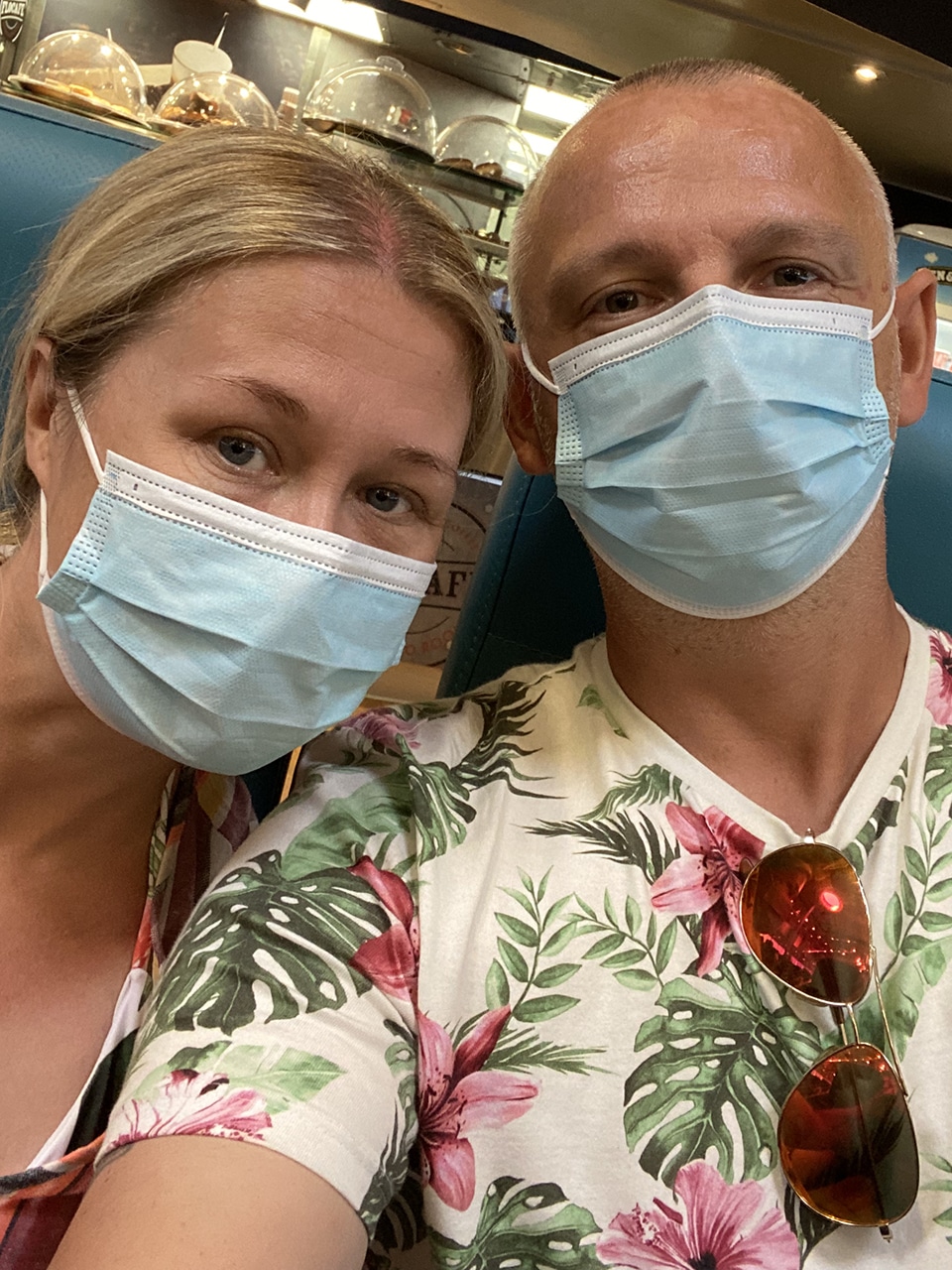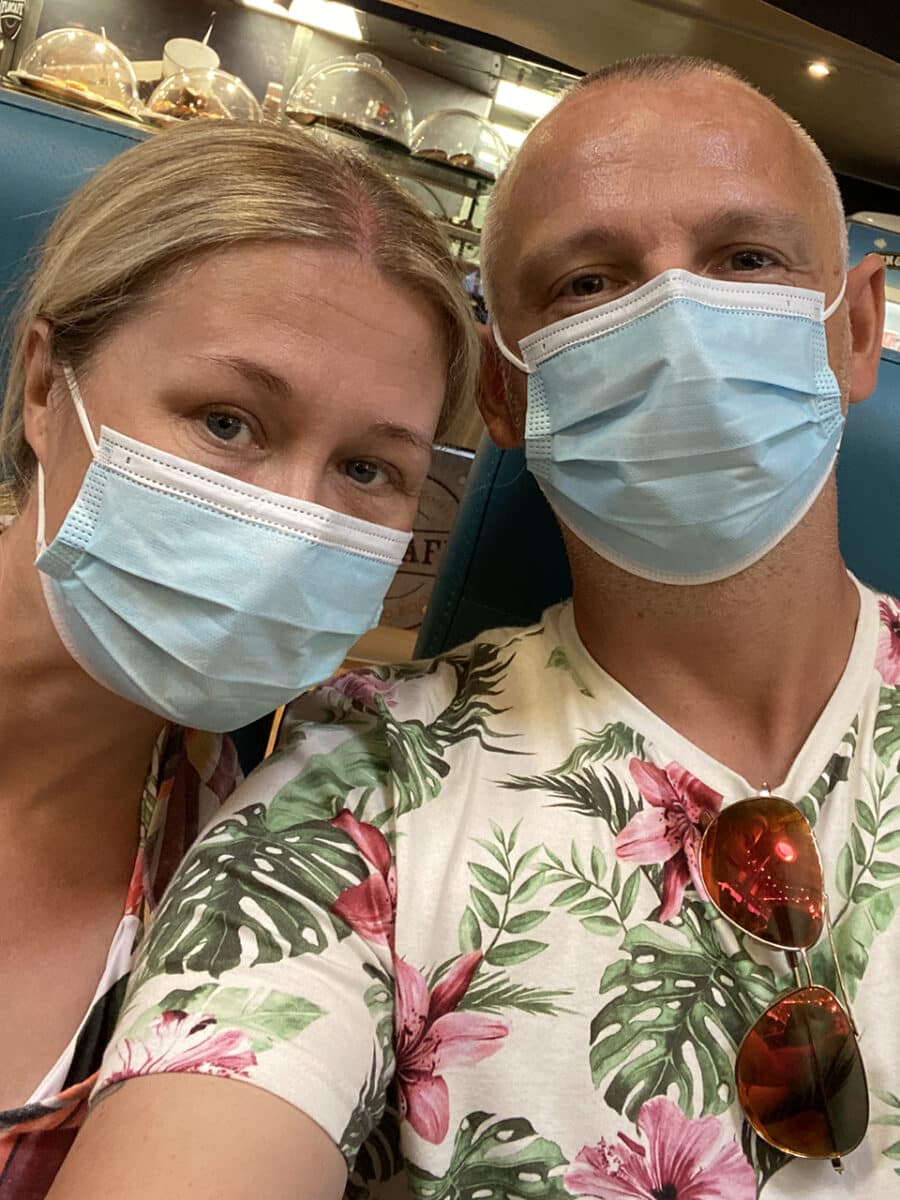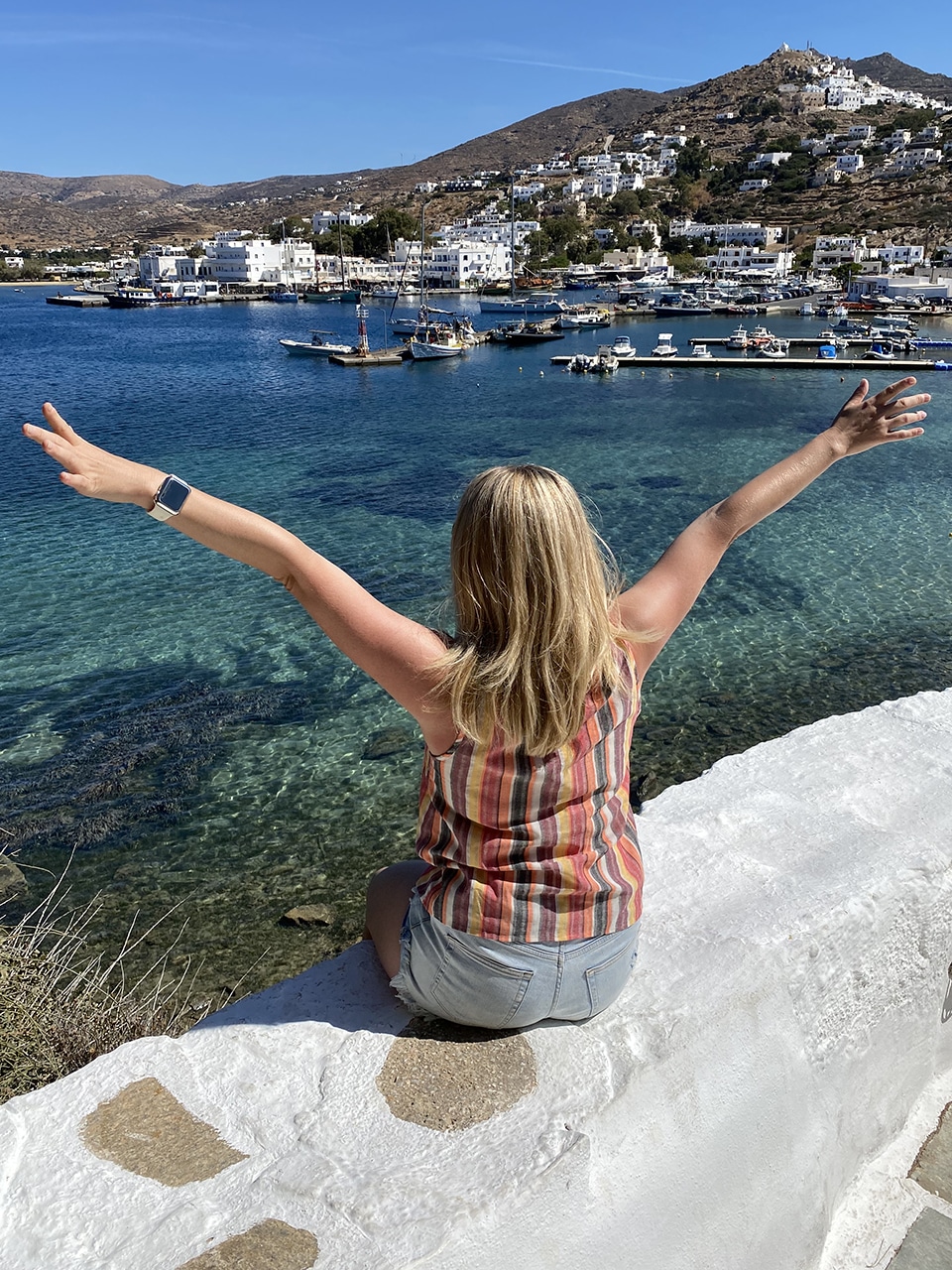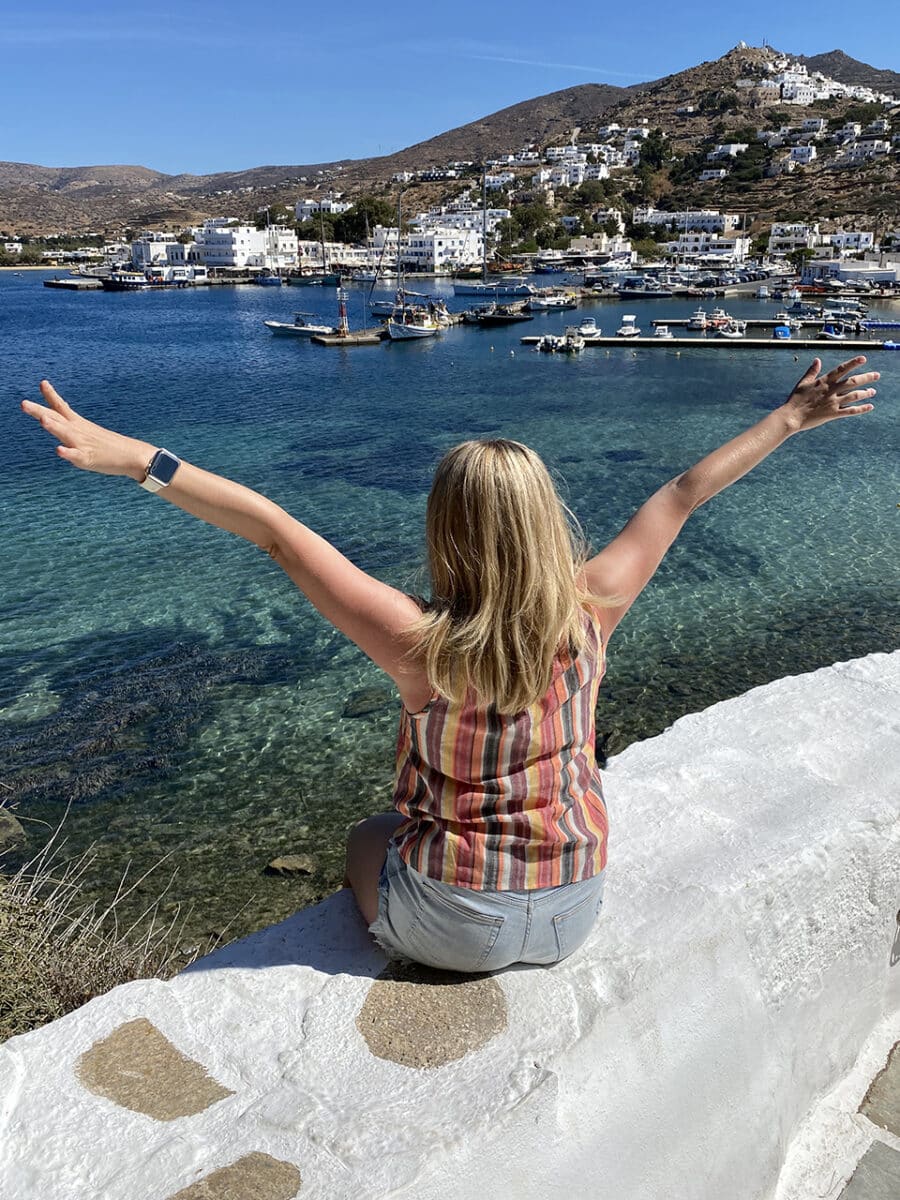 ARRIVING IN IOS
Arriving at the port of Ios, we disembarked from the ferry and had our first glimpse of the island. The harbour was beautiful. Lined with shops and restaurants, the sea was so tranquil and blue.
Our first stop was just a short walk round the other side of the harbour, the Church of Agia Irini. This incredibly beautiful bright white church stands guard over the bay. After we had taken a few photographs and admired the view, a couple of cats who came to play soon joined us.
When the cats got bored and playtime ended, we continued on our way. We had already planned our route to the hotel and we would take in more wonderful sights.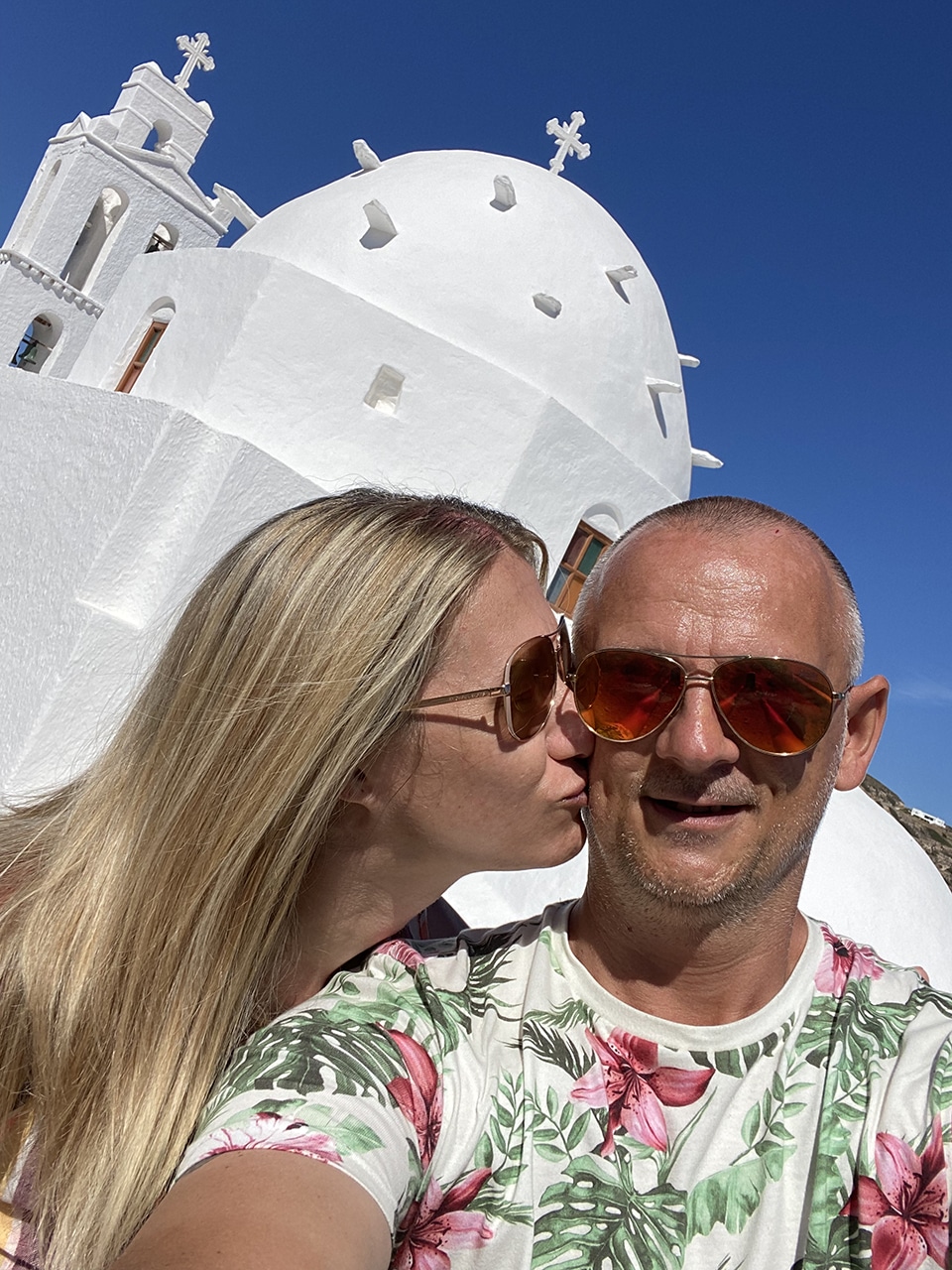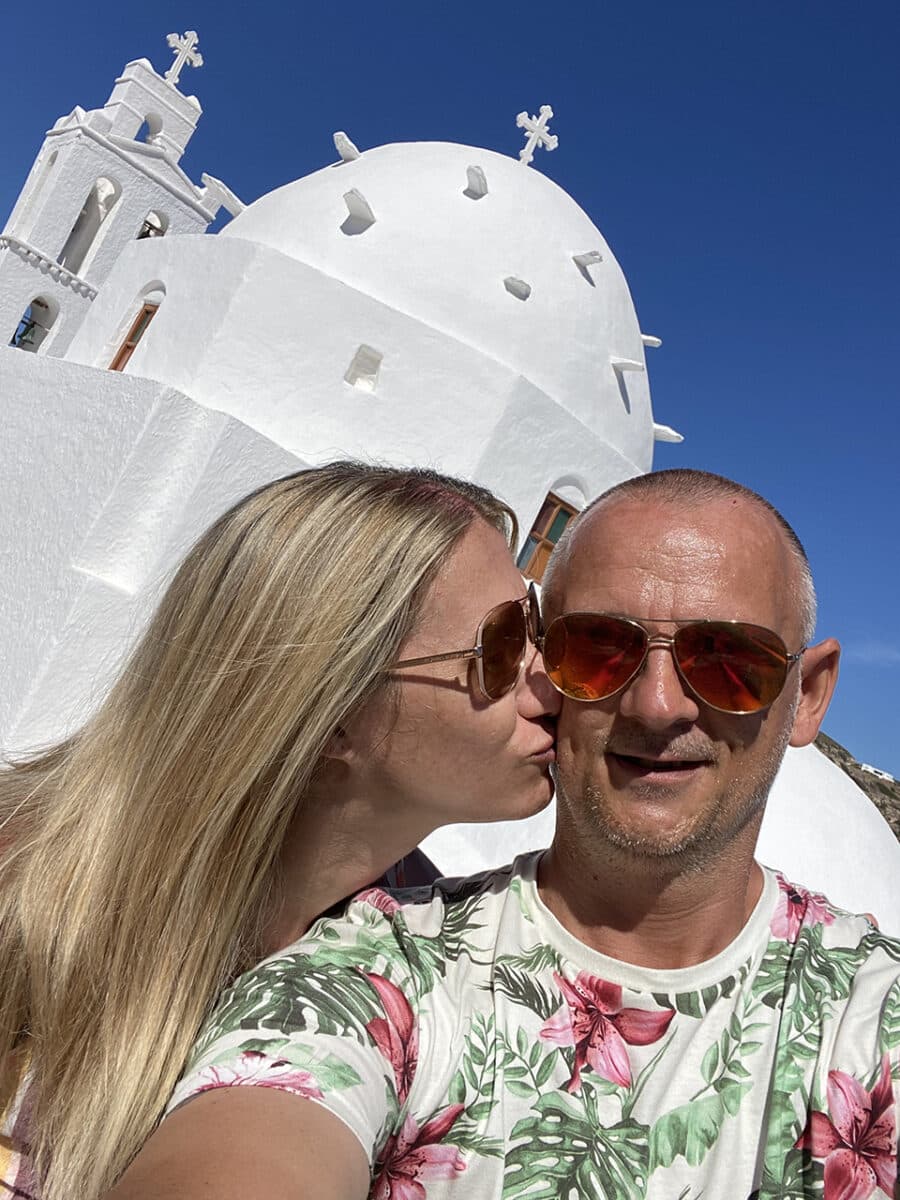 THE TOWN OF CHORA
Walking from the port up into the town of Chora, the capital of the island, we passed the beach of Paralia Gialos. We didn't have time to spend here right now, but we made sure we visited it the following day. After a walk up to the town, we found ourselves at The Cathedral of the Annunciation, Cathedral Church of Ios. The church also overlooks the central square of Ios.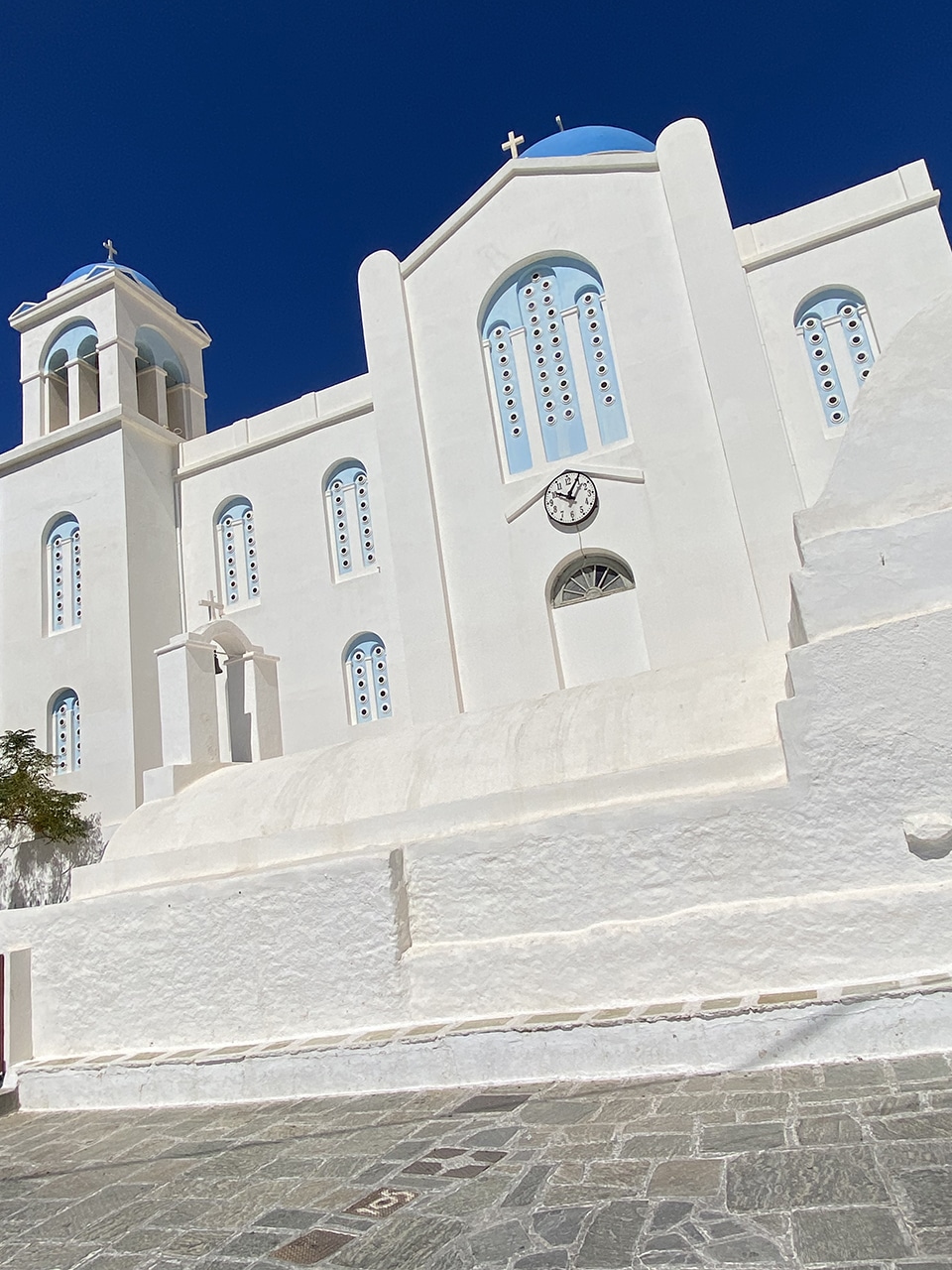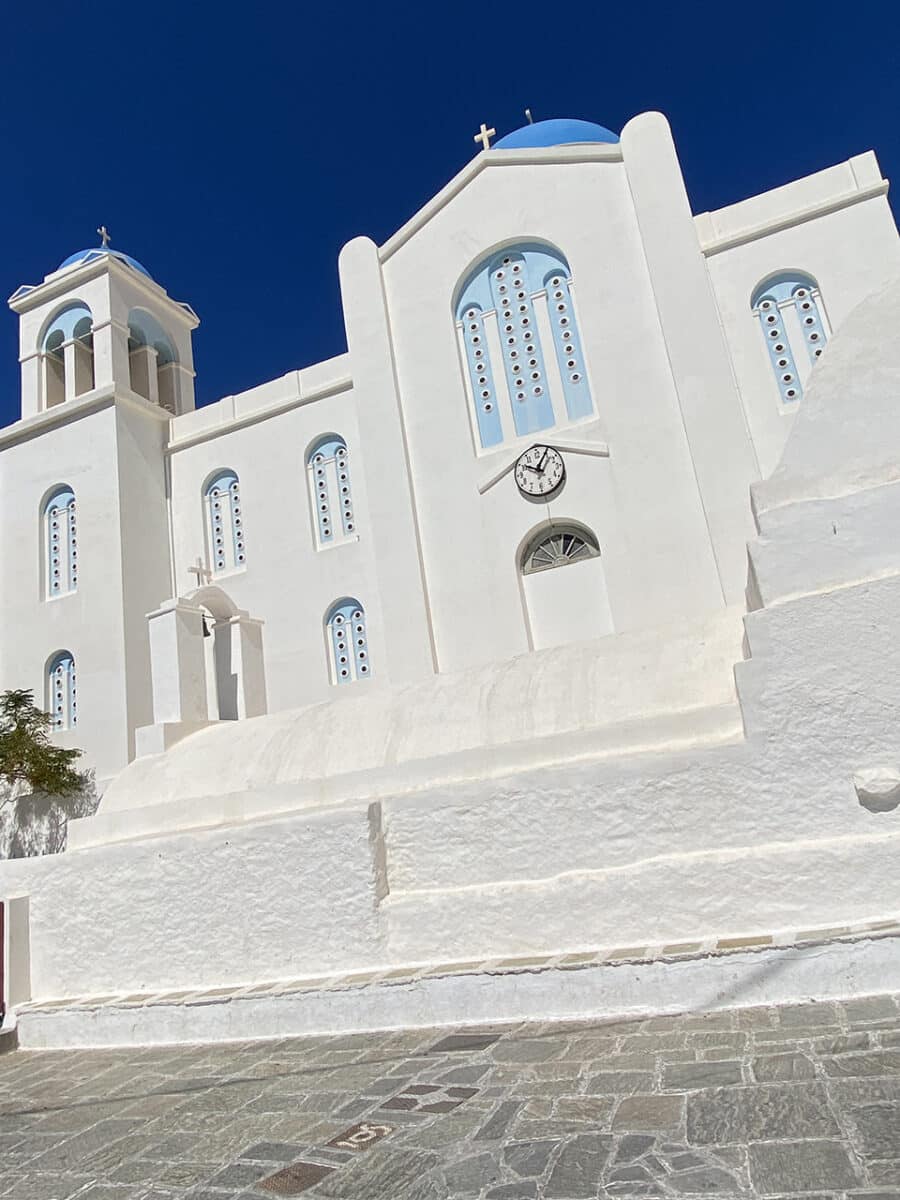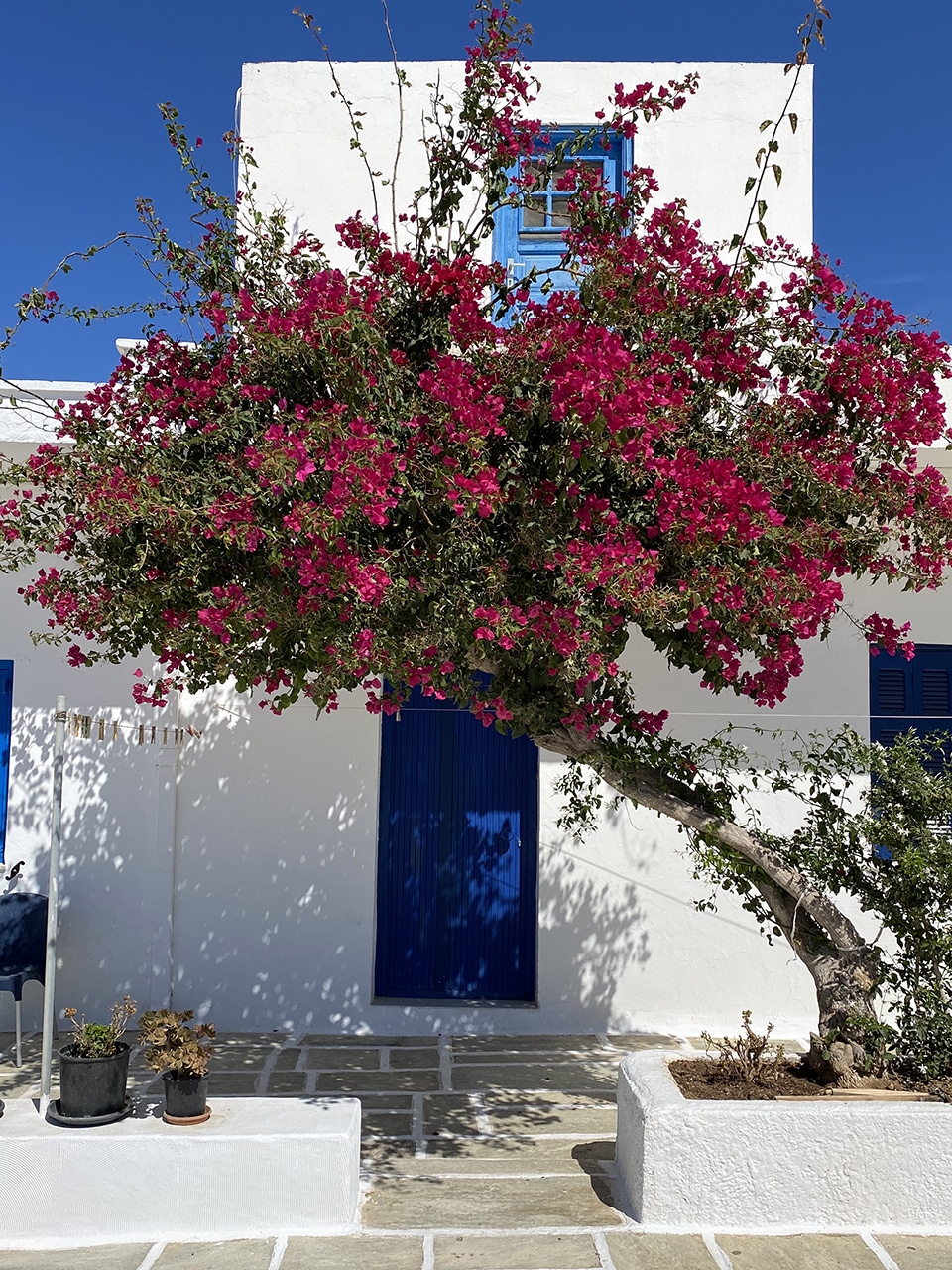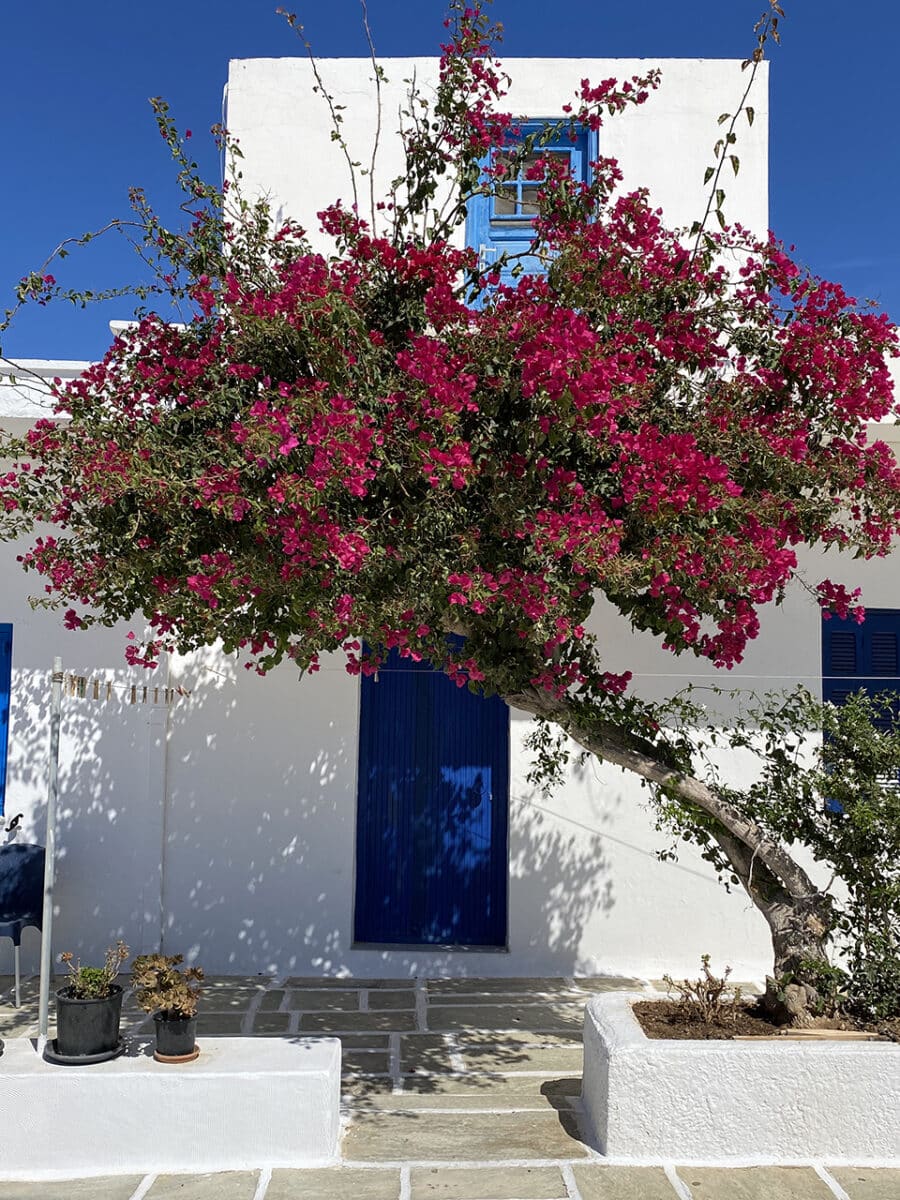 VISIT THE WINDMILLS
Winding our way through the tiny whitewashed streets of Chora, our next stop would be another large public square, where sit the famous windmills of Chora. Twelve traditional mills, some in ruin, some restored, stand proud. The windmills were once used to provide energy and grind grains for the locals and its economy.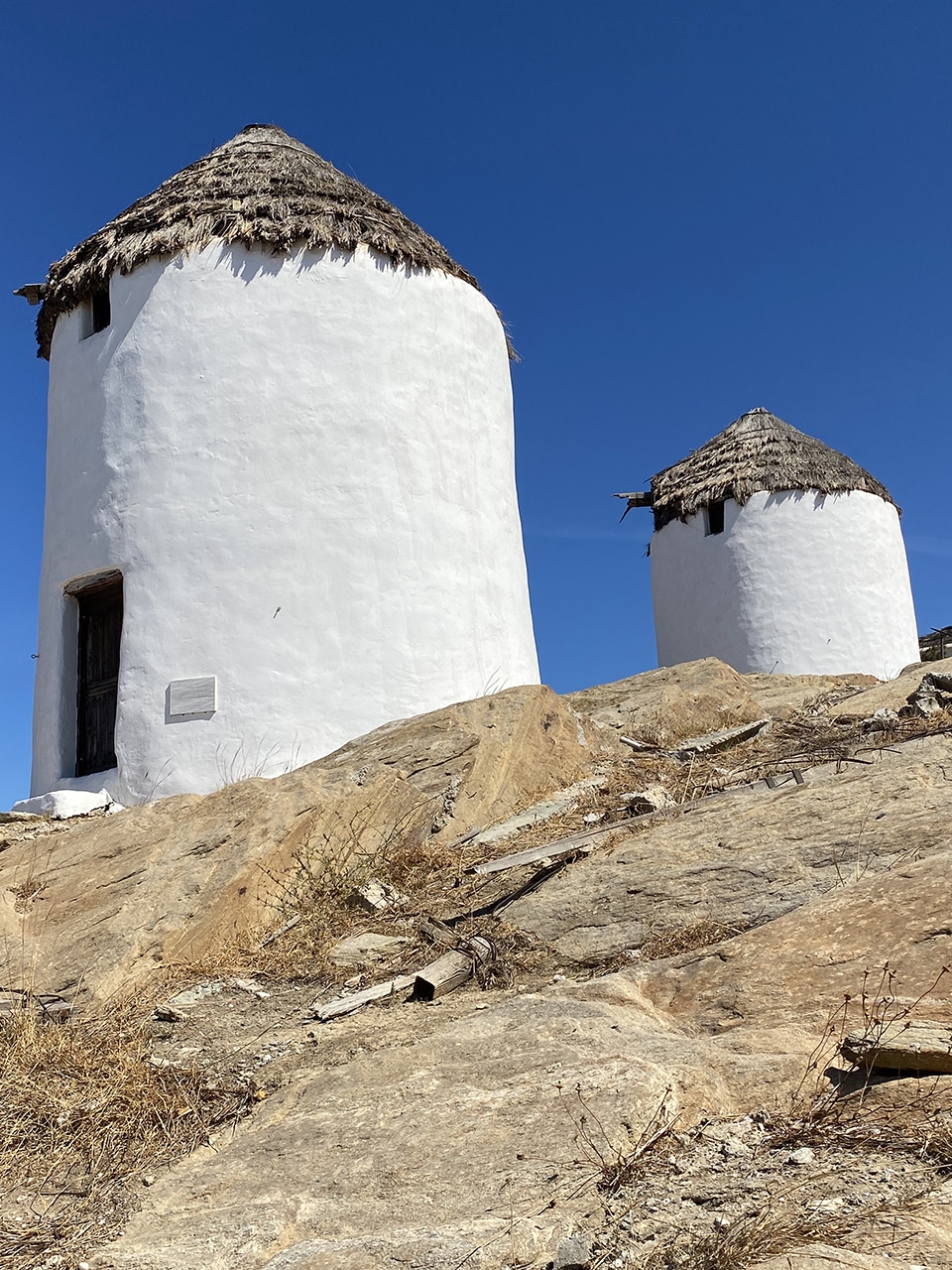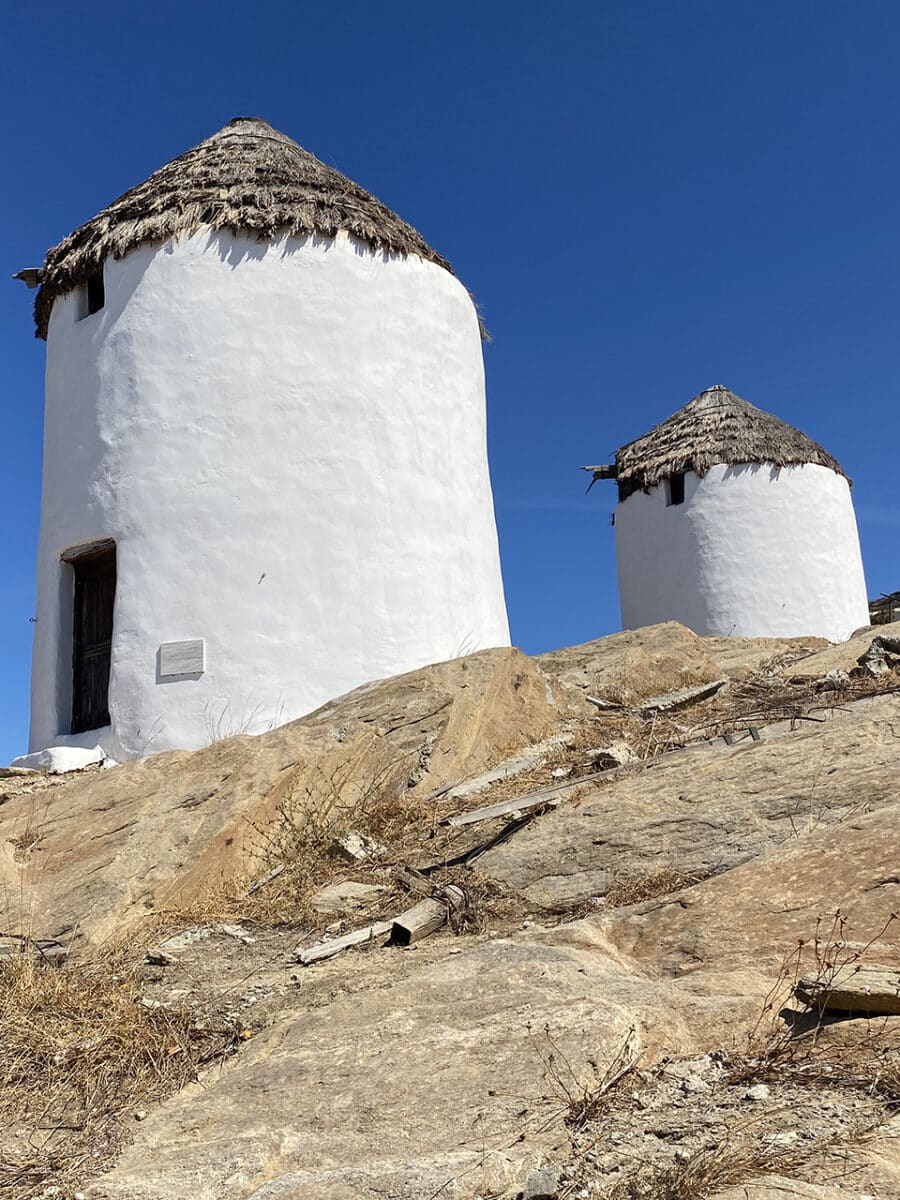 THE AMPHITHEATRE OF ODYSSEAS ELYTIS
After another short walk and another steep climb, we found ourselves at the Amphitheatre of Odysseas Elytis. Here we would catch our first glimpse of Mylopotas beach. The destination for our stay on Ios. The view out over the bay was absolutely beautiful. We couldn't wait to get down there.
This amphitheatre, named after the famous poet, isn't ancient, however. They made the theatre from marble and it can hold over 1000 people. They use it for plays, concerts, and other events during the warm summer months. There is another small chapel here, Ekklisia Panagia, also worth having a look around.
Next, we would start our descent down to Mylopotas. We couldn't help but stop at the other churches along the way, our camera roll already full of photos of these famous blue and white structures.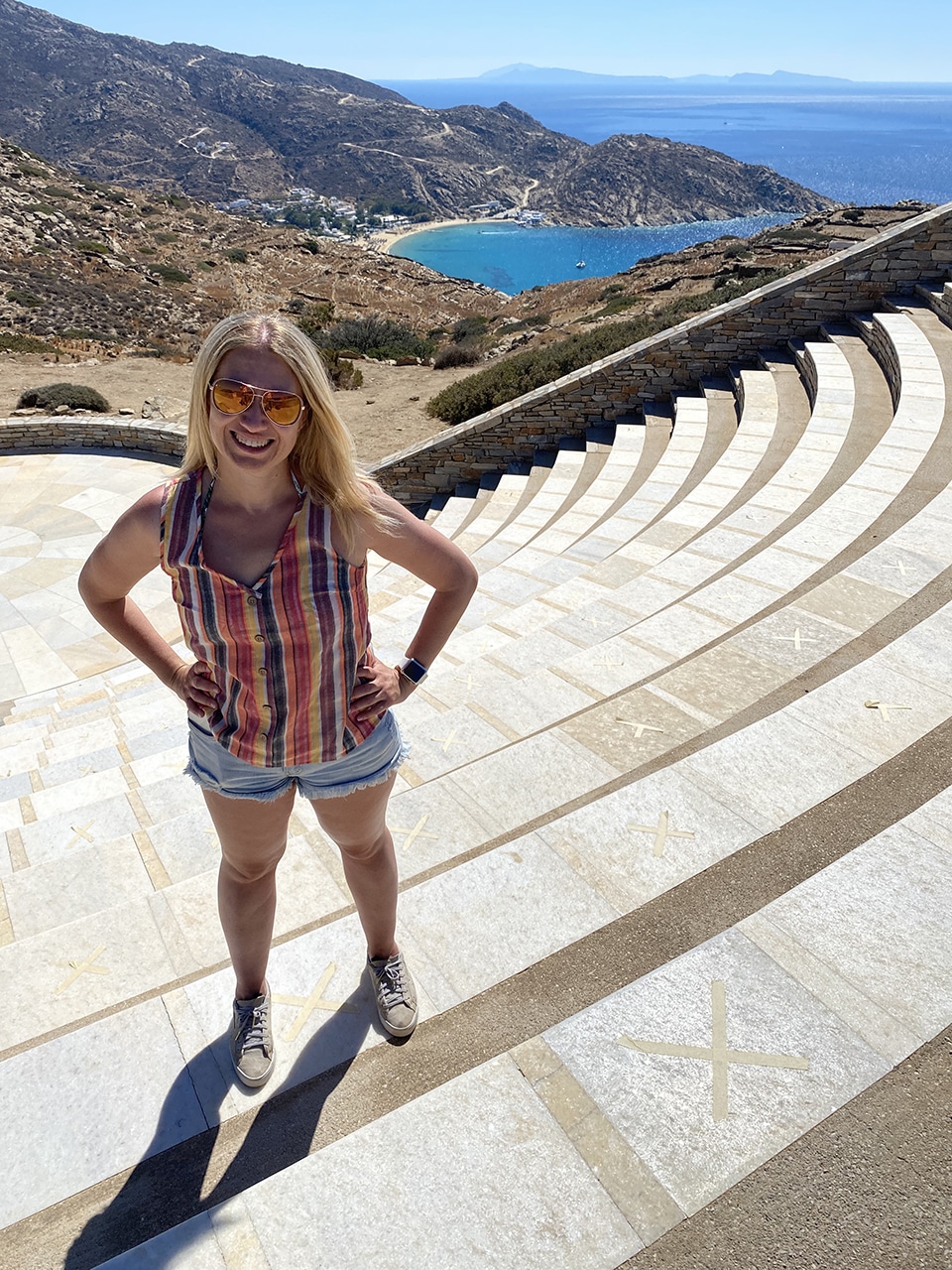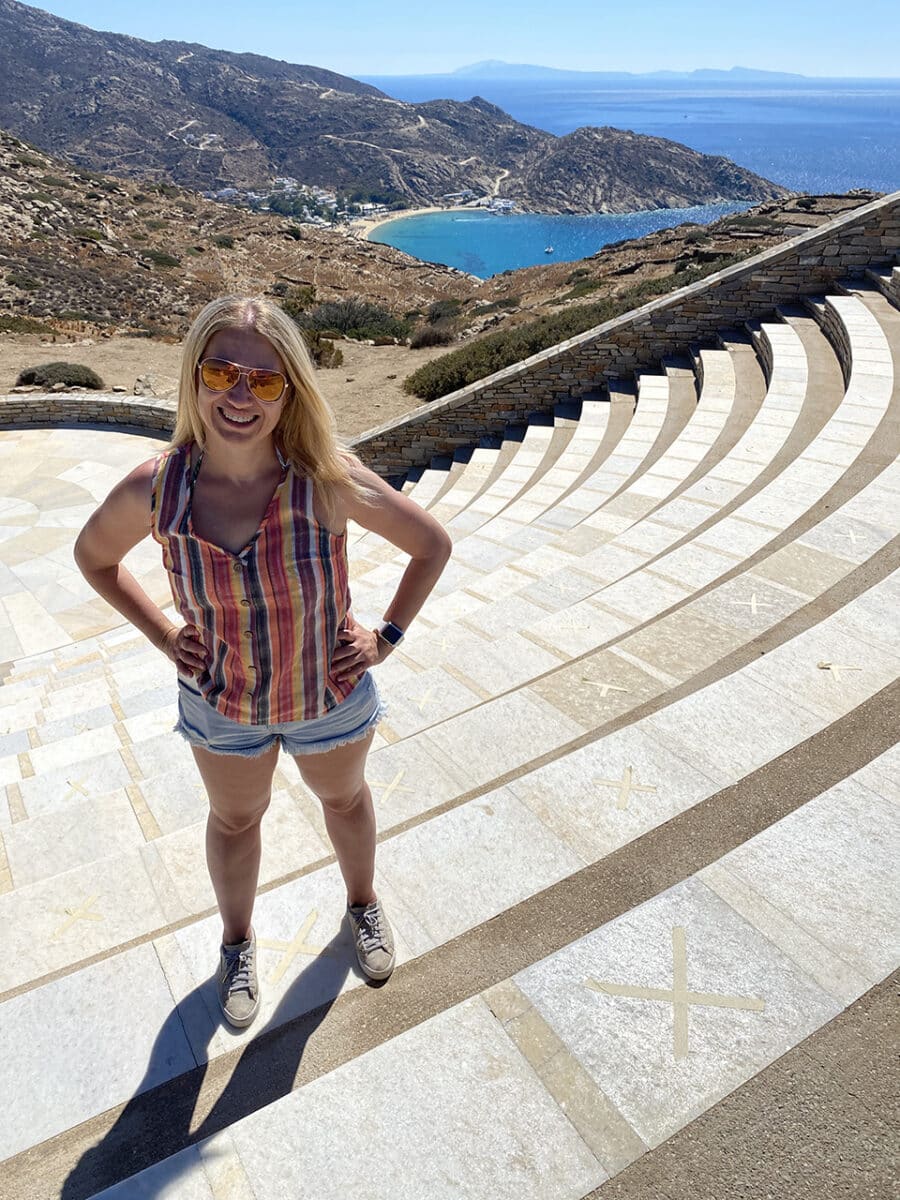 MYLOPOTAS BEACH
With every step we were heading nearer to our final destination, Mylopotas beach. When we finally arrived, we were awe-struck at just how beautiful the area was.
Clear, calm, turquoise waters and a stunning golden sandy beach. Our hotel overlooked this. We would spend the night at the Hotel Delfini. A great no-frills hotel, clean and in the best location. After checking in to the hotel, we changed into some beachwear and made our way over to the beach. Our reward for yet another outstanding hike. After all the walking we had done in Santorini, and here in Ios, it was time to relax and soak up some much needed sunshine.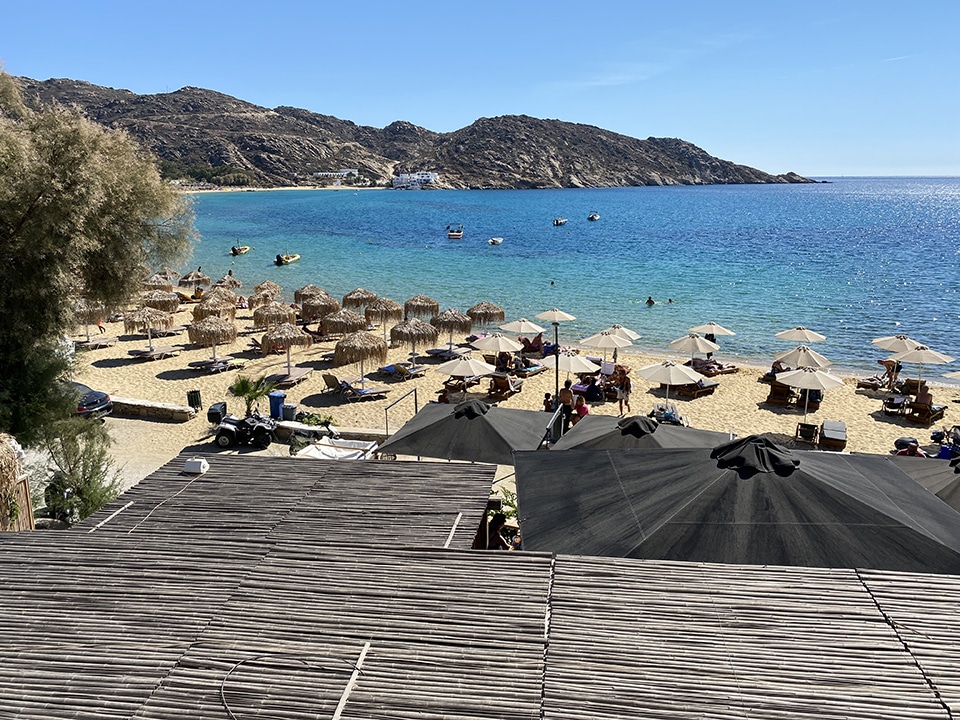 A BEAUTIFUL SUNSET OVER MYLOPOTAS BEACH
We had already experienced the sunset over in Santorini. Knowing that this beach faced West, we knew the sun would set right in front of us. We made our way a little further along the beach, away from the sunbeds, and plonked our bums down on the sand.
The beach was silent, and as the sunset, it became even quieter. The sky was so clear it turned from a beautiful blue to a warm red. All the mountains behind us had also turned a golden hue. The sea was very calm, and it gently lapped the shore as a local dog came over to greet us.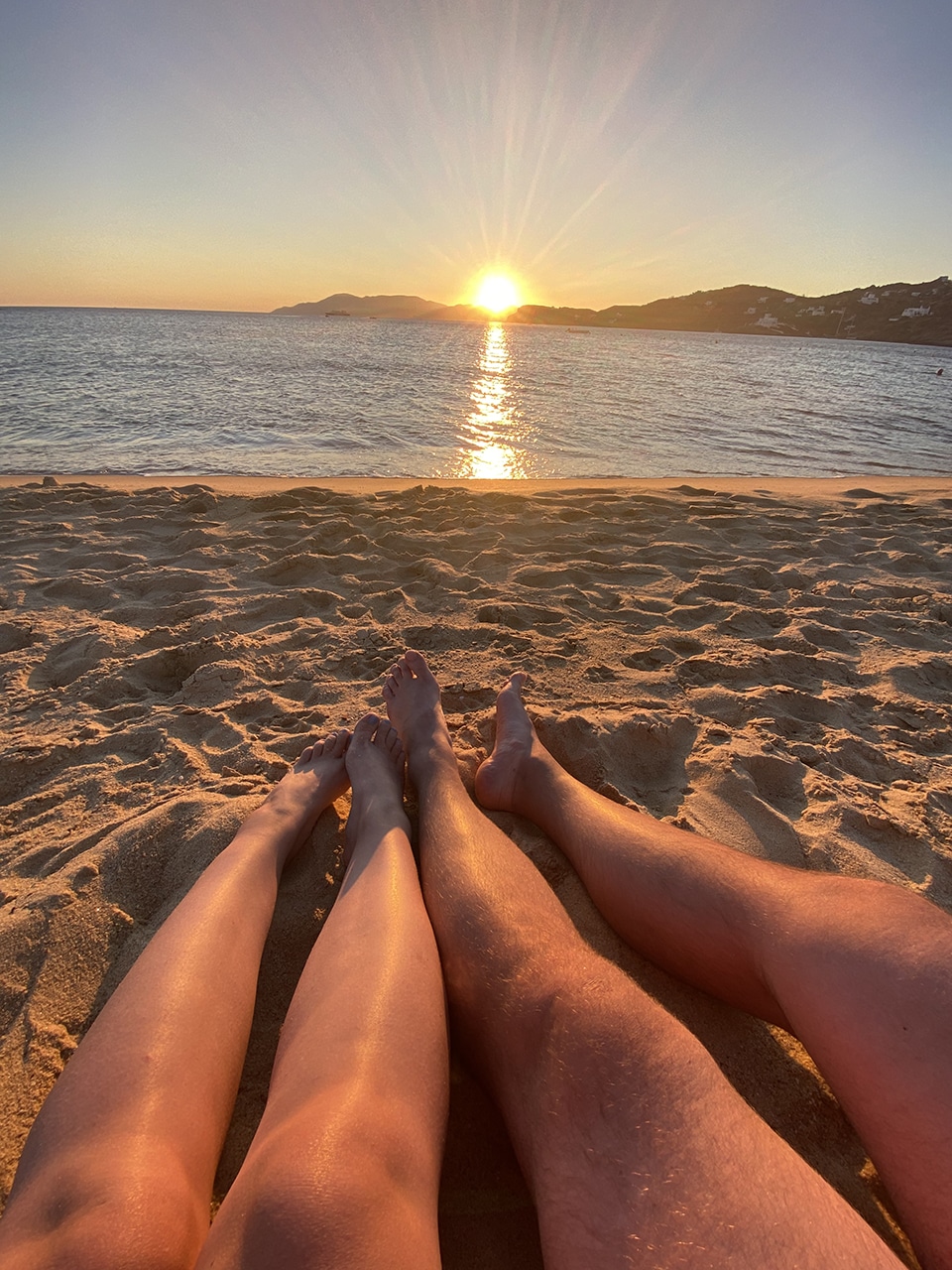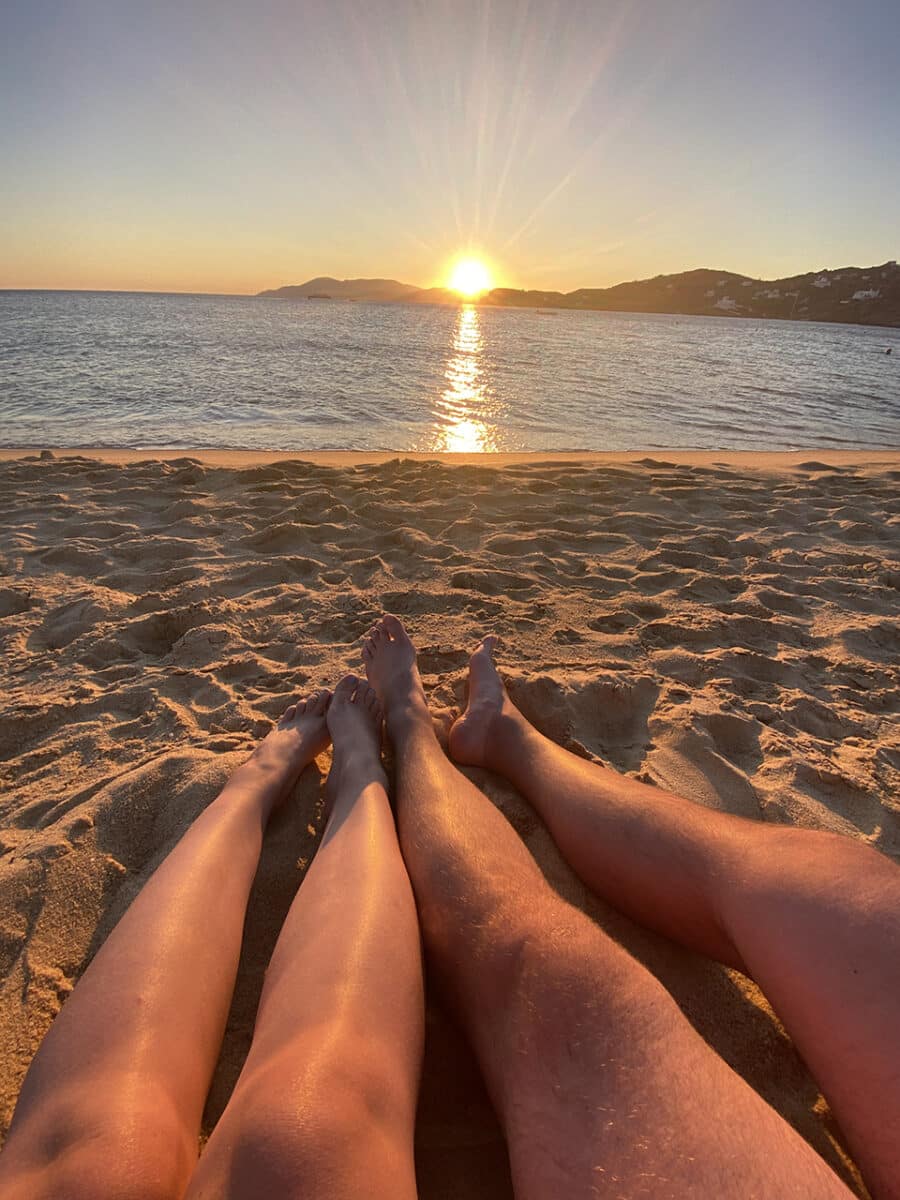 We stayed until the sun dipped behind the rocks. It was an incredible experience and one we will never forget. I hope the photos show this special moment.
We retired to our room, had a shower, got changed, ready to eat dinner. We settled on the restaurant underneath our hotel. The menu looked good and so we ordered. The food was fantastic and much better than we expected. Once again, we were joined by the local cats as we ate. Vicky made friends with a lovely little ginger cat. We were discussing ways in which we could bring him back to the UK. Sadly; it didn't happen.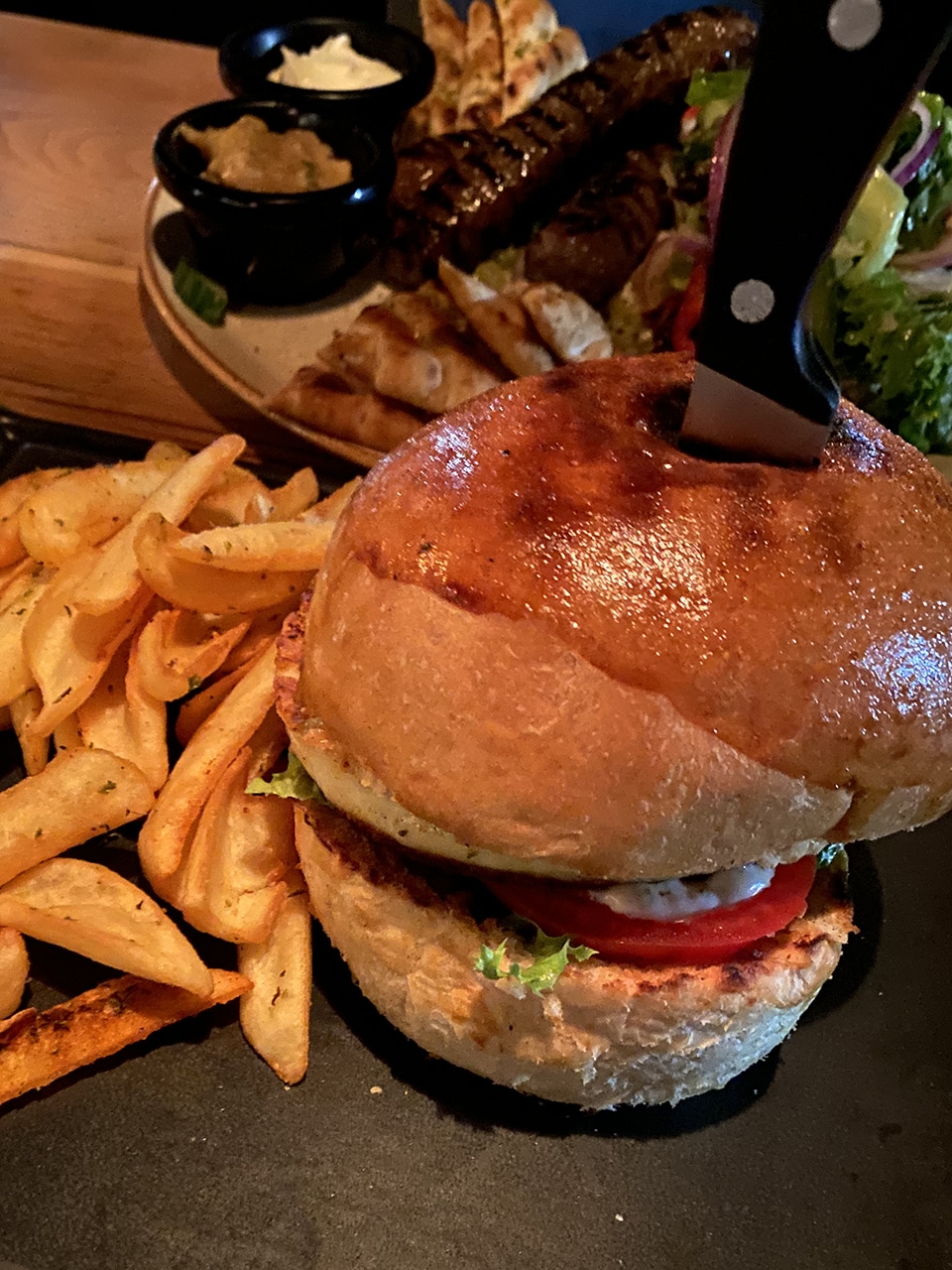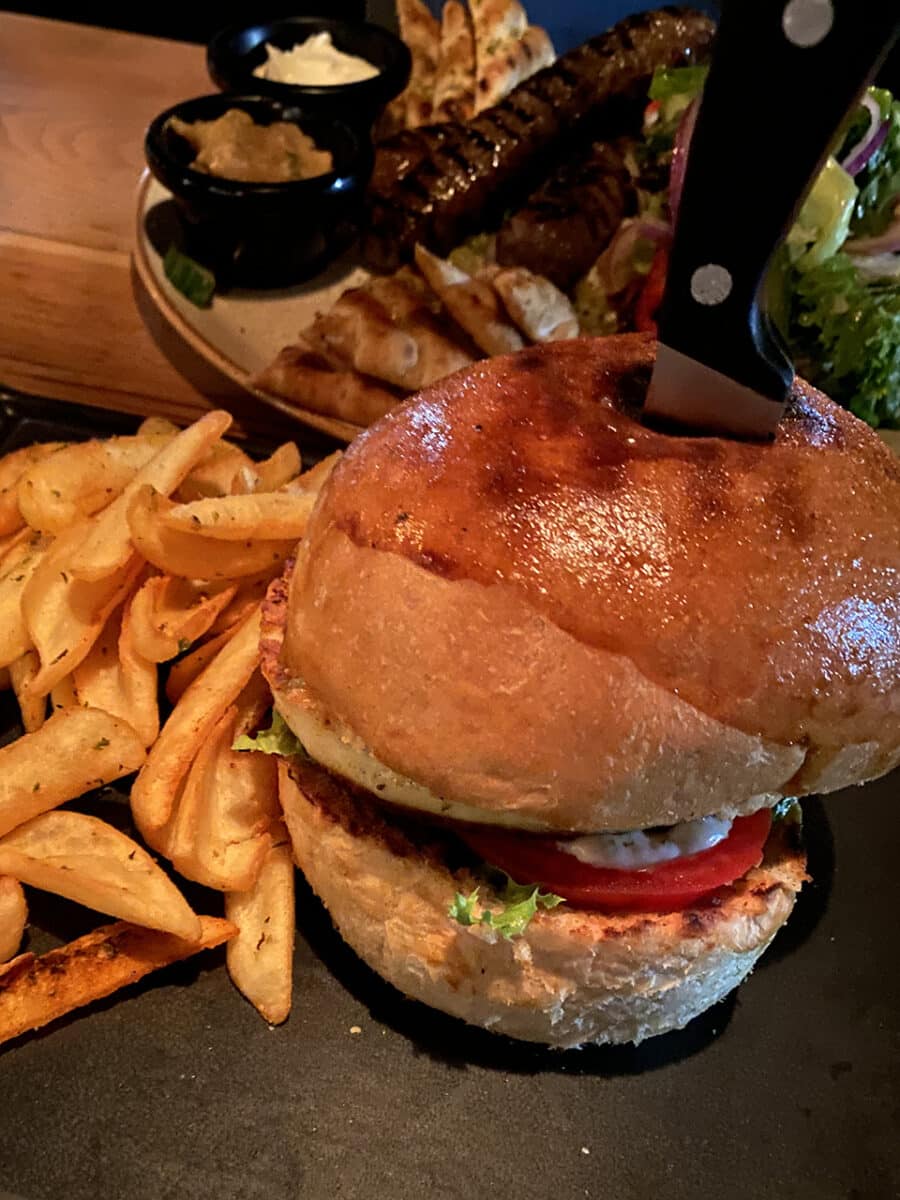 GOODBYE IOS
We woke early the next morning and set off back into the town of Chora. We spent more time looking around the shops here, as our ferry wouldn't be collecting us until three o'clock.
Deciding to skip breakfast, we had lunch here instead. Vicky had a craving for some traditional pastry, and we knew exactly where to go to find it. Ios Bakery was full of all kinds of traditional Greek goodies. Vicky was quick to order a filo pastry stuffed with spinach, and I opted for a sweet chocolate filled treat instead.
After our snack, we made our way to our last stop. If you remember from reading earlier, we passed the beach of Paralia Gialos. So it was here where we would relax and sunbathe until it was time to head for the ferry back to Santorini.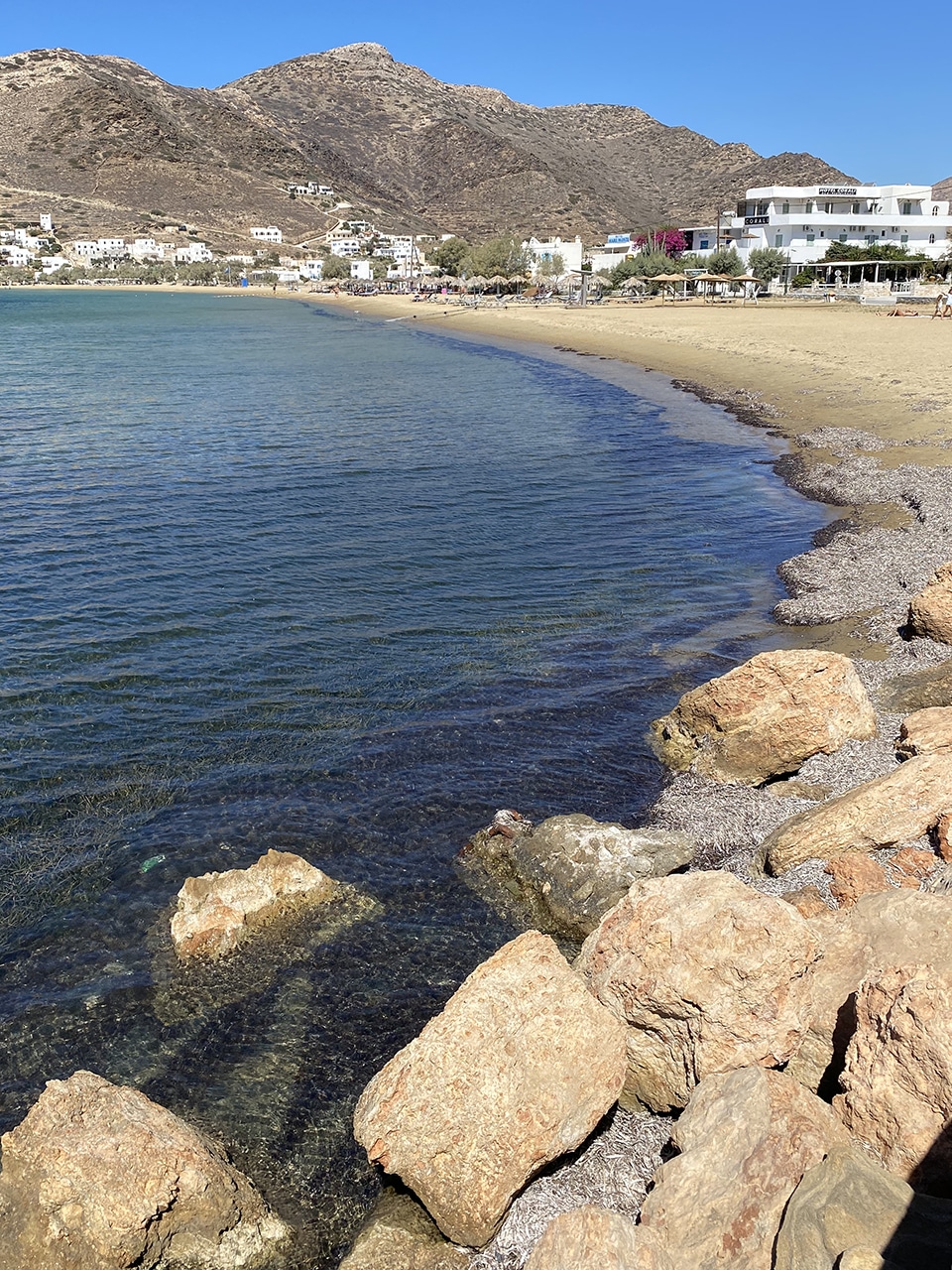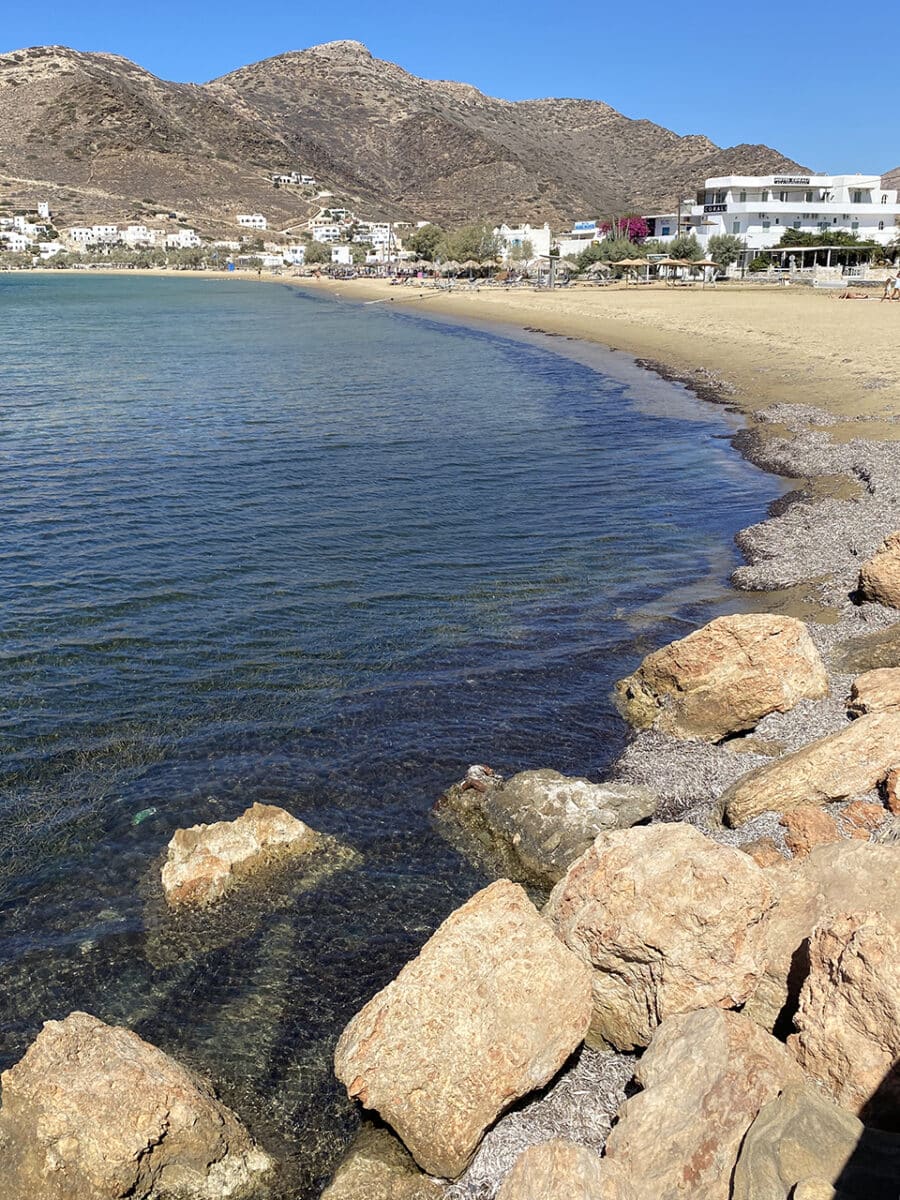 We highly recommend you visit Ios, either as a solo island adventure or the same as we did, island hopping from Santorini, but there are many connections from other Greek islands to do this.
The best way to check connections is via Ferryhopper as these operate within the Mediterranean.
We would have loved spending more time in Ios, as there were a few more things we would have liked to see. We hope you enjoyed reading about us island hopping from Santorini to Ios and hope it has inspired you to do the same or something similar.
Planning a trip to Santorini? Read: Seven days in Santorini, Greece. Looking for even more inspiration for a trip to Greece? Check out the official website of the Greek tourist board, Visit Greece.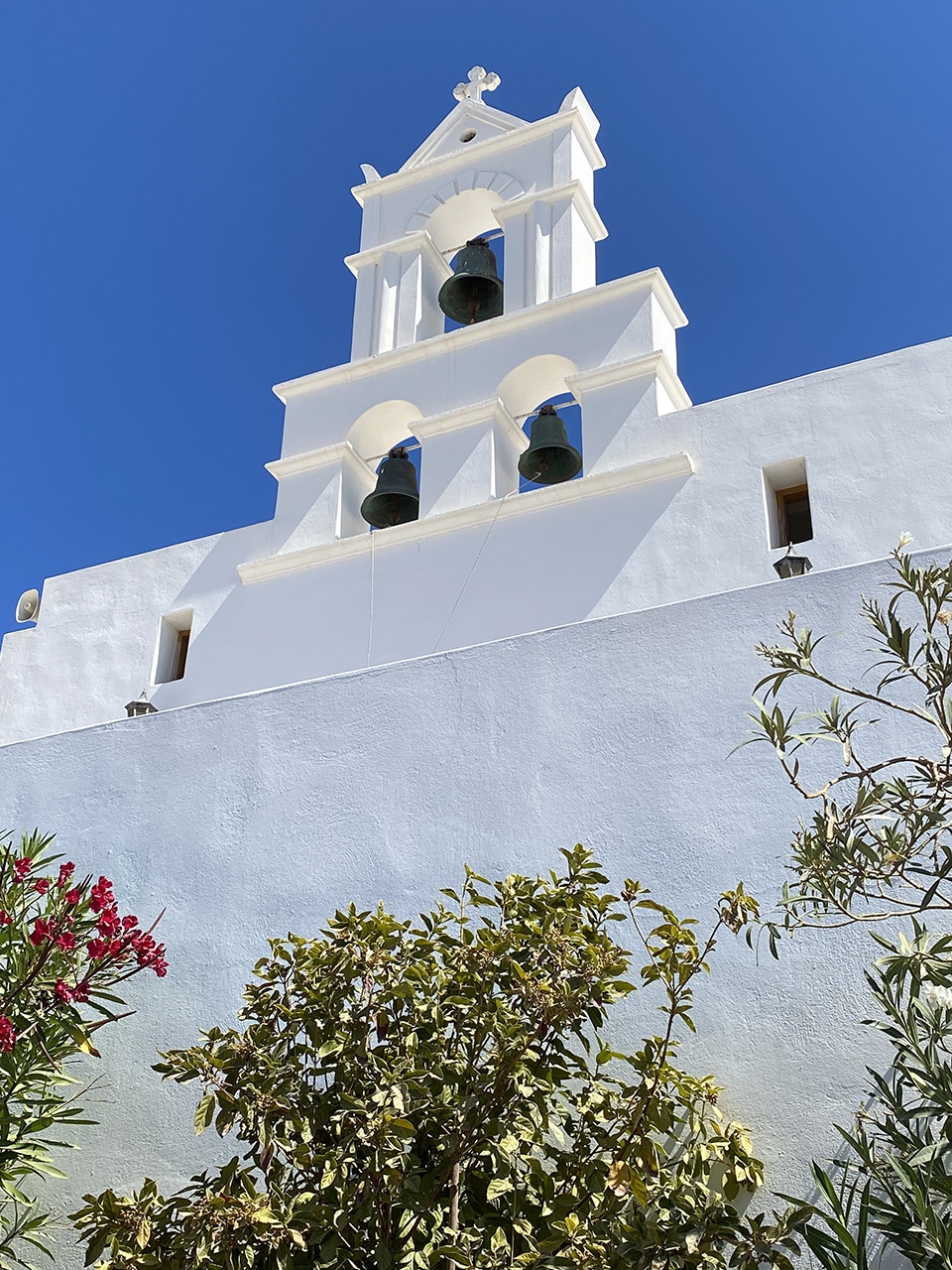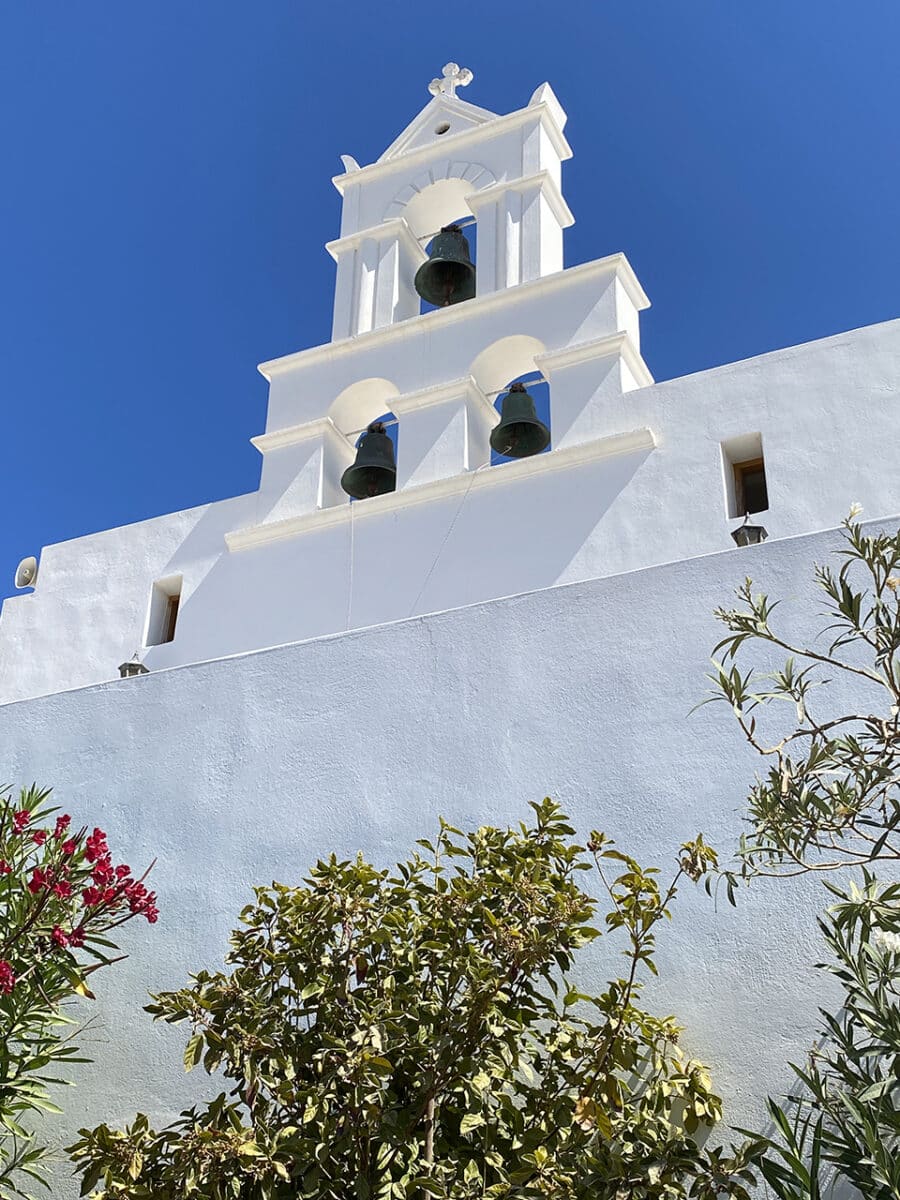 FIVE MORE INCREDIBLE THINGS TO DO IN IOS
Visit Manganari Beach. They regard this beach as the best on the island. It's approximately 25km from Chora and there are regular buses from the port. You can, of course, hire your own transport to get there too.
Visit the tomb of Homer. They say that the famous Greek poet Homer is laid to rest here. He retired to the island in his later years as Ios was where his Mother came from. You will need some kind of transport to get here and they marked the route out when you arrive. It is on the northern side of the island.
Skarkos Ruins. We would have loved to have visited these ruins during our trip. The pre-historic Bronze Age settlement is one of the best in the Aegean.
Enjoy a good party. We didn't know that Ios had the reputation of being one big party island before visiting. Because we visited almost at the end of the tourist season, the island was fairly quiet. But if partying is your thing, take on a bar crawl or two, visit the many beach bars and take in the sunset with a cocktail in hand in one of its many exclusive bars.
Hire a scooter or ATV. As with most islands, getting around via a smaller mode of transport is often easiest. There are many places around the port to hire vehicles, find more beaches and look for more of the island's famous churches.
---