Even when we arrived at Manchester airport, we pinched each other to make sure we were really there. We booked this trip back in 2019 and had it cancelled and re-arranged in 2020 due to the Covid-19 Pandemic. But here we are, and we have lots to share with you. How did we spend seven days in Santorini?
SANTORINI, HERE WE COME
After our four-hour flight, we landed in Santorini. It felt so good to be here. Arriving at Casa Florina in Imerovigli, our host greeted us with a big smile. It was around 9pm and we were starving. After a quick tour of our accommodation, we headed out for food.
We were ready to explore, and we couldn't wait to wake up the next day and start. This was a much needed trip after a terrible few months. We were going to make the most of our seven days in Santorini and have an incredible time.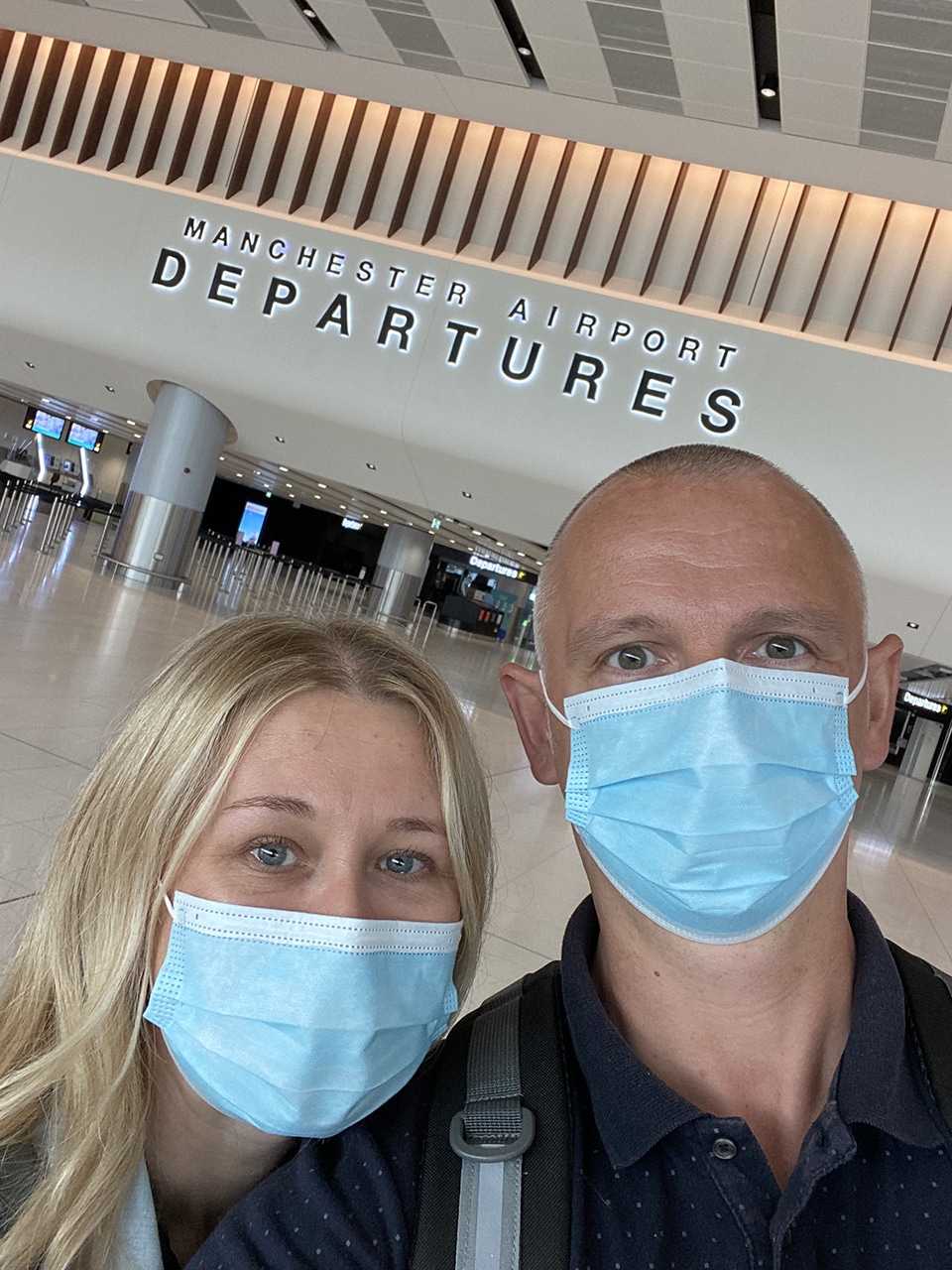 CLIMB SKAROS ROCK
Skaros Rock was a short walk from our hotel. So it was the perfect place to start. Backpacks packed, we headed out. Once you reach the rock after a short walk down the cliff-side, the first thing you see is a small sign warning you not to trespass, telling you how dangerous it is to climb. Although the walk is very rocky, there is a defined path to walk. At some points, you need to wait for people to pass and give way to each other.
SKAROS CASTLE
The rock used to be home to Skaros Castle, an old Venetian fortress, and you can still see some evidence of this. Because of volcanic activity and several earthquakes, its residents soon moved, and because of this, the castle fell into ruin.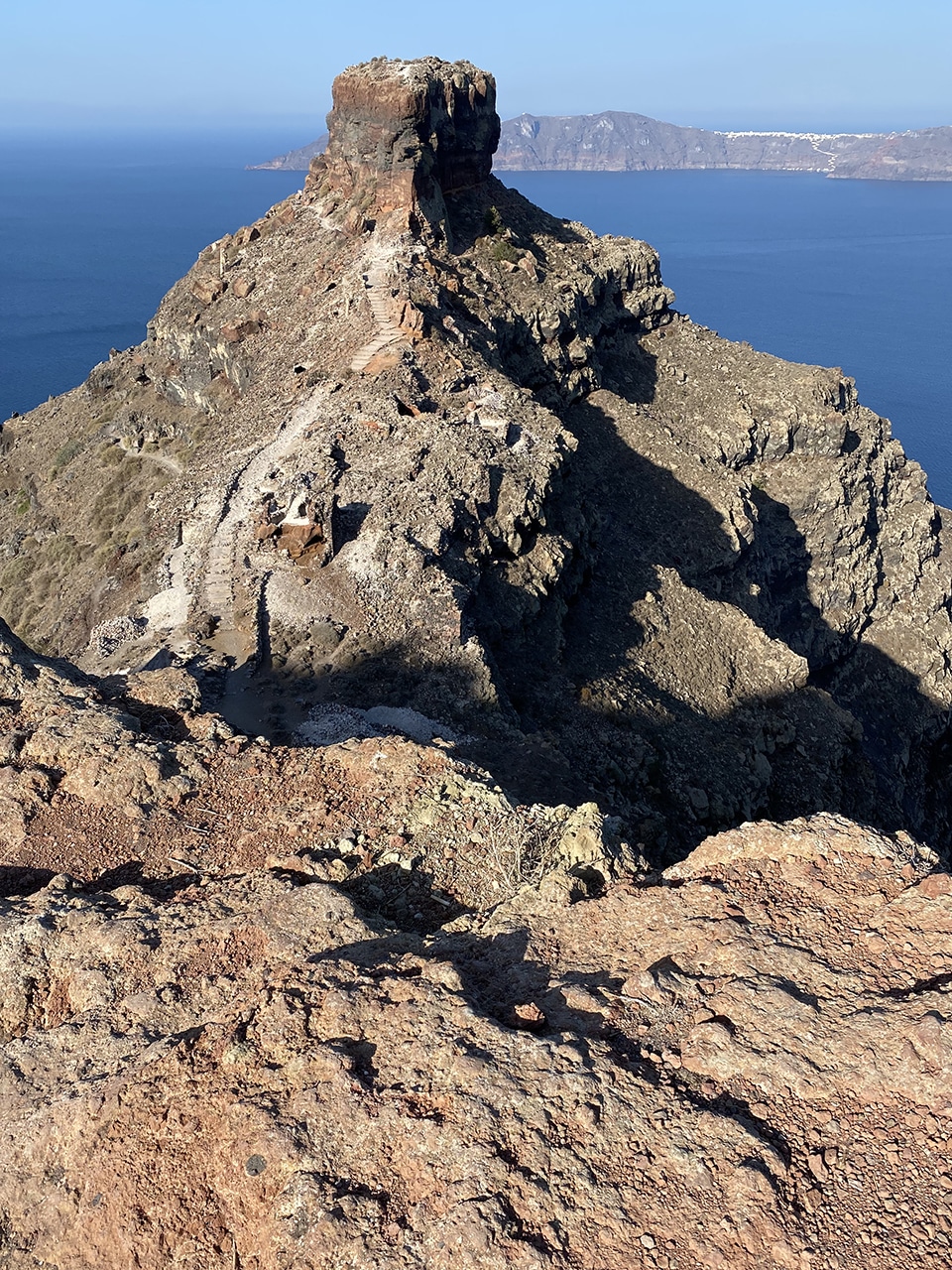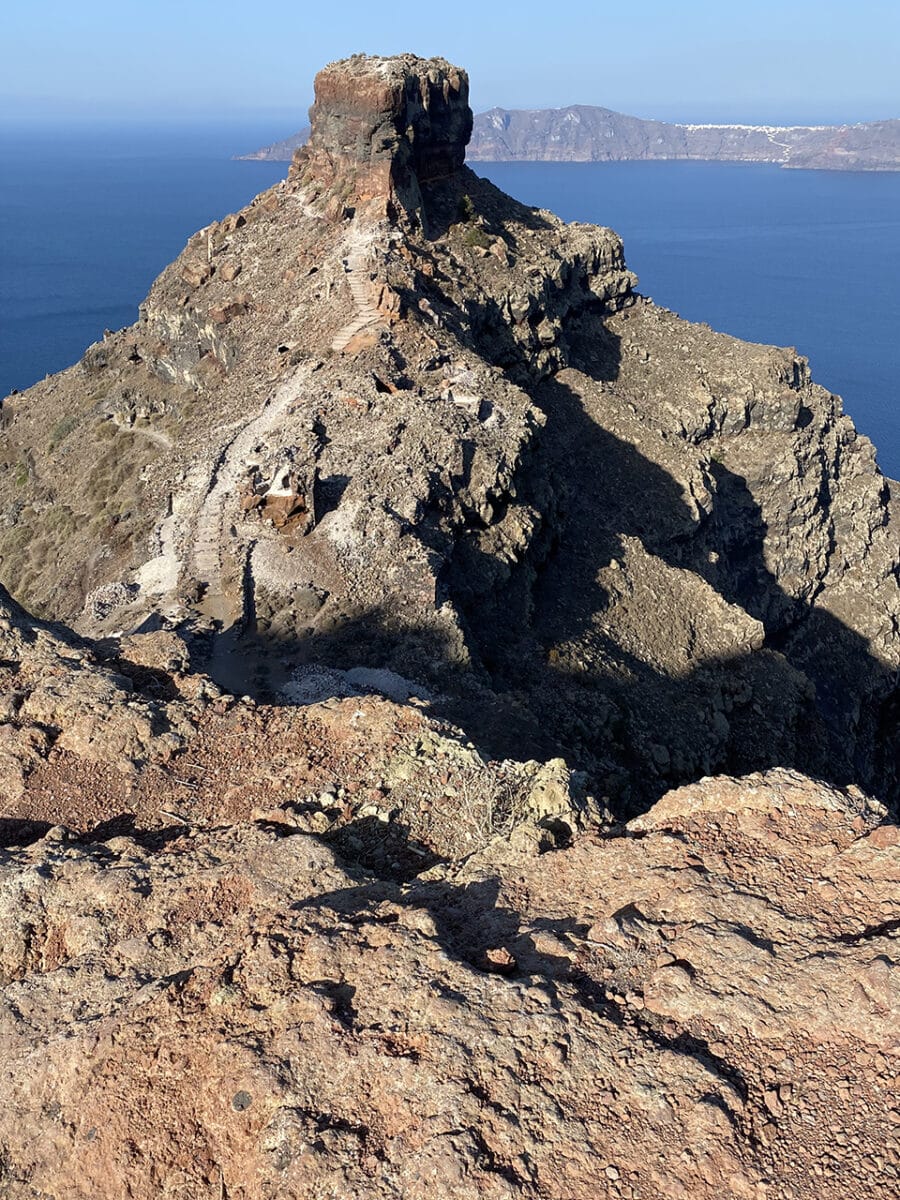 THE CHURCHES OF SKAROS ROCK
There are two small churches here on Skaros. Saint John the Beheaded Katiforis Holy Orthodox Chapel sits at the top of the rock just before you head off on your walk and is great for a few photographs.
As you near the end of the rock, near the sea, you will find the Mother of Lord Theoskepasti Holy Orthodox Church. Easily accessible, and easily missed. Access it via a small path and steps. It sits proudly overlooking the caldera.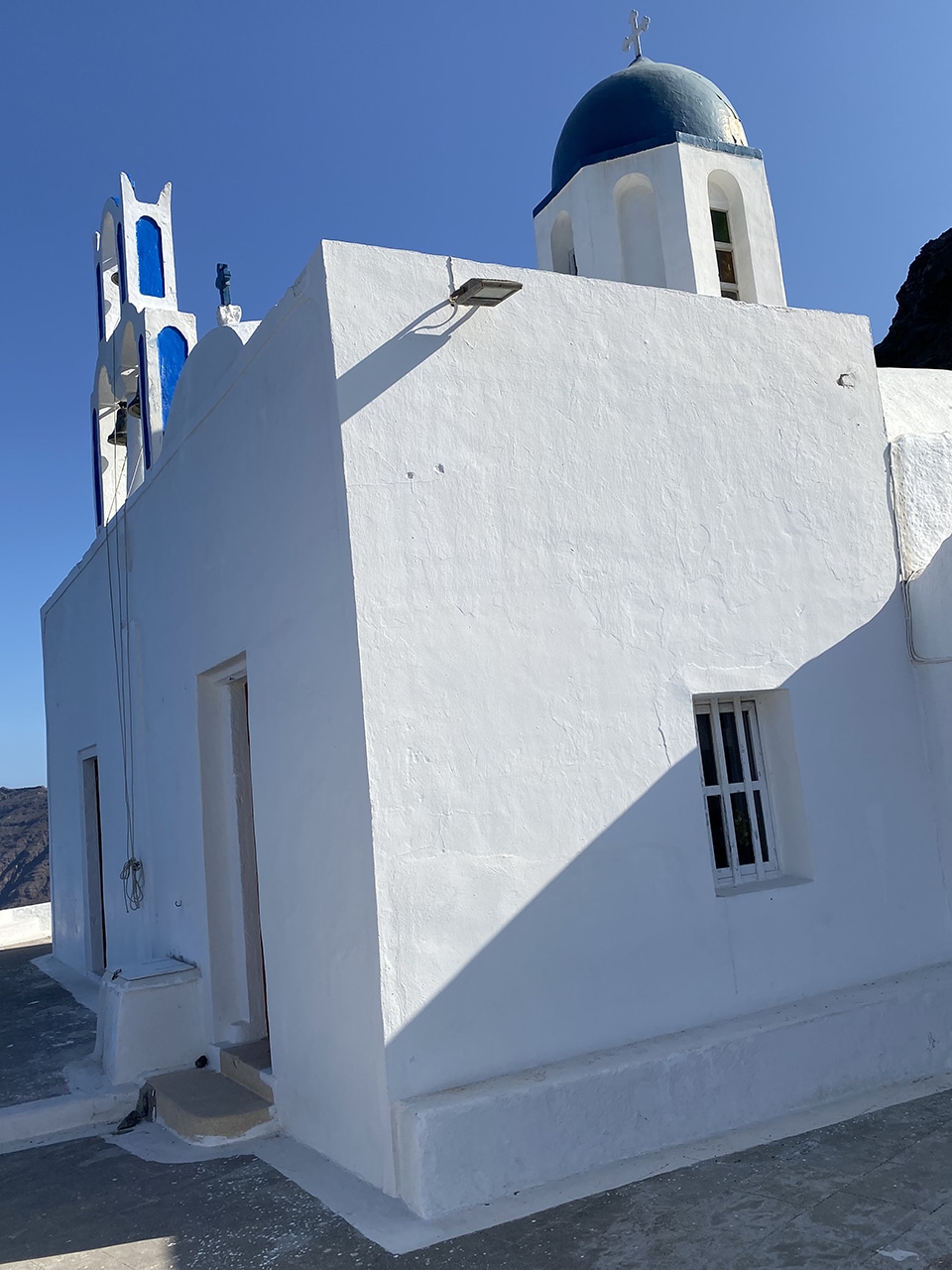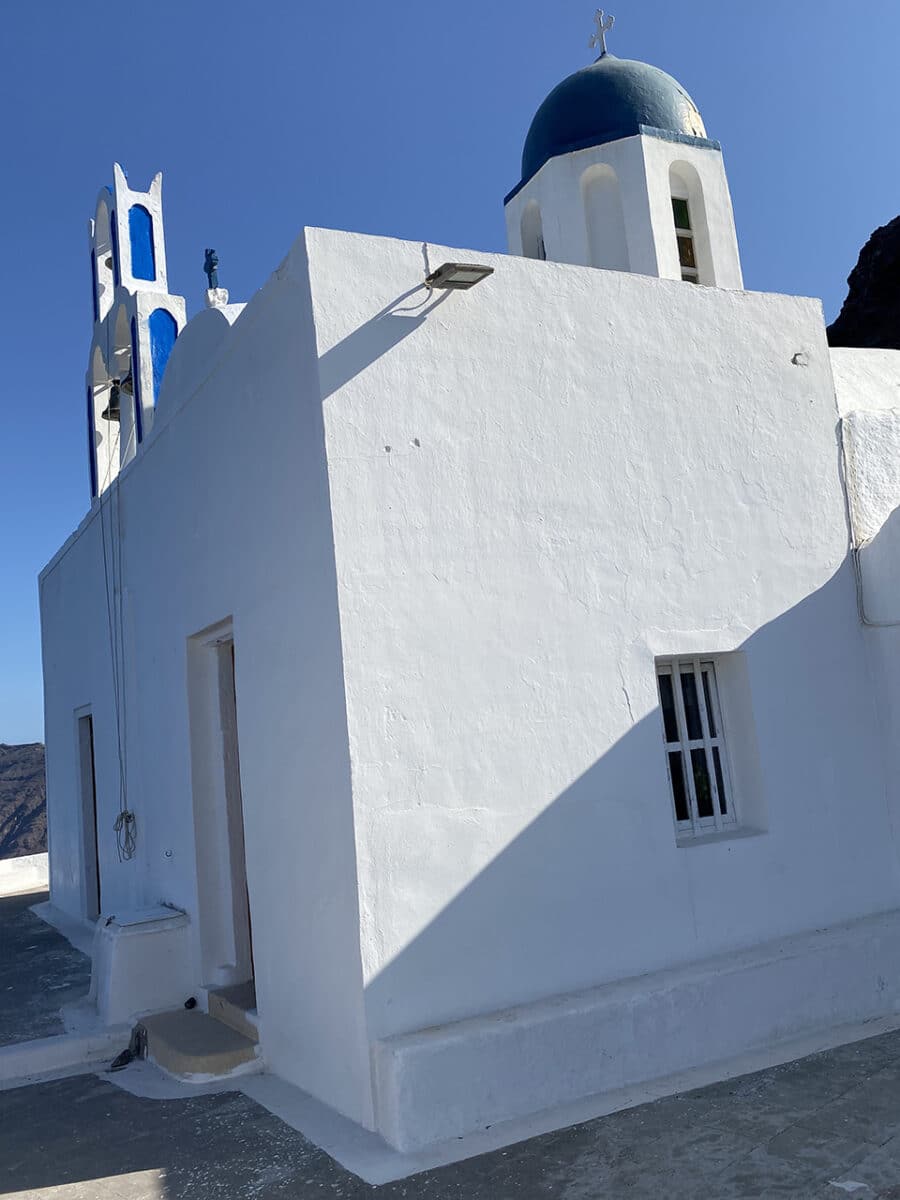 VISIT THE CAPITAL, THERA
Thera, or Fira, is the capital of Santorini. After we explored Skaros Rock, we set off on a walk to Thera. It takes approximately 30 to 40 minutes from Imerovigli.
The weather during our trip was great, and we had temperatures of over 30F daily, not bad for the end of September. During the height of Summer, Thera is busy with tourists as this is also where the cruise ships dock at the Old Port. However, during our stay, the island was nice and quiet.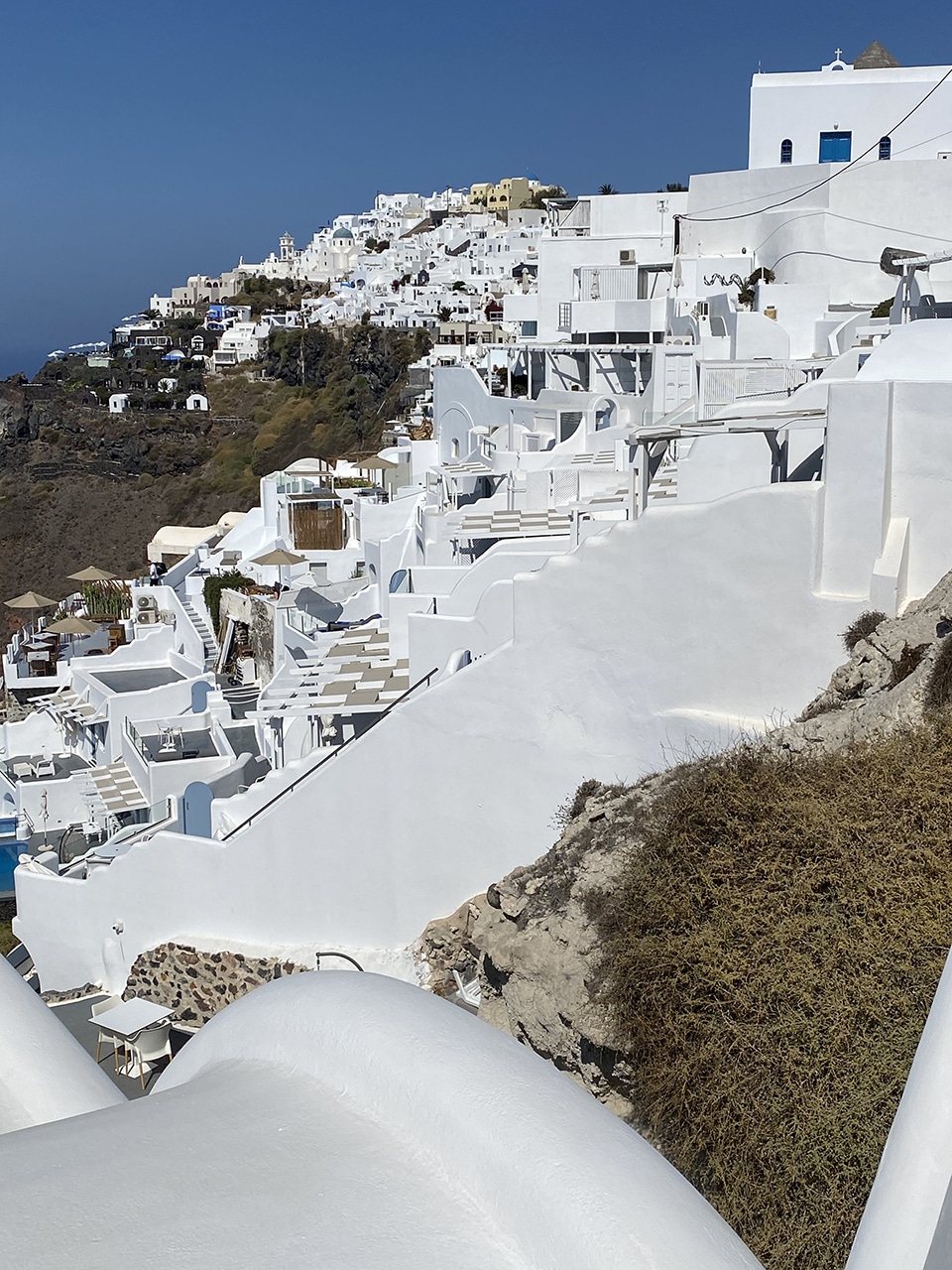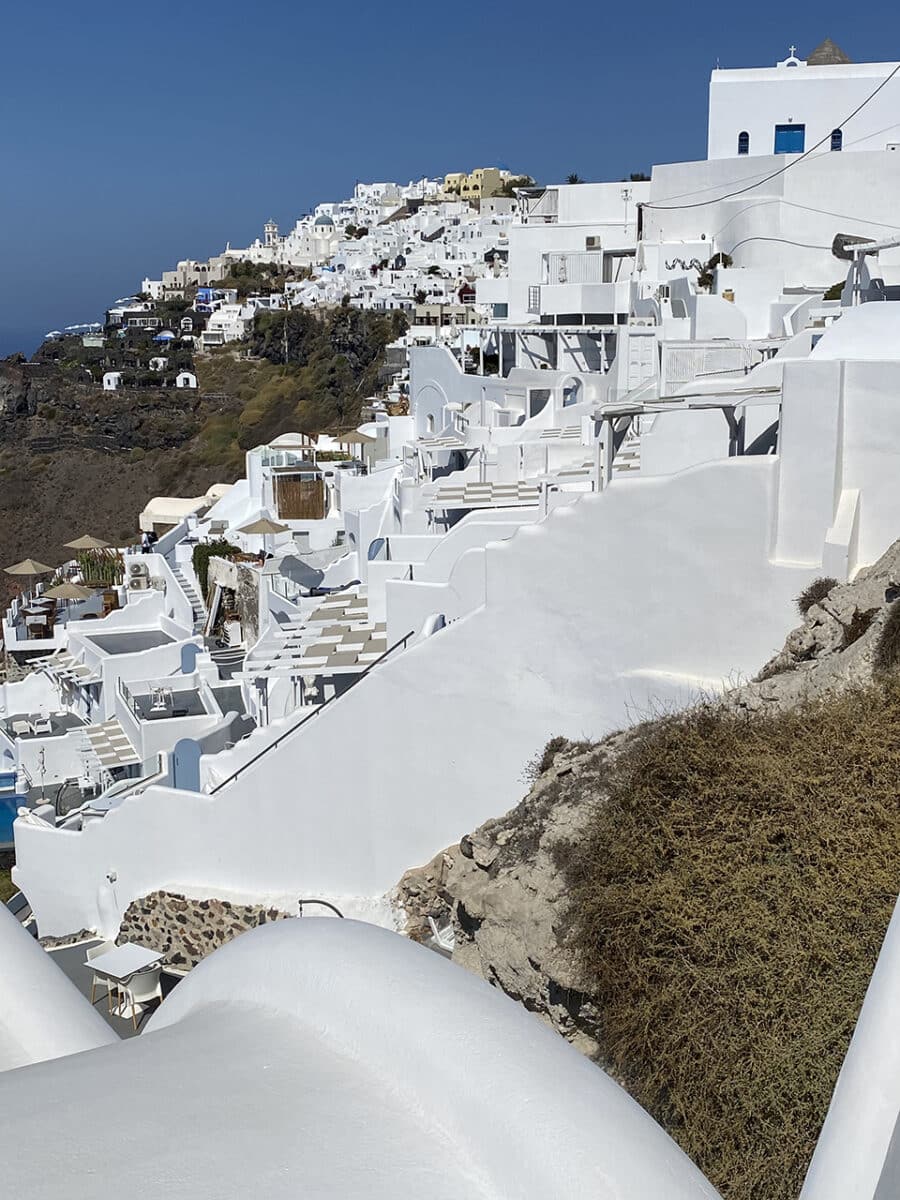 BEAUTIFUL VIEWS OUT OVER THE CALDERA
The views out over the Aegean Sea and walks through its famous whitewashed buildings are amazing. There are shops to buy gifts and souvenirs and you can have a nosey at its many fancy boutique hotels here.
To get to the Old Port, use the cable cars. Please don't ride the donkeys. There are many areas in Santorini where the option of riding a donkey up and down the cliff side is available. We aren't fans of this. Santorini can be hard work, be prepared for slopes, hundreds of steps, strenuous climbs and very steep pathways. Wear good comfortable footwear and make sure you pack plenty of water.
CATHEDRAL OF SAINT JOHN THE BAPTIST
Winding through the backstreets of Fira, we ended up visiting one or two churches, including the beautiful Cathedral of Saint John the Baptist. Admission is free.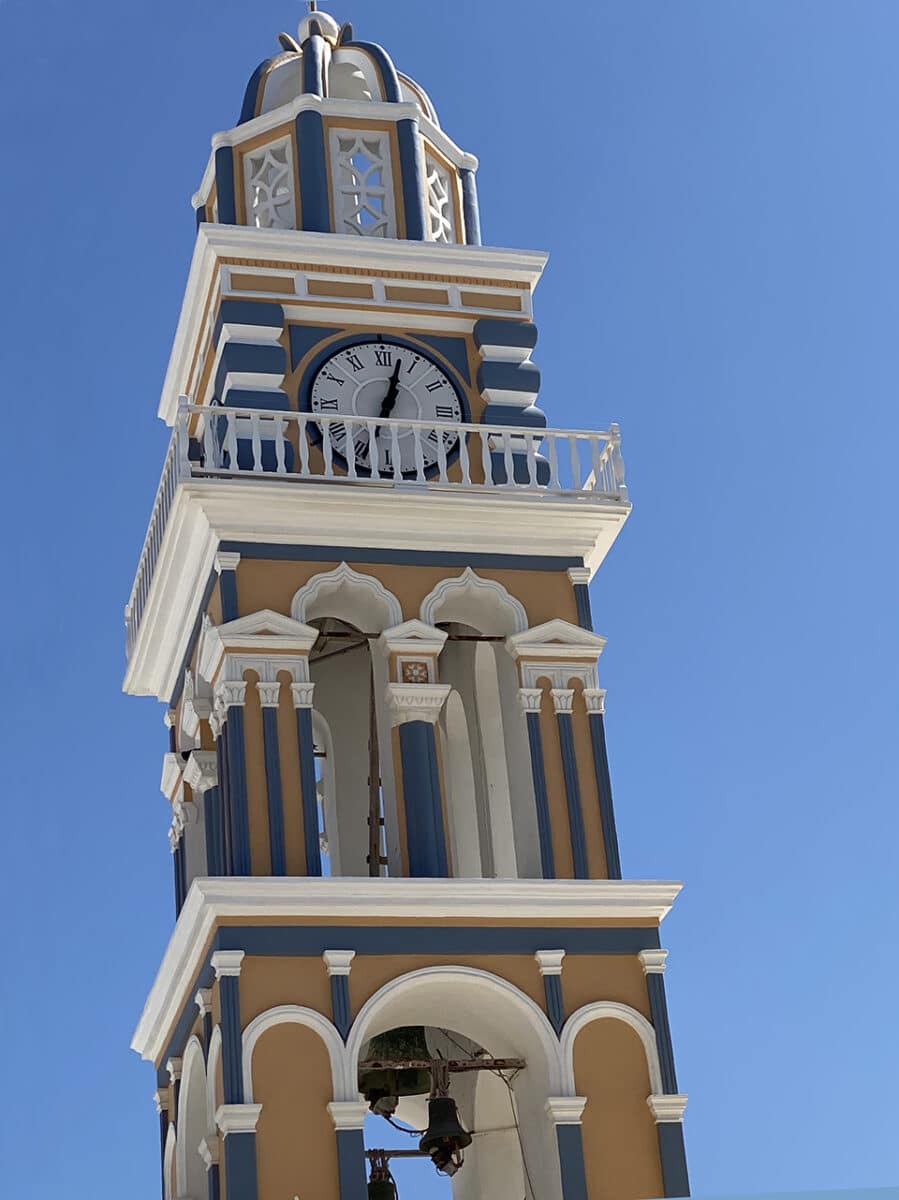 THE TOURISTY PART OF THERA
This part of town is more touristy. Here, you will find dozens of bars, restaurants and many takeaway places. We knew we wanted to visit the famous 'Lucky's Souvlakis' here, but it was extremely busy and we were so hungry after all the walking, so instead we settled for somewhere else.
After food, we took a slow walk back to our hotel to freshen up and get ready for the night ahead.
OUR FIRST SANTORINI SUNSET
It was Jason's birthday while we were here, so before we went out to celebrate, of course, we had to see our first Santorini sunset. We didn't have to go far either. With a glass of wine and some nibbles, we made our way to the hotel's sun deck. No crowds, no noise, just our own private viewing area. Vicky and I were the only people here.
We have all seen the photos. We all know how unbelievably beautiful this sunset view is. Being here, seeing it first-hand, we can confirm it is true. It is incredible.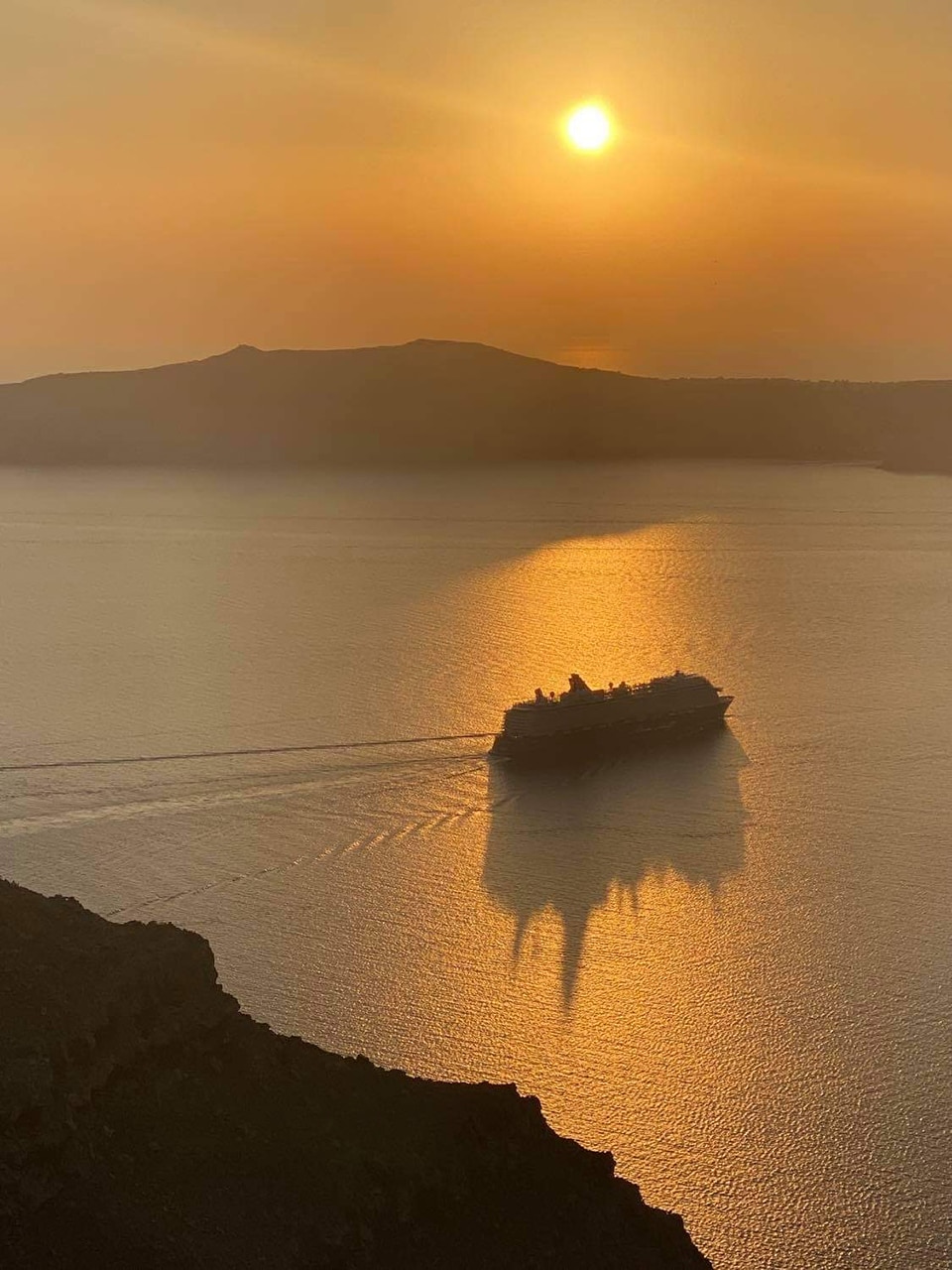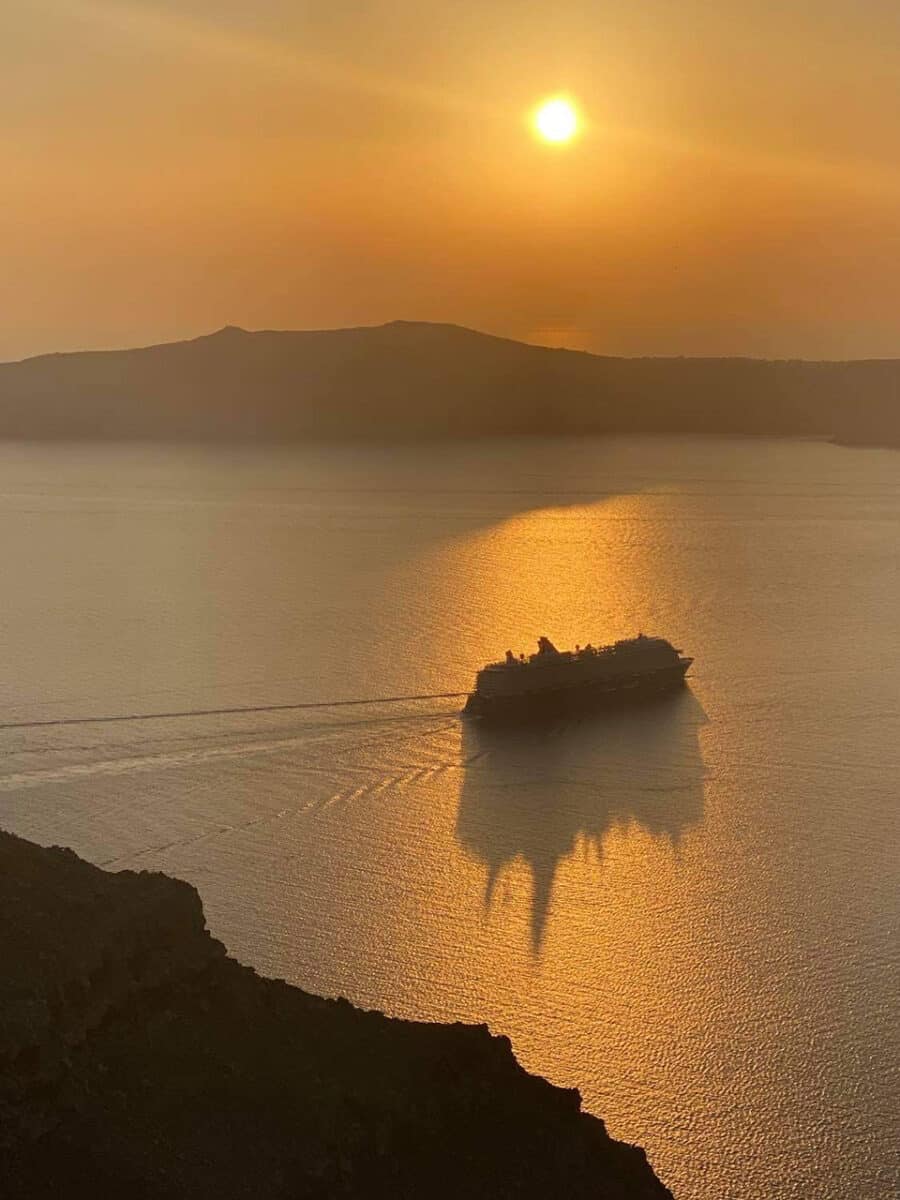 As the sun made its way lower in the Greek sky, the island of Thirassia became a silhouette in the distance. A cruise ship appeared from the left-hand side, sailing from the Old Port to its next destination. I had an idea in mind for a photograph, and just waited for the ship to sail further into view. What do you think?
After viewing the sunset, we made our way into Imerovigli to enjoy a lovely meal at Four Seasons restaurant. We really enjoyed our first day, and we couldn't wait to start day two.
OUR FIVE-MILE TREK INTO OIA
We knew that when we visited Santorini; we were going to visit Oia. A town famously busy with its sunset views, high-end shopping and more boutique hotels. The morning we were planning our visit, we were all set on walking into the town of Fira and then taking the bus to Oia. However, during breakfast, we discovered you could walk it via a coastal route that started seconds away from our hotel.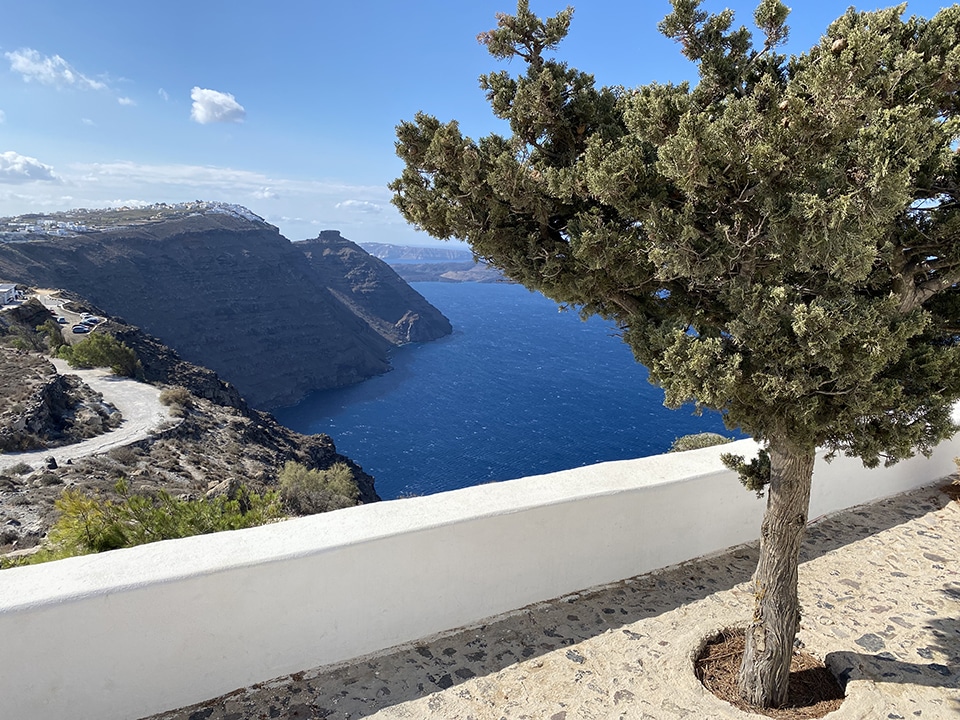 Here starts our five-mile trek into the town of Oia. We made sure we had plenty of sun cream and water for this walk, as the weather was still hot for the end of September. Also, make sure you wear a pair of sturdy, comfy trainers, no flip-flops or pumps. The views were impressive. Scattered along the way were several small churches in the traditional blue and white style that Santorini is famous for.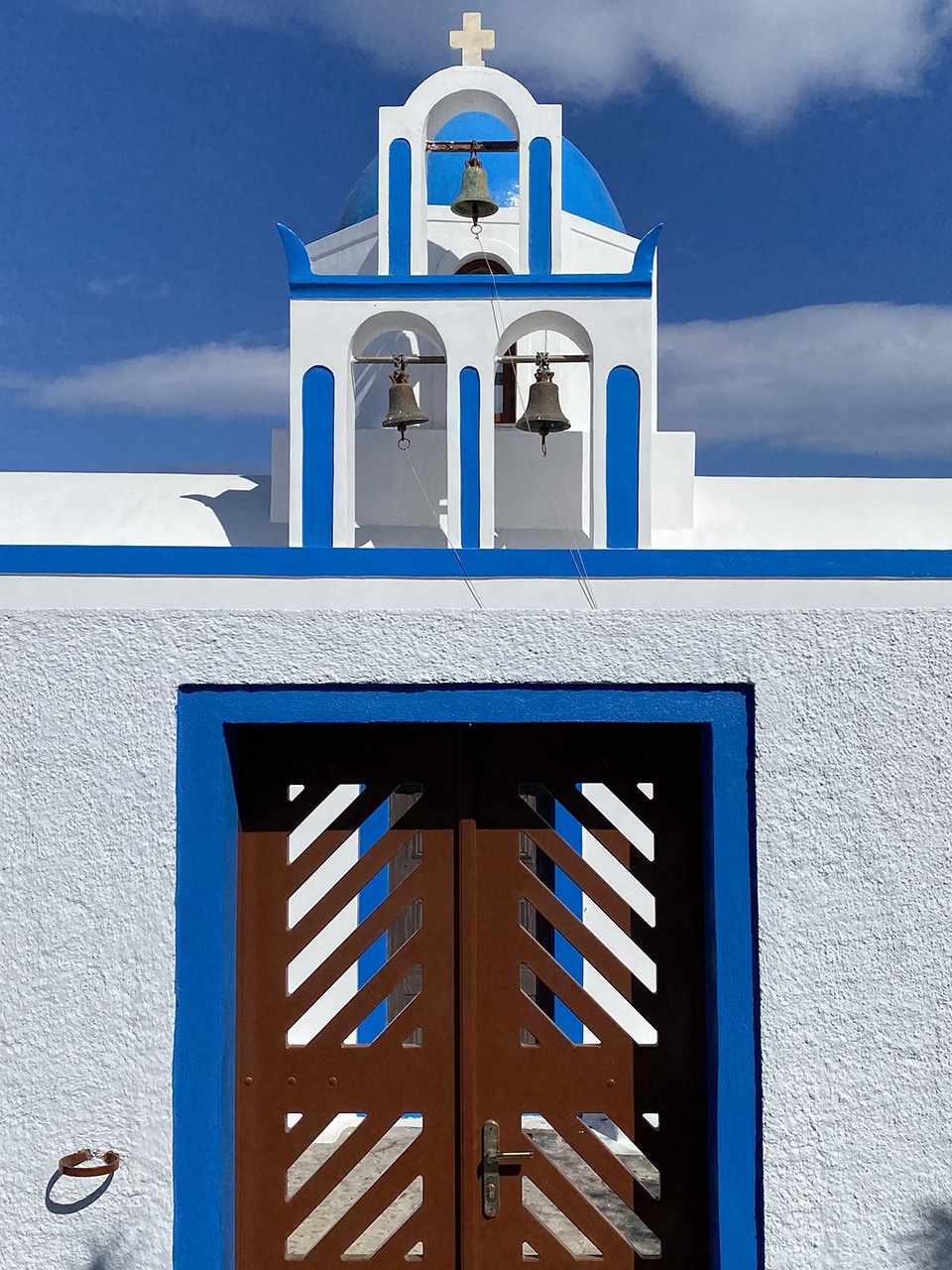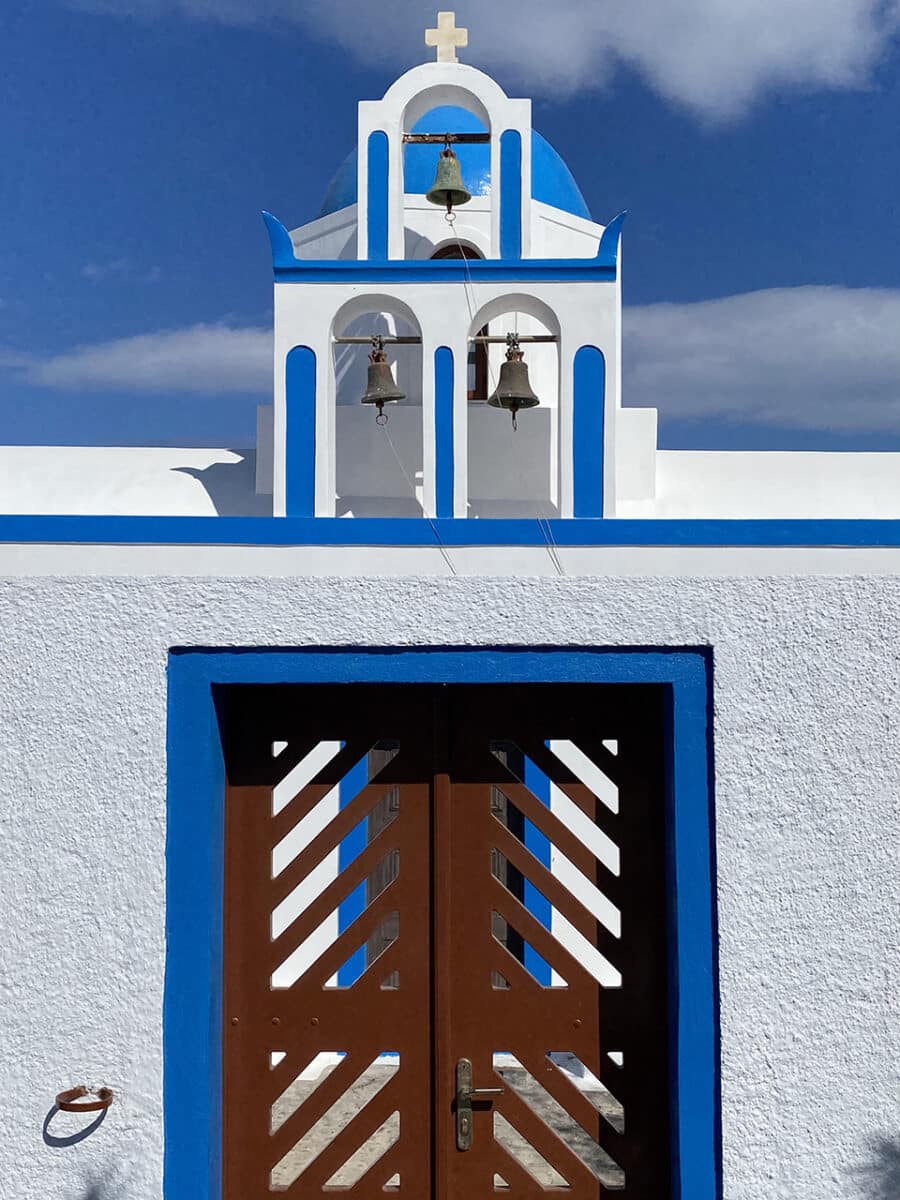 INCREDIBLE SCENERY
Further along the walk, we passed a string of donkeys available to hire to take you the rest of the way into Oia. Again, please do not use them. If you don't feel you can trek these five-miles, get the bus. It is still a cheap option. There was a pleasant breeze blowing, which kept us nice and cool during our walk.
At the end of our walk, we also found a beautiful little cemetery. The smell of paraffin filled the air, as just about every marble tomb had a small lamp or candle lit at the foot.
We always seem to end up in cemeteries when we travel, either on purpose or accidentally. Do you like to visit cemeteries when you travel?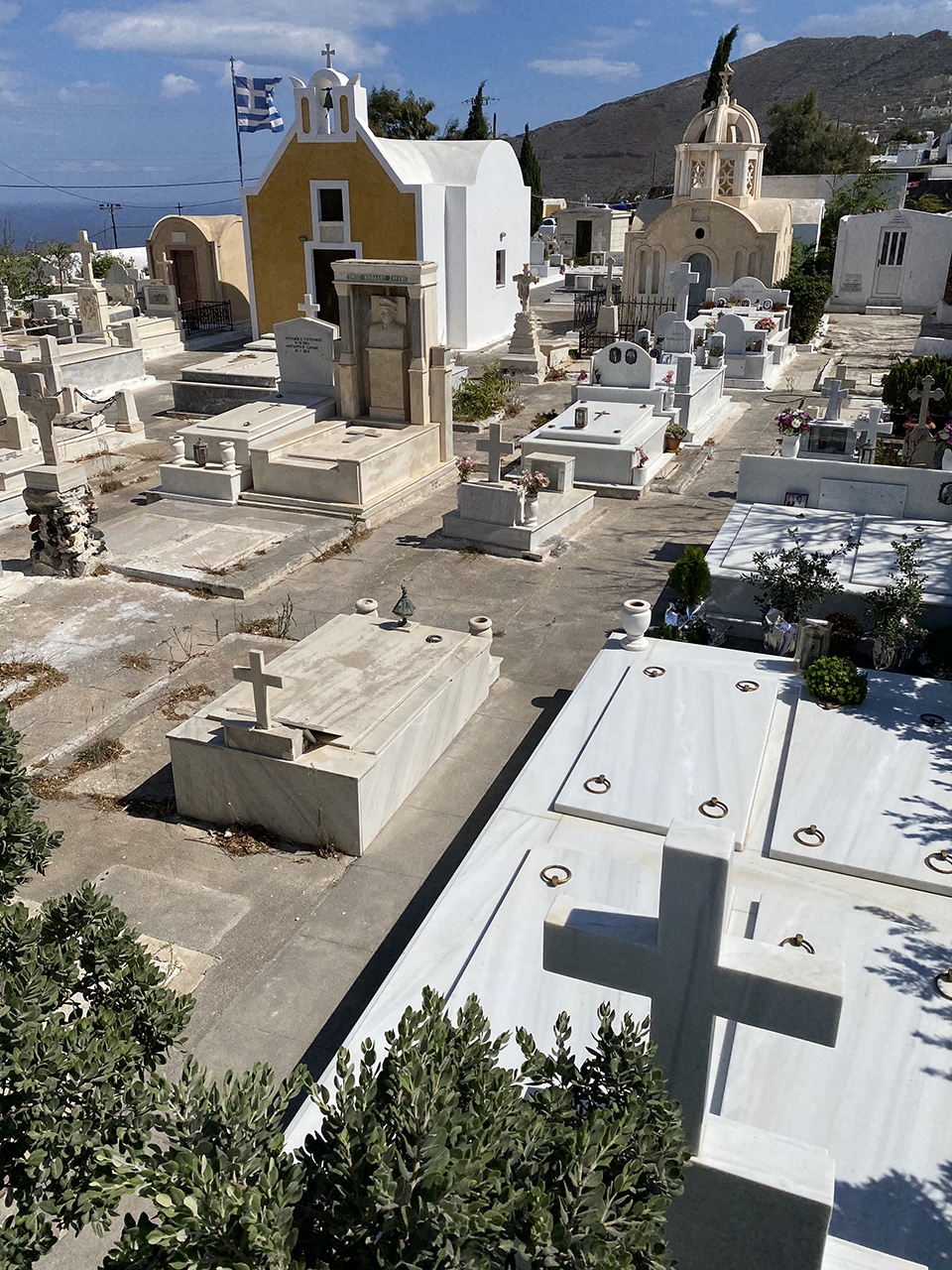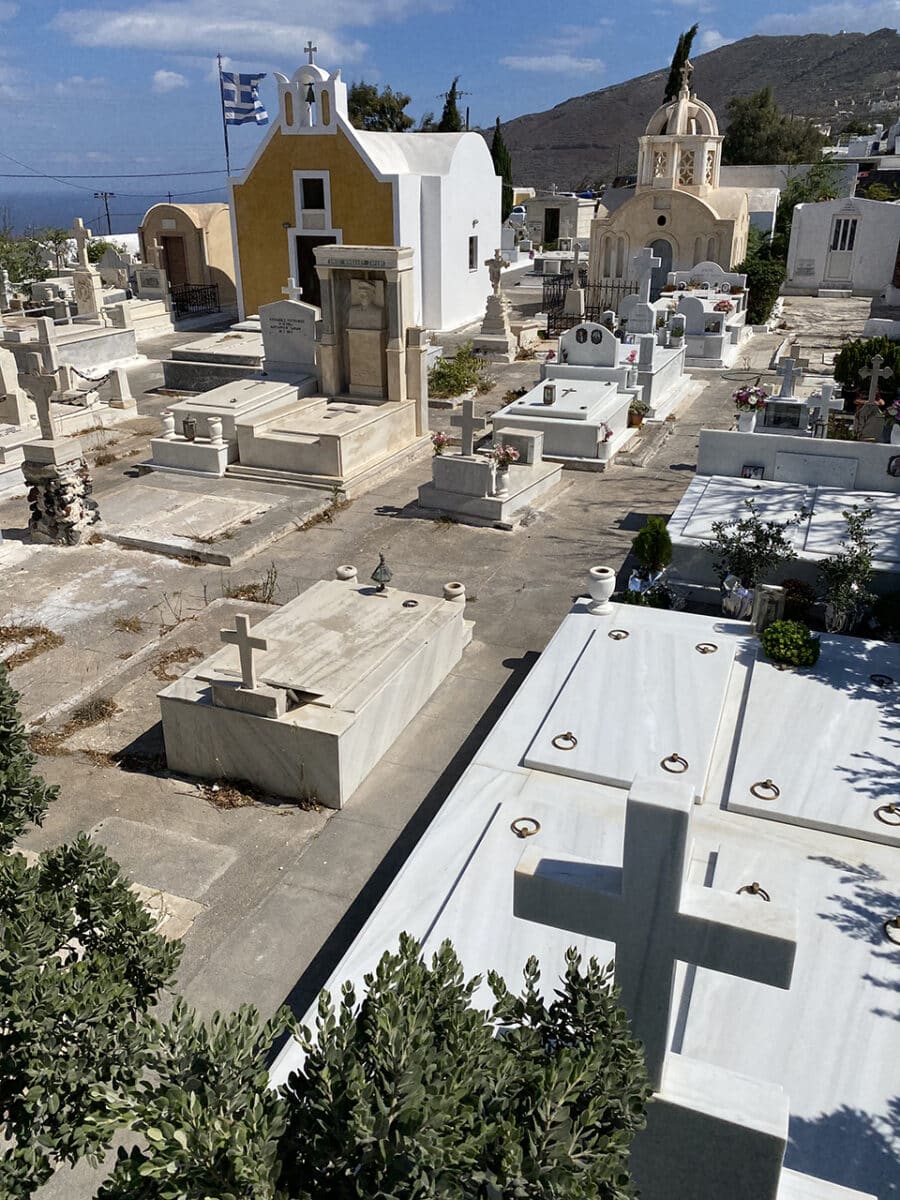 EXPLORE THE TOWN OF OIA
Once we reached Oia, we did a little shopping and grabbed a bite to eat. If you get the chance, try the traditional tomato fritters when in Santorini. They are delicious. While we are discussing food, you absolutely must visit Fourni bakery, just on the corner near the coach stop here in Oia. Possibly the best baklava and honey cakes on the island.
THE ATLANTIS BOOKSTORE
Book lover? Visit the Atlantis bookstore. This incredible little bookstore is on the main street of Oia. Its looks are deceiving from the outside. Once inside, it opens into a much larger shop.
We offer literature in English, French, Italian, Spanish, German, Chinese, and, of course, Greek. We focus on new and used books of modern classic fiction and non-fiction but also offer selections of poetry, philosophy, art, and all things Greek interest.

Atlantis Books.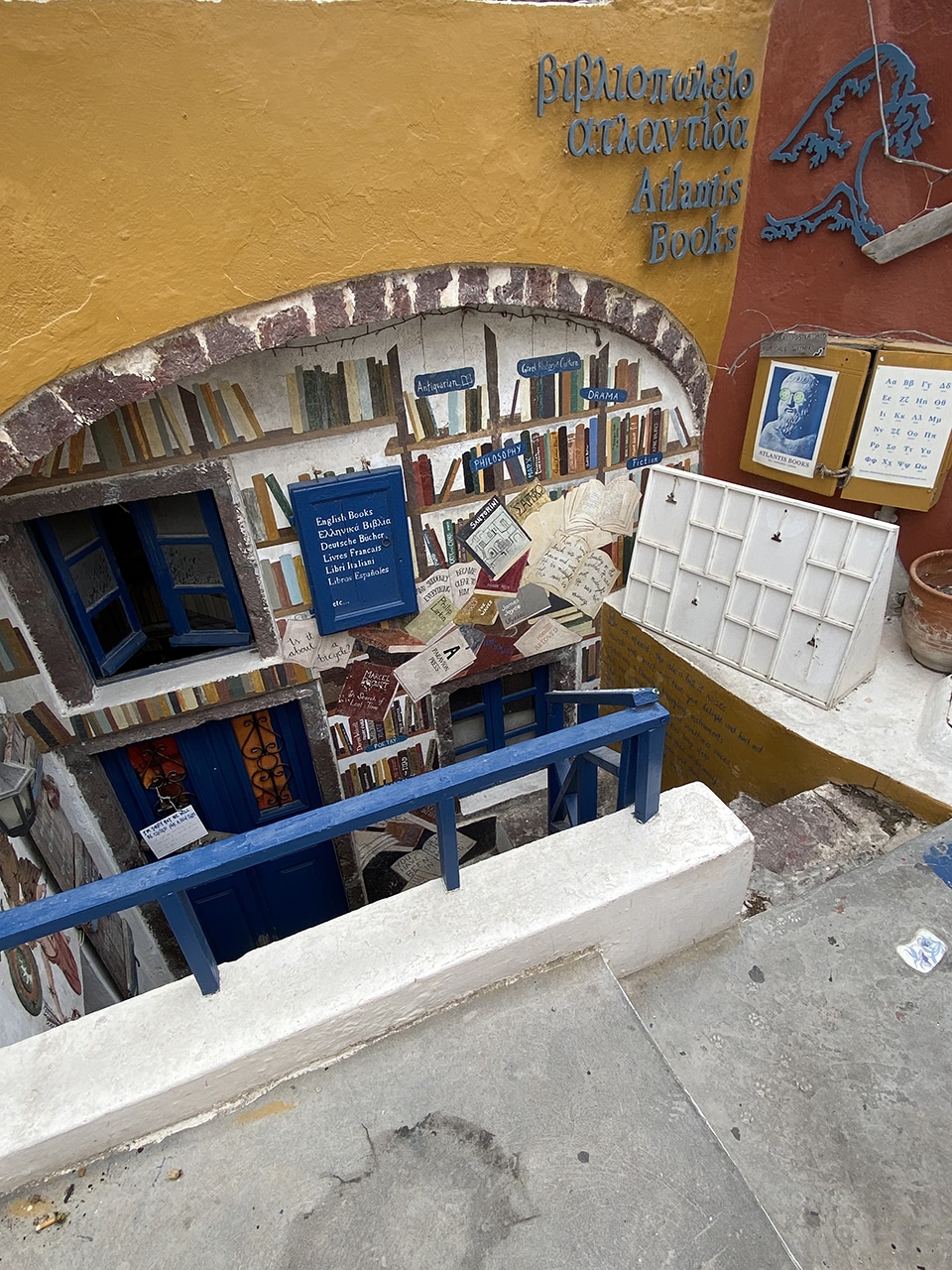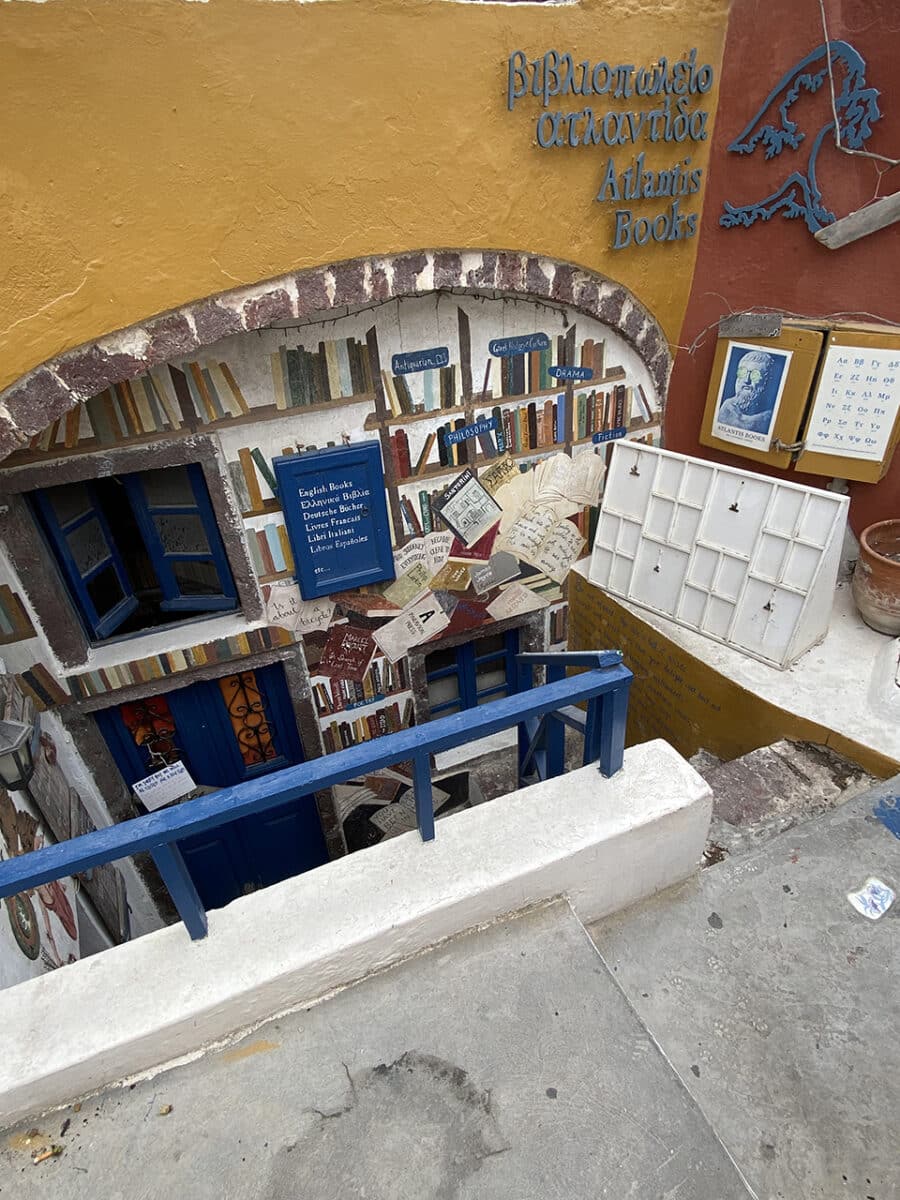 We visited the old windmills that are over on the North side of town and the Castle of Agios Nikolaos. Another Venetian fortress dating back to the 15th century. Used to defend the island from pirates. Much like Skaros Castle, several earthquakes damaged it, and a large quake in 1956 destroyed much of what remained.
The castle is a very popular spot to watch the sunset from. We didn't stay for the sunset like most people do. We had our own perfect, quiet place to view it.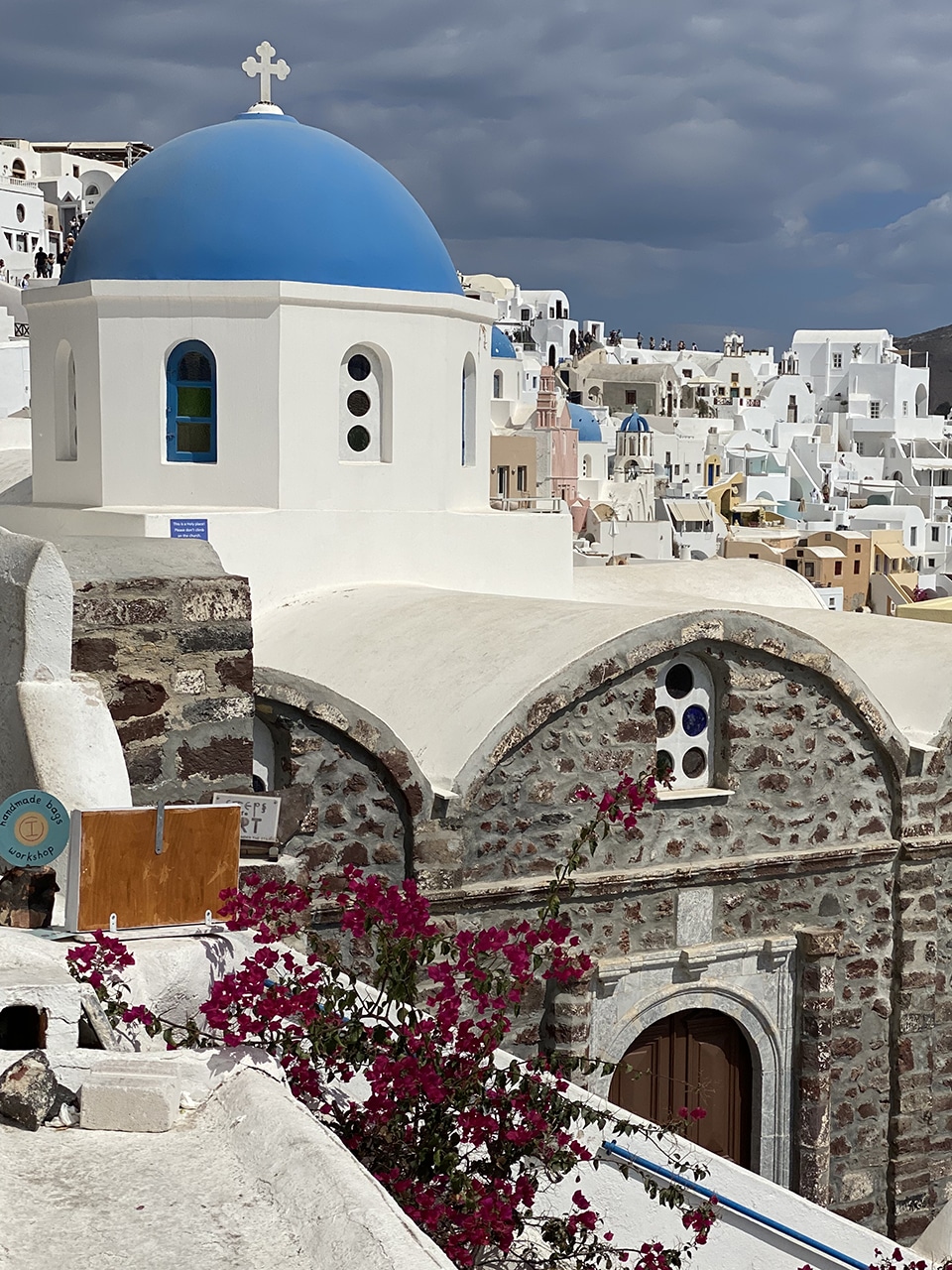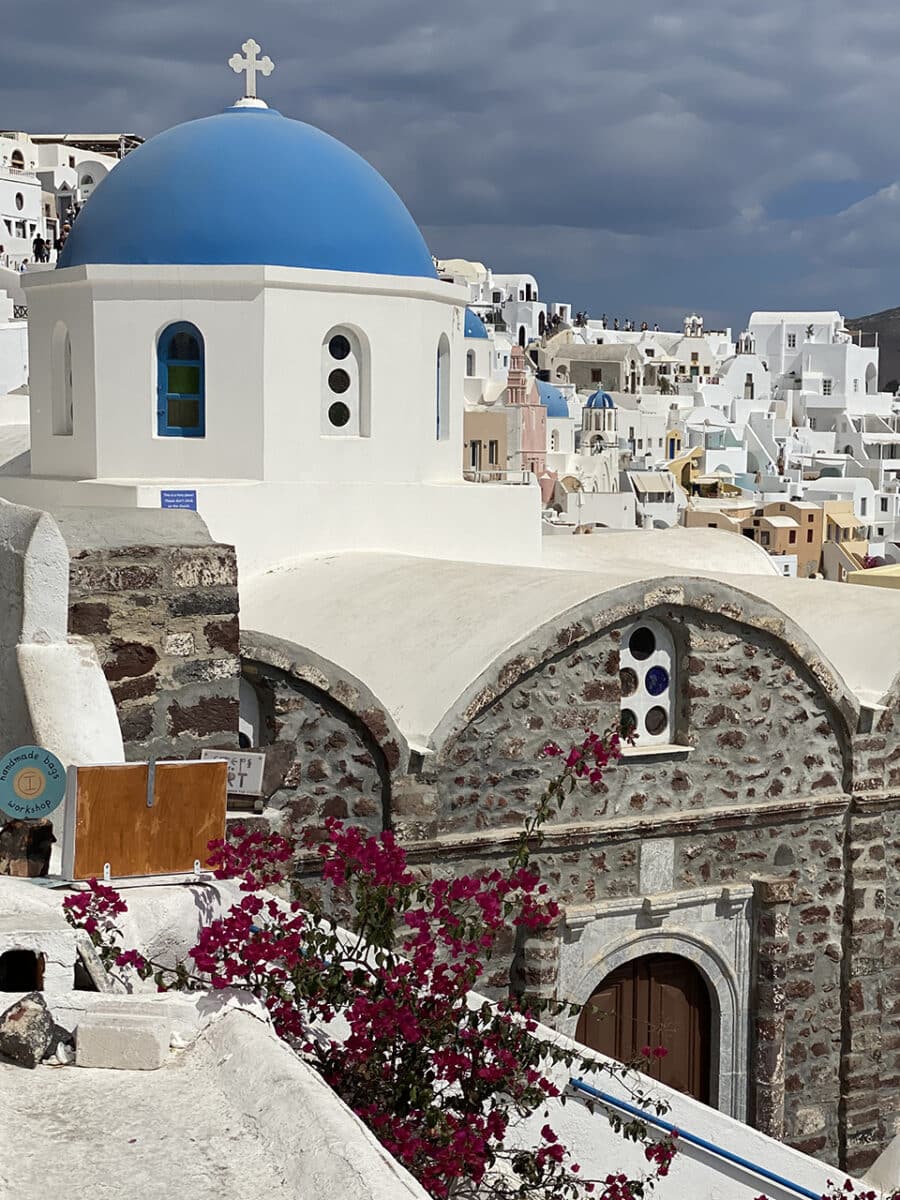 AMOUDI BAY
There are 278 steps down to Amoudi Bay from the town of Oia. It is a small fishing village and port known famously for its seafood restaurants.
278 steps down means the same back up, and this is another one of those times when you are going to be presented with a donkey to help you on your way. These donkeys are out in the sun all day, with little water. I understand people need to earn a living offering these brief trips, but for us, it's cruel. There is a back road down to the bay, so if you think you might struggle, look at the possibility of going that way instead. It may still be steep, but the lack of steps might be a better option.
A PERFECT LITTLE FISHING PORT AND HARBOUR
Once you are down at the bottom, you'll be hit with the smell of delicious seafood being cooked and prepared. That mixed with the smell of the salty air and the sound of the waves lapping the shore makes it worth the hike down. You will see octopus and other sea creatures being hung out to dry in the warm sun, ready to be served up in the traditional style.
After our five-mile trek into Oia, all the walking we did once there, then the 556 steps to Amoudi Bay, we got the bus back. This cost is €1.80 each. Our feet were on fire, so we welcomed the ride back to Fira.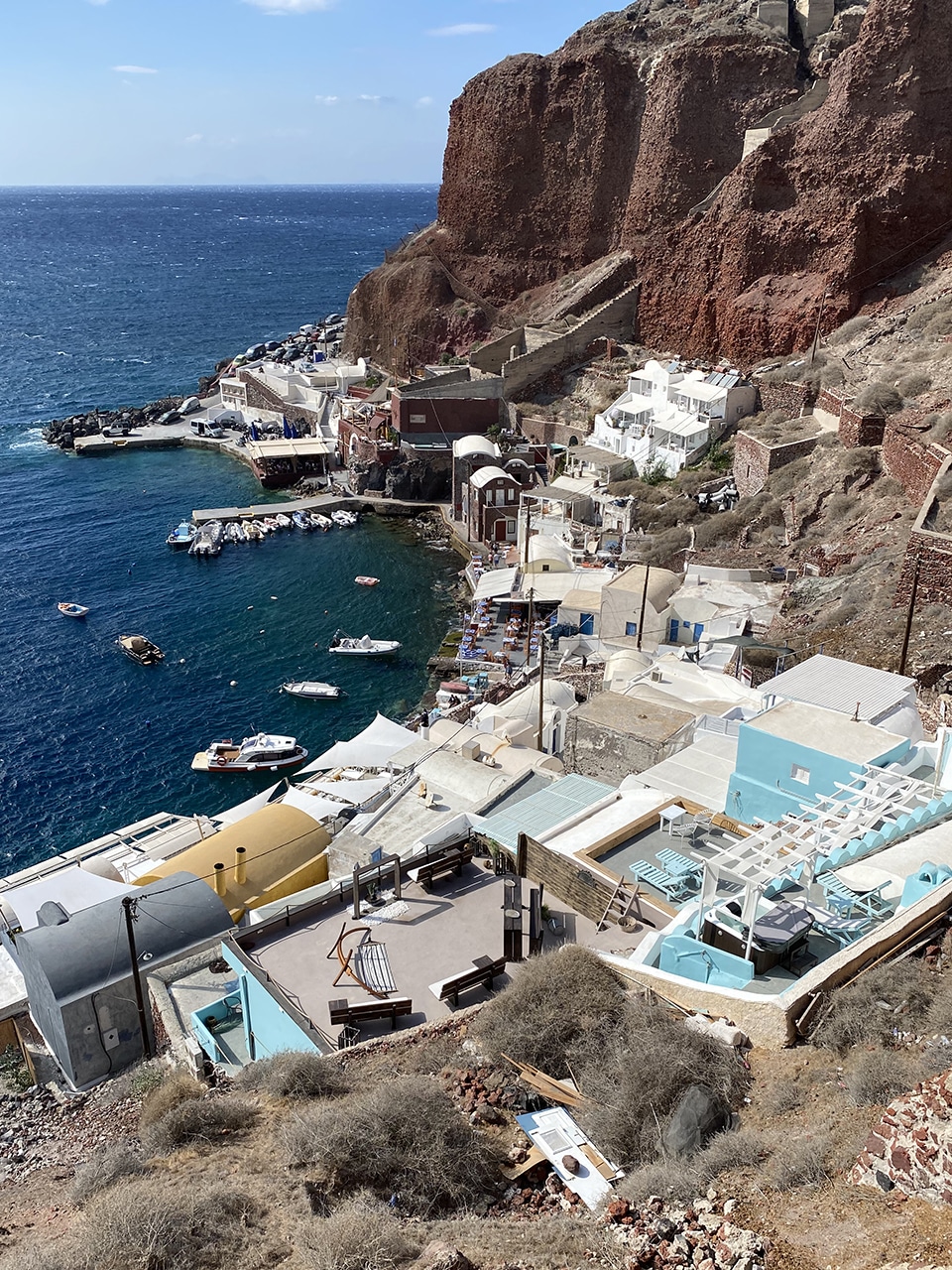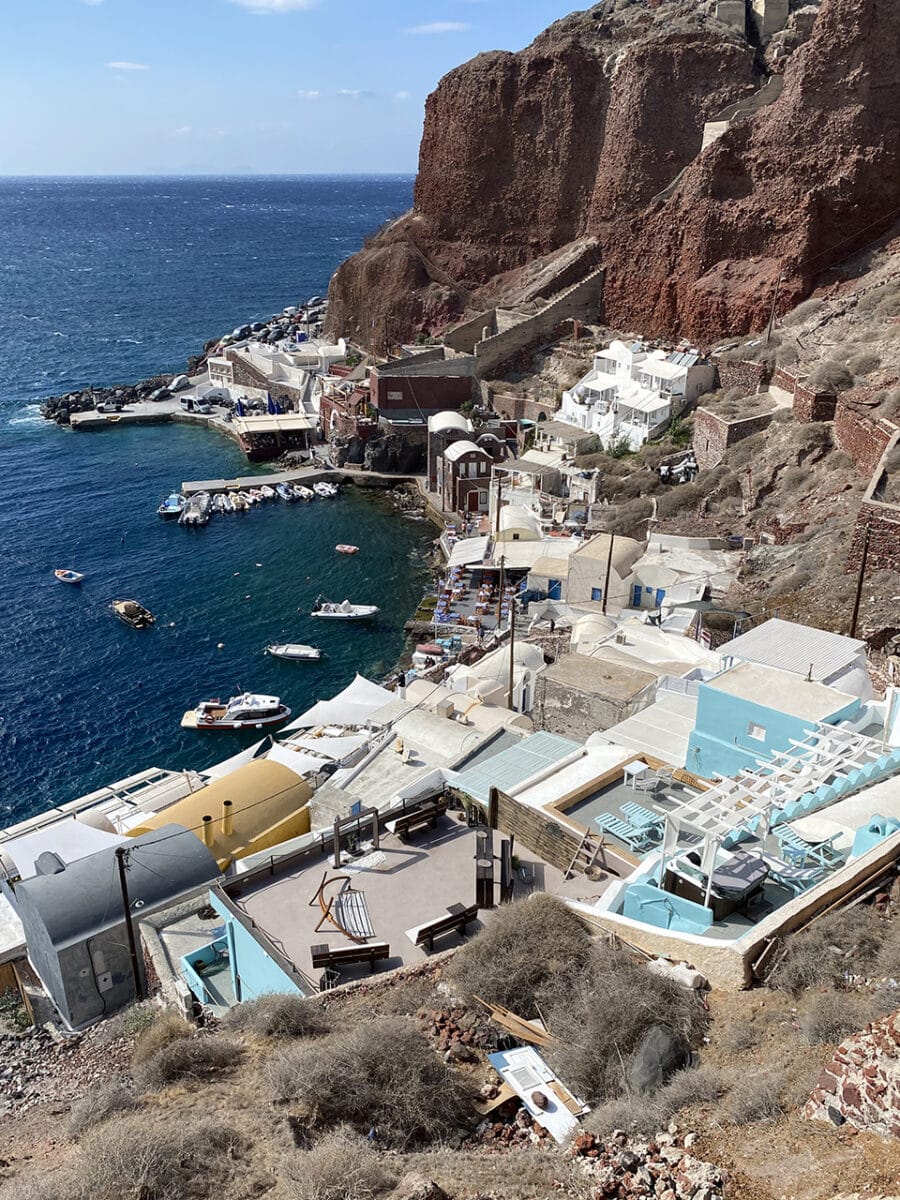 VISITING NEA KAMENI AND THIRASSIA
We booked this trip to the volcanic islands of Nea Kameni and Thirassia when booking our Santorini trip. It was a great day full of wonderful things to see. Our tour company picked us up from the pre-arranged location, the primary bus stop in Imerovigli, around 7.30am. They took us to Athinios Port, where we would board our boat that would be our transportation for the day.
Our first stop of the day would be the Nea Kameni volcano. The one thing we will say before we get to the key details is to bring some appropriate footwear. You will climb a very rocky, steep volcano. We literally saw people in flip-flops and even heels struggling to do this trek. Also, bring plenty of water. This, much like our trek into Oia, is just as difficult and just as hot. It's hard work.
THE VOLCANIC KAMENI ISLANDS
Nea Kameni (new burnt island) is an active volcano inside the caldera of Santorini. The last eruption was in 1950 and it has laid dormant ever since. Over centuries, many volcanic eruptions have taken place. You can also see the small volcanic islet of Palaia Kameni (old burnt island) from here.
Our guide took us up to the crater where you could see the active vents and steam. Surrounded by several volcanic springs, one which we got the chance to swim in. The island is covered in differently coloured volcanic rocks and lava formations. This was a great excursion and one we highly recommend. Our guide explained to us why the island of Santorini looks the way it does today and how it got its name.
After our volcanic hike, we hopped back onto the boat, where we would sail for a few minutes around the island. Next, we would have a dip in one of the thermal springs. The water wasn't as hot as what I thought it would be, but it was still very refreshing.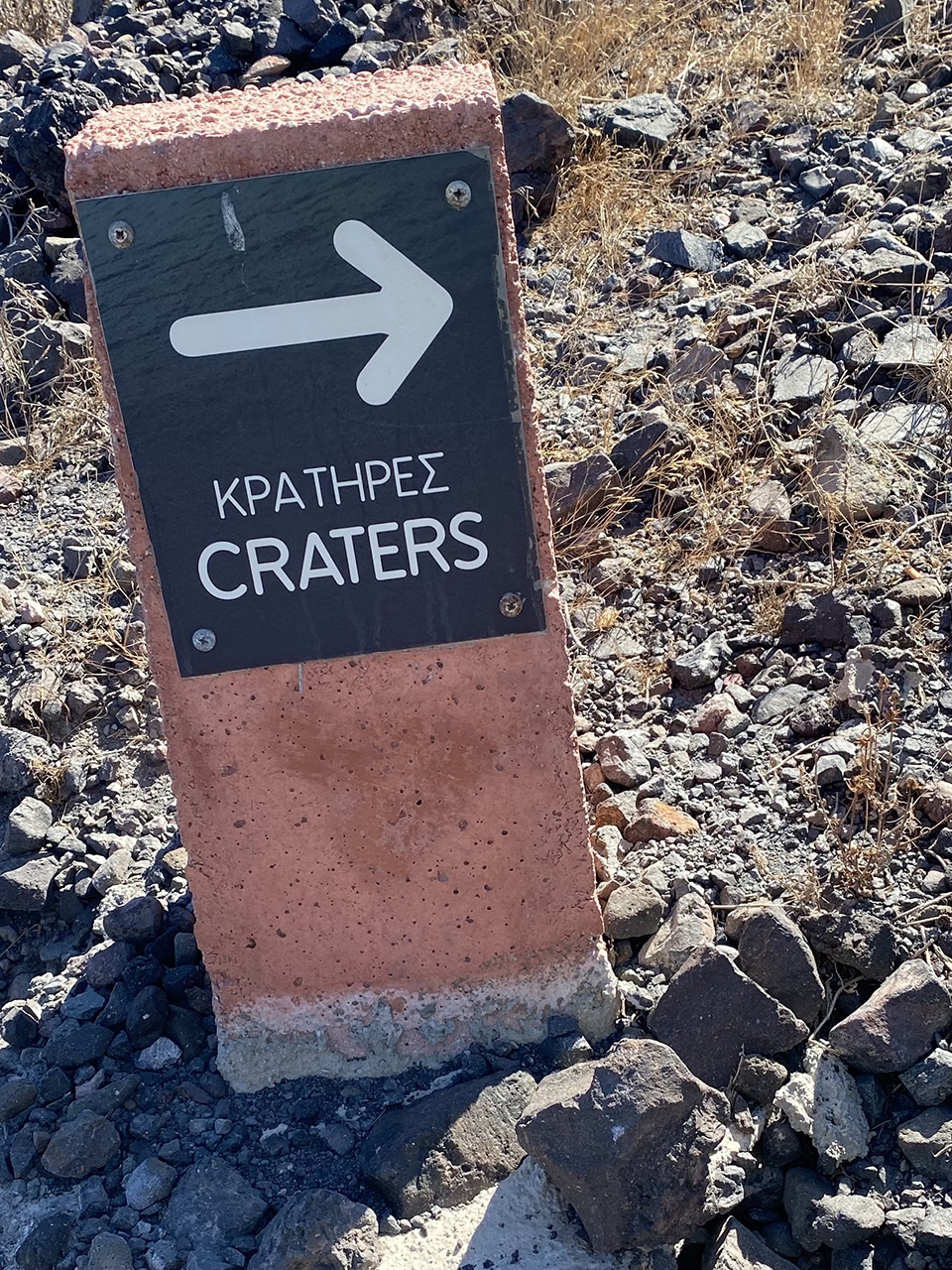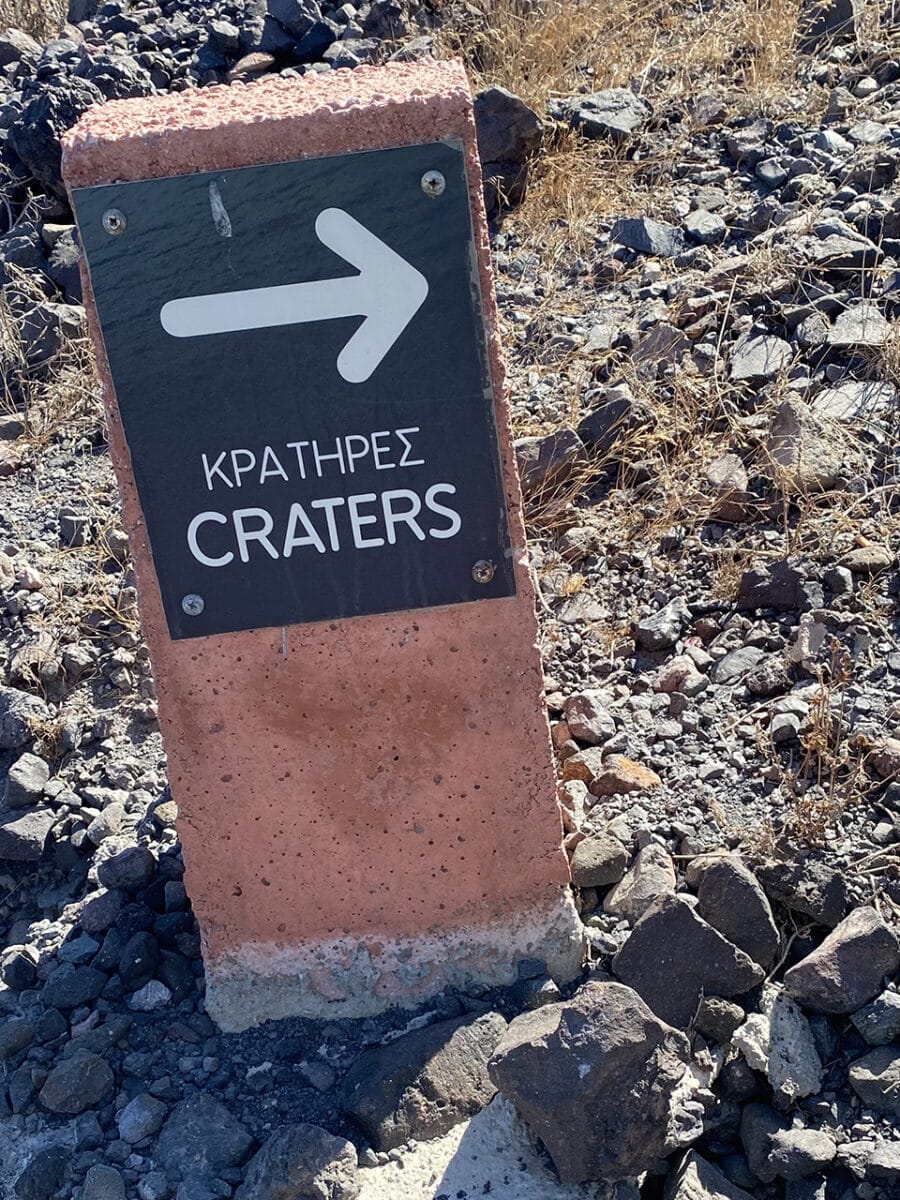 THE ISLAND OF THIRASSIA
Thirassia is a small island just off the coast of Santorini. Before the massive eruption that happened around 1500BC, this small outcrop was once part of the island of Santorini. The explosion blew the island apart, and this subsequently flooded what it left and created the island formation we see today.
Its capital, Manolas village lies just to the South as you reach the top of the whitewashed steps. Once again, this is a climb you will have to think about. The steps up are incredibly steep and it's hard work. Please avoid using the donkeys again.
The tiny town has a handful of places to eat and drink and there is a pleasant walk to the Monastery of the Assumption of the Virgin. There are many more places to eat down by the shore, all selling incredible looking seafood.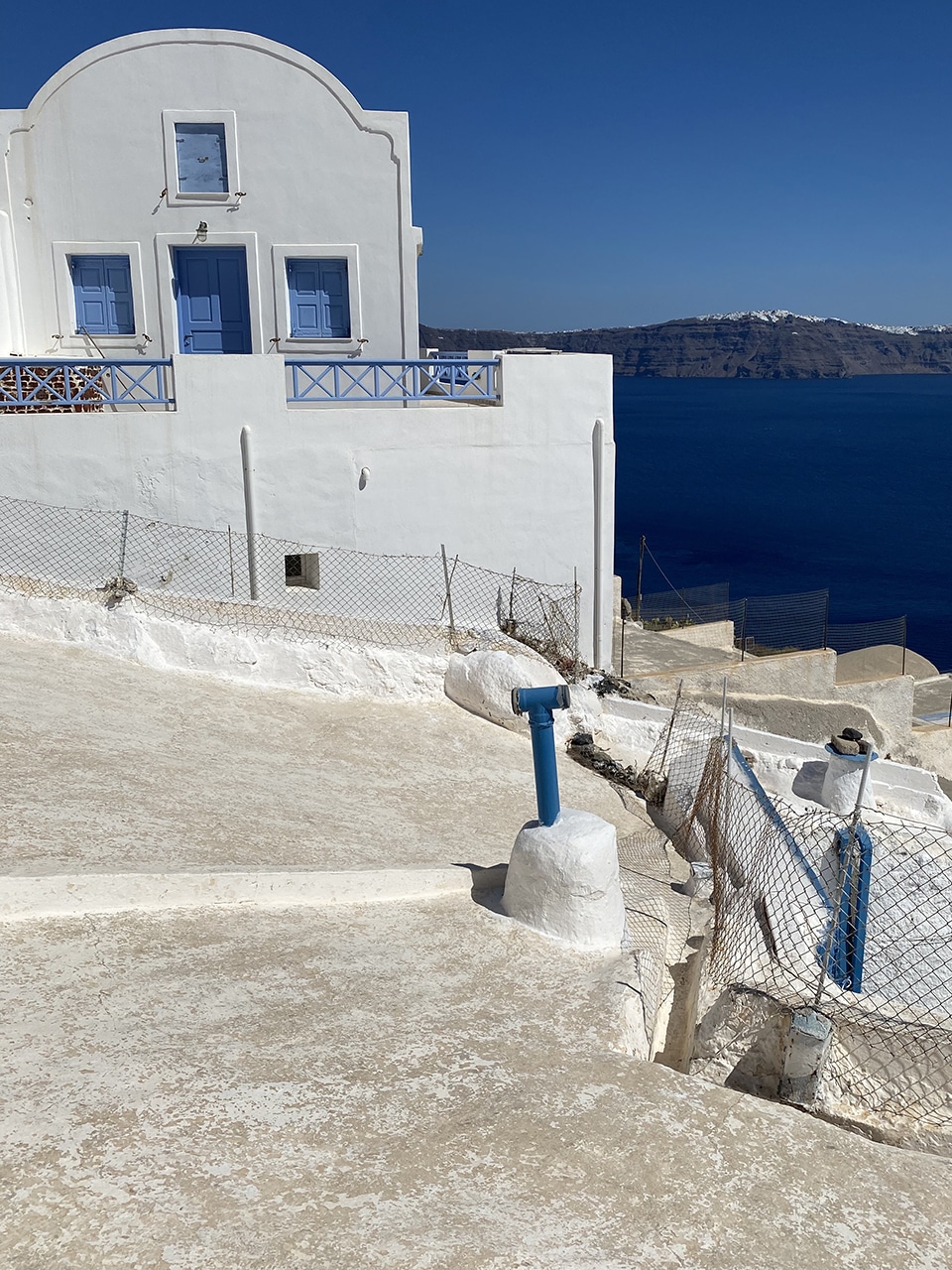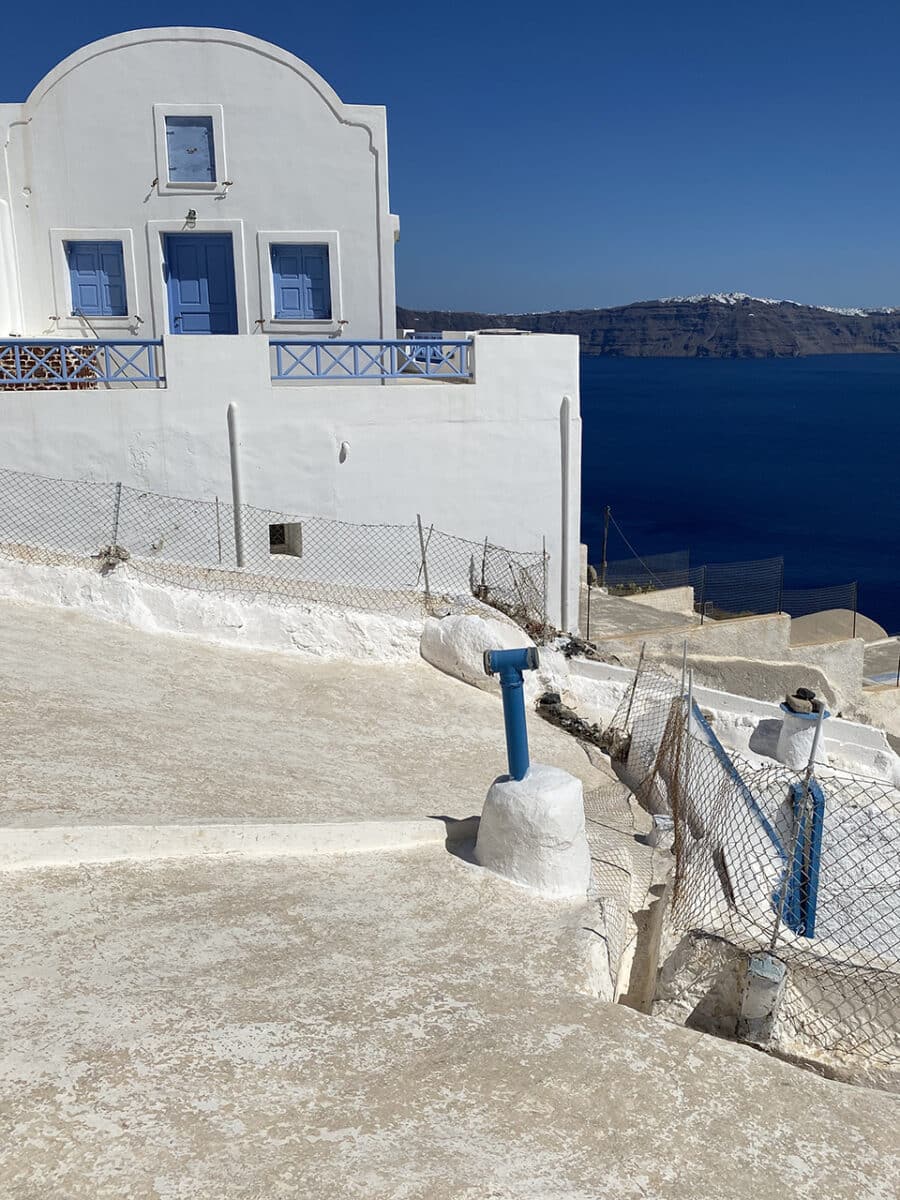 ISLAND HOPPING OVER TO IOS
When we visited Santorini, we were looking for what trips and excursions we could do whilst there. We found out we could travel across to the island of Ios. How could we pass up on such an opportunity? Our two-day trip only took 40 minutes by ferry and this was all pre-booked before. We used Ferryhopper to book our tickets. I booked our hotel via booking.com and we stayed on Mylopotas beach overnight.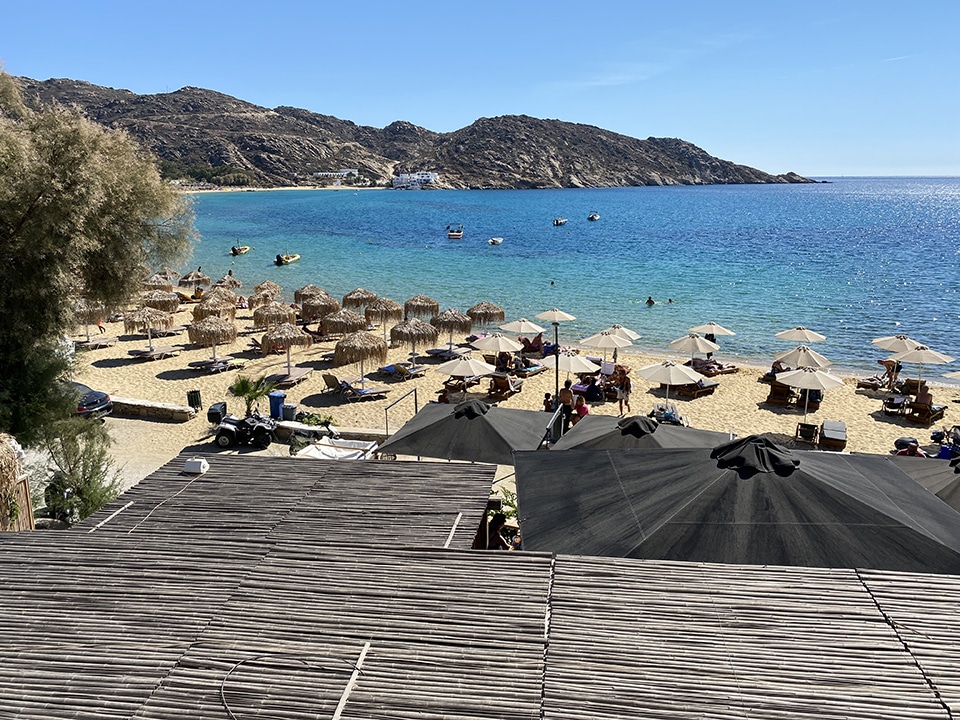 AKROTIRI & RED BEACH
We were looking forward to visiting the southern part of the island. We did Akrotiri and the red beach at the end of our stay. Taking the bus from Imerovigli down to Fira, which cost €1.80, we then changed onto the bus down to Akrotiri, which was a further €2 each. Tickets had to be bought on the bus for both journeys. There was no return option.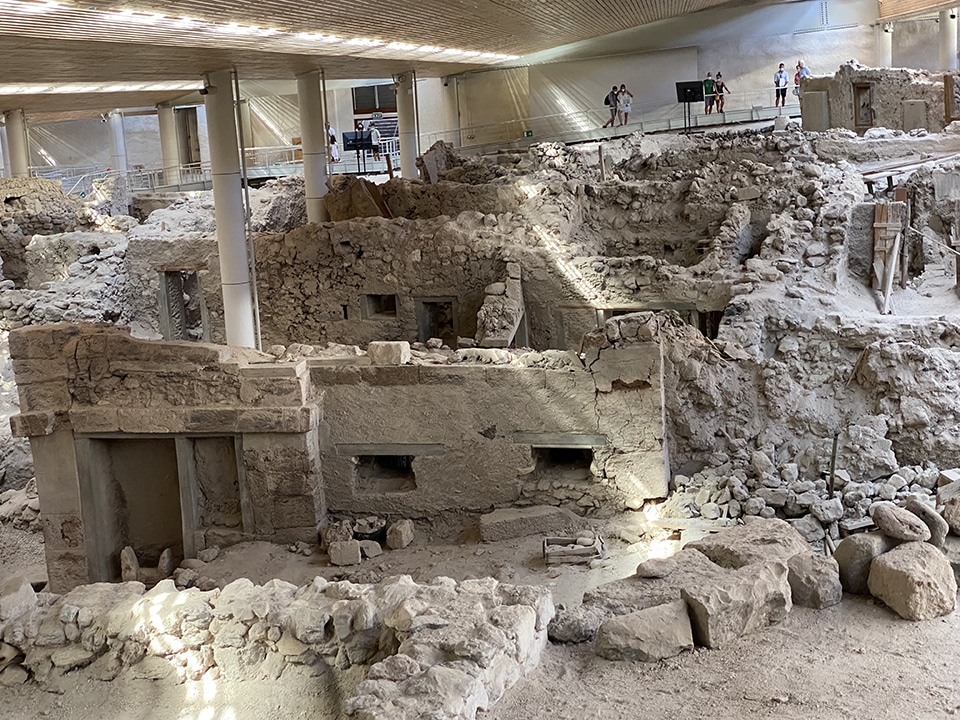 The transfer down took around half an hour, and because we wanted some beach time, we took off to visit the pre-historic site of Akrotiri first. Tickets in to the archaeological site cost €12. You can also go on an organised trip with a guide. Both options are worth considering.
Akrotiri was home to the Minoan civilisation at least 4000 years before the city of Pompeii was founded. Although preserved similarly, Pompeii is much younger.
Somewhere around 1530BC the huge volcano of Thera erupted and blew the island to pieces. It was one of the largest volcanic eruptions ever recorded. The Minoans were wiped out, it covered the village in volcanic ash and lava hundreds of feet deep.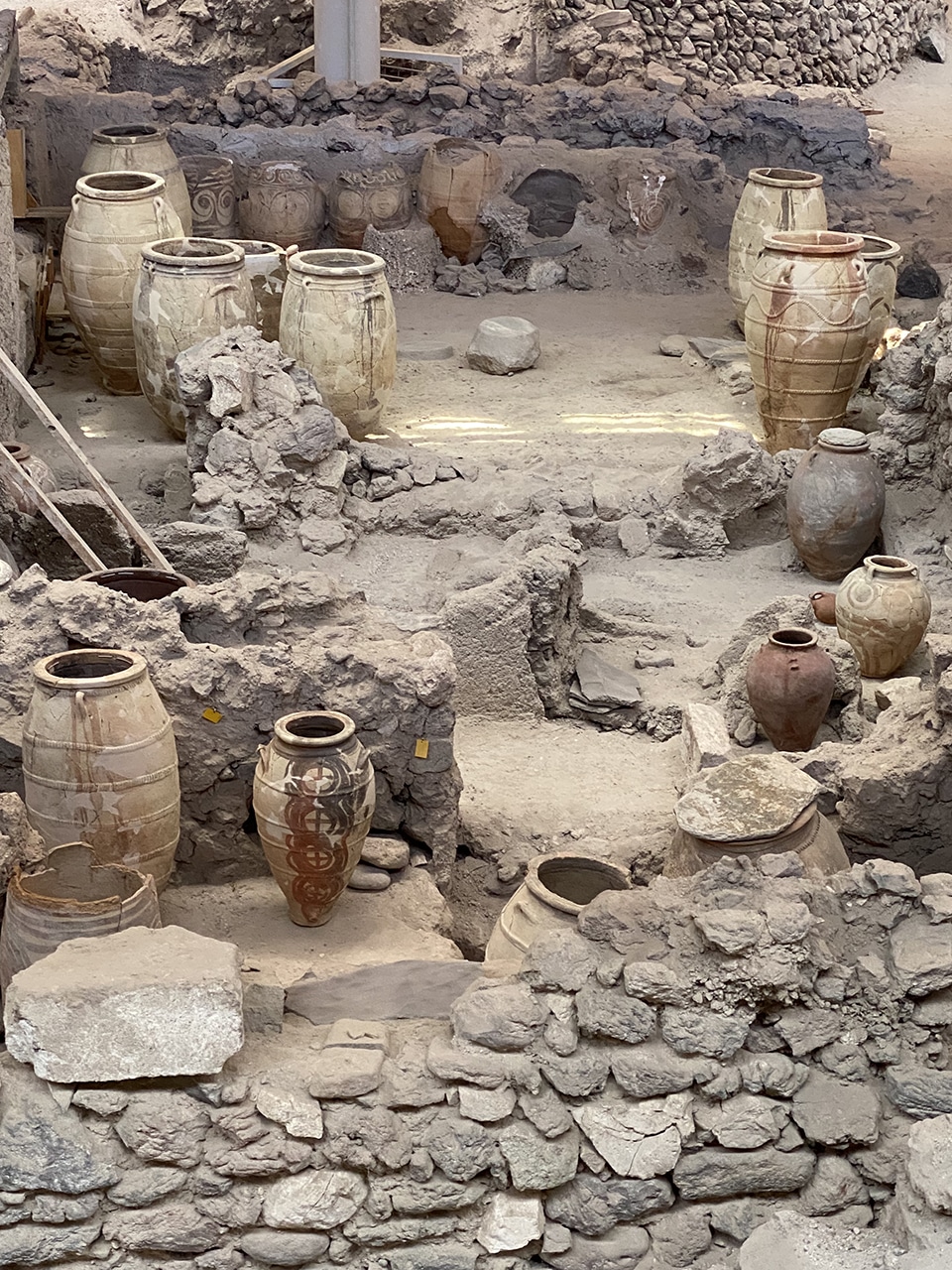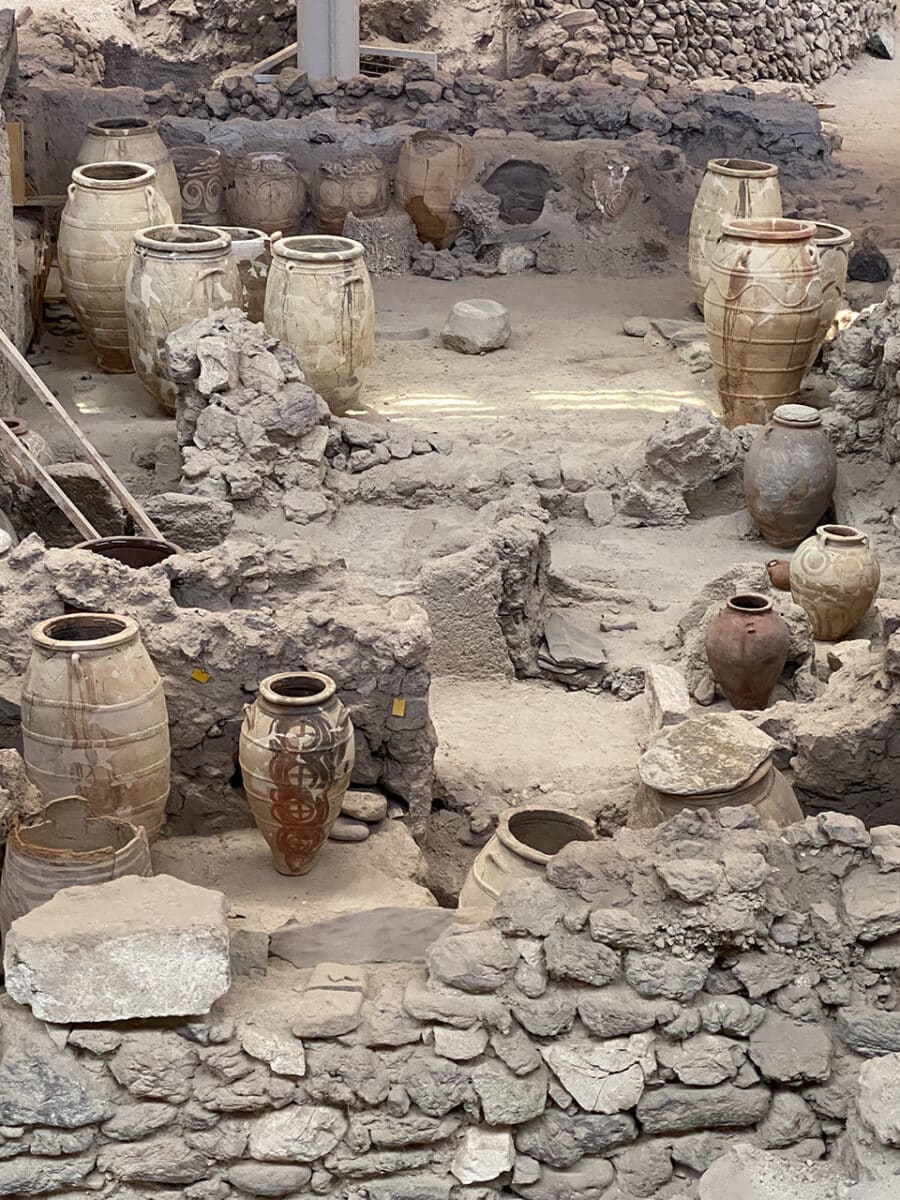 RED BEACH
Once again, the walk to get to the famous red beach of Akrotiri (Kokkini Beach) was rocky and steep. The beach is a popular location for locals and tourists alike.
You can access the other beaches around this area by boat. White beach (Lefki Ammos) is the next cove along and black beach (Mesa Pigadia) further still. We were happy to stay on the red beach though.
The red beach can be dangerous, however, and suffers from frequent rockslides. Bring supplies like food, water etc as there are no facilities down there if you plan on spending the day here.
We enjoyed it here, but the one thing we did notice was how incredibly dirty the beach was. There seemed to be a lot of plastic and what looked like shredded paper strewn all over.
The beach itself is pebbly, so take care when walking around. Also, as you enter the sea, there are some quite large boulders, which can be very slippy. I almost broke my toe on one as I entered the water. Be careful.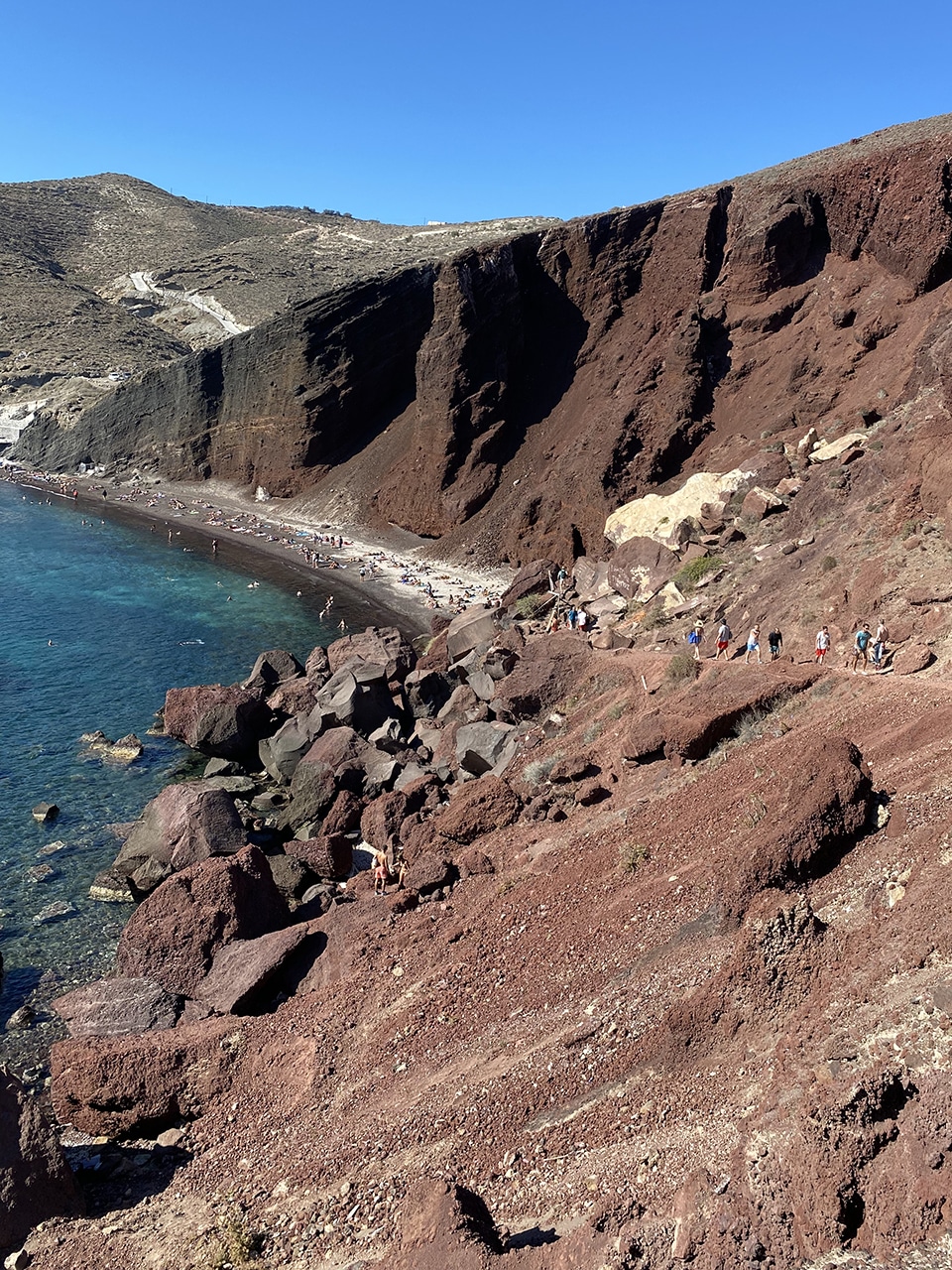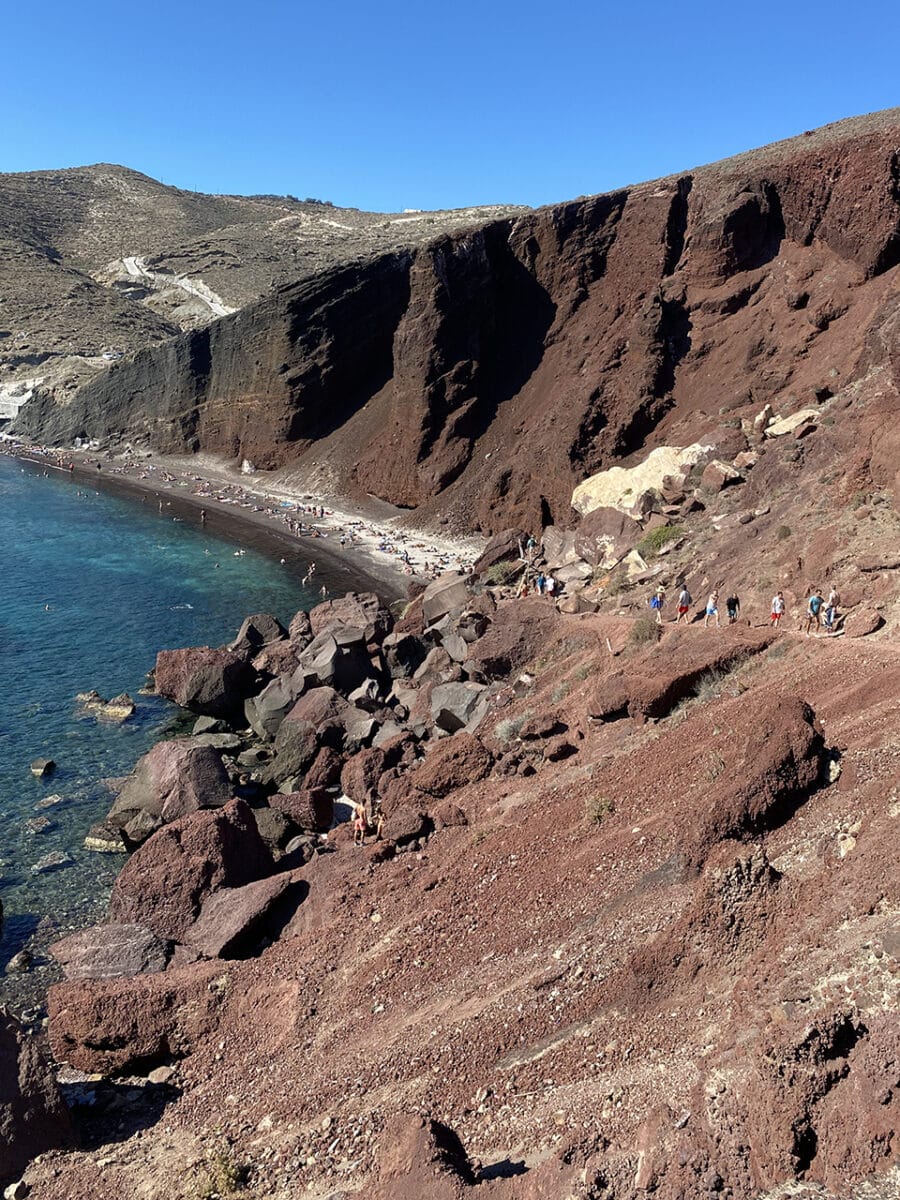 MORE SUNSETS OF SANTORINI
We all know just how beautiful the sunsets here are. So, there is little need to write about them. Here is a few more of our favourite photos. I hope you enjoy them as much as we enjoyed watching it.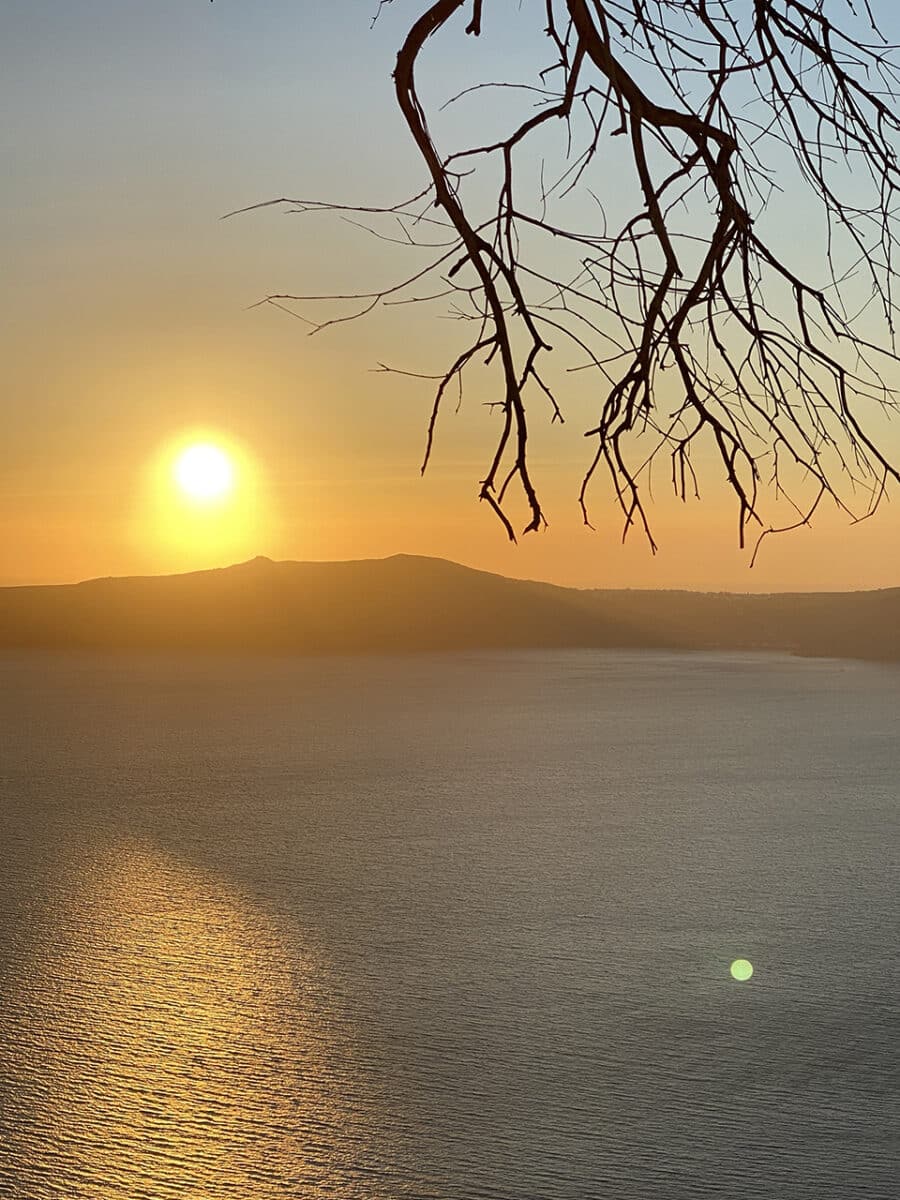 Read: Photographs of the best sunsets from our travels.
USING OUR JUST BOTTLE
We couldn't have explored Santorini without the help of our Just Bottle. We reached out to the company before our trip, and they hooked us up with two of their fantastic bottles. One glacier white and one flint colour.
We took them everywhere. They really came in handy for all our excursions and hikes around Santorini. I think we were also the first people to take one on to a volcano! A big thank you to the team at Just Bottle for gifting these to us. These will accompany us on many more adventures, so expect to see them popping up again on our social sites.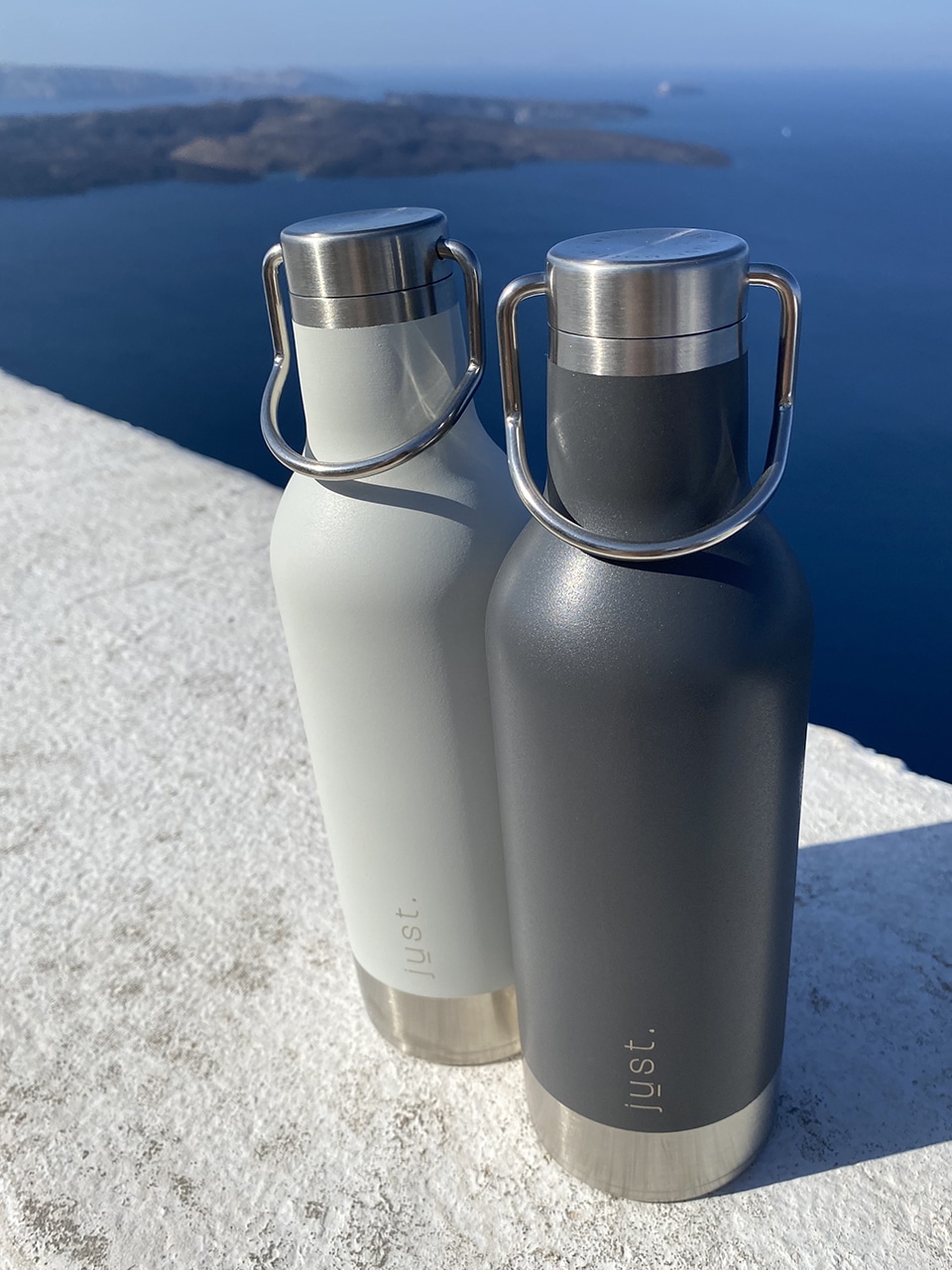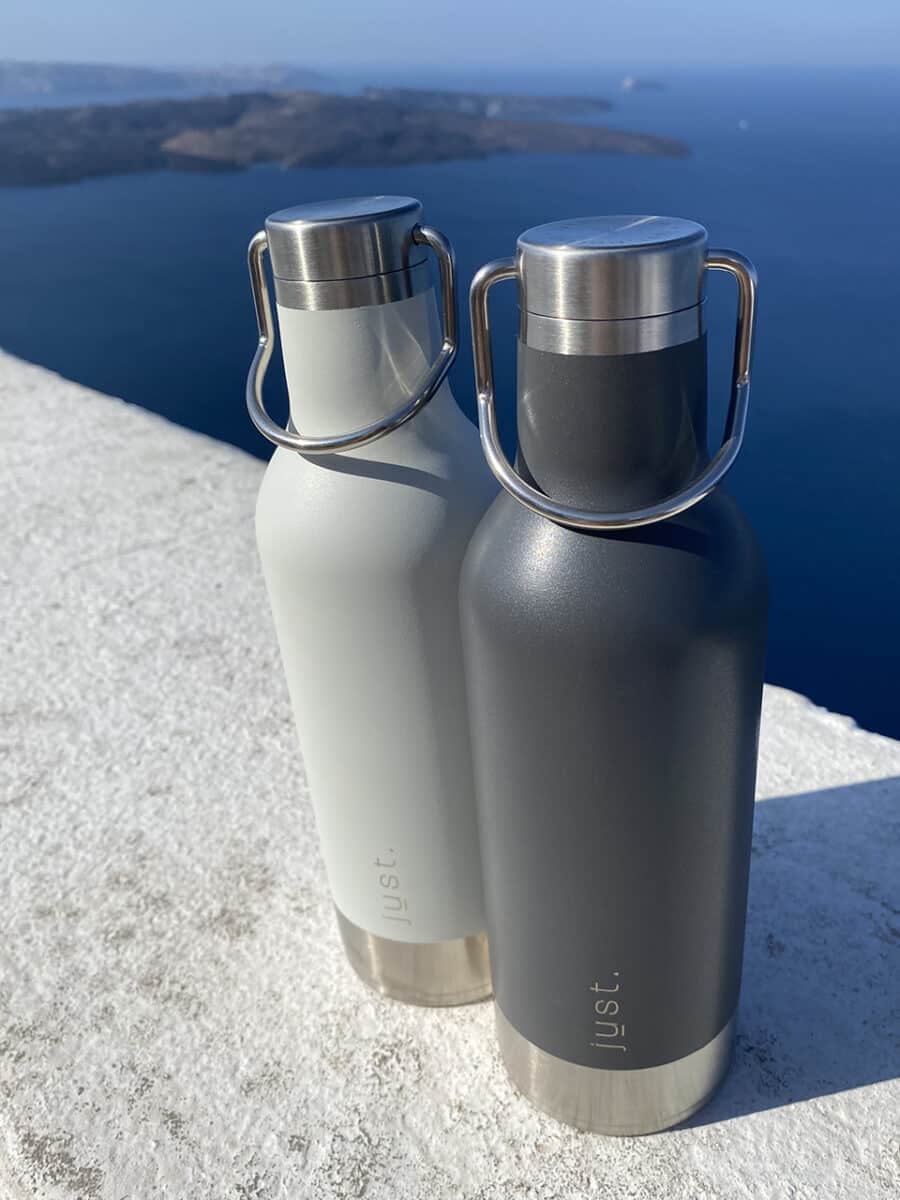 MORE FANTASTIC THINGS TO DO IN SANTORINI
Go wine tasting. This is something we wanted to do during our trip, but we just couldn't fit in.
Hire a quad-bike or moped. Looking to explore the island further? These are extremely popular with tourists.
Enjoy a catamaran trip. There are several trips you can do that involve a catamaran. Some are during the day and involve food, drink and trips over to the hot springs. Other are during the evening and can involve a more romantic experience with fine dining and sunset views.
Sunset cruise. Why not experience the beautiful sunset floating on the Aegean Sea?
Sea kayaking and snorkelling experience. Take to the open sea, enjoy Santorini on and below the waves.
Floating dress photo shoot. You can walk around Imerovigli, Oia or Fira without seeing one of these photoshoots taking place. Very popular with influencers.
THE CATS OF SANTORINI
If, like us, you are cat lovers, you will notice the huge number of strays on the island. Most are so unbelievably friendly.Unfortunately, thousands of these cats die hungry, abused, poisoned, and from sickness every year.
We reached out to Sterila Santorini Cats to see if we could help promote the incredible work that they do to trap, neuter, and release to control numbers. They also help with adoptions and set up feeding stations across the island. They happily obliged.
Visit www.santorini-cats.com where you can learn more and donate to help with their wonderful work.
When we arrived back in England, we had just over €60 left in cash, so we transferred the equivalent amount over to them as a donation. We hope it helped in some small way.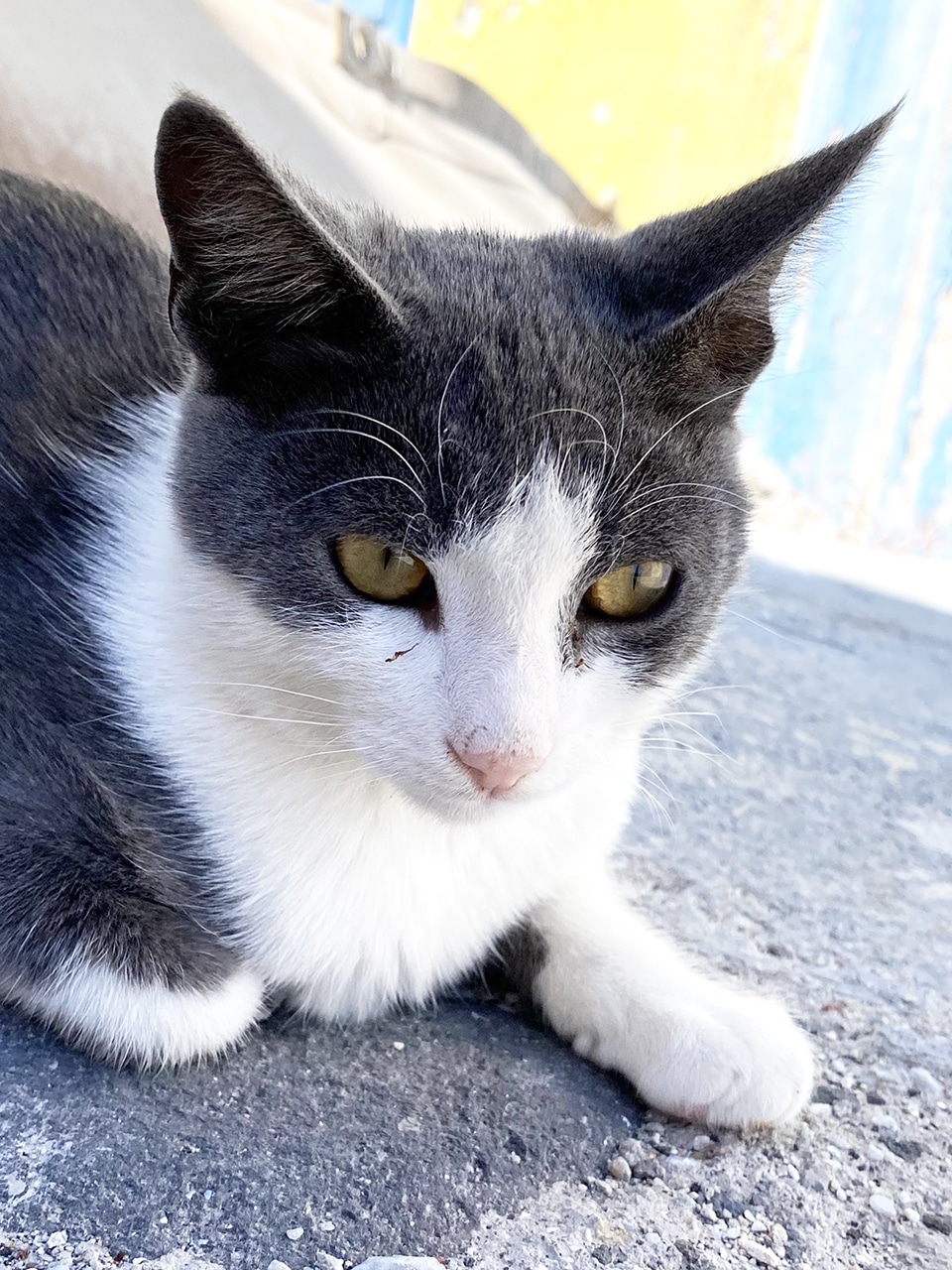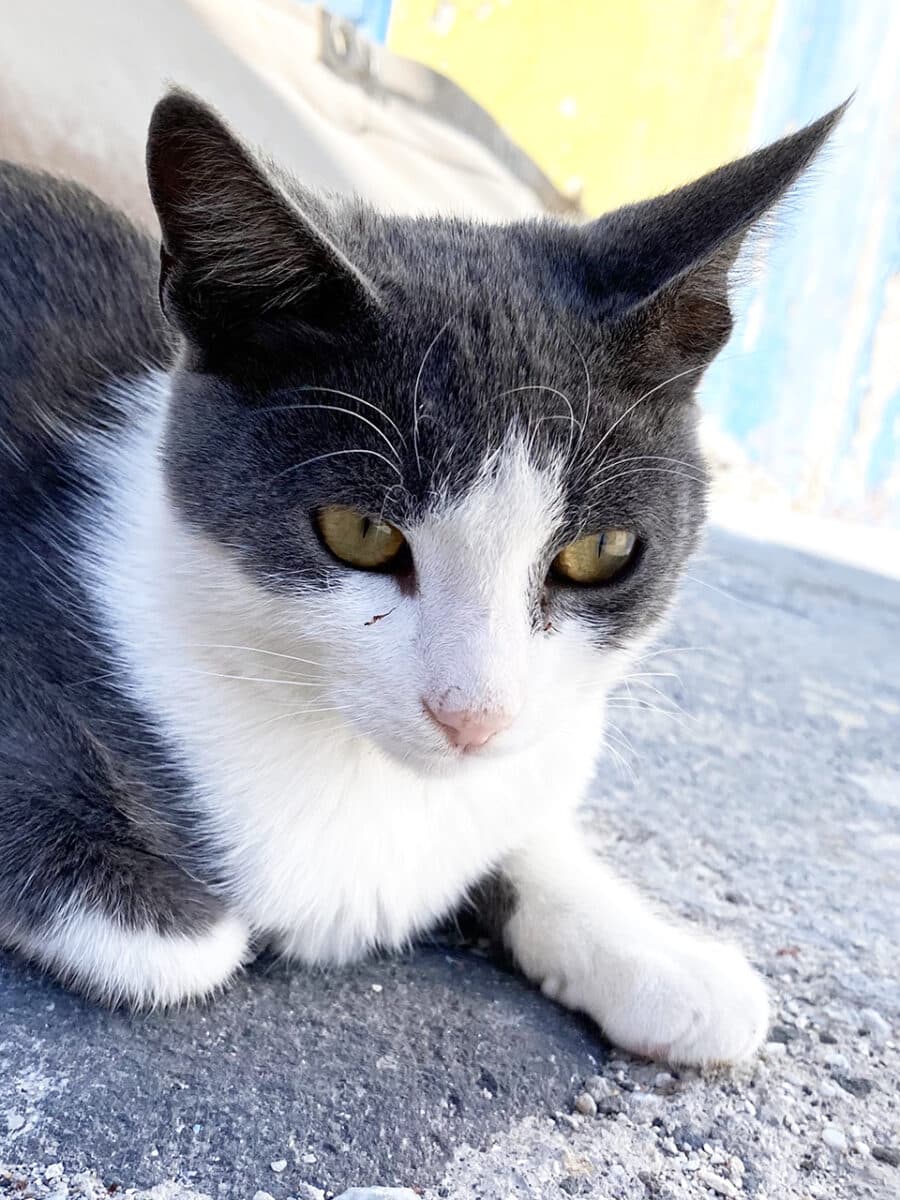 STAY AT CASA FLORINA
If you are looking for a great place to stay, then we recommend Casa Florina in Imerovigli. No fancy infinity pool, but a spotless, friendly, small hotel with a big welcome and great if you are on a budget. Read: Review: Casa Florina, Santorini.
---