"Vedi Napoli e poi muori" or "See Naples and die" is a famous quote coined during the reign of the Bourbons. To see Naples in all its raw beauty is something you absolutely have to do. Here are 13 amazing things to do in Naples, Italy.
We spent four days in Naples and had an incredible time. I was apprehensive at first, but so glad Jason persuaded me to go. I would go back again anytime. We stayed at the Rex Lifestyle Hotel on this occasion and we can highly recommend it for your stay. It is in a great location, a short walk from the seafront and within reach of the city's attractions.
L'ANTICA PIZZERIA DA MICHELE
Before visiting the city, we knew we absolutely had to eat at L'antica Pizzeria da Michele. It has been serving its famous pizzas since 1870. The restaurant became even more famous after featuring in the book, then the film "Eat, Pray, Love" starring Julia Roberts.
The restaurant gets very busy, so during these times, you will need to grab a ticket from inside and wait for your number to be called so the staff can seat you at a table.
THE BEST PIZZA IN THE WORLD
They serve two types of pizza, the "Margherita" and "Marinara". Naturally, we ordered both and two bottles of beer. Now, as simple as these pizzas are, they are some of the best pizzas we have ever eaten. First up the Margherita, the cheese was so sweet, the kick of fresh basil and a nice fruity tomato sauce.
Next the Marinara, fresh tomatoes, just the right amount of oregano, a hint of garlic and delicious olive oil. This place certainly lives up to the hype. The dough was so thin and chewy. It is said that this is the best pizza in Naples, and possibly the world. All of this was less than €20 with no hidden table charges.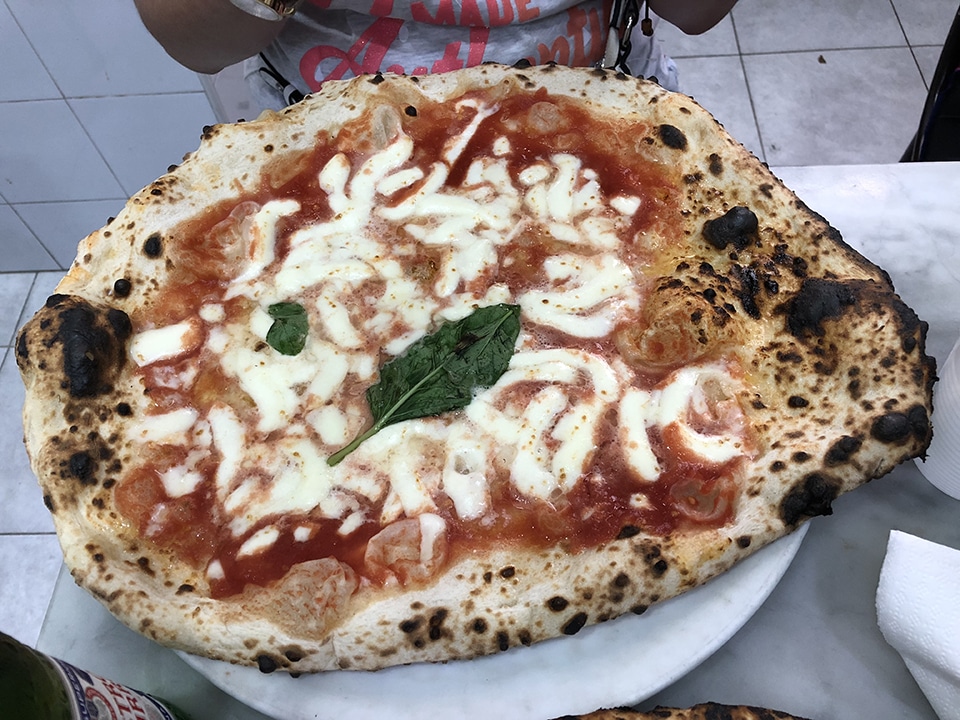 If you are looking for more pizza to eat in Naples, then another place we highly recommend is Gino Sorbillo's. Gino has a handful of restaurants across Italy, including Rome and Milan. His traditional pizzas are delicious and there are several flavours on the menu. He also has a shop selling another famous Neapolitan delicacy, the 'Pizza Fritta'. A deep fried version, full of flavour and a must-try.
If you are looking to get even more involved in pizza, then why not join a 'Make your own Neapolitan pizza workshop'.
Make the most of your time in Naples and learn how to make authentic Neapolitan pizza with an Italian chef. Discover the art of freshly made dough, create a delicious pizza using local ingredients, then enjoy your pizza with a glass of wine.

Get Your Guide
PIAZZA DEL PLEBISCITO
Work started on the Piazza in 1809. They finished it in 1846. This large public square has played host to several large events during its history. Including concerts featuring Sir Elton John, Muse, Bruce Springsteen and more.
There is a superstition surrounding the Piazza. If you can walk in a straight line, backwards, from the far end, between the two statues and end up between the two middle columns of the church, luck will be on your side! Try it, it is not as easy as it sounds.

BASILICA OF SAN FRANCESCO DI PAOLA
The basilica, founded by Ferdinand I, and it was consecrated in 1846 at the time of the Piazza's opening.
You can visit the church for free, but it closes for special events such as weddings and services. Typical of all Italian churches, huge marble statues and carvings adorn the walls. As it is free, don't forget to leave a donation. It helps with the restoration and upkeep.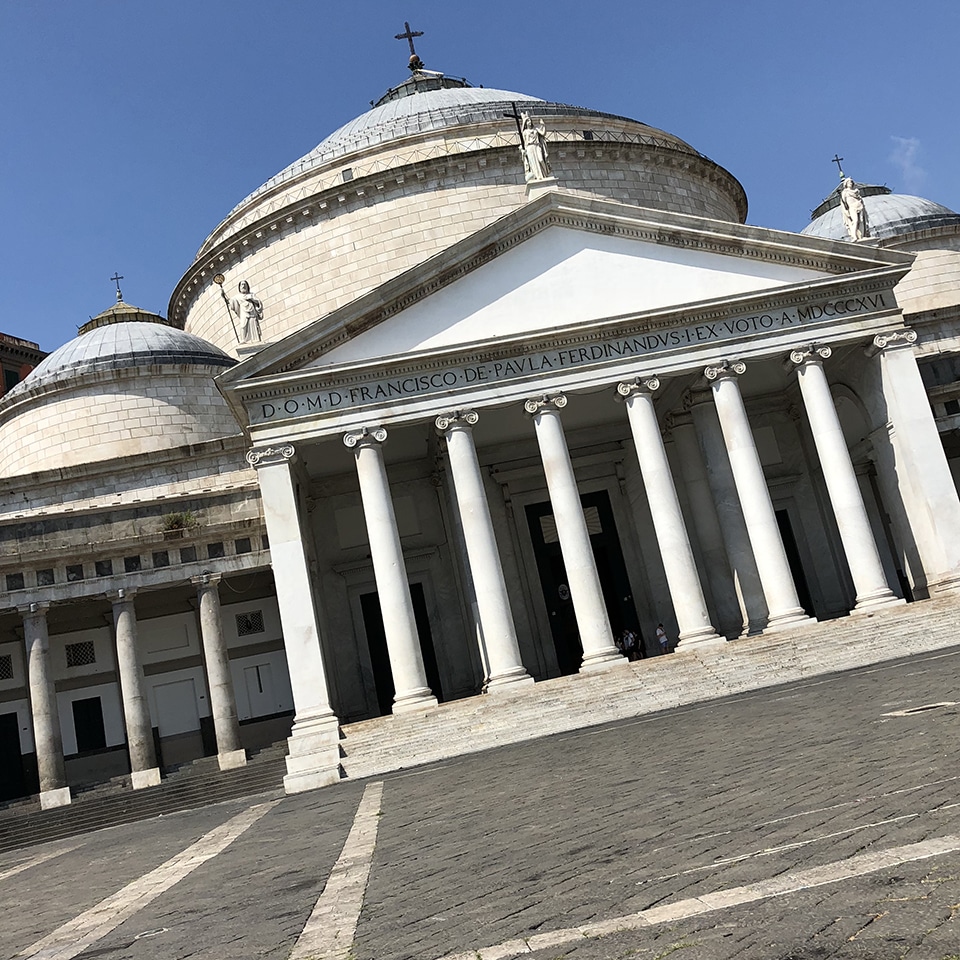 THE CATACOMBS OF SAN GENNARO
An incredible ancient underground Christian burial and worship site. Carved out of porous stone, the oldest part dates back to the 3rd and 4th century. You can only enter the tombs by guided tour, which cost €9. This also includes entry into the catacombs of San Gaudioso.
You won't find any bones or remains here though as they were all moved to the Fontanelle cemetery, Cimitero delle Fontanelle. You learn about this during your visit. The story about what happened next to the bones is creepy, however, I won't spoil it for you. Tours run every hour. Check out the gift shop while you are here, also the coffee is incredible too.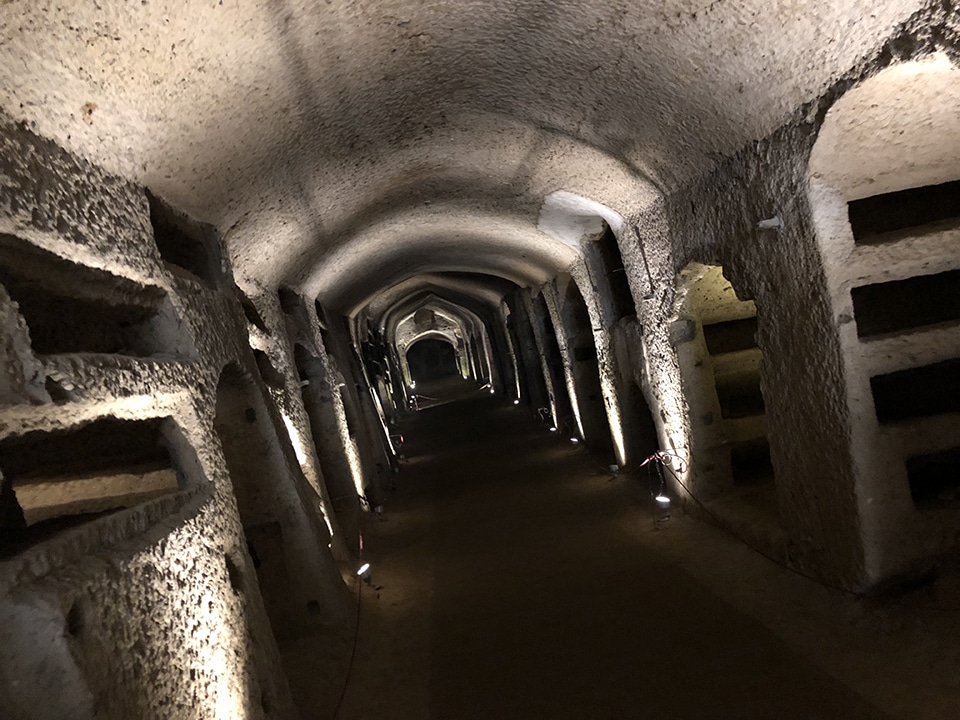 BASILICA DI SANTA CHIARA
A monastery in the centre of the city. At the time of our visit, the church was closed for worship, but we could still visit the famous cloister of the Clarisse's.
A place so peaceful you soon forget you're in a city as loud and as busy as Naples. Covered in hundreds of brightly coloured, hand painted Majolica tiles and frescoes, this place is stunning. There is also a museum, a small excavation site and a cafe.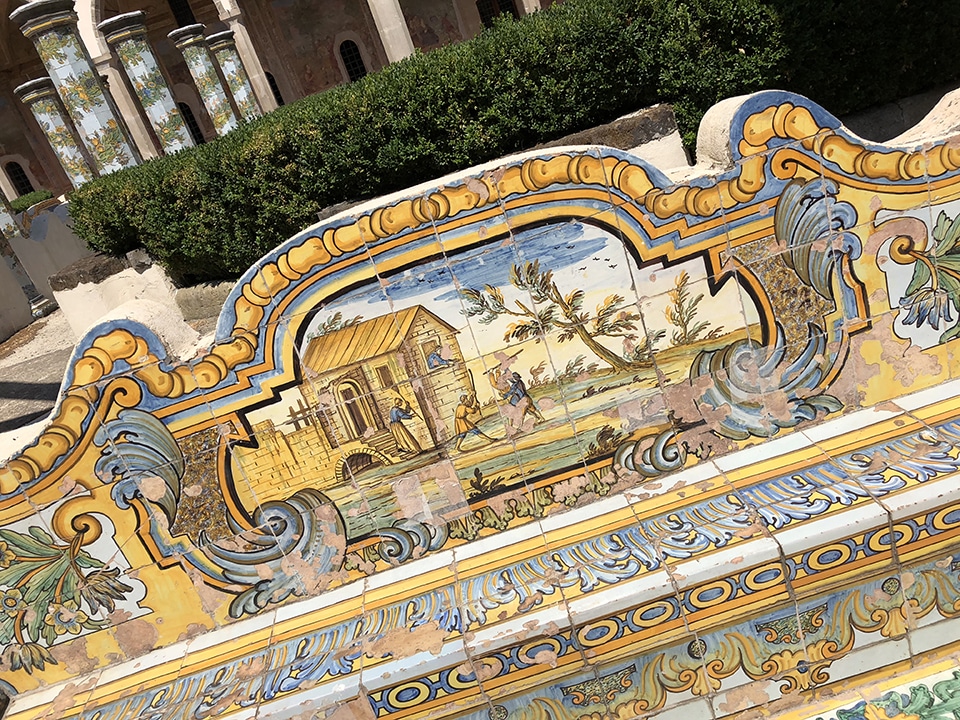 EXPLORE THE SPANISH QUARTER
The next stage of our journey around the centre of Naples took us into the backstreets. In particular, the Quartieri Spagnoli, the famous Spanish Quarter.
The streets here are loud, busy, colourful, and very narrow. Cars and bikes will inch by you as you squeeze into doorways and onto tight pavements. Shops and cafes are everywhere. The smell of fresh coffee and food, especially the smell of tomatoes and basil, drifts through the air. It is a great place to explore. The crime rate is high, but take the usual precautions and you will be fine. It is a glorious experience, and one not to be missed.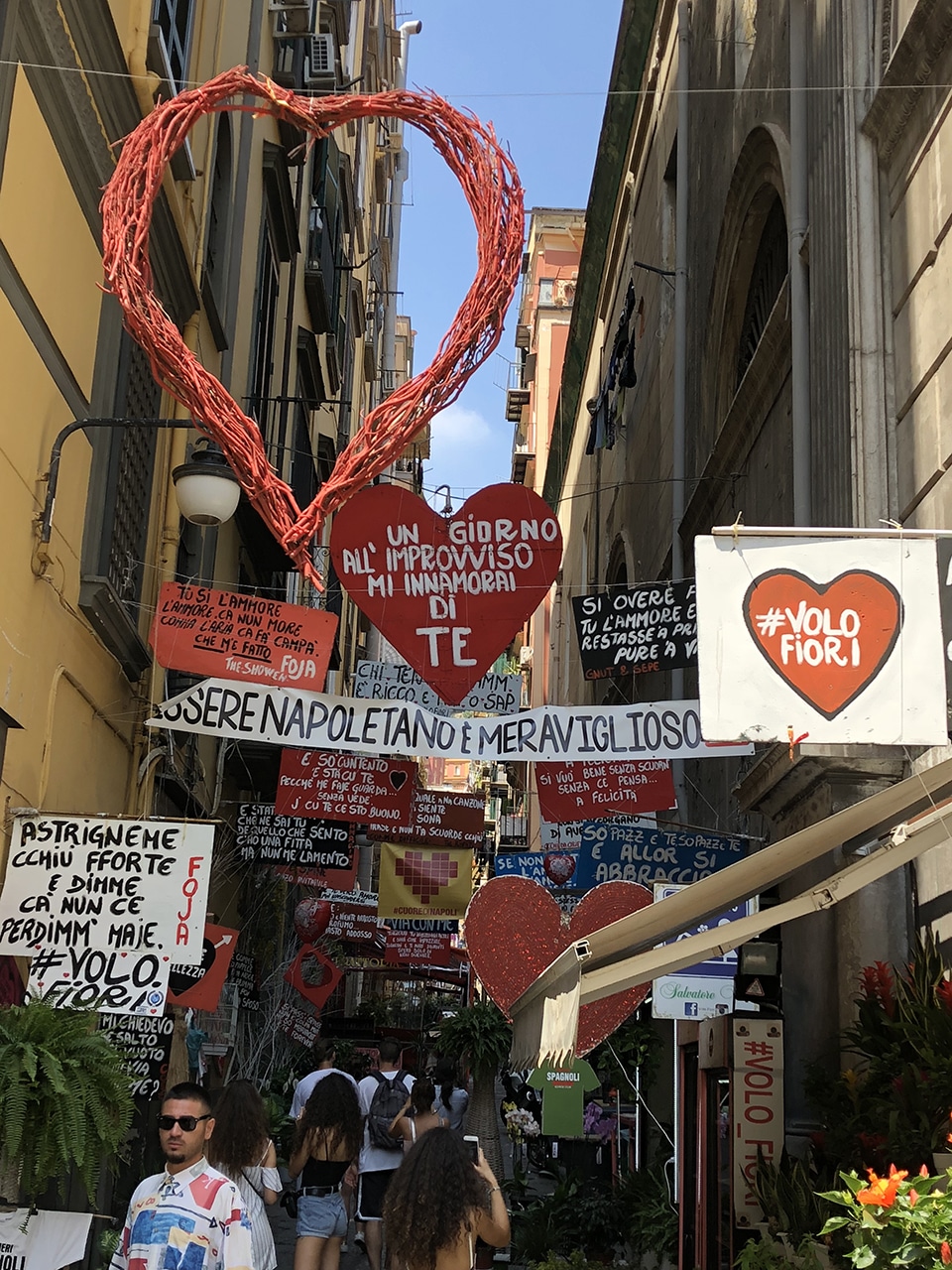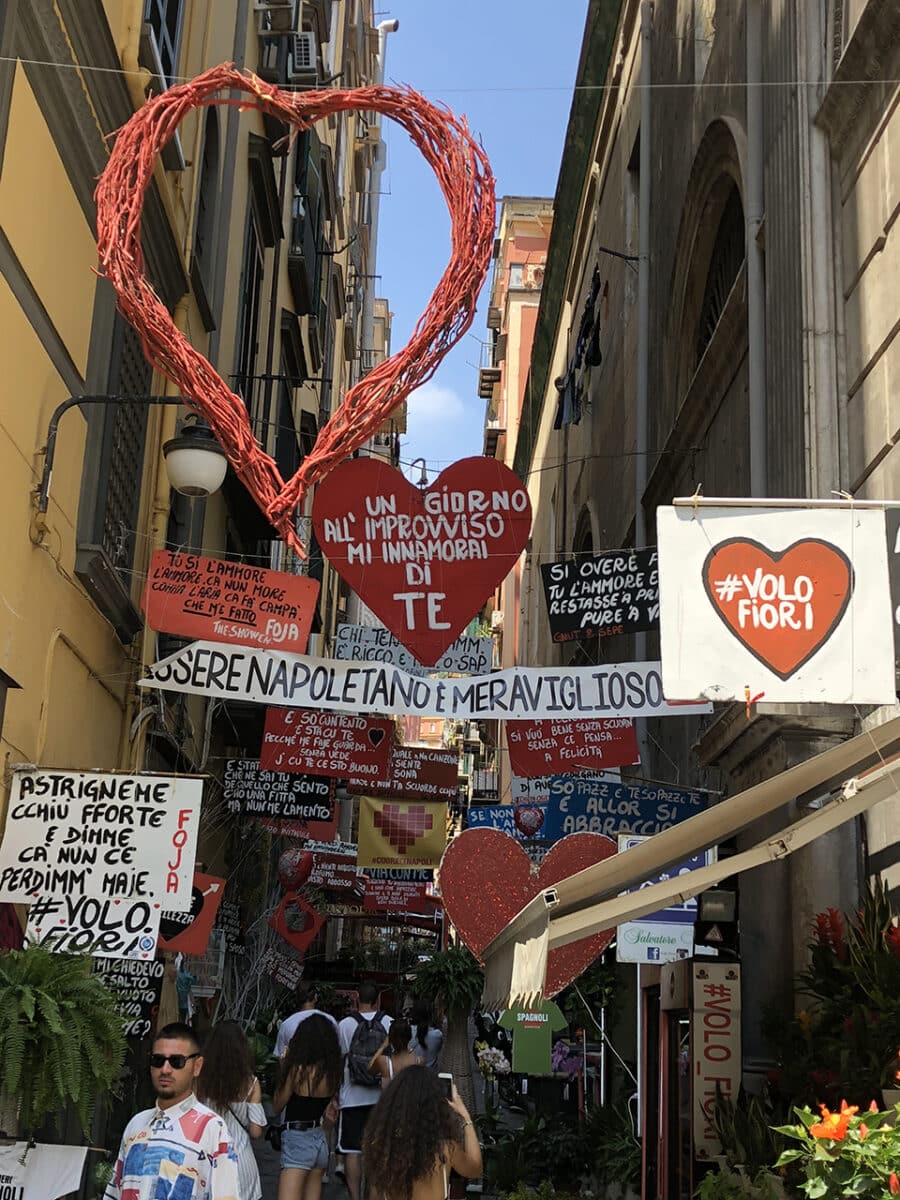 CASTEL DELL'OVO
"The castle's name comes from a legend about the Roman poet Virgil, who had a reputation in the Middle Ages as a great sorcerer and predictor of the future. In the legend, Virgil put a magical egg into the foundations to support the fortifications. Had this egg broken, the castle would have been destroyed and a series of disastrous events for Naples would have followed."

Wikipedia
The castle is free to enter and on the waterfront. The views out over the Bay of Naples and towards Mount Vesuvius are stunning. Watch the sunset from here too. It's magical, the perfect way to end a tiring day.
THE ISLAND OF CAPRI
If shopping is your thing, you will love the island of Capri. An island visited by thousands of tourists every year, the rich and celebrities. Expensive hotels, boutique shops, limoncello and handmade leather sandals all make this unique island special.
Visit the famous Blue Grotto, take an open-top car ride around the island and enjoy the many cliff-top views out across the Bay of Naples.
You can read more about our visit to Capri here: Visit the Island of Capri from Naples.
VISIT THE ISLAND OF ISCHIA
You can catch a ferry over to the volcanic island of Ischia from the Port of Naples, which takes around an hour. You can visit the hot springs and the historic castle, Castello Aragonese. With beautiful gardens and the fishing village of Sant'Angelo, Ischia is the perfect addition to your Naples itinerary.
ANCIENT CITY OF POMPEII
We had an amazing time visiting both Pompeii and Mount Vesuvius. Read all about it here: The Ancient City of Pompeii and Mount Vesuvius.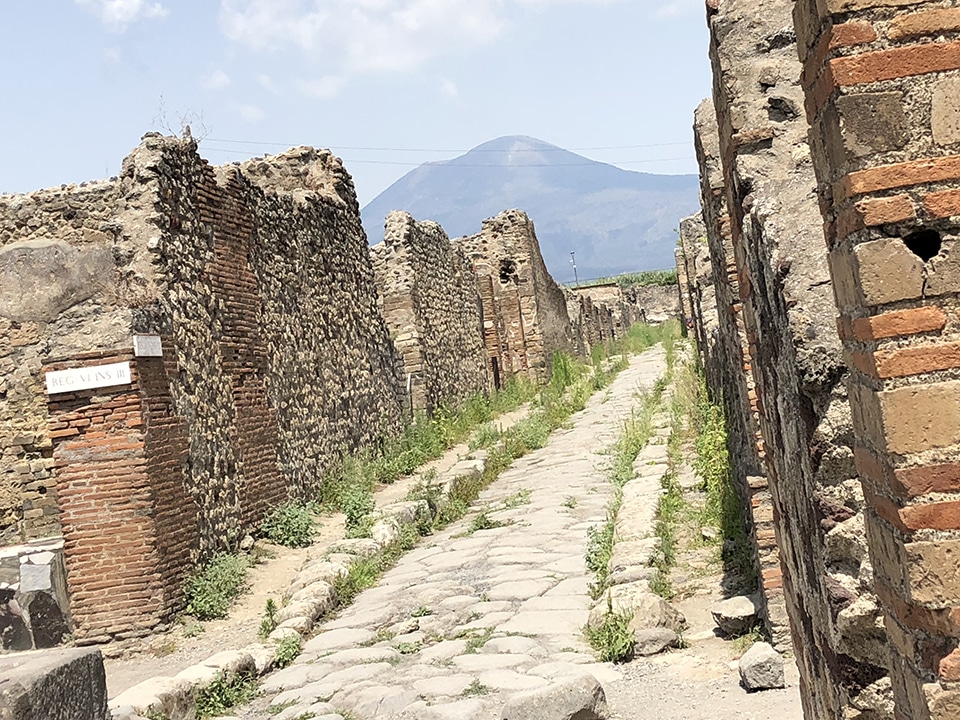 CLIMB MOUNT VESUVIUS
Looking for a challenge? Mount Vesuvius, the volcano that famously wiped out a Roman city during the eruption of AD79. Climb to the summit for views out over the bay of Naples and look into the belly of the beast. The volcano is still active, but lies dormant, the last eruption taking place in 1944.
The walk up nearly killed me. The only piece of advice I can give is to wear comfy trainers and make sure you take plenty of water.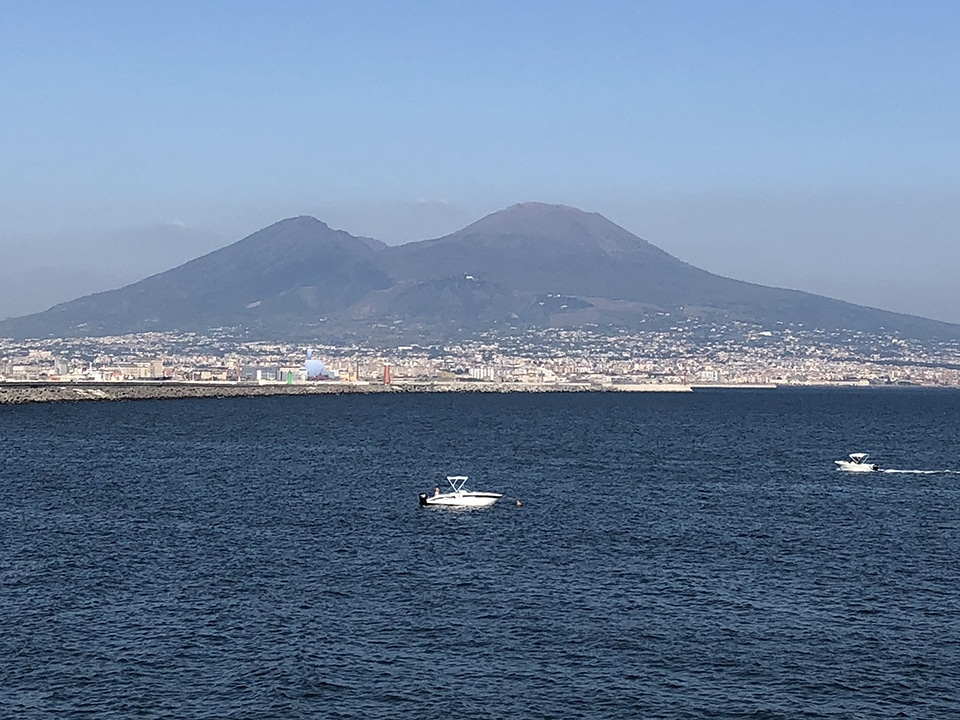 CAFFÈ GAMBRINUS
Caffè Gambrinus is a historic coffeehouse in the centre of Naples on the corner of Piazza del Plebiscito. It has been around since 1860. Famous for its pastries, coffee and cocktails, it is a favourite amongst locals and tourists alike. We always try to avoid the more touristy places, but sometimes there are exceptions.
We both ordered cappuccinos, this is acceptable at breakfast time, a Sfogliatella and a strawberry glazed pastry. Our coffees cost €5 each and both pastries were €5.50 each, a little more than we would normally pay, but they were all delicious and set us up for the day ahead.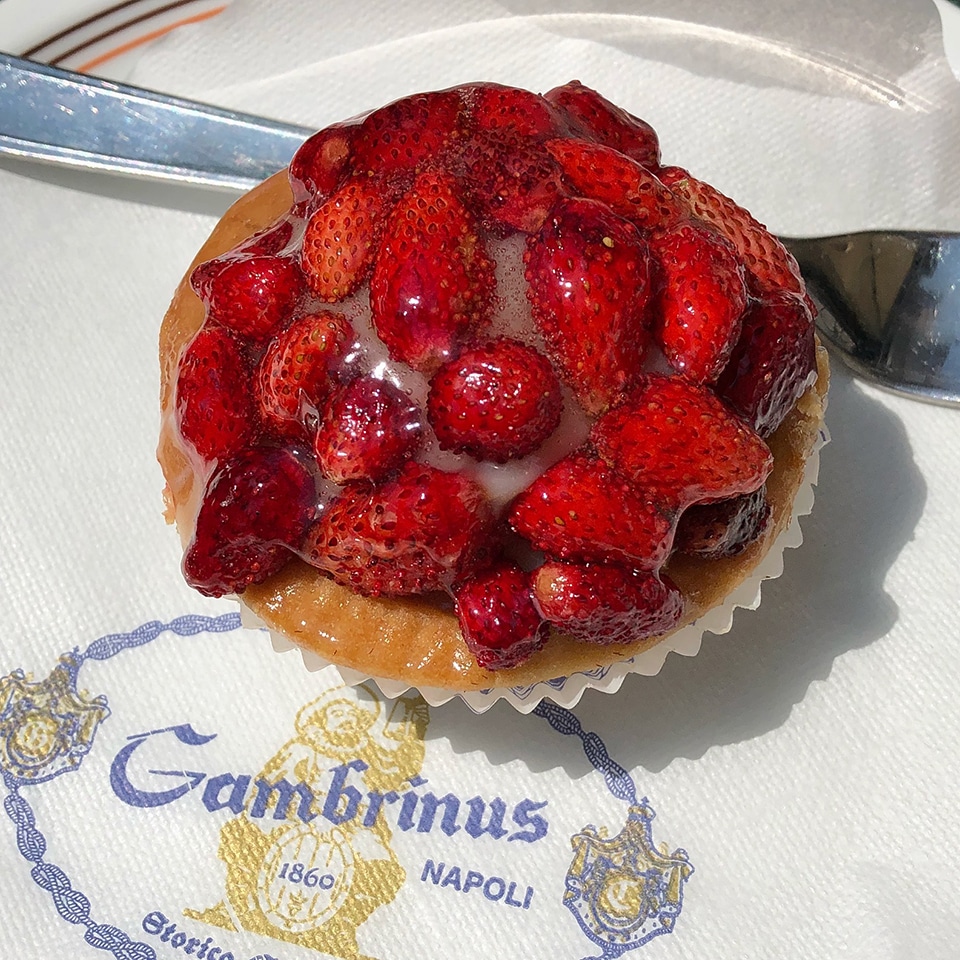 ARCHEALOGICAL MUSEUM OF NAPLES
Explore one of the world's most important archeological museums. See gems and sculptures inherited by the Bourbons from the Farnese collections and treasures from Herculaneum and Pompeii. Single tickets are €18 and you can buy these online or at the museum on the day of your visit.
THE ROYAL PALACE OF NAPLES
The Royal Palace of Naples is a refurbished 17th century complex with apartments once belonging to Bourbon Kings. It features a Theatre, Throne Room and Royal Chapel. Visit the Hanging Gardens, see lavish tapestries and a golden throne. The majestic marble 'Staircase of Honor' is a sight to behold.
Tickets for the museum, galleries, and exhibitions are €10 for a single and a further €2 to visit the gardens.
FOOD IN NAPLES
There are so many incredible places to eat in Naples. Whether you are eating breakfast, lunch, or dinner, there is always something amazing to be found.
For those with a sweet tooth, there are shops selling the most incredible cakes, pastries, and gelato. If savoury is more your thing, then pizzerias and restaurants selling delicious fresh pasta are in abundance. Aside from the places listed above for pizza, here are some more recommendations.
Casa Infante. Sweet treats, pastries and the most incredible Gelato, with many flavours. Try the Pistachio cream, you will not be disappointed. Address: Via Toledo, 258, 80132.
La Sfogliatella Mary. Located just inside the West entrance of Galleria Umberto I, this place serves up the most incredible Rum Baba and Sfogliatella. Address: Via Toledo, 66, 80134.
Marino. Not much to look at from the outside, and easily overlooked, but this place bangs out some seriously good food. Always full of locals, it is cheap and delicious. They cover the walls in football memorabilia. This family-run restaurant has been around since the 1930s. Address: Via Santa Lucia, 118, 80132.
Pastamore & Chiatamone. Another easily overlooked restaurant in the backstreets of the city. We knew of this place before our trip and we were both pleased with our food. It has great reviews. The portions are big and the food is delicious. We had great Amatriciana and Gnocchi. Address: Via Chiatamone, 56, 80121.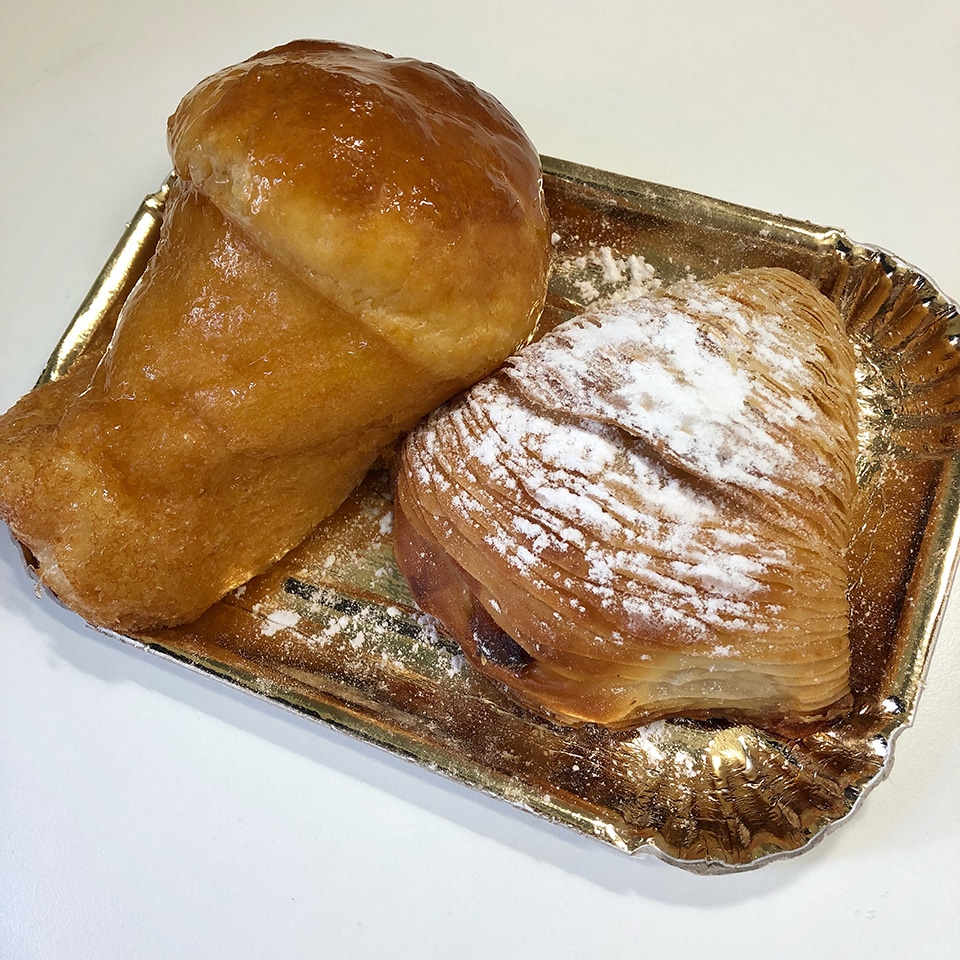 BONUS – 5 MORE THINGS TO DO IN NAPLES
We've already given you 13 amazing thing to do in Naples, but as a bonus, here are 5 more.
The Festival of San Gennaro. If you are in Naples on the 19th of September, you will want to check out this amazing religious festival. The streets are full of locals celebrating, setting off fireworks and waiting to see if the blood of San Gennaro liquefies. If it does, the city of Naples is blessed and will have good fortune. If the blood remains hardened, then it is said that the city will be unlucky.
The Fontanelle Cemetery. This old quarry became a burial site for the city of Naples in the 17th century, when a plague killed 250 thousand of the city's residents. It is also home to the remains of people that were found in the Catacombs of San Gennaro.
Via San Gregorio Armeno, Christmas Street. Naples most famous alleyway adorned with many shops selling wooden figures, artwork and Christmas decorations all year round.
San Paolo Football Stadium. One for the football lovers. Football is the only belief system to rival the church in Naples. With Diego Maradona worshipped like a god, his face painted on many walls throughout the city. As with most churches holding the relics of Saints, Bar Nilo in the city holds a strand of Maradona's hair.
Castel Sant'Elmo. A 14th century star-shaped hilltop fortress and former prison with incredible panoramic views across the city.
MORE IDEAS FOR AN ITALIAN ADVENTURE
We hope you enjoyed reading 13 amazing things to do in Naples, Italy. If you are looking for more inspiration for an Italian adventure, click on our posts below.
Visit Rome: Planning a surprise trip to Rome, with itinerary
Want to read more about Naples? Visit the official tourist board of Italy. Visit Naples: Things to do & Attractions.
All prices are correct at the time of publication November 2022.