Visiting the island of Capri from Naples is easy. Famous for its boutique stores, luxury hotels, and beautiful views, Capri is a memorable experience. Whether you are visiting for a day, or spending longer here, you will find plenty to do. You can get here easily from Naples a 50-minute ferry ride, or Sorrento a 20-minute ferry ride. We visited Capri back in 2018 and had a great day. It was well worth the trip over.
HOW TO GET HERE FROM NAPLES
We visited Capri during our stay in Naples. You can read all about that trip here: 13 Amazing things to do in Naples, Italy.
The Molo Beverello ferry terminal is located a short walk from Piazza Plebiscito, just in front of Castel Nuovo. There are several small booths selling tickets to Capri, so you can purchase them here, or you can buy them online before you arrive. You could even book a more rounded experience with extras like the one linked below.
From Naples: Island of Capri Full-Day Tour with Lunch.
Ferries to Capri leave every 30 minutes. At the time of our trip, it looked like all the Capri terminals were all at the top end of the port. Choose your time of departure and buy your ticket. The cost of the outward journey was €21.50 each and coming back €20.30. There was no option to buy a return ticket. You get that from Capri when you are ready to return.
Now you have your ticket. Simply match it to the time on the company's boat you have chosen. A big board on the back shows you the time of departure. The boat trip lasted around 50 minutes. Try to get on the open-air deck if the boat has one, the views are superb.
THINGS TO DO IN CAPRI
Now you have arrived. What is there to do? There are several incredible things you can do in Capri. You can take a trip around the island by car, bus and by boat. Head up into the main town on the funicular or go higher to the much quieter town of Anacapri, on the slopes of Monte Solaro.
RIDE THE FUNICULAR
You can grab a taxi up into the main town, however, we took the funicular. It cost us €2 each, each way and it runs every 15 minutes. There was a bit of cloud covering the top of the island when we arrived, but it soon cleared up.
From the funicular you arrive at Piazza Umberto I and Piazzetta di Capri. Here you will find the stunning clock tower, and the Church of Santo Stefano, a beautiful baroque style building.
The weather was hot; the island has its own micro-climate and is usually hotter than the mainland, so this is a good excuse to grab some freshly squeezed Lemon Granita from one of the many small vendors here. The views out over the Bay of Naples were breathtaking.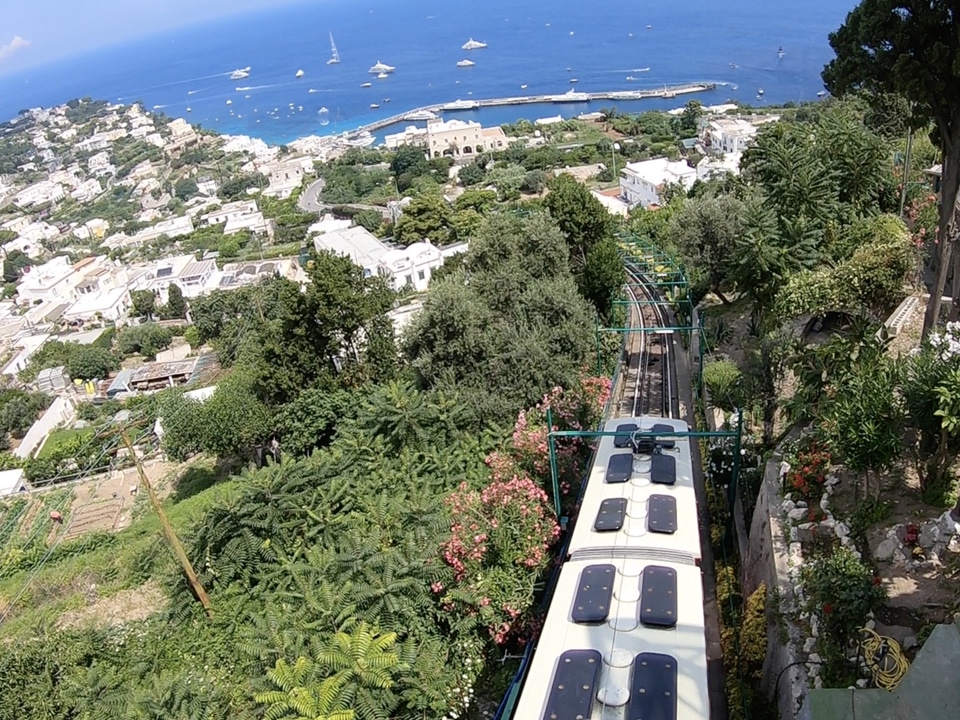 CAPRI TOWN
It is here in the busier main town of the island that you will find a plethora of elegant restaurants and designer shops. This is the business end of the island. Leather, lemons and Louis Vuitton are all here to tempt you.
GO SHOPPING
Via Camerelle is where you will need to be if designer boutiques are your thing. Here you will find stores from Moschino, Moncler, Balenciaga and Gucci, to name a few. Why not treat yourself to one of the island's famous 'Capri Watch' watches, encrusted with crystals and jewels, are a popular purchase.
There are, of course, designer shops scattered all over the town. You will be spoilt for choice.
BUY LEATHER SANDALS
For the ladies, the ultimate souvenir is a pair of handmade custom leather sandals from Canfora. Made famous by Jackie Kennedy in the Sixties. There are many sandal makers on the island, but Canfora was the choice of 'Jackie O'. The store, found on Via Camerelle, has been around since 1946 and is still owned by the same family. They have also made thier famous footwear for Grace Kelly and Princess Margaret.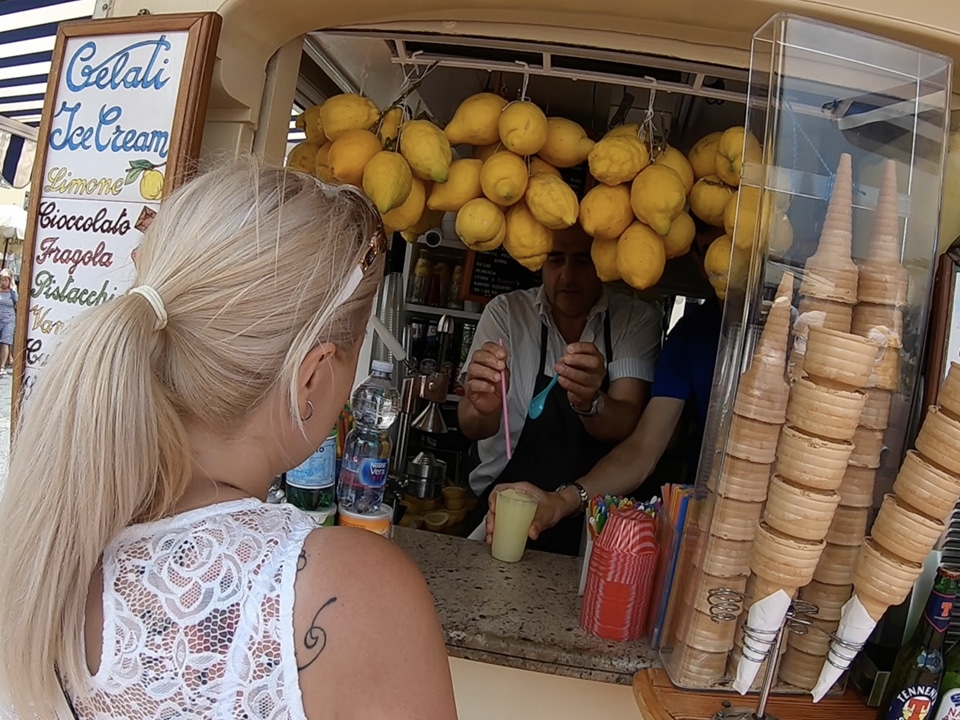 THE TOWN OF ANACAPRI
A much quieter, slower paced, cheaper town, Anacapri lives on the highest part of the island. If you are planning to stay longer than a day, then Anacapri would be the perfect choice. Perfect for hikers, and people who love more a more scenic type of holiday.
RIDE THE MONTE SOLARO CHAIRLIFT
Again, there are several ways to visit Anacapri, but riding the chairlift is an amazing experience. A single seat will transport you either way, along the side of Monte Solaro. The journey takes about 15 minutes and costs €9 for a single trip for €12 for a return. The views are nothing short of breathtaking.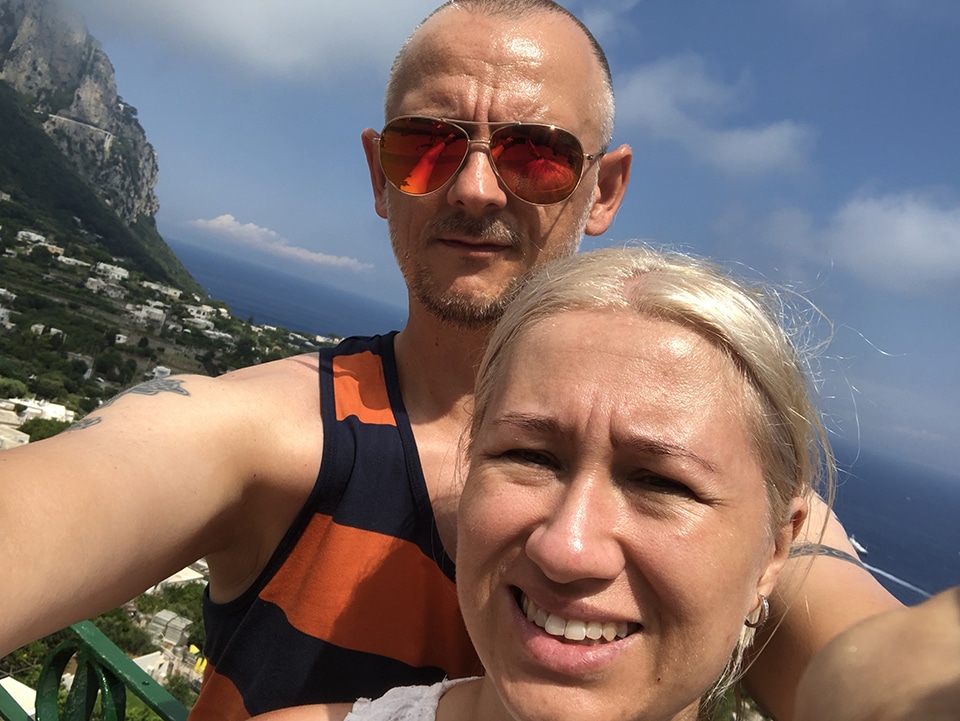 THE BLUE GROTTO, GROTTA AZZURRA
There are many places around the harbour offering the excursion to the Grotta Azzurra. Some offer options for a longer journey around the island, including the grotto, and some the grotto only. We didn't have long on Capri, so we opted for the latter.
Just as is with the ferry tickets to get to Capri, you can also purchase tickets before your trip. From Capri: Island Boat Trip and Blue Grotto Visit.
To get to the grotto, you will board your first boat. This cost us €15 each, and the trip took about 30 minutes. Once you arrive at the location, you may need to wait another hour to enter the cave.
There are three types of "queue" when you arrive: tourist visits by sea, tourist visits by land and private excursions. So you have to take your place and wait. When it is your turn, you get off the first boat and board a smaller rowing boat. Then the cost of entry into the cave is another €4 each.
However, it is worth all the hanging around. The person rowing the boat pulls you into the cave. The crystal clear water shines a thousand shades of blue as the sun shines through the cavern. You are only in there a matter of minutes, so make sure you take your photos and videos asap!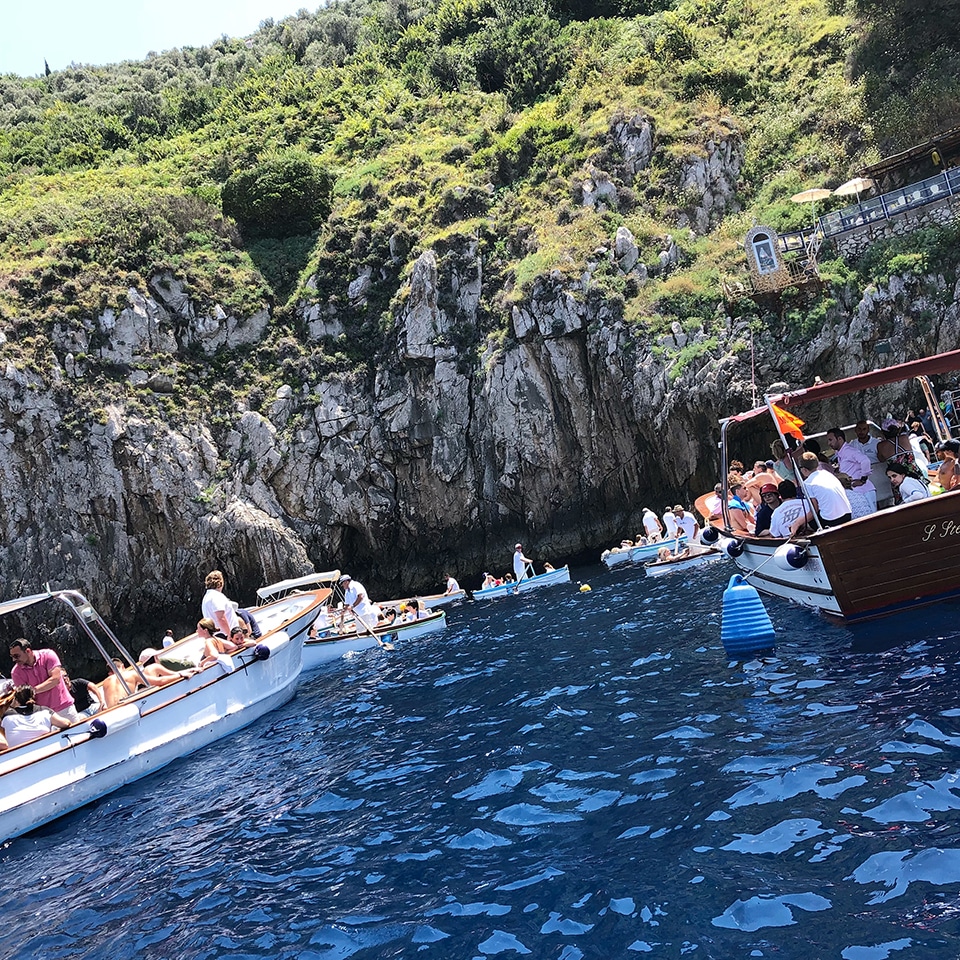 VISIT THE BEACHES
When you are visiting the island of Capri from Naples, take your swimming gear. There are several beaches on Capri. Some are more accessible than others. Here is a small selection.
Marina Grande. This is the island's biggest and busiest beach. The water here is safe for swimming as it is quite shallow, and there are also a handful of small bars and restaurants for drinks and food. The beach lies just a short walk from the tourist port, so is easily accessible. Address: Via Marina Grande, 270, 80076.
Gradola. A smaller, private public beach in Anacapri and a stone's throw from the famous Blue Grotto. Slightly more difficult to get to and is a favourite of the locals. There are several large rocks here to dive into the beautiful clear blue sea. Address: Via Gradola, 8, 80071.
Bagni di Tiberio. The beach of Tiberius is possibly the island's best beach. A small bay with calm shallow waters and safe swimming. Again, there's a place to grab snacks and drinks, as well as sunbeds and umbrellas. Here, you will swim alongside the ruins of a Roman Villa. How cool is that? Address: Via palazzo a Mare, 41.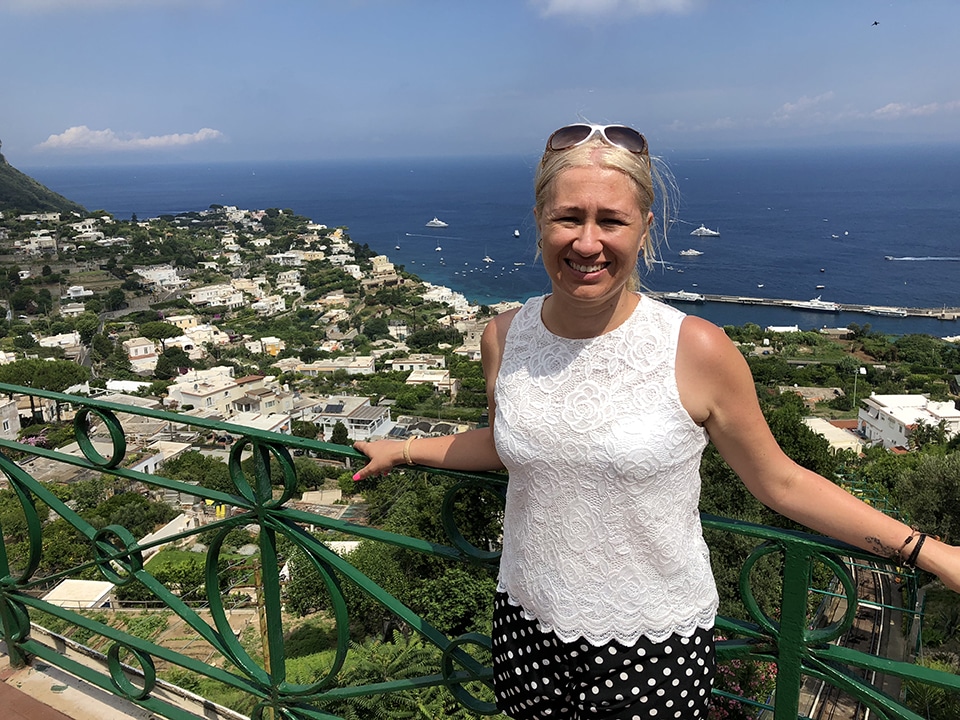 CAPRI NIGHTLIFE
Capri is also great on an evening, vibrant nightlife, great bars and cocktail lounges. There are no large nightclubs, but the vibe here more than makes up for that. Hang around the Piazzetta on an evening for the best experience. Drinks are usually served with free nibbles. Try a famous Negroni cocktail or the more popular Spritz.
Enjoy a drink at Bar Funicolare, Al Faro or Capri Rooftop.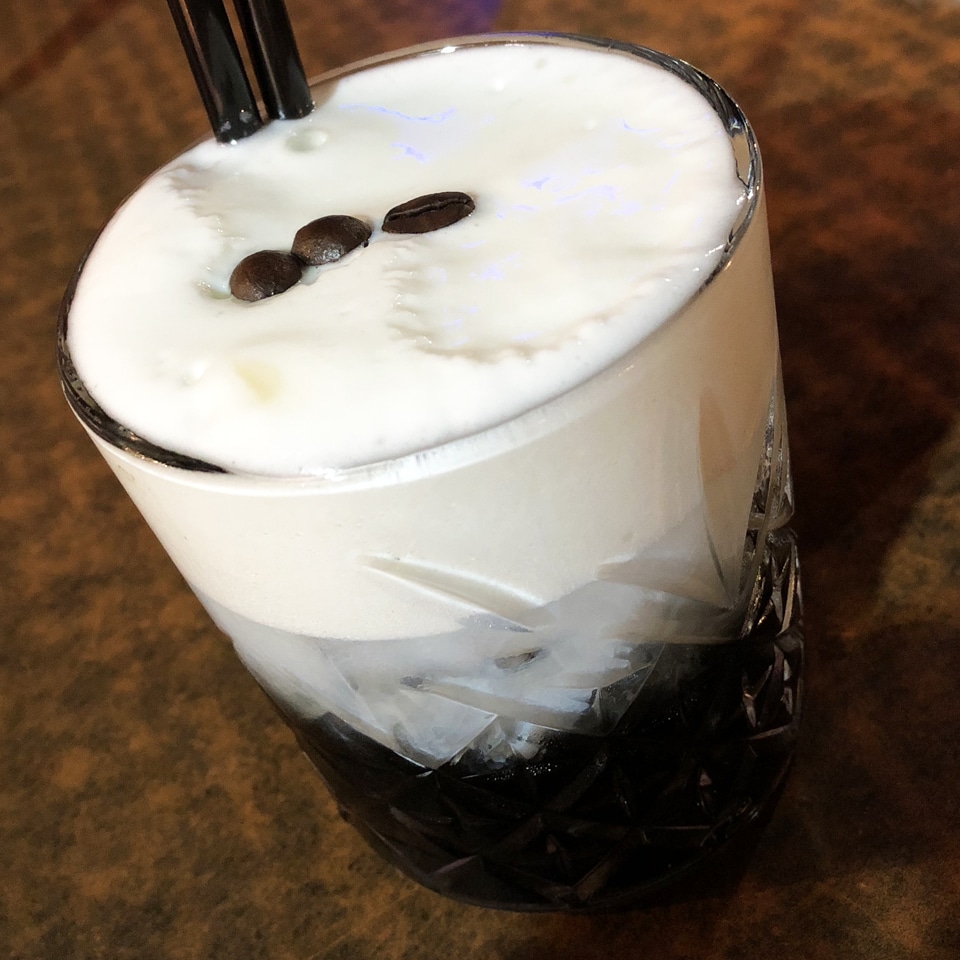 MORE TIME TO EXPLORE
Knowing what we know now, our only regret about this trip is running out of time. We spent four days in Naples and simply didn't get enough time to explore. We would have loved to have visited the Botanical Garden of Augustus, Giardini di Augusto, and it would have been incredible to look out over the winding bends of Via Krupp from here.
The Faraglioni Rocks are a symbol of the island of Capri and we didn't get to see them. A boat trip to the Southern area is needed if you would like to experience them for yourself.
Speaking of boat trips, this is also something we would have done. To have been able to explore more of the rugged Caprian coastline would have been incredible.
MORE IDEAS FOR YOUR TRIP TO CAPRI
Capri Island Full Day Trip from Sorrento & Boat Ride. Spend a day of your Sorrento visit on an excursion to Capri. Admire the beautiful caves and grottoes along the island's coast.
From Sorrento: Private Sunset Boat Tour to Capri. Discover the city of Capri on this private sunset boat tour from Sorrento with free time for exploration and swimming.
Fun & Swim with Blue Grotto – Half Day Boat Cruise. Discover everything the beautiful coast of Capri has to offer as you swim in the Tyrrhenian Sea, cruise on a speedboat, and relax on this thrilling excursion.
---