We visited Positano during our trip to Sorrento in 2019. The town of Sorrento is small and you can see everything in a couple of days. Visiting Positano was an obvious choice to add something extra to our trip, and getting there was simple. What is there to do? Here is how to spend a day in Positano.
Tickets to Positano, in 2019, were €4 each, this included a return trip. These were for the SITA bus. The journey takes around an hour. The bus can get very busy, and you may have to stand the whole way there. When arriving in Positano, the bus stop you need to get off at is Positano-Sponda.
Visit Sorrento with us: Our four-day guide to Sorrento, Italy.
ADMIRE THE VIEW ACROSS THE BAY
If Positano is famous for one thing, it's the view. Houses, churches, buildings all cling to the steep cliff side. The village sits on the Southern edge of Italy's famous Amalfi Coast and is a hotspot for tourists from across the world, as-well as the rich and famous.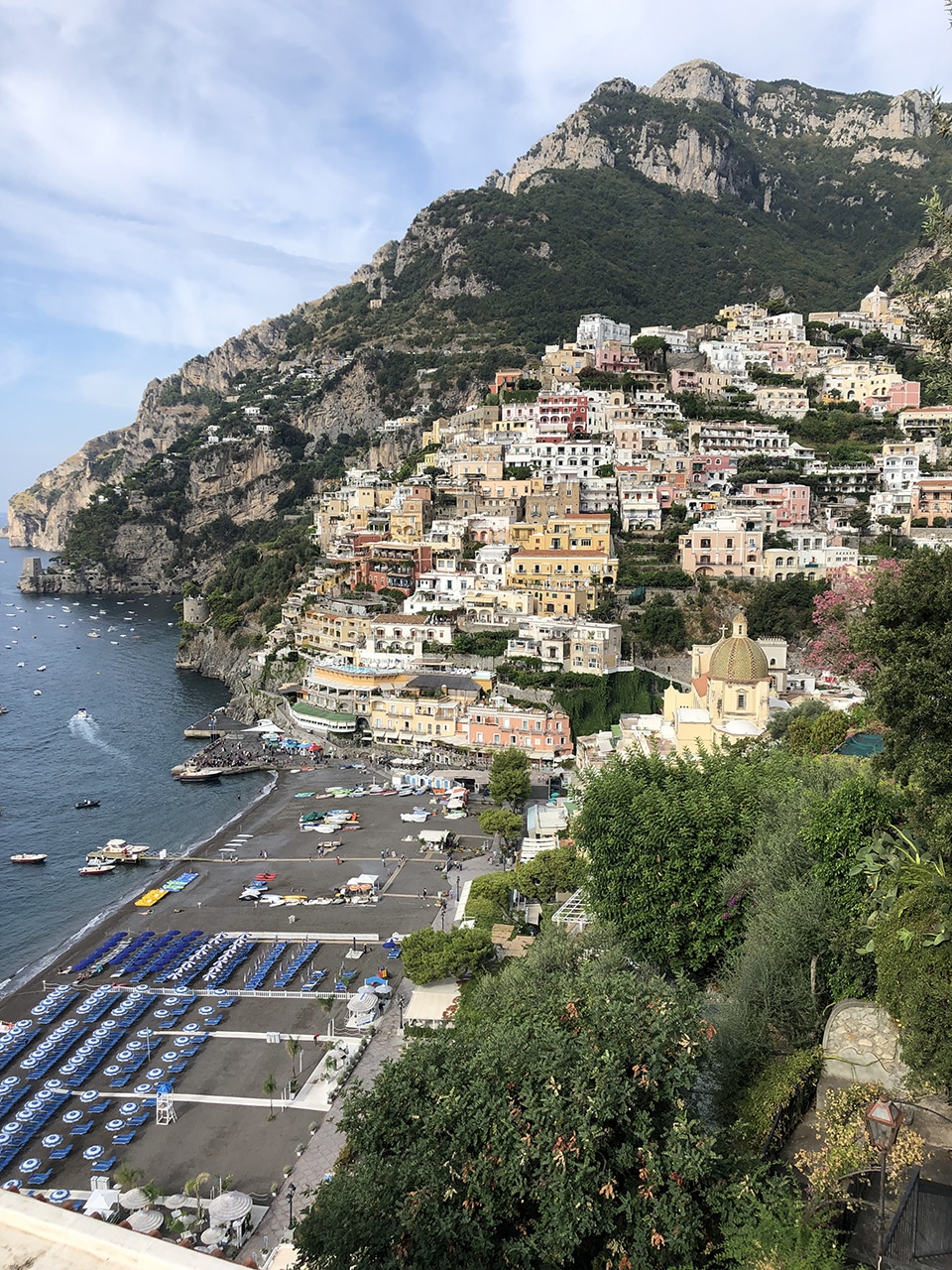 EXPLORING THE TOWN OF POSITANO
Positano's narrow, steep streets are lined with restaurants, cafes, gift shops and boutique stores. Shopping here is good. Like Sorrento, limoncello, ceramics, white cotton goods and leather are all available to buy along with designer labels, and Capri Watch.
There are street vendors selling jewellery and art. Some of it is superb, pick yourself up an original memento.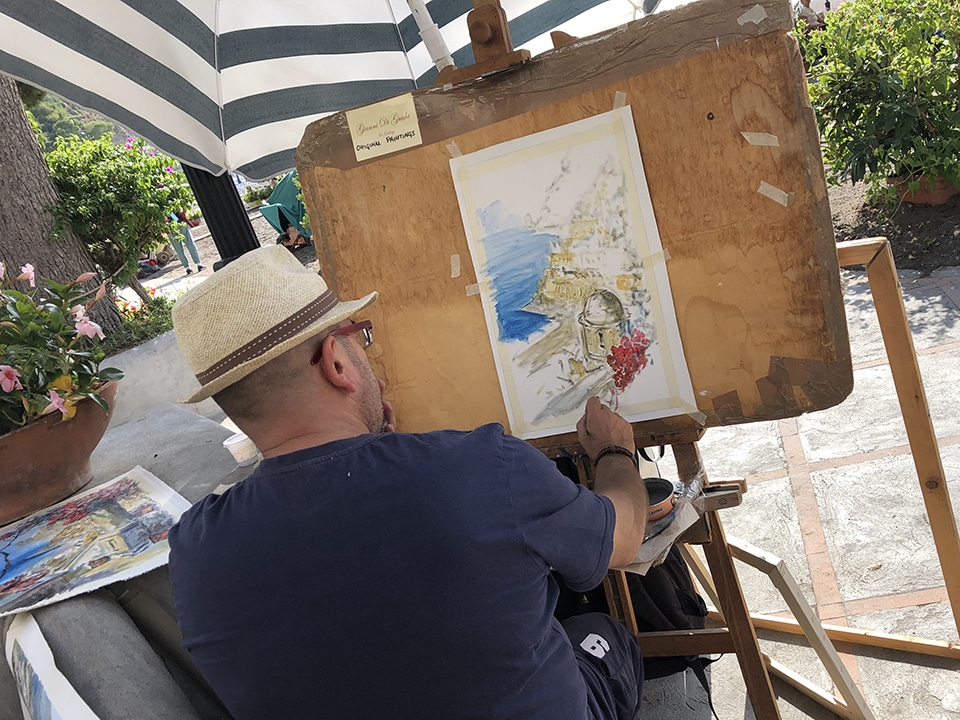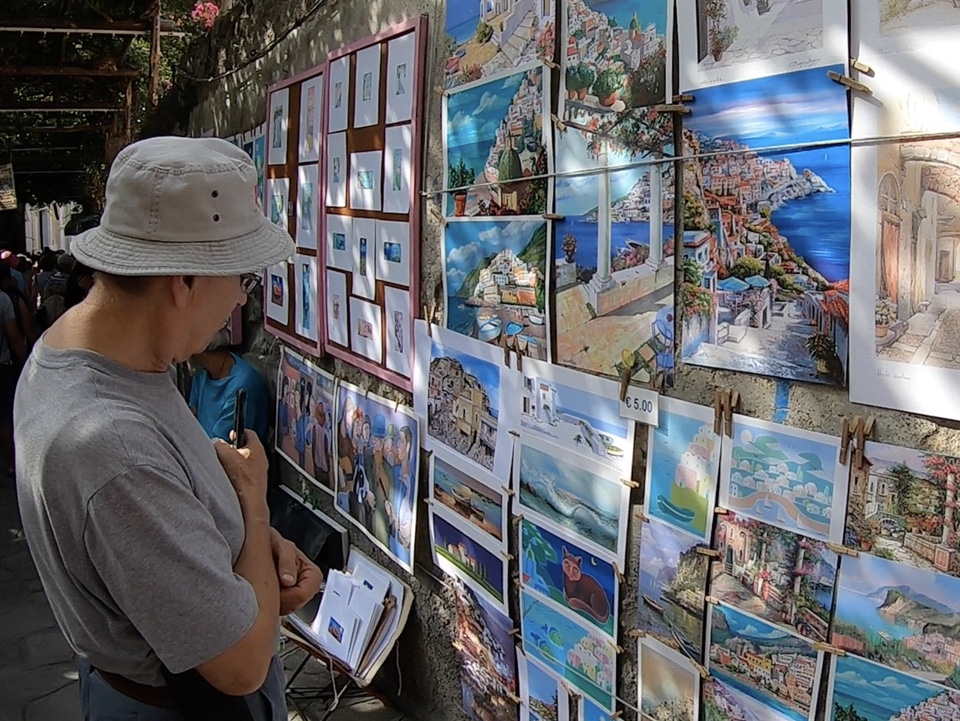 CHIESA DI SANTA MARIA
The church of Saint Maria, with its huge Majolica tiled green and gold dome. A great place to visit, the church was once part of a Benedictine monastery.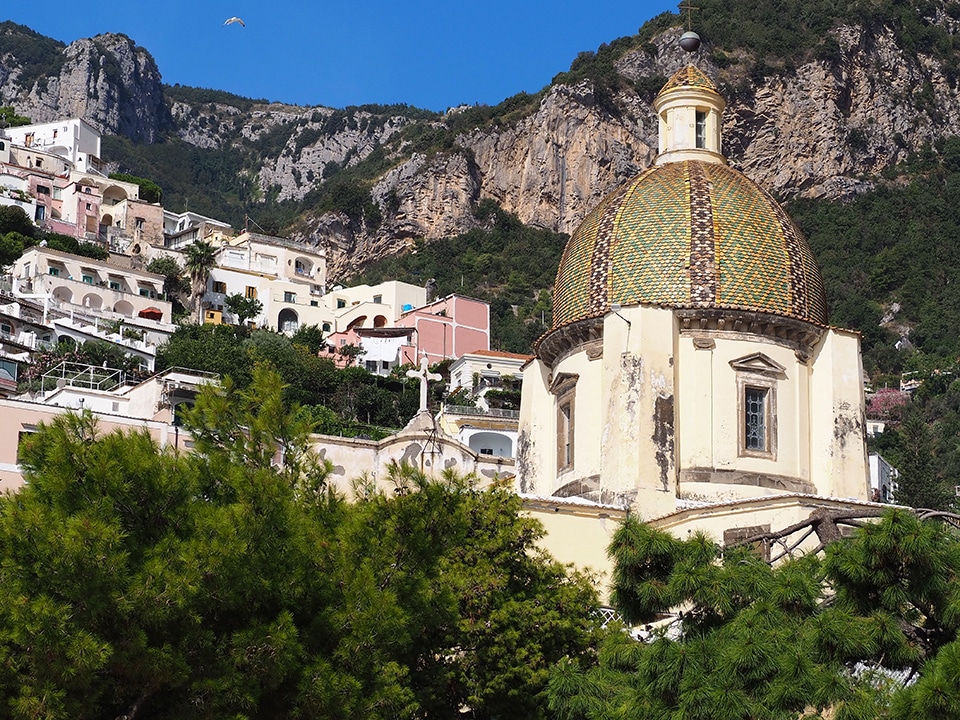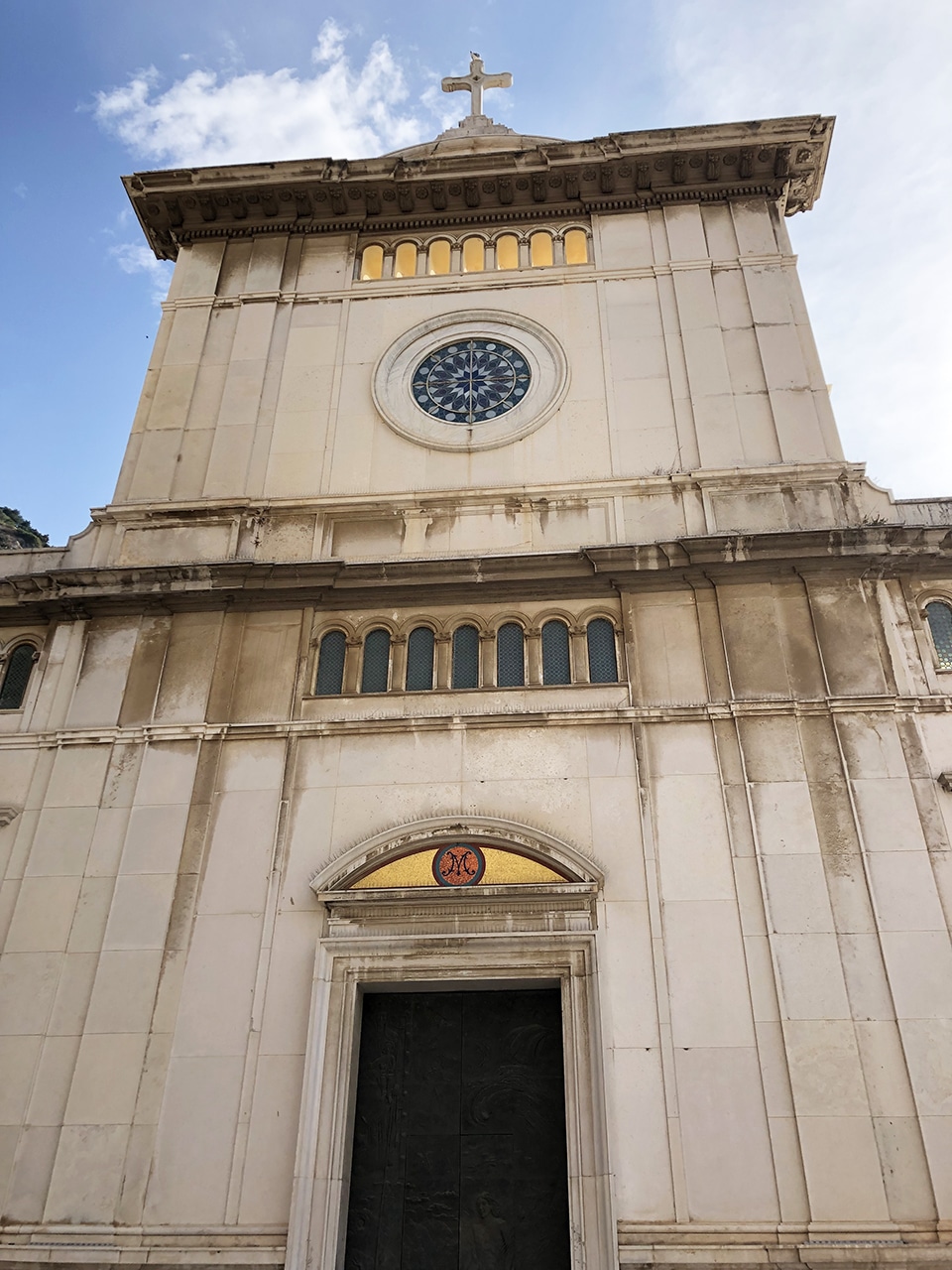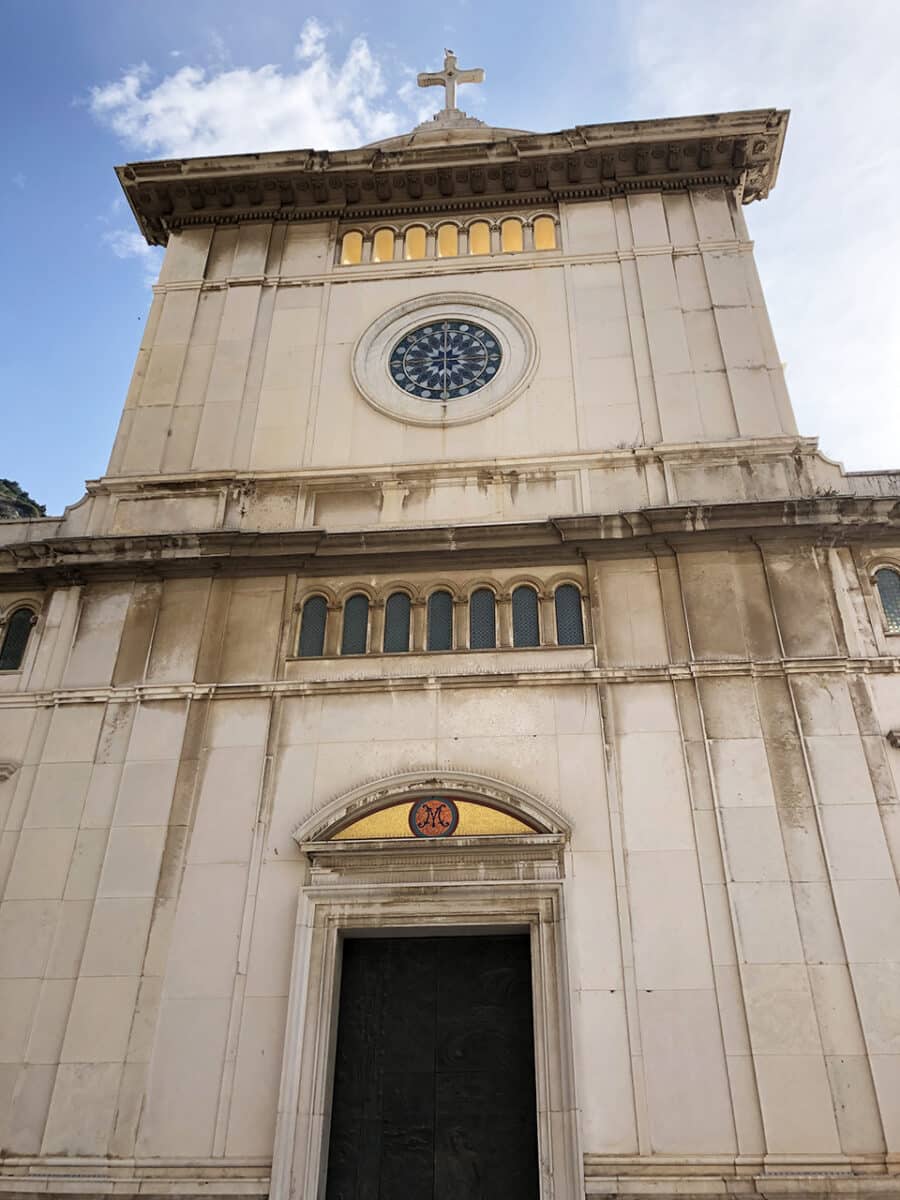 POSITANO BEACH
The sand here is volcanic and therefore is black and pebbly. Here you will find several sectioned-off private beach resort's. These offer astronomical charges for sunbed hire, use of showers, and some even have gyms. There is a tiny strip of 'public' free beach here, so if you fancy a paddle, bring a towel.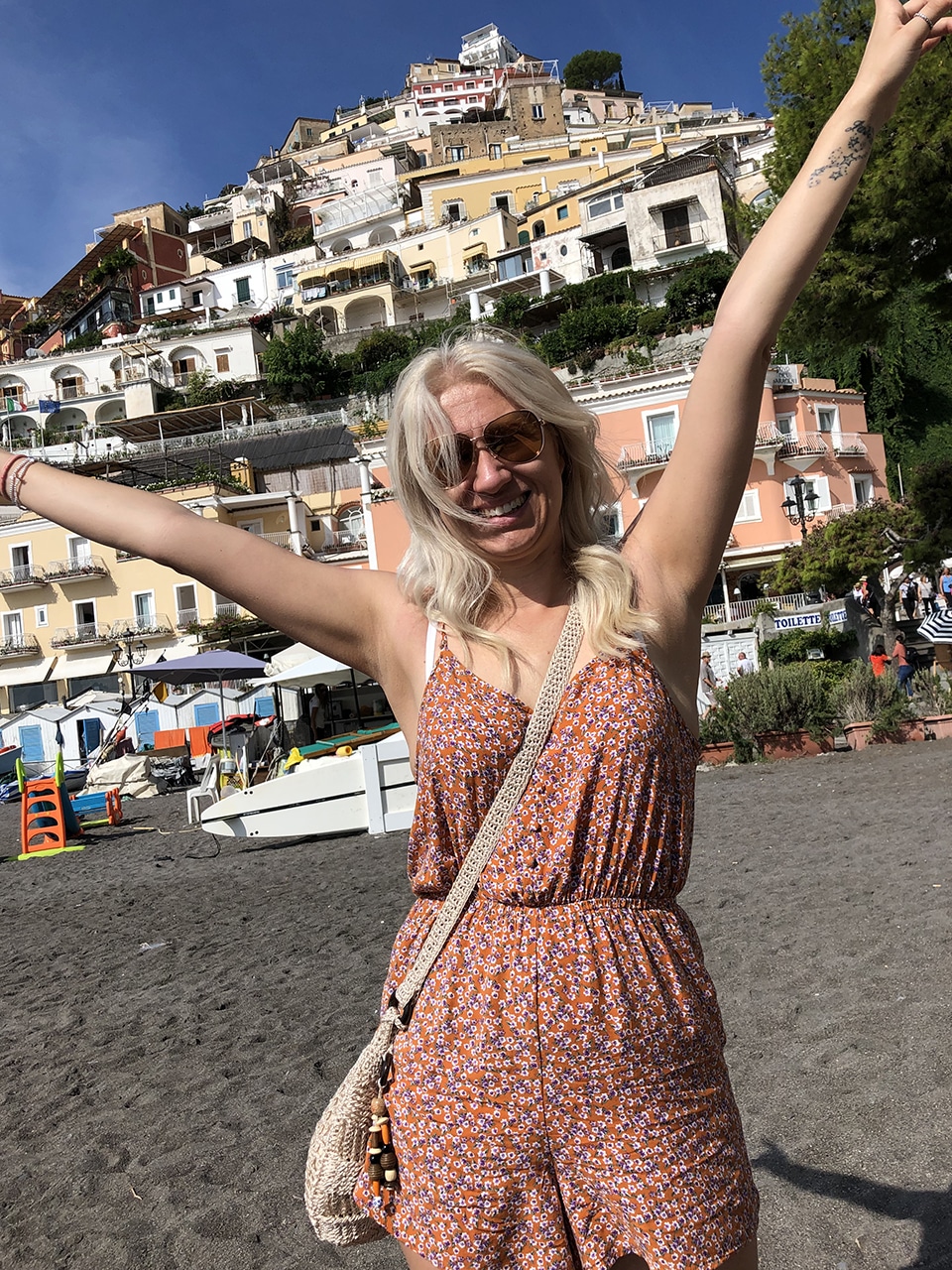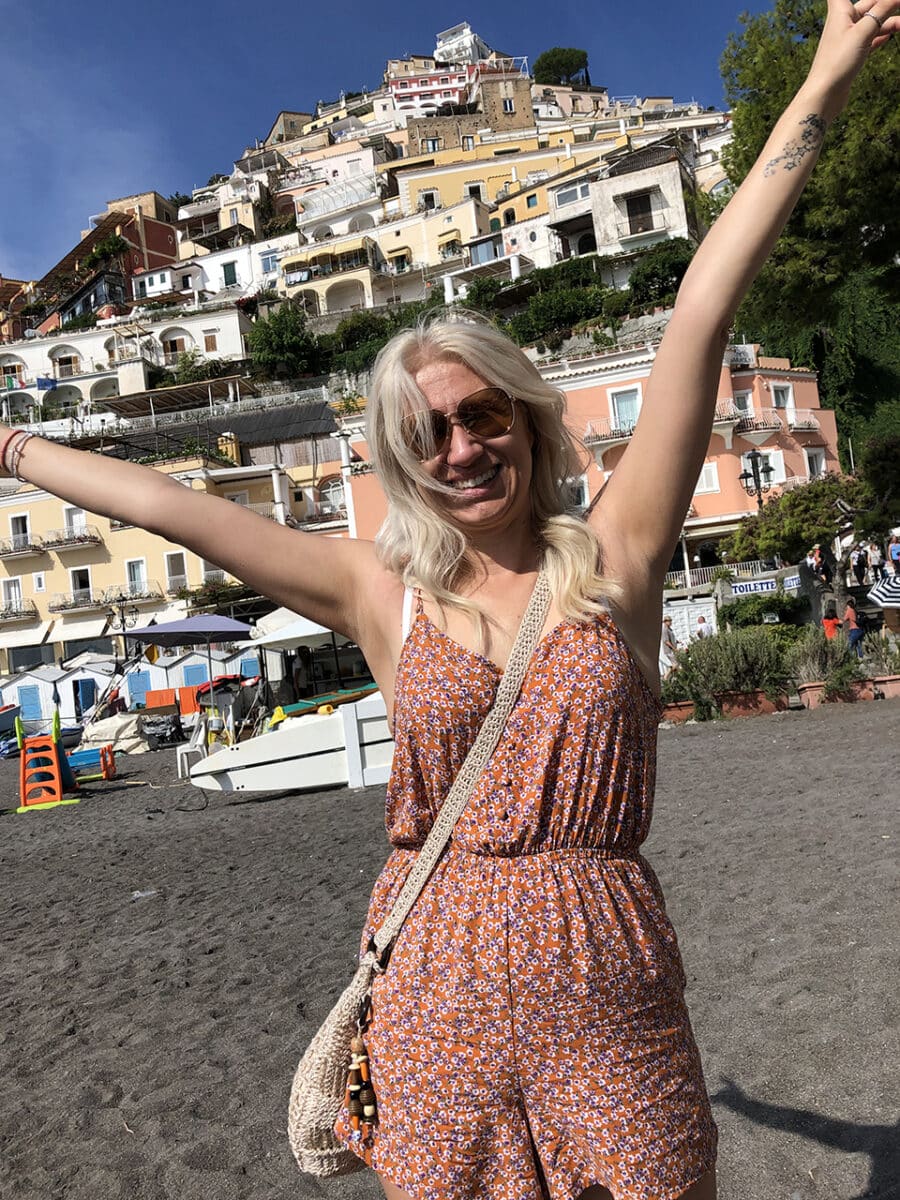 FORNILO BEACH
Fornillo is a smaller, cleaner, less busy area of the town just West of the centre. A short 10-minute walk with stunning cliff top views. Here you will find more private hire sunbed's but some great beach front family-run restaurants.
RELAX WITH A BITE TO EAT ON FORNILO BEACH
We ate at a place called Da Ferdinandos where we had one of the best Caprese Sandwiches we have ever eaten. Seriously good, go find this place when you visit. We forgot to take a photo of our sandwich; we safely tucked away it in our bellies before we knew it!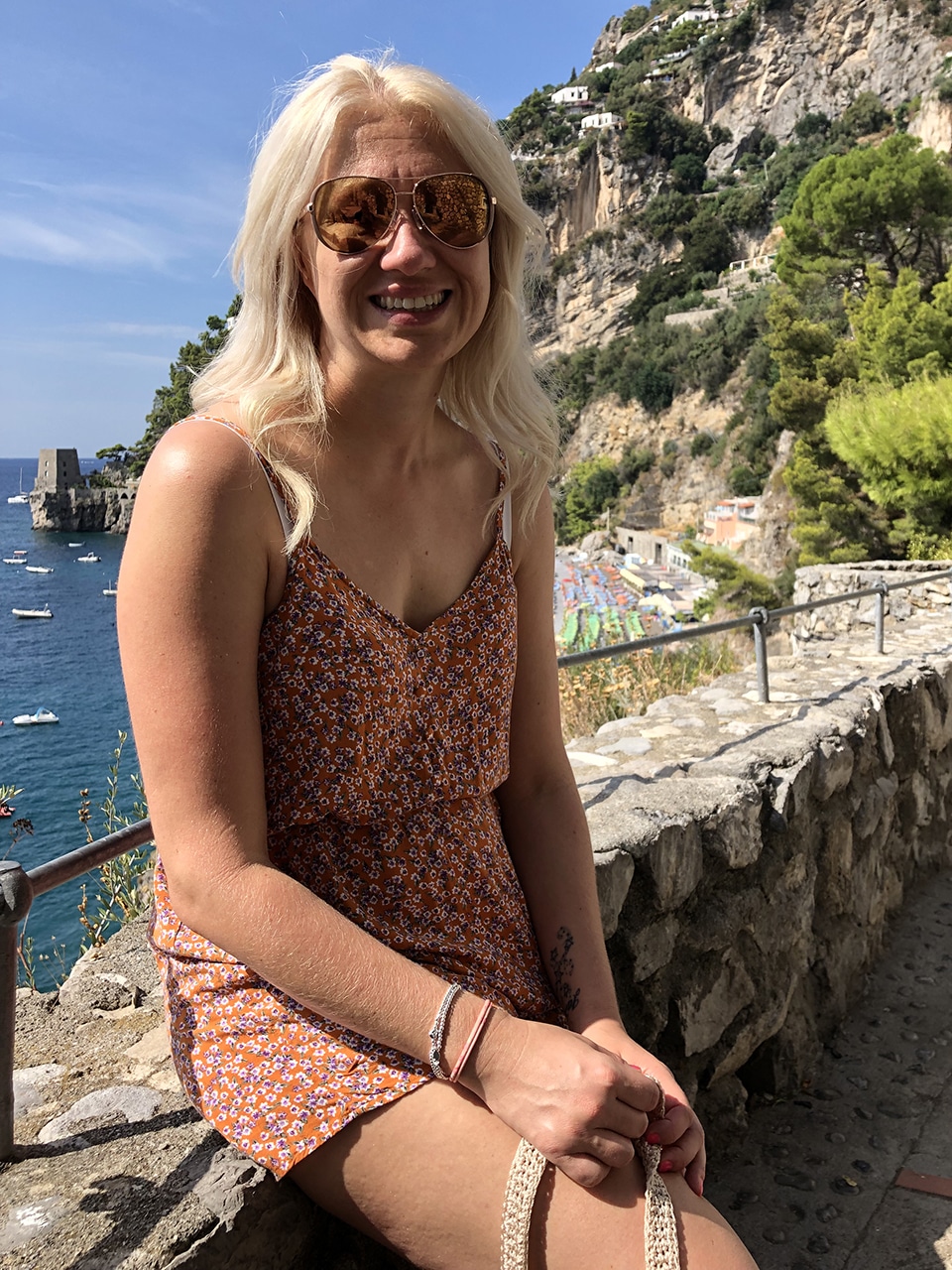 WALK THE PATH OF THE GODS
Looking for something different? A nature trail known to the locals as 'Il Sentiero Degli Dei'. This is a 6.5km (5 miles) hike and takes around 3 hours. If you set off from Bomerano to Nocelle, it is mostly downhill. The views of the coastline are spectacular, and this is very popular amongst tourists. Wear comfy shoes, take plenty of water, and make sure you have a camera!
For more information on this hike, visit positano.com.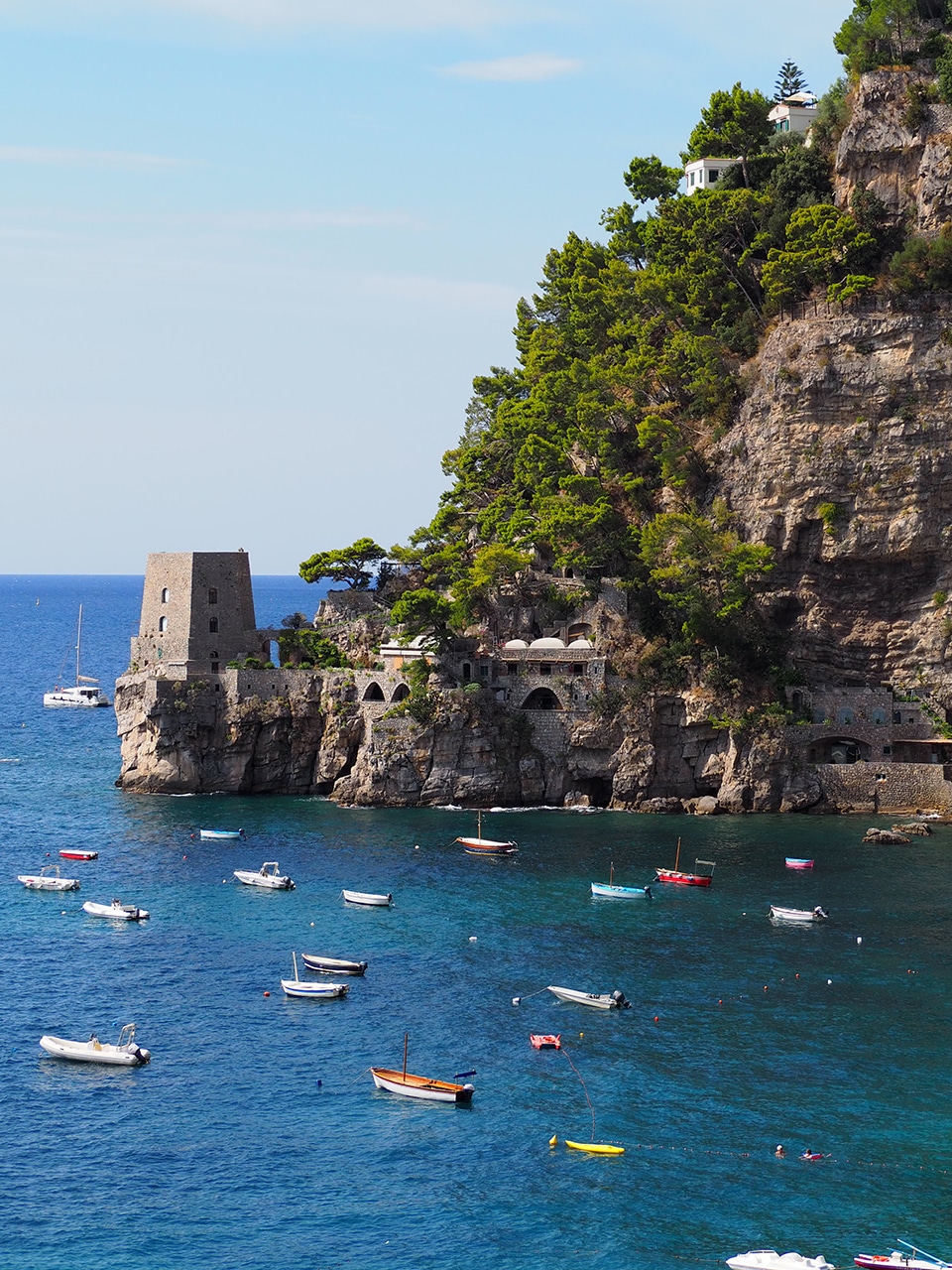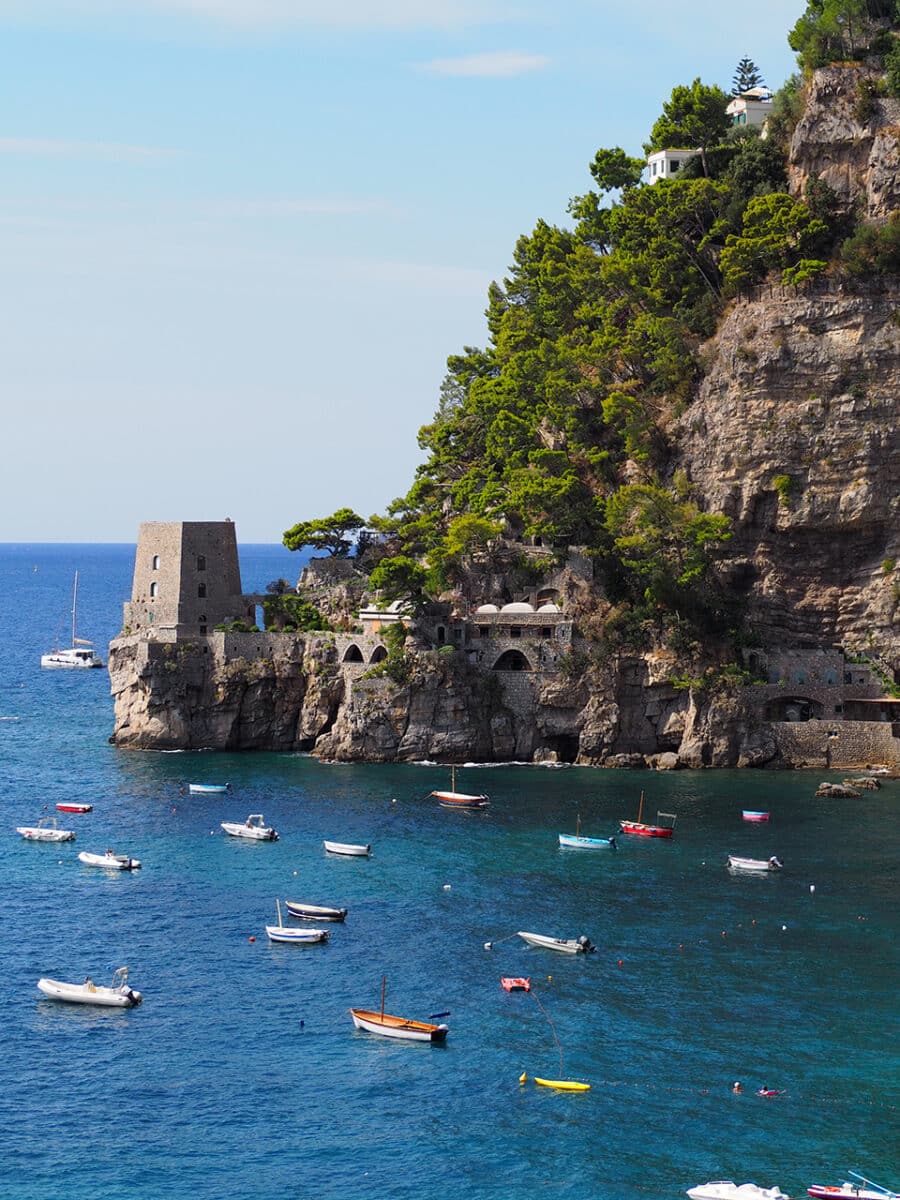 MONTE FAITO
Take the cable car to the top of this mountain for incredible views of the Bay Of Naples, Capri Island and Mount Vesuvius. You can hike to the top, but the cable car is much quicker. The funicular runs every 20 minutes and costs €8 for a return ticket.
CANTINE MARISA CUOMO
A winery about an hour away from Positano, you can take part in wine tasting and also learn how it is made here. They age the wines within the rock formations along the cliff side.
GO KAYAKING OR PADDLE-BOARDING
There are a few rental shops in Positano around the beach area charging around €15 per hour. This is a very popular activity. A great way to excersise and is a great way to get a view of Positano from the sea.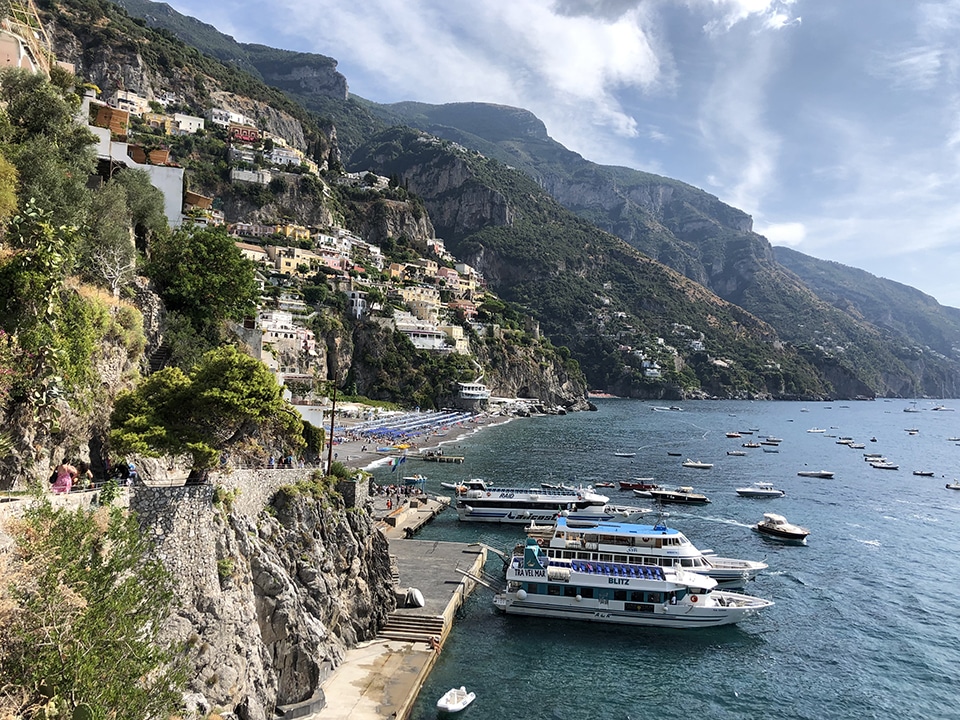 THE CATS OF POSITANO
Lara Capraro takes care of a large cat colony in Positano. She has an Instagram and Facebook page. She has a place near the church where you can leave food for her to collect. Look for the board with details. Follow positanolife75 on Instagram for updates and ways you can help the kitties.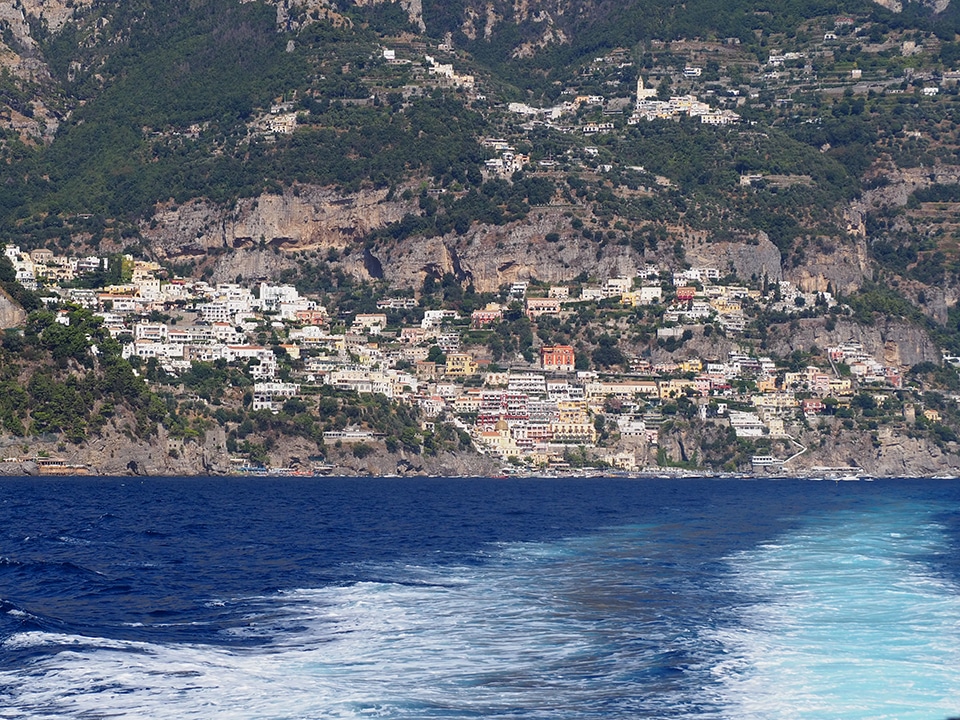 We had a return bus ticket for our trip back to Sorrento, but we decided to take the ferry back. This cost an extra €15 each, but the journey back was well worth it, the views were superb,
BOOK AN EXPERIENCE WITH GET YOUR GUIDE
Positano, Amalfi and Ravello Sharing Tour from Sorrento. Drive along this strip of land kissed by the sun and declared a UNESCO World Heritage Site. Visit three highlights of the area with free time at each stop to explore in your own time.
Amalfi Coast: Boat and Snorkeling Tour in Small Group. Discover the Amalfi Coast's hidden delights and breathtaking views from a typical Amalfitan Gozzo boat with experienced local captains. Visit beautiful beaches, go snorkeling, and marvel at rock formations.
From Positano: Sorrento Coast & Capri Full-Day Trip by Boat. Marvel at the coastal landscapes of the Sorrentine Peninsula and Capri from aboard an elegant boat on a full-day tour from Positano. See the amazing sea caves and Paleolithic rocks and get some free time to explore the island at leisure.