Are you looking for some ideas on how to spend three days in Kraków? Then read on.
We landed at John Paul II airport early evening after flying in from Manchester. The only thing on our mind was to dump our suitcases and to head straight out to catch our first glimpse of the city. It was dark, so everything looked pretty lit up, especially the Basilica of Saint Mary. This was also our first time visiting Poland.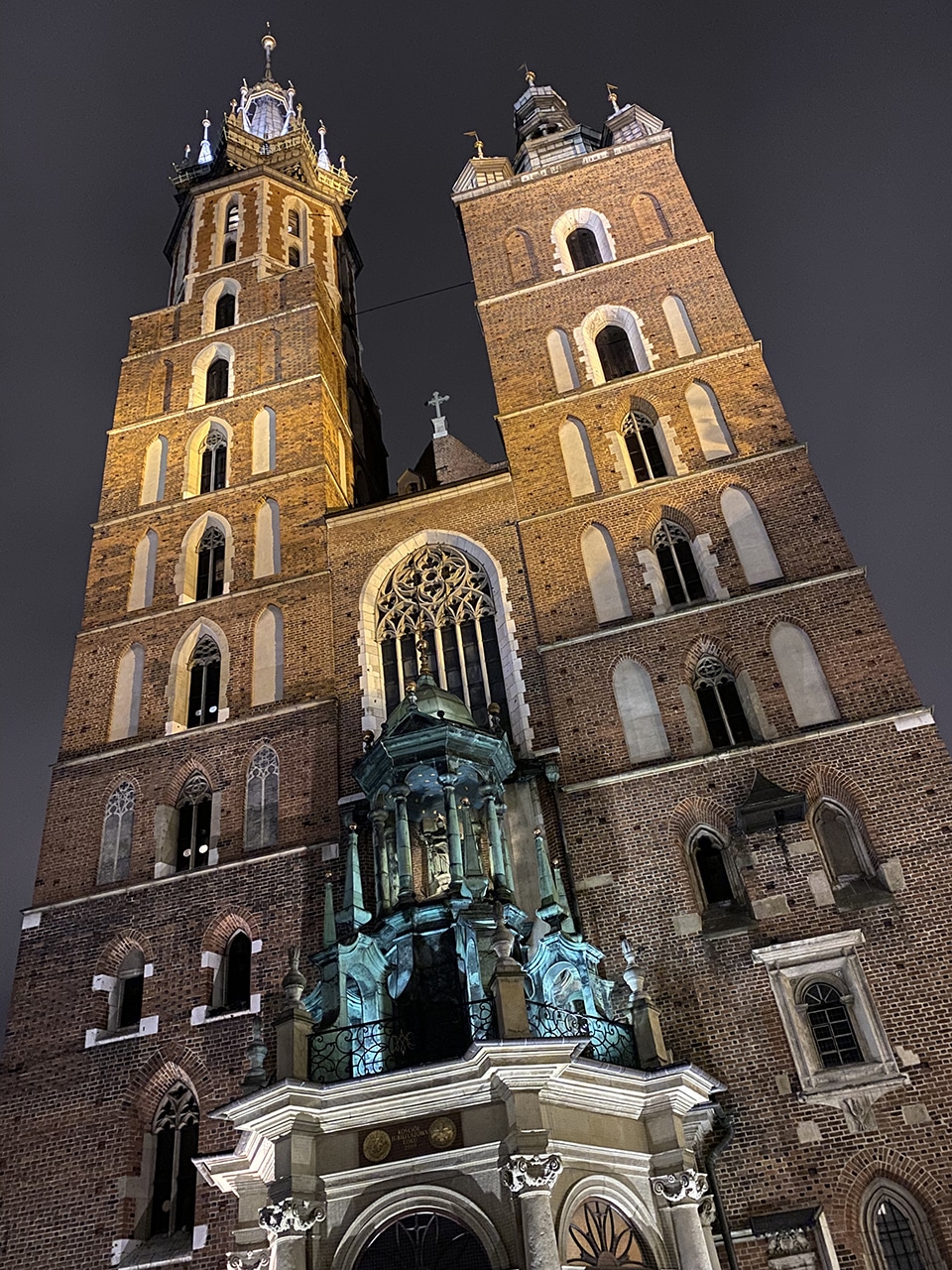 After our little walk around the market square, we made our way to a vodka bar that we had found from doing our research. We had a few drinks and made our way back to our apartment on Grodzka, ready to explore the following day. Here is a list of everything we got up to during our time in Kraków.
EXPLORE WAWEL CASTLE
Arriving at the castle, we walked into the main courtyard. We made our way over to the reception area to buy tickets for a self-guided tour of the museums. The lady handed over a pre-printed ticket, which was also a small map. She scribbled on some times and directions and told us where to go. We had to be at each exhibit for the time stated.
Expecting to pay, she waved her hand, "no charge, free, free" she said. We weren't sure what to do, expecting some kind of mistake. We double checked, and the tickets to visit were indeed free.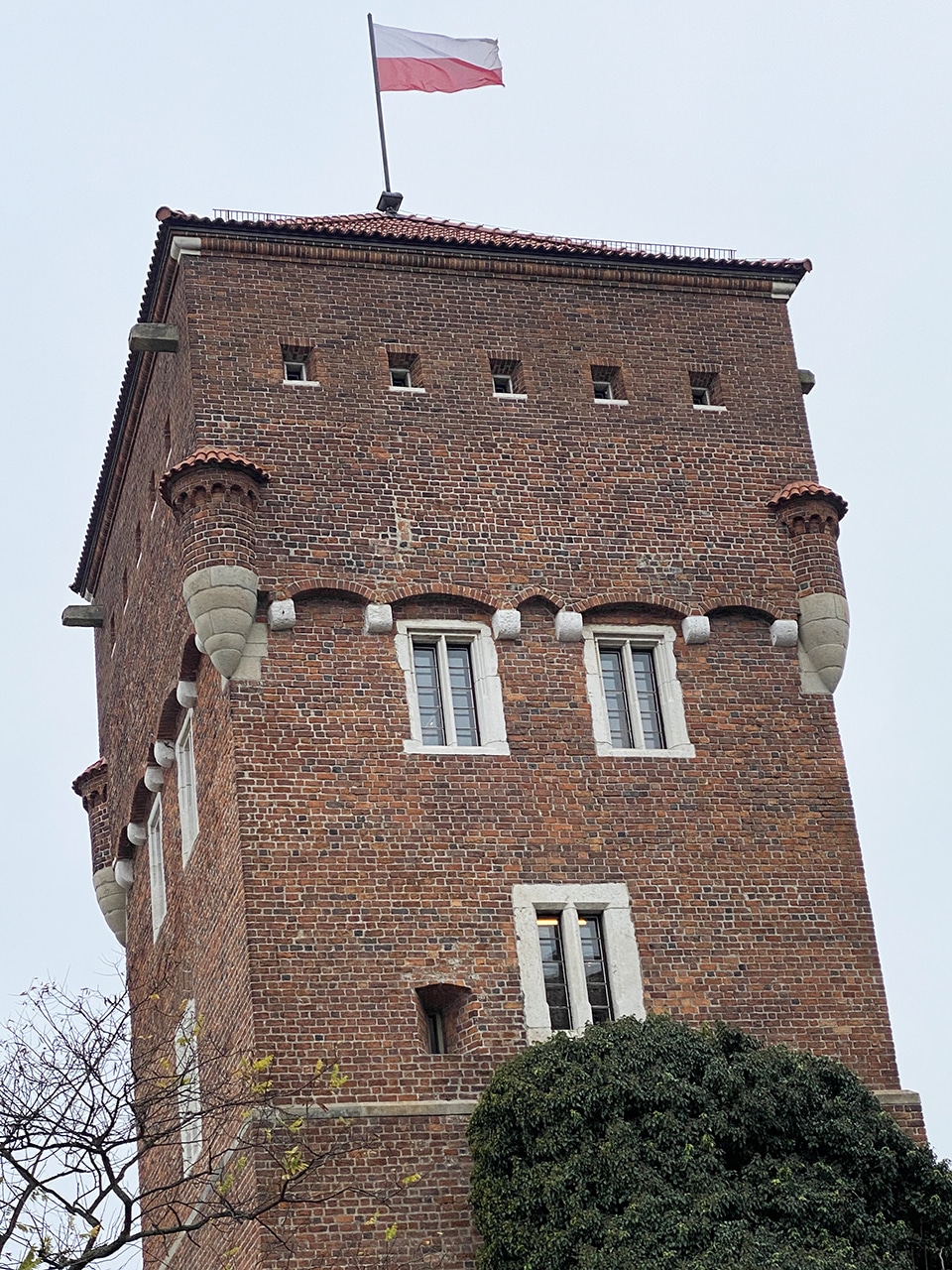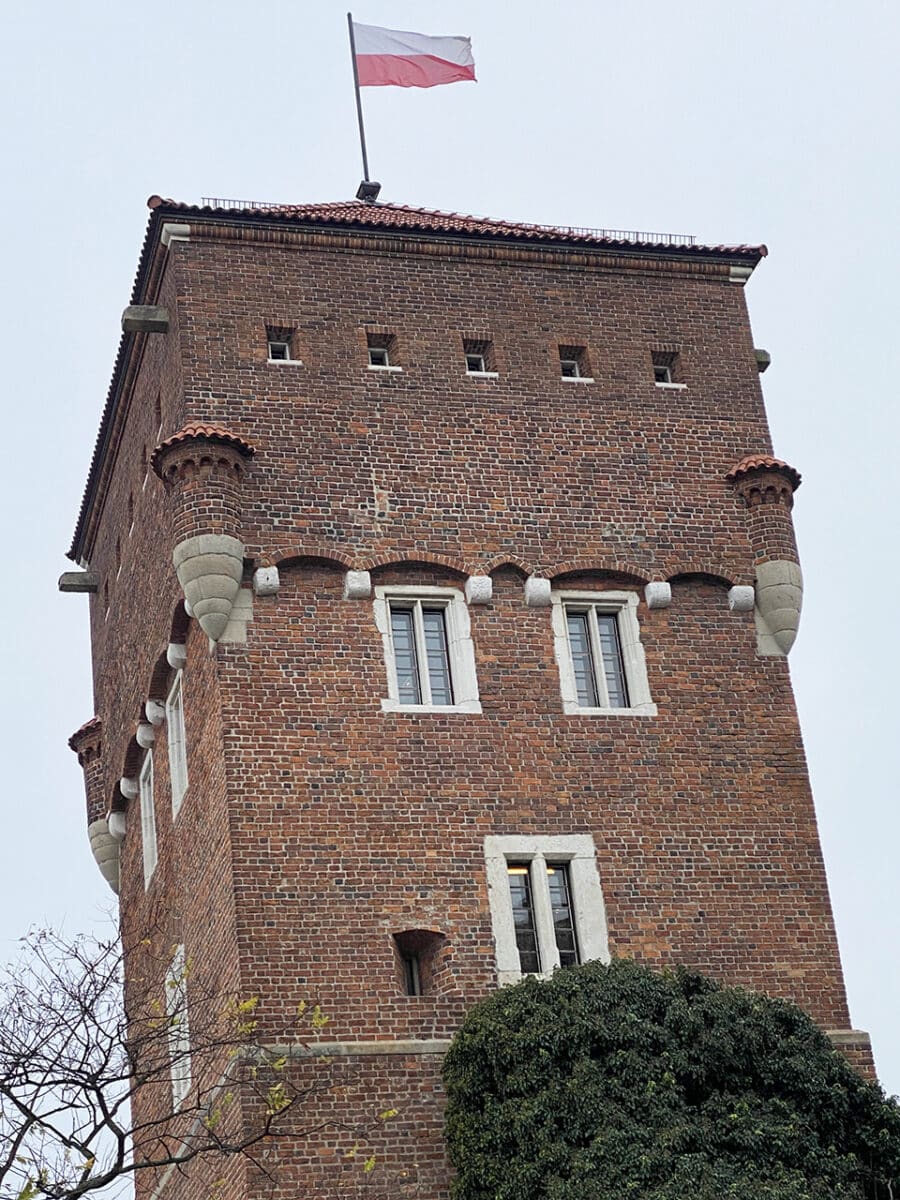 THE MUSEUMS OF WAWEL
We visited on a Monday which seems to be a free-entry day. It is to be noted, the grounds themselves are always free, tickets are for the exhibitions and museums only, and these start at 15zł.
Our free ticket gave us admission to The Armoury, The Lost Wawel exhibition, Art of the Orient and Wawel Recovered. We were both fascinated by the items on display and loved our time here. The armoury was a particular favourite.
If you would like a more thorough guided tour, you can always book one in advance. Get Your Guide has many to choose from, including this one, Kraków: Royal Hill Guided Tour.
THE ROYAL ARMOURY
A selection of photos from the fantastic Royal Armoury. They had some great exhibits here, including weapons, armour, cannons and all kinds of other military goodies from hundreds of years ago. A fantastic collection.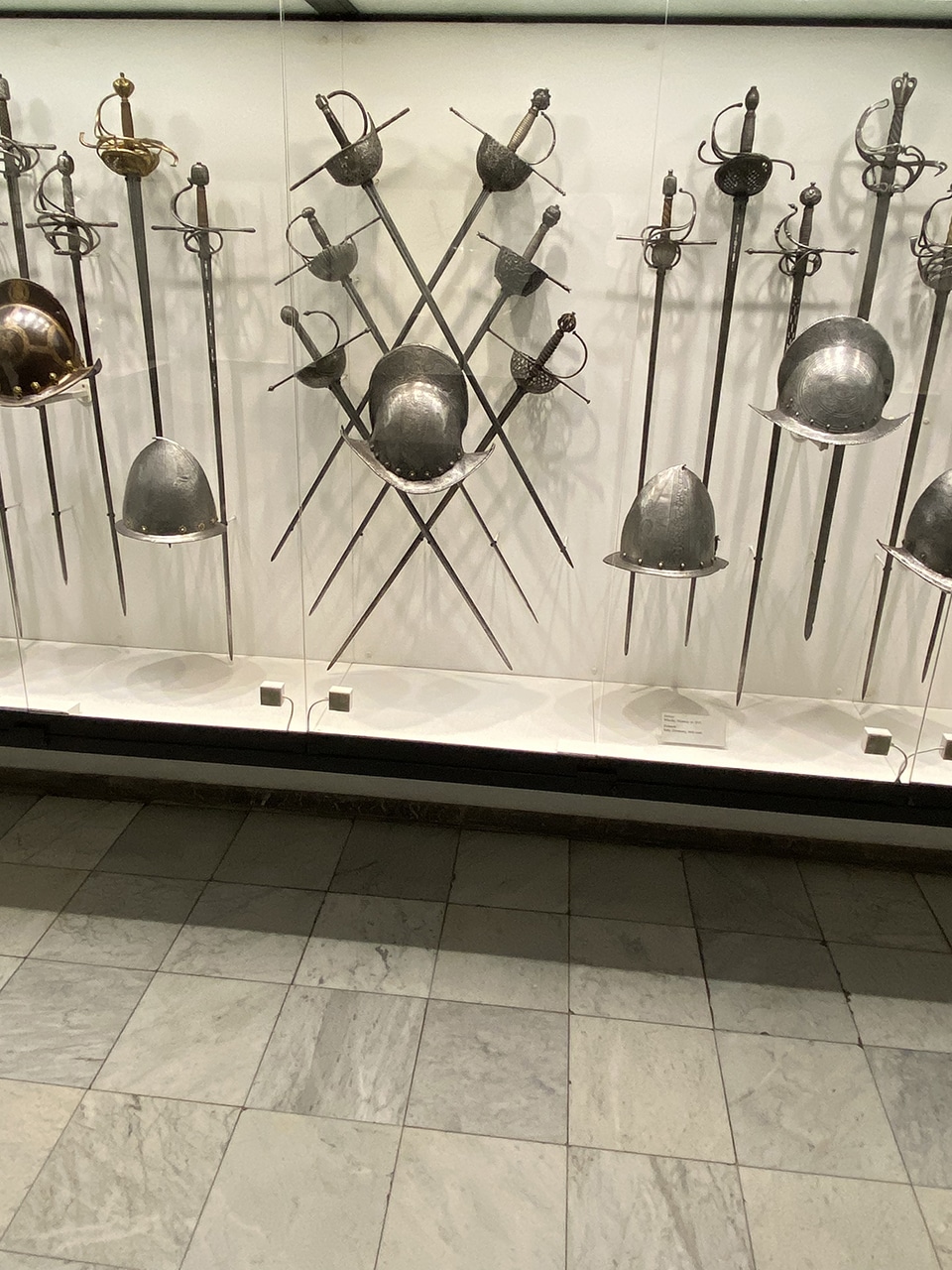 WAWEL CATHEDRAL
This beautiful cathedral is part of the castle complex and you can access it through the main courtyard. We needed to get tickets to enter the cathedral. These were from a small kiosk opposite. There was a charge of 44zł, which at the time was around £4 each.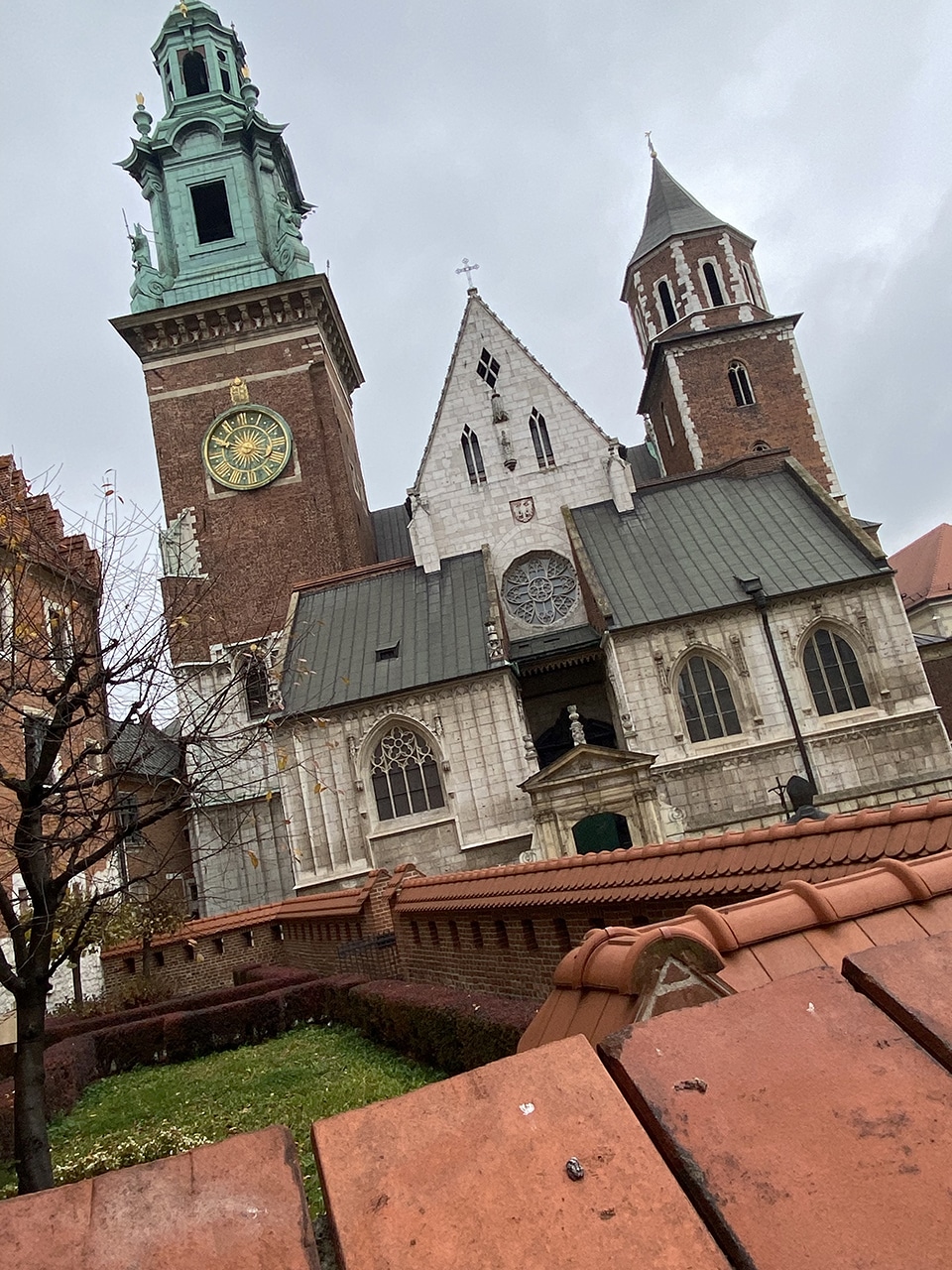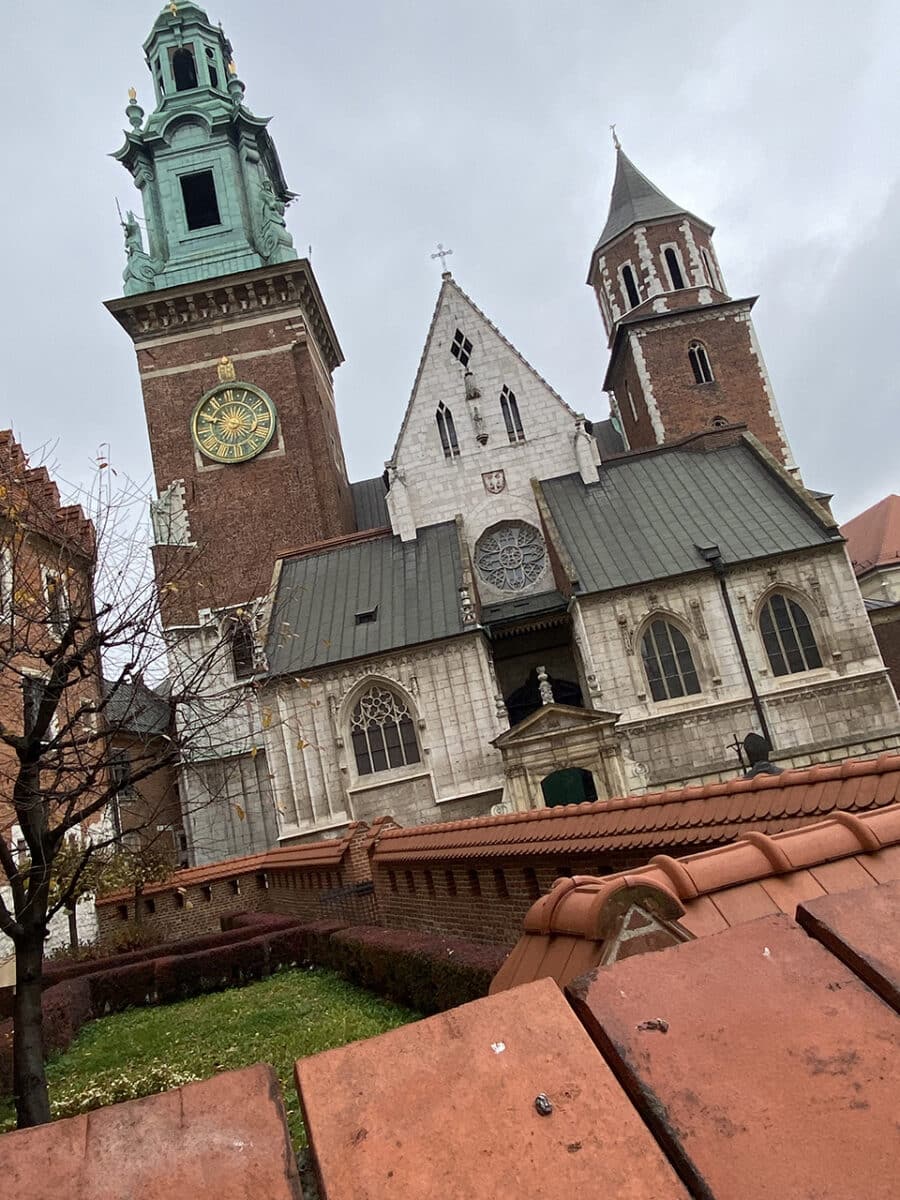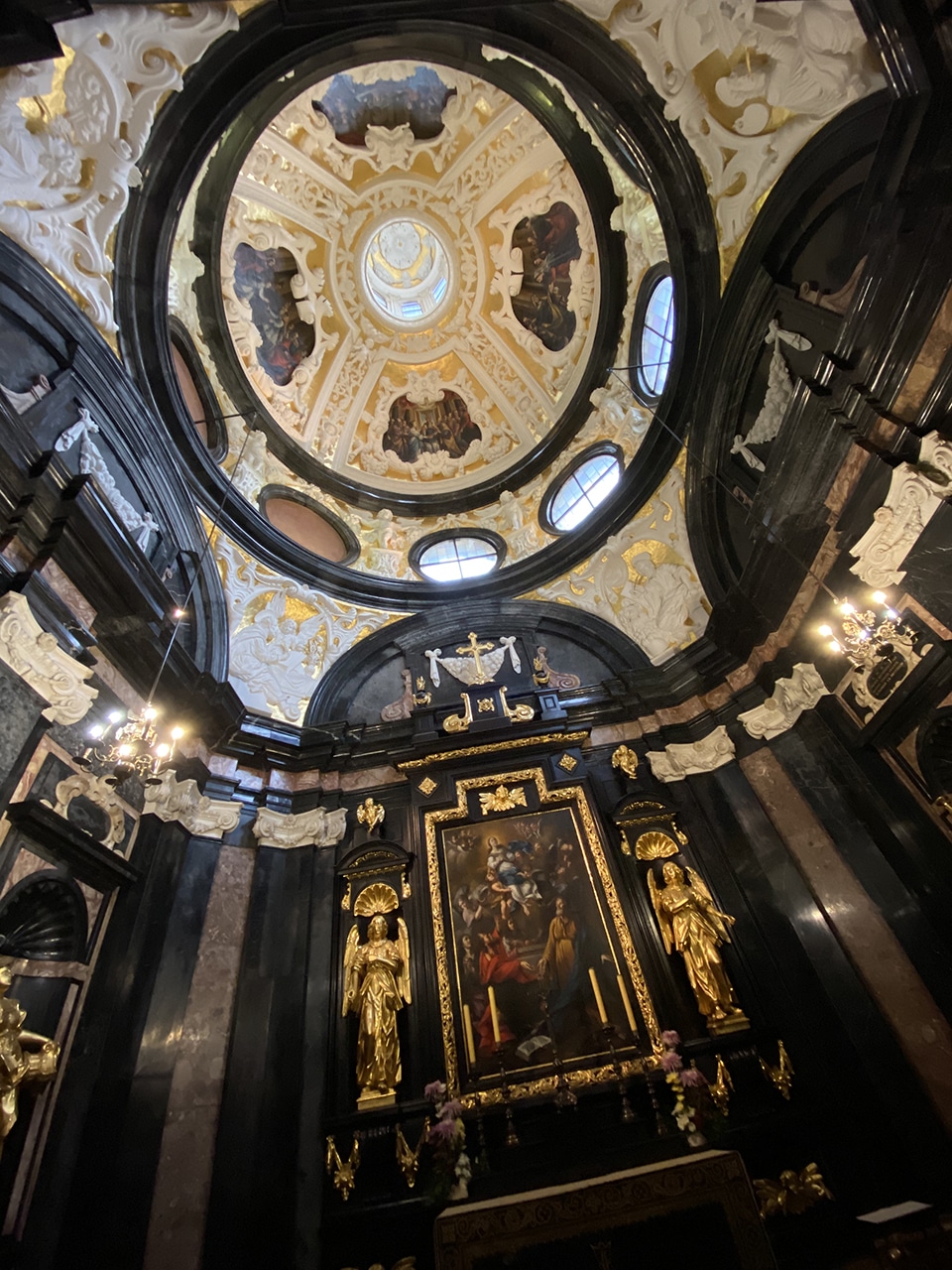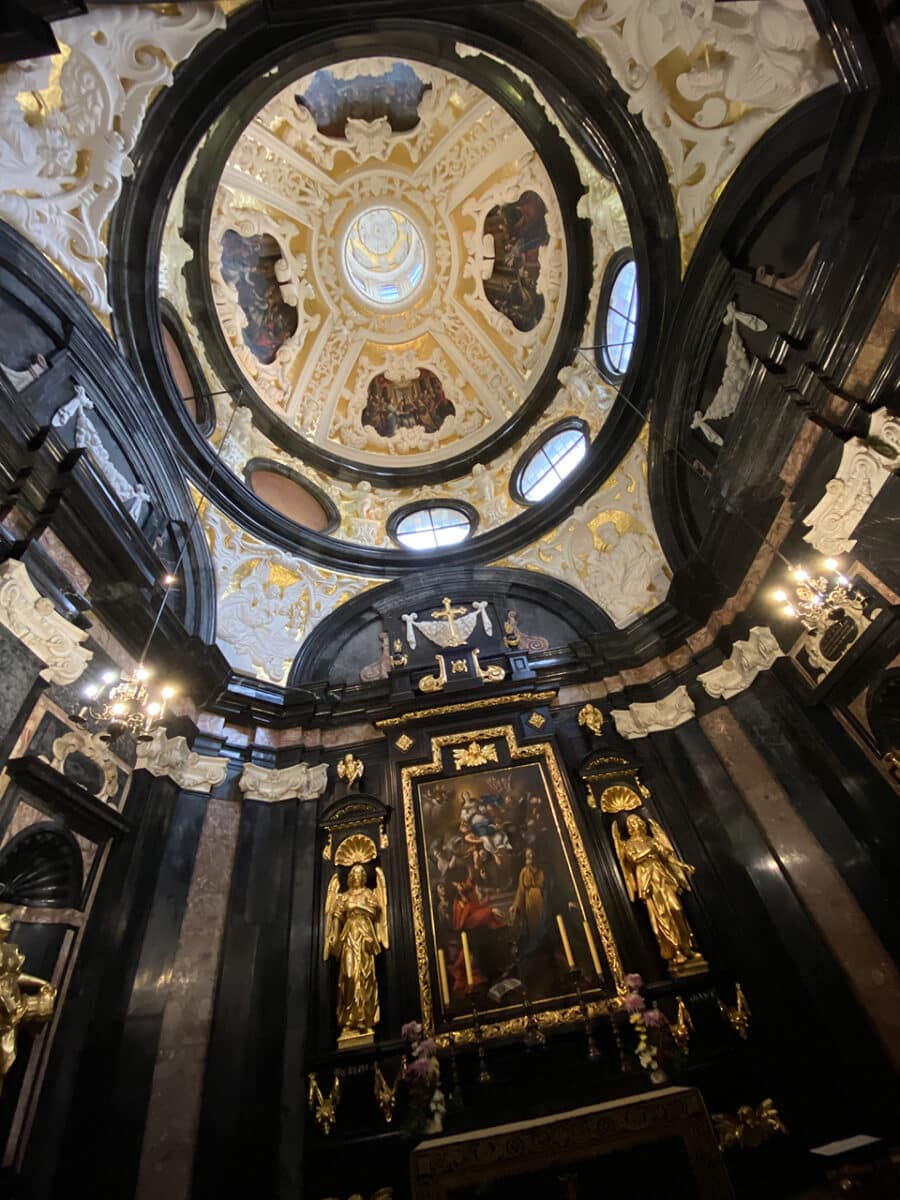 THE ROYAL TOMBS
The crypts at Wawel Cathedral hold the tombs of Polish Kings from the past few hundred years, including the tomb of former President Lech Kaczyński and his wife. There are many other ornate metal and marble caskets on display here.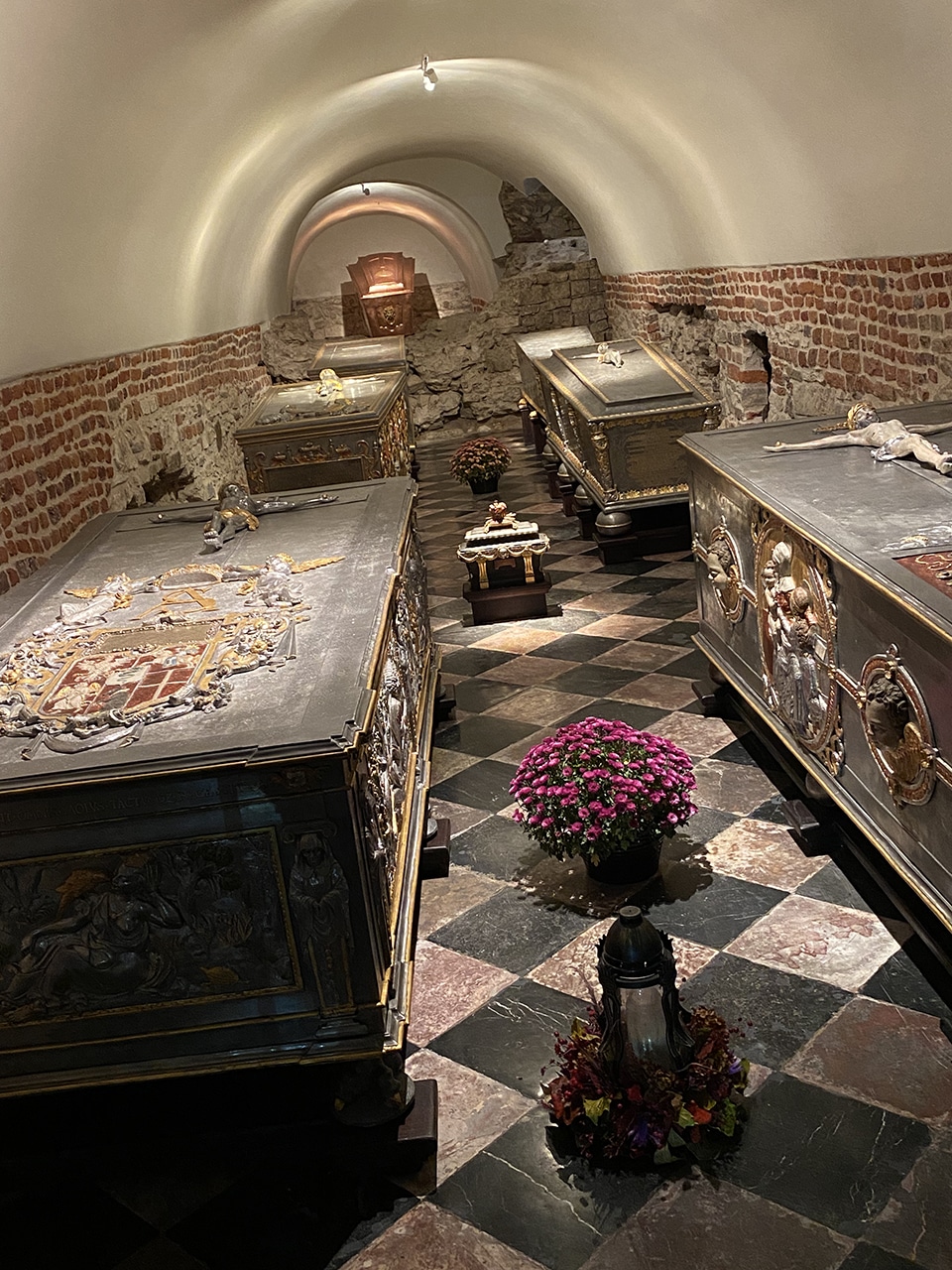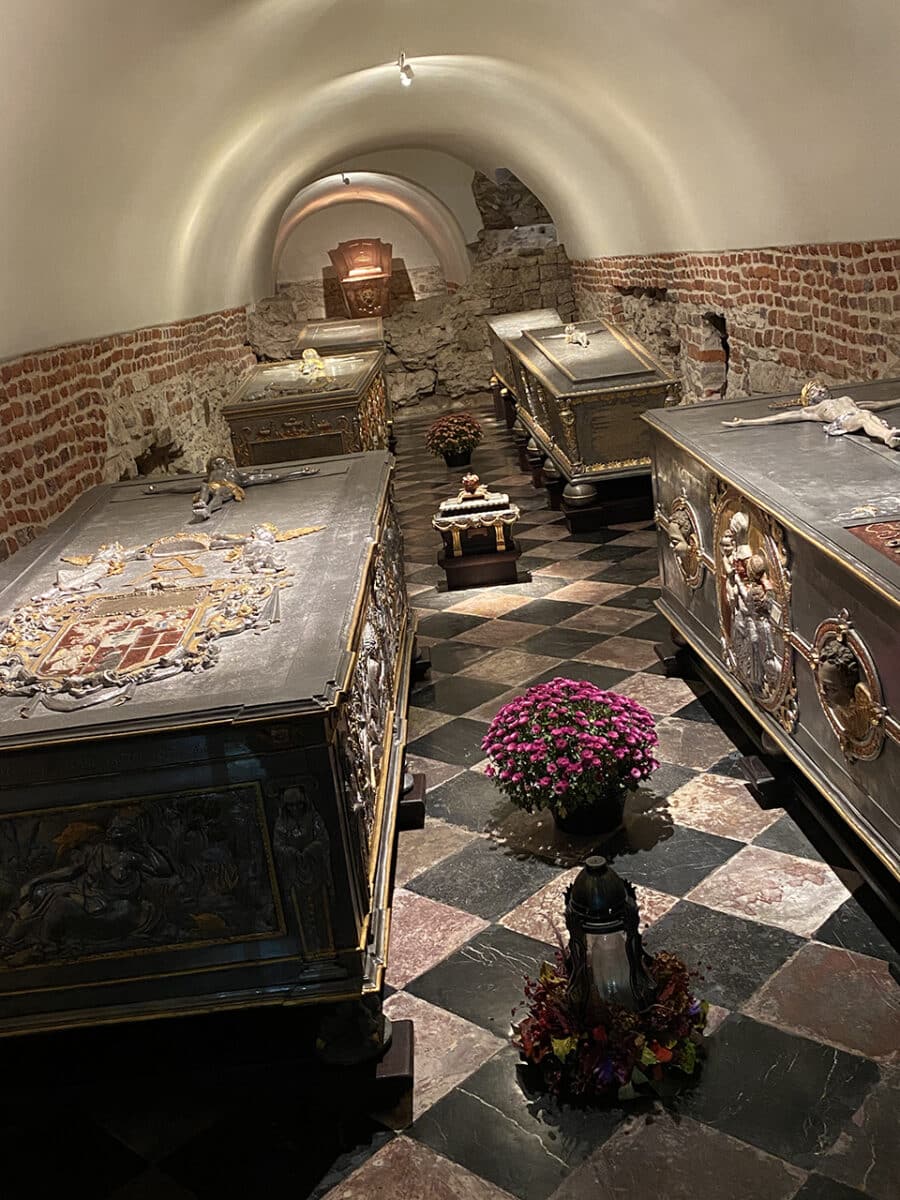 THE ROYAL SIGISMUND BELL
There are five large bells hanging in the Sigismund tower of Wawel Cathedral, and the Royal Sigismund Bell is the largest of them all and hangs proudly at the top. The bell was made in 1520 and it was named after King Sigismund I of Poland.
It weighs 15 tonnes and needs twelve bell-ringers to get it swinging. They still ring the bell on special occasions and national holidays, and it is a national symbol of Poland. Once you climb the tiny staircase up to the bell, the views out over the city are incredible.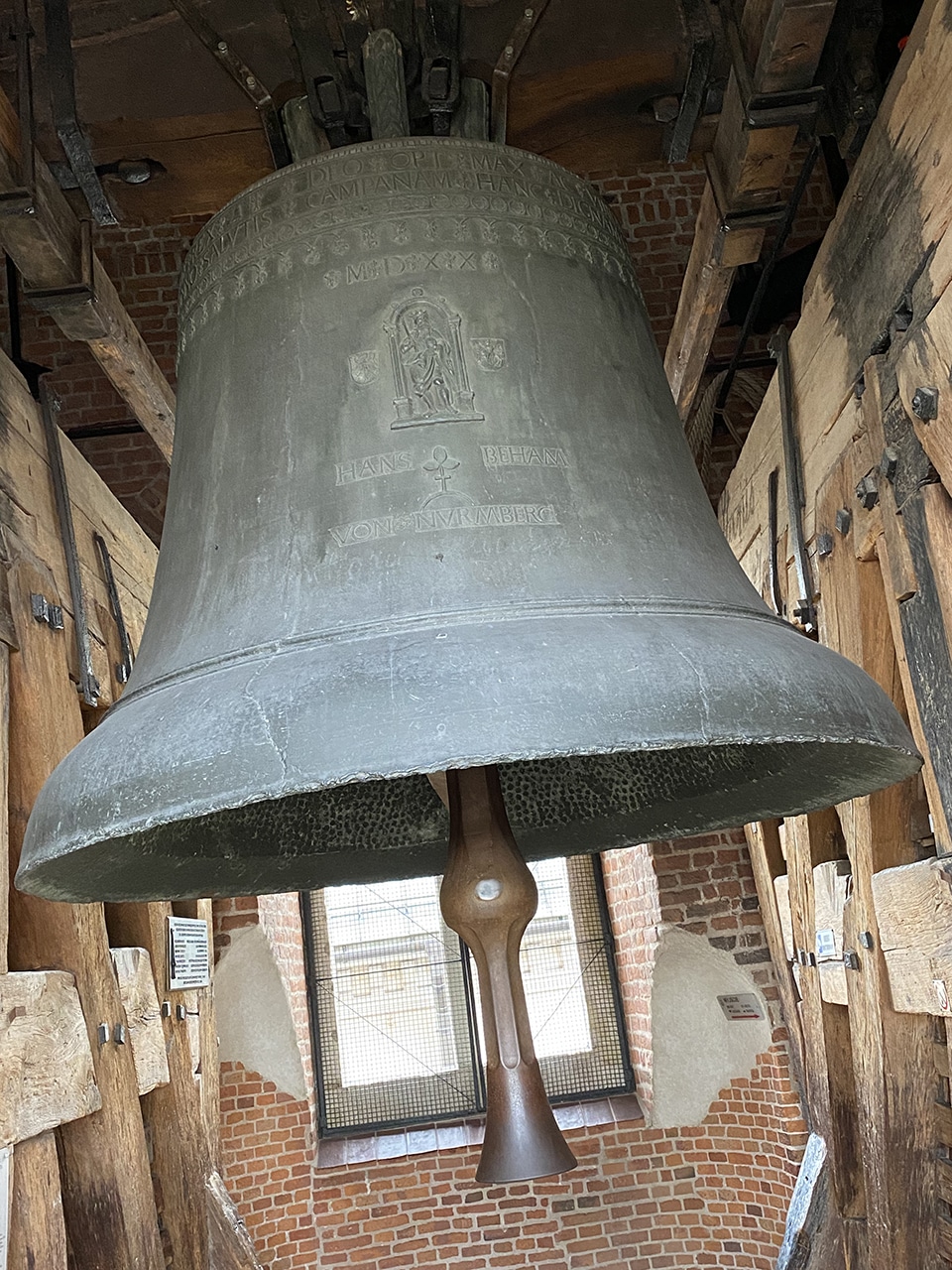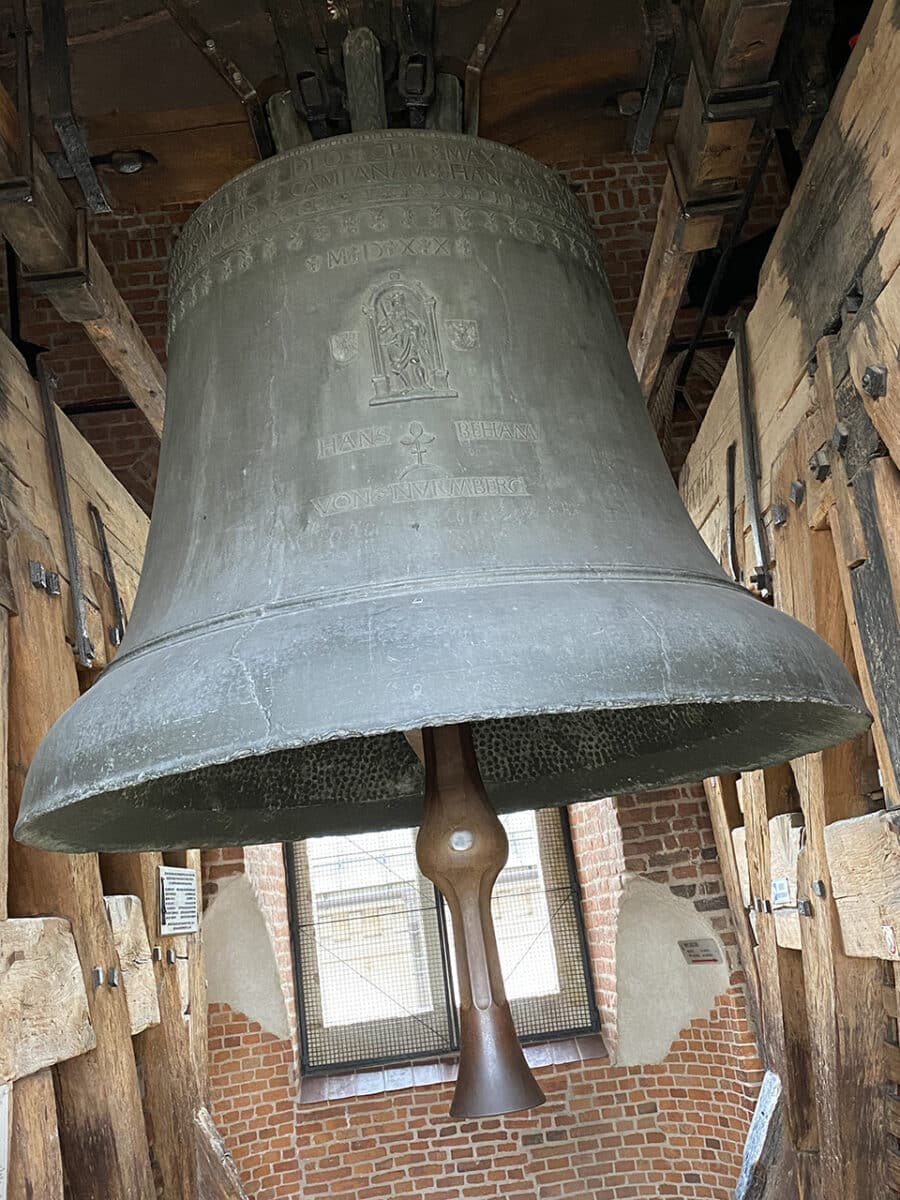 SMOK WAWELSKI, THE DRAGON OF WAWEL HILL
Smok Wawelski is a dragon in Polish folklore who lived in a cave under Wawel Hill. His story takes place during the reign of King Krakus, the founder of the city of Kraków. Smok would wander the land, killing villagers, destroying homes and eating livestock. There are many versions of this story, about King Krakus' plan to kill him with his sons Lech and Krakus II.
The monument to the dragon is at the foot of the hill, opposite the Vistula River. Smok breathes real fire every few minutes and is a great stop when you visit the castle.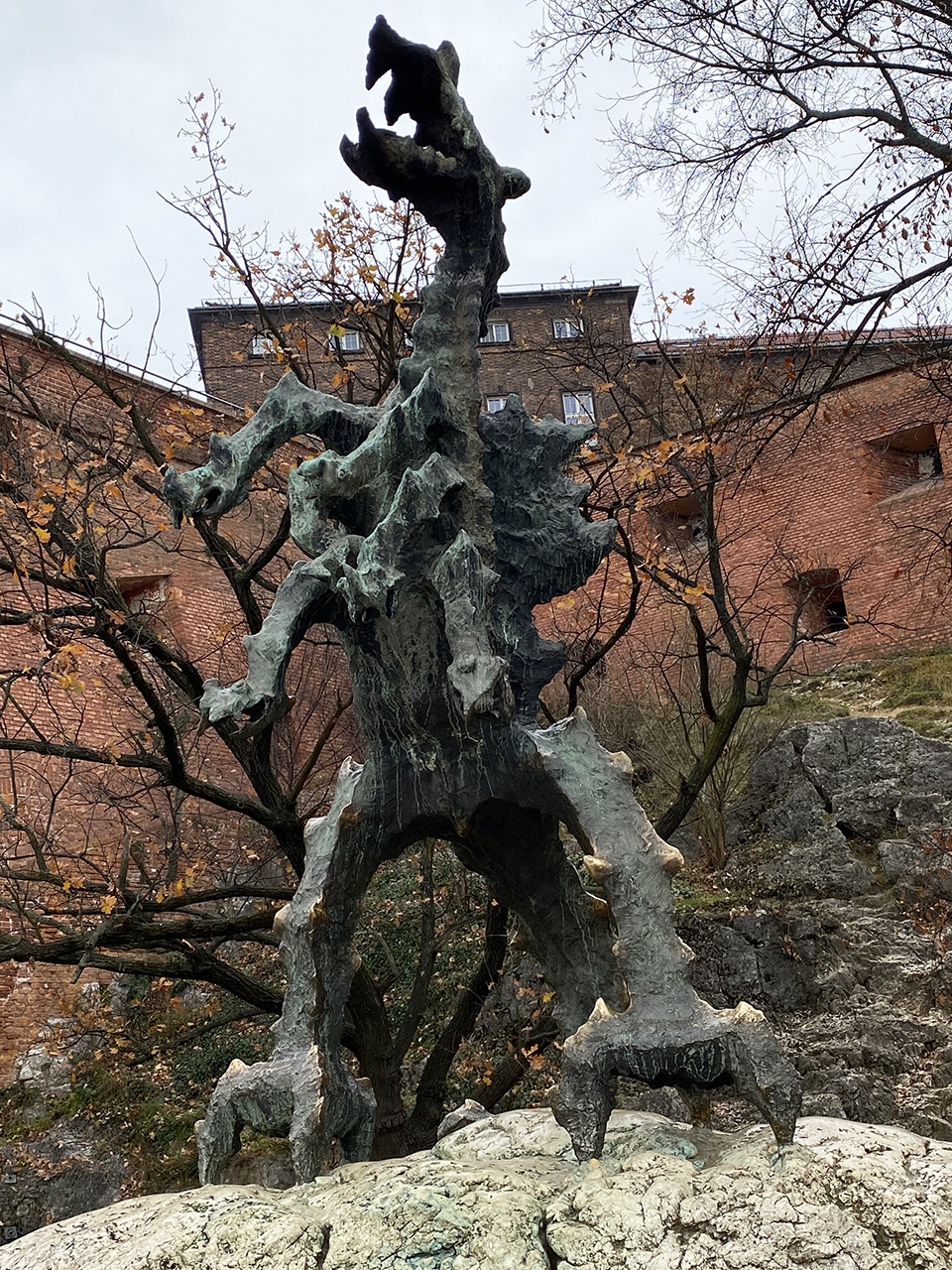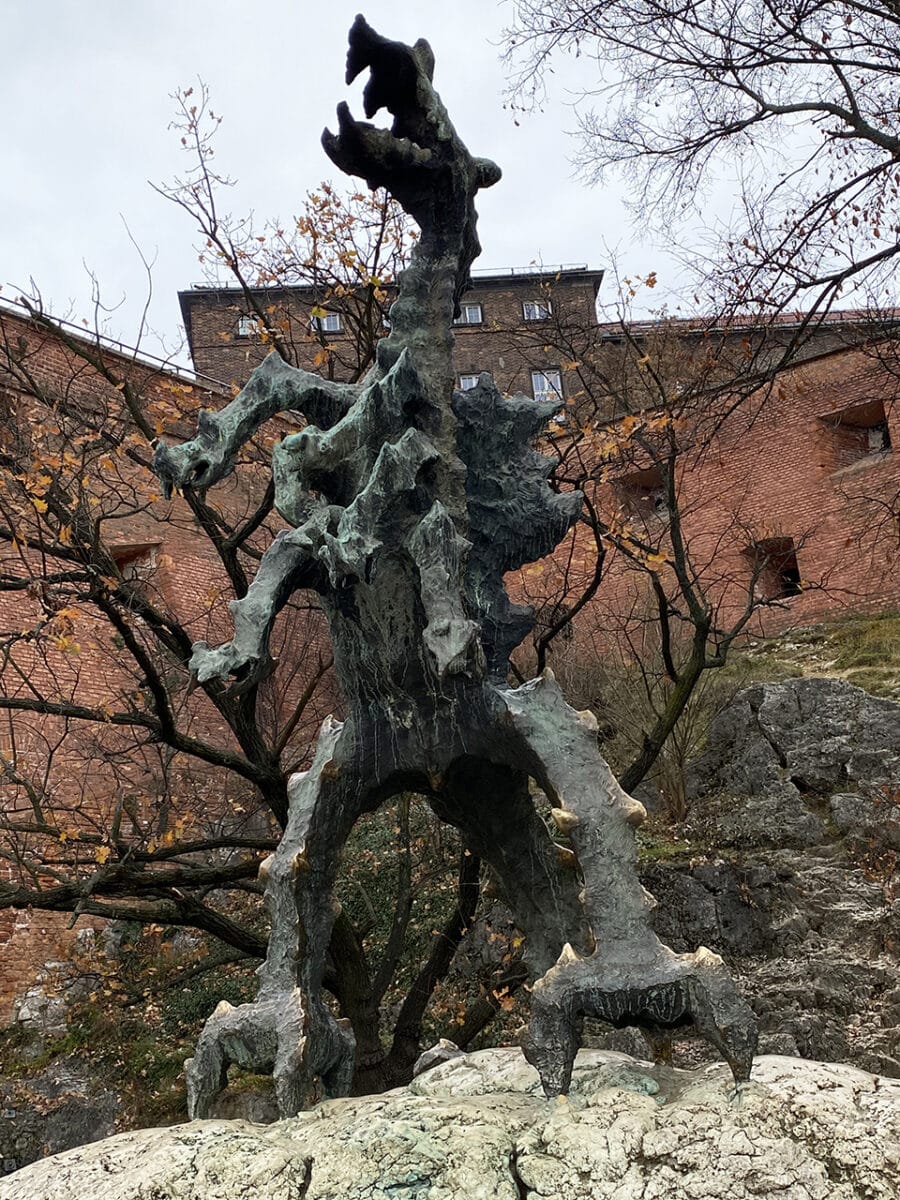 SAINT MARY'S BASILICA
They built Saint Mary's Basilica during the 14th century, and it is a fine example of Gothic architecture. It was named a UNESCO World Heritage Site in 1978. Every hour on the hour, a trumpeter sounds a tune called the Hejnał mariacki from the tallest tower. They play it four times, facing each of the cardinal-directions. It is a tradition that dates back hundreds of years. The interior of the basilica is beautiful.
In 2010, a funeral for President Lech Kaczyński and his wife took place here after the plane they were travelling in crashed in Smolensk, Russia, killing them both and several members of their political party. They were then laid to rest in the crypt of Wawel Cathedral.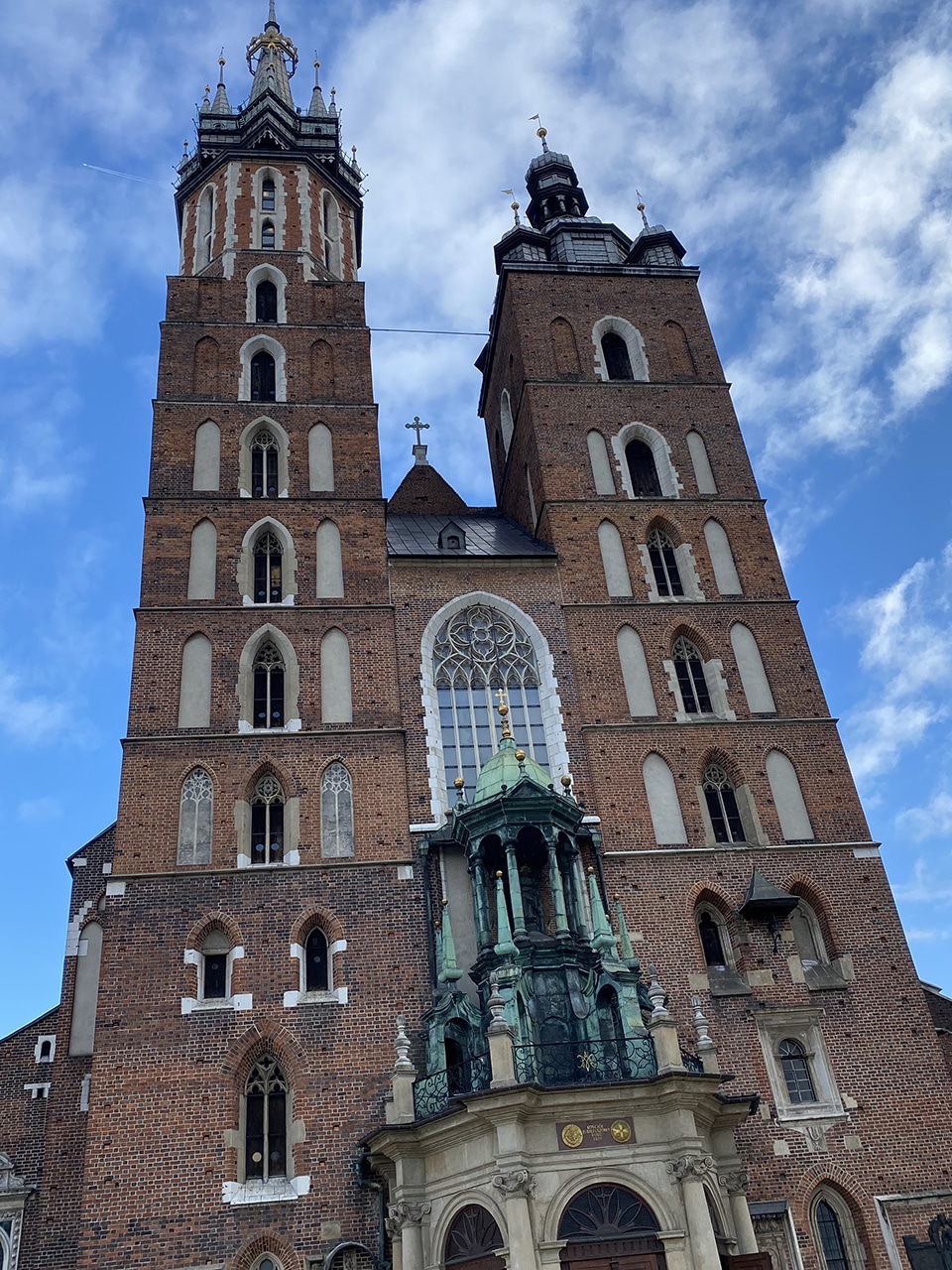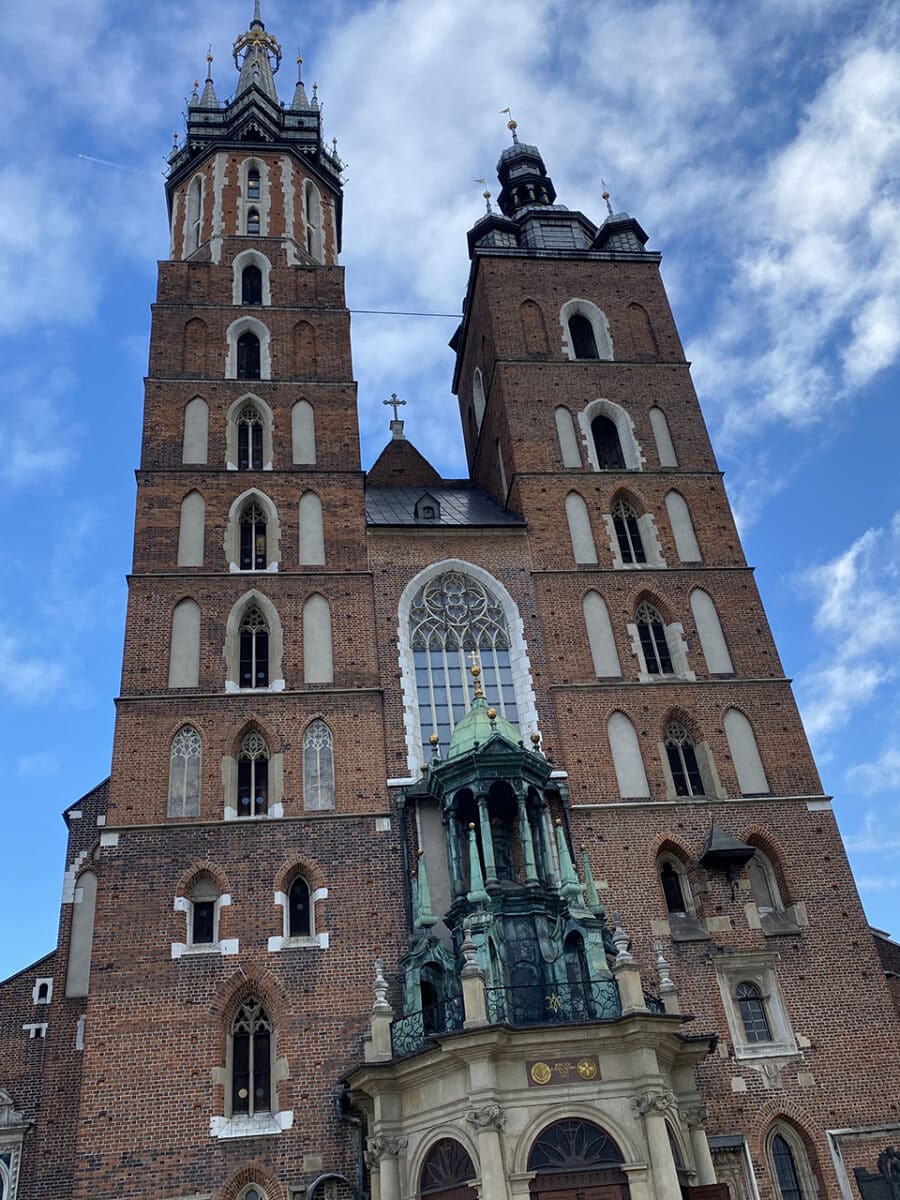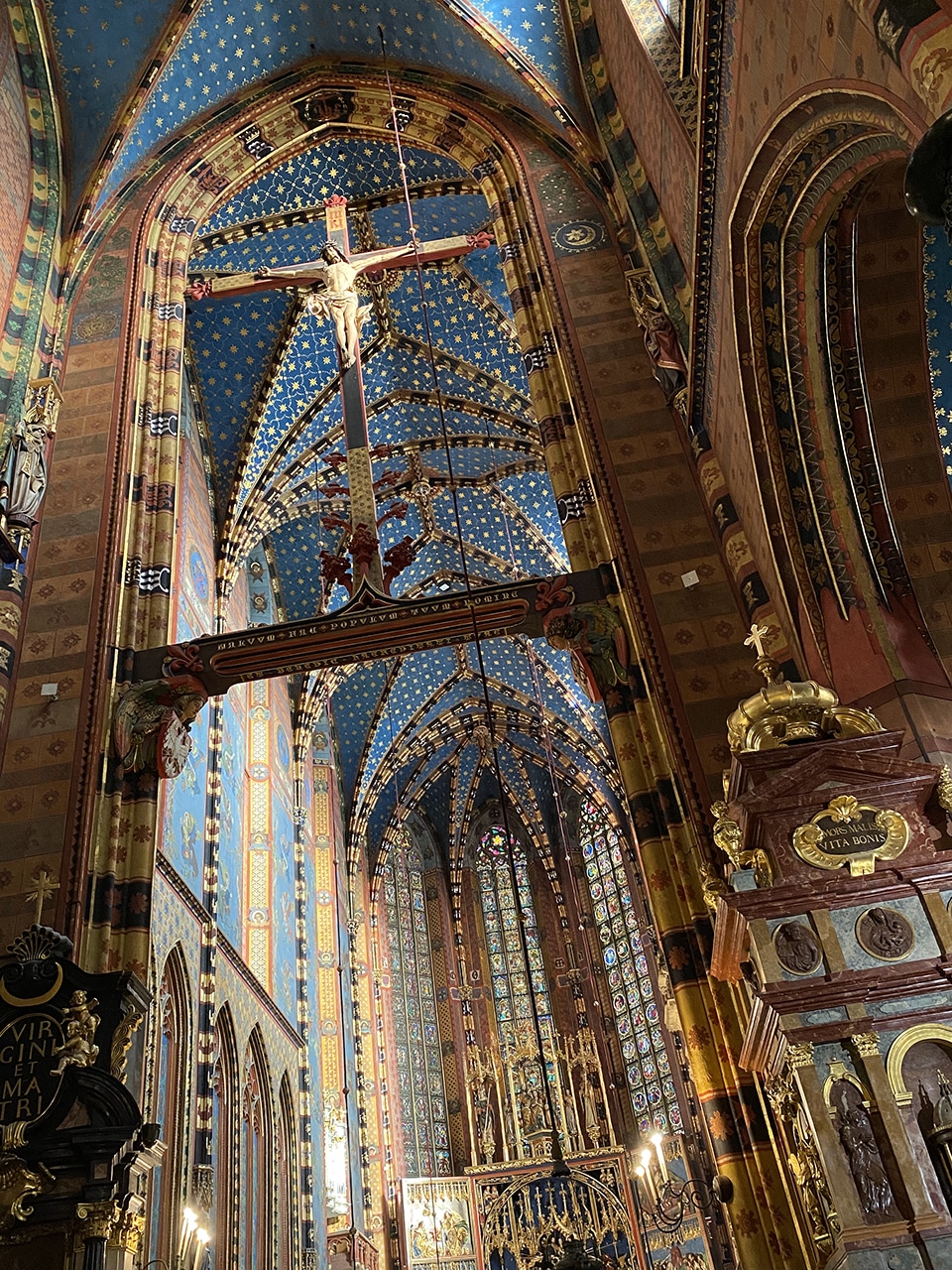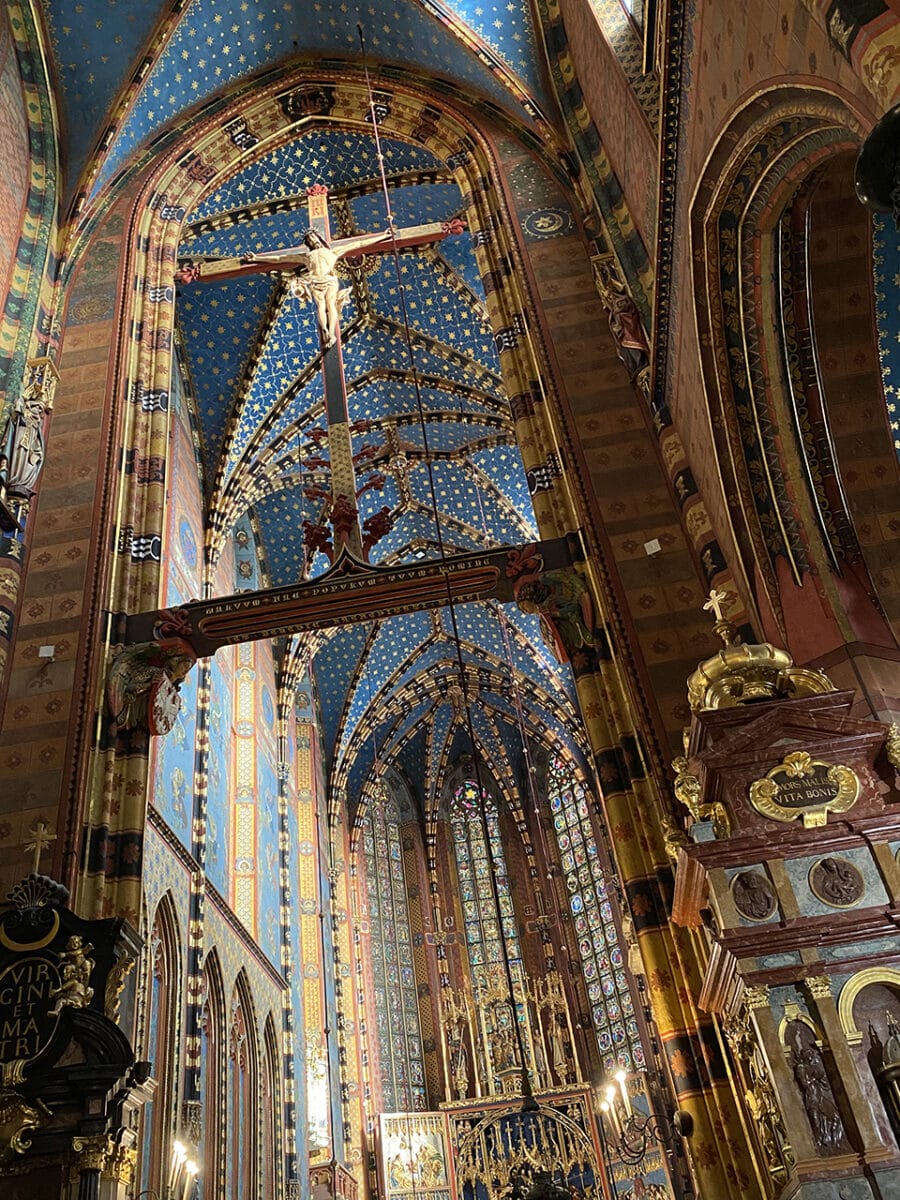 THE CLOTH HALL
The Cloth Hall stands in the centre of the market square. Another UNESCO World Heritage Site, this impressive building is full of shops selling all kinds of gifts and jewellery, and also houses a museum. It dates back to the 13th century. Fire destroyed it during the 16th century and therefore it was subsequently rebuilt.
In the market square, you will also see the impressive Town Hall tower and the dismembered head of Eros, the Greek god of love, lying next to it.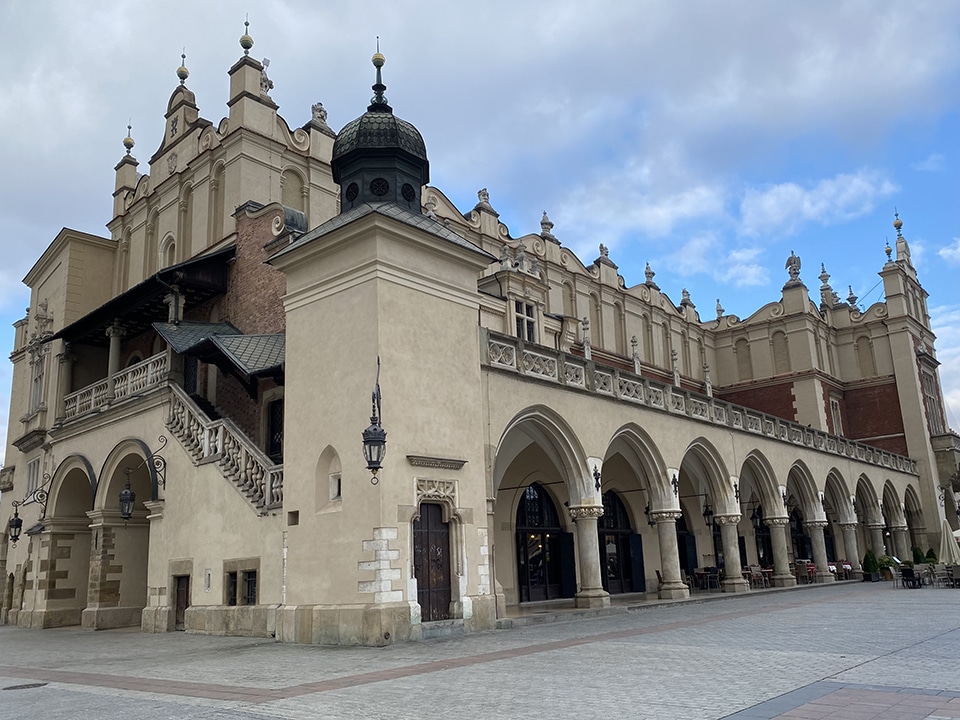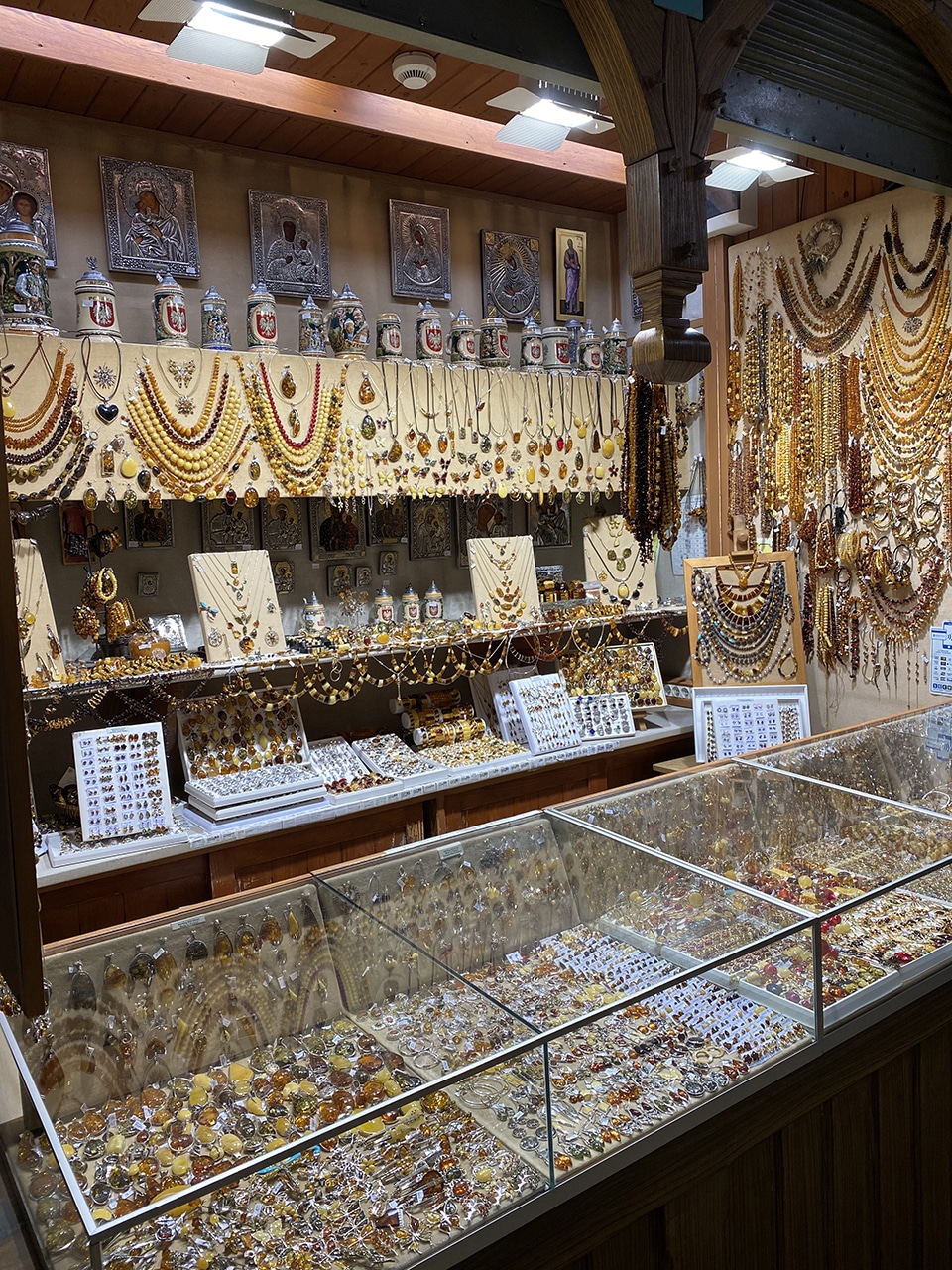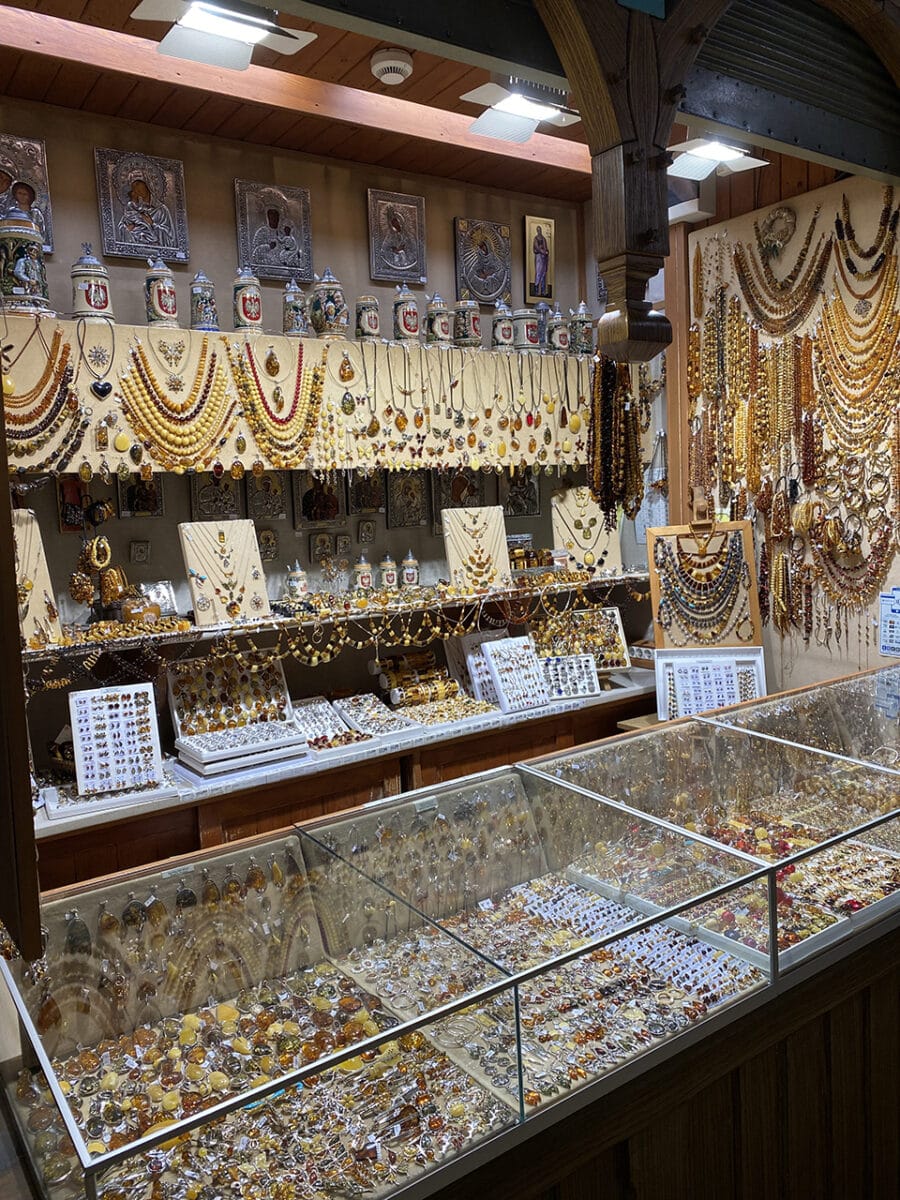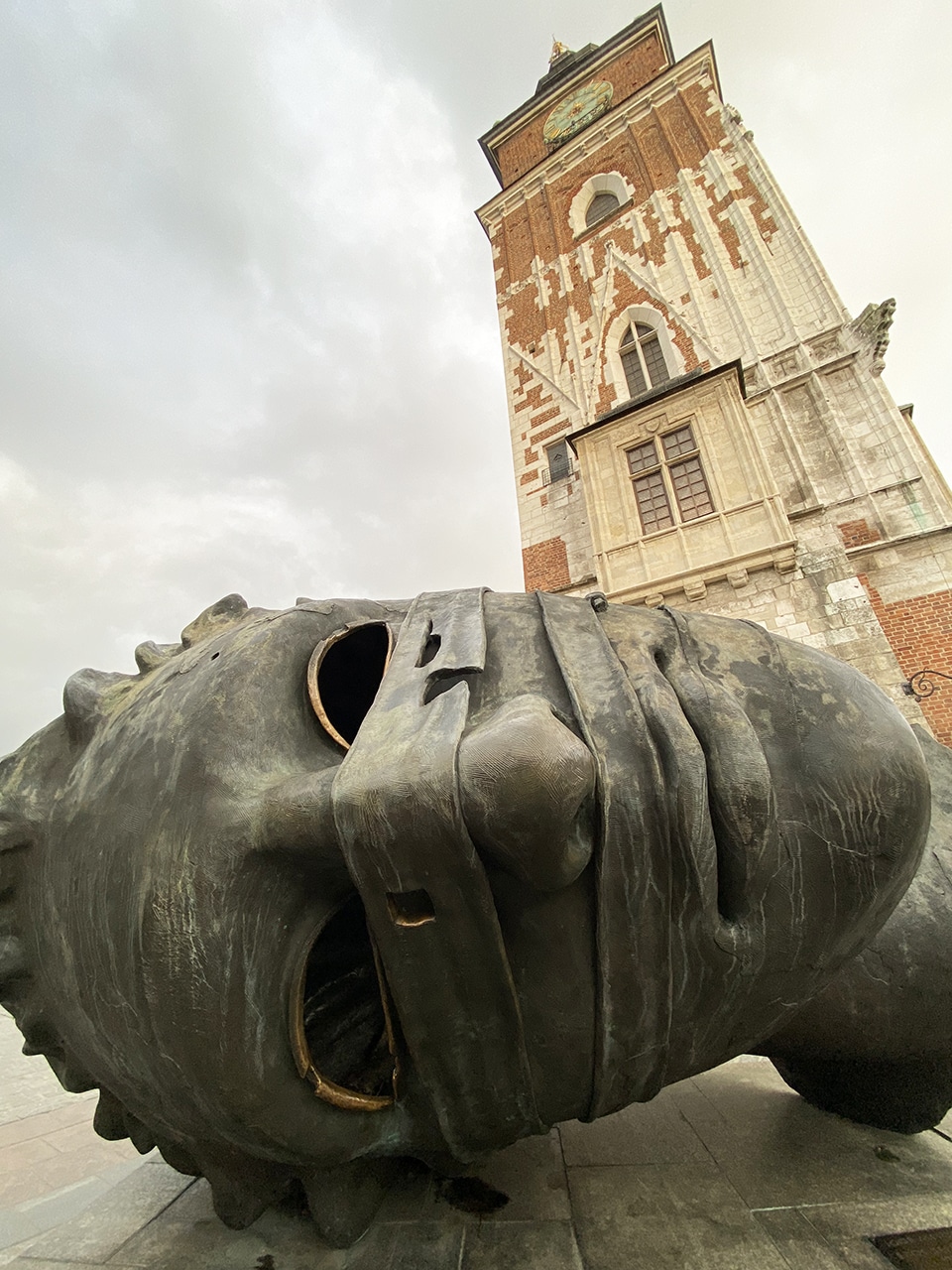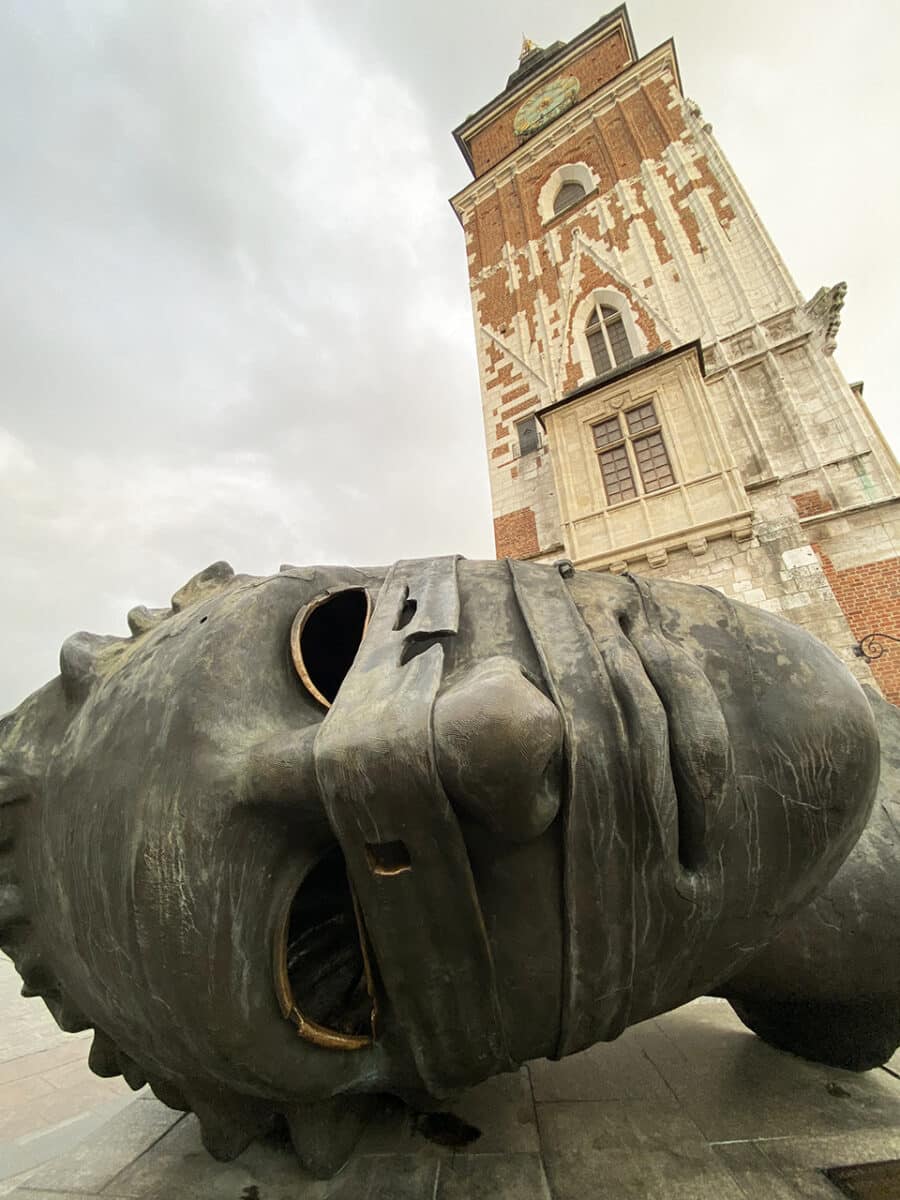 A DAY TRIP TO AUSCHWITZ AND THE SALT MINIES OF WIELICZKA
AUSCHWITZ I & AUSCHWITZ-BIRKENAU
When we booked our trip to Kraków, we were unsure about visiting the Auschwitz camps. We toyed with the idea for several days. We wanted to go, we obviously knew about the history and everything that happened there. Would it be disrespectful? We didn't want to be 'tourists' in a place like this.
We did eventually make the choice to visit, and we are so glad we did. It was a tremendously moving experience and one we feel everyone should do at some stage while visiting Kraków.
We booked this trip as part of a full-day experience that included the salt mines through Get Your Guide. It was a fantastic day out, with a small group, and we never felt rushed. Our guides were incredible and we couldn't rate this trip highly enough.
Book a trip with Get Your Guide: From Kraków: Auschwitz-Birkenau & Salt Mine in 1 Day.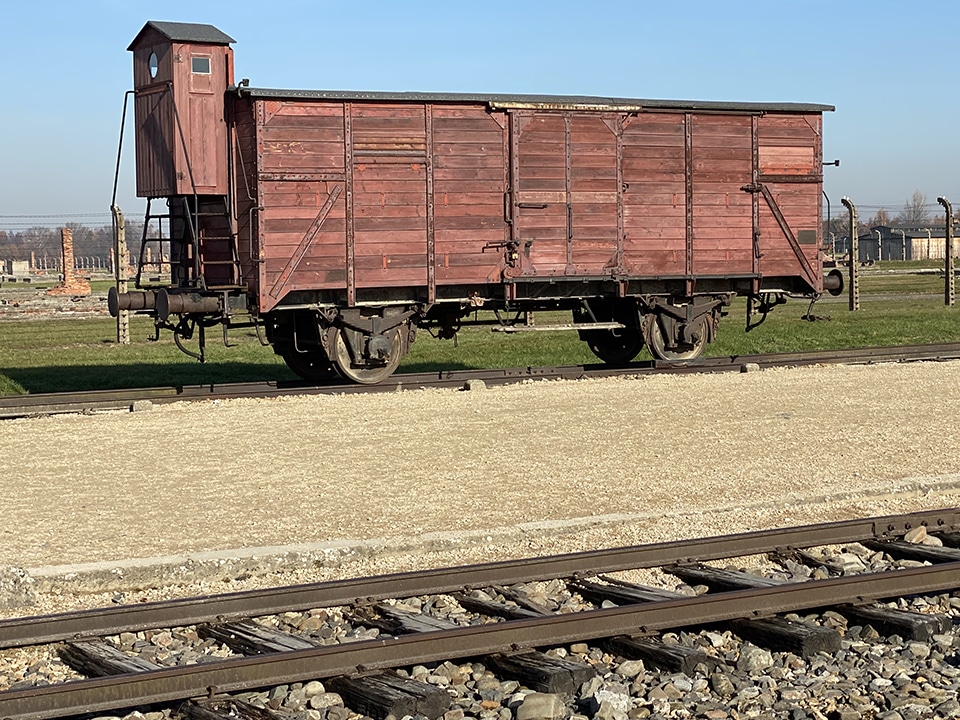 THE MAGNIFICENT SALT MINES
After our trip to Auschwitz, we would go to the Salt Mines of Wieliczka. We arrived at the mines a short drive later. The tour organiser gave the group an hour for lunch. We were all led to a restaurant just over the road from the mine and we were told a time to regroup for our tickets. The entire group then disappeared into the restaurant. Not me and Vicky though, we like to do our own thing, and eating with the group wasn't really our cup of tea.
Instead, we walked down into the town of Wieliczka and found a great little cafe selling coffee and cake. After our snack, we visited a couple of shops, bought some gifts, then made our way back to the mine.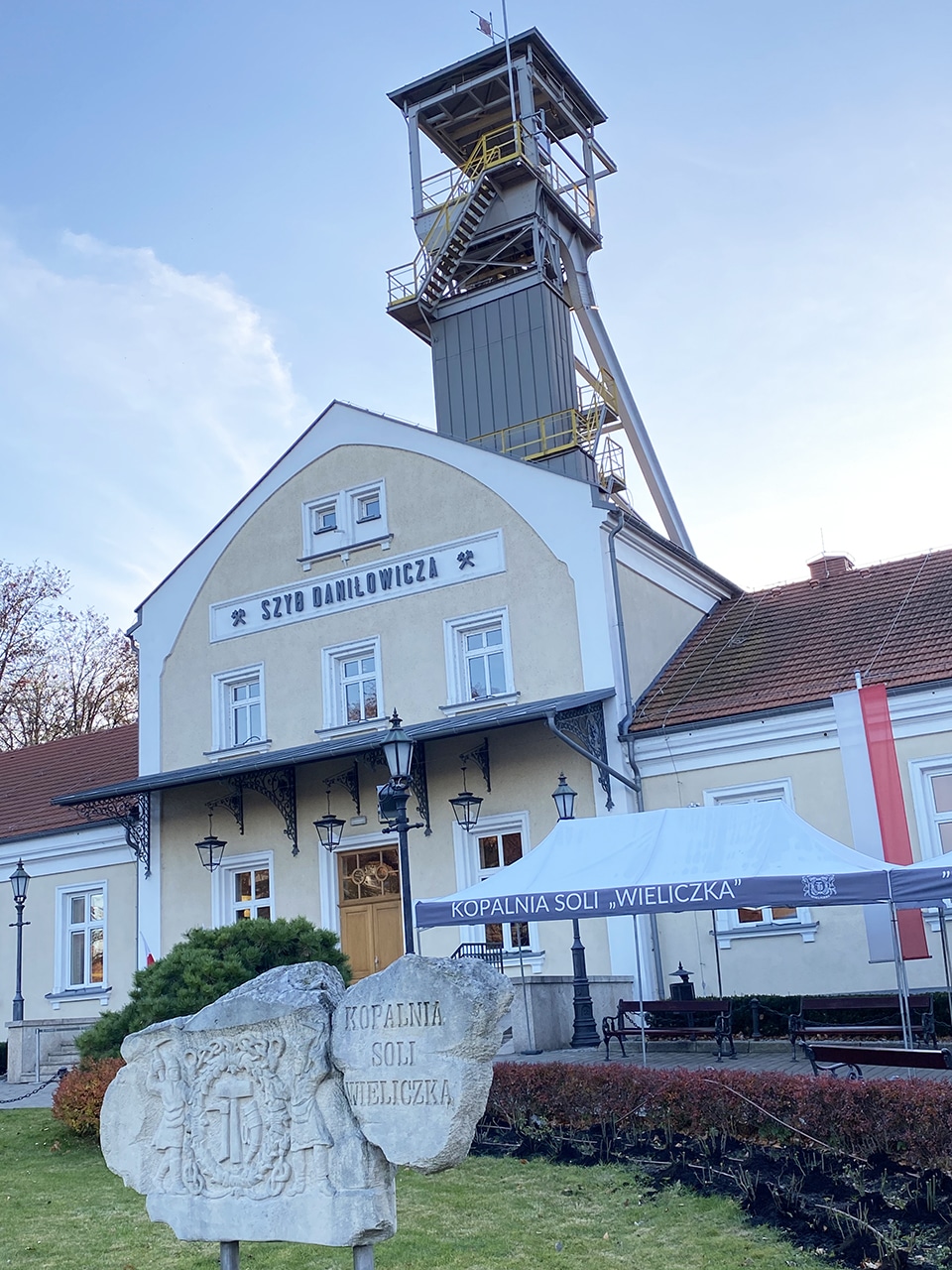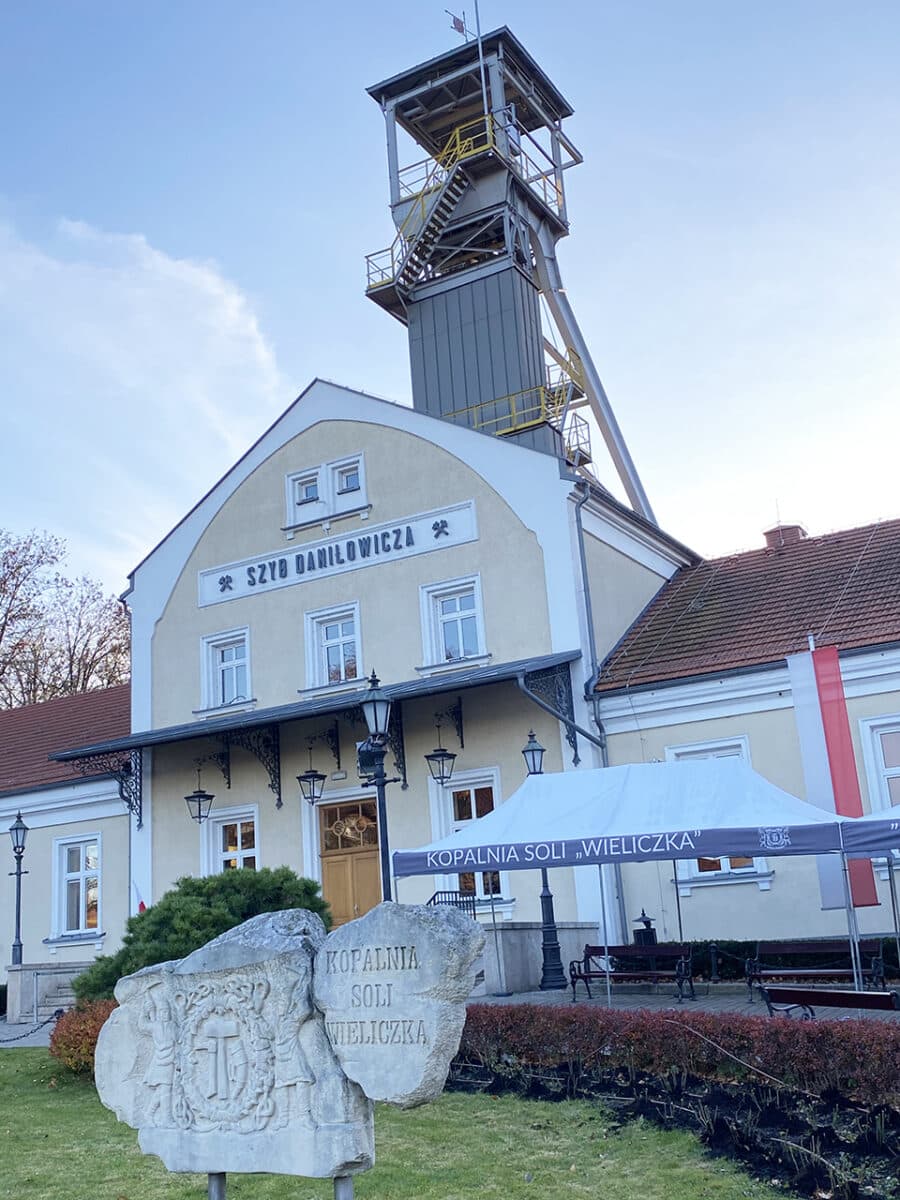 GOING UNDERGROUND
We had two hours to look around the mine. They handed us over to one of the mine's own tour guides for this next part. As we explored, we were all given a full history, and we were told all about the people who worked there and how the mine was dug and constructed. Parts of the mine date back hundreds of years, and other parts back to the Neolithic period. At one moment in time, salt was worth more than gold.
There are underground brine lakes, cart tracks, chapels and, of course, what everyone comes to see, its famous statues and carvings all made of salt. Carved by miners through the years. Some carved directly into the walls and floors, others made from huge salt blocks.
The mine was in operation until 1996 and is another one of UNESCO's World Heritage Sites. The mine reaches down to 327 meters and has hundreds of kilometers of chambers and passageways.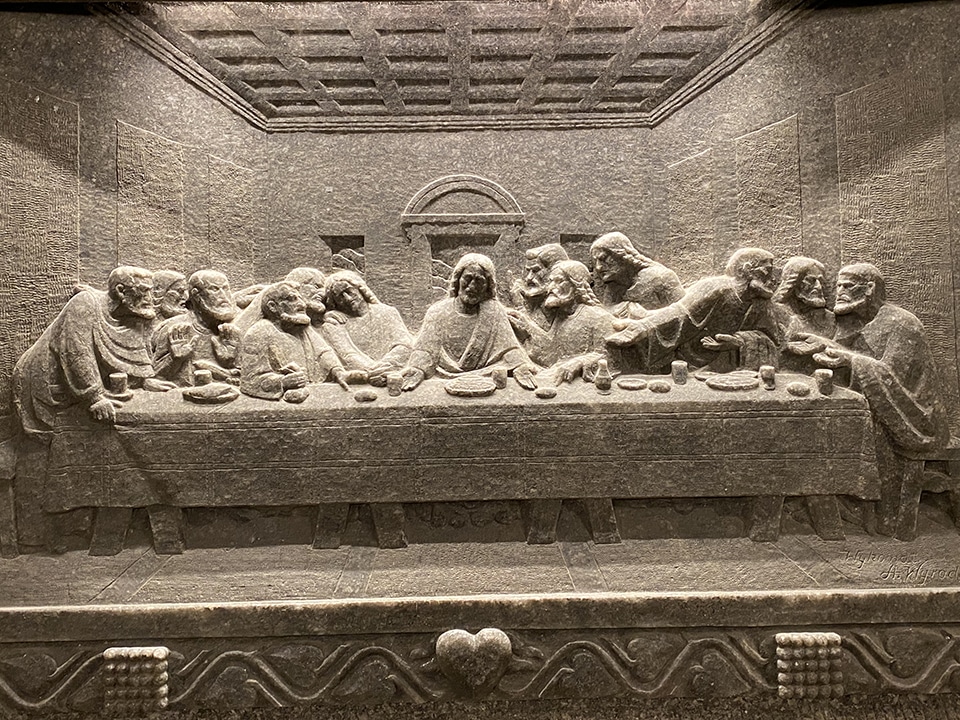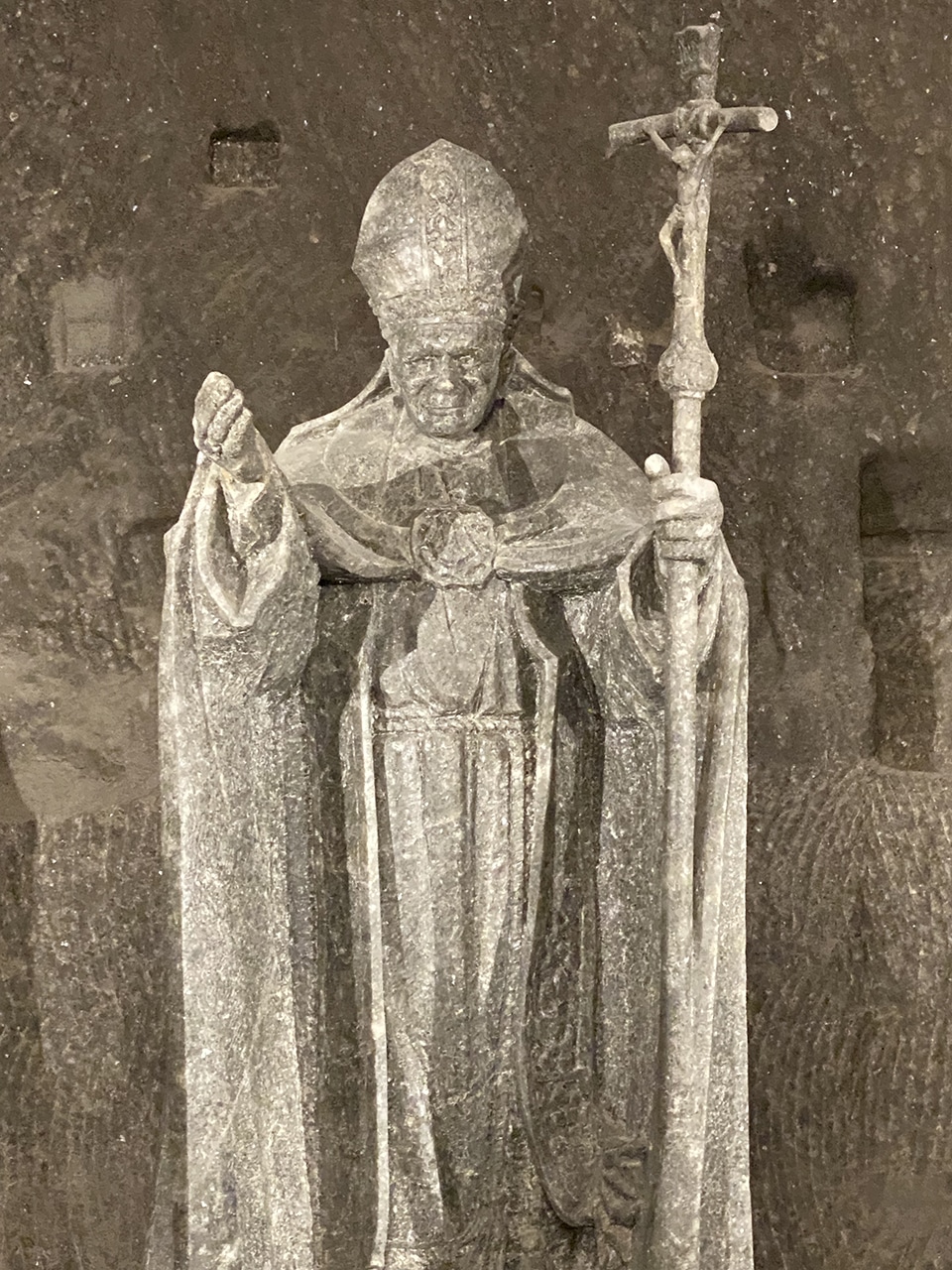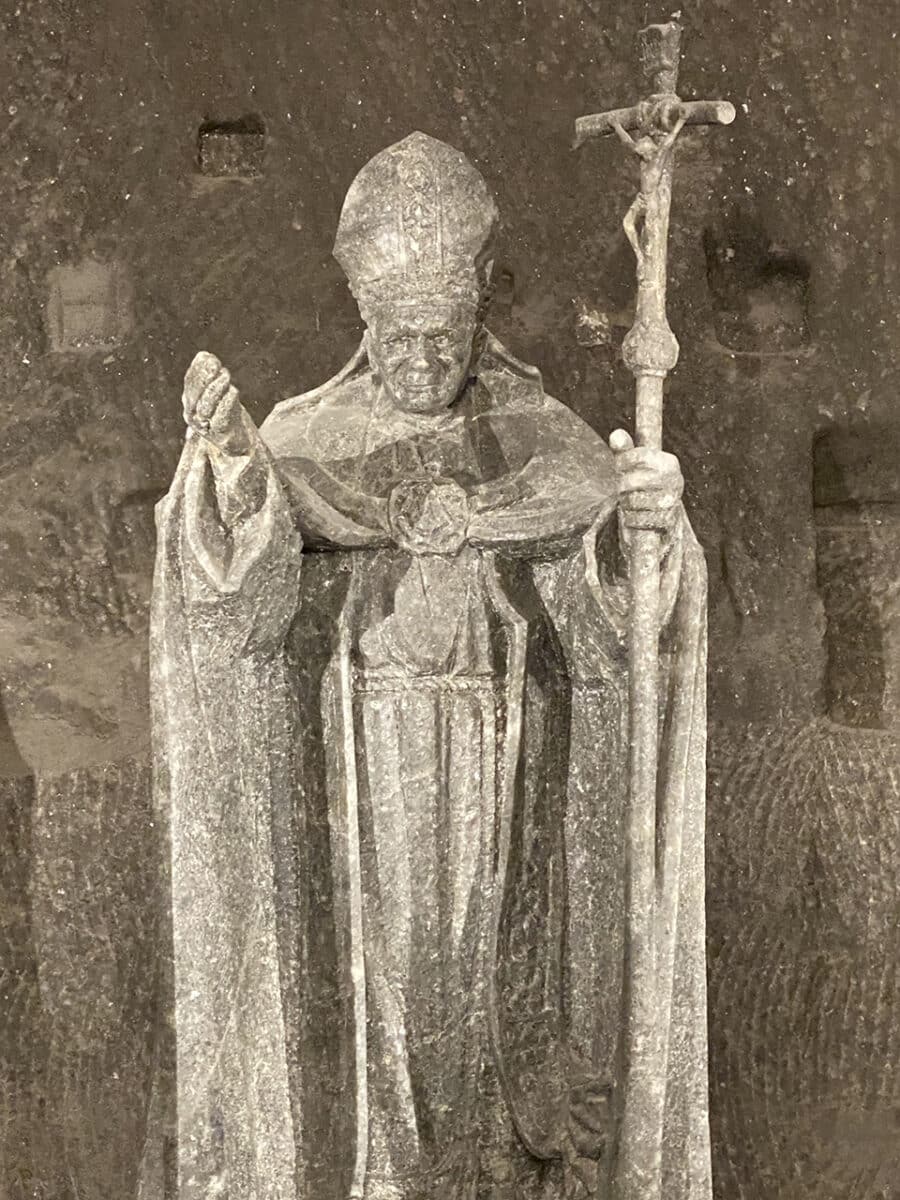 CHURCH OF SAINT FRANCIS OF ASSISI IN KRAKÓW
We found this little church purely by accident when doing some morning research. It is only small, but it is so beautiful inside. You can find it at the end of Grodzka. The church of Saint's Francis of Assisi, Bazylika Franciszkanów św. Franciszka z Asyżu, has incredible stained glass windows and even a copy of the Shroud of Turin.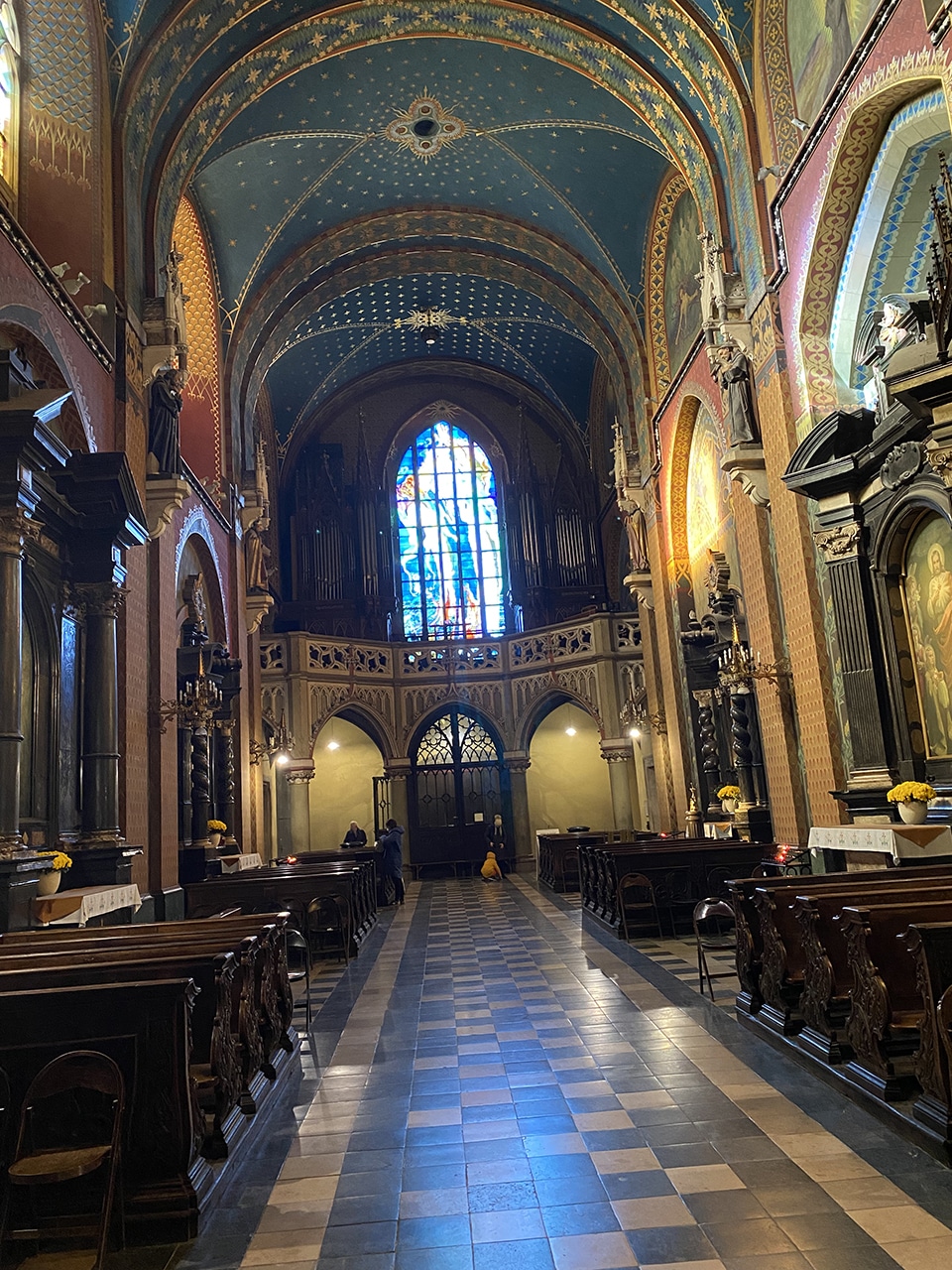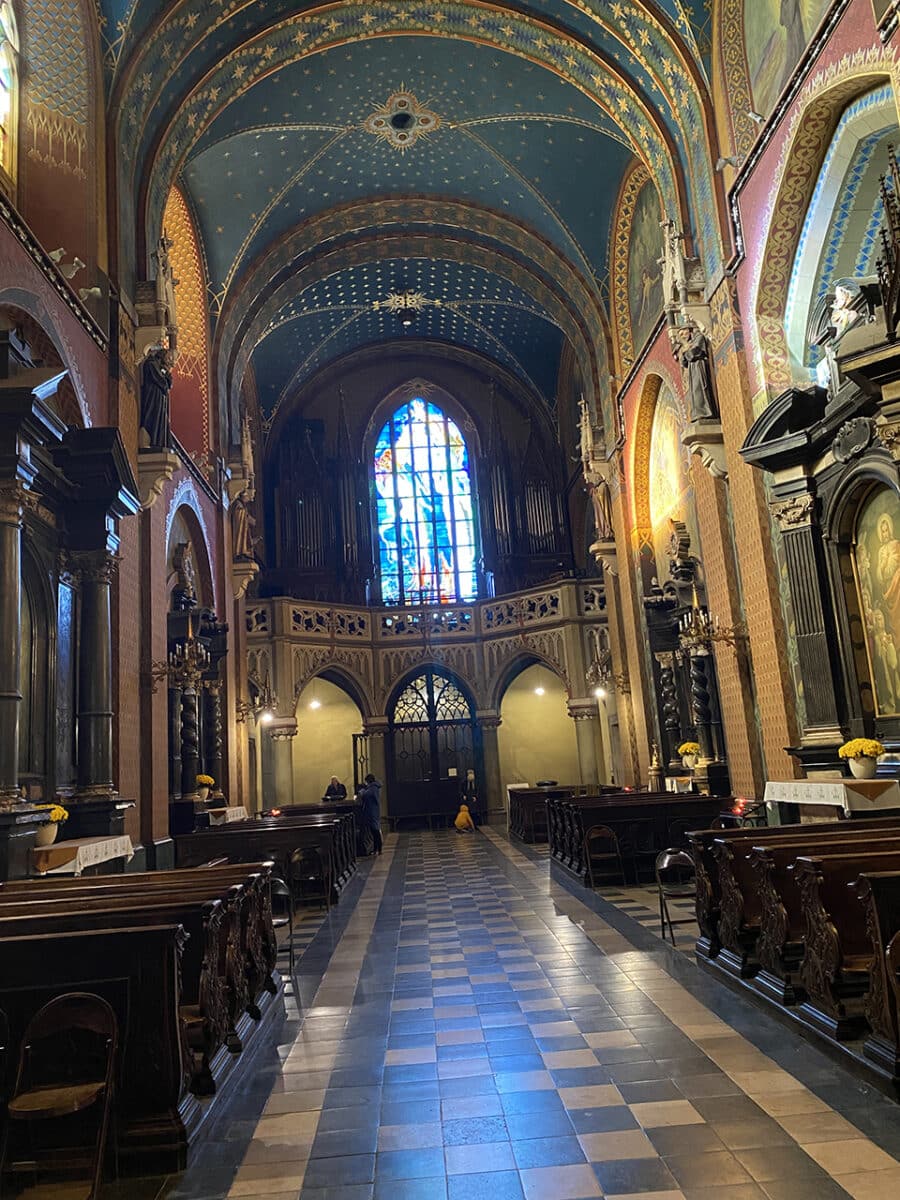 POLISH INDEPENDENCE DAY
During our time in Kraków, we were there for Polish Independence Day, November 11th. Known as Remembrance Day in the UK. A day that remembers fallen soldiers and servicemen and women since the end of World War I.
As we walked further through town, we came across a large crowd gathering at the Square of Maria Magdalena. They were there for the remembrance day ceremony. TV cameras were here, alongside various people from the military and other organisations. We joined the crowd and stayed for the event.
In Poland, the day commemorates the country regaining its sovereignty from Russian, German and Austro-Hungarian Empires at the end of 1918.
The memorial day started in 1937. They had only observed it twice before the outbreak of the Second World War. The country was then under Nazi control from 1939 until 1944. Poland then fell under the control of the USSR and it wasn't until the fall of communism that Poland would be free again. They celebrated this day once again, starting 1989.
VISIT THE JEWISH QUARTER
We headed down into the Stare Podgórze district, a short walk South across the river. We found a little pastry shop and sat in Plac Niepodległości to eat dinner and feed the local pigeons. After a while we had a short walk East and found the Church of Saint Joseph. A beautiful Gothic-style church.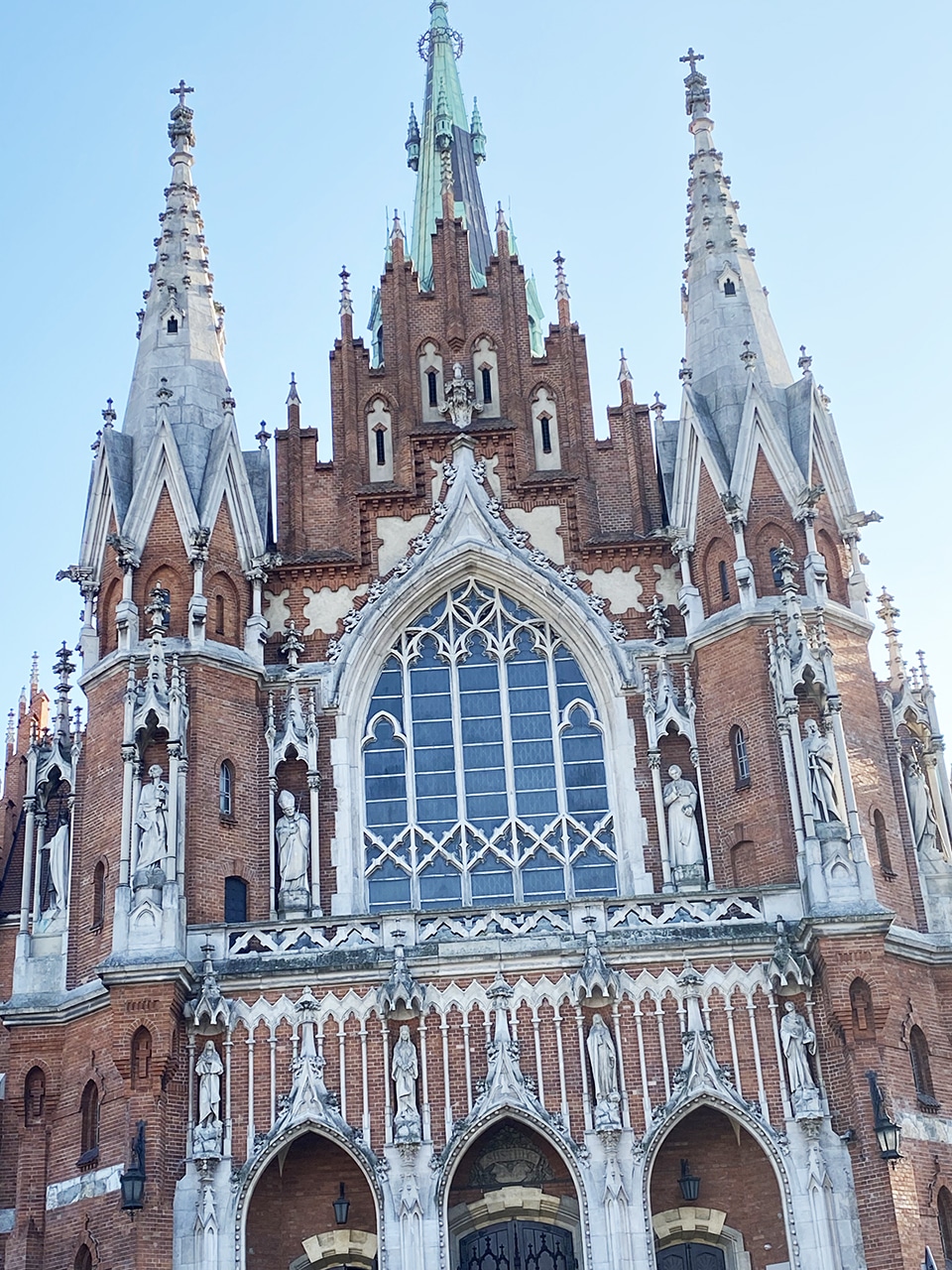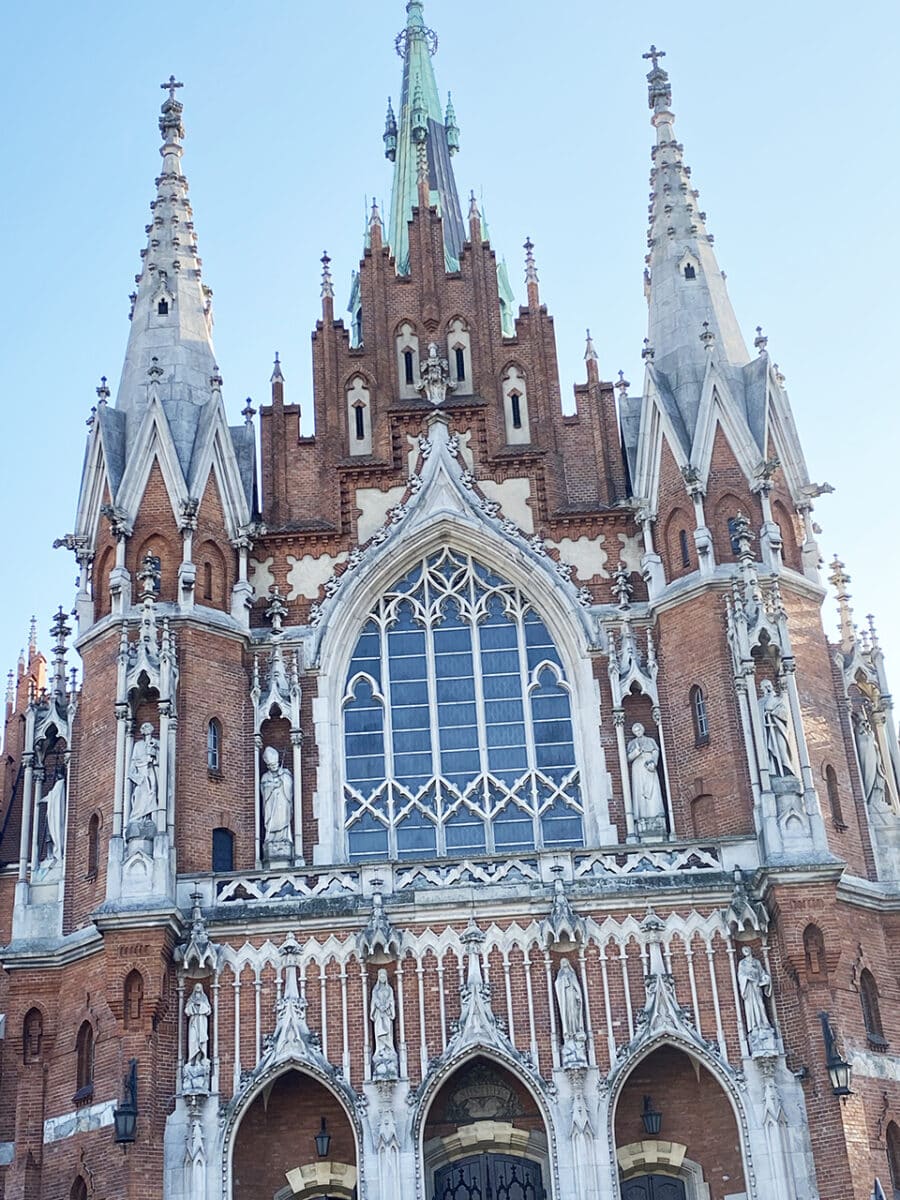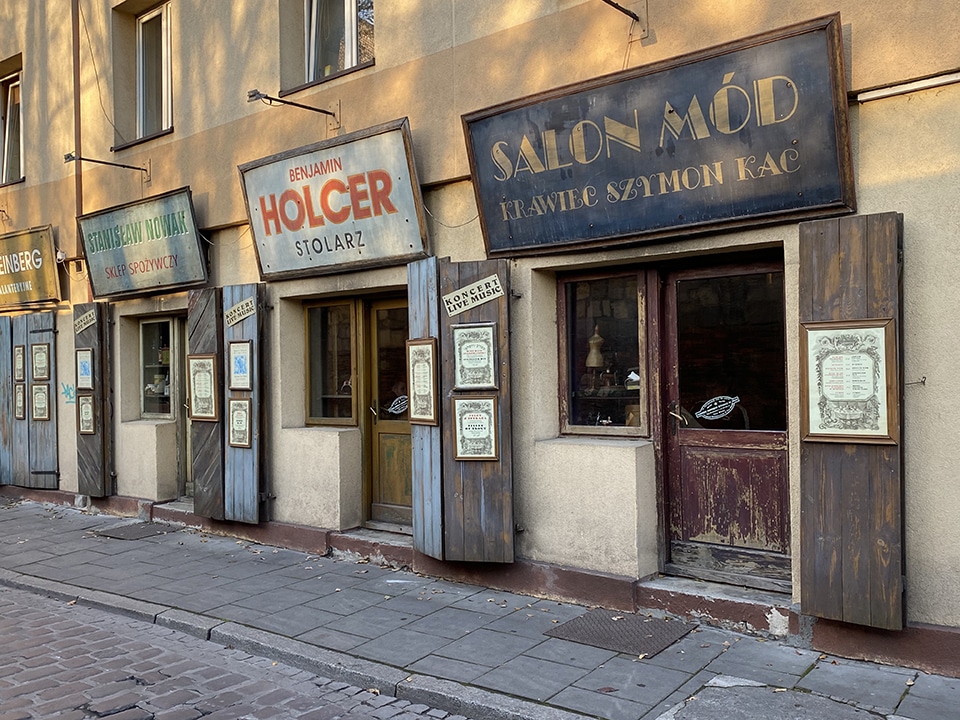 OSCAR SCHINDLER'S FACTORY
When we arrived at the museum, we were sad to see it was closed. It was the day of independence here in Poland on the day of this visit and some museums and shops etc closed, so although we didn't get to see it, we would still recommend adding this to your itinerary.
You can take a private tour around this factory, and this is something we will do should we visit Kraków again. Oskar Schindler's Factory: Tour.
THE EMPTY CHAIRS OF KRAKÓW
This memorial symbolises the departure of the Jews who once lived in the ghetto that once stood here. They sent most to the Nazi death camps. There are 70 chairs, each representing 1000 people, all spaced out across the square with an old German guard house on the North end.
I didn't realise this but at the time of writing this blog and doing some more research. Apparently, the chairs face the direction of the crematoriums they sent the Jews from Kraków to.
Many of the chairs had candles and small floral tributes placed on or around them, all tying in with the fact it was independence and remembrance day.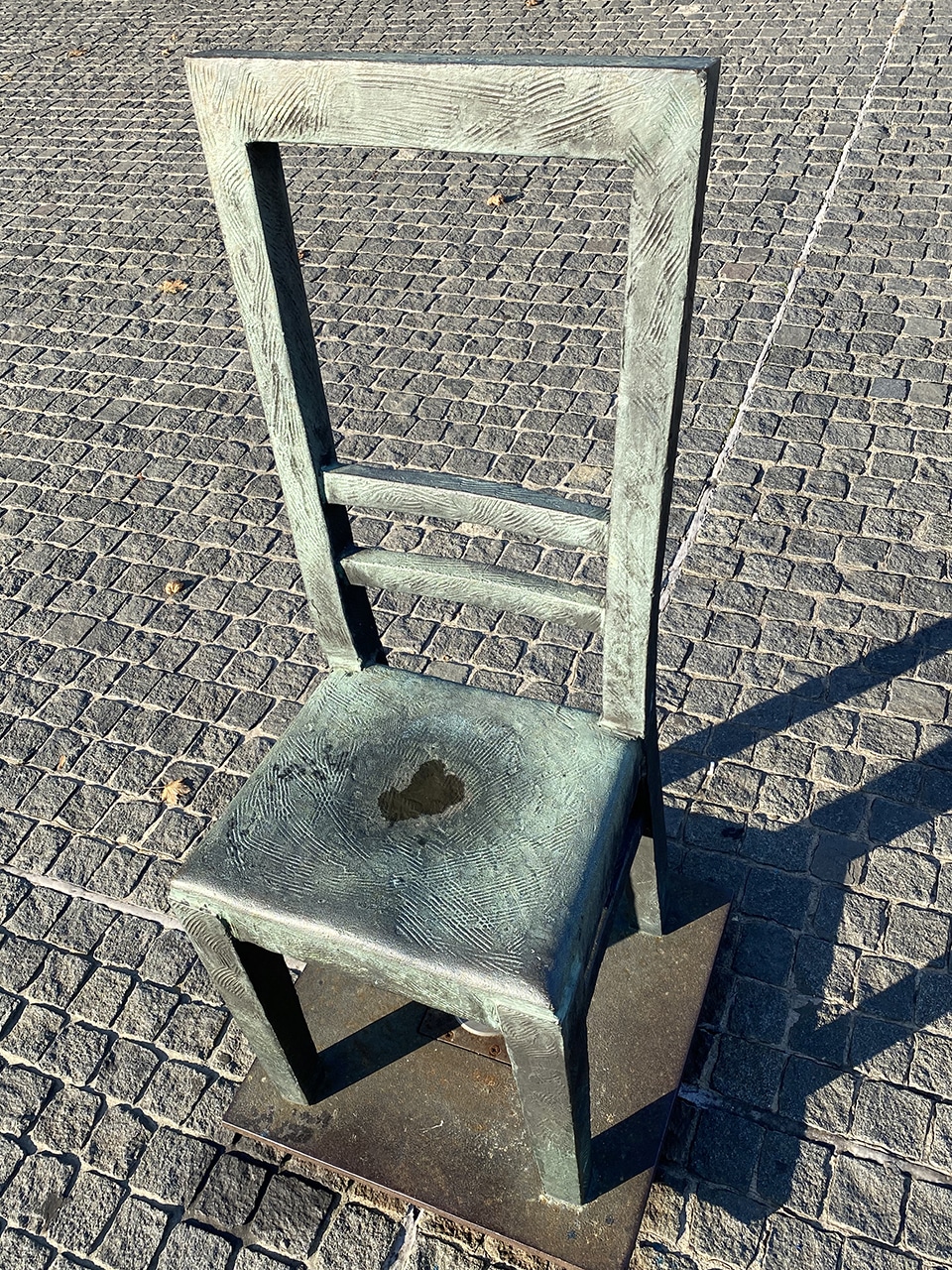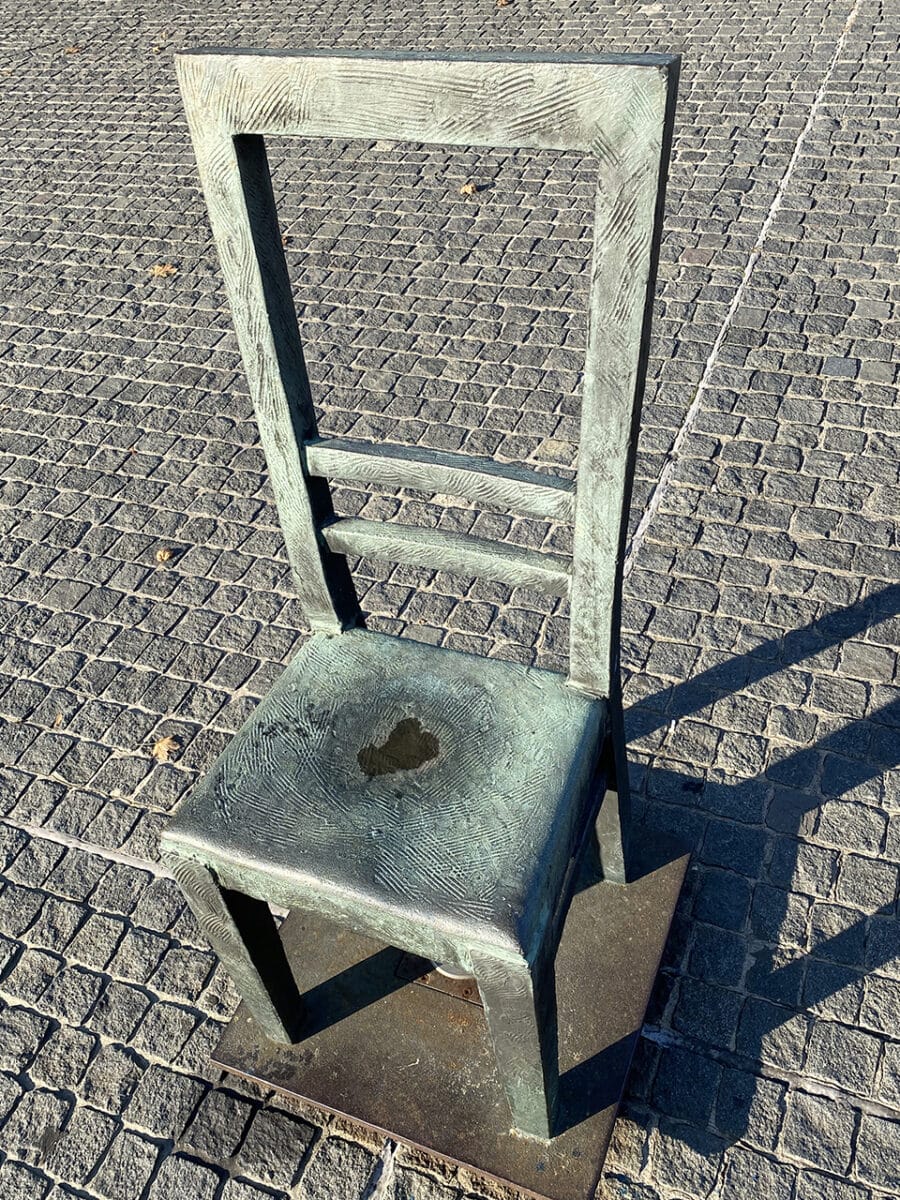 REMUH CEMETERY & SYNAGOGUE
We had to head back over the river into the Kazimierz district, the Jewish Quarter. Here you will find many museums, art galleries, bars and restaurants, some of the best in Kraków.
THE CEMETERY
This cemetery is the last resting place of many notable Polish-Jews and Rabbi's. During the Second World War, Nazis who were active in the area destroyed many parts of the cemetery. They tore down walls and many of the stones they moved, destroyed and used as paving slabs in some concentration camps.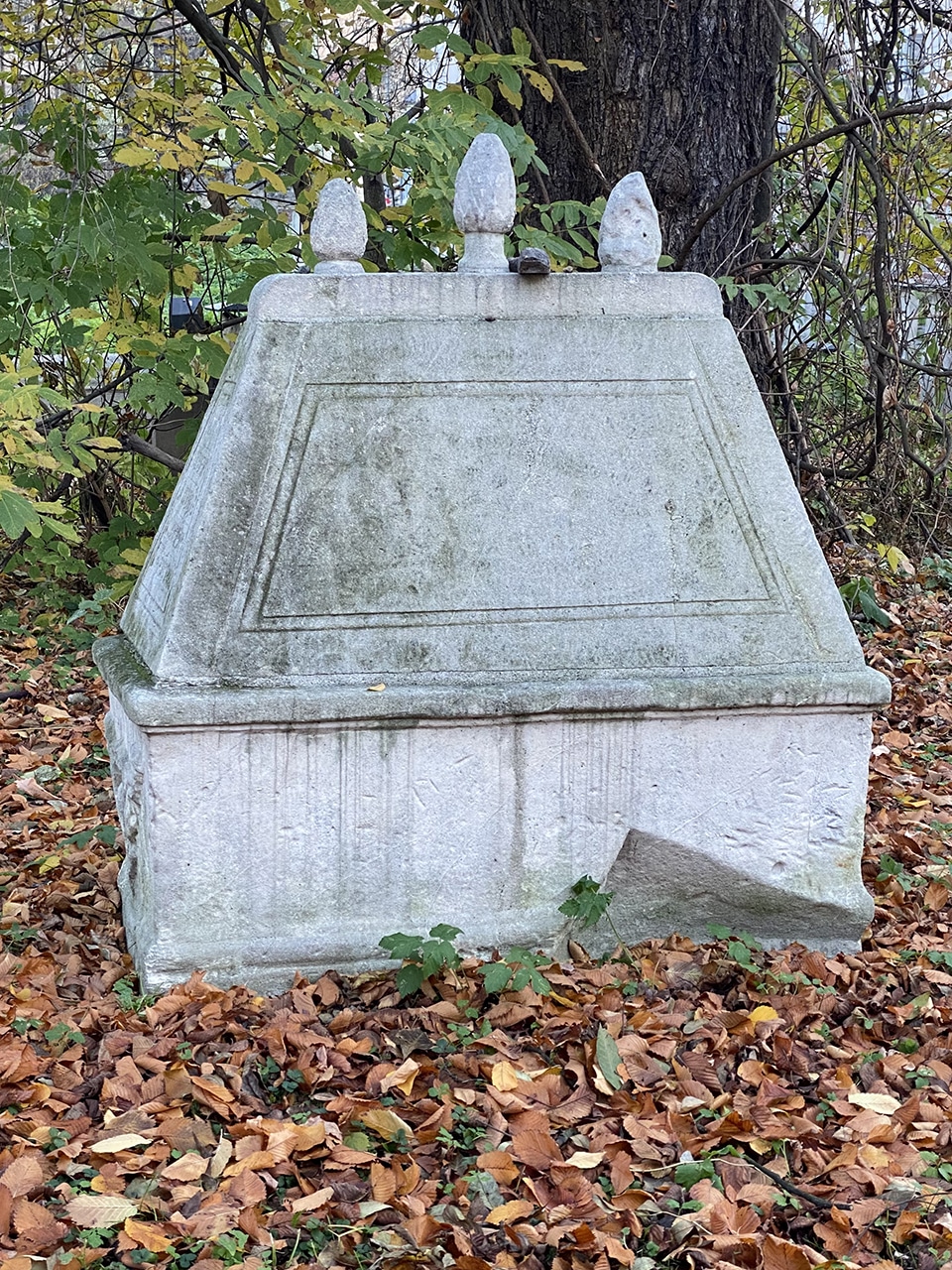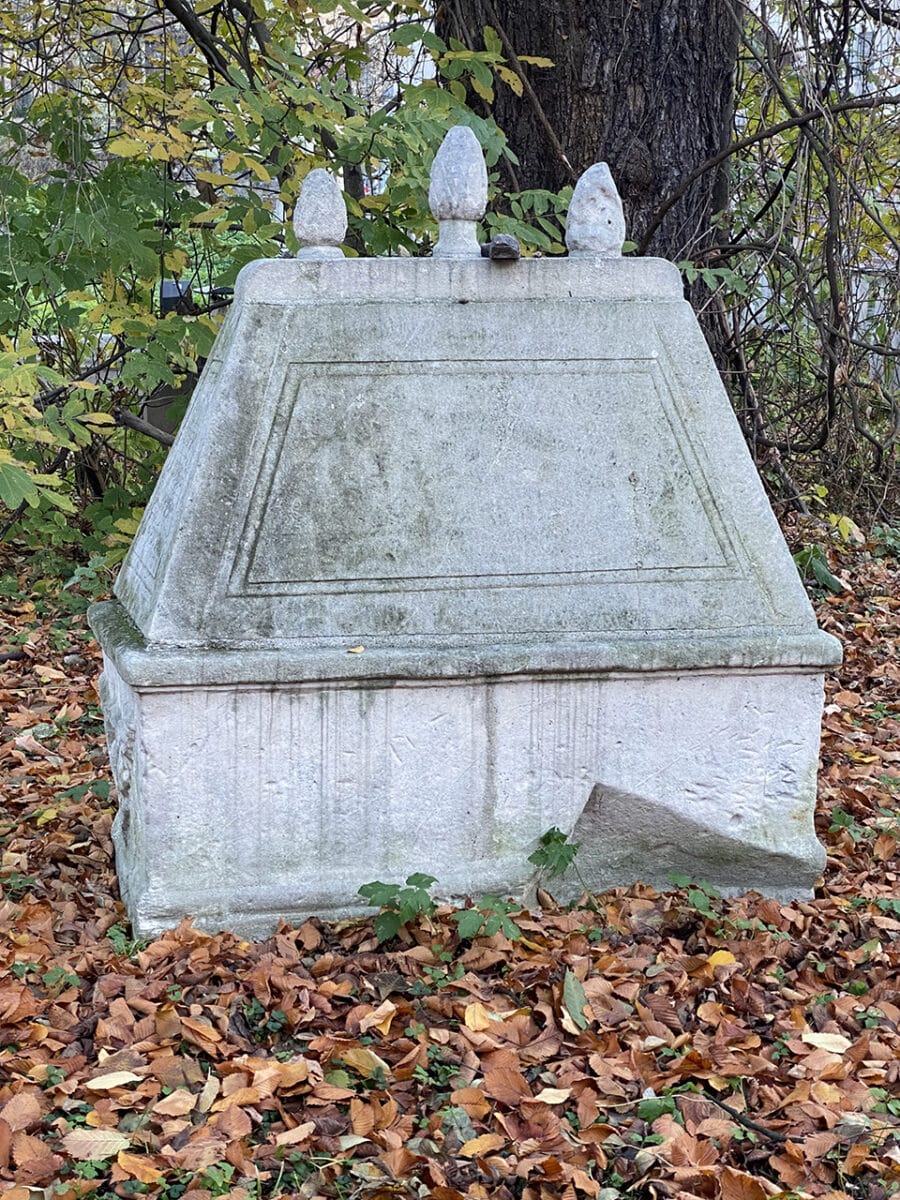 THE SYNAGOGUE
The Remuh Synagogue is the smallest of the temples in the Kazimierz district and they built it during the 16th century. It has changed over many years and the Nazis even used it as a storage facility during the occupation. Before entering the temple, they asked me to wear a small Kippah, a Jewish skullcap, and these were available outside from a man selling tickets to enter the grounds. Both the Synagogue and cemetery sit on the main road Szeroka.
After another very busy day, we walked back towards the main market square. It was early evening, but because it was a holiday, the streets were still very busy with locals.
If you are looking to explore more Jewish history, take a look at our post: How to spend three days in Prague, Czech Republic, where we visit another beautiful cemetery within the Jewish part of Prague.
WANDER AROUND THE CITY
There are dozens more churches, museums and other curiosities around the city that we just didn't have time to see. We visited several churches and walked miles through the streets admiring the architecture, taking in the sights and soaking up the atmosphere.
During our walk around, we passed the Kraków Barbican, Saint Florian's Gate, and the Grundwald Monument, an enormous statue dedicated to King Władysław Jagiełło and the battle of Grunwald in 1410. We also found the parish church, Bazylika św. Floriana w Krakowie, in which John Paul II practiced as a priest before becoming Pope.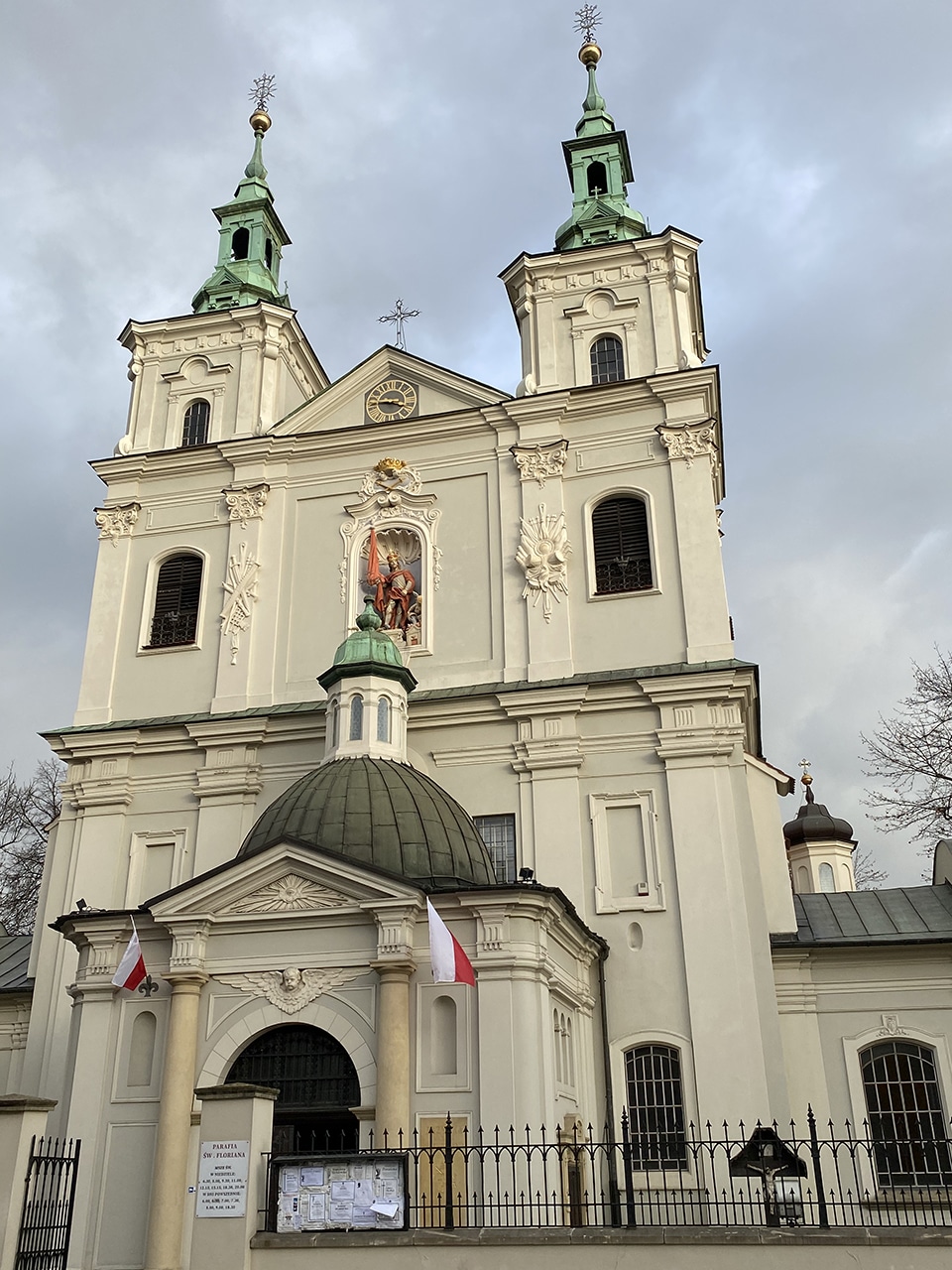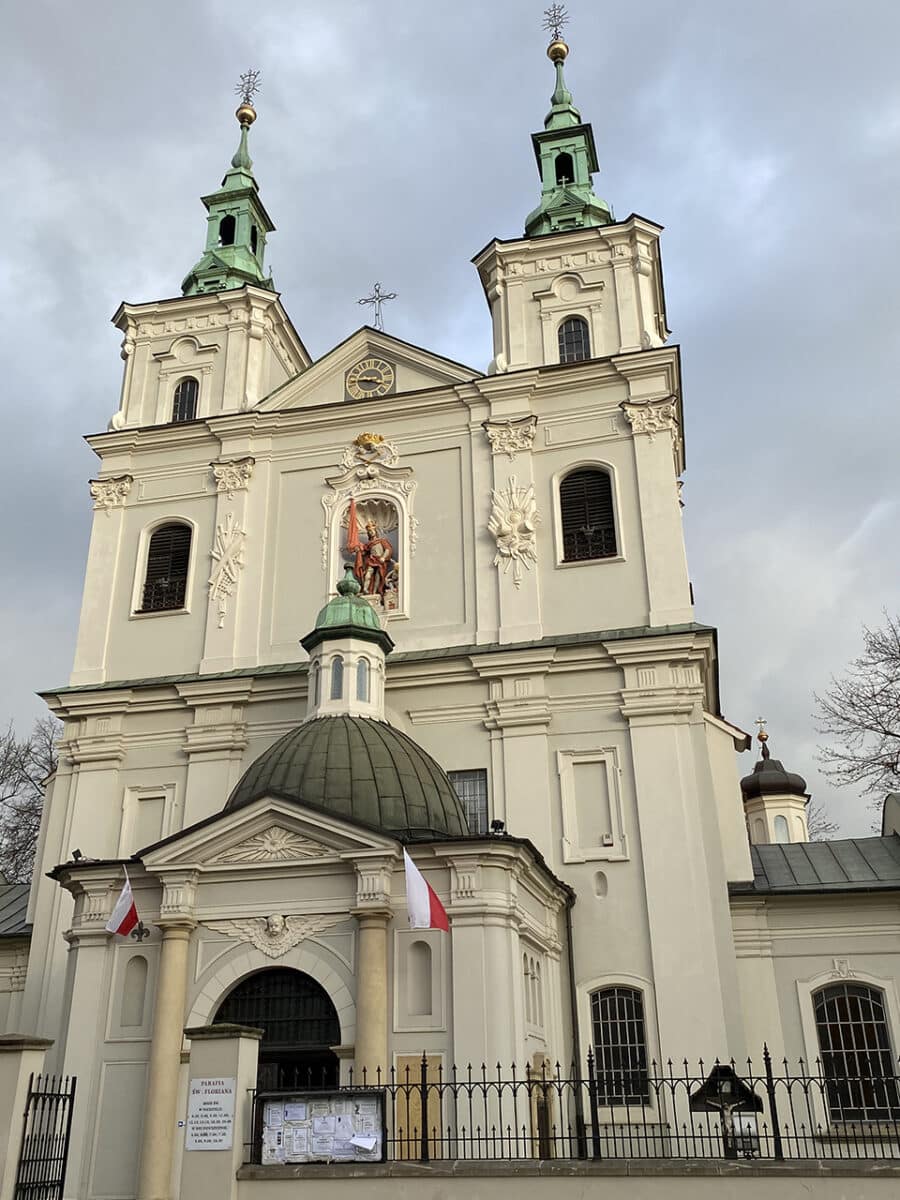 RELAX IN THE PUBLIC PARKS
There are several public parks and gardens that surround the city of Krakow. These looked amazing during our time here. It was late Autumn, so the trees and leaves were all in golden-brown hues. I can only imagine what they look like in Spring and Summer when everything is green and flowers are in full bloom.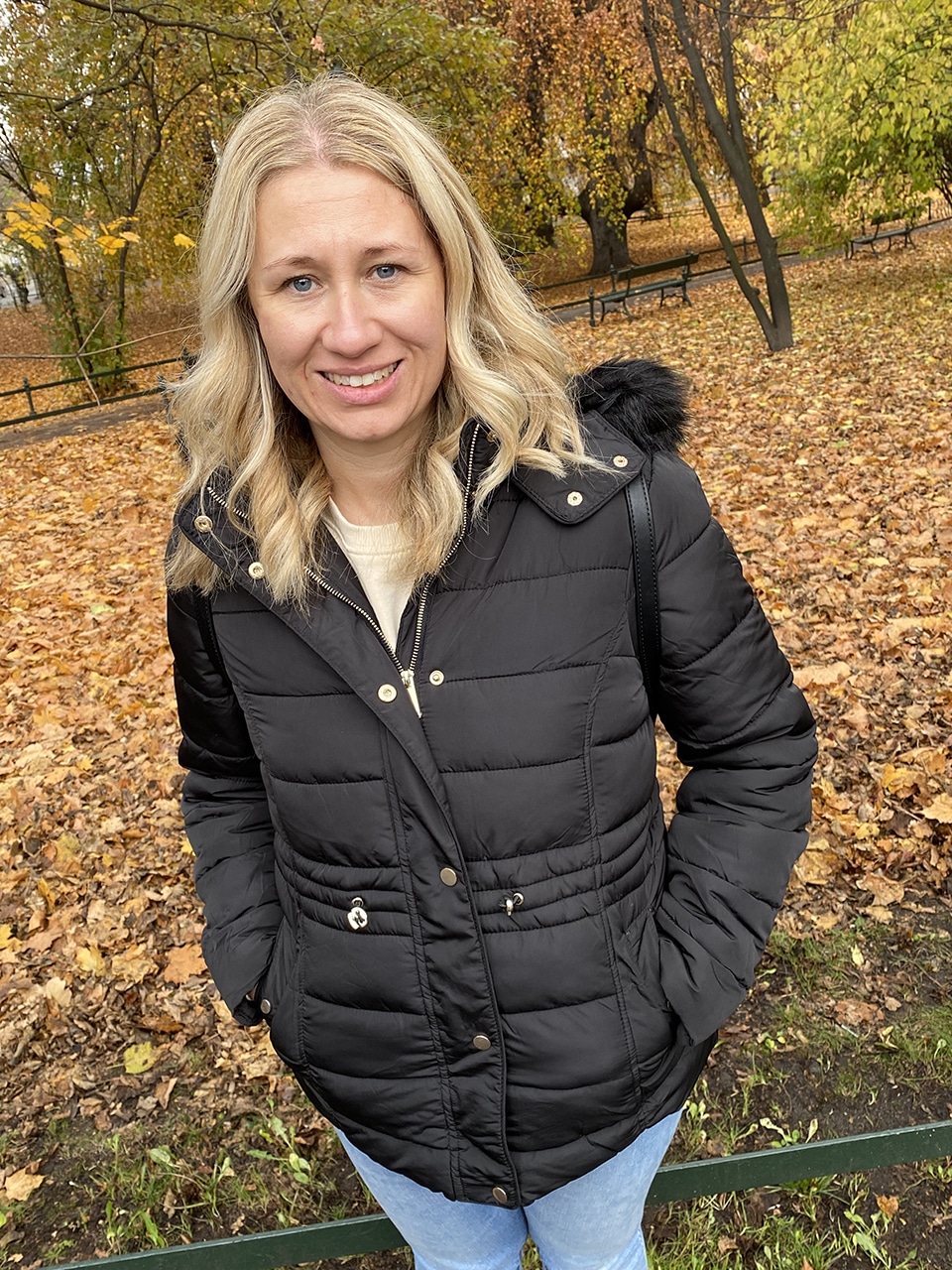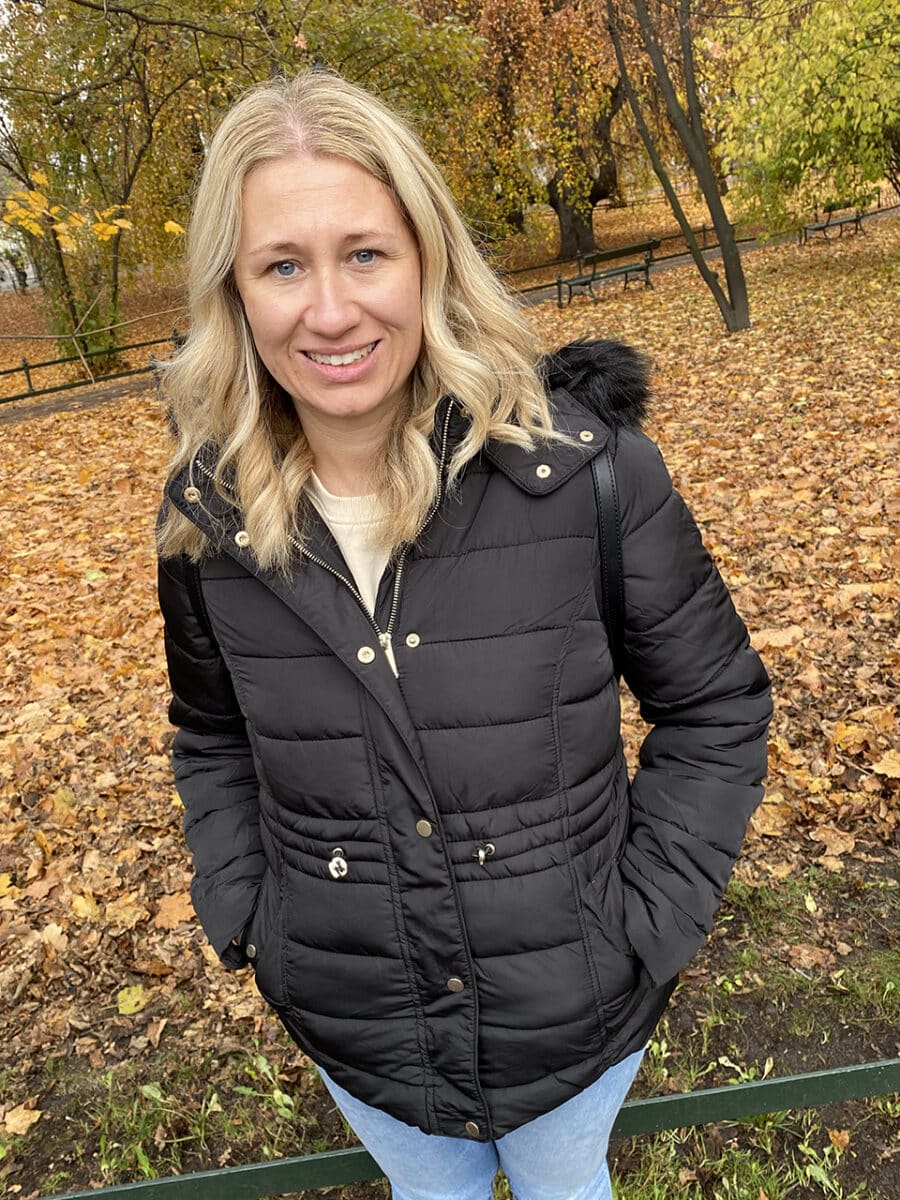 WÓDKA CAFE BAR
This bar had an incredible range of flavoured vodkas, served on 'flight' boards. Each with a place for six separate shots. The bar itself is small, and gets very busy. There are many flavours of vodka here, including toffee, blackcurrant, lemon, pear, walnut, hazelnut, coffee and cherry, to name but a few.
We ordered a board of six flavours each and a beer. The weather outside was quite cold, but these soon warmed us up. If you would like to learn more about Polish vodka, you can take part in a private tour and visit more bars throughout the city, like this one, Krakow Private Vodka Tasting Tour. Address: Mikołajska 5, 31-027.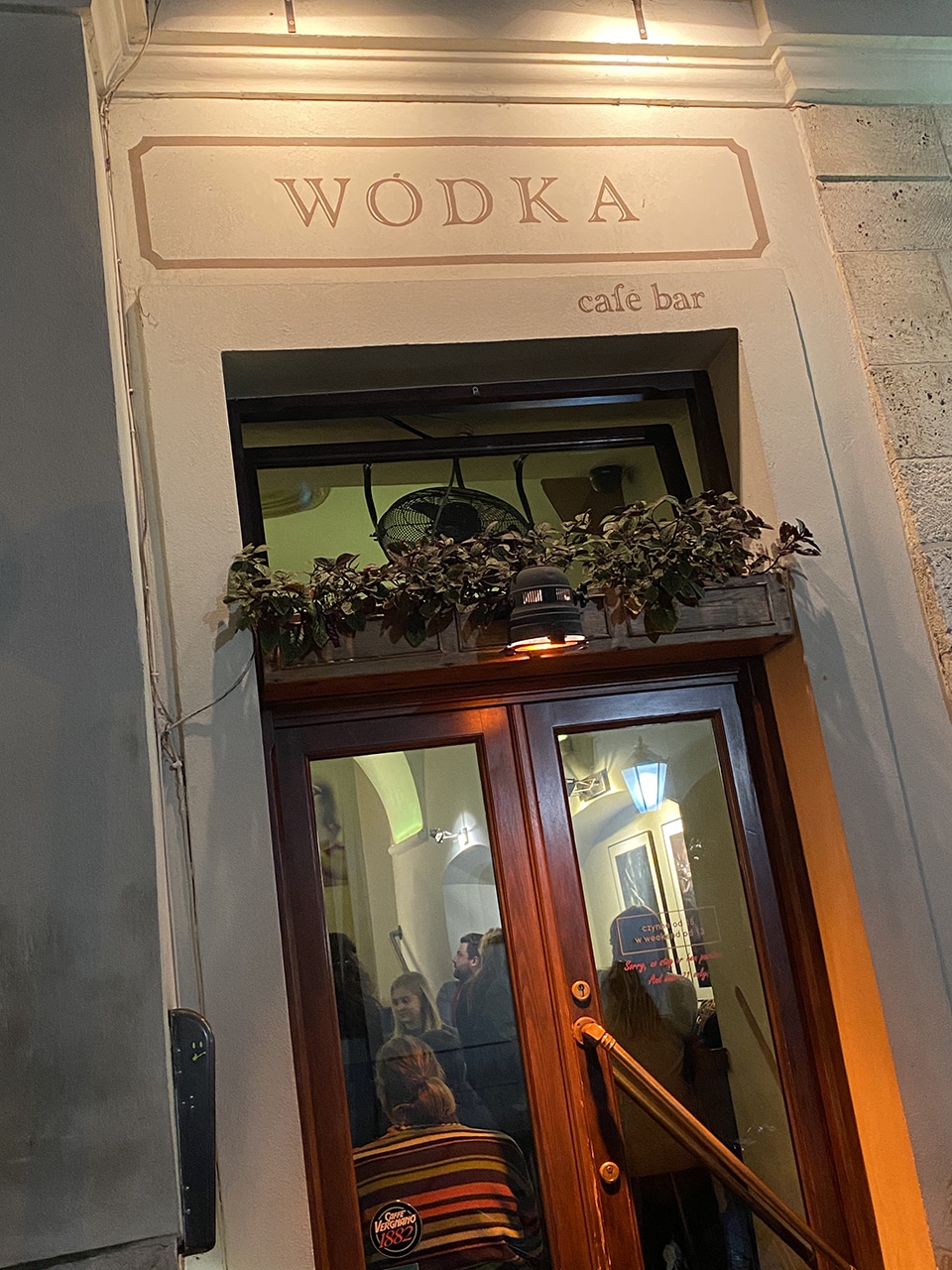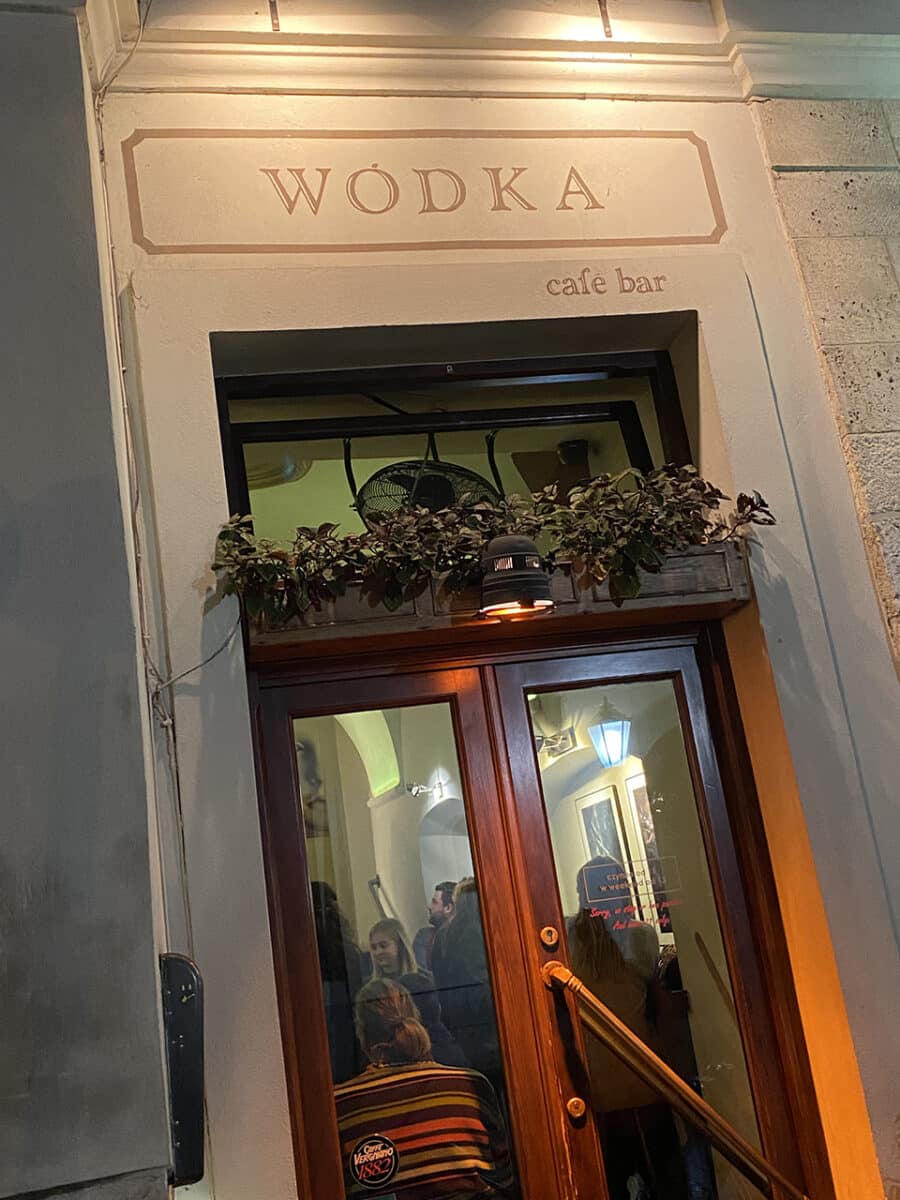 EAT PIEROGI, POLISH DUMPLINGS
We found this great little place, just on the edge of the city, called Pierogarnia Krakowiacy. They label it as 'self-service' but this doesn't mean you help yourself to food. It just means you have to order your food at the counter.
The Pierogi were incredible. Seriously good, and amazing value for money. We both chose a plate of 9 dumplings and shared each flavour. I ordered Chłopskie dumplings, which were filled with potato, bacon and onion, and Vicky the Z mięsem i kapustą, which were stuffed with pork, cabbage and onion. Address: Szewska 23, 31-009.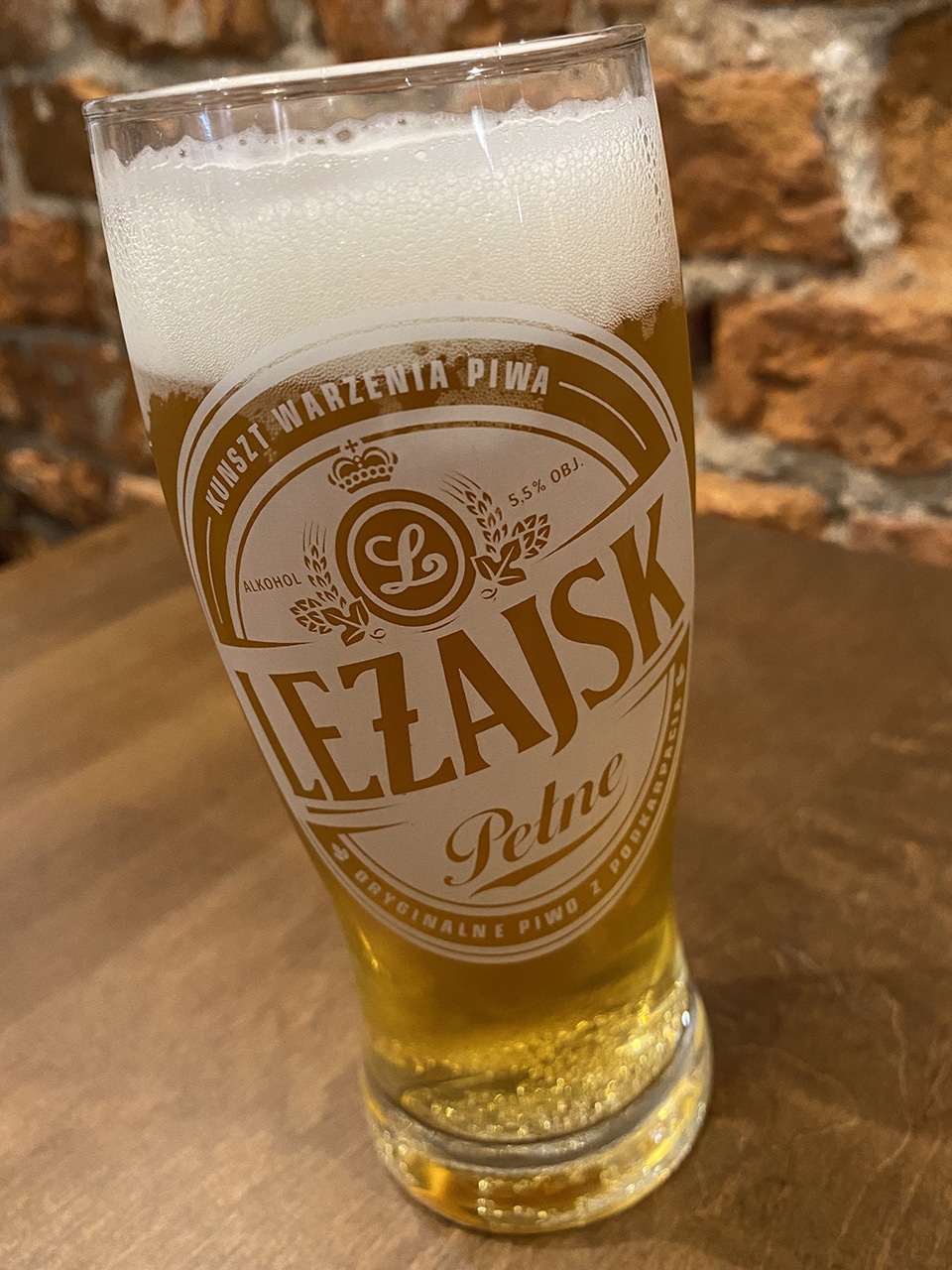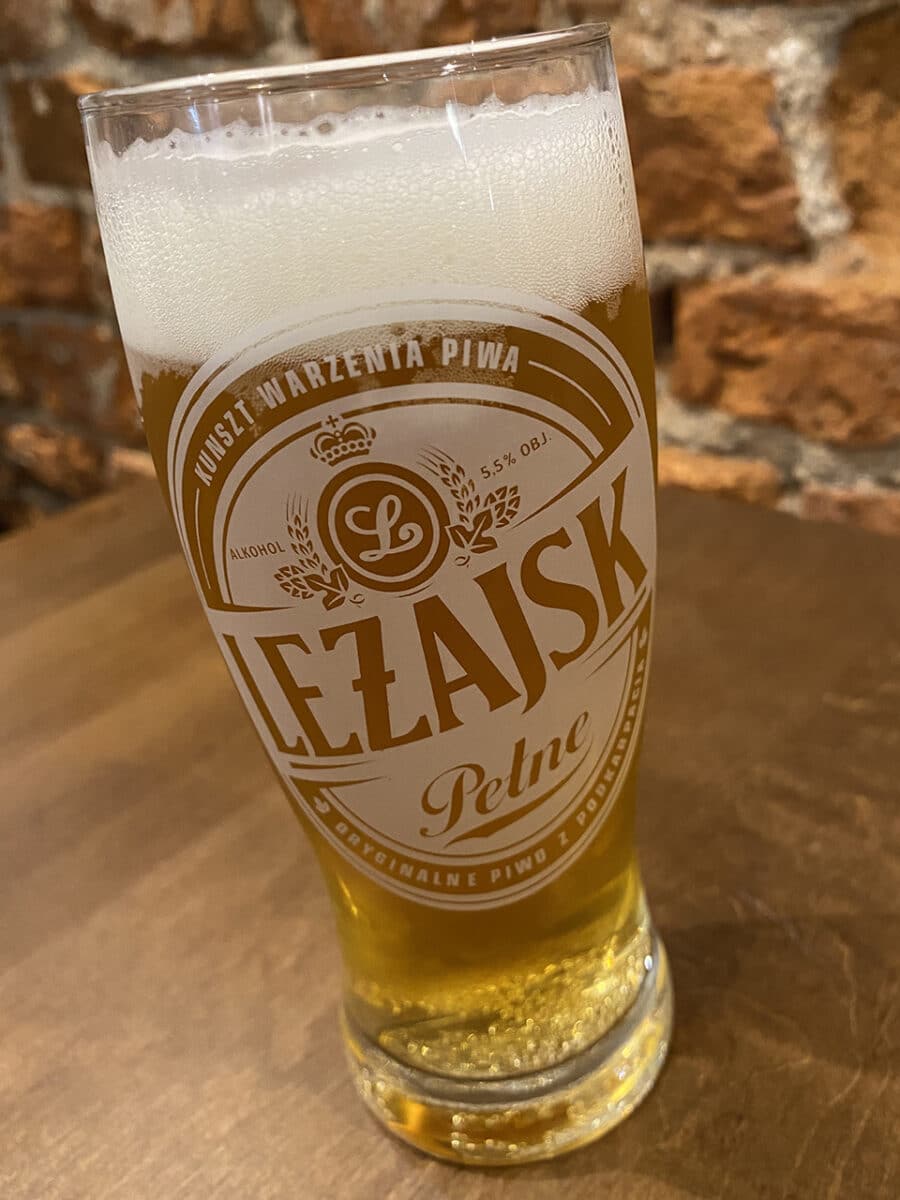 RESTAURACJA SUKIENNICE
This restaurant is within the Cloth Hall on the Market Square. It serves good old-fashioned hearty food. Prices are reasonable considering its location. It was warm, welcoming, and the staff were really friendly. They serve seasonal dishes and traditional favourites like dumplings, schnitzel, sausages and soups.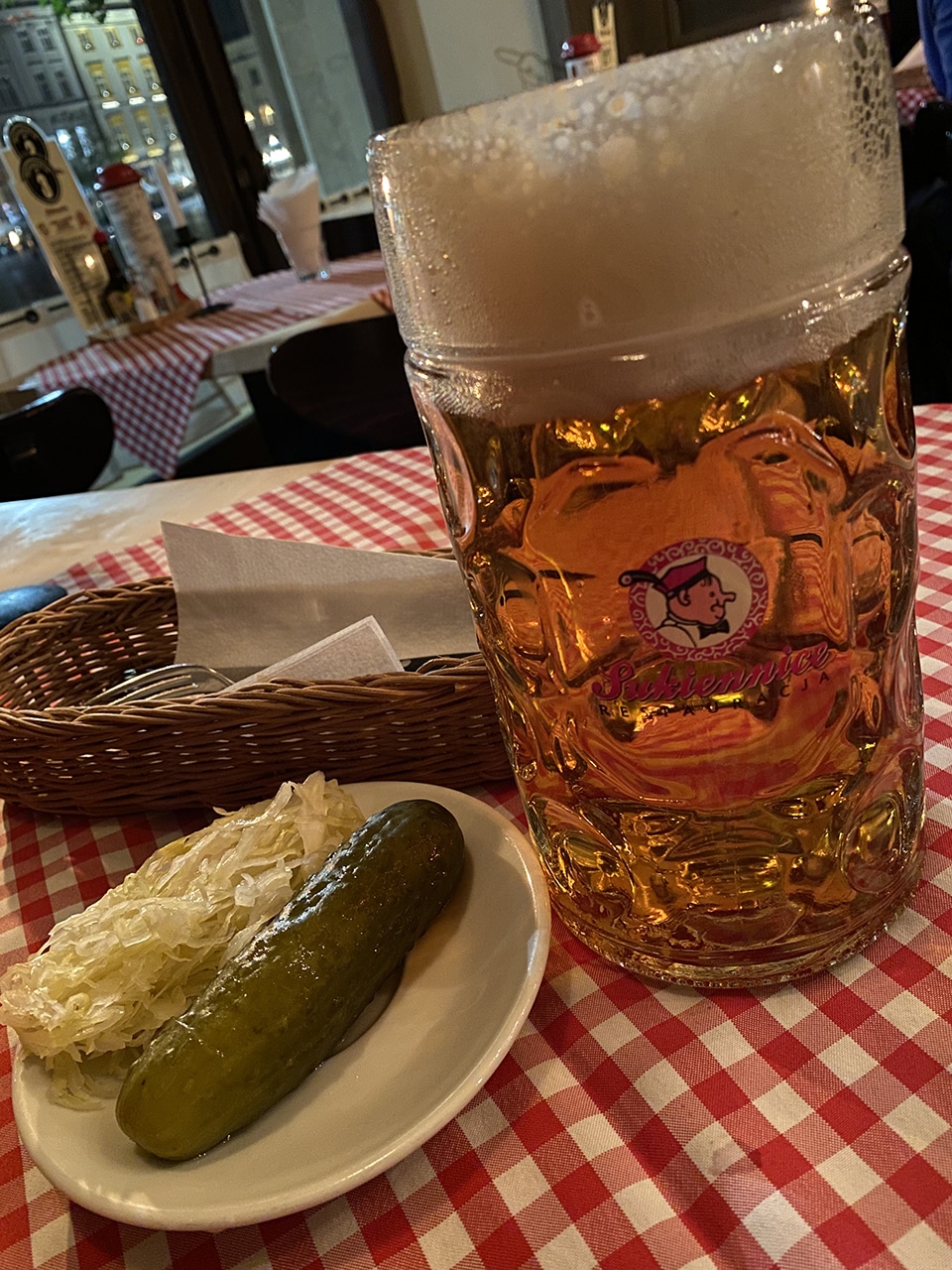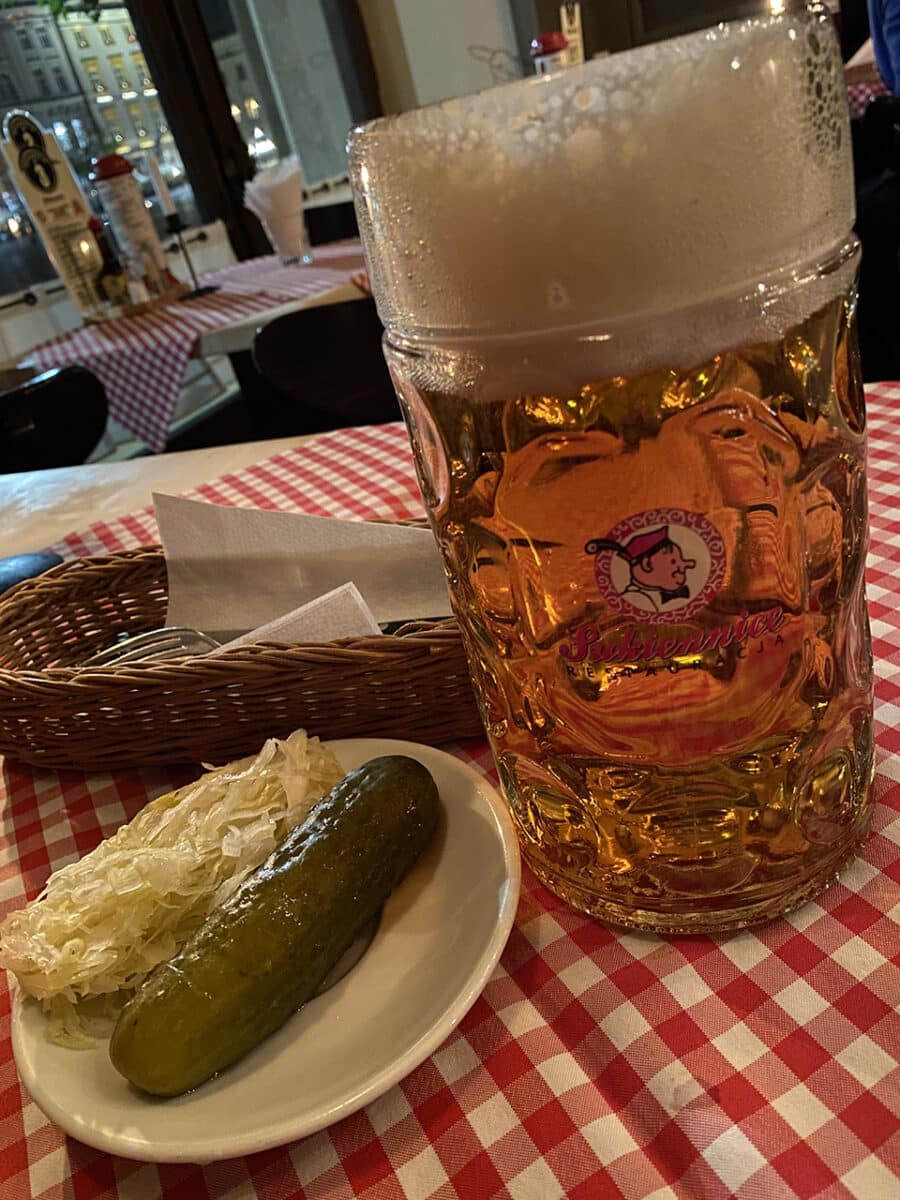 PACZKI, POLISH DONUTS
Dobra Pączkarnia. Whenever we travel around Europe, we always grab coffee and a sweet bite to eat for breakfast. We found this amazing place called Dobra Pączkarnia. A small bakery, selling freshly made Polish-style, Pączki (pronounced "pohnch-kee") donuts from a small window. We had to find coffee elsewhere as they didn't sell it, but these donuts were absolutely delicious.
They had a selection of flavours, including traditional Rose Jam, Nutella, Plum, Kinder Bueno, Marzipan and many more. This wouldn't be the first time we ate from here during this trip. You can find this store at Grodzka 3, 31-006.
I can honestly say this is one of the best donuts I have ever eaten. As you read our posts from trips to Poland, you will see how we try to make a point of hunting down one of these bakeries in every town or city we visit. Want to know more about Pączki? Visit their website, Dobra Pączkarnia.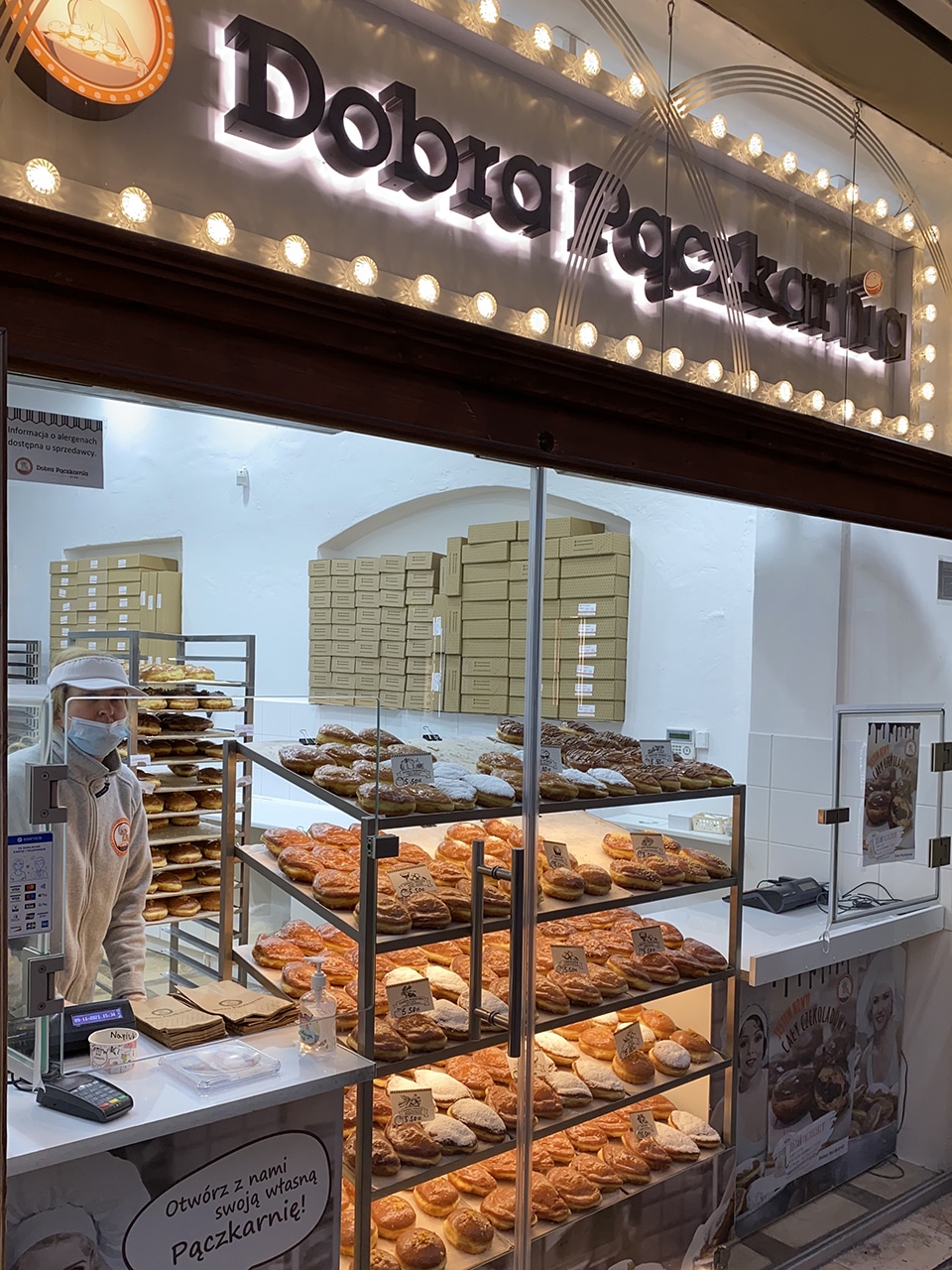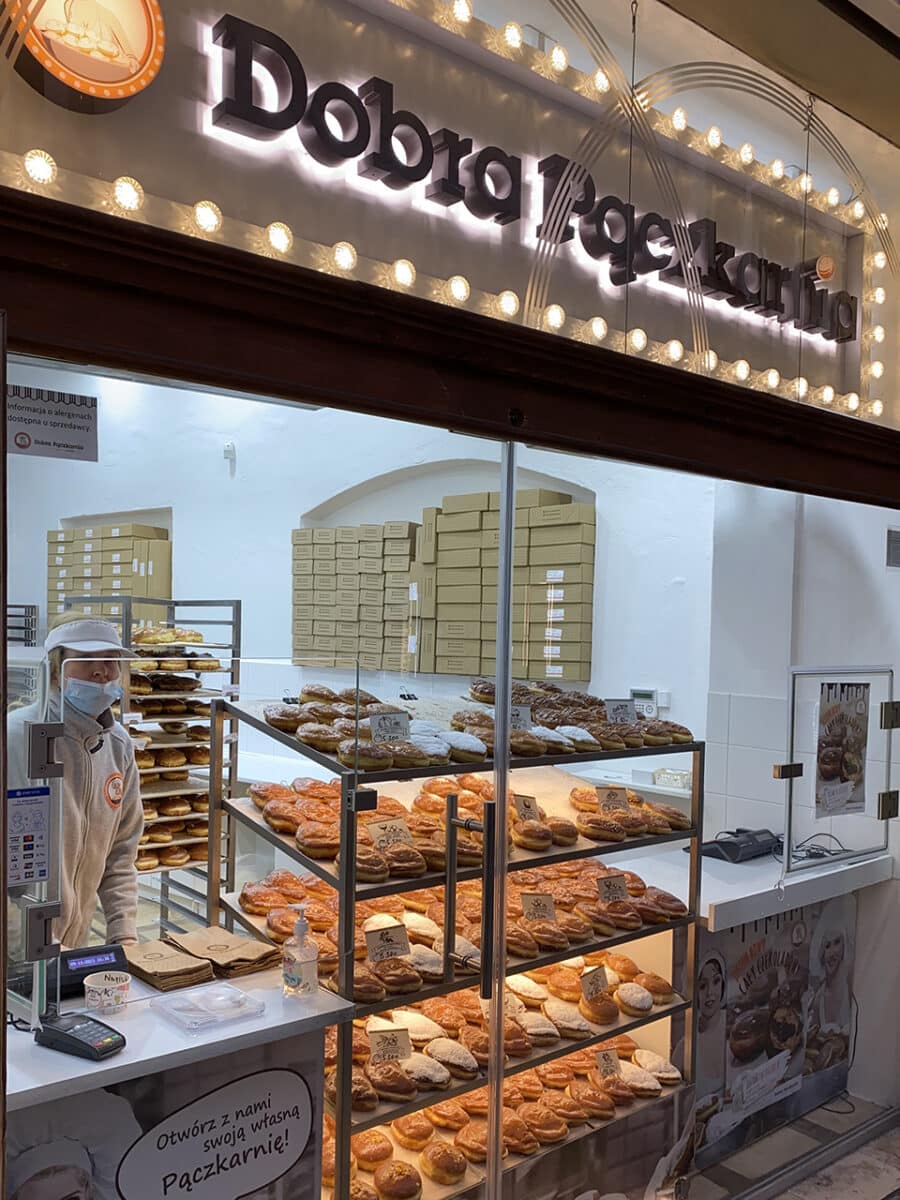 KARMELLO CHOCOLATE
Karmello Chocolatiers. It was freezing at the time of our trip and we were looking for something to warm us up. Vicky had a craving for hot chocolate. So we ventured inside. Handmade chocolates, hot chocolate, coffee, and the most amazing chocolate cakes were on display. The company is Polish and based in Bielsko-Biała.
There are several stores and cafes throughout Poland and several franchises across the world. We both chose a takeout, hot milk-chocolate drink, had a short walk up Grodzka where we bought Pączki, and then sat on a wall in the market square to enjoy our sweet bounty.
EAT A TRADITIONAL BAGEL
If you would like to try something different for breakfast, you could try one of Kraków's traditional bagels, Obwarzanek Krakowski. Sold from small blue carts on most streets, they flavour these tasty breads with poppy seeds, sea salt, or just plain. Get them early morning when they are at their freshest.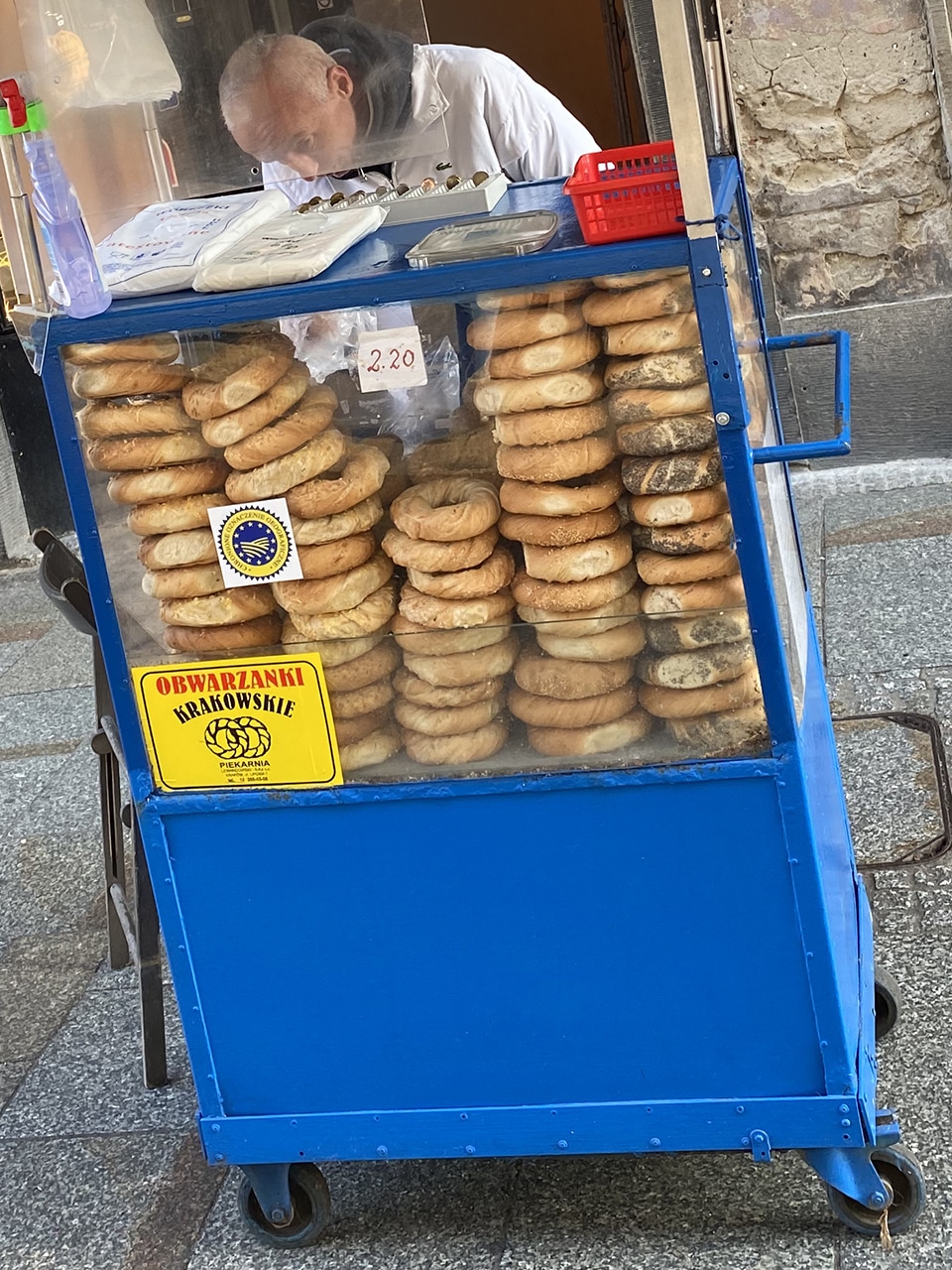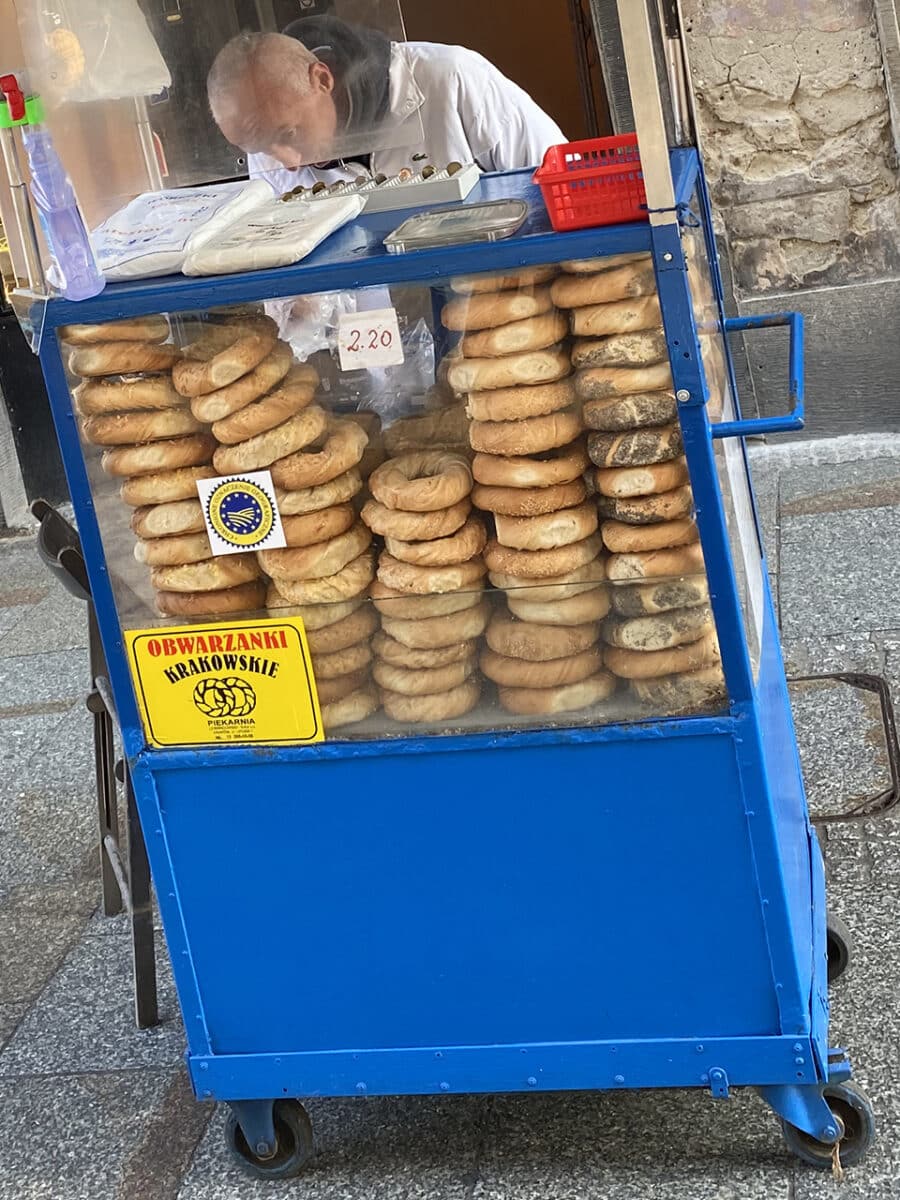 MORE THINGS TO DO IN KRAKÓW
Zakopane. A full-day tour to the hot baths and panoramic views from the Gubałówka mountain. Something completely different from the busy city, relax and unwind.
Sightseeing cruise on the Vistula River. Float down the Vistula River and take in the city from a different perspective.
Creepy Krakow: 2-Hour City Walking Tour. If you are interested in creepy tales and ghost stories, then this is for you. A two-hour guided walk around Krakóws' creepy areas after sunset.
LOOKING FOR SOMEWHERE TO STAY?
We hope you enjoyed this little guide to spending three days in Kraków. If you are looking for an excellent place to stay, take a peep at the Pergamin Royal Apartments. Situated only 200m from the main market square, they are in an excellent location on one of the city's oldest streets. Within walking distance of many of the city's sites and attractions, we couldn't recommend them more.
We fell in love with Kraków. This was a fantastic introduction to Poland for us and made us want to explore more of the country.
Read: Review: Pergamin Royal Apartments, Kraków.
---