Having never been to the Czech Republic before, we were very excited to have booked a city break to this capital city. We had heard so many incredible things about the place. We couldn't wait to explore. Considered by many to be the most beautiful city in Europe, how would we spend three days in Prague?
ARRIVING INTO PRAGUE
It was cold, very windy, and extremely wet. We were staying at the Hotel Élite in the city's heart. It was in a perfect location in the New Town area and about 10 minutes from the main square. After checking in, we had a walk alongside the river and up towards Charles Bridge, just to get our bearings.
It was early evening and dark, so the view over towards Prague Castle was beautiful. Everything was lit up, and reflections from the streetlights shimmered on the Vltava River.
Not long after, the heavens opened, and it absolutely threw it down with rain. Up early the next day, we were ready for adventure.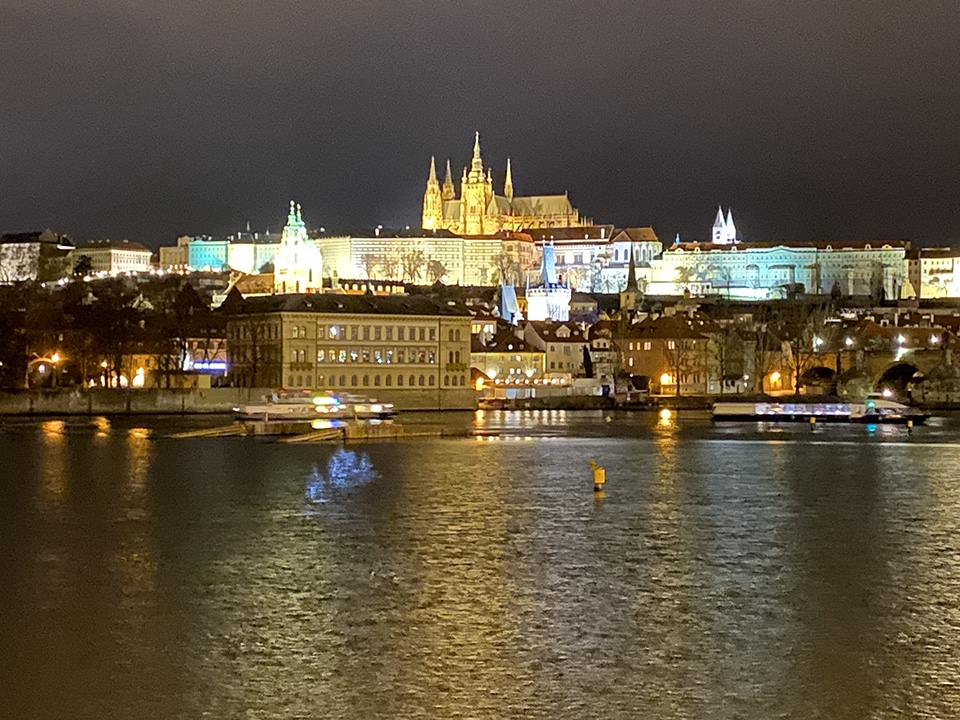 THE DANCING HOUSE
Our love of old historical buildings and cool modern architecture is equal. So, one building we wanted to visit first was the famous Dancing House aka Fred and Ginger, named after dancers Fred Astaire and Ginger Rogers! The building belongs to Nationale-Nederlanden, a large Dutch insurance company. They built it in the 1990s and it is a much-visited destination for Prague's many tourists.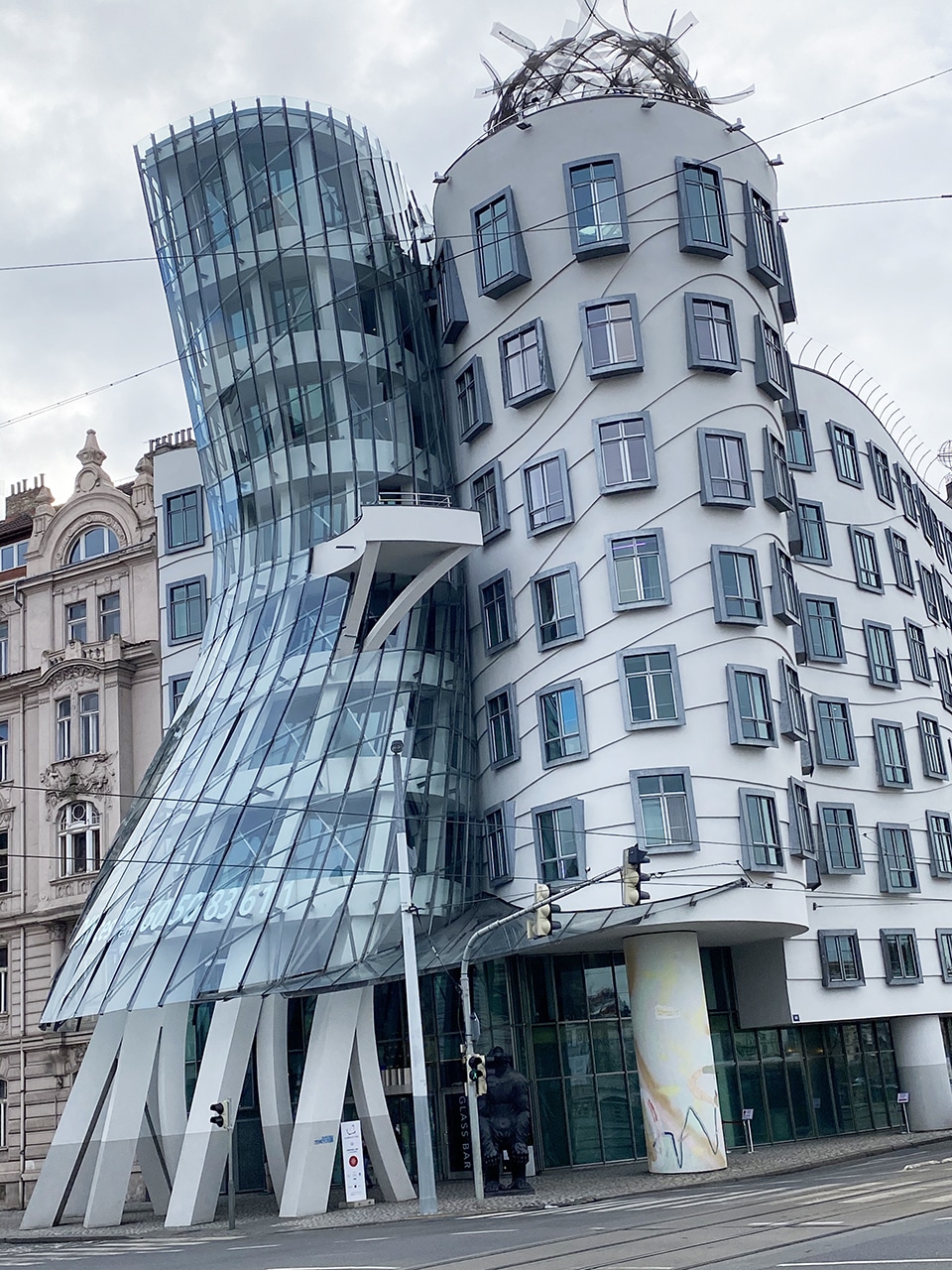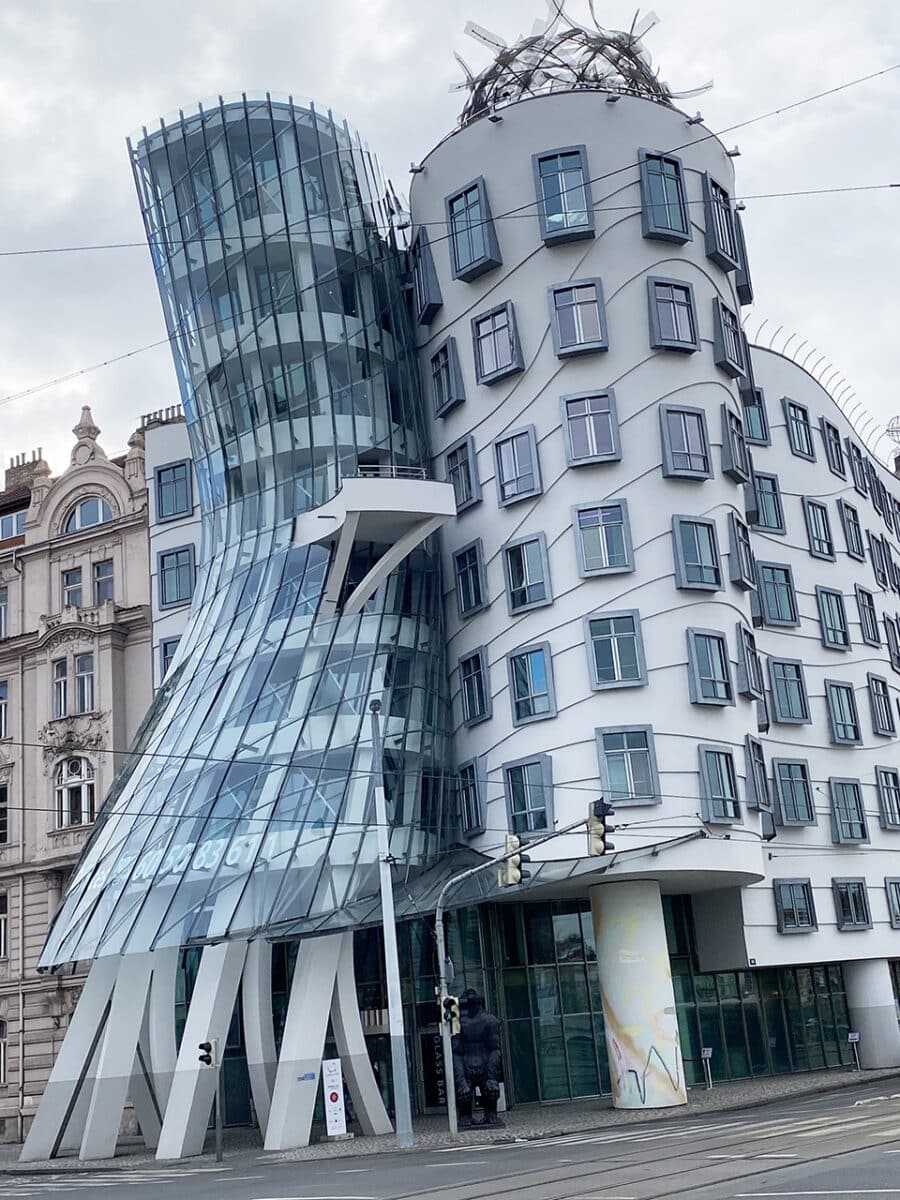 CHARLES BRIDGE, KARLUV MOST
The bridge is one of Prague's main tourist hot spots. The construction of Charles Bridge began in the 14th century and features 30 religious statues of Saints and Patron Saints.
It can get extremely busy here with tourists all scrambling for that perfect photo, so please bear that in mind when you visit. There are also usually several locals selling arts, crafts, and knick-knacks on the bridge too.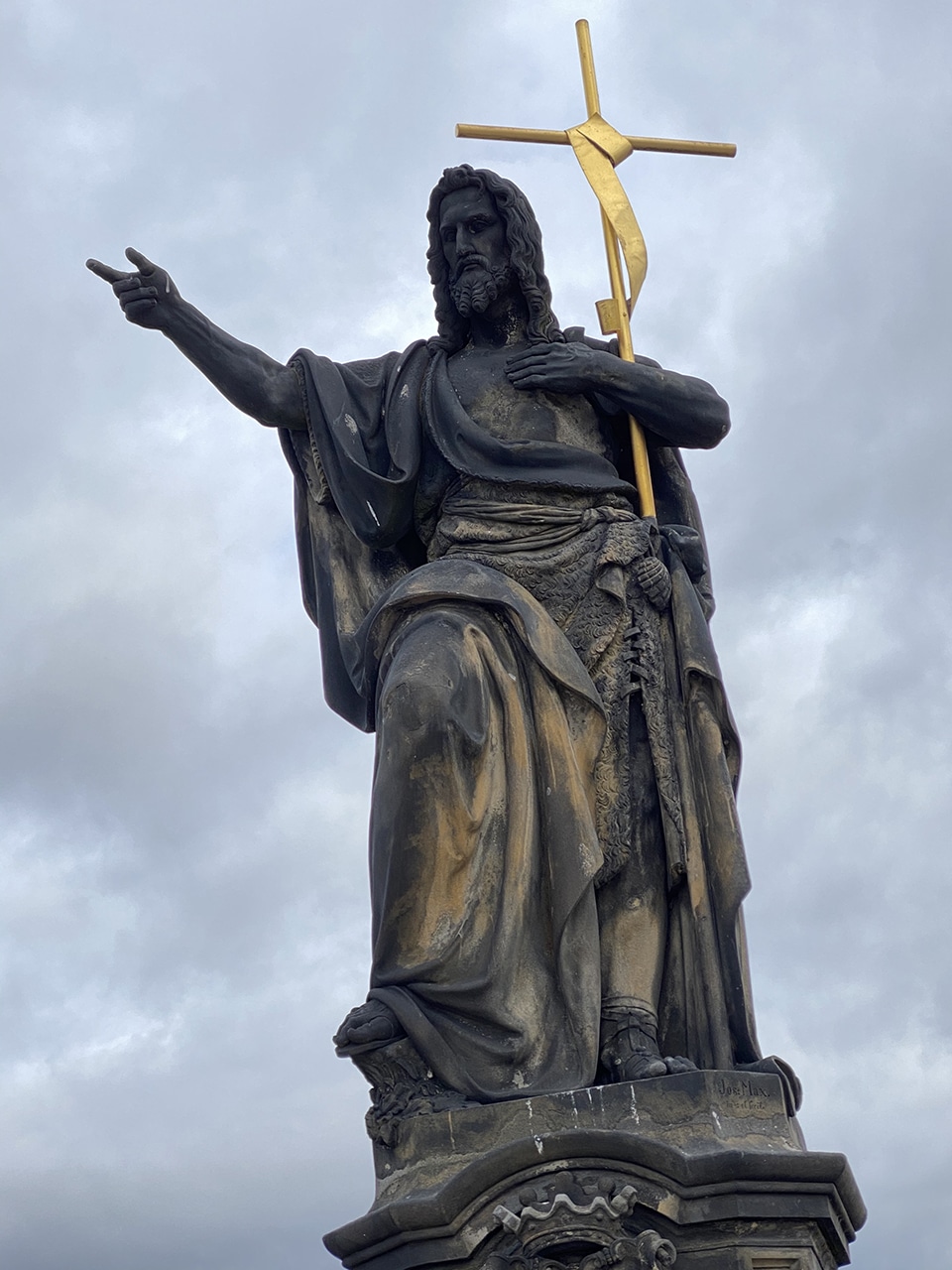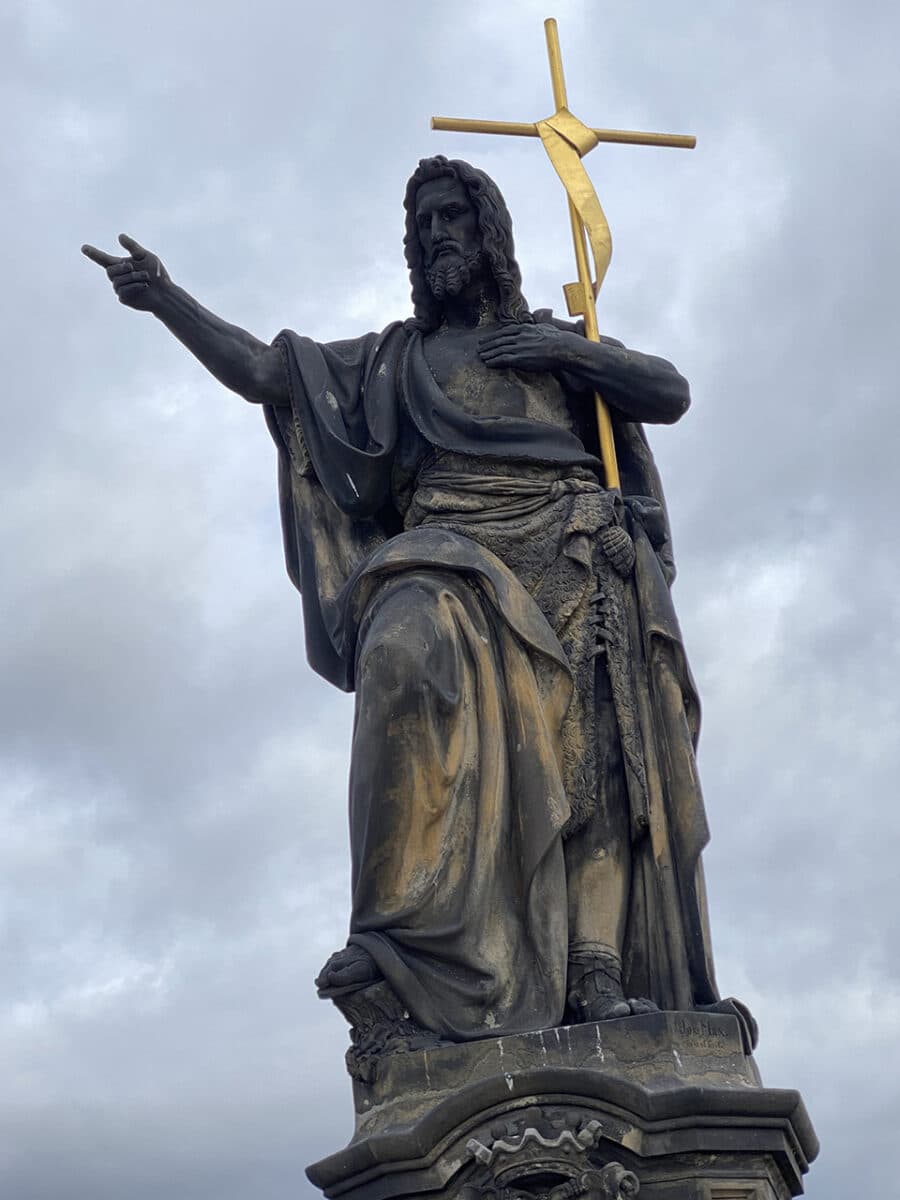 OLD TOWN SQUARE
The oldest square in Prague, Staroměstské náměstí is surrounded by churches, Gothic style building and monuments. Within the square, you will find the Jan Hus monument and the Marian Column. Below your feet, though, you will find the Meridian line, a brass strip that was used to tell the time from the 1600 to the 1900s, using the shadow from the Marian column.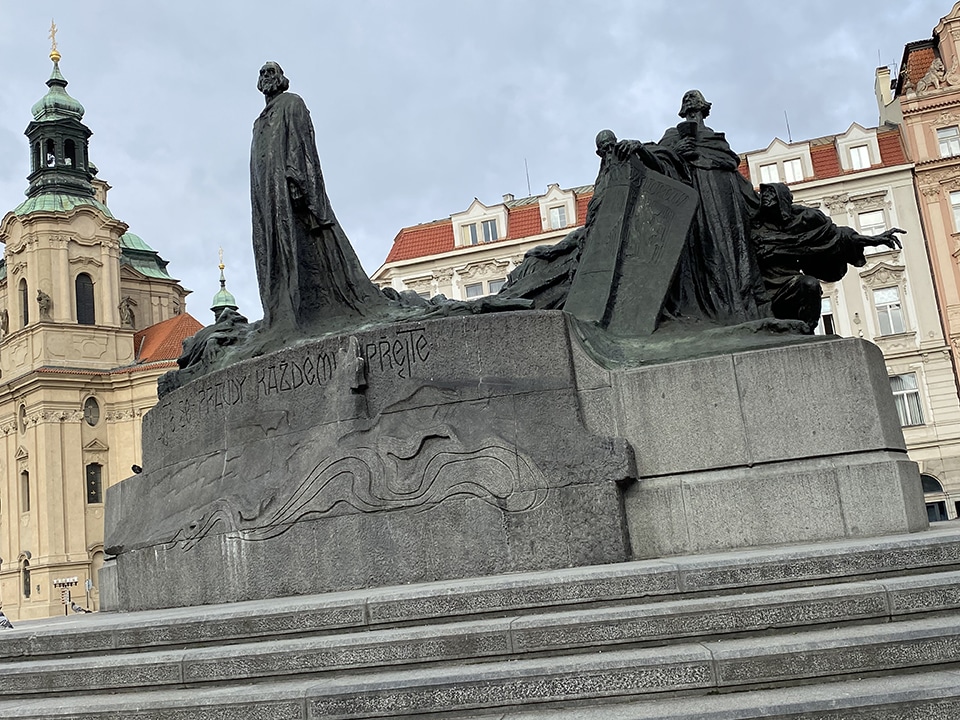 THE ASTRONOMICAL CLOCK OF PRAGUE
Another one of the city's big tourist attractions, the Astronomical Clock, Pražský orloj. It looked like we were here before the crowds descended. It was early, so it was nice and quiet. The bells struck on the hour, and it was great to see the figures and workings of the clock spark to life. The skeleton ringing its tiny bell is incredible.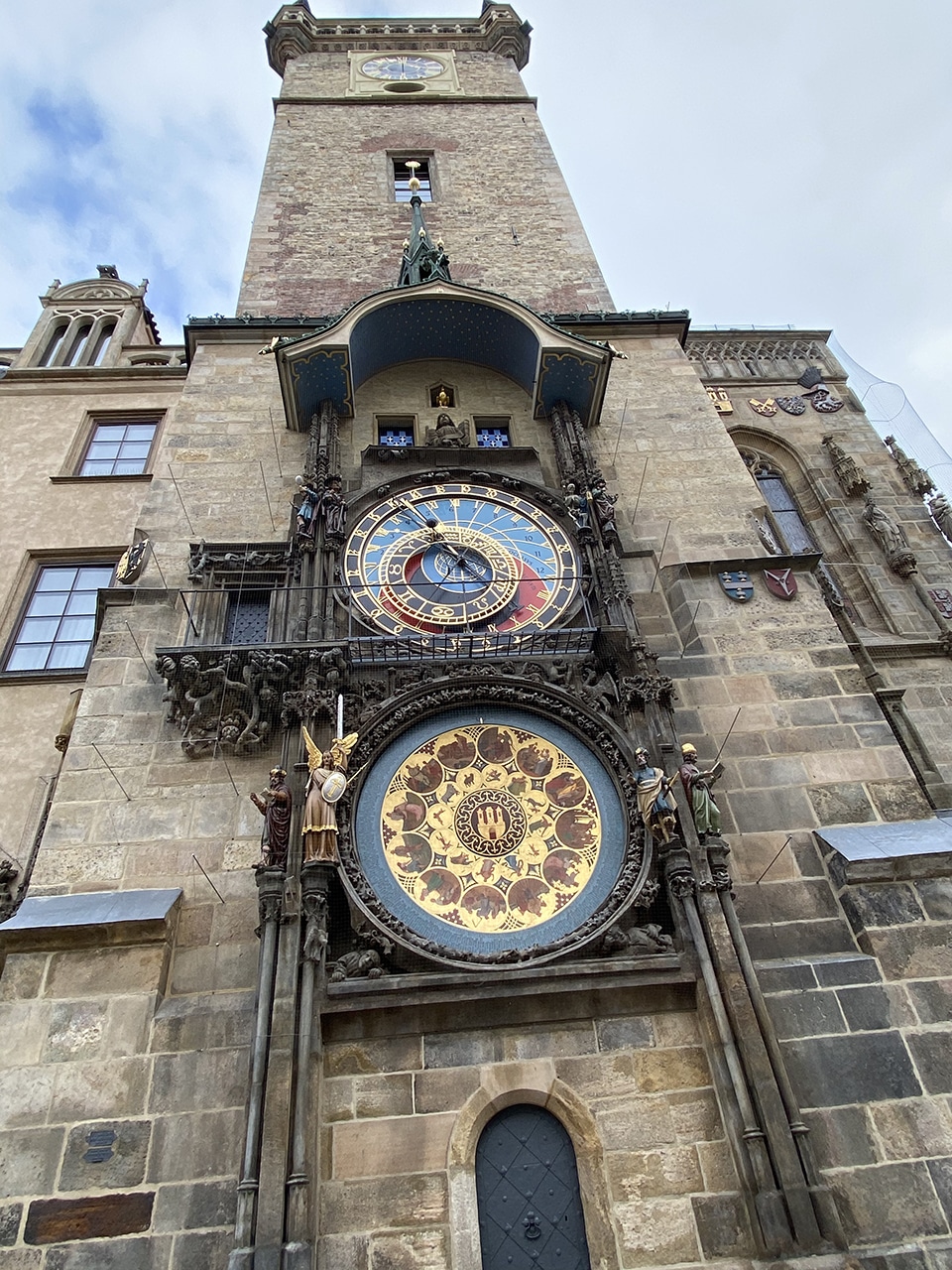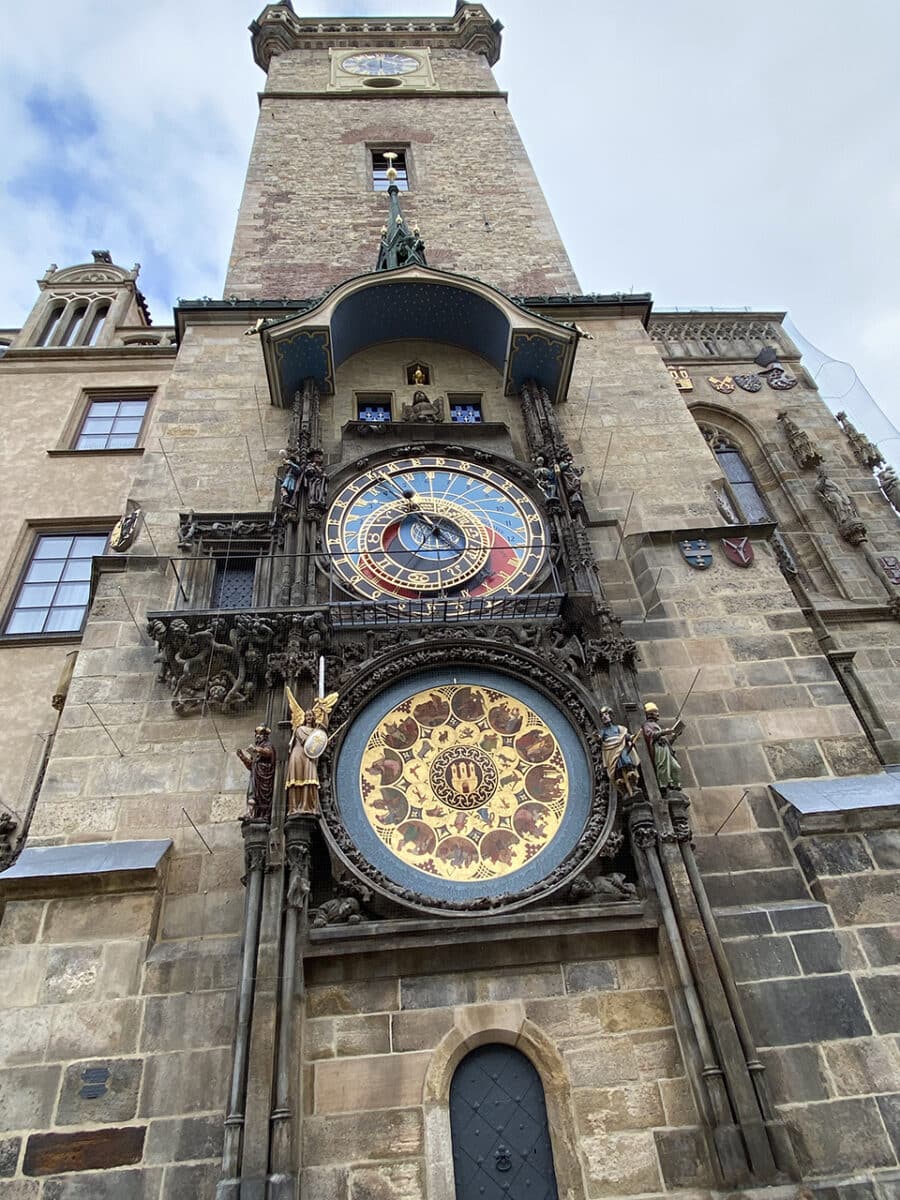 The clock is mounted on the wall of the Old Town Hall on the corner of Old Town Square and was installed in 1410. This makes it the third-oldest astronomical clock in the world and the oldest clock still working.
You can visit the town hall and look at the inner-workings of the clock for a small fee. There are several other rooms available to look around, as well as the medieval underground.
CHURCH OF OUR LADY BEFORE TYN
Chrám Matky Boží před Týnem, looks down over Old Town Square and is an incredibly beautiful gothic church. It was closed at the time of our visit, so we didn't get to go inside. Its twin towers dominate the skyline over the market square.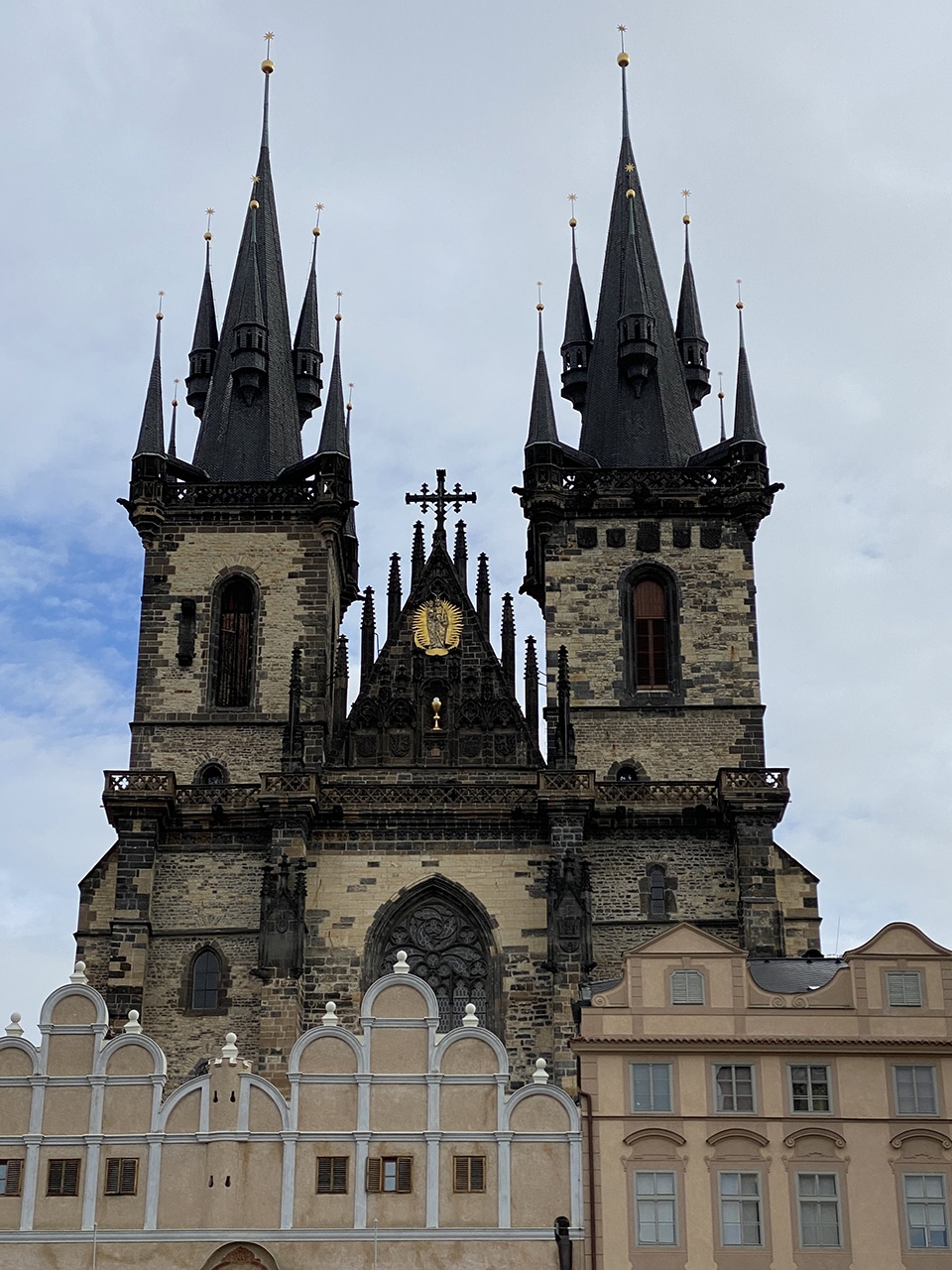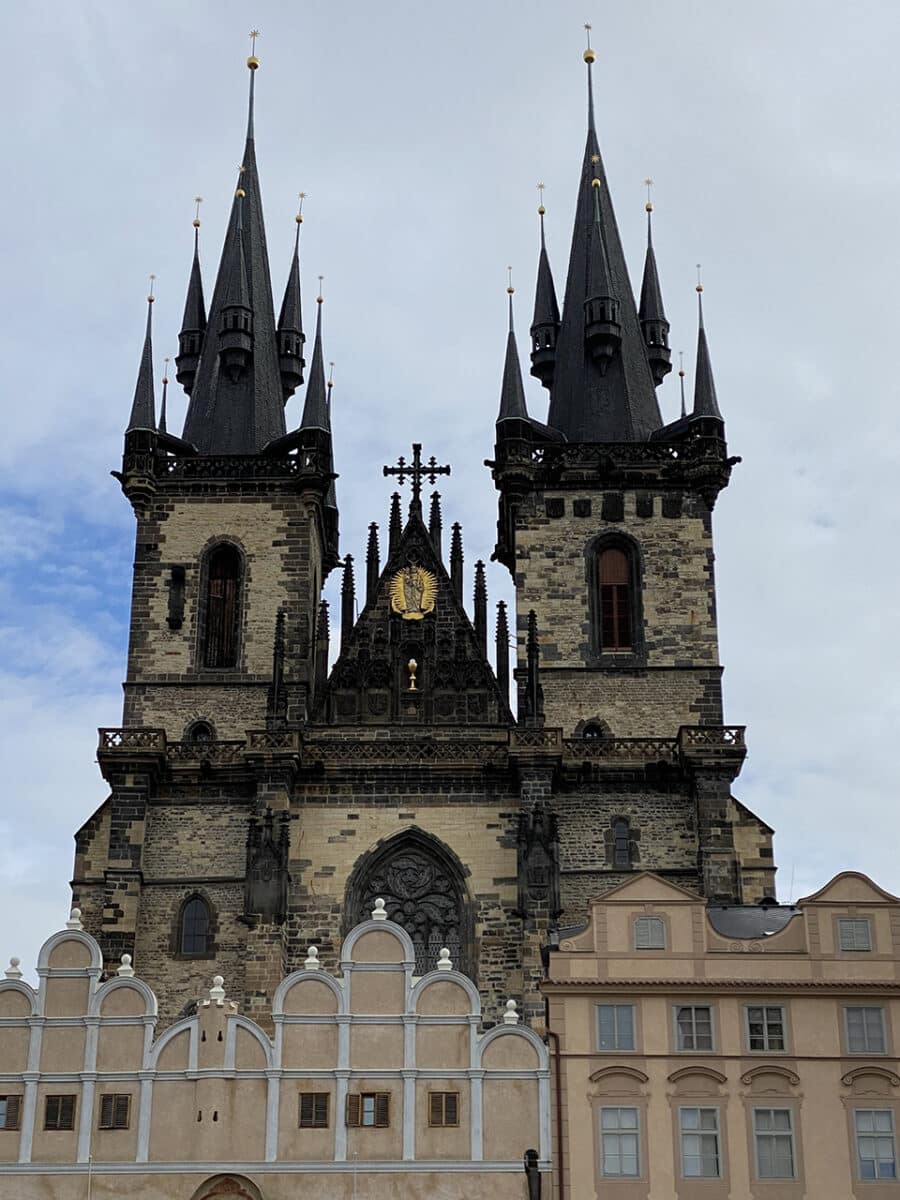 SAINT NICHOLAS' CHURCH
Before heading up to Prague Castle, another striking building caught our eye. Again, located just off Old Town Square. It turned out to be Saint Nicholas' church. Entrance was free, so we had to have a look. Whenever there is no entrance charge to churches or other museums and buildings, we always look for places to leave a donation.
We were not disappointed; the inside was beautiful. Suspended from the ceiling was a huge glass chandelier. Marble statues covered in gold hugged the altar. Worth the quick visit.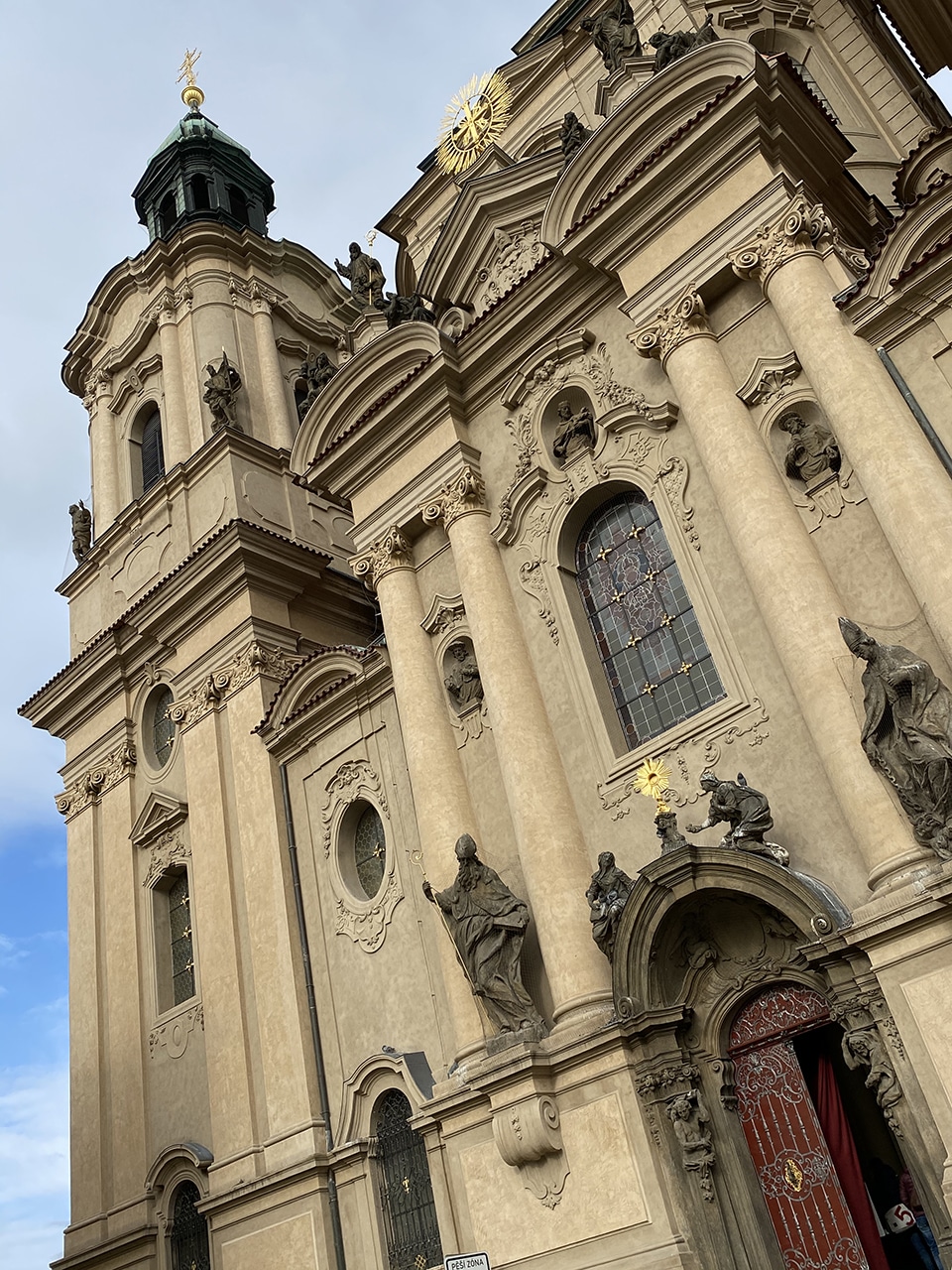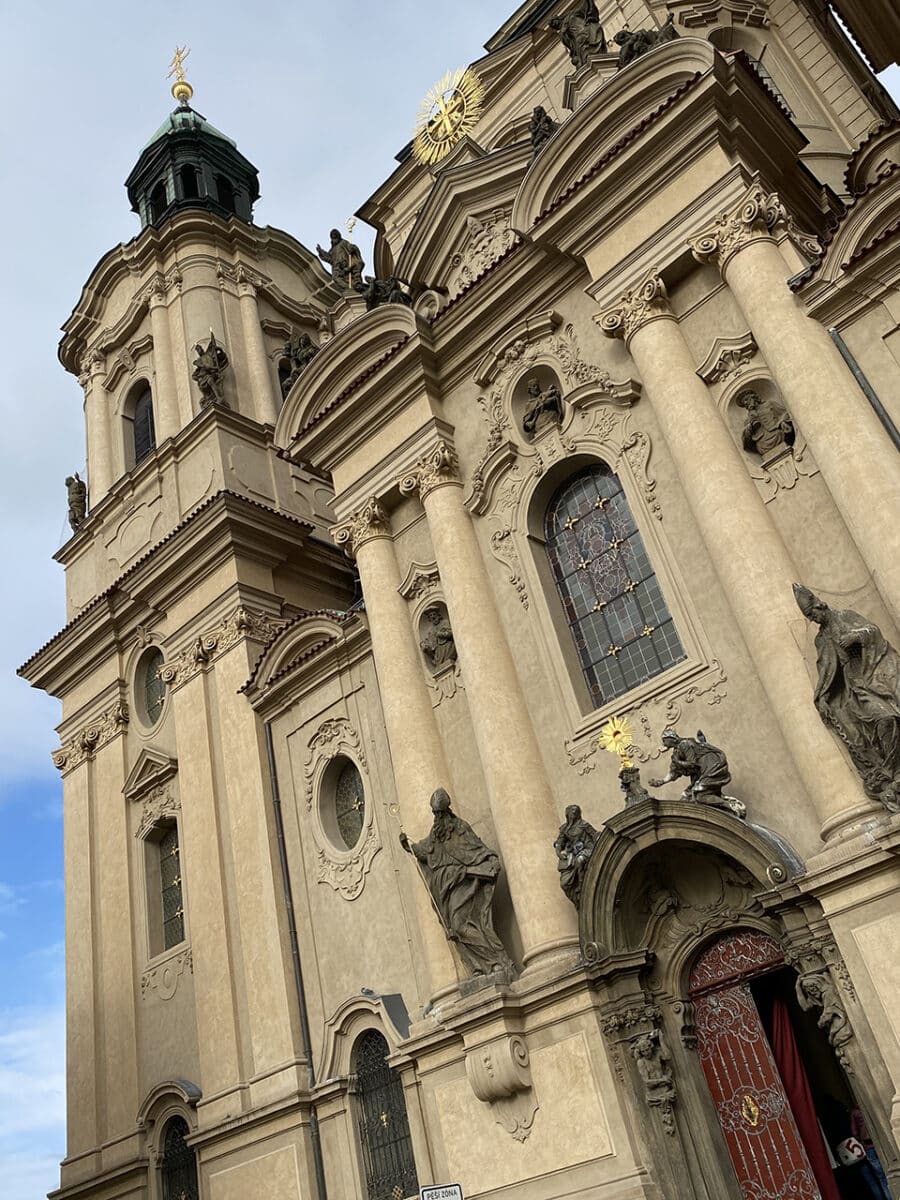 PRAZSKY HRAD, PRAGUE CASTLE
The walk up to Prague Castle, Pražský hrad, was great. We walked through backstreets, across squares, and passed more beautiful buildings. We stopped halfway for a drink in this great little cafe called the Schody Home Bar. You would probably miss it if you were not looking for it.
The paths up to the castle are steep, but nothing too challenging. Once at the top, we explored Hradcany Square, Hradčanské náměstí.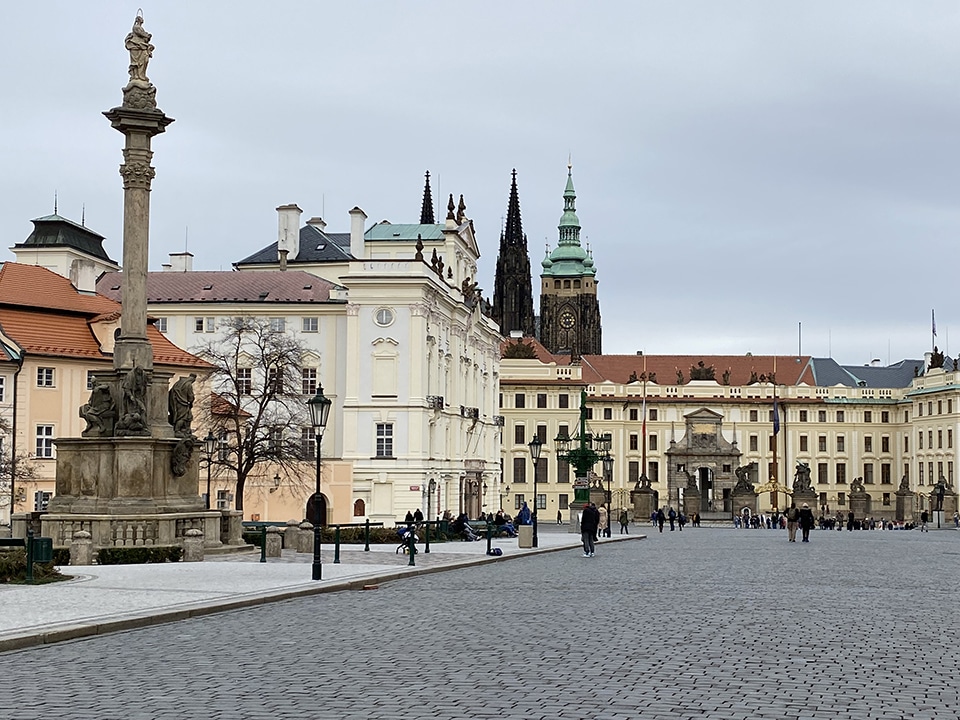 SELECTING THE RIGHT TICKETS
There are several ticket options to purchase. All offering different things to see. They number all the attractions. We purchased the highest price ticket that covered all the museums and churches. This is the best option as you really do not want to miss a single thing here. If you are on a tight schedule, however, chose the ticket that best suits your needs.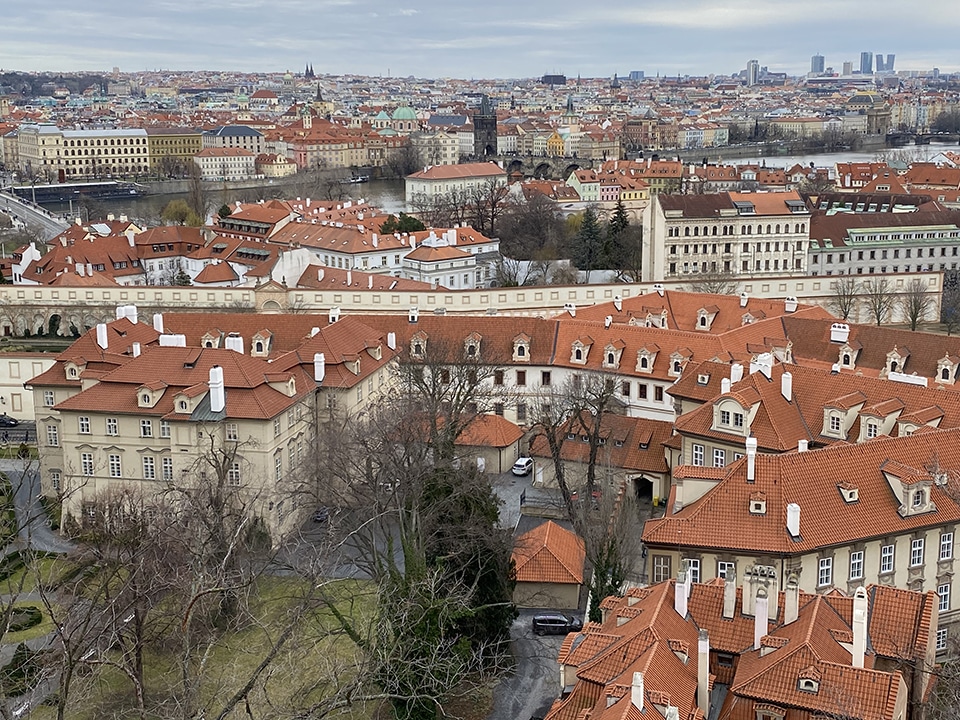 SAINT VITUS CATHEDRAL
The first building you come to is the stunning Saint Vitus Cathedral, Katedrála Sv. Víta. The spires of which you can see across the city. This is the largest and most important church in the country.
Its walls contain fascinating treasures and the tombs of Bohemian Kings, Holy Roman Emperors and, of course, the resting place of Saints' Vitus, Wenceslas and Adalbert. The stained-glass windows and architecture inside the church are something else.
Our tickets covered all the museums and other religious building including Saint Georges Basilica, the Story of Prague Castle museum and the Old Royal Palace with its beautifully decorated vaulted ceilings.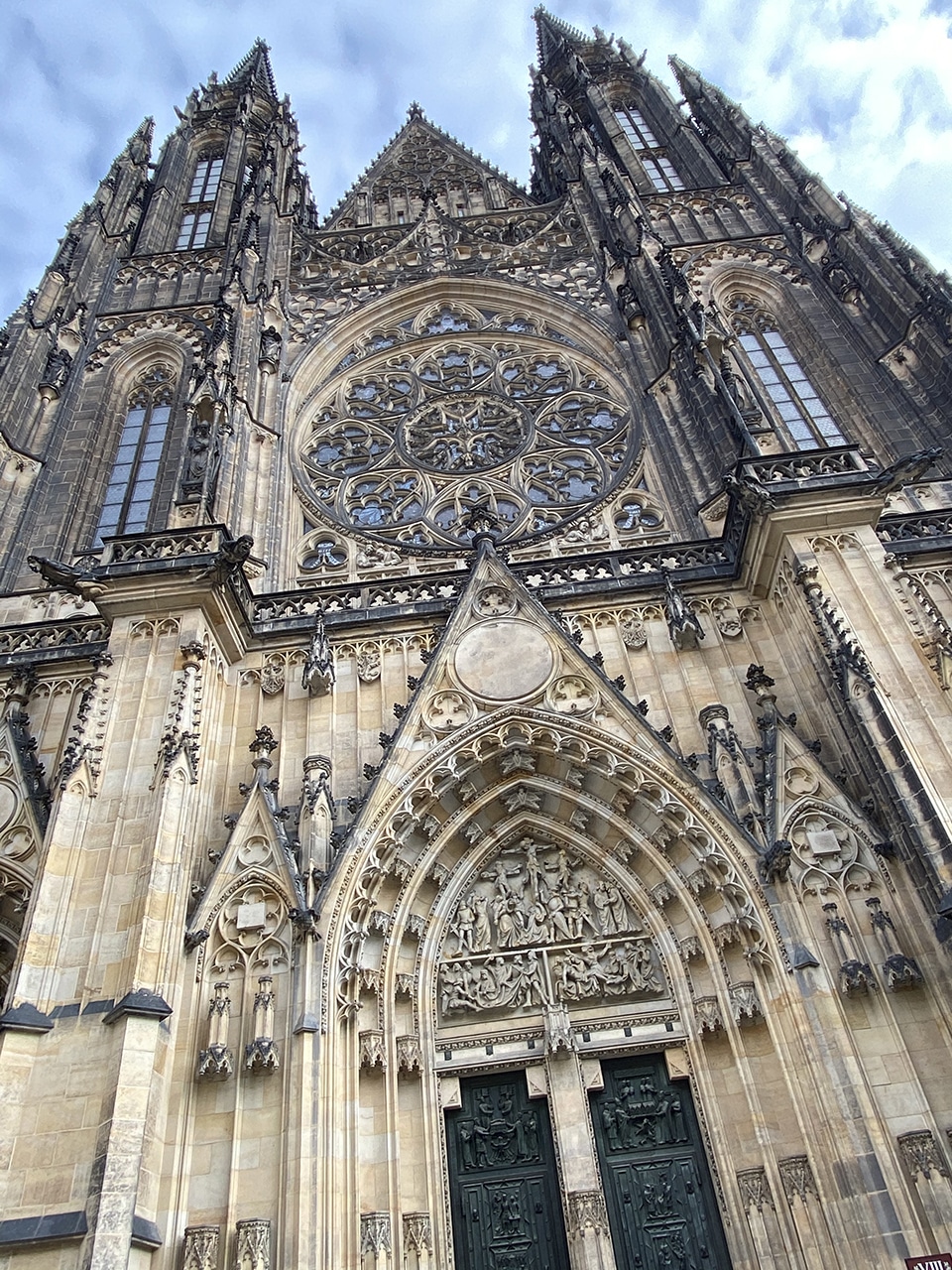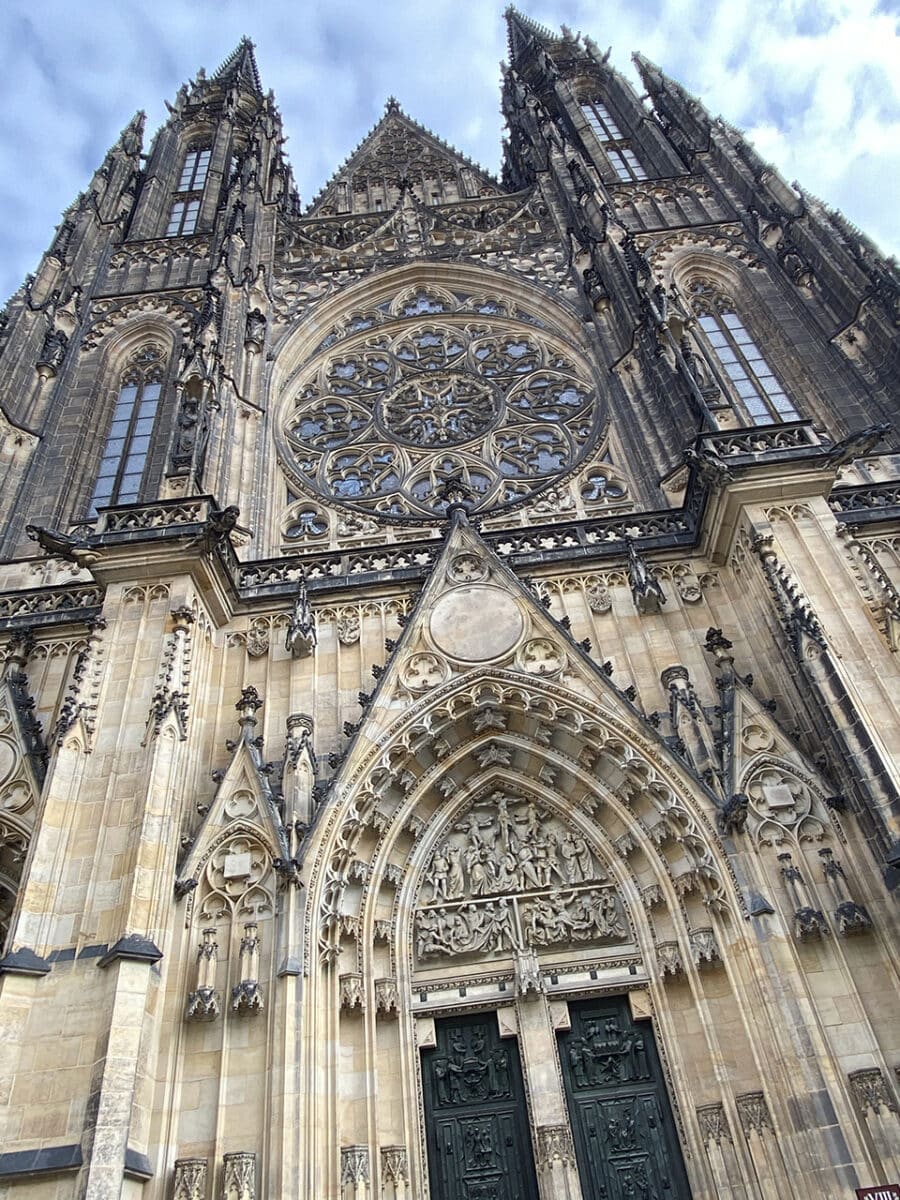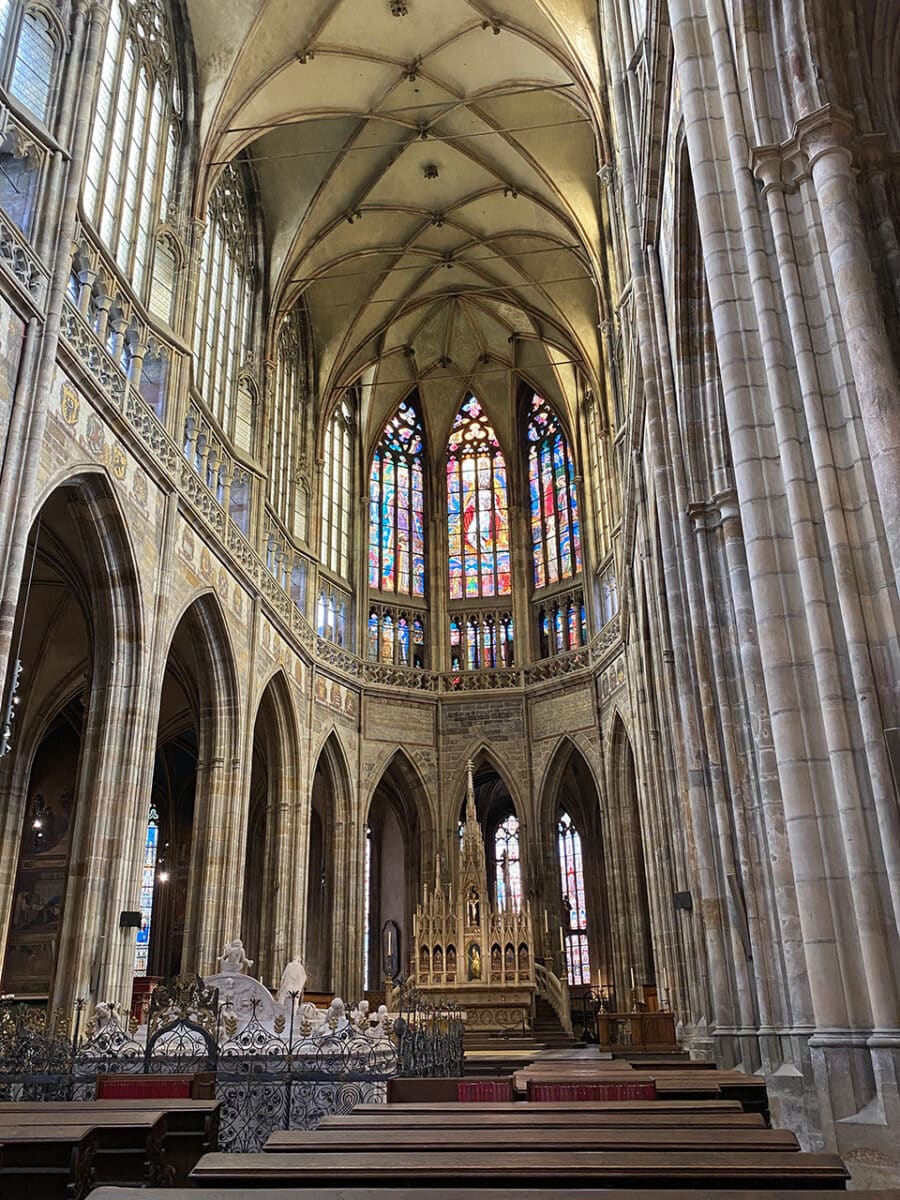 A PHOTO OPPORTUNITY AT JOHN LENNON WALL
Pragues' famous John Lennon wall is a short walk from Charles Bridge. They have decorated the wall with sayings, poems, and messages since the 1960s. They then dedicated it to Lennon in the 1980s, following his assassination. Covered in graffiti, political slogans and messages of peace, tourists flock to this place for photos and to add their own bit of artistic flair. A very popular spot, great for photographs.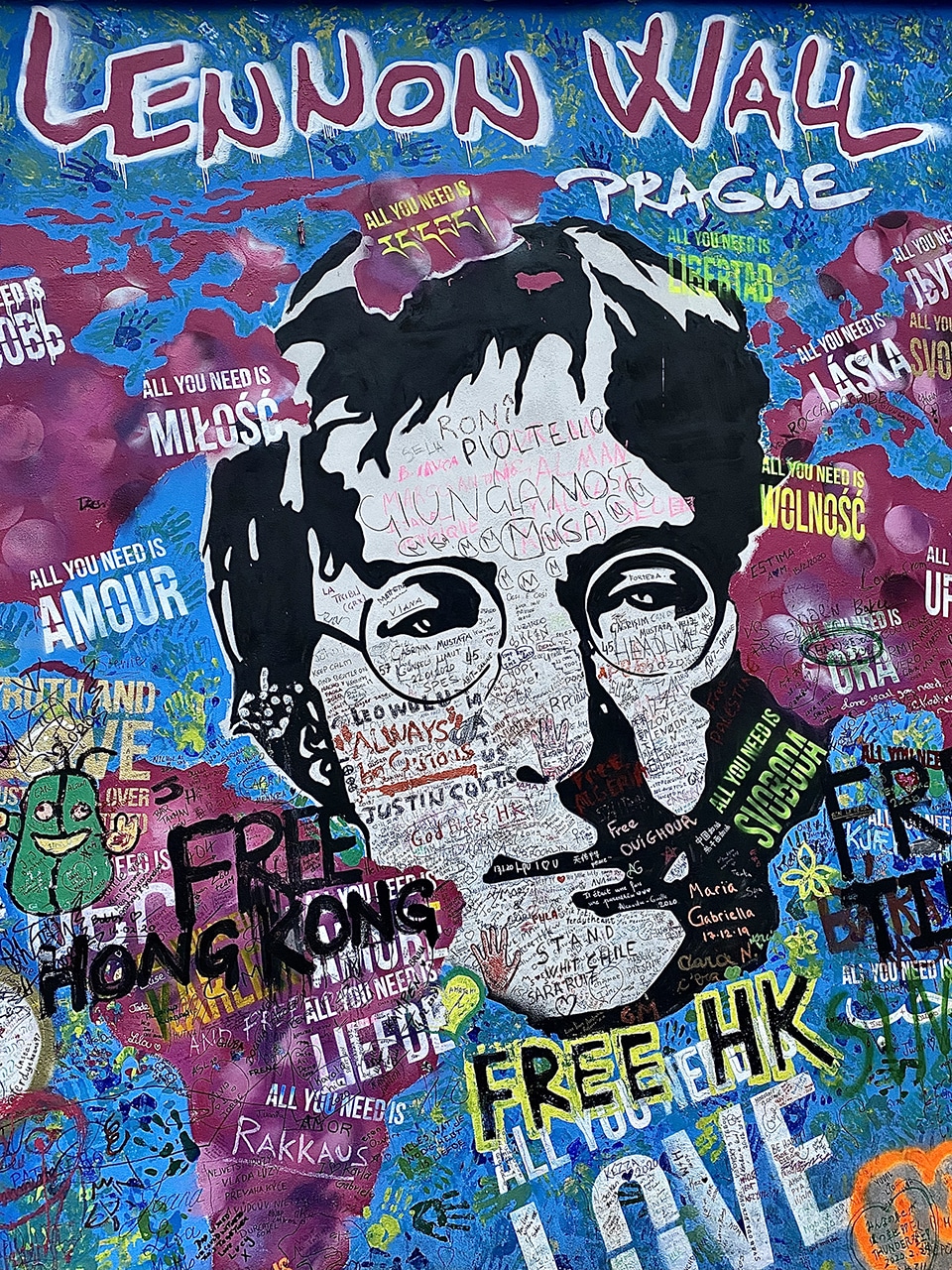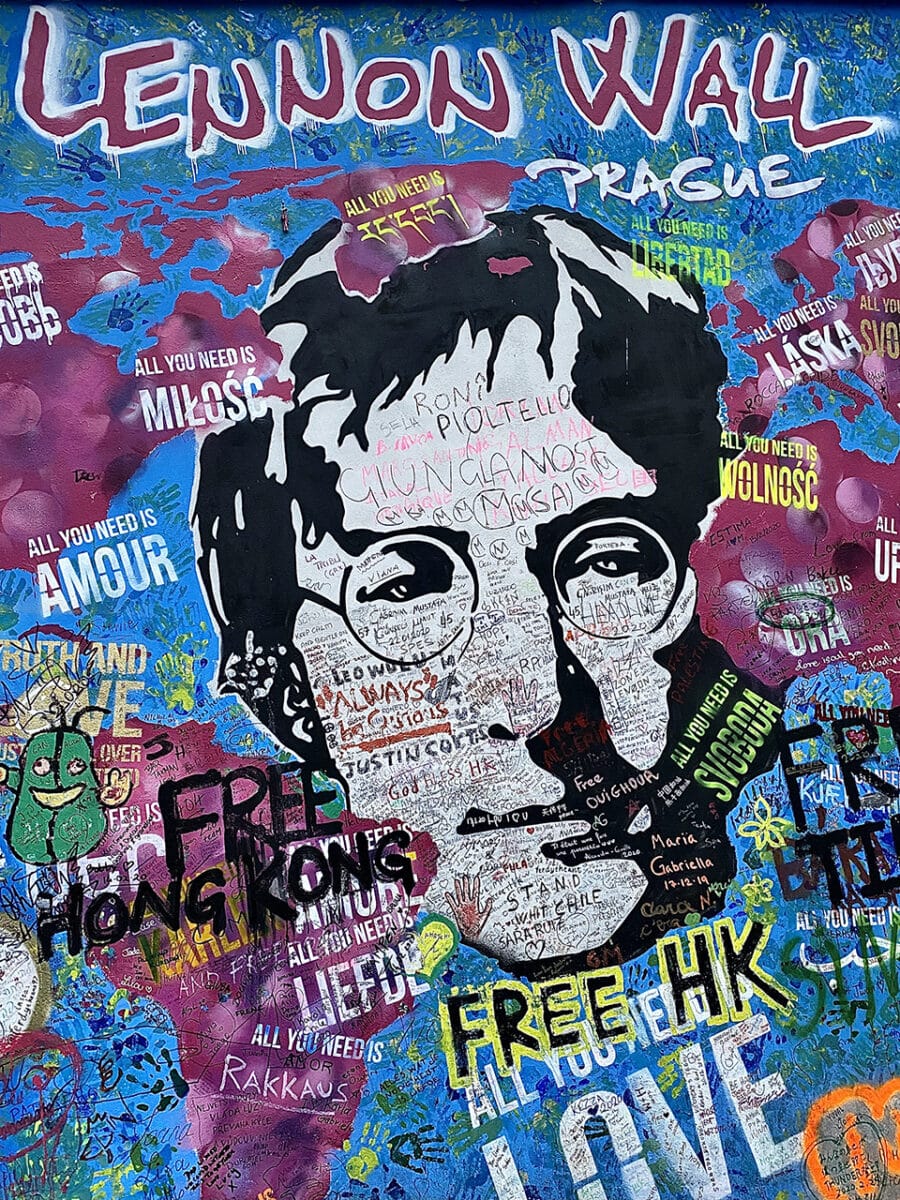 TAKE A DAY TRIP TO DRESDEN, GERMANY
Our day out in Dresden was all pre-planned and pre-booked. Whilst looking for things to do and places to visit in Prague, we noticed some people were taking a cross-border trip into Germany. This was through a company we had heard of before but not had the chance to use yet, Flixbus.
After this experience, we will look for other opportunities to use Flixbus when we visit other countries in Europe. We already have one or two ideas planned out for future trips.
Read: Travelling from Prague to Dresden with Flixbus.
EXPLORE THE BEAUTIFUL JEWISH QUARTER
The Jewish Quarter, Židovská čtvrť, in Prague has been a place we have wanted to visit for a long time, especially its famous cemetery.
Tickets to access some areas, including the cemetery, Synagogues, and the museum, are bought directly from a ticket booth at the gates. We bought a pass to see everything, including the Ceremonial Hall, Pinkas Synagogue and the Old Jewish Cemetery.
It was a very moving experience. Especially the Pinkas Synagogue. A simple building, silent with the background sound of various Jewish readings being played. It is a memorial to 80,000 Jewish Holocaust victims, their names written on the walls being the only decoration.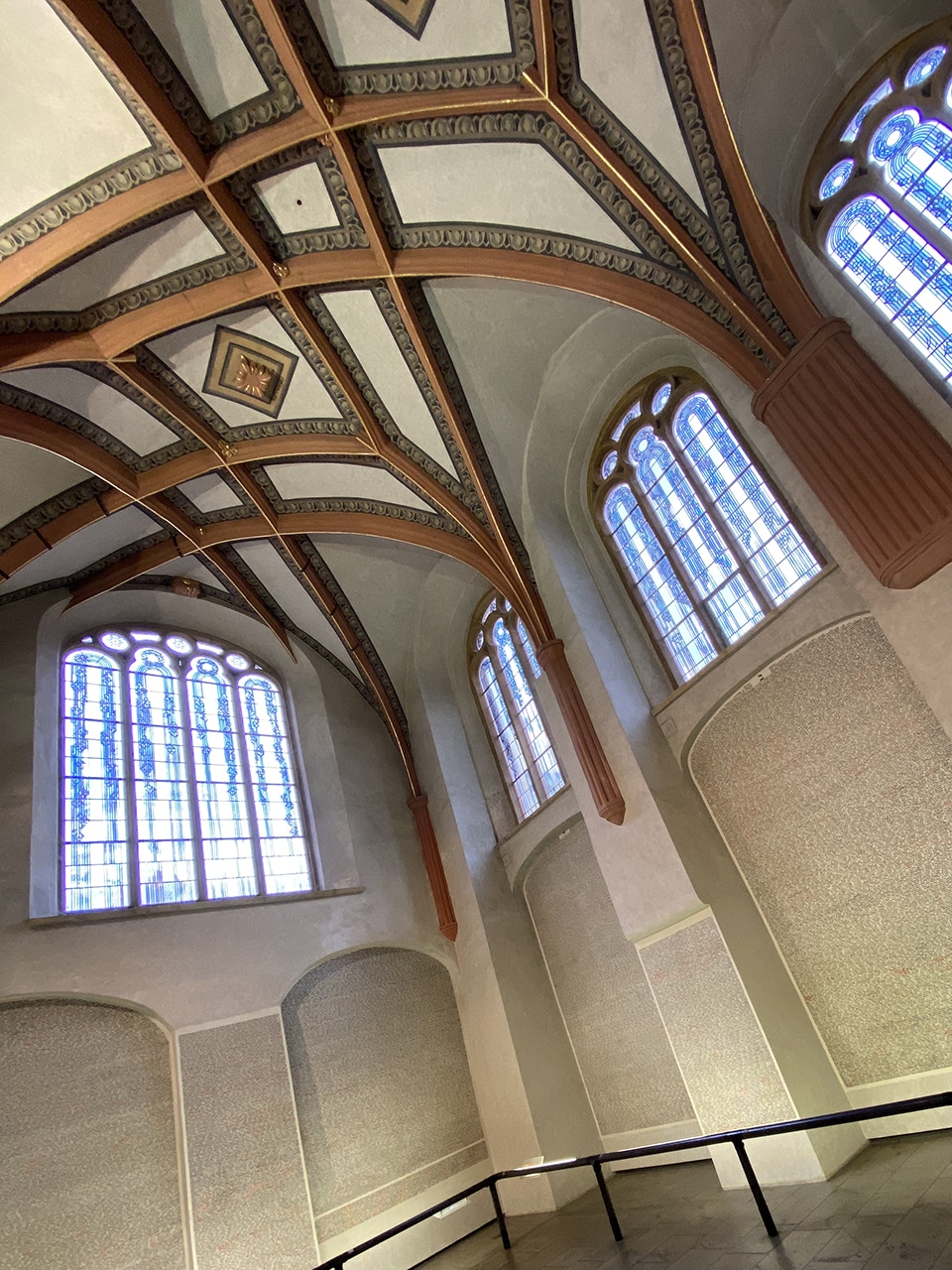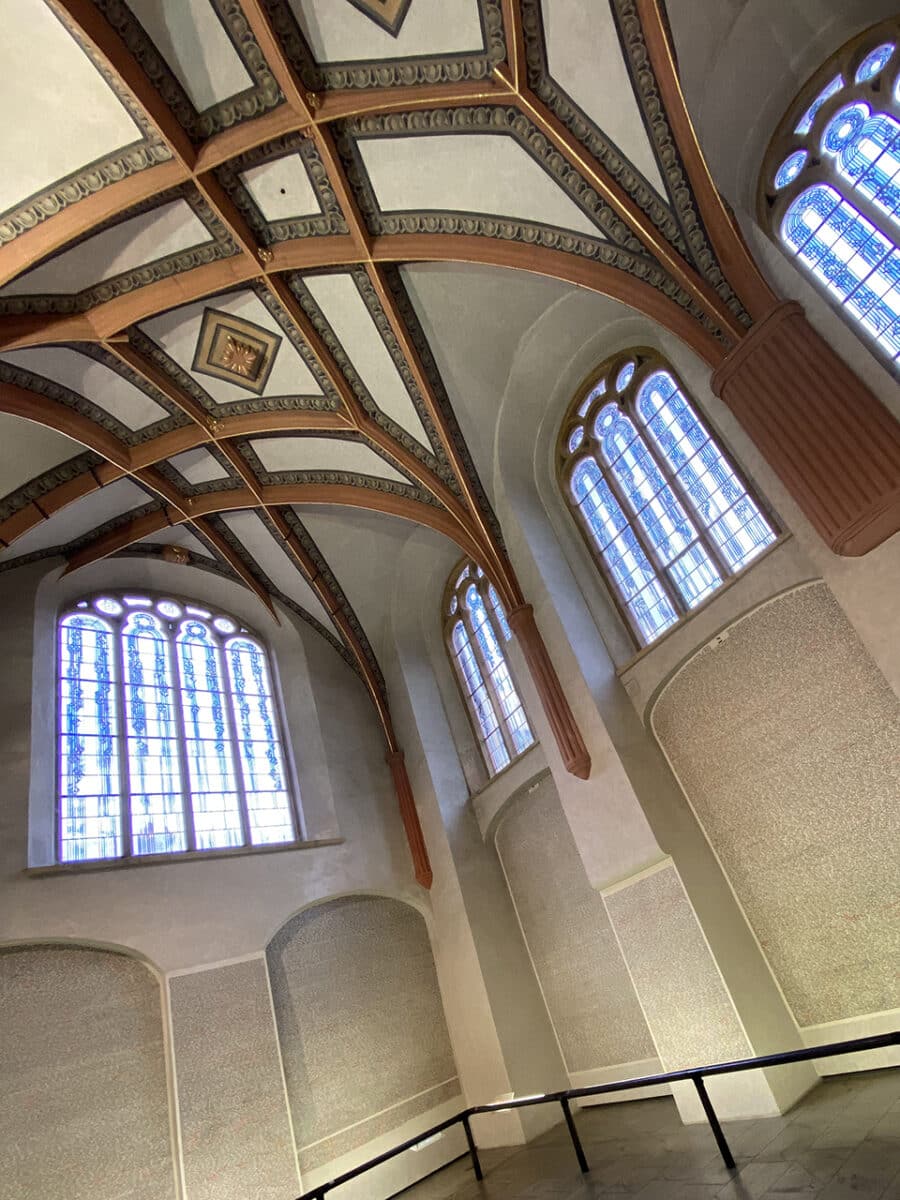 EXPLORE THE OLD JEWISH CEMETERY
The Old Jewish Cemetery is home to over 12,000 headstones and monuments, but many more burials. The oldest headstone belongs to rabbi Avigdor Kara and dates from 1439. Hundreds and hundreds of headstones, all stacked up and leaning on each other. Again, it was a very peaceful, sombre experience.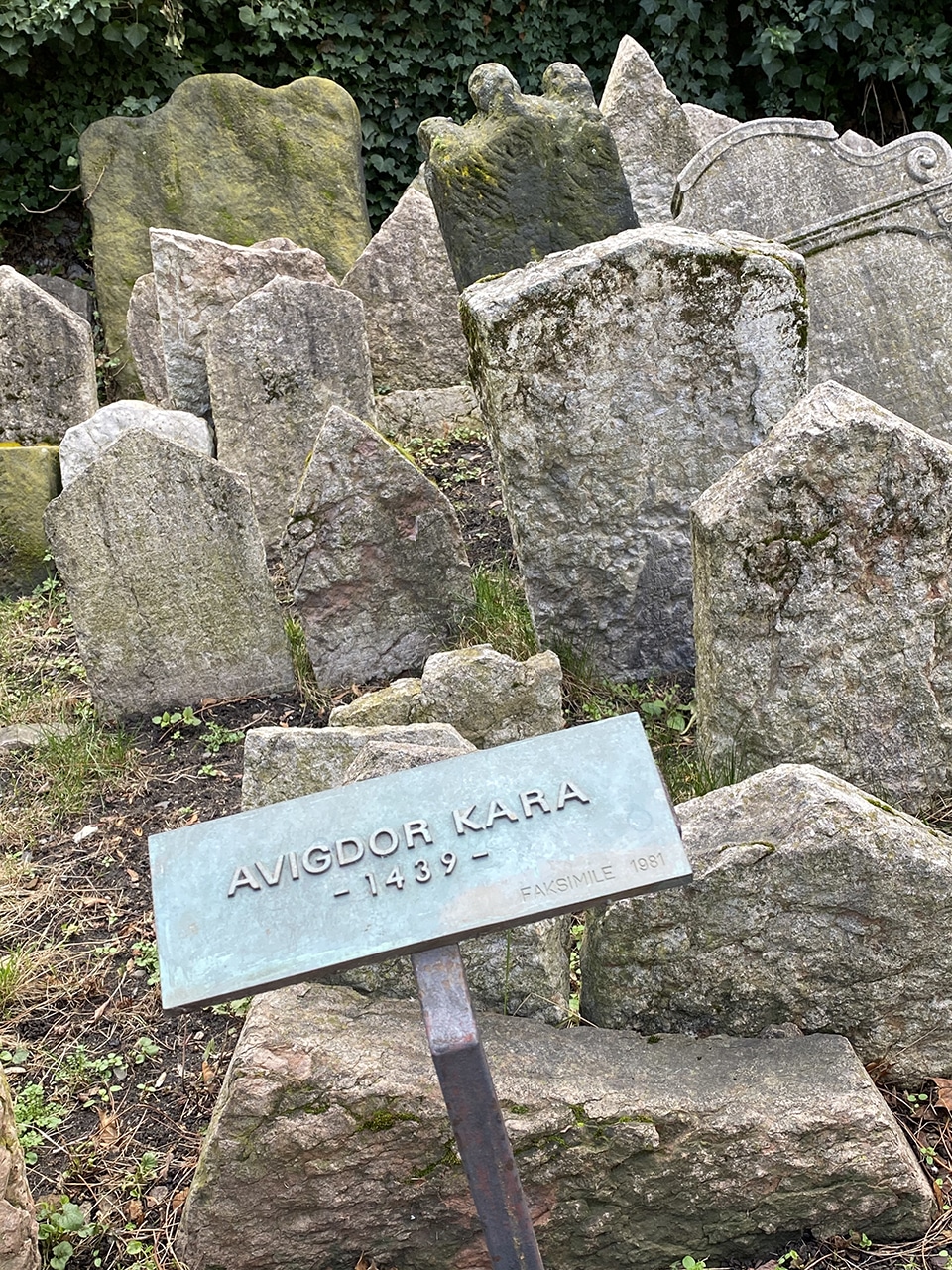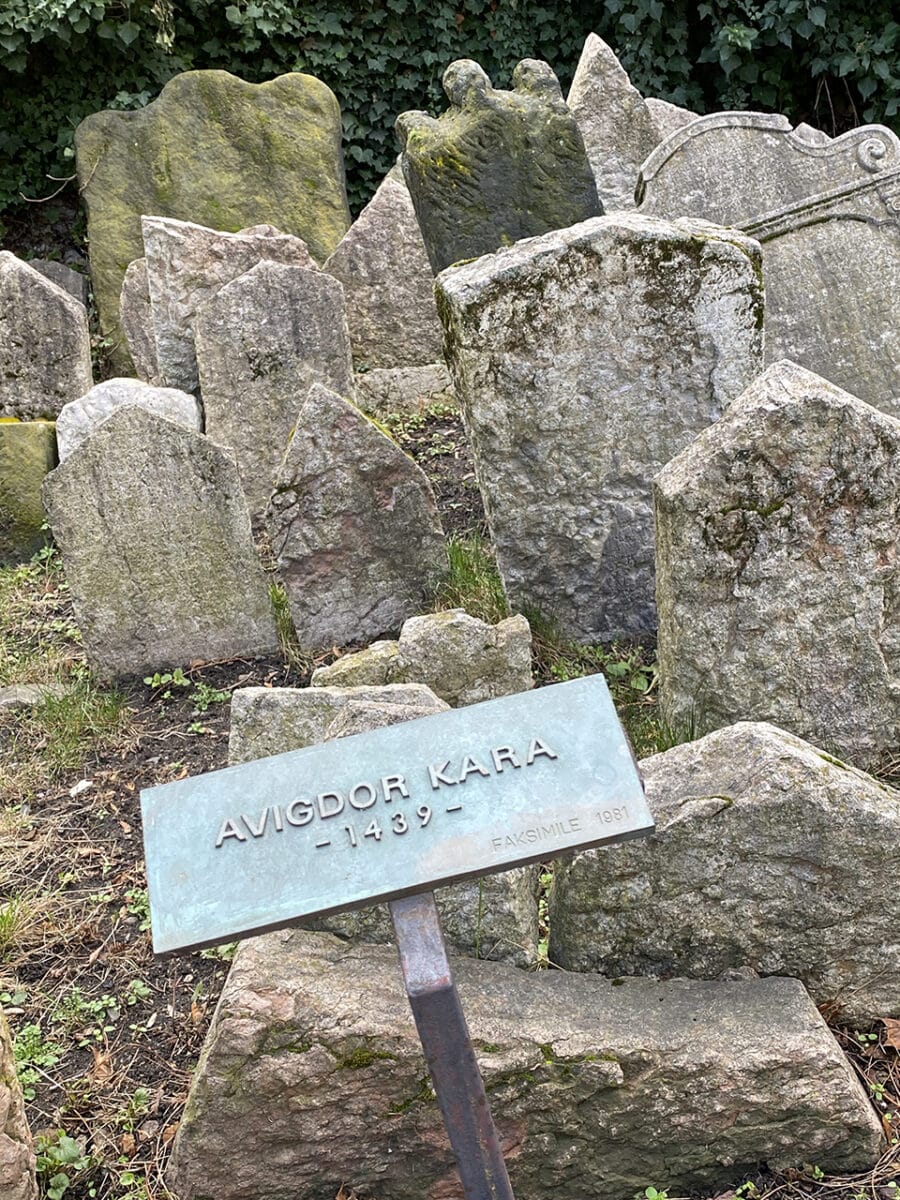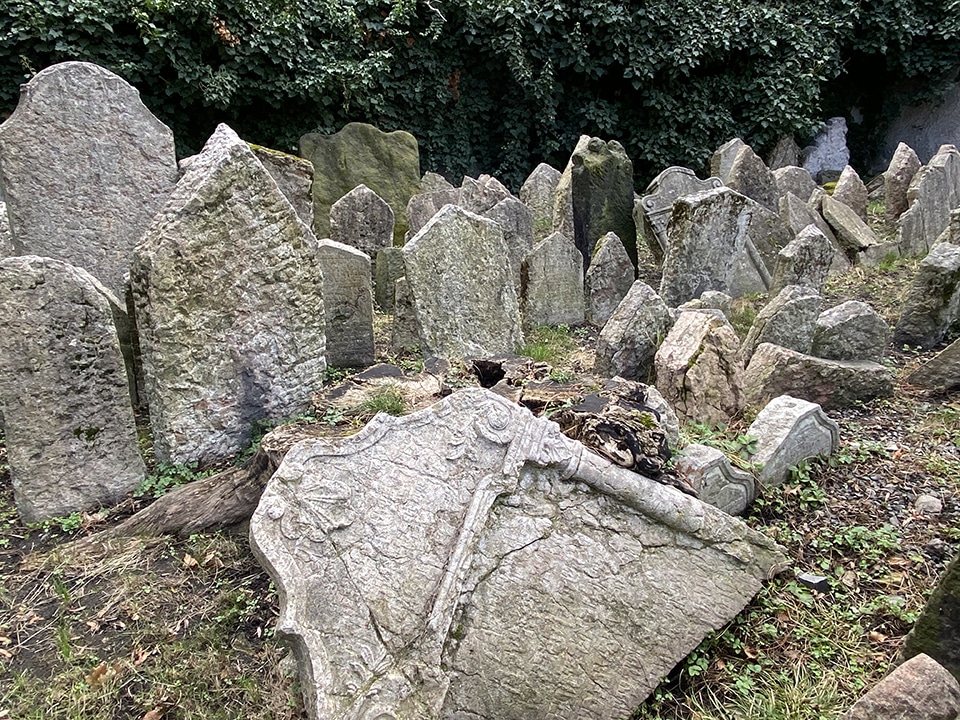 KUTNÁ HORA BONE CHURCH
This had been a bucket list item for such a long time. We were really looking forward to visiting. Sadly, we only took one photo inside the bone church as we were told to stop taking them by the staff there. Apparently, just a few weeks before our trip photography was banned. This was devastating, but understandable. Their frustration aimed at tourists messing with the bones and taking disrespectful selfies. It did not dampen our spirits, though.
TRAVEL TO KUTNÁ HORA BY TRAIN FROM PRAGUE
To get to Kutná Hora, you must get the R9 train from the primary station in Prague (Praha Hlavní Nádraží). Kutná Hora hl.n. station is then only three stops away and takes approximately one hour. Tickets for both of us cost 201CZK each way.
The stops are as follows, and vice versa on the way back to Prague.
Prague <–> Praga Liben <–> Kolin (CZ) <–> Kutná Hora
Arriving at Kutná Hora station, it is then a short walk to the Sedlec Ossuary. There are three main churches you can visit, and these are all ticketed.
BUYING YOUR TICKET
You cannot buy tickets at the churches themselves. There is a small ticket booth that is well sign posted before you get to the Ossuary. You will pass this on your walk up, so you shouldn't miss it.
There are three tiers of ticket price. One ticket allows you to visit just the ossuary, one ticket for ossuary and cathedral and a third ticket that includes the church of Saint James.
We chose option two, Ossuary, and Cathedral which cost us 120CZK each. For a full list of the other price options and more info, visit the official website Ossuary, Sedlec.
THE BONE CHURCH, SEDLEC OSSUARY
The ossuary was undergoing some renovation work at the time of our visit, and what appeared to be archaeological work inside. The graveyard around the church is also beautiful, with some stunning monuments.
It was not as busy as we expected it to be. After showing our tickets at the front door, we entered. It was a very surreal, eerie feeling. There were thousands of bones. Knowing that they were once living people, laid out in beautiful neat piles. A huge bone chandelier hanging from the roof and skulls displayed as precious reminders of lives once lived.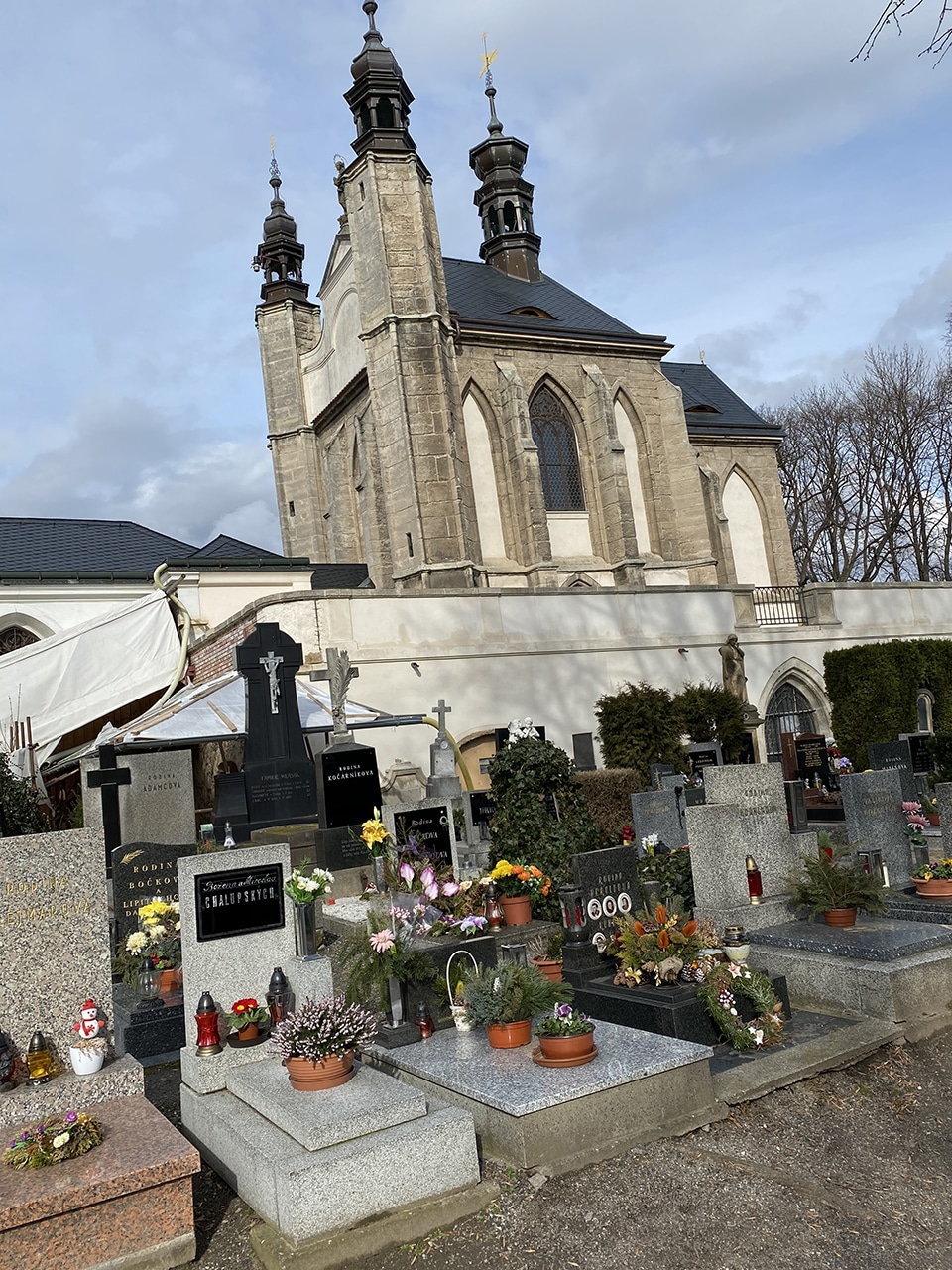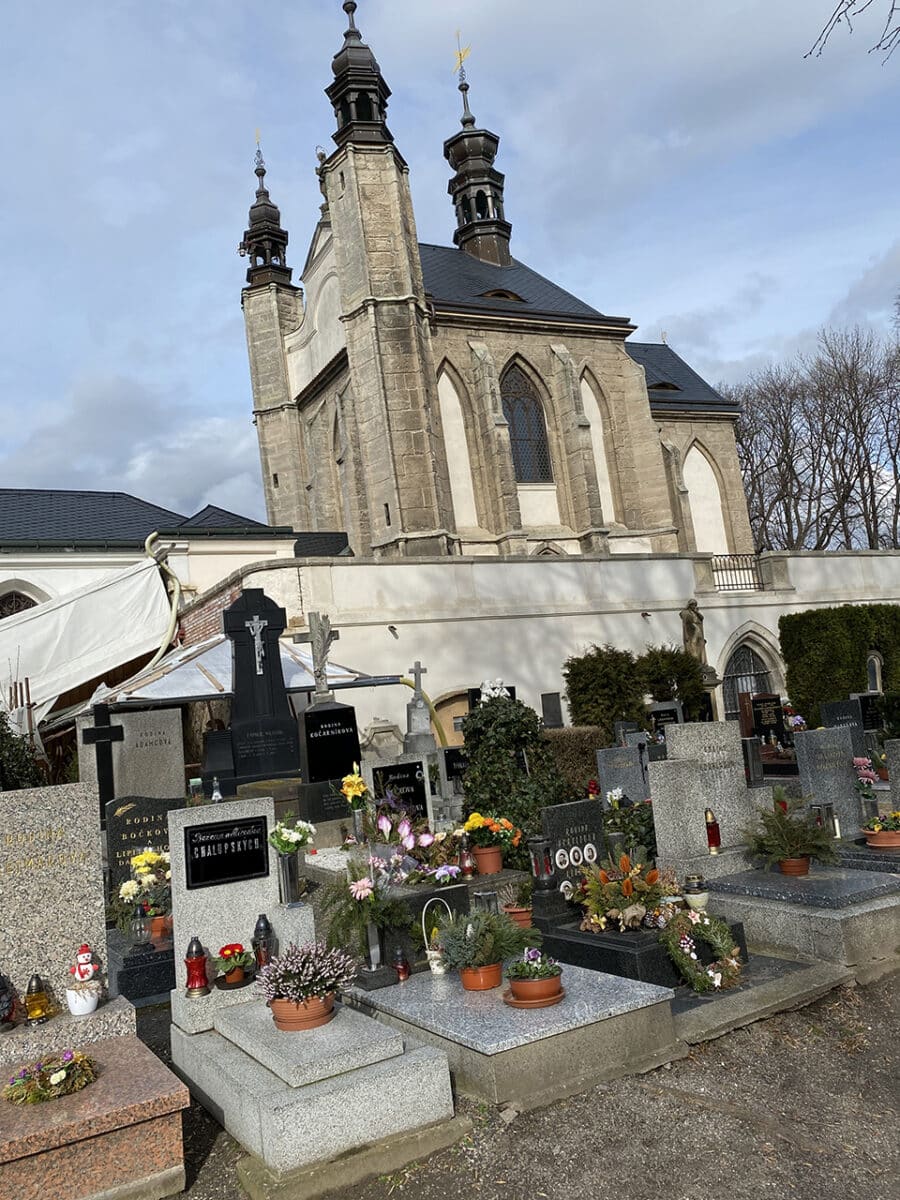 TAKING OUR ONLY PHOTO INSIDE THE OSSUARY
As mentioned above, we only took one photo inside the Ossuary before being asked to stop. I was itching to take more, but out of respect, I did not. It would be easy for me at this point to use stock photos to show you the rest of the bones. However, there are plenty of images out there for your browsing needs. It is a truly remarkable place.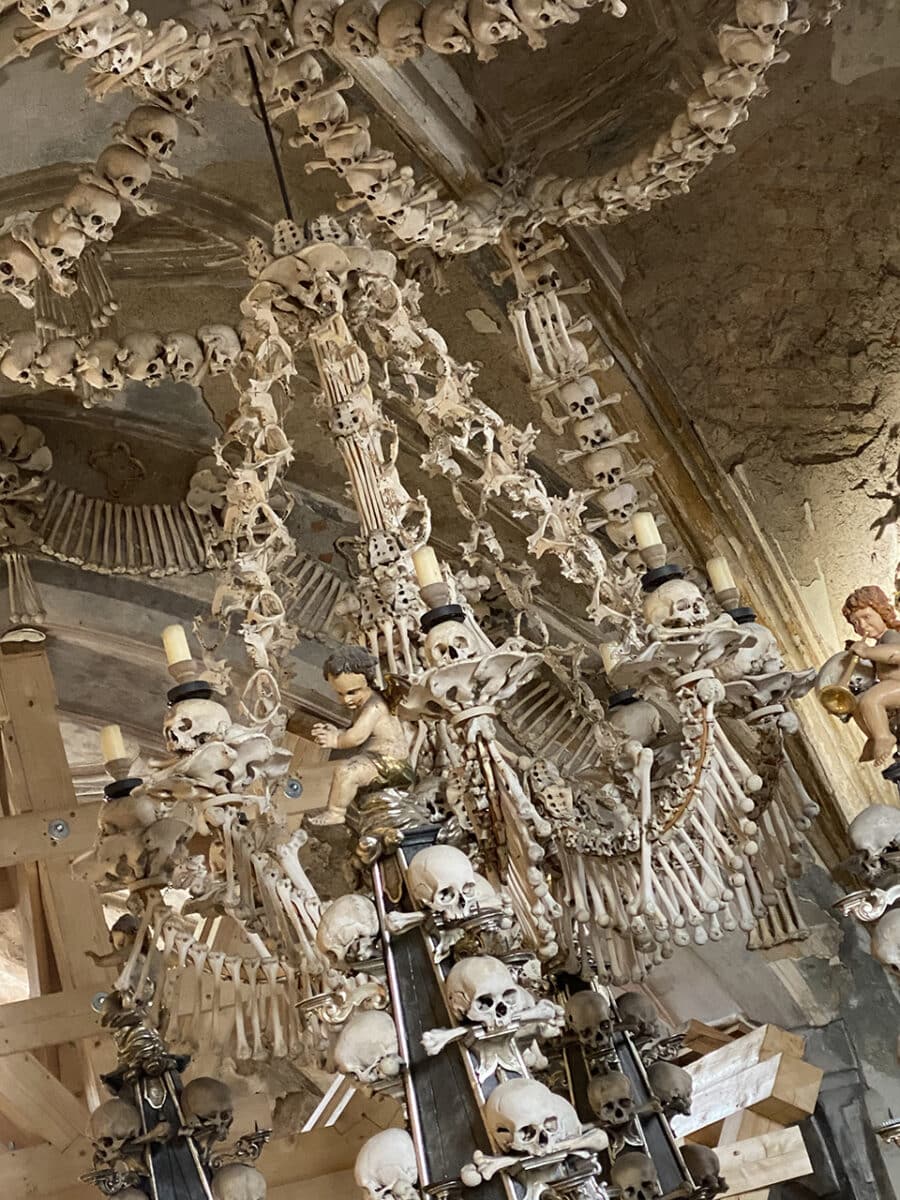 After our time here, we visited the Cathedral of the Assumption of Our Lady and Saint John the Baptist, the oldest Cathedral in Central Europe, built in 1320. This is just a short walk from the Bone Church.
Looking for somewhere to stay in Prague? Read: Review: Hotel Élite, Prague.
MORE MONUMENTS
There are many monuments, sculptures, and curiosities to be found in Prague. Keep an eye out as you wander. You never know what you might find.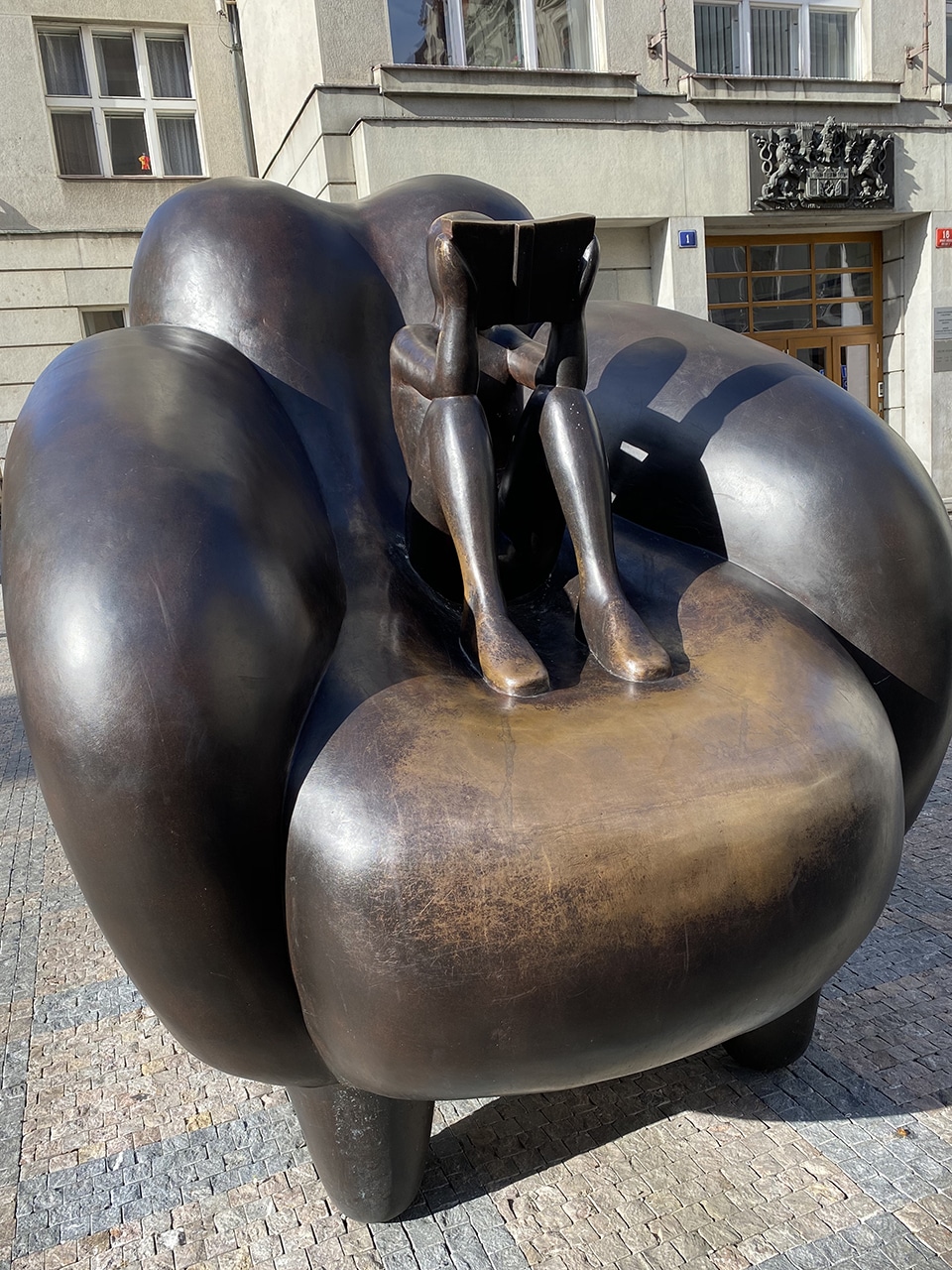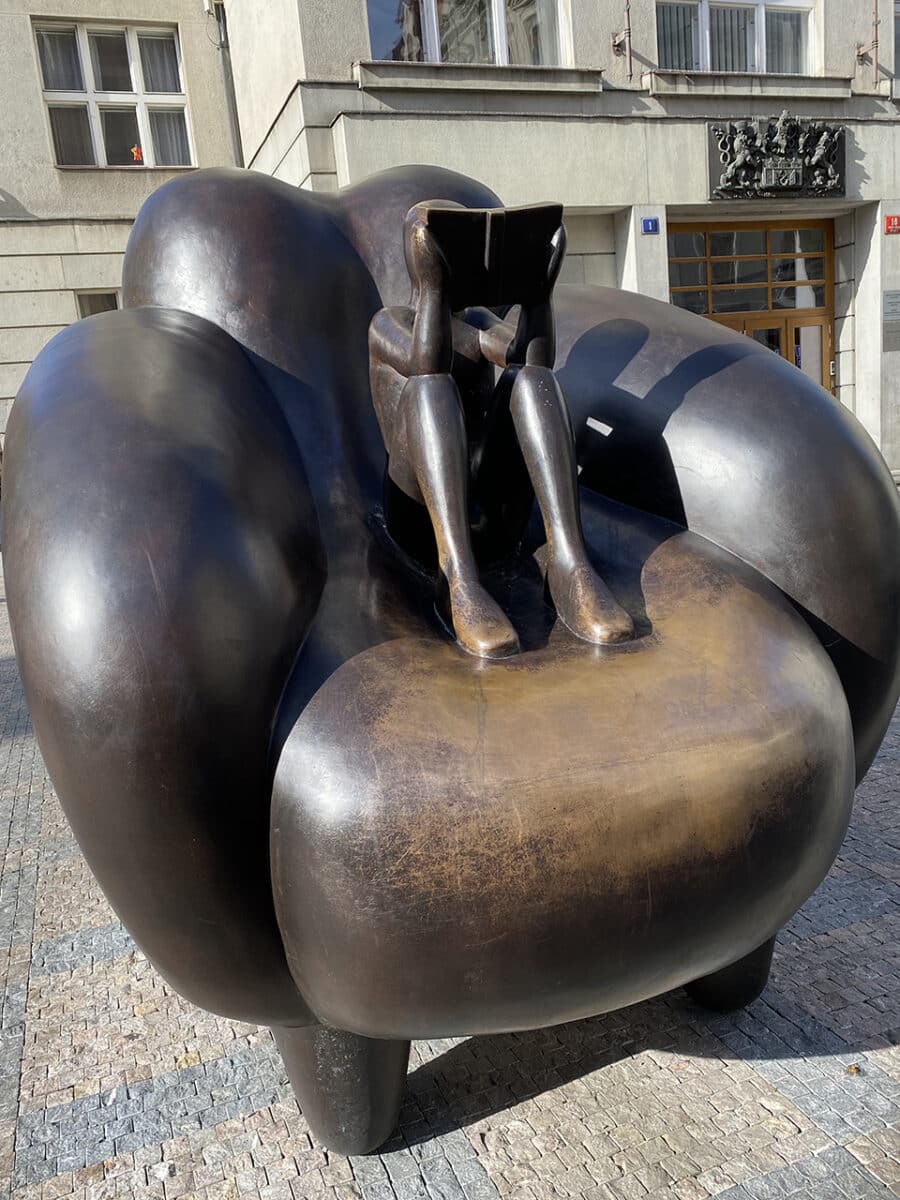 GREAT PLACES TO EAT & DRINK IN PRAGUE
Sad Man's Tongue, Bar & Bistro. This is a great place for handmade burgers. The restaurant was busy. After a brief wait, the server took us to our table. It has a bit of a 50s vibe to it, with entertainment and décor to match. We ordered our meals, which included two small beers, a side of huge cheesy onion rings and burgers with hand cut fries.
I opted for a burger with a black cherry bourbon sauce and Vicky had one covered in all kinds of pickles. These burgers were incredible and so tasty. You must visit this place if you are ever in Prague. The price for all this was 739CZK, which was approximately £25. Address: Konviktská 7, 110 00 Staré Město.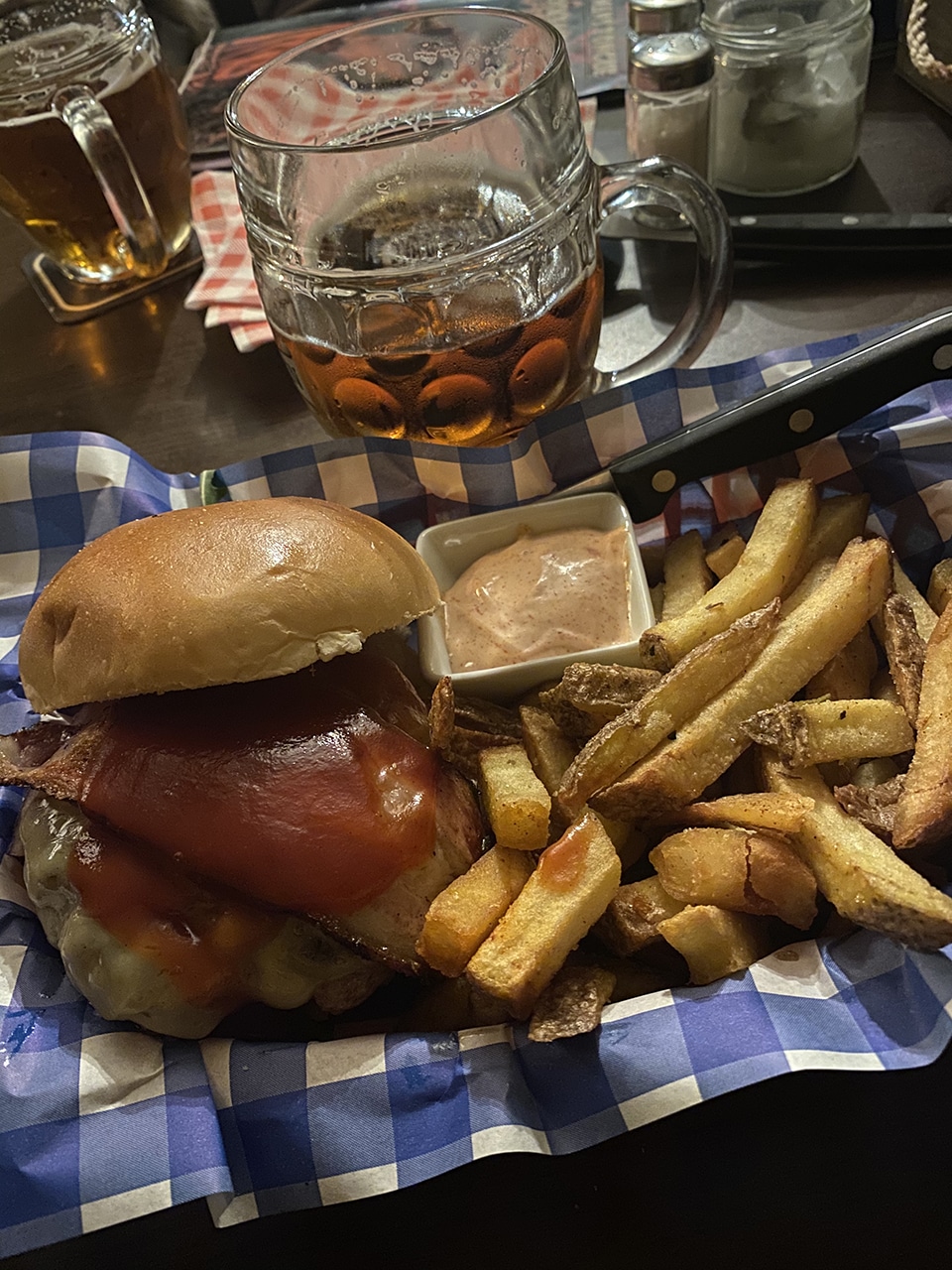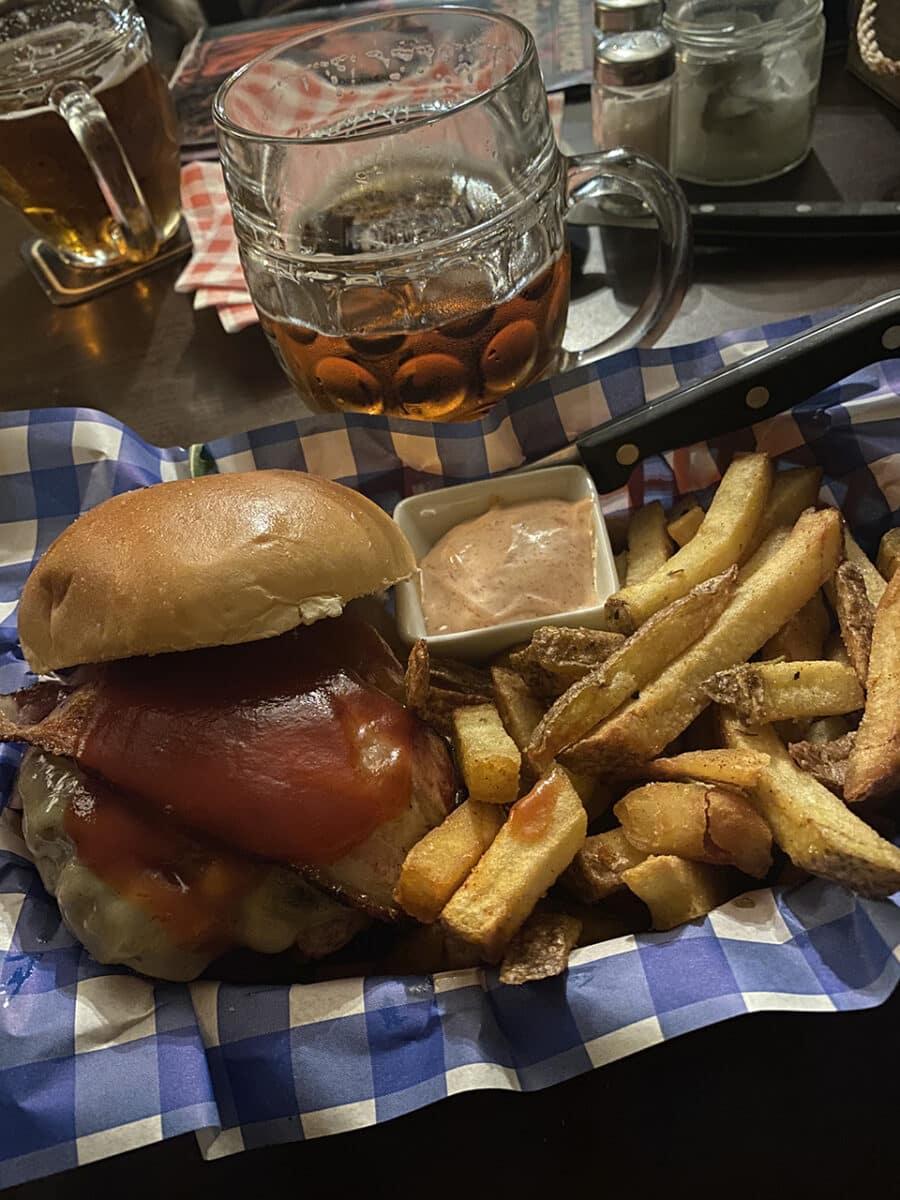 Try a Chimney Cake. We found a place called Good Food Coffee and Bakery for Trdelník. The traditional chimney style cakes cooked over a spit, full of ice cream and fruit I am sure you have all seen. It was dessert after a meal, or at least that was our excuse. Adress: Karlova 160/8, 110 00 Staré Město.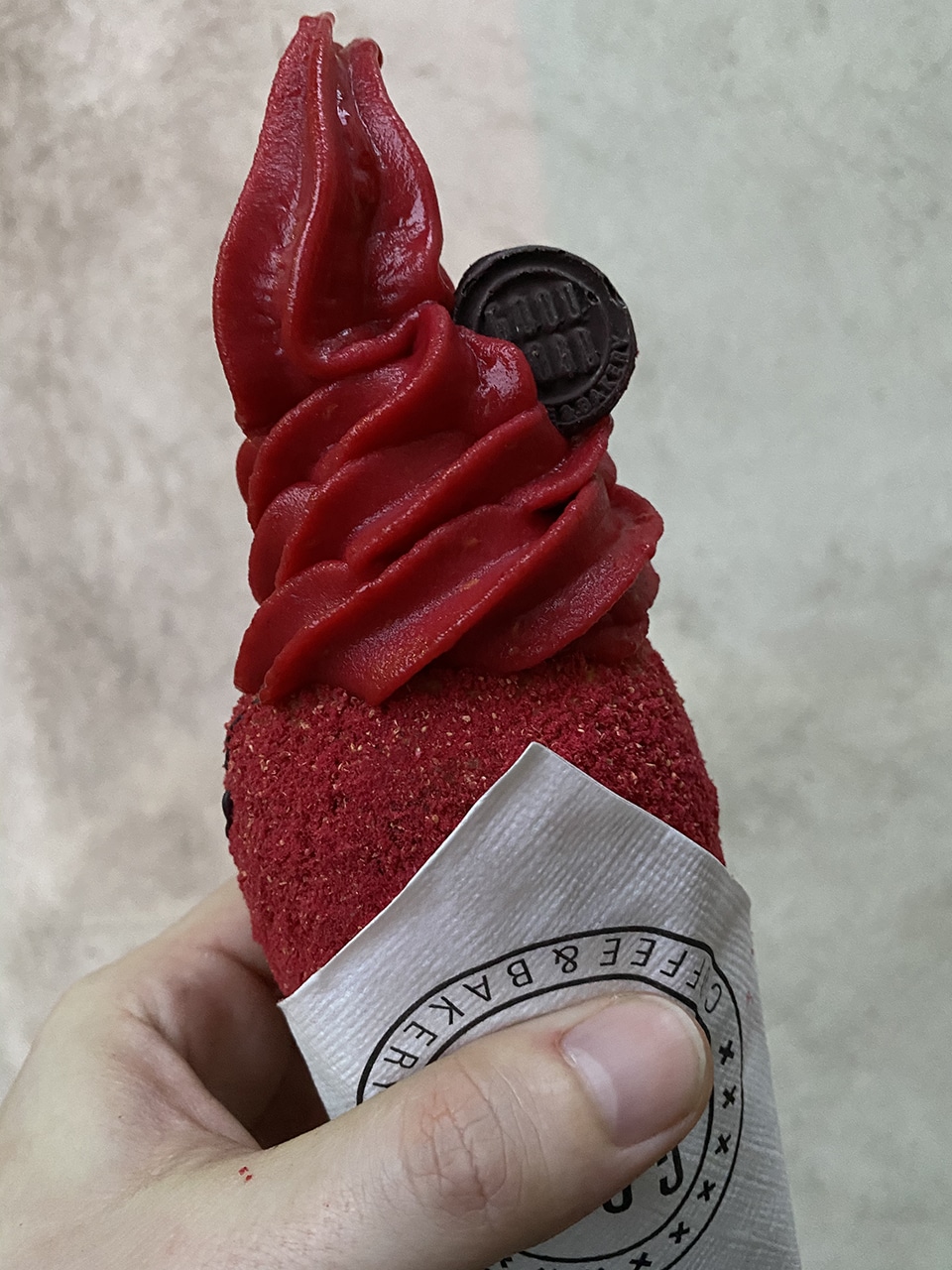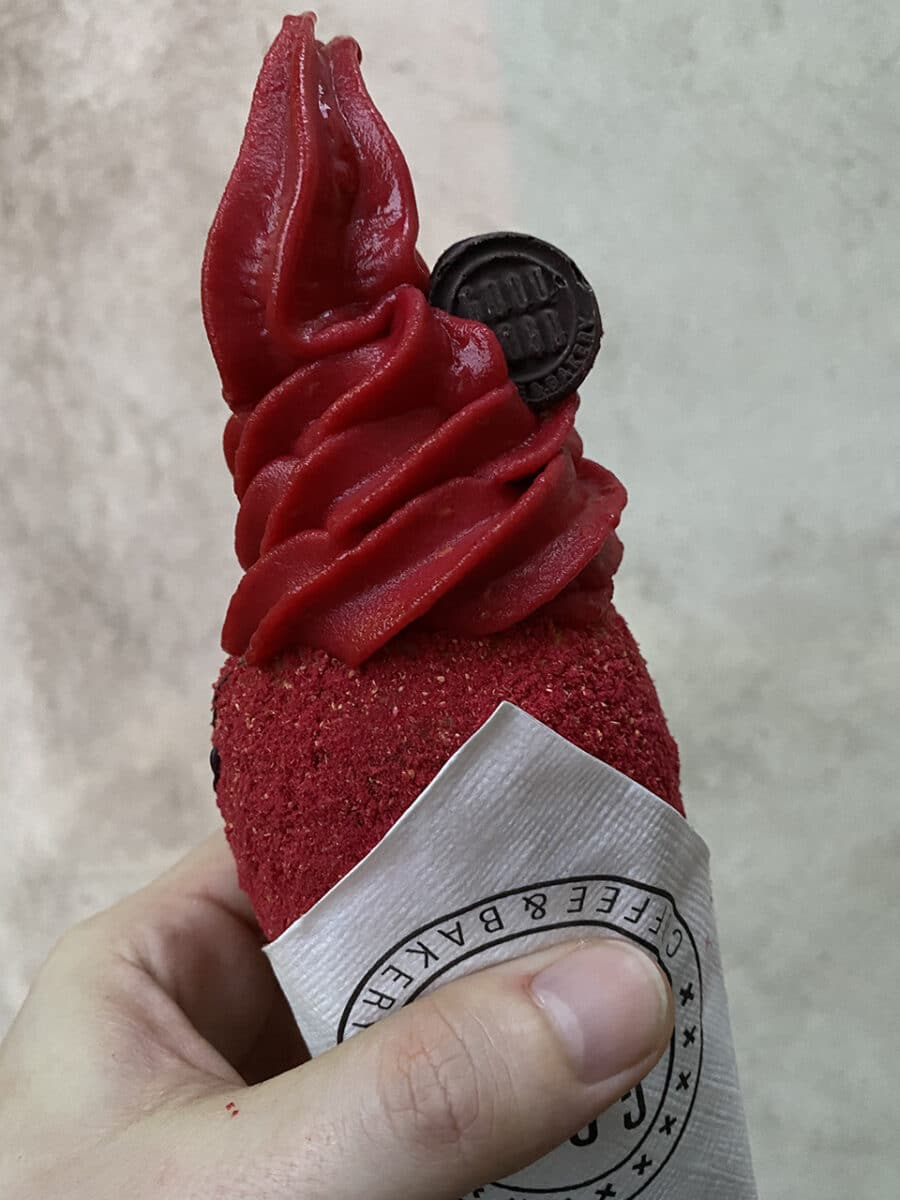 Choco Café is a small cafe that serves the most delicious hot chocolate and cake. Vicky chose a dark hot chocolate with cherries and rum and mine was milk chocolate with strawberries and coconut rum. Address: Liliová 250/4, 110 00 Staré Město.
TASTY GINGERBREAD
Like many European cities, the Czech Republic is known for its Gingerbread. Vicky found a shop that sold some of the best Gingerbread in Prague. Perníčkův sen is in the Old Town area. It is a small shop but packed with some of the nicest Gingerbread I have ever seen. All skilfully decorated with different coloured icing. We came away with a bag full.
VISIT A MEDIEVAL TAVERN
We found this place using Google maps, and we thought it might be interesting to visit. Strangely enough, we saw this place on our way up to Prague Castle and remarked how scruffy it looked for a place to eat. Little did we know it was actually a medieval themed tavern called U krále Brabantského. It had some fantastic reviews and looking at the photographs on Google, the food and the decor looked great.
Entering the bar area, we could not believe how dark it was, and when we say medieval, candlelit, dark corners, skulls, vaulted ceilings, wooden tables and chairs, suites of armour and chains. It was superb!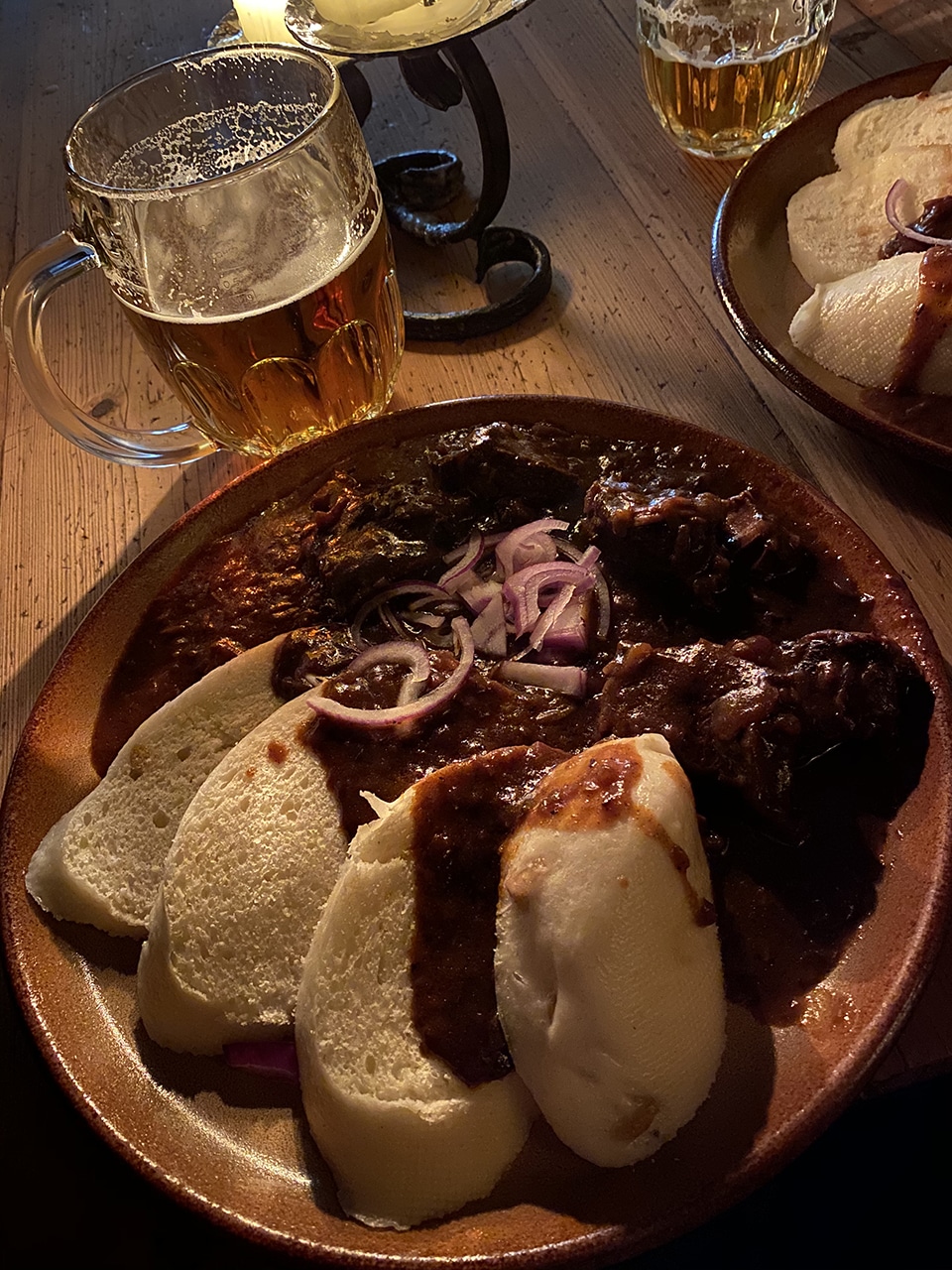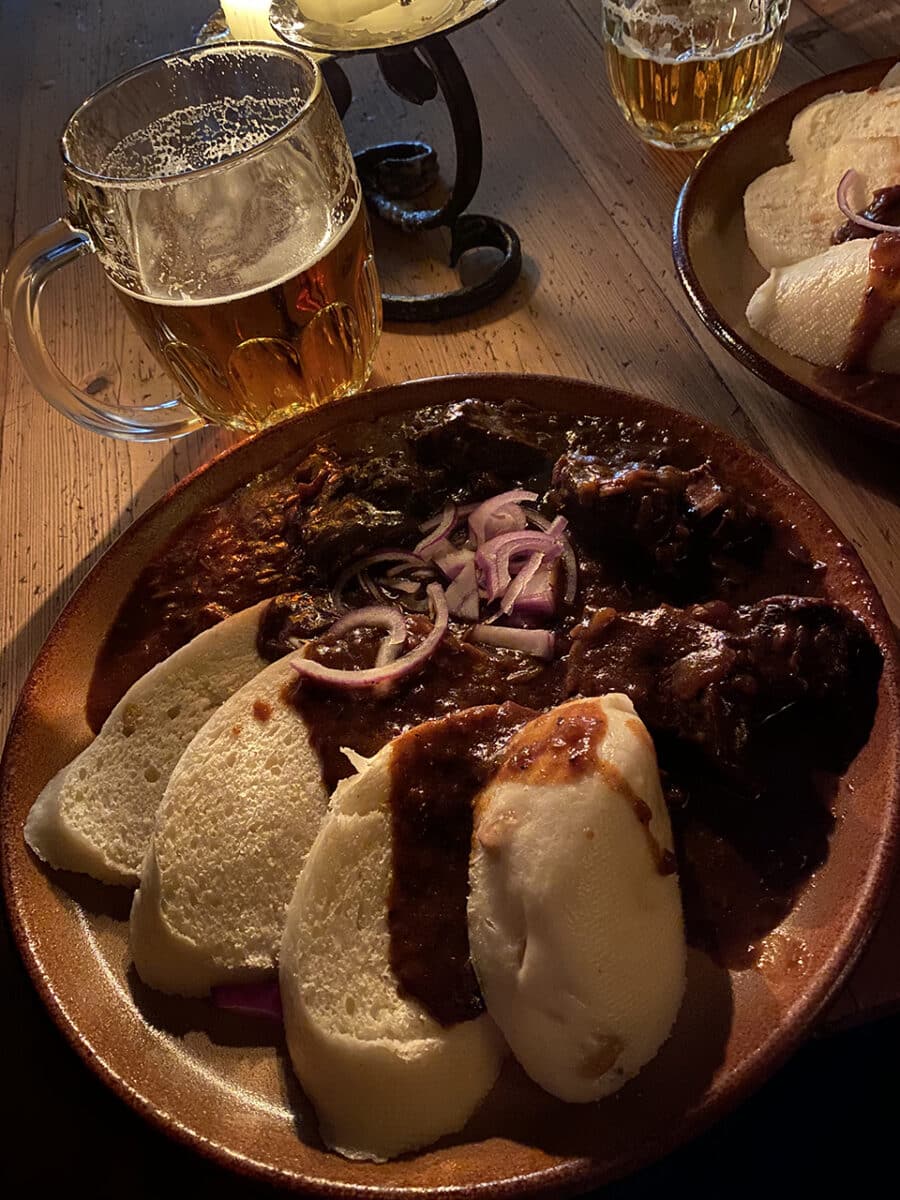 GREAT FOOD AND A GREAT EXPERIENCE
A barmaid dressed in medieval attire showed us to our table. She said little and basically just said "drink?". On the reviews we had read for this place, we saw that this is the norm. The staff do not speak and basically act like they probably would have done all those hundreds of years ago. Our beers were ordered and brought to our table, then slammed down in front of us.
We both ordered traditional Goulash with dumplings. Again, the food was presented on medieval style plates and slammed down. The food was delicious. Fantastic value for money too. The atmosphere really set it all off.
For more information about Prague, visit the official tourist board. Prague.eu.
PERFECT PRAGUE
We had a great time in Prague, and we probably would go back again. It is an amazing city with so many wonderful things to see and do. You could even use it as a base to explore more of the surrounding towns and cities. How would you spend three days in Prague? Let us know in the comments below.
If you would like to see more fantastic photos from this trip, some that might inspire you to visit, check out 33 Photos to make you fall in love with Prague.
---