When it comes to Barcelona, we like to think we know our stuff. Myself and Vicky have visited at least 6 times between us. Before the Pandemic of 2020, we used to make a yearly pilgrimage. So we are long overdue another visit. These are some of the best things to do in Barcelona.
We know the city like the back of our hand and even though we have visited several times, we still haven't seen everything. I am sure that over time we will add more activities, experiences, and photos to this post, so bookmark it for future updates.
LA SAGRADA FAMILLIA
What better place to start than La Sagrada Familia? Probably Antoni Gaudí's most well-known work, and an absolute must visit during your stay in Barcelona. A mecca for tourists from all over the world.
It is currently the world's largest unfinished cathedral. In 2010, Pope Benedict XVI consecrated the church and made it a minor basilica. They also registered it as a UNESCO World Heritage Site in 1984.
Although Gaudí is the leading man and architect, if it wasn't for the vision of the bookseller, Josep Maria Bocabella, after his visit to the Vatican in 1872, the project may have never even got off the ground. He returned with ideas to build a church inspired by the basilica at Loreto.
Gaudi started work on the church in 1883, and was appointed as lead architect in 1884.
There are only two people buried within the walls of La Sagrada Familia, Josep Bocabella and Antoni Gaudí.
For more information and details of when the project is due to be finished, visit Sagrada Família.
Admission tickets into the church cost €26 per person. This is for a standard entry ticket. There are several other options for entry that include guided tours and access to the towers.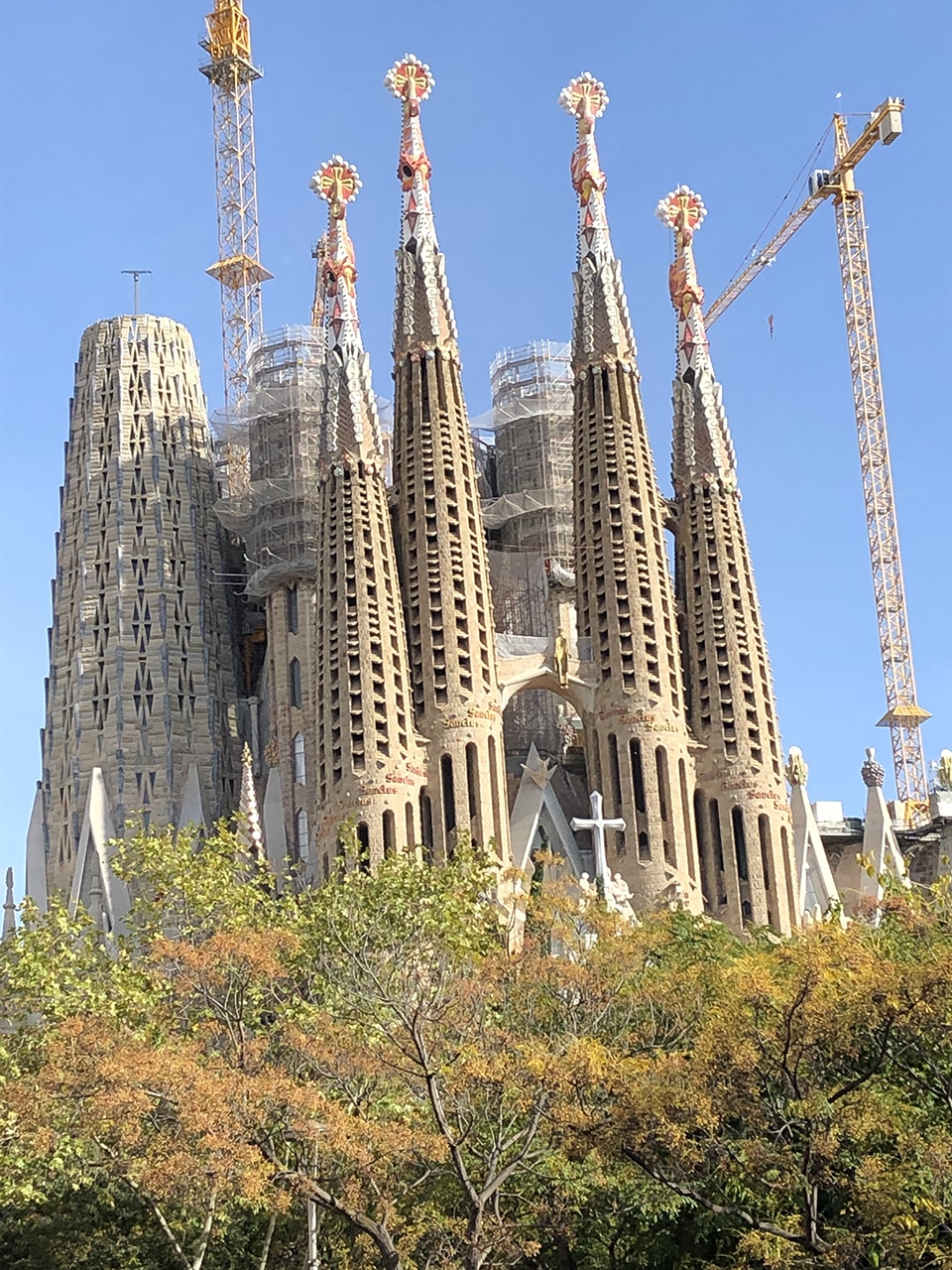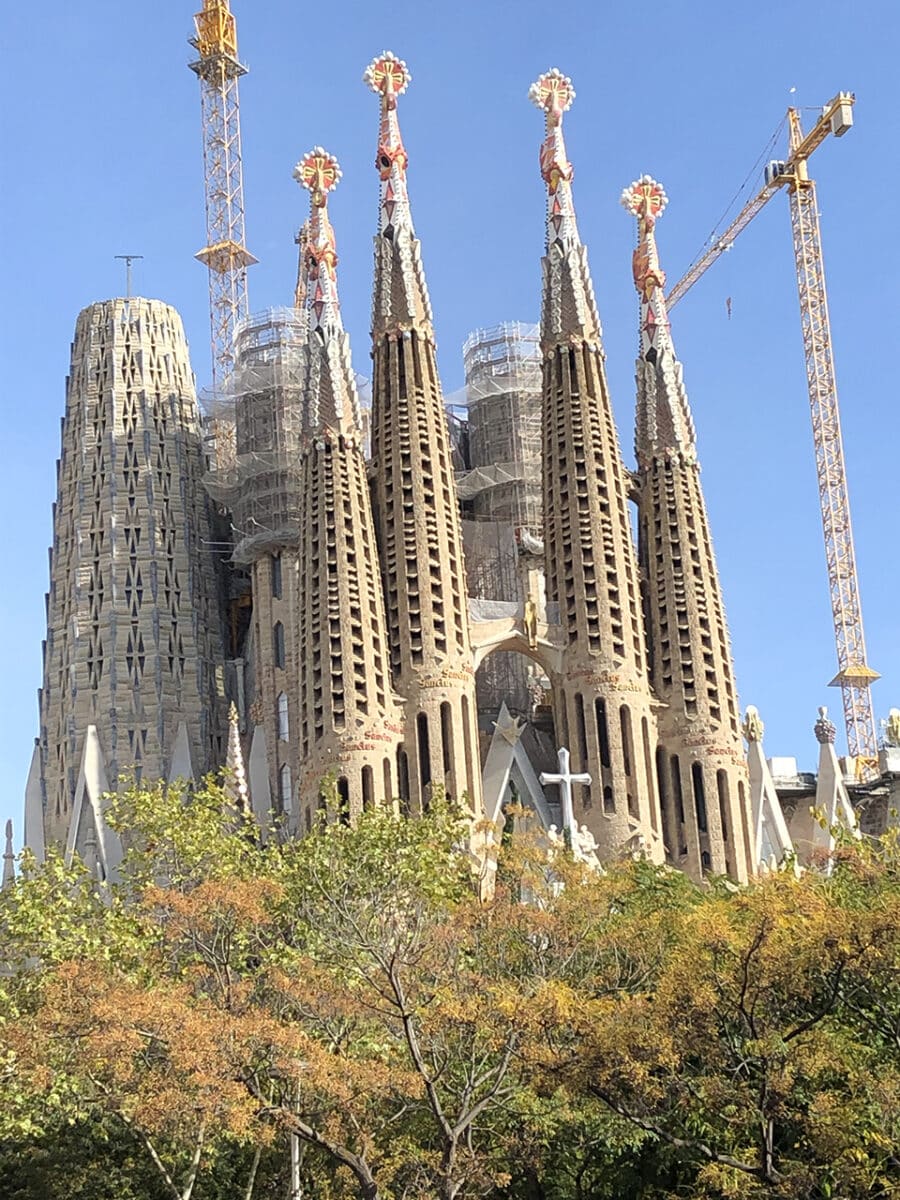 SEE GAUDI'S GRAVE
Gaudí was tragically killed on the 10th June 1926 at 73, whilst walking to church. A tram hit him and because he was not immediately recognised due to lack of ID and worn clothing; they thought he was a beggar; he didn't receive immediate help. Gaudí died a few days later. They lay him to rest within the crypt of the church.
In the museum underneath, are small viewing windows so you can gaze down on his eternal resting place.
VISIT PARC GÜELL
Beautiful gardens, sensational architecture and buildings covered by bright mosaic tiles, glass and ceramics make Parc Güell a unique experience. Gaudís famous park on Carmel Hill in the middle of the city is great for a quick visit, for relaxation or for a picnic.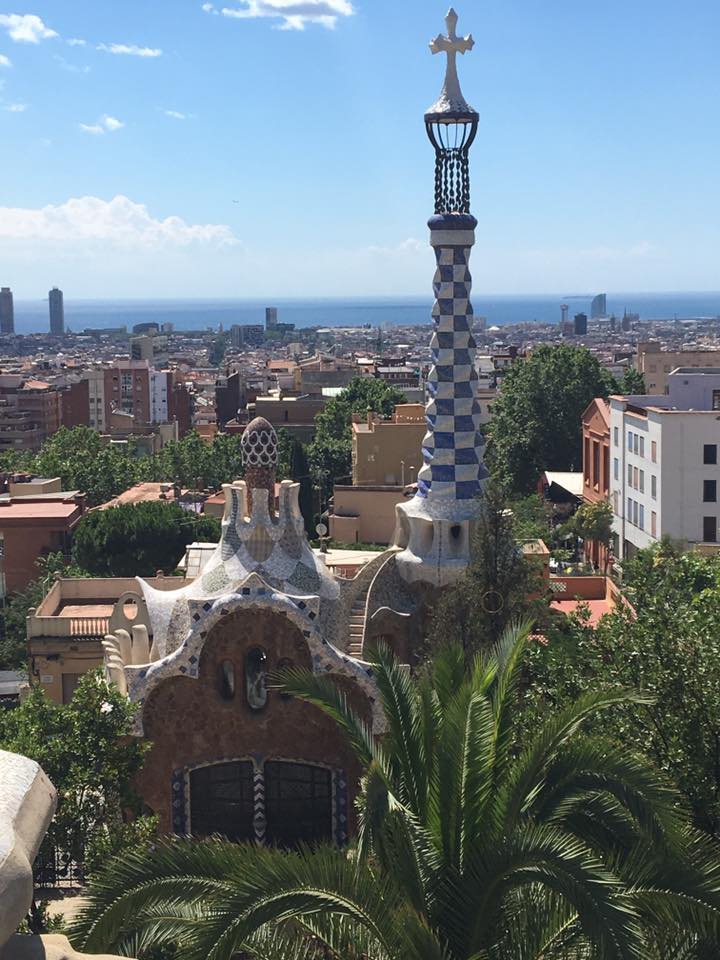 CASA VICENS
Take a walk into the Gràcia district of the city and find Casa Vicens. Gaudí designed this grand four-floor mansion house in the 19th century. It was his first commission, and it was this that paved the way for many more of his masterpieces throughout the city.
PALAU GÜELL
Another mansion designed by Gaudí for the industrialist tycoon and politician, Eusebi Güell. He built it between 1886 and 1890. This was one of the first of many projects between Güell and Gaudí.
EL DRAC DE GAÜDI, FINCA GÜELL
A house inherited by Eusebio Güell from his father. Güell commissioned Antoni Gaudí to re-design and make improvements to it. Gaudi added stables, a gatehouse, and a huge iron gate with its famously fierce dragon as part of the design.
PARC DE LA CIUTADELLA
Citadel Park is a lush green oasis, with a lake, the Parliament Building of Catalonia and Barcelona Zoo. There are monuments, sculptures, and even a museum.
When Gaudí was at University, he even had a hand in designing the park's fountains under architect Josep Fontserè who was commissioned to build the park in the 19th century.
CASA BATLLÓ, THE HOUES OF BONES
Next up, Casa Batlló. Known affectionately by the locals as Casa dels Ossos, the 'House of Bones', because of the way stone columns in front of the windows resemble them.
Josep Batlló bought the building in 1903, and in 1904, Josep hired Gaudí to renovate it. In true Gaudí-style, he did just that. The results are out of this world. The house it one of my favourites to visit.
It is said that the top of the building, where the middle tower, cross, and bulb are, resembles a lance. The arched roof and tile works resemble the spine of a dragon with the lance being plunged into its back. Possibly a reference to the patron saint of Catalonia, Sant Jordi.
They celebrate the festival of Sant Jordi every April 23rd, and is incredible if you get the chance to take part.
A standard adult ticket into Casa Batlló is €35, but an extra €4 if you buy it from the box office.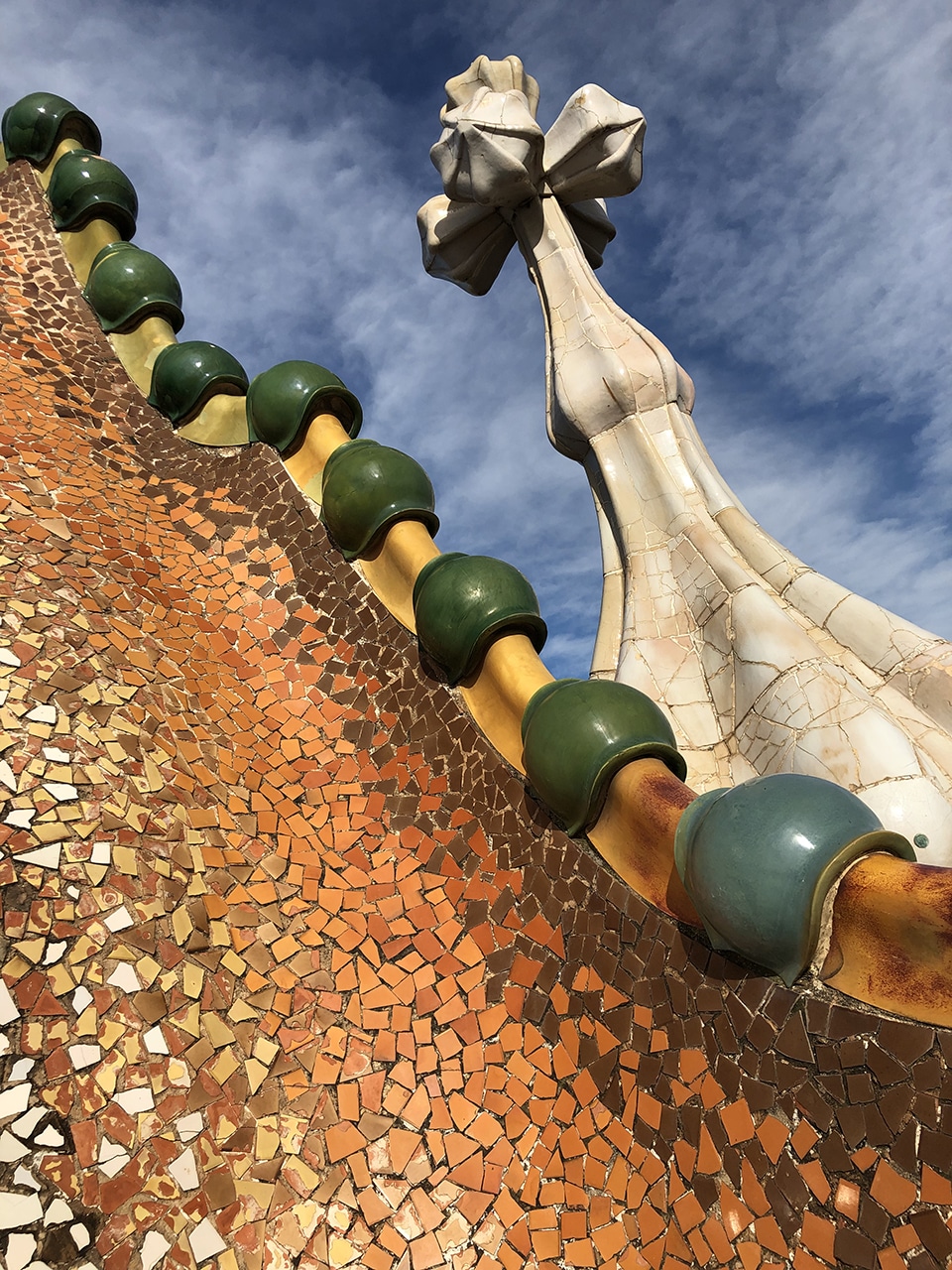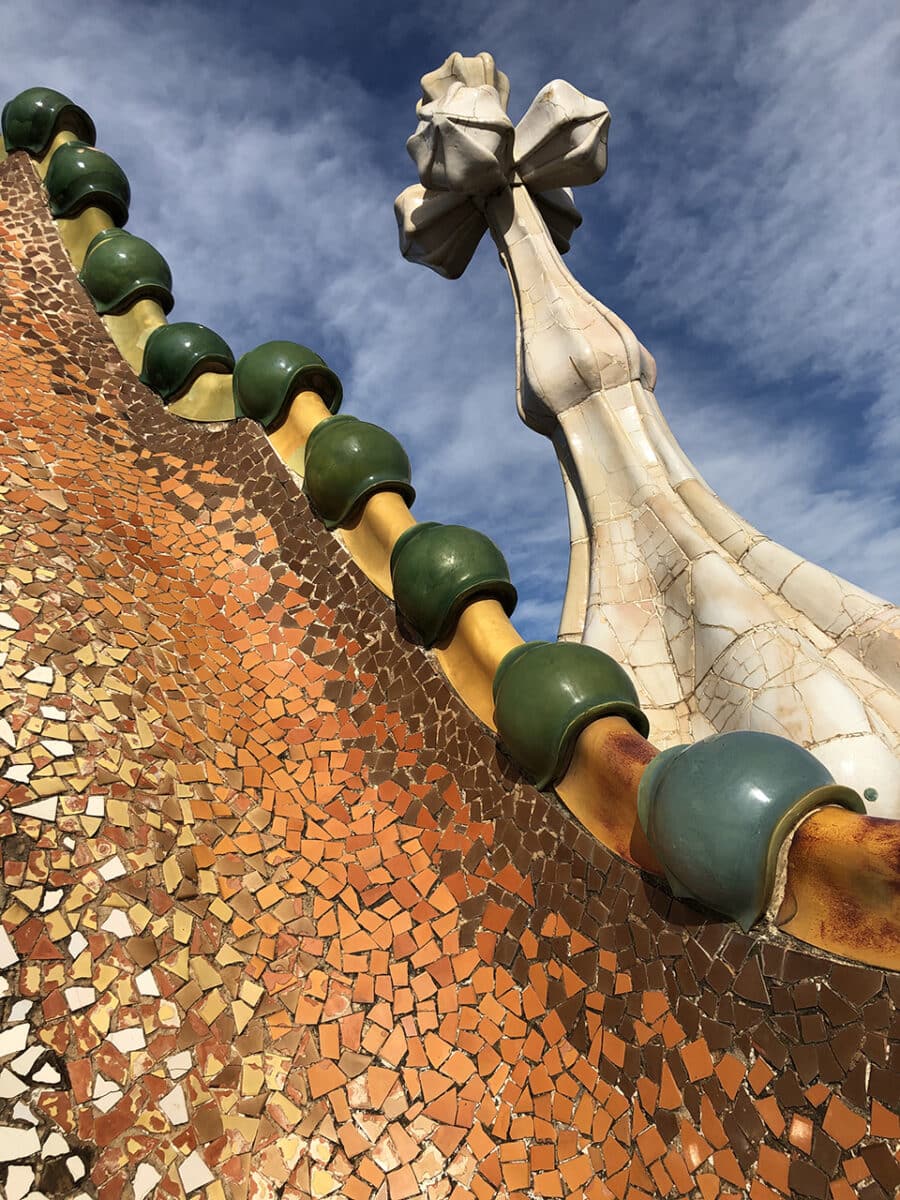 CASA MILÀ, LA PEDRERA
La Pedrera 'The Stone Quarry', another of Gaudí's famous UNESCO World Heritage sites. It was designed and built between 1906 and 1912 and is another favourite building of mine. It is an absolute masterpiece. One standard admission ticket, skip the line and an audio guide is €25.
CASA AMATLLER
Casa Amatller designed by Josep Puig i Cadafalch of Casa de les Punxes fame. Along with Casa Batlló and Casa Lleó Morera, all next door to each other, they make up the city's famous 'Illa de la Discòrdia', The Block of Discord. All three buildings here showing off their unique and modernist design, all sandwiched together. It was home to chocolatier Antoni Amatller and his family.
Take part in a guided tour and go around the house room to room. Here, you will learn about the history of the family and their chocolate dynasty. Afterwards you get a cup of Amatller hot chocolate to taste for yourself. It is seriously delicious!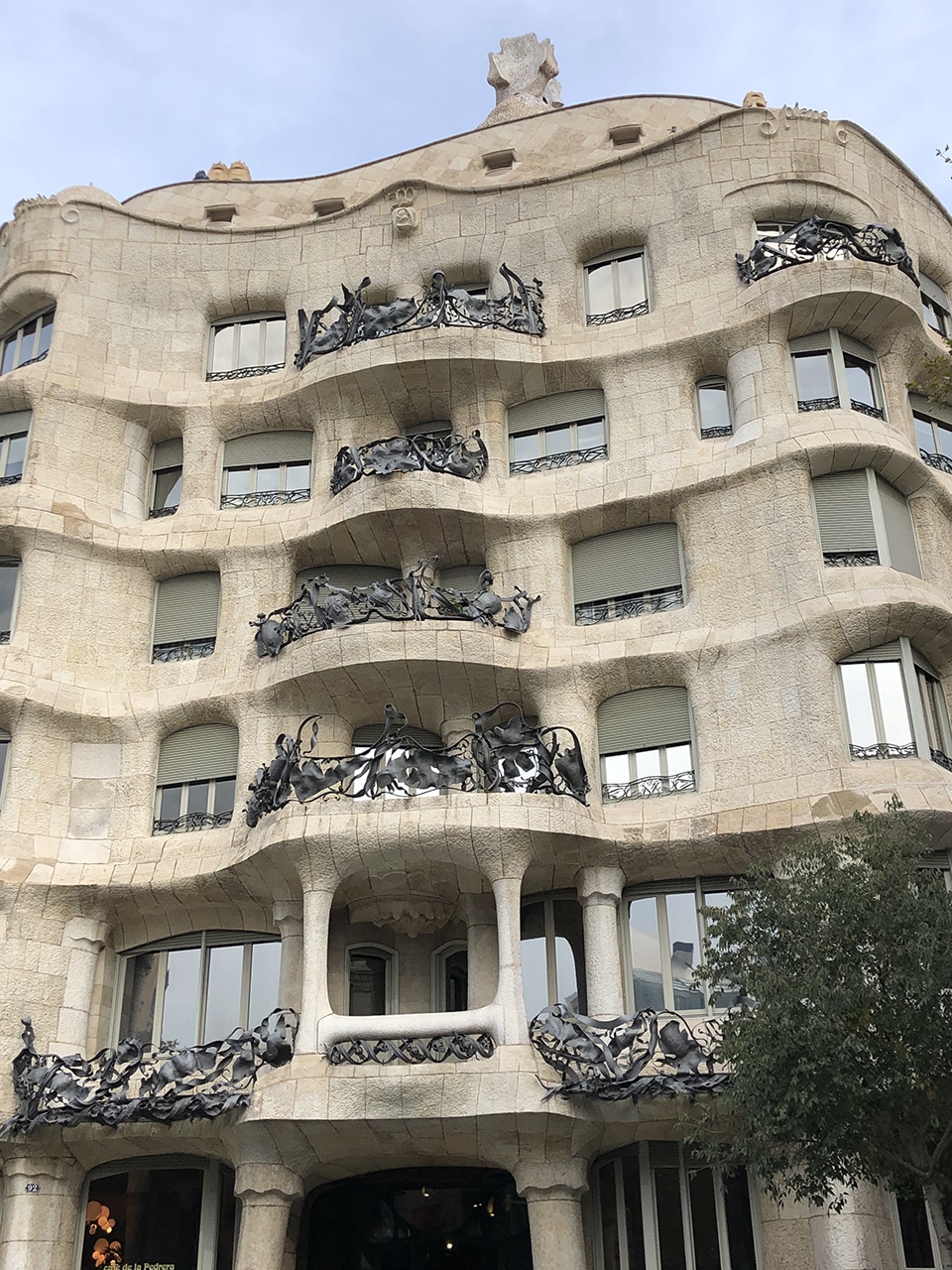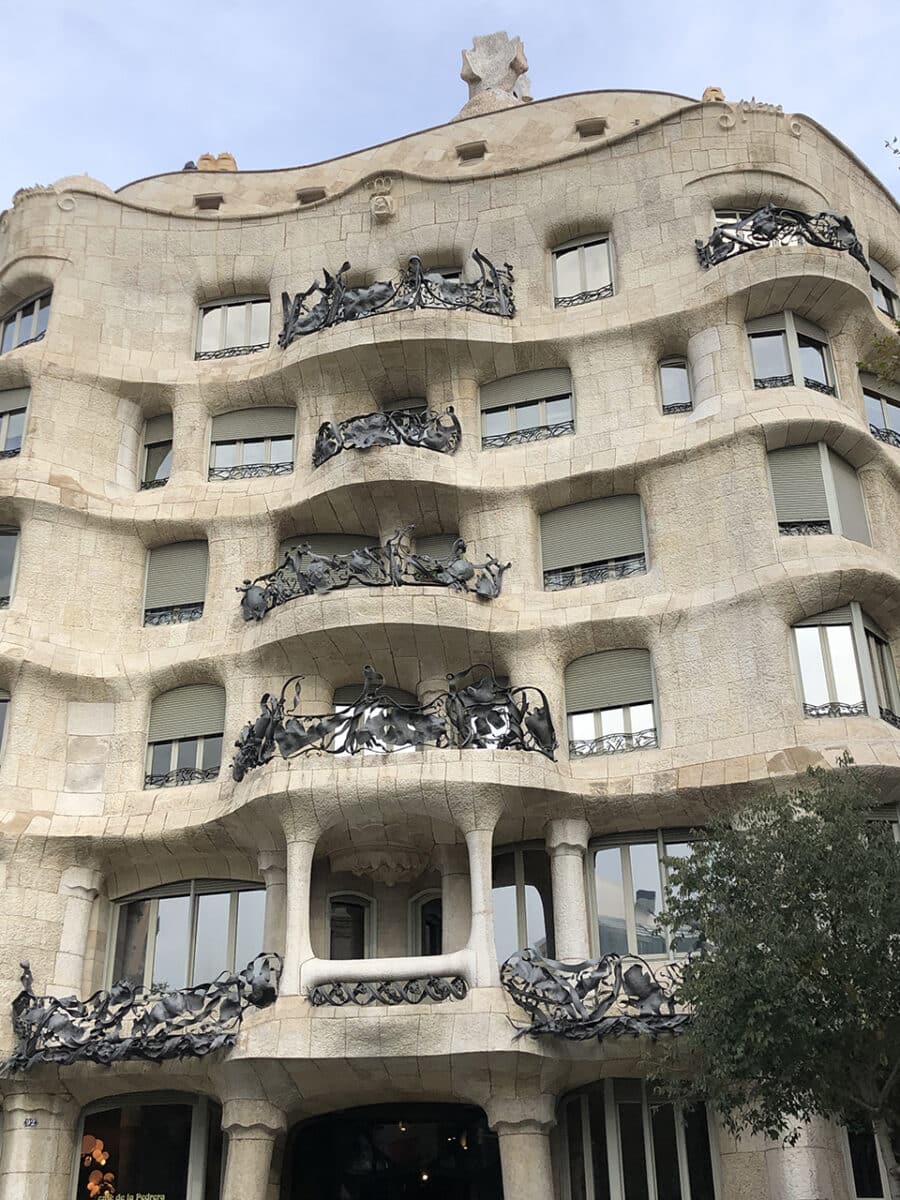 CASA DE LES PUNXES
This is an absolutely gorgeous building designed by architect Josep Puig i Cadafalch. Built to resemble a medieval castle with its iconic pointed towers. You will learn all about the architect himself and the history of the people who lived here. You will also learn the fascinating story of Sant Jordi, Saint George, and his connection to the people of Catalunya.
Take part in an audio guided tour, which cost €12.50. After the tour, you get to go on the roof and explore inside the towers and look out across the streets. Worth the visit.
MERCADO DE LA BOQUERIA
This is one of the busier markets for tourists and the most well-known because of its location in La Rambla. If markets are your thing, we recommend you also check out Mercat de Sant Antoni and Mercat de Santa Caterina. Both are just as incredible as La Boqueria, just not as busy!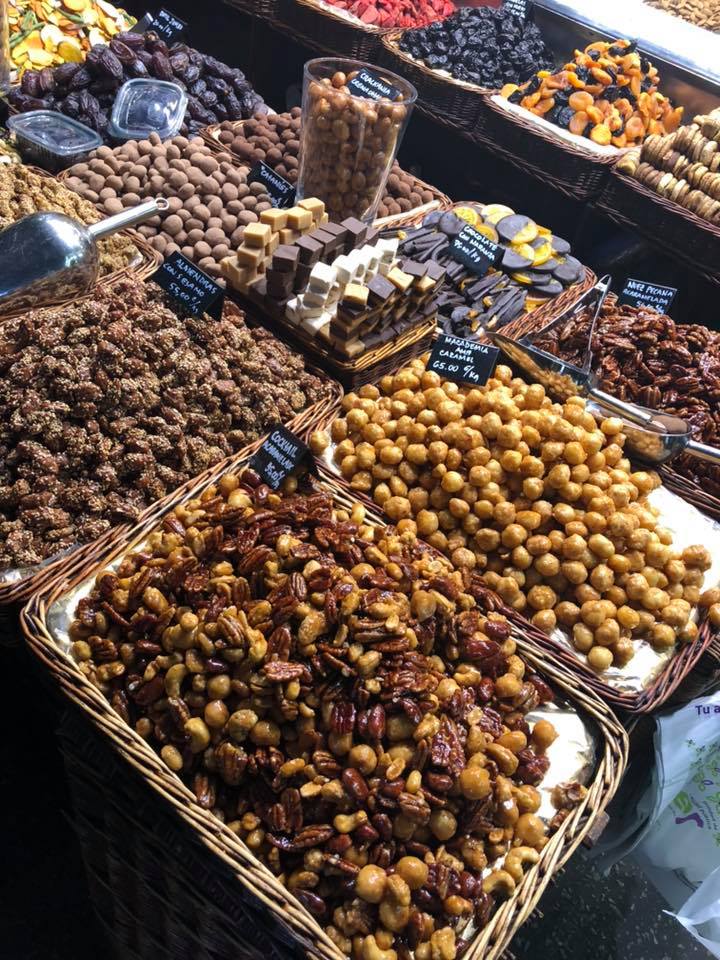 BARCELONA CATHEDRAL
In honour of Saint Eulàlia, whose body lies in the cathedral crypt. The church even has 13 of its own geese, representing the age at which Saint Eulàlia was martyred. You can find these outside in the cloister courtyard. Being a church admission is free, so make sure you throw a few coins into a donation box.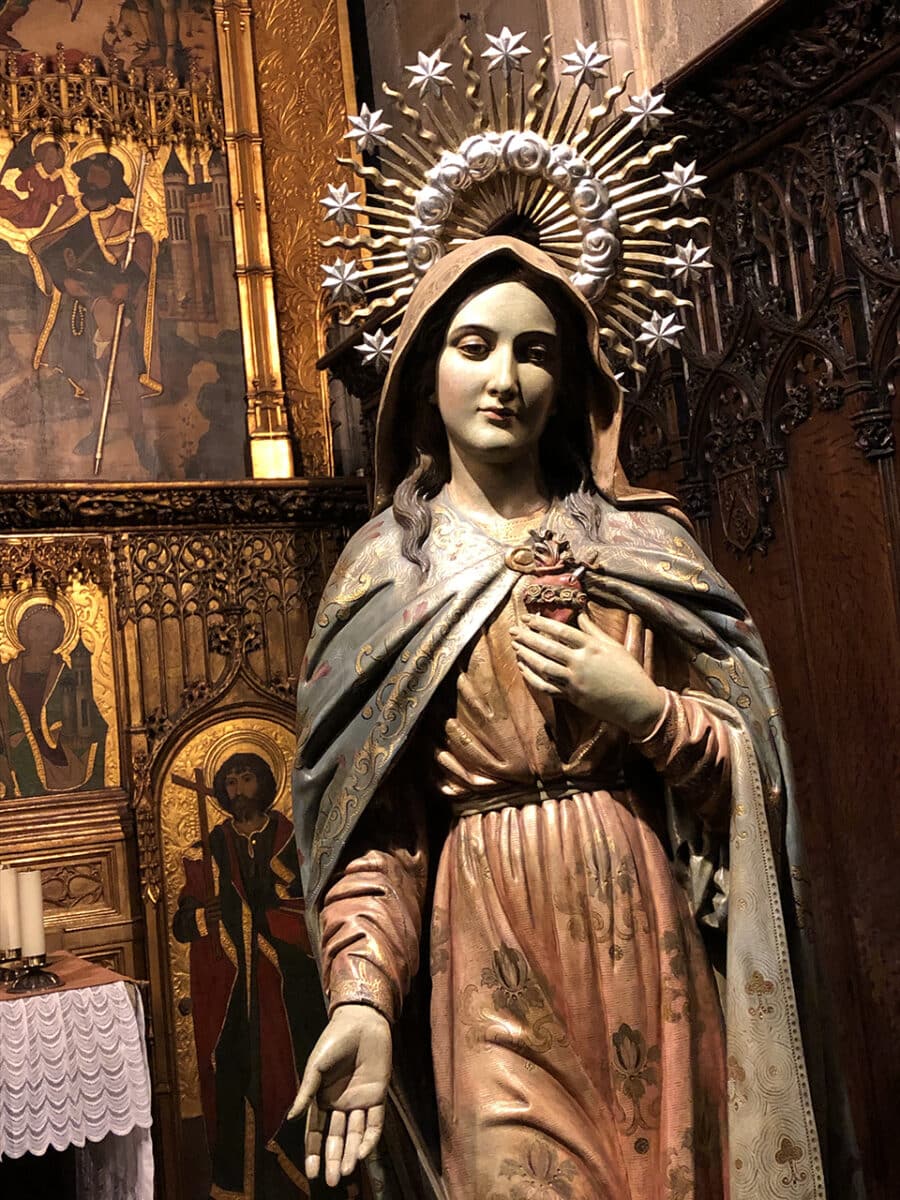 BASÍLICA DE SANTA MARIA DEL MAR
This church features in the best-selling novel La Catedral del Mar, Cathedral of the Sea, which was then turned into a Netflix series in 2018.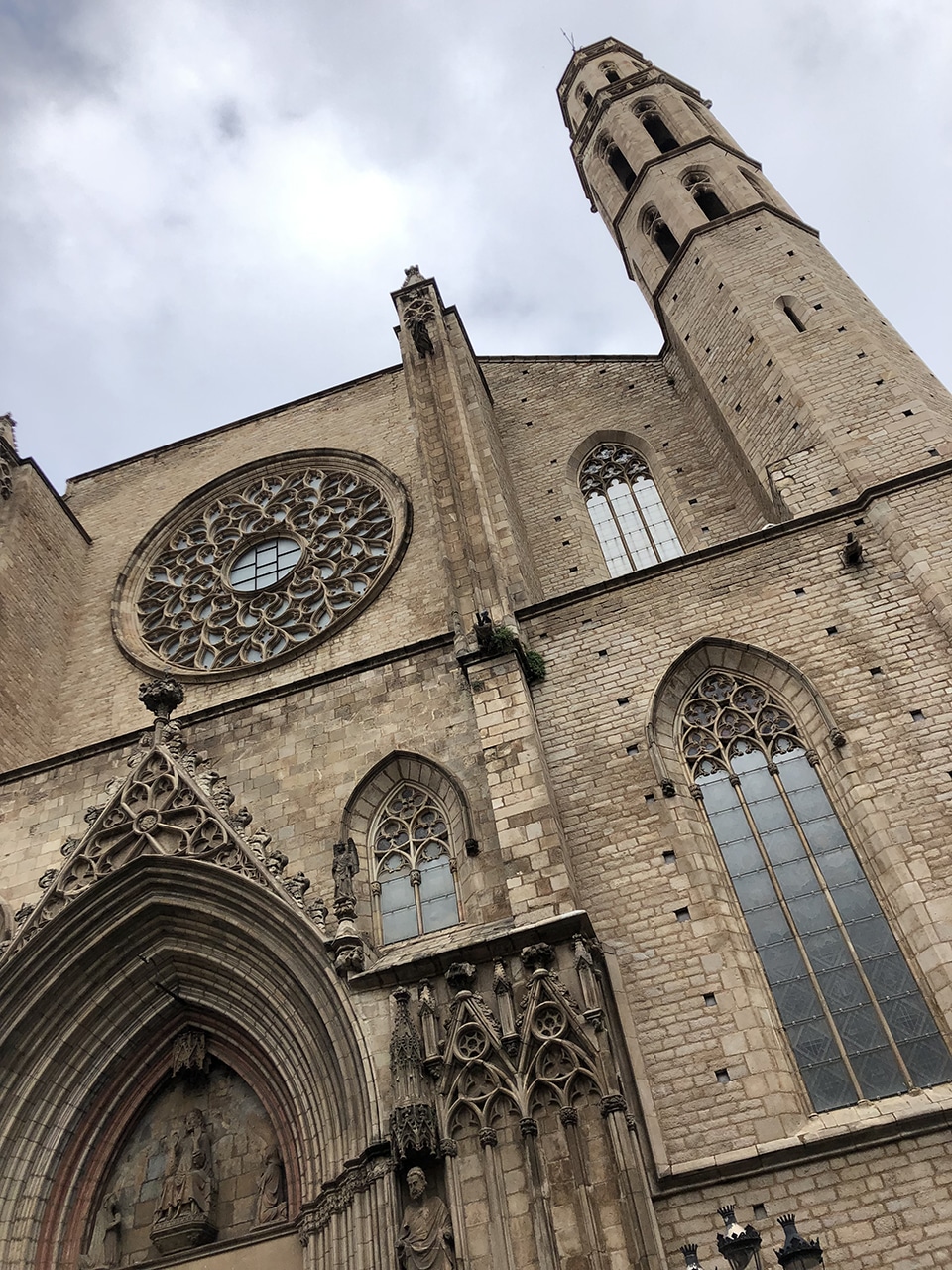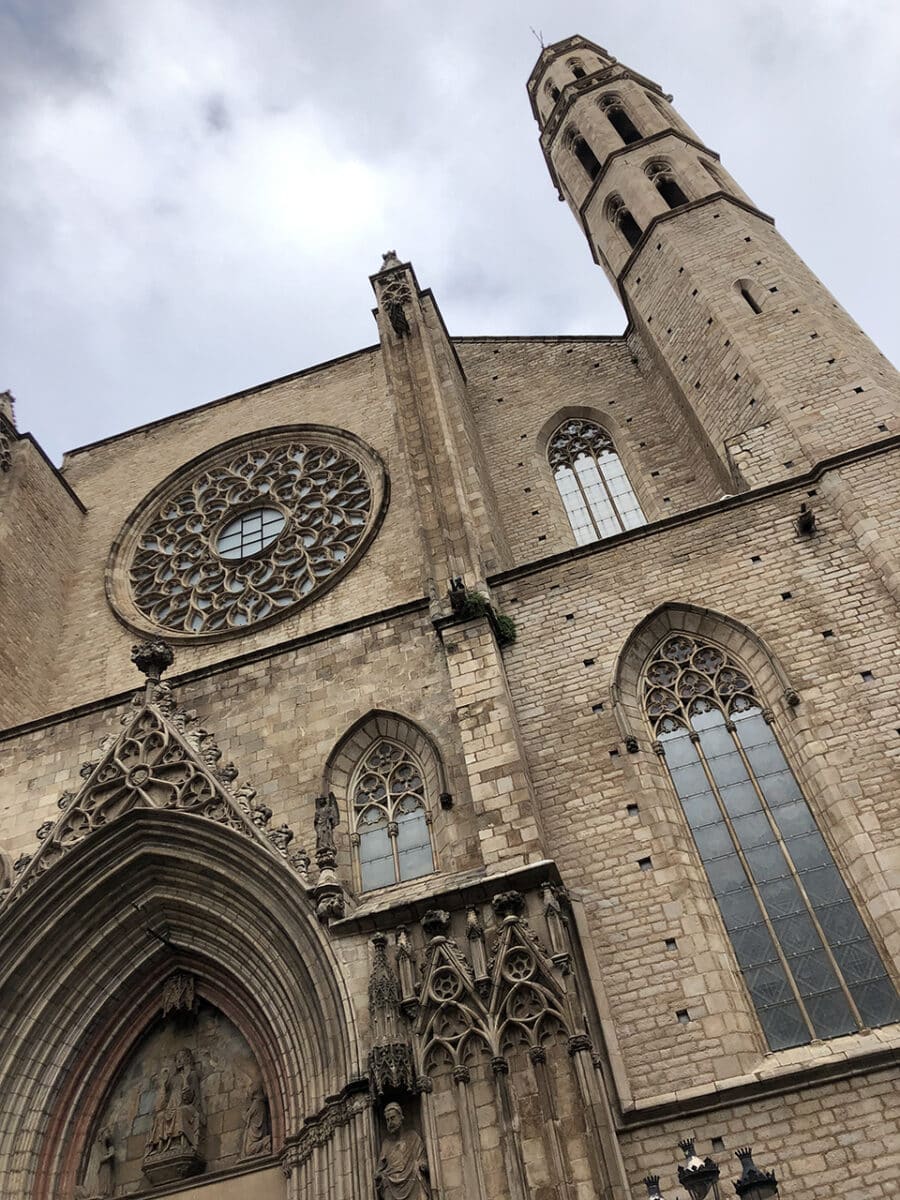 KISS OF FREEDOM
Also known as 'The world begins with every kiss'. This incredible work of art made from thousands of photos of locals was unveiled for the 300th anniversary of Catalonia Day. You can find this close to the Cathedral of Barcelona in a small square called Plaça d'Isidre Nonell.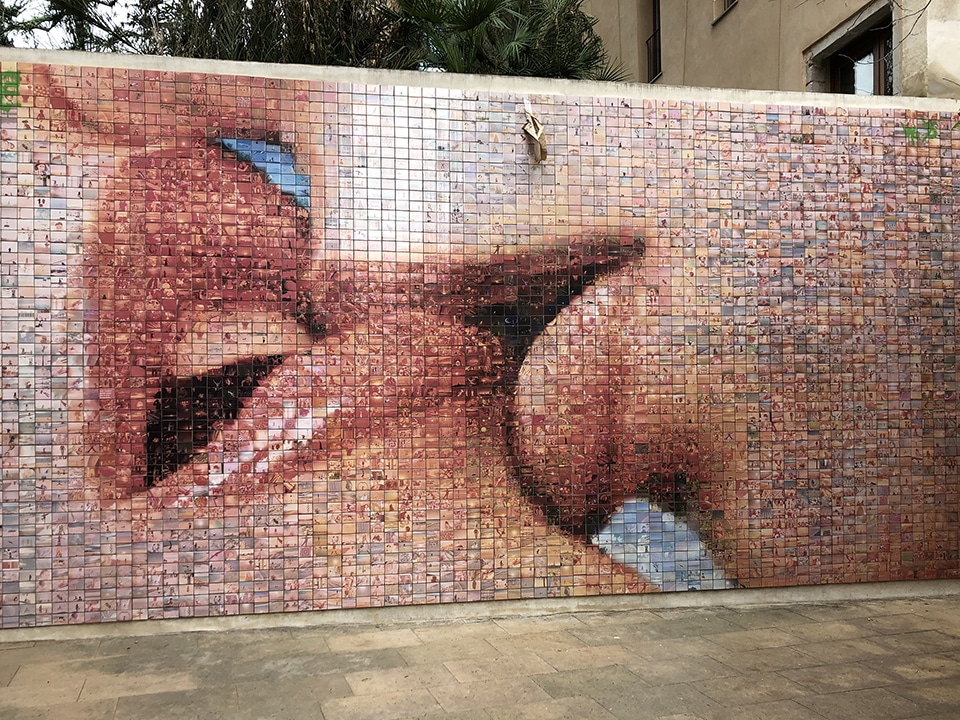 FERNANDO BOTERO'S 'CAT'
I am a huge fan of Botero's work, so seeing this in Barcelona makes me happy. Simply named 'Cat', it stands in Rambla del Raval. Made in Botero's typical chubby style, you may have also seen his 'Horse' in Terminal 2 of El Prat Airport, Barcelona.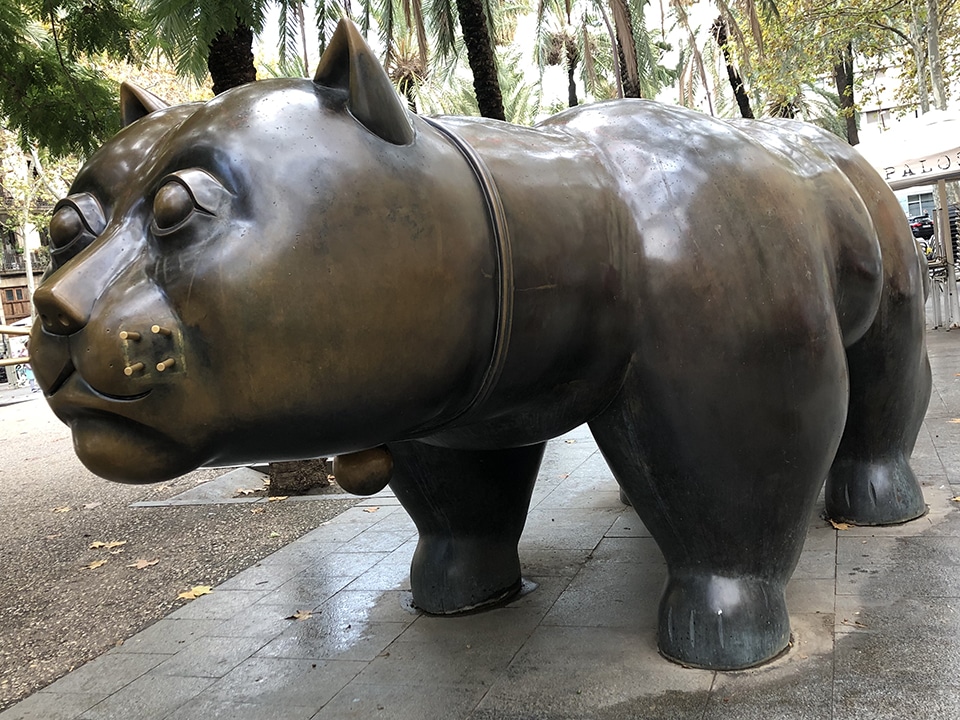 BUNKERS DEL CARMEL
Known as Bunkers del Carmel, or if you are looking at a map Turó de la Rovira. Bunkers is a place that gives you the most amazing views of the Barcelona skyline. It was once used to defend the city from aerial attacks during the brutal civil war from 1936 to 1939. You can reach the site from Parc Güell, as it is roughly a 20-minute walk.
THE OLYMPIC STADIUM
They originally built this arena for the 1929 International Exposition. They then renovated it in 1989 to host the 1992 Summer Olympics and 1992 Summer Paralympics. It is still used to this day and has hosted several large events and concerts.
The stadium sits high on Montjuïc amongst other buildings built for the Olympic games. Up here you can also see the Telefonica tower, built to help transmit coverage of the games.
FC BARCELONA, CAMP NOU TOUR
One of the most famous clubs and stadium in world football. Visit the home of FC Barcelona and the museum that holds countless trophies the club has won, including five European Cups. Visit the stands and walk the tunnel to the pitch players like Lionel Messi, Johan Cruyff, Luis Suárez and Ronaldinho have tread. If you're really lucky, you could even get a ticket to a match. One ticket for the stadium and museum tour is €28.
ARCO DE TRIUNFO
Josep Vilaseca i Casanovas built the Arch of Triumph in 1888 for the Barcelona World Fair. It is at the end of Passeig Lluís Companys park and gardens, also another great place to wander through.
THE CEMETERIES OF BARCELONA
If you are like us and love a good cemetery, then Barcelona has a couple of good ones. No matter where we travel to, we always end up in a cemetery, either a planned visit through research, or we just come across them. I always think cemeteries outside of England are so much more beautiful. Some of them are like open air museums, with some beautiful monuments and memorials.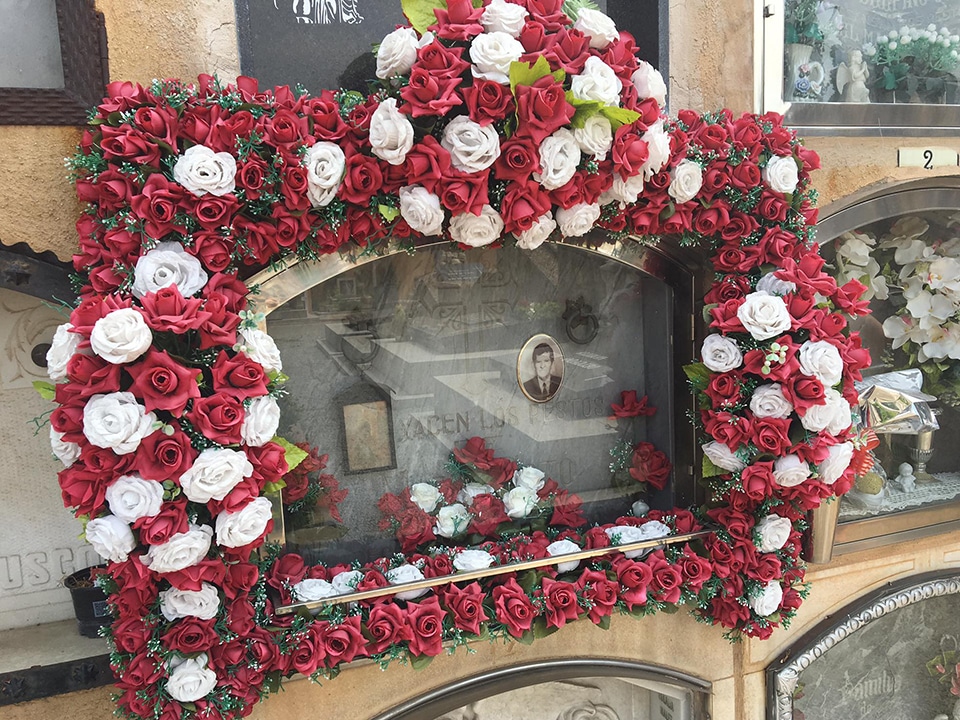 RIDE THE MONTJUÏC CABLE CAR
An amazing 750m funicular ride to the top of Montjuïc costs €13 for a return trip.
MONTJUÏC CASTLE
Once you have ridden the cable car to the top of Montjuïc, you can visit the castle. The castle is an old military fortress that dates back to the 1600s. It played a huge part in the civil war. The castle is now home to exhibitions and 360-degree views over the city. Admission price to enter is €9 which includes skip the line entry.
The hill is also home to, The Cemetery of Montjuïc, Poble Espanyol, Mirador del Migdia park, a lighthouse, the Gardens of Mossèn Costa i Llobera, Joan Miró Foundation to name a few attractions. It really is an amazing place to visit.
POBLE ESPANYOL
They built Poble Espanyol for the 1929 World Fair and it is made to look like a tradition Spanish village, designed by none other than Josep Puig i Cadafalch of Casa de les Punxes fame and Casa Amatller. After the world fair, the plan was to demolish the village, but local residents saved it. Over time, it was preserved and is used for events and festivals to this day. Admission is €14.
LA RAMBLA
Barcleona's famously long street, stretching 1.2km from Plaça de Catalunya to the Christopher Columbus monument towards Port Vell. This tree-lined street is full of bars, restaurants, street artists, market stalls and more.
Food and drink here can be overpriced and terrible. Do some research first. Don't get caught out eating overpriced substandard cuisine. There are one or two exceptions, though. Spend a little more and eat better. There are some amazing restaurants in Barcelona.
THE BEACHES OF BARCELONA
The coastline of Barcelona stretches 4.5km and has some beautiful beaches to relax on, including Barcelonetta, Bogarell, and Mar Bella. The beaches are free to access. However, you will need to pay for facilities such as beds and umbrellas. The sea can be quite rough but is great for a dip in between visiting the sites of the city.
GET LOST IN THE GOTHIC QUARTER
The Gothic Quarter is an area made up of narrow medieval streets and buildings. It's an exciting place to visit full of artisan shops, trendy bars, amazing food places, entertainers and is a great place, both day and night.
PLACES TO EAT AND DRINK
L'antica Pizzeria da Michele. We knew of a L'antica Pizzeria da Michele in the city, so we had to check it out. It was just as good as the one in Naples. There are more pizza variations for you to choose from on this menu, not just the two on offer in its spiritual home in Italy. It was slightly more expensive, which we expected, almost twice the price of what it cost in Naples. Address: C. del Consell de Cent, 336, 08009.
Looking for a delicious pizza in Naples? Read: 13 Amazing things to do in Naples, Italy.
Bacoa Burgers. If you love a good burger, be it meat, vegan or veggie, try Bacoa when you visit Barcelona. This place is incredible. They even make their own Patatas bravas spicy sauce. We also recommend a local beer, Moritz, to help wash it all down.
Try their famous 'Bravas Brutales'. These are next level Patatas bravas. Made using Chorizo and Catalan sausage, they are so delicious. One of Vicky's favourite burgers here includes Truffle mayonnaise. There are several locations across the city, but two of our favourite restaurants are as follows. Address: C. del Judici, 15, 08003, (Barcelonetta beach), and Ronda de la Universitat, 31, 08007.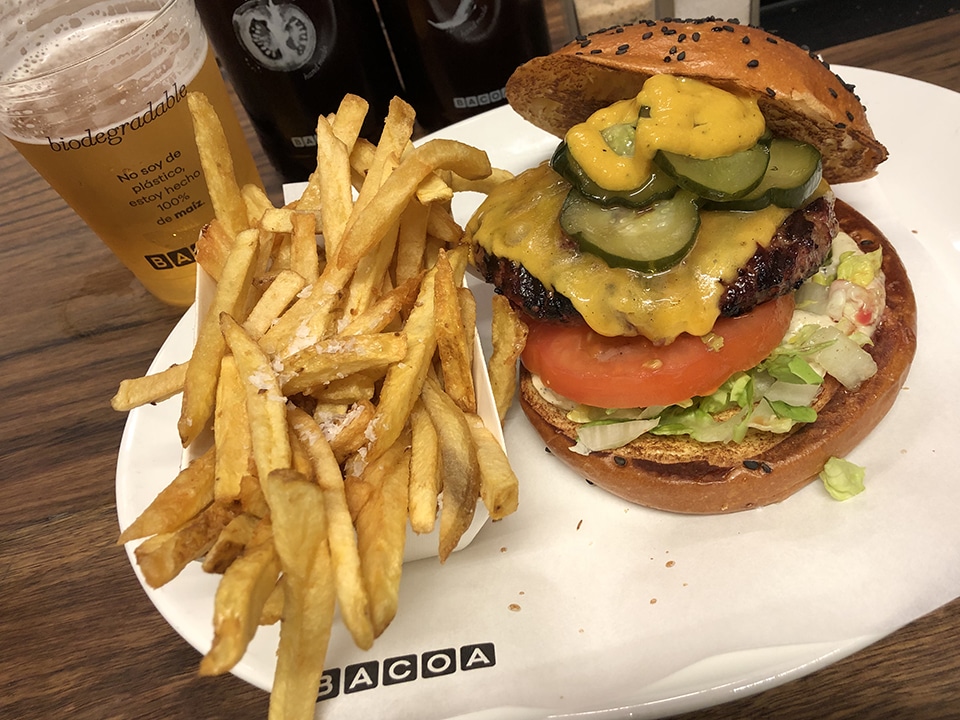 LOOKING FOR SOMETHING SWEET?
Pastisseria Bubó. If you are looking for some sweet treats and coffee while you explore the backstreets, and near to Basilica of Santa Maria Del Mar, is Bubó. These guys are masters of creating delicious homemade pastries and chocolates.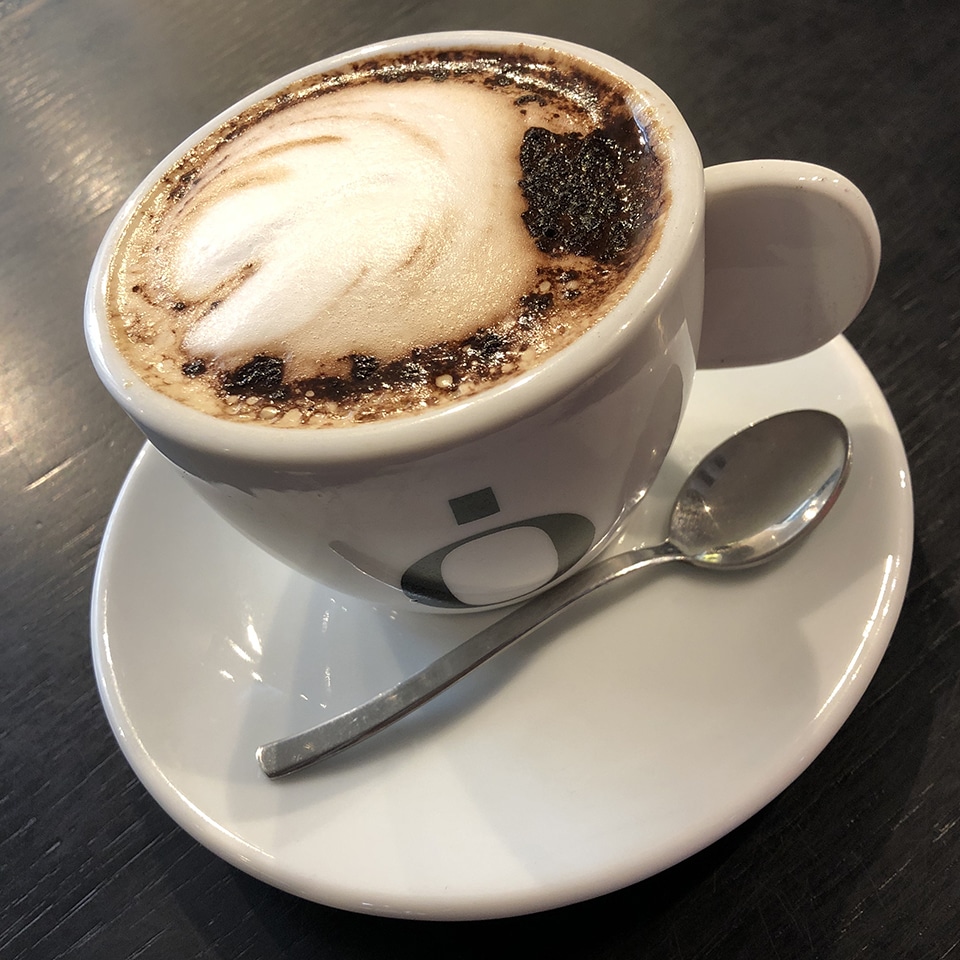 TAPAS & PINTXOS
Pintxos is a lot different to tapas. Small snacks often served with bread on a skewer or toothpick. There are many types. We found a great little place called El Drac de Sant Jordi in the Gothic Quarter, and there are several small Pintxos places here to choose from.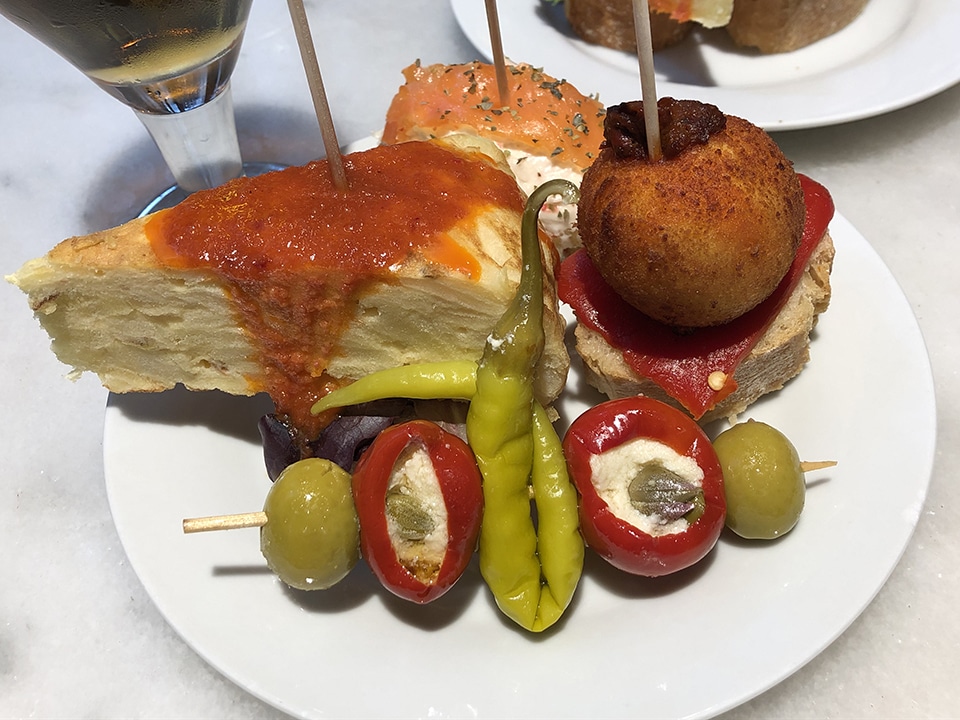 Ciudad Condal. You can find Ciudad Condal on Rambla de Catalunya in the Eixample district of the city. Worth the visit. The tapas we ate here tasted fantastic. It was reasonably priced and top quality. Address: Rambla de Catalunya, 18, 08007.
Casa Angela. Casa Angela was a fairly new place at the time of our visit. The food we had was incredible. We ordered croquettes and a dish of bravas, Chorizo sausages and two beers. This came to just over €20. Address: Plaça Sagrada Família, 13, 15, 08025.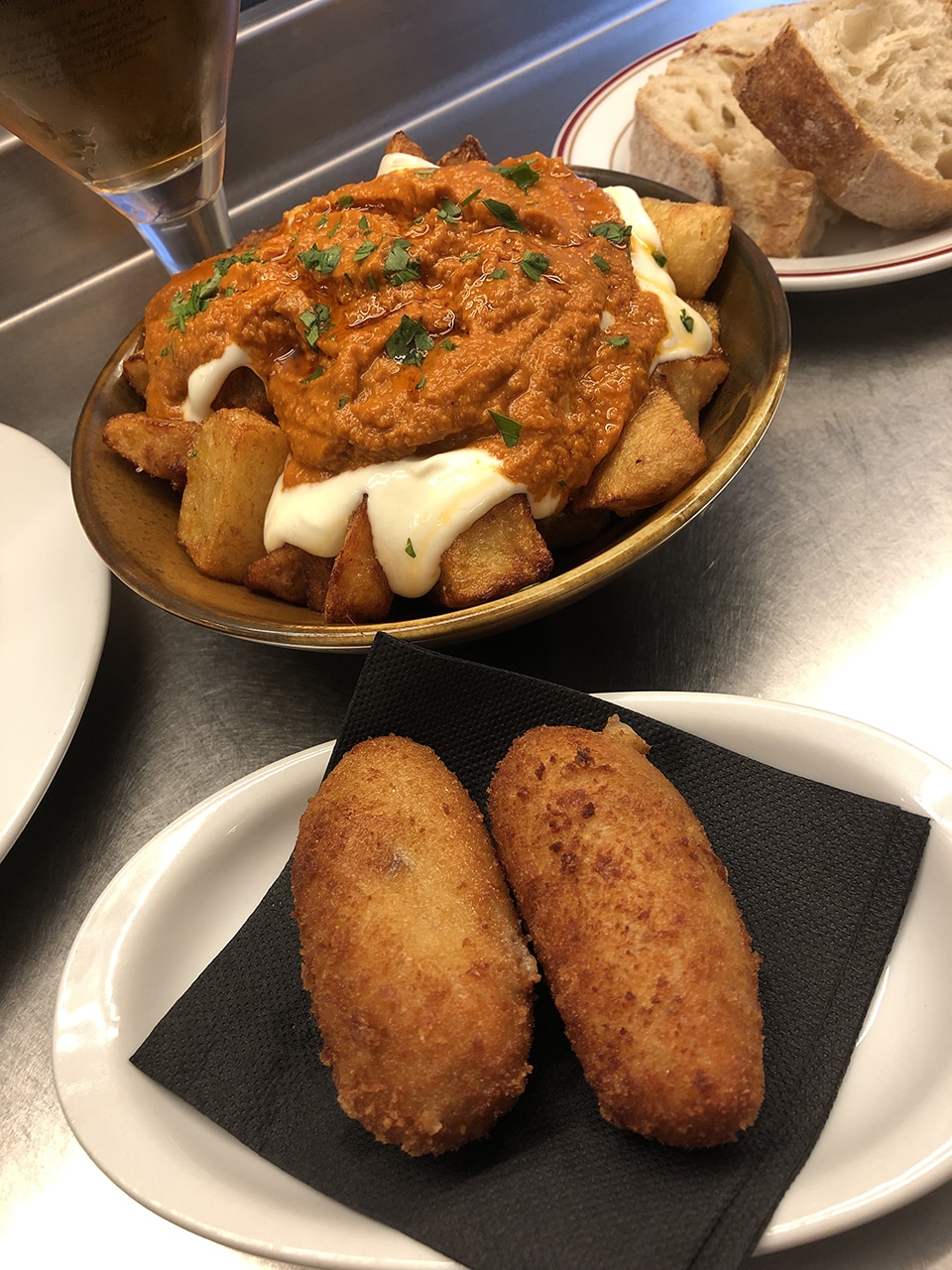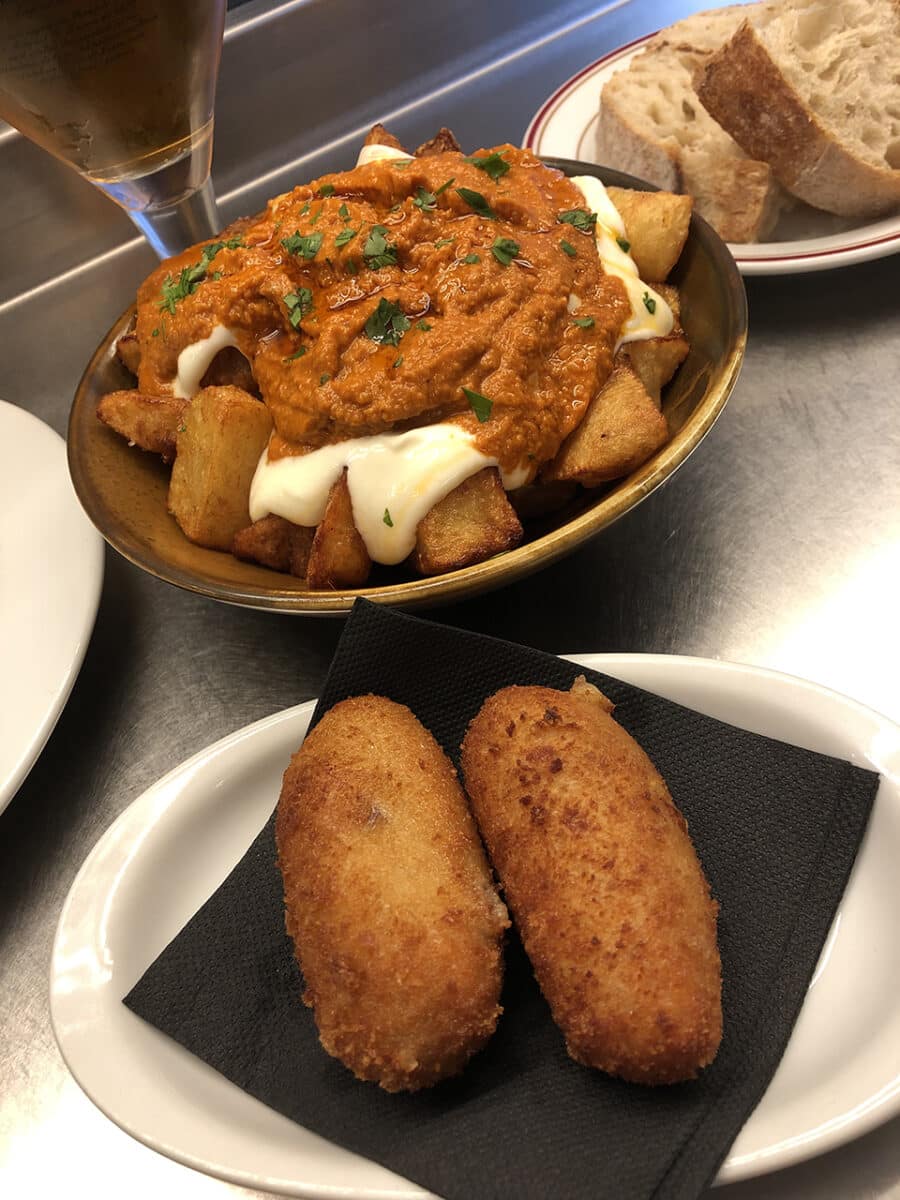 THE BEST COCKTAIL BAR IN BARCELONA
Cocteleria Boadas. You can find this bar just off La Rambla down a small side street. Said to be one of the first cocktail bars in Spain this place takes you back. Opened back in the 1930s, the bar staff here all wear smart tuxedos and ties and serve classic blends.
There is a small menu to choose from, but ask for anything and they will make it. It has a really nice relaxed and friendly atmosphere, a place for locals and tourists alike and it doesn't get overcrowded. Perfect and highly recommended by us.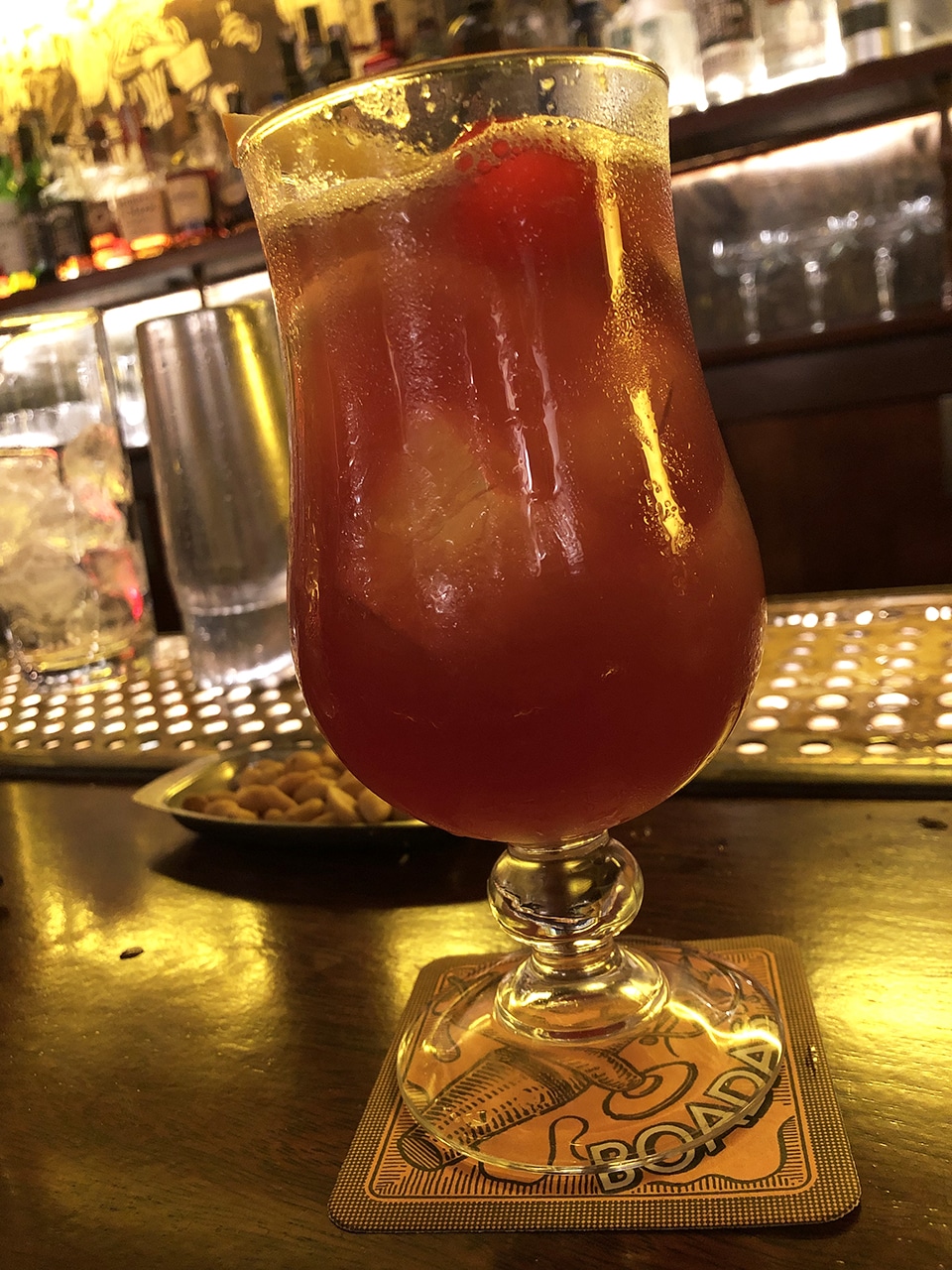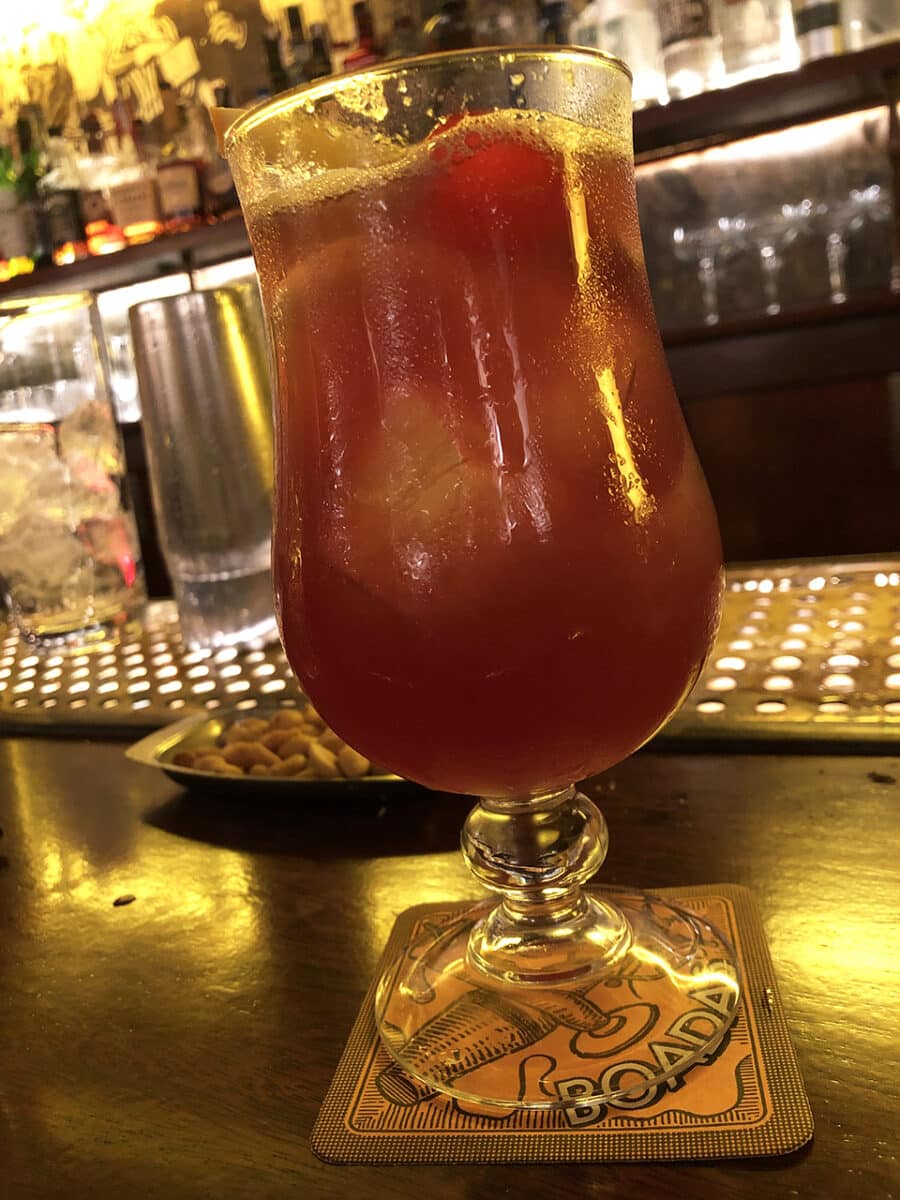 LOOKING FOR SOMEWHERE TO STAY IN THE CITY?
We have stayed in several great hotels in Barcelona, so if you are looking for a room, check out our recommendations.
H10 Casanova. This chic hotel is central on Barcelona's Gran Via, 10 minutes from Plaza Catalunya and La Rambla.
H10 Catalunya Plaza. The Hotel H10 Catalunya Plaza is located directly on the Plaza, 200 metres from Las Ramblas, and is the perfect location for your city break. Surrounded by bars, restaurants, and within walking distance from many of the city's main attractions.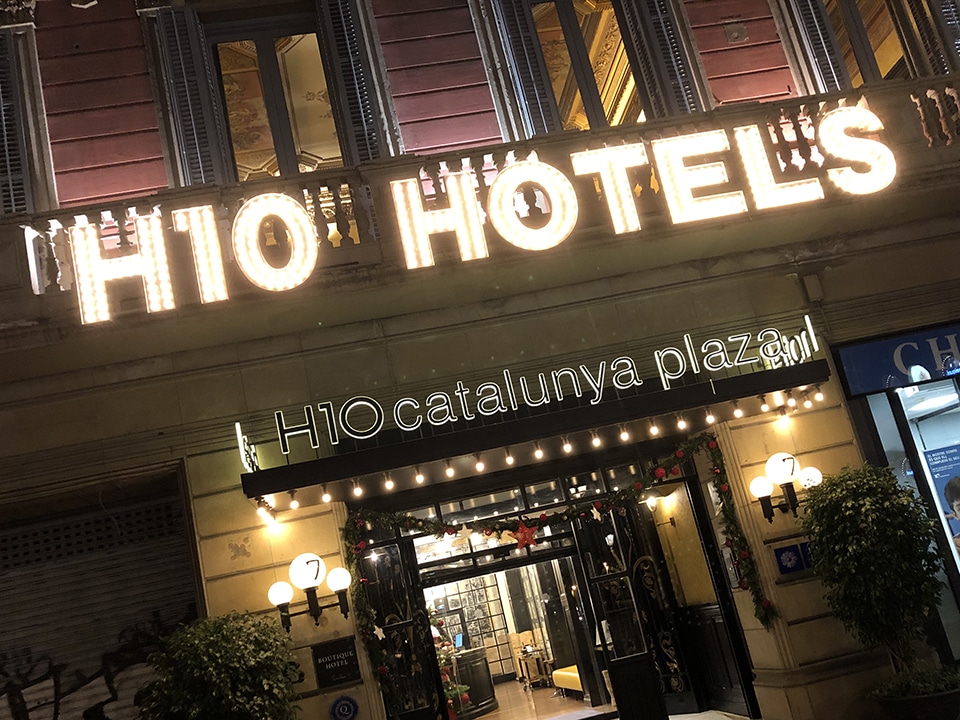 H10 Universitat. Located 100 yards from Plaza Catalunya and 200 yards from the metro and bus links just outside. Another perfect location and another great H10 Hotel for your trip.
There are dozens more things I could have added to this list, and we would have been here forever. I just hope this has given you a small taste of some of the best things to do in Barcelona. The city really is one of the best places to get lost in culture, food, the arts and adventure.
Barcelona is also a short train and coach ride away from towns like Sitges, Girona and Figueres, places even we are still yet to visit. For more information on the city of Barcelona: Barcelona Tourism.
All prices are correct at the time of publication November 2022.
---