Are you looking at spending two weeks in Aruba? The island is about 15 miles off the coast of Venezuela. It sits in the Caribbean Sea and along with Bonaire and Curaçao; it makes up the ABC Islands, or Dutch Caribbean.
They are all countries belonging to the Kingdom of The Netherlands. The island of Sint Maarten is also part of the group.
The island has an incredibly dry climate and is just outside the hurricane belt so is rarely affected by them. Aruba is a melting-pot of different religions, cultures and languages, with Papiamento, a Portuguese and Spanish kind of creole-mix, as its official language. However, English and Dutch are widely spoken.
A HOLIDAY YEARS IN THE MAKING
We had dreamt about going to Aruba for many years, and even picked our hotel, the RIU Palace Antillas. When myself and Vicky first got together, this was one of the first holidays we ever looked at and planned. Our jobs were ok, but we knew it was just out of our budget, so it would have to wait a little longer.
In March 2020, we had just returned home from Prague for Vicky's birthday, so with holiday-blues, we started looking for where we would like to travel next. It had to be Aruba.
We booked with TUI, chose the hotel we looked at from all those years ago and the only flight going from England was from London Gatwick.
We planned to visit in May 2021, but our trip fell victim to the Covid pandemic. Unfortunately, around three weeks before we were due to travel, they added Aruba to the 'amber list' and TUI pulled the flight. Of course we were upset, but we had the chance to reschedule for 2022.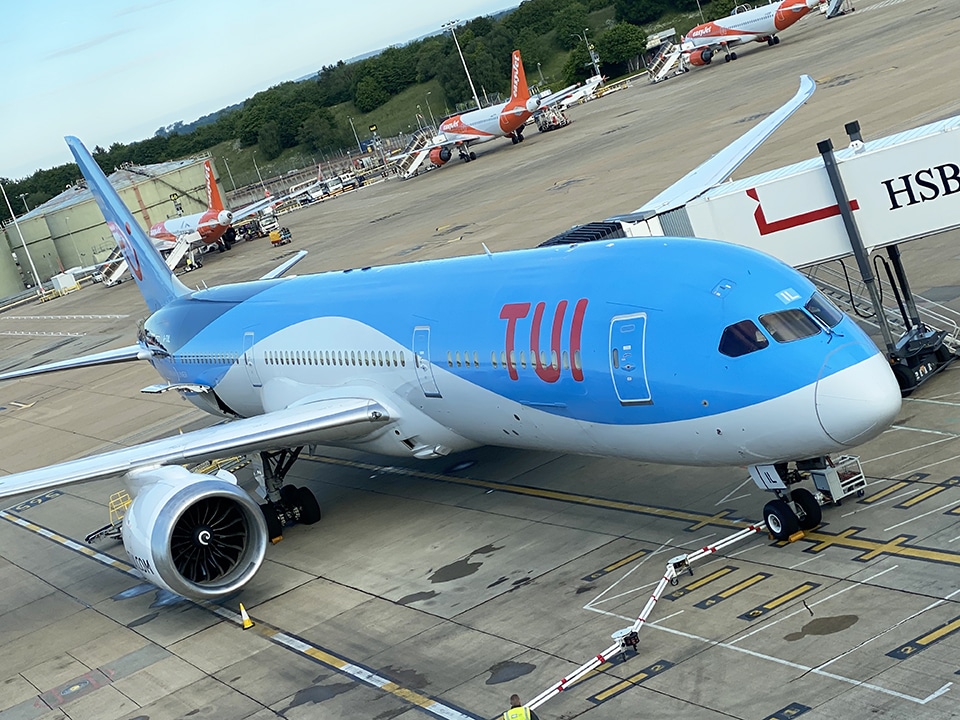 FINALLY, WE MAKE IT TO ARUBA
We drove down to Gatwick the day before our flight. After a five-hour journey from Yorkshire due to traffic. We eventually arrived at the Maple Manor Hotel. It was a short drive from the airport. We decided on an overnight stay to break up the drive down and the ten-hour flight ahead.
The next morning, we were finally stepping on our flight to Aruba. I was super excited to be flying on a Boeing 787 Dreamliner for the first time. The service on-board was great, meals and drinks were included, and we had a decent selection of shows and movies to keep us busy.
When we finally arrived at the RIU Antillas, we were tired, however; it was a quick change into our swimwear so we could have a bit of beach time; it was already late in the day. I was straight in the Caribbean Sea. We stayed on the beach to watch the sunset; it was beautiful, and a perfect end to a tiresome day.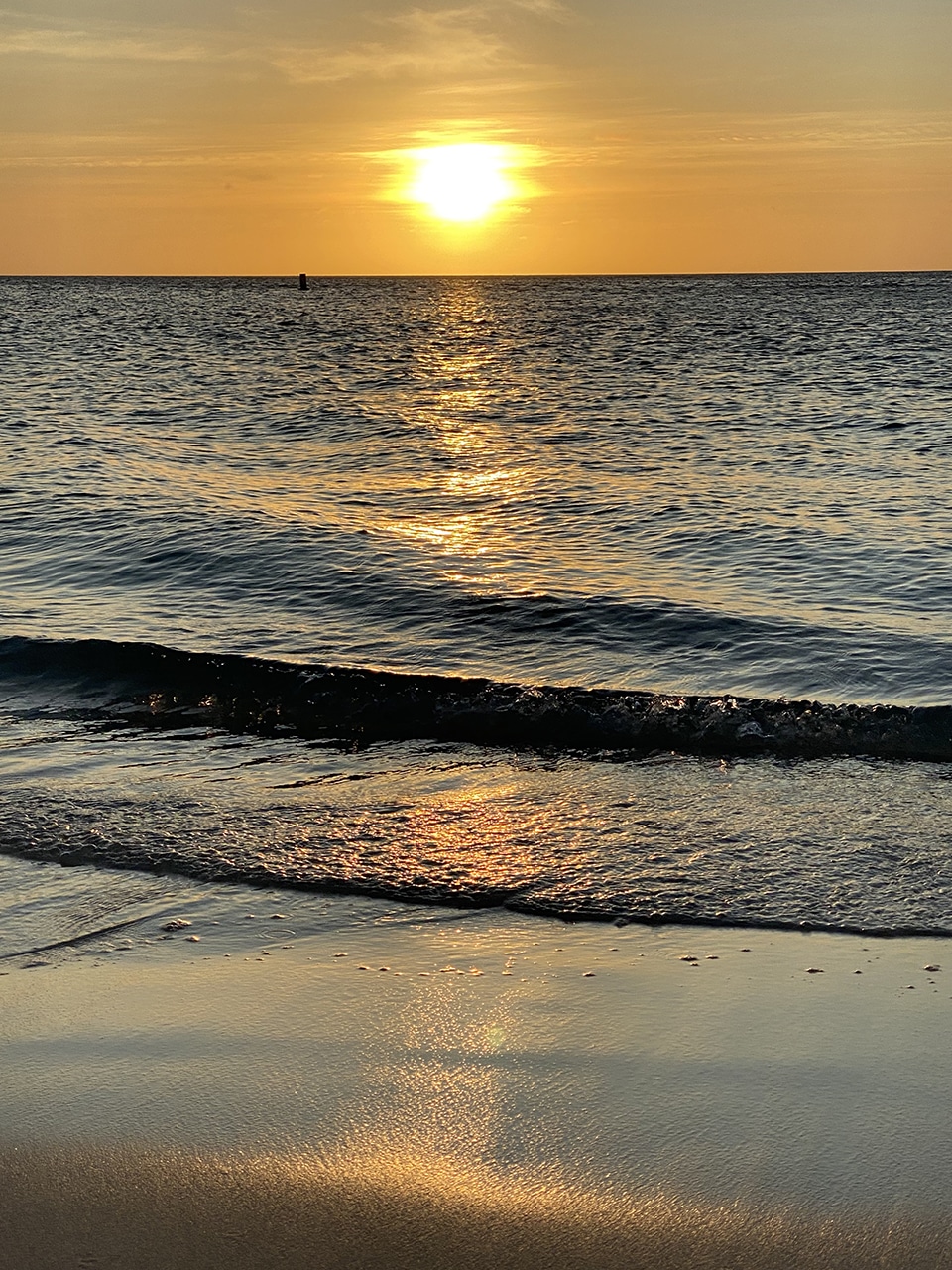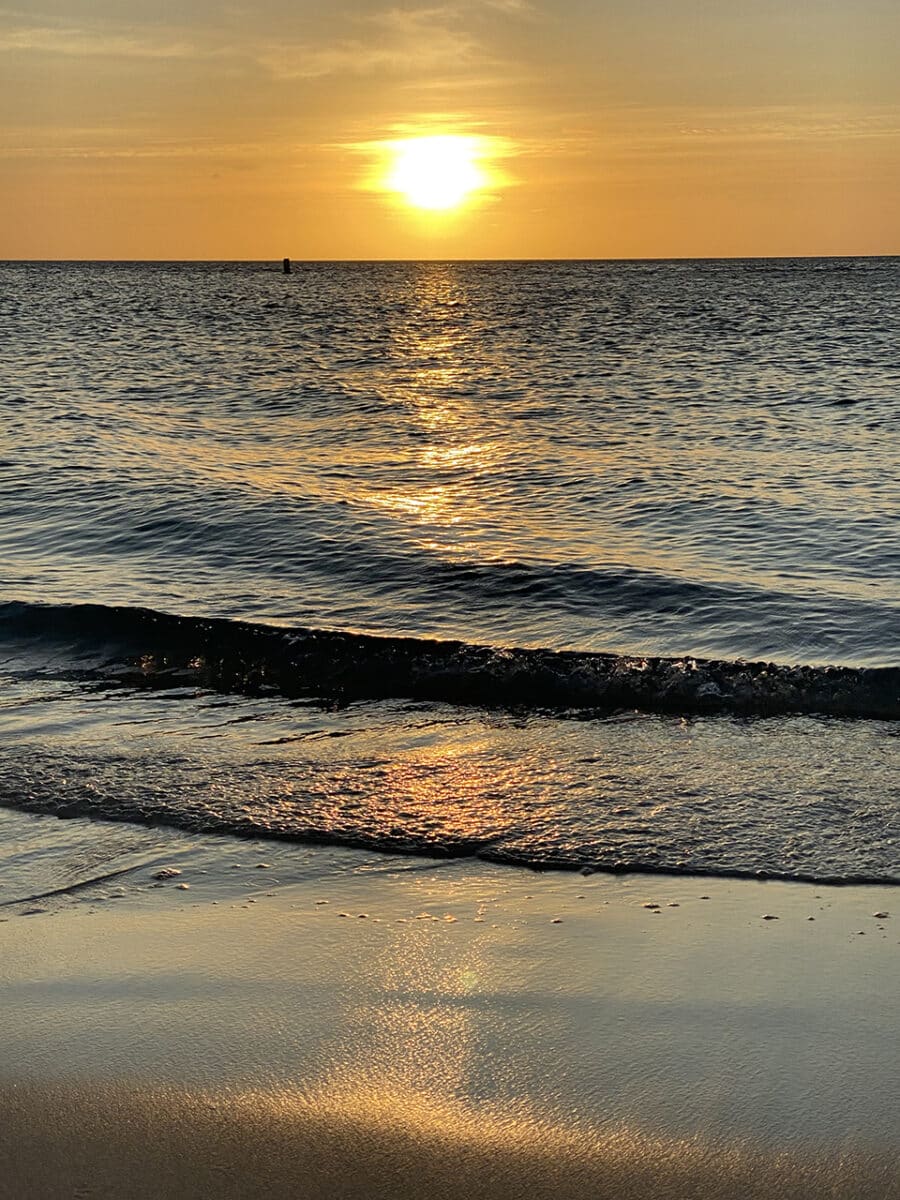 RELAXING ON THE POWDER WHITE BEACHES
For the first few days, we decided we would just relax on the beach. We both work hard at home, so a few days to relax was very much needed.
Each morning we grabbed breakfast early, claimed our sun-beds on the beach and sunbathed pretty much until the sun went down. We swam and went for walks along the white sand.
We saw some beautiful fish in the sea. I fed them banana, a trick I was taught in Cuba, much better than bread. This encouraged them to swim up to us. We saw all kinds of birds and the Pelicans also put on a good show. I snorkelled and swam out to a small pontoon which was decorated with the Aruban flag. A small crab even hitched a ride on my shoulder one day, very bizarre, I didn't even realise it was there until Vicky spotted it.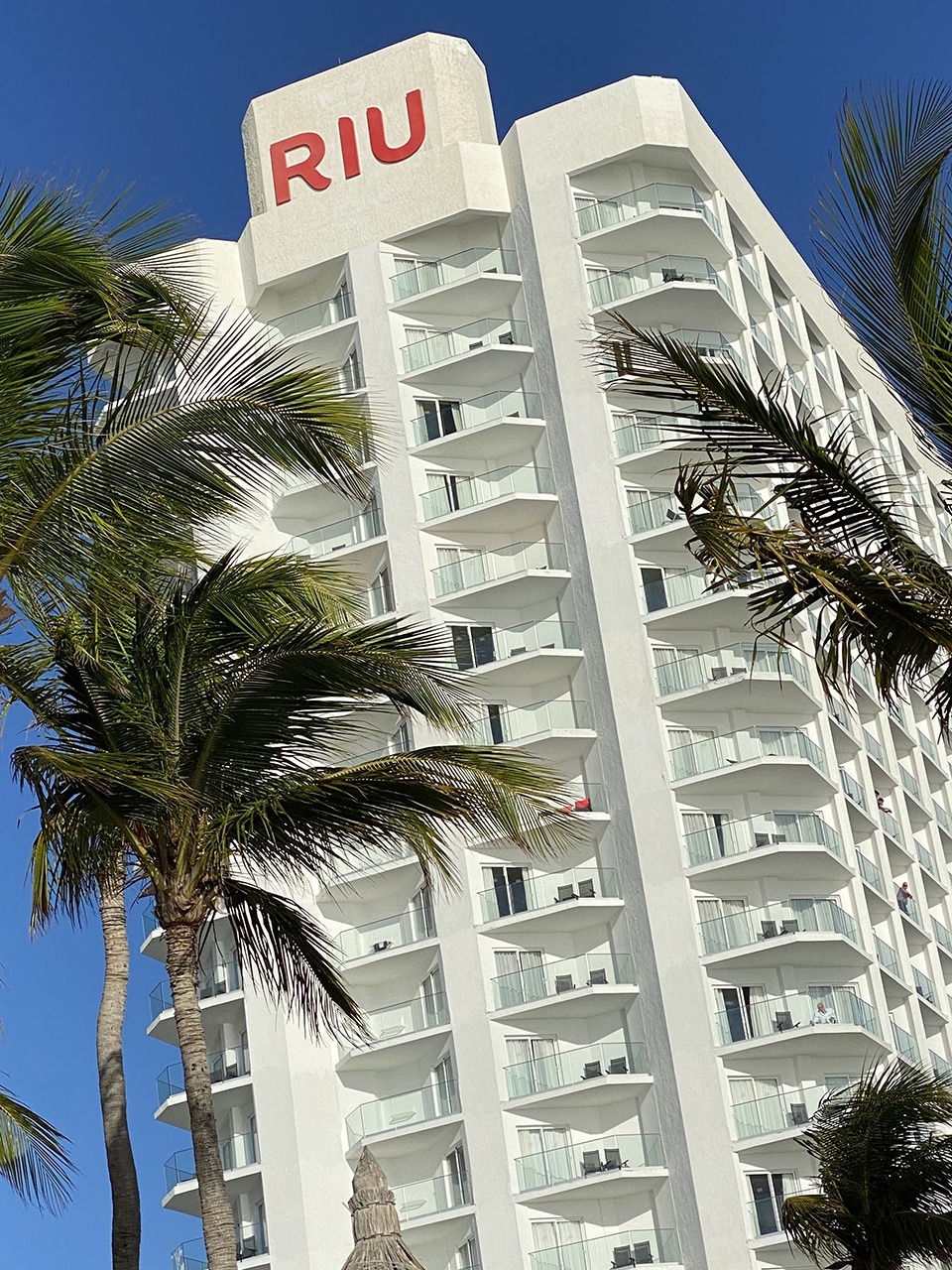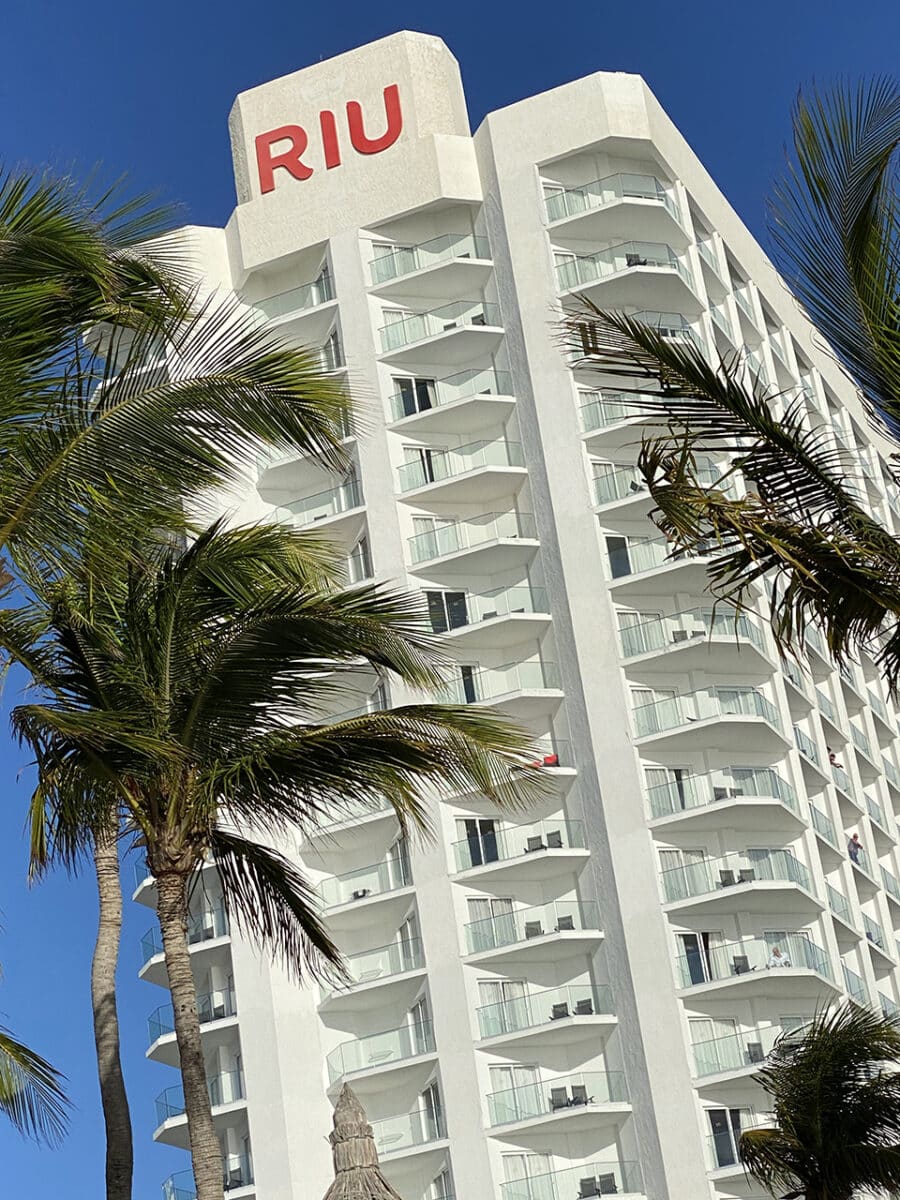 TAKE PART IN SOME WATERSPORTS
Scattered along the shore are several small outlets and beach shacks all offering different kinds of watersport activities. Some are free for the hotel users, some are paid activities. Surfing, floats, snorkelling equipment, kayaks, boat trips and para-gliding are all available.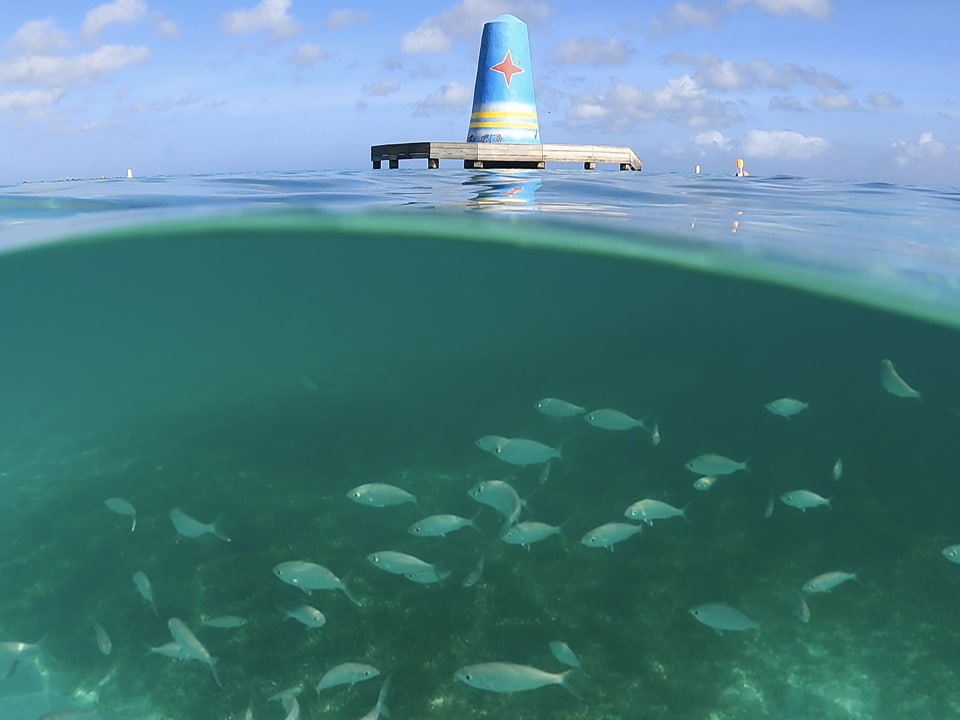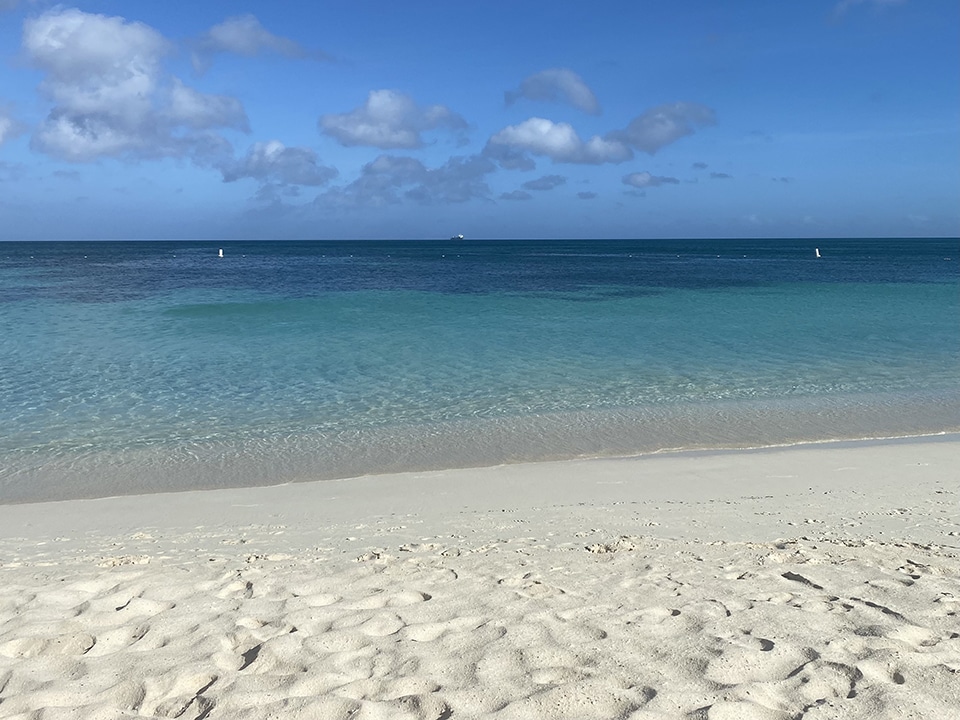 EAGLE BEACH, VOTED ONE OF THE BEST IN THE WORLD
Aside from lazing around on Palm Beach, we took a walk down to Eagle Beach, voted one of the best beaches in the world, and with views like this, it's hard to argue why.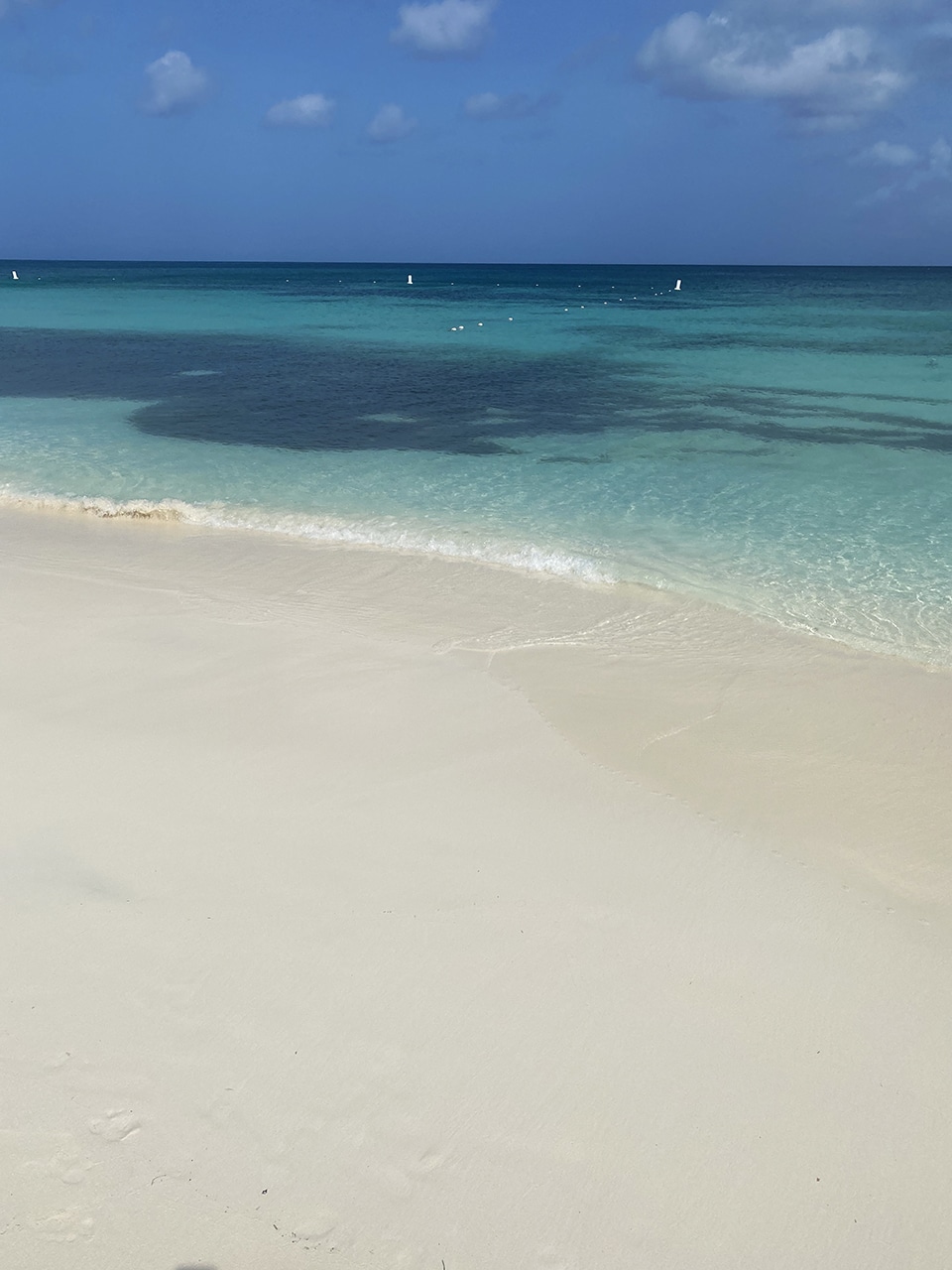 DIVI-DIVI TREE
It took us around twenty minutes on foot and the first thing we saw was the famous Divi-Divi, Watapana, tree. Lots of people go to see this especially for photos. The tree is a natural compass, its branches bent by the Caribbean trade-winds, they always point South-West.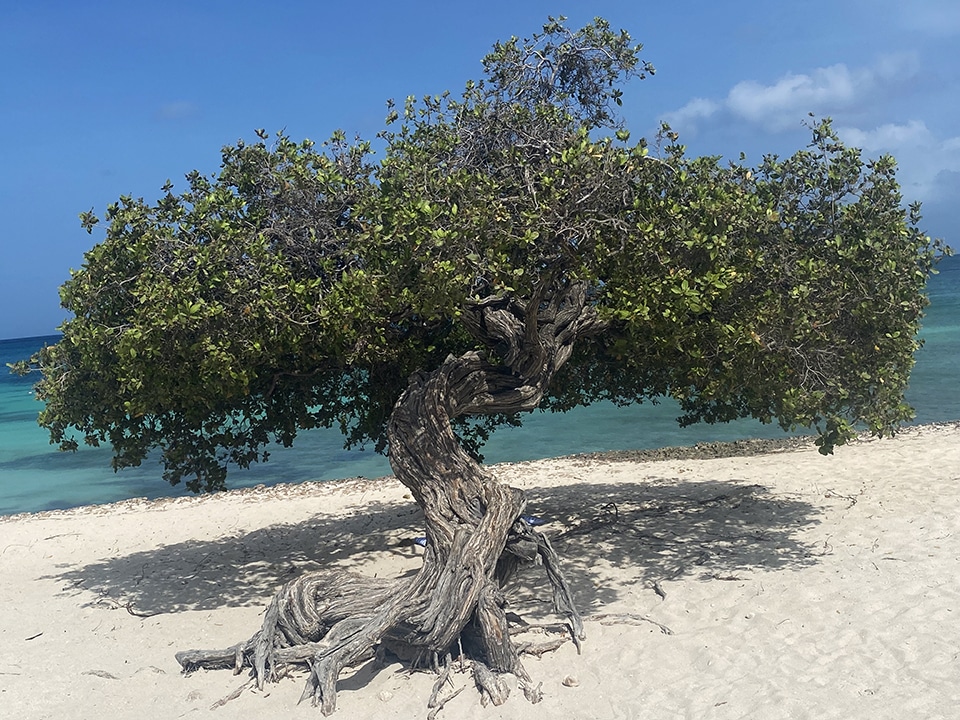 We then walked a little further and chose a spot to sunbathe. For two beds it cost $20, they were free for the hotel users in this area. This beach was much quieter than Palm Beach and there were more families here. It was really beautiful.
SEA TURTLE CONSERVATION
On this beach, they have nesting Leatherback Turtles. Areas were clearly marked and cordoned off with large barriers so the nests would not be disturbed. It was interesting and lovely to see, knowing that baby turtles would be ready to hatch within weeks or days.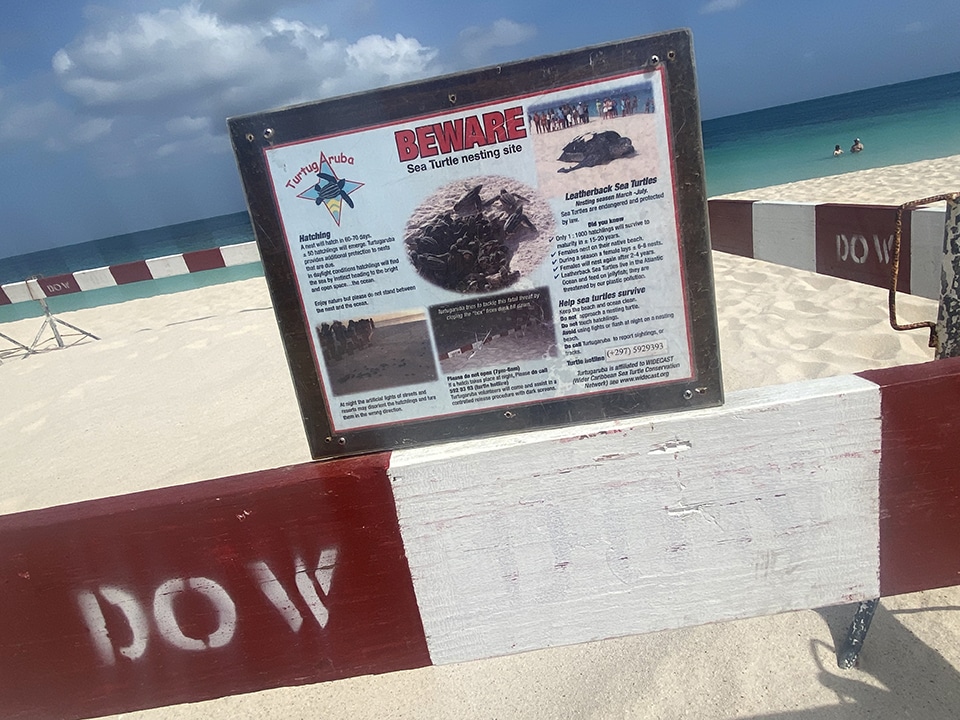 THE BUTTERFLY FARM
A short walk from our hotel was the Butterfly Farm. Entry cost $15 each, this included time with a guide telling us about the different moths and butterflies they keep and about the conservation work they undertake.
The ticket also enabled us to go back as many times as we wanted during our time on the island. I really enjoyed it and it was a great little photo opportunity. There was also a small shop and a cafe here.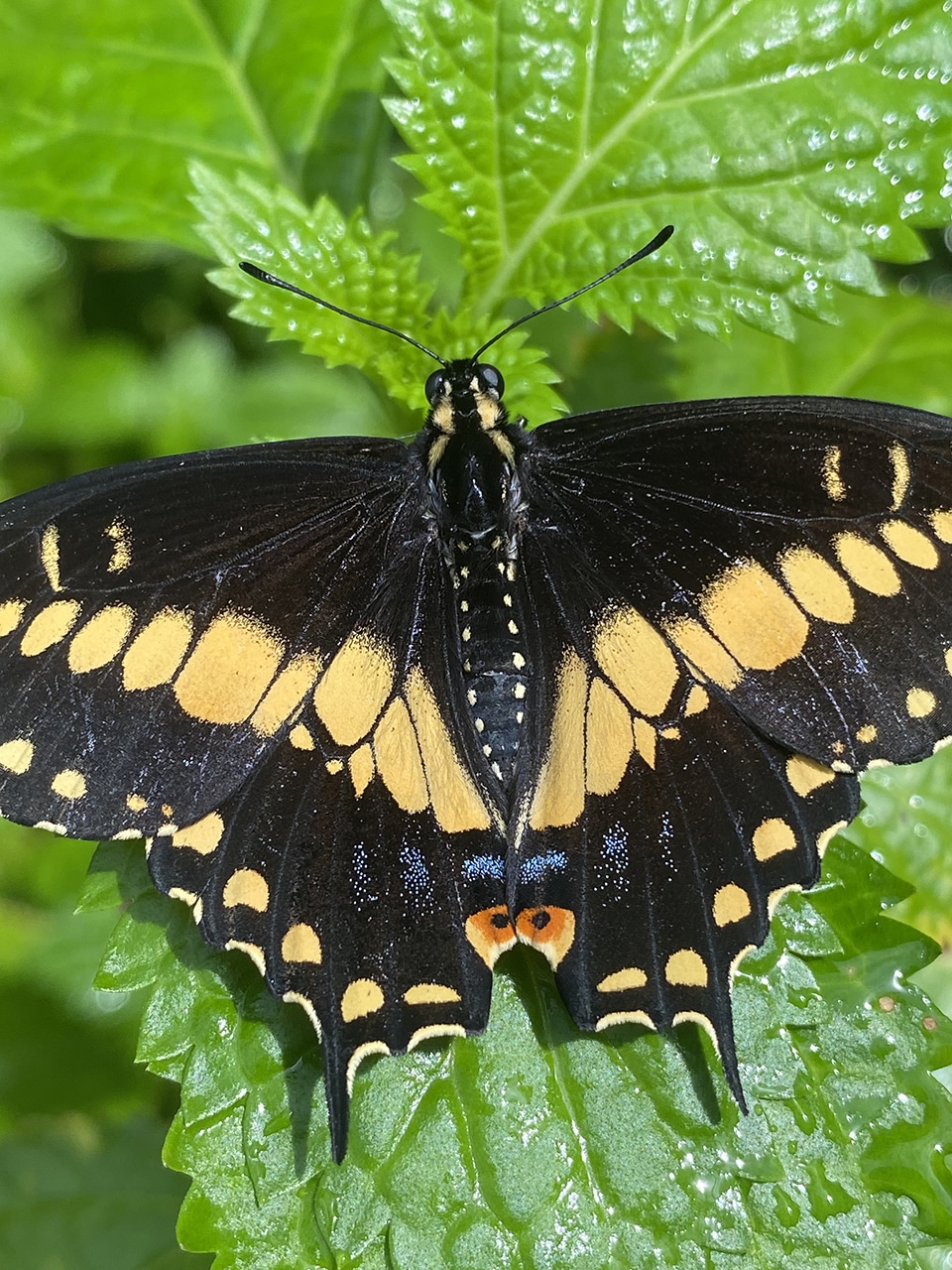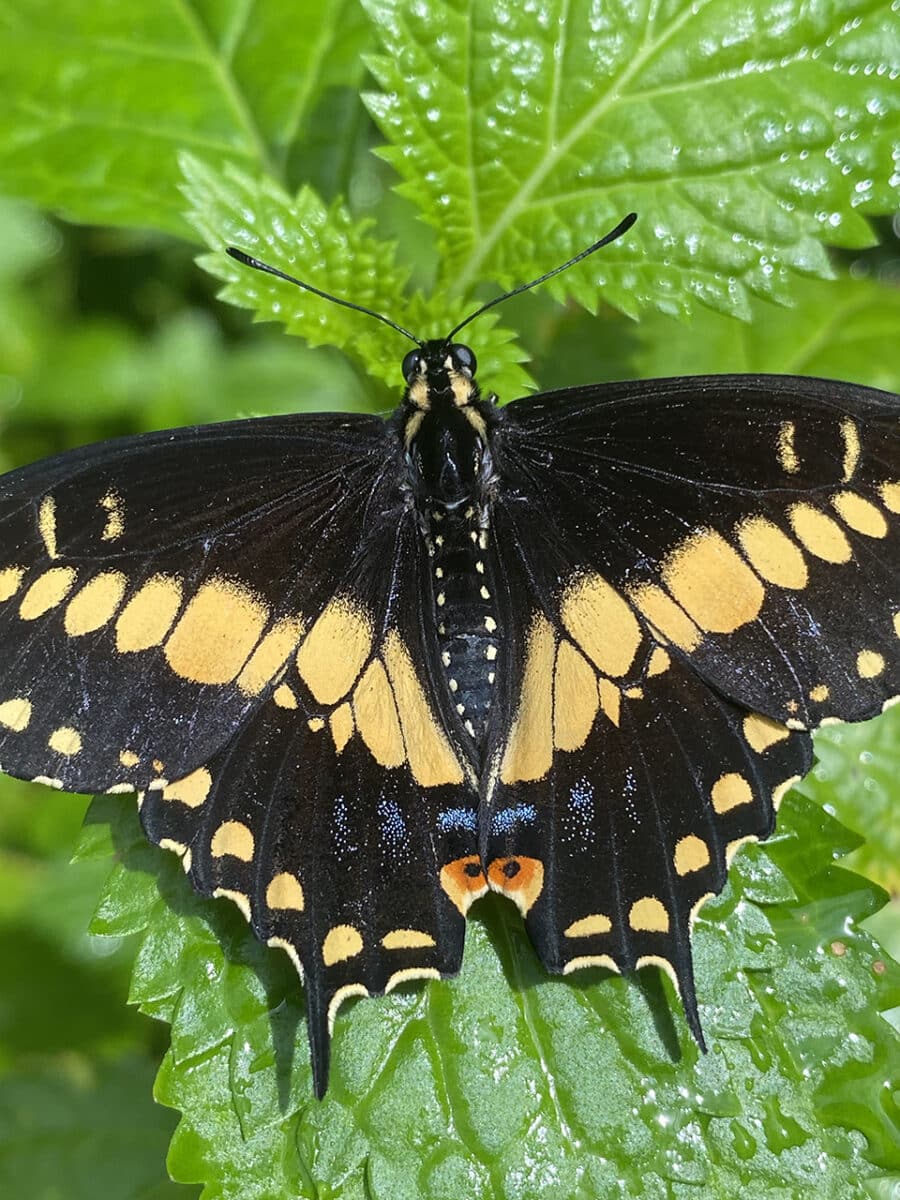 THE PALM BEACH STRIP
Our hotel was a 5-minute walk from the main strip Palm Beach where dozens of restaurants and cafes are located. We walked here most evenings, shopped and ate dinner, even though we were all-inclusive. We always like to go out and try local restaurants and bars if the resort allows. To us, all-inclusive is just a means to an end, like bed-and-breakfast, or half-board.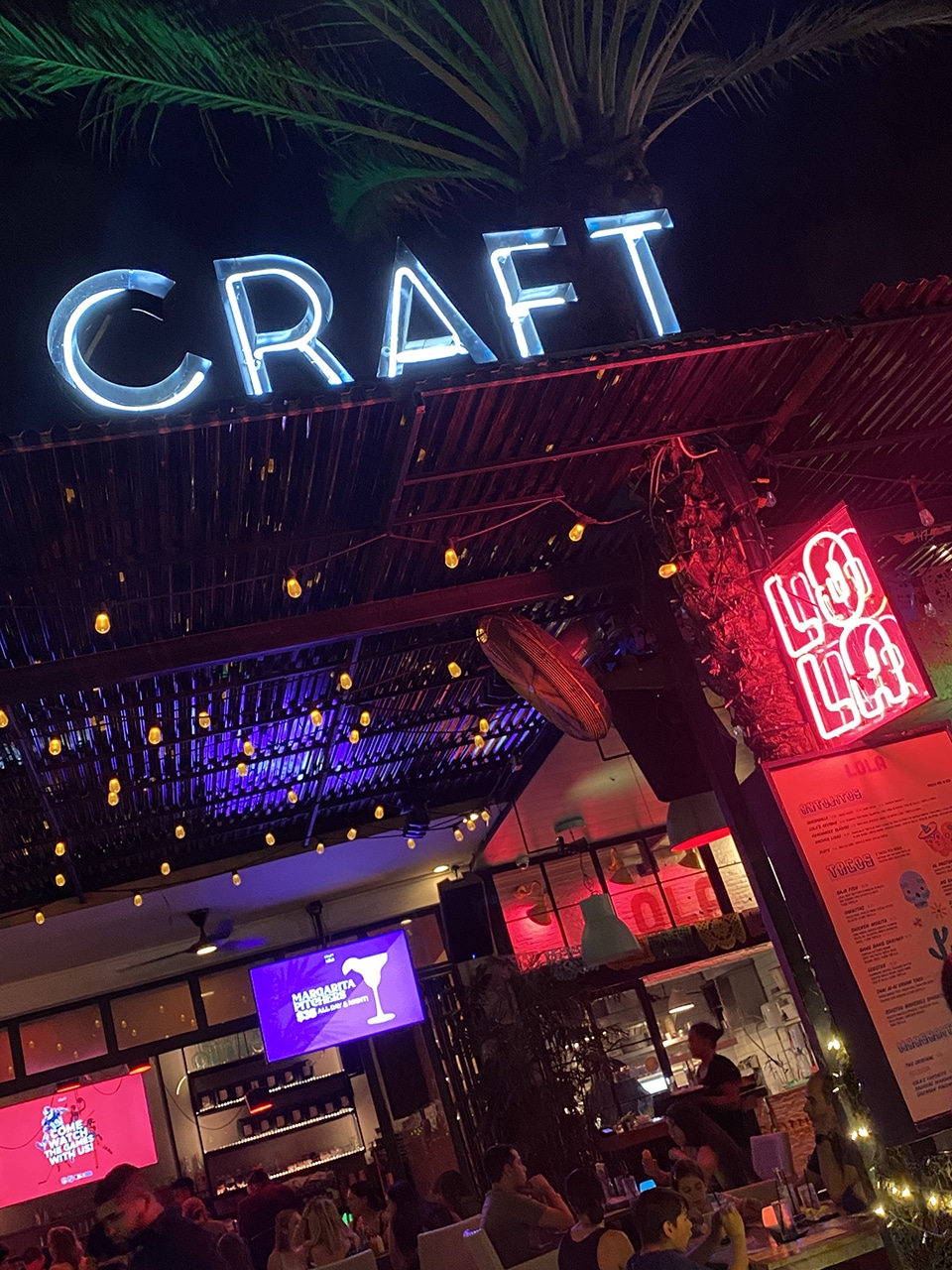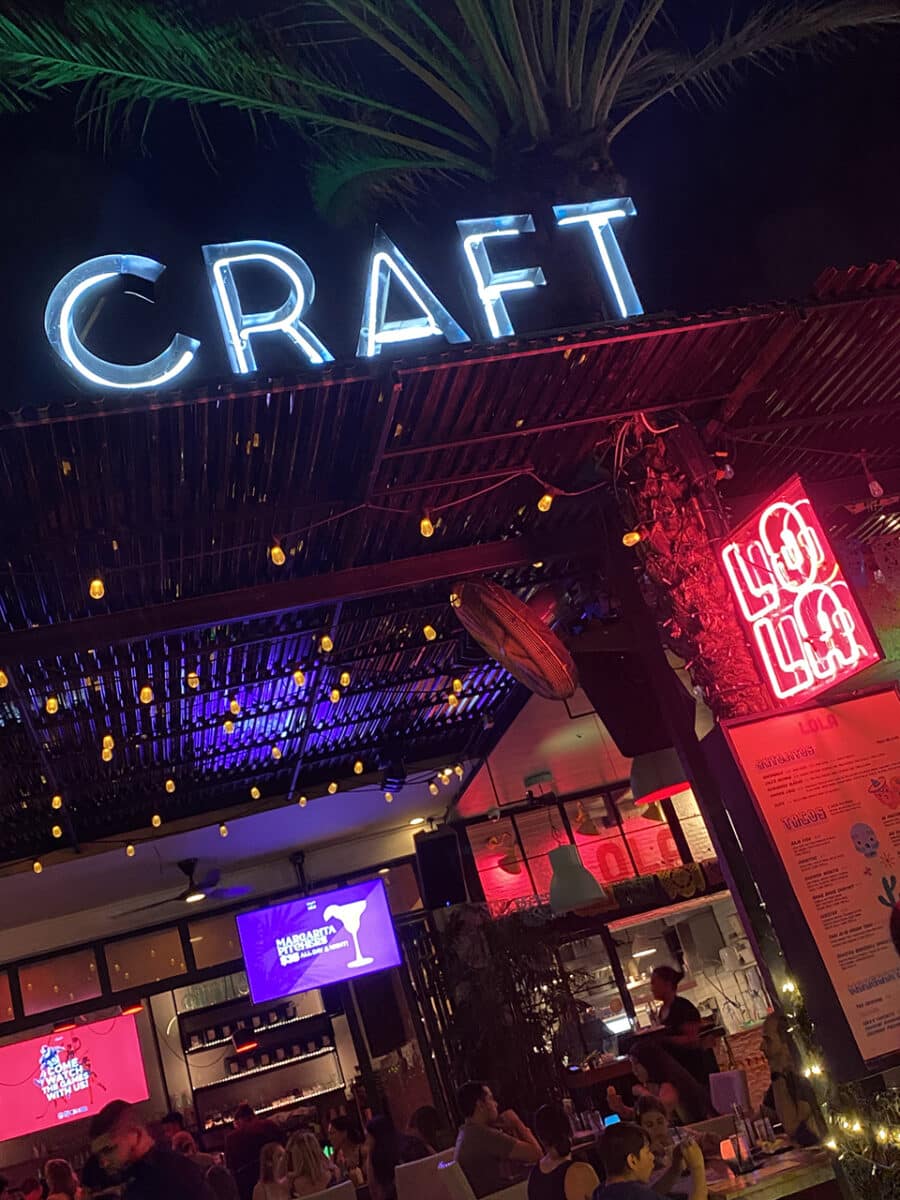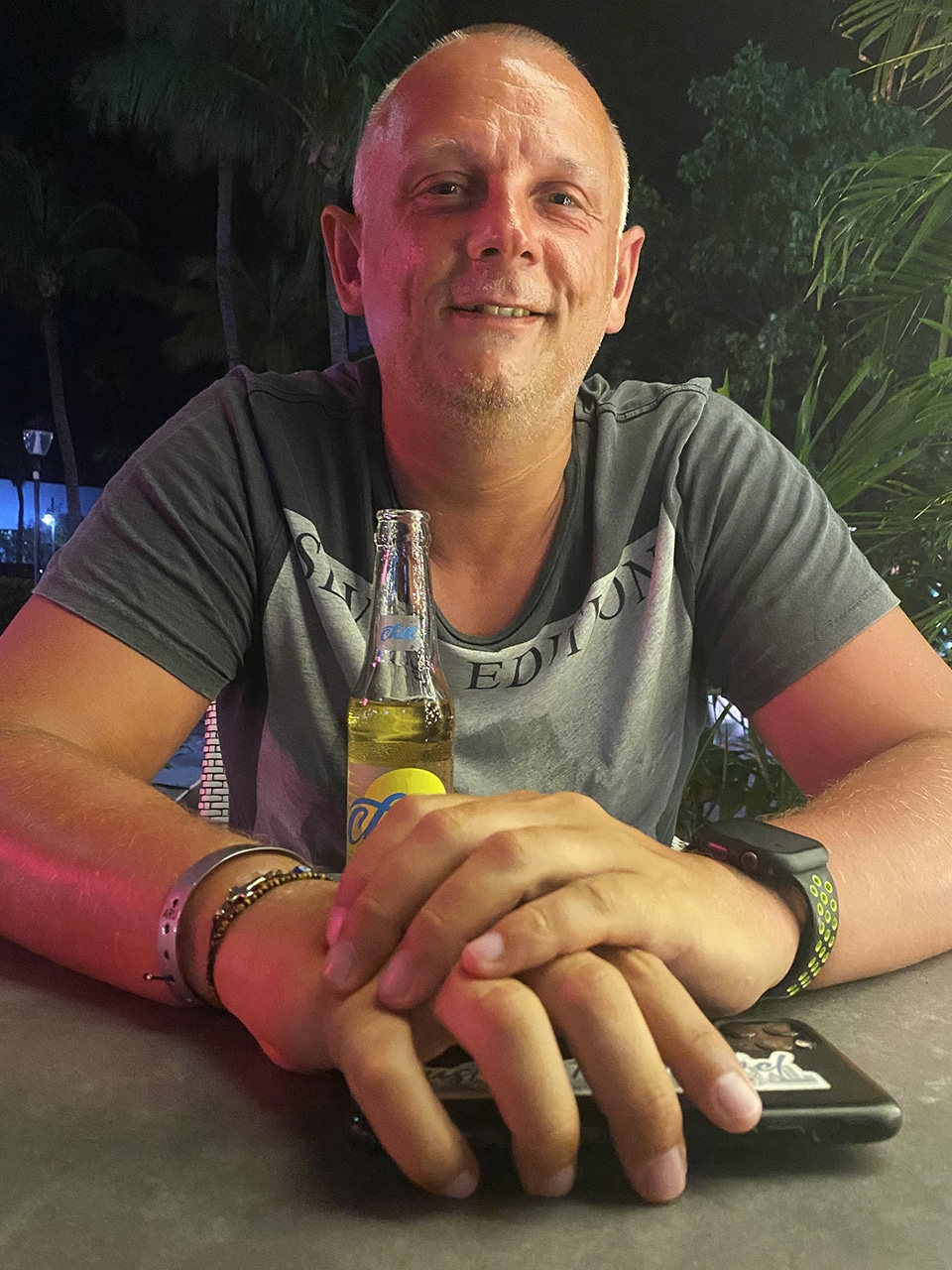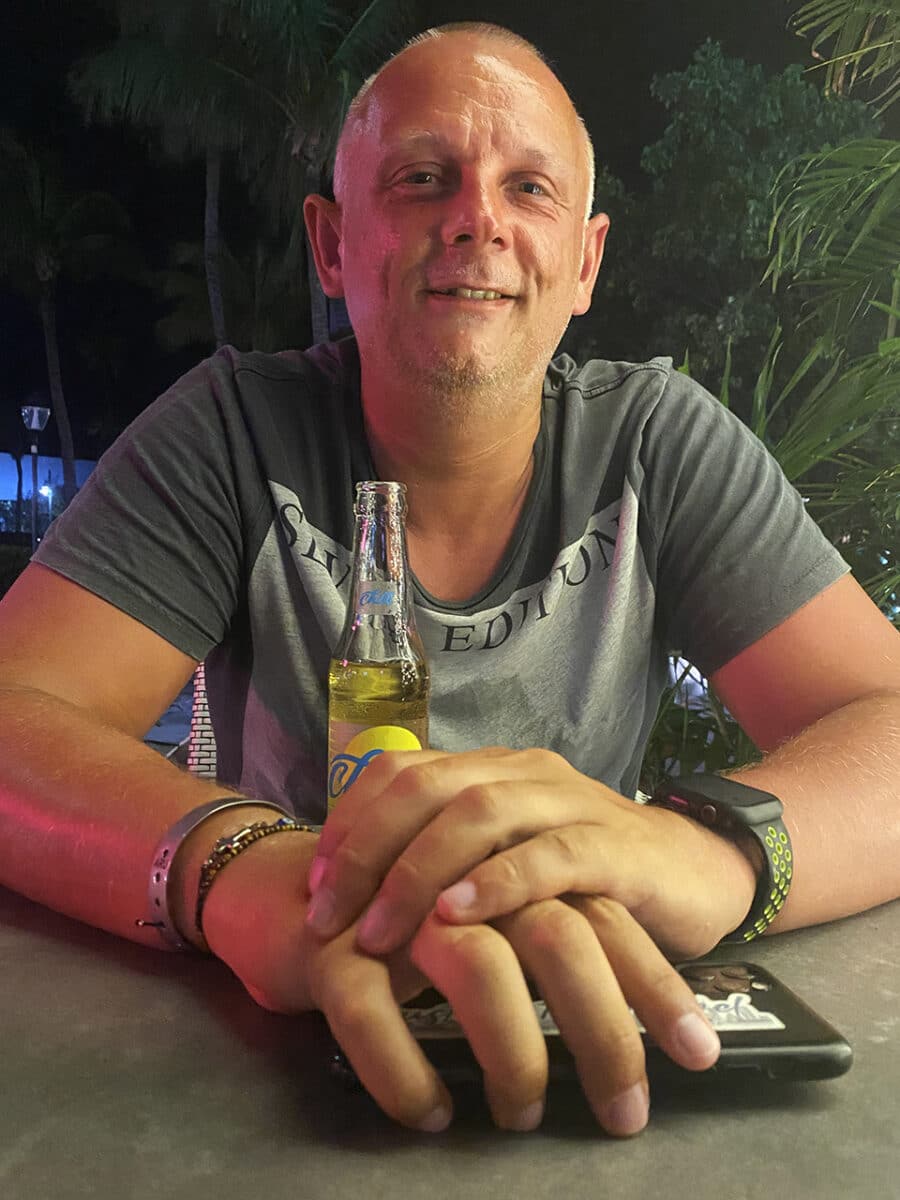 There were plenty of shops here too and some great bars. Market stalls selling crafts and jewellery, designer shops and gift shops. The area had it all. There was also a small tattoo shop. I clocked this straight away. I had been wanting a new tattoo for a while, so seeing this place got me thinking.
After a little research on the tattoo shop, and reading some reviews, I went to see them. I made an appointment for the evening before we flew home and chose a turtle design to remember Aruba by, but more on that later.
WHERE TO EAT IN PALM BEACH?
As we've just said, we ate away from our hotel a few times during our stay. Mexican tacos from a fantastic place called Lola Taqueria, Dutch pancakes for breakfast and healthy beach bars. We were spoilt for choice to be honest, and everywhere we ate, the food was delicious, so much so, that we thought we would dedicate a small post to this.
Take a look at what we ate here, all these places come highly recommended by us. Read: 7 incredible places for food and drink in Palm Beach, Aruba.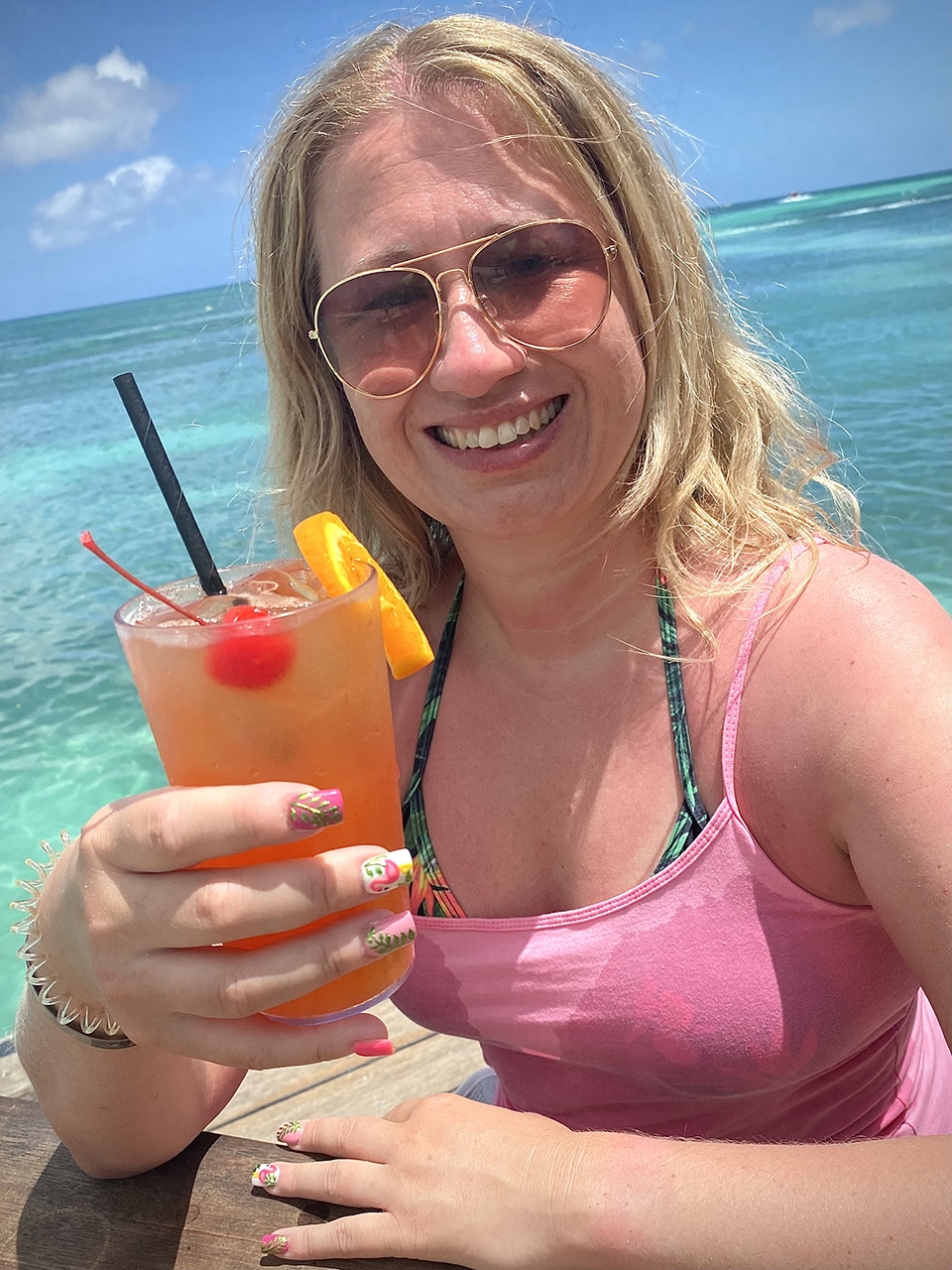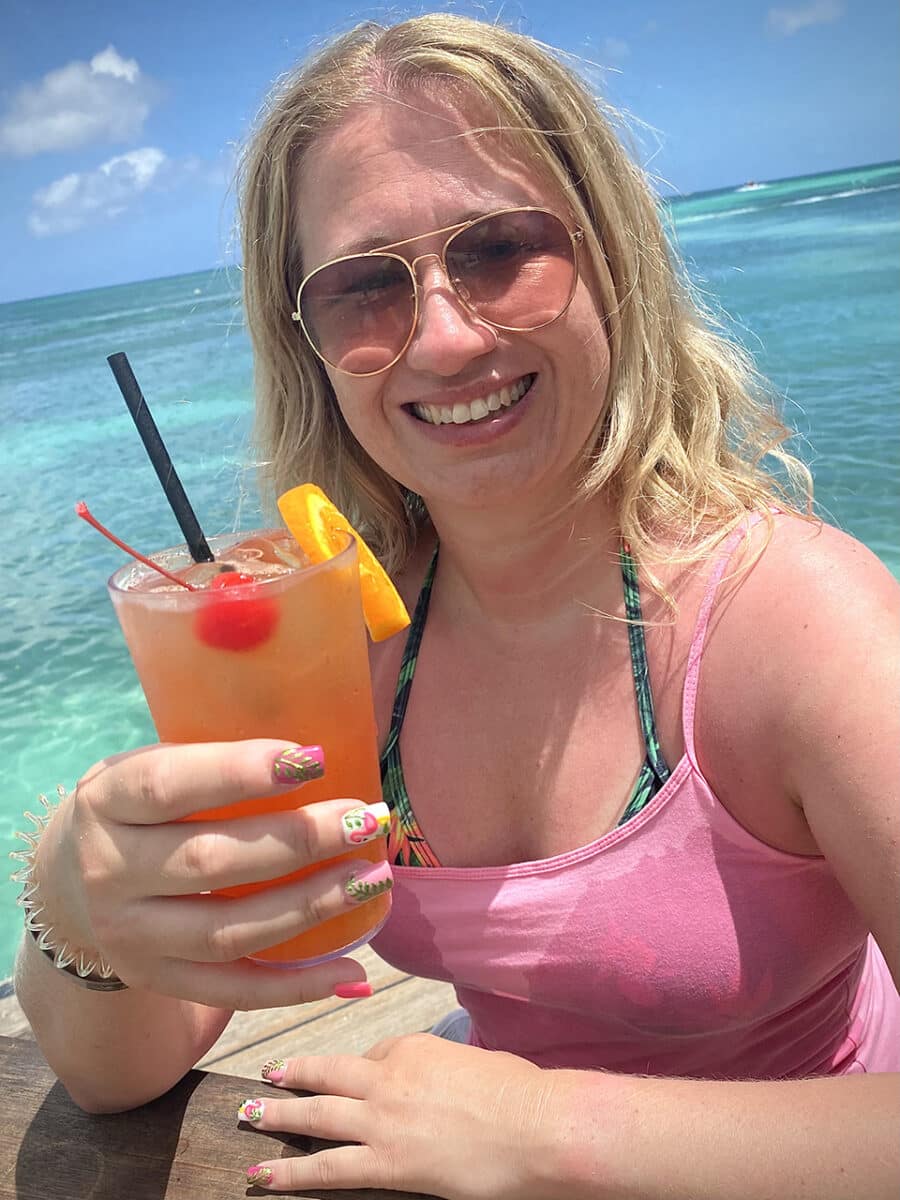 RENAISSANCE ISLAND, FLAMINGO BEACH
Another place we were hoping to visit during our two-week stay in Aruba was Renaissance Island, home of the famous Flamingo Beach.
As we weren't staying in any of the Marriott Hotels in Oranjestad, we would need to purchase a ticket to visit the island. These were only available depending on the occupancy percentage of the Marriot resort. Any higher than 80% and tickets were not available. We tried a few mornings to get two tickets, but sadly, it was a no-go.
We looked at staying a night at the Marriott, this would also allow us to access the beach. The only rooms that were available were over $400. So we missed out on this experience, which we were a little upset about, but we still had lots to look forward to.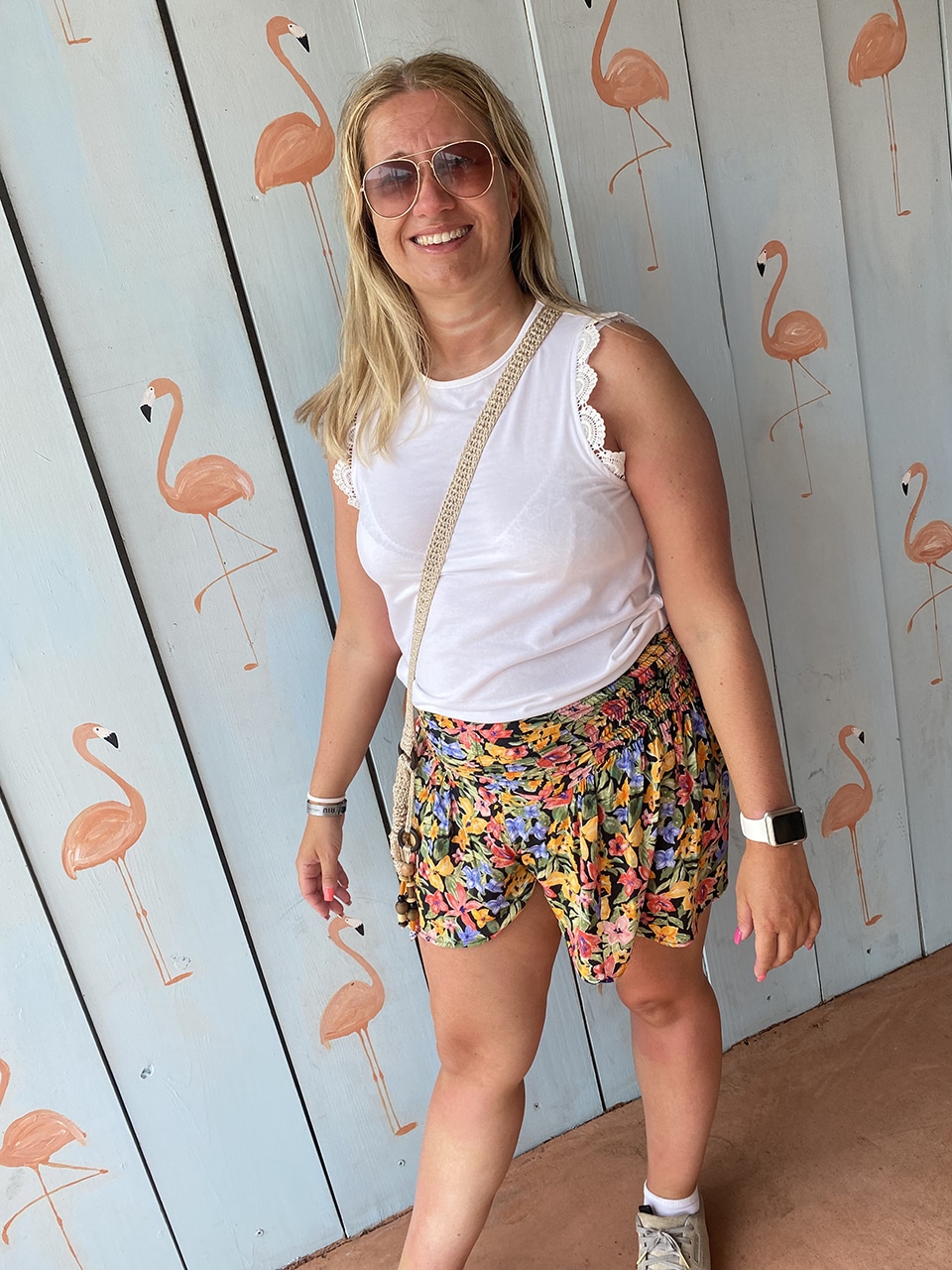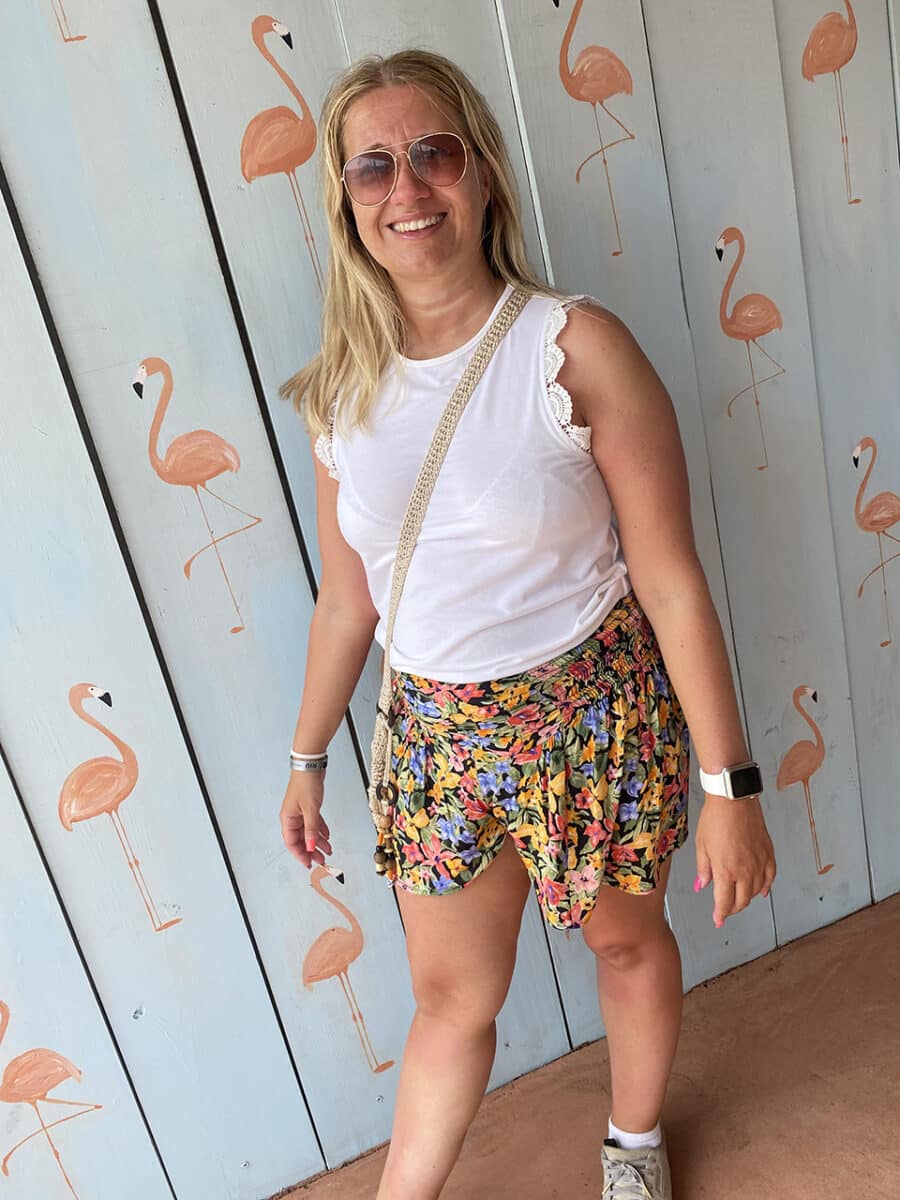 HIRE A UTV OR EXPLORE THE ISLAND BY JEEP SAFARI
We had originally planned to hire a UTV to drive around and see parts of Aruba that are not easily accessible. Vicky would drive it, as I do not have a license. However, one evening sat on our balcony, we were having a look at Get Your Guide for other things we could do while we were here.
We found a Jeep safari tour with a company called ABC Tours, this would take us to all the places we planned to visit, as-well as a few extra ones. It included lunch, and it worked out a bit cheaper, so after a bit more research, we booked it.
Full-Day Island Jeep Safari Tour. Join a fun-filled adventure touring the highlights of Aruba and traveling to places only accessible by 4-wheel drive. Enjoy the rugged terrain and swim or snorkel in the famous Natural Pool.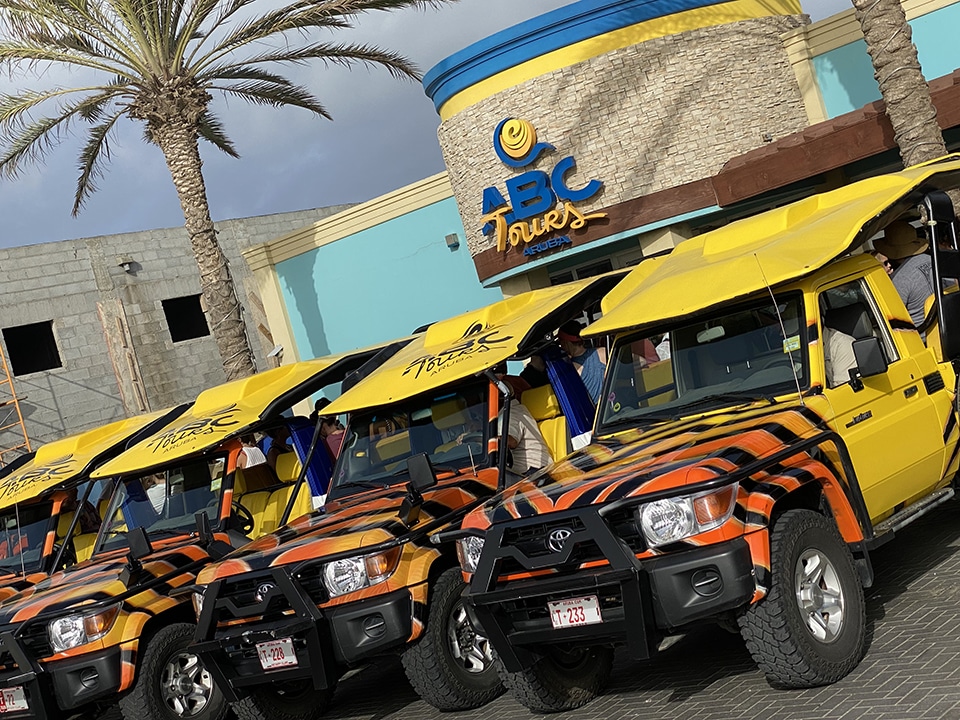 THE DAY OF OUR JEEP SAFARI
In a bright orange and yellow tiger-striped, open-sided 4×4, our guide picked us up. Known locally as 'Uncle Johnny', he is a bit of a celebrity on the island. There were eight of us on this small group tour, all really nice people, they were nice to talk to and they all enjoyed the trip as much as we did.
CALIFORNIA LIGHTHOUSE
Our first stop was California Lighthouse. Named after the steamship SS California that sank just off the coastline in 1891, before the lighthouse began construction in 1910. At the North-West tip of the island, close to the popular Arashi Beach. You can climb to the top for $5 and you get 360-degree views across the island.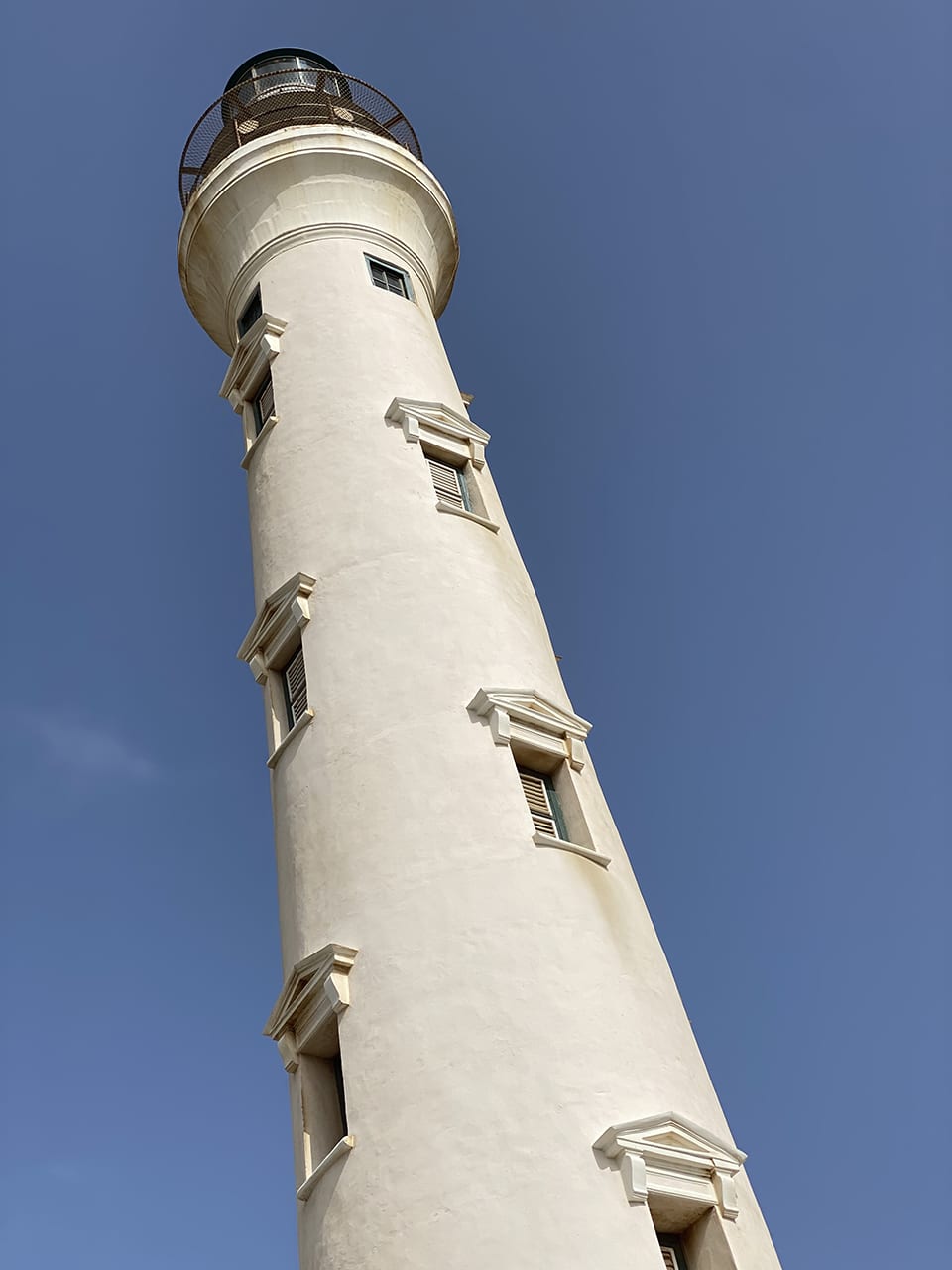 AALTO VISTA CHAPEL
From the lighthouse we travelled through the Arashi Dunes. They showed us a very different side of Aruba, a rugged coastline with crashing waves, rocks and boulders, cacti and desert-like conditions. It was a million miles away from what we had experienced on Palm Beach, crystal clear, calm turquoise waters and powder white sand.
Our next stop was the Aalto Vista Chapel, also known as the Pilgrims Chapel. It was consecrated in 1750 and rebuilt in 1952. Uncle Johnny explained how sacred this place is to the Arubans. He told us about the pilgrimage that takes place by local Catholics every Good Friday on foot, from Oranjestad to the Chapel.
Around the back of the chapel is the Peace Labyrinth, a replica of the labyrinth in the Chartres Cathedral near Paris. They created it in 2005. He explained that over the years, thousands of people have benefited from walking its many paths, enjoying the soothing sounds and vibrations of the surrounding landscape.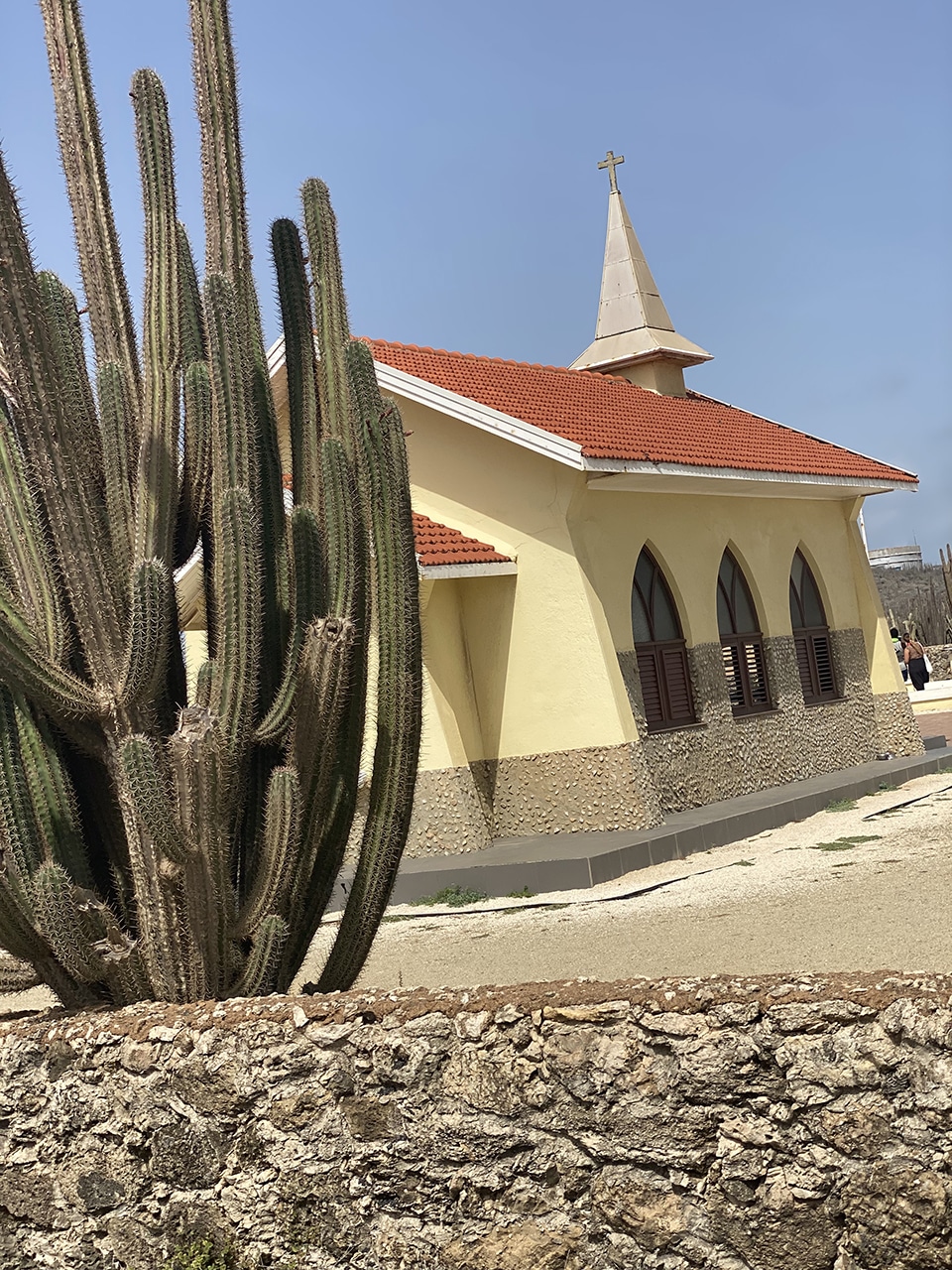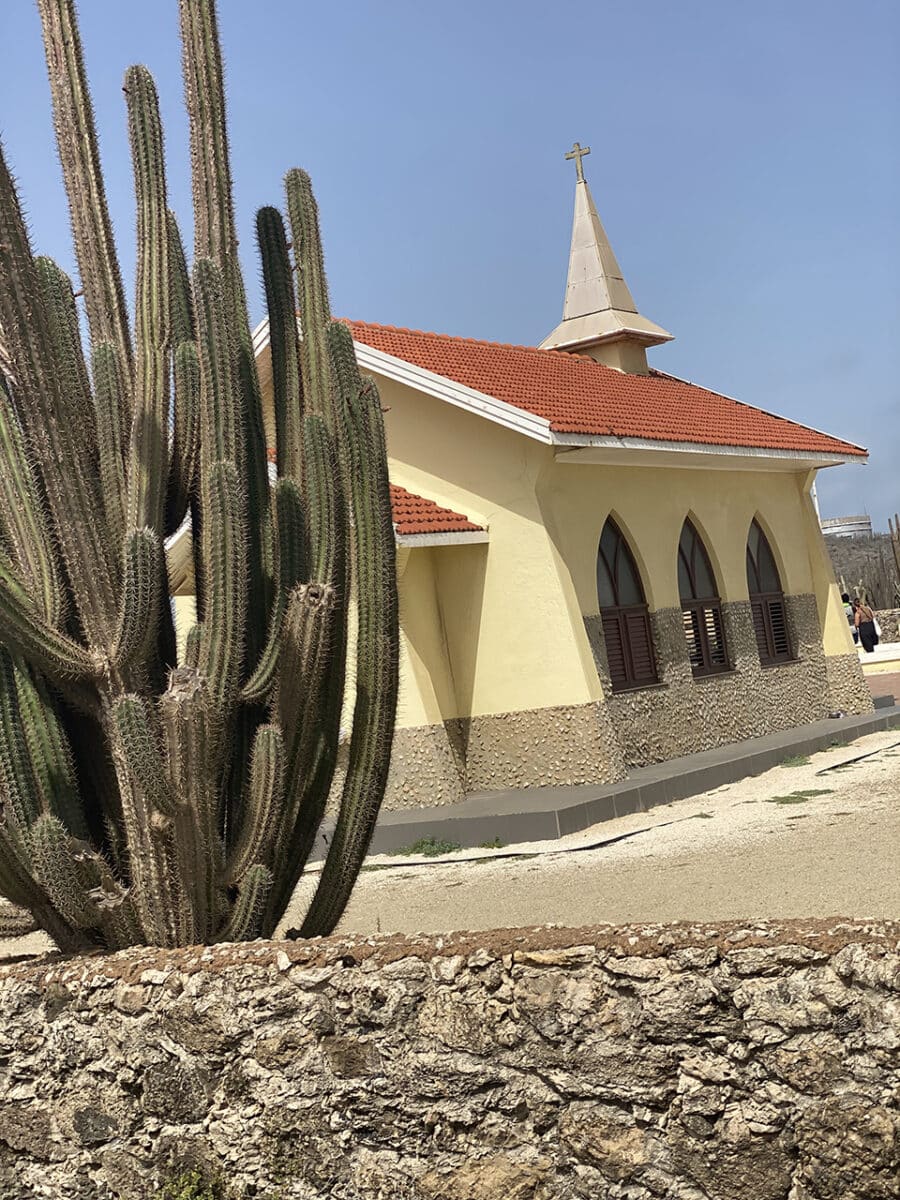 THE NATURAL BRIDGE
The bridge was naturally formed out of coral limestone over thousands of years, unfortunately though, it collapsed in 2005 because of Hurricane Ivan. It was 25ft high and 100ft long and was the remnant of a collapsed ancient cave. All that remains now are ruins and what the locals fondly call Baby Bridge just opposite, still worth a visit, and again a symbol of the island.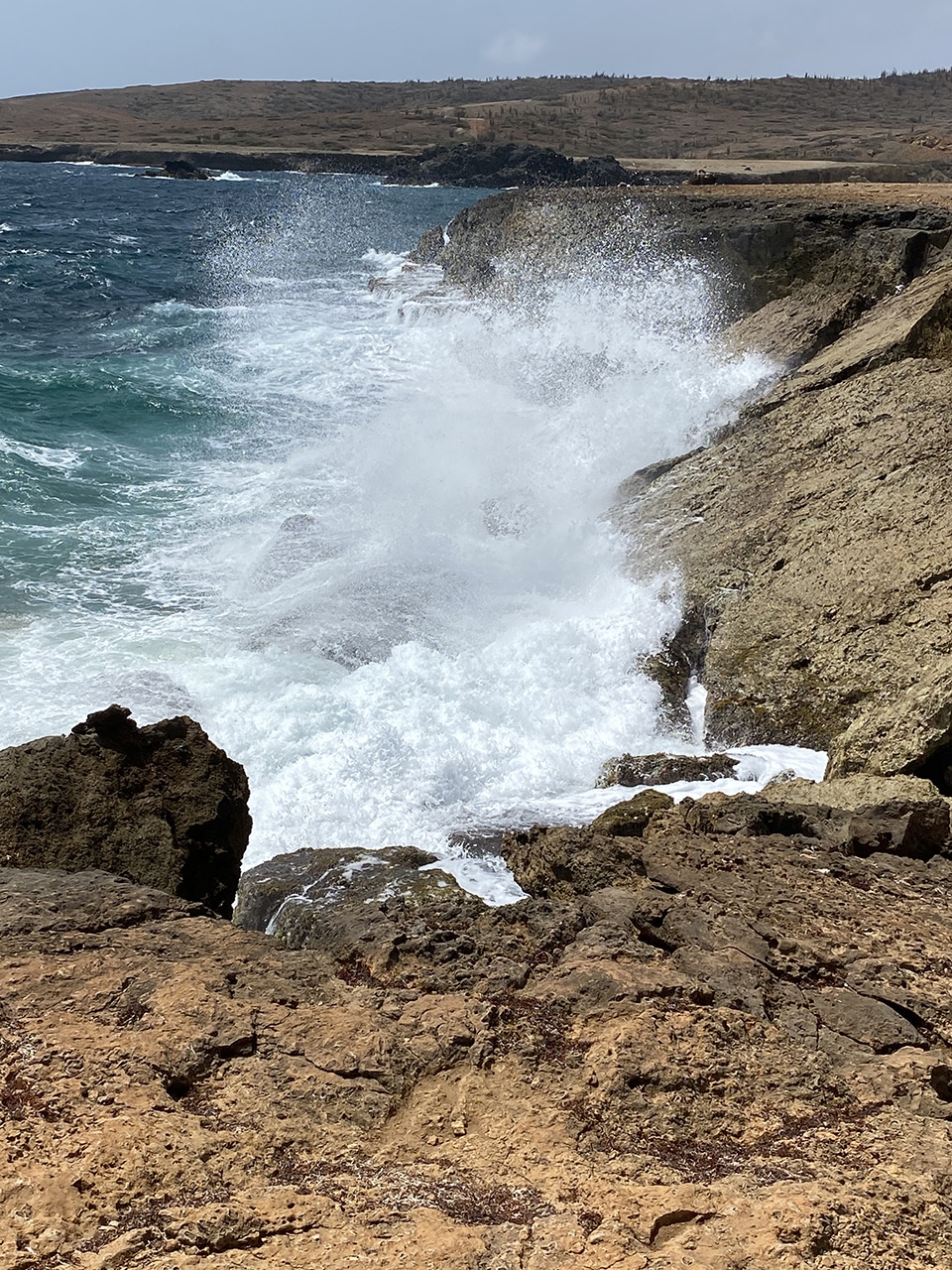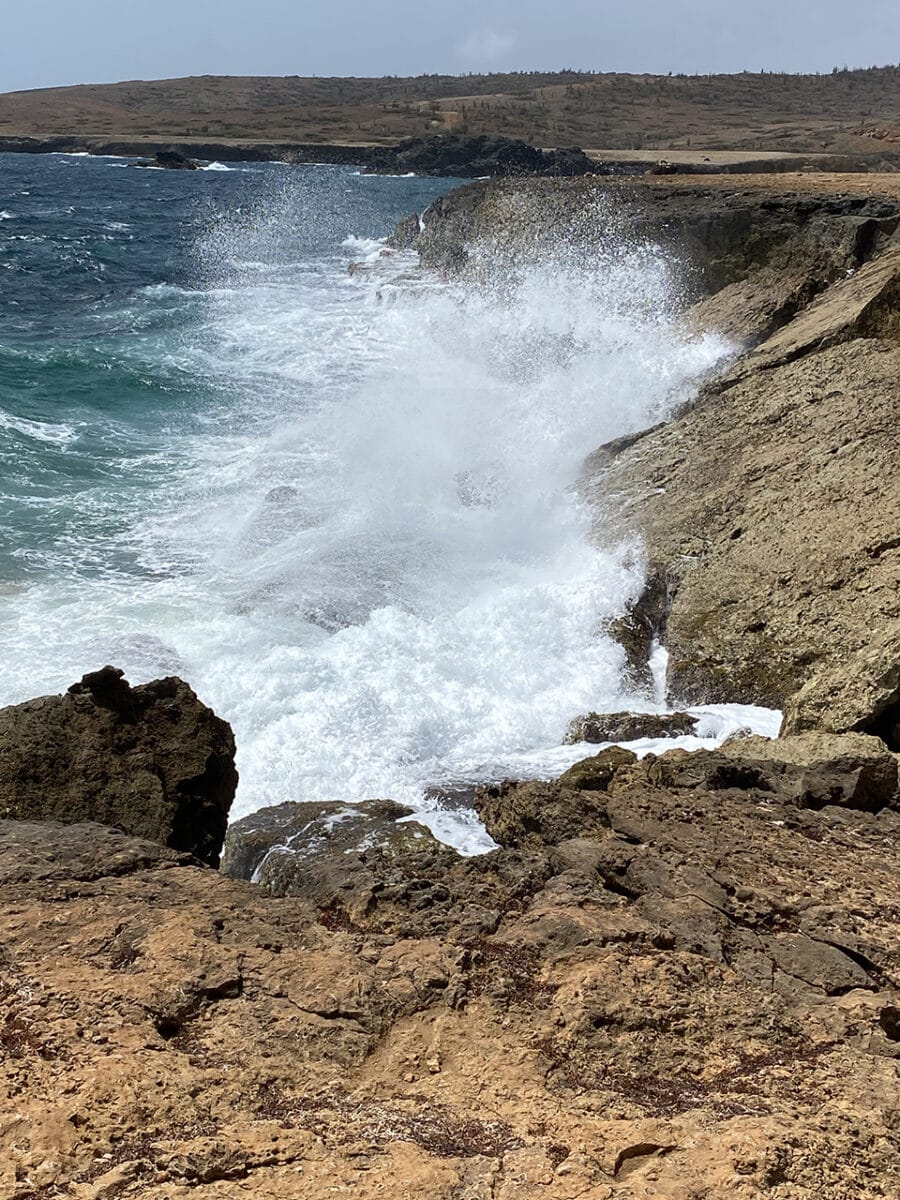 THE BUSHIRIBANA GOLDMINE
A former mill built in 1874 by the English Aruba Island Gold Mining Company. It wasn't until 1824 that gold fever took over the island after they found gold ore near the hills of Rooi Fluit. Locals could dig for it until 1854. It remained an important industry on the island right until 1916 and it produced over three million pound's worth of gold in total.
It is said that Aruba was named "Oro Ruba' (red gold) by the first adventurers who set foot on the island all those years ago.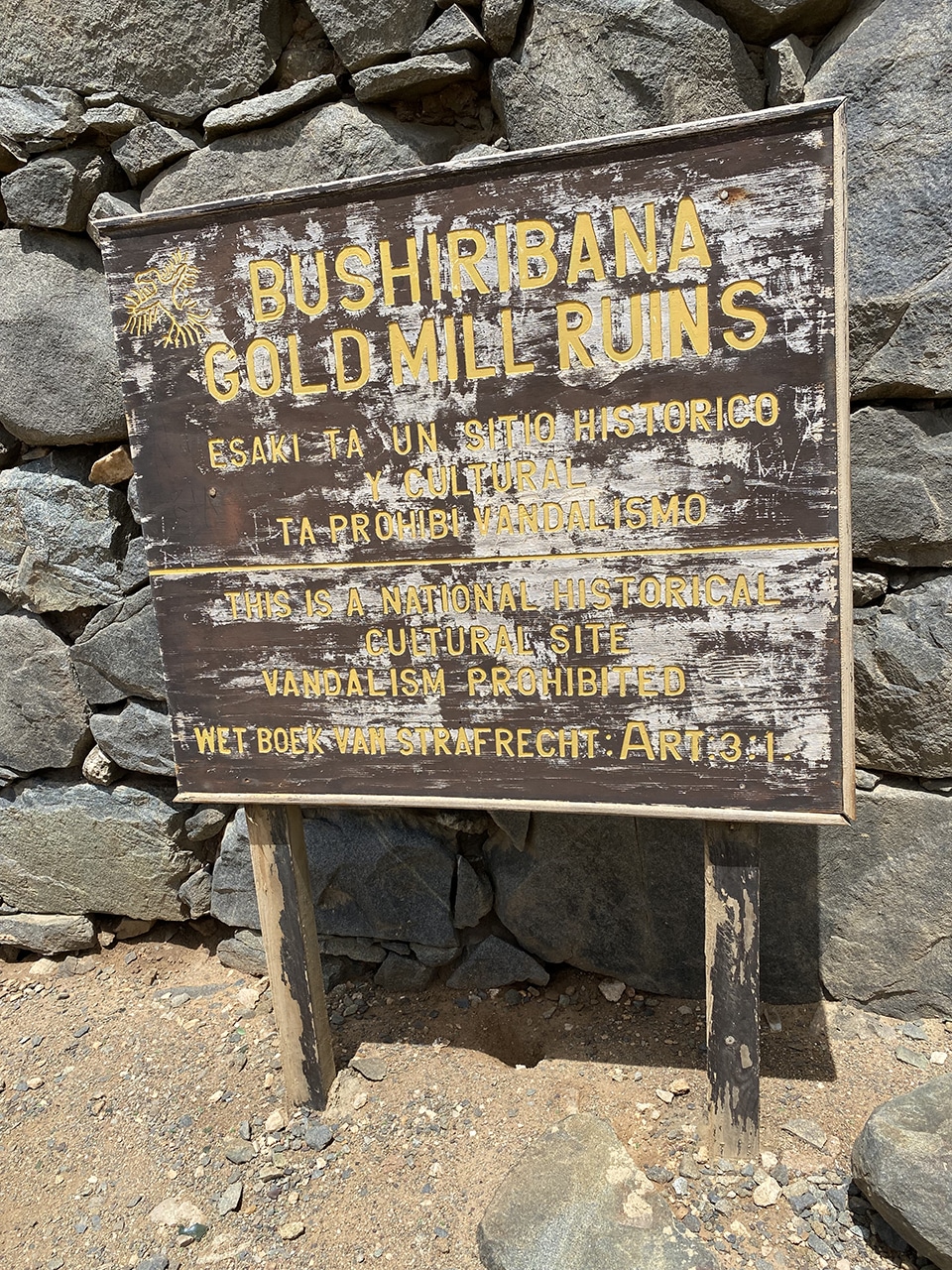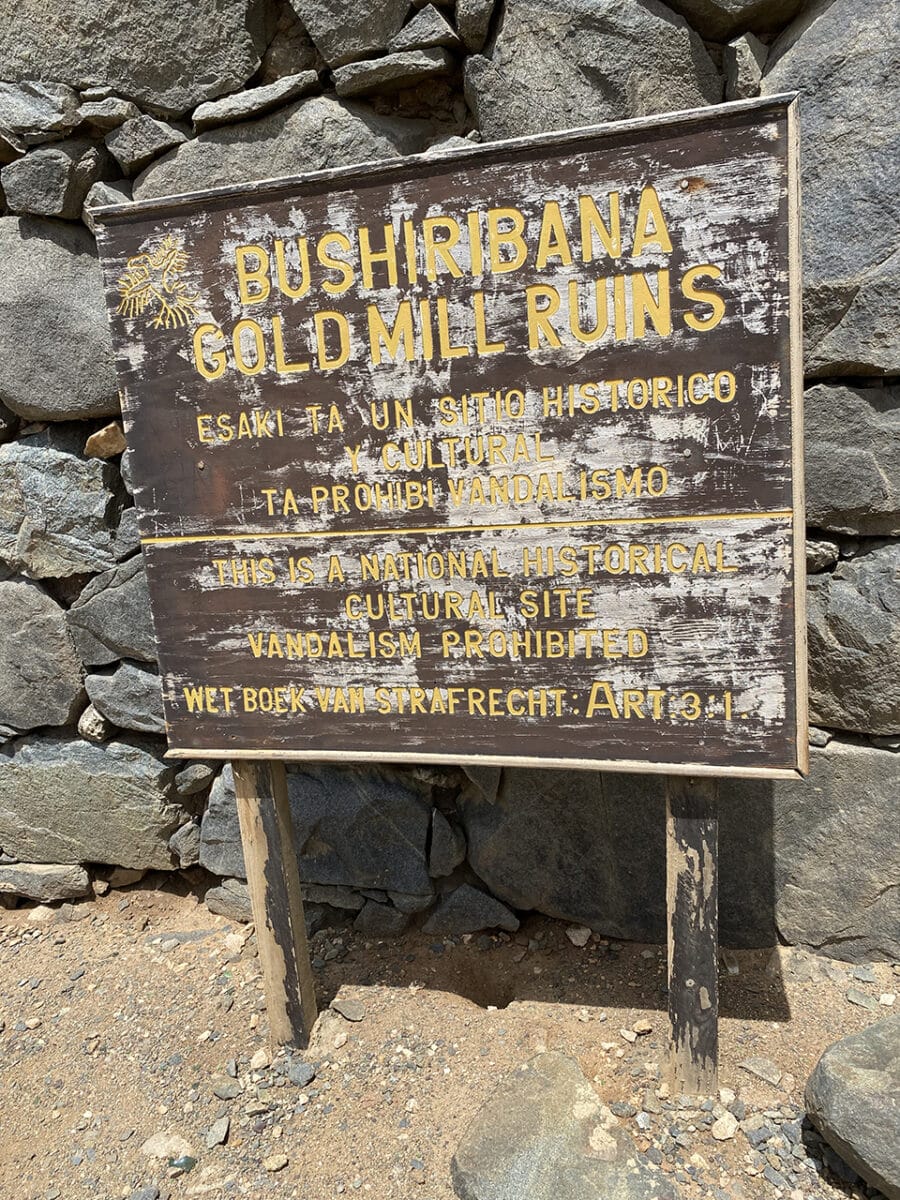 STOPPING FOR SOME LUNCH
We drove back to ABC Tours headquarters, where we would eat lunch.
When we booked this trip, we had to pre-select what we would eat for lunch. We both added the BBQ chicken option. When it came, it looked amazing. A huge chicken leg covered in sticky BBQ sauce, with rice and black beans. It was absolutely delicious. In fact, I would say it was the nicest chicken I'd ever eaten. We had to purchase our drinks separately, so we both went for one of the island's favourite cocktails, the Aruba Ariba. A blend of vodka, rum, passion fruit syrup, creme de banana, orange, cranberry and pineapple juice.
SWIMMING IN A NATURAL POOL
All refreshed and energised, we continued on with our trip. The next part was fun. We had to travel through Arikok National Park to get to our next destination. Uncle Johnny told us he was putting the jeep into 4×4 mode and that we should hold on. Off we went, up and down dirt tracks bouncing from our seats. It was incredible fun.
As Vicky is not a strong swimmer, she was apprehensive about the next bit. We parked at the top of the hill, a short walk down to the Conchi Natural Pool. Luckily they had a life vest for people to use, but she was still nervous. I reassured her and told Vicky everything would be fine, and that I would watch over her. I also said that she would miss out on an incredible experience if she stayed behind.
We had a quick safety briefing. We were told to avoid the rocks at the far end of the pool and only stay within it. The rip-tide and currents outside of this area were far too dangerous. After a small walk down to the sea, and a very slippy climb into the pool we were in. It was incredible; it was warm. We saw lots of crabs crawling on the rocks, and colourful tropical fish beneath our feet. I was off with my GoPro camera and Vicky was just happy floating around; I am so glad she trusted me and I know she had the best time. Conquering all these little fears she has, one at a time.
The QUADIRIKIRI CAVES
Next up, the ancient Quadirikiri Caves. The cave extends for around 100 feet. Strange to think that this was once under water. Stalactites and Stalagmites form natural works of art, and dozens of ancient cave drawings belonging to the ancient folk who used to dwell here.
One of the cave's chambers is home to a population of bats and is therefore blocked off so as not to disturb them.
A mythical folk tale relates to a daughter of an Indian chief who fell in love and was imprisoned in the cave as her lover was not acceptable to her father. Her beloved one was imprisoned nearby, in Huliba Cave (Tunnel of Love), but both lovers met underground. Both reportedly died in the cave and their spirit vanished into heaven through the holes in the roof of the cave.
Wikipedia.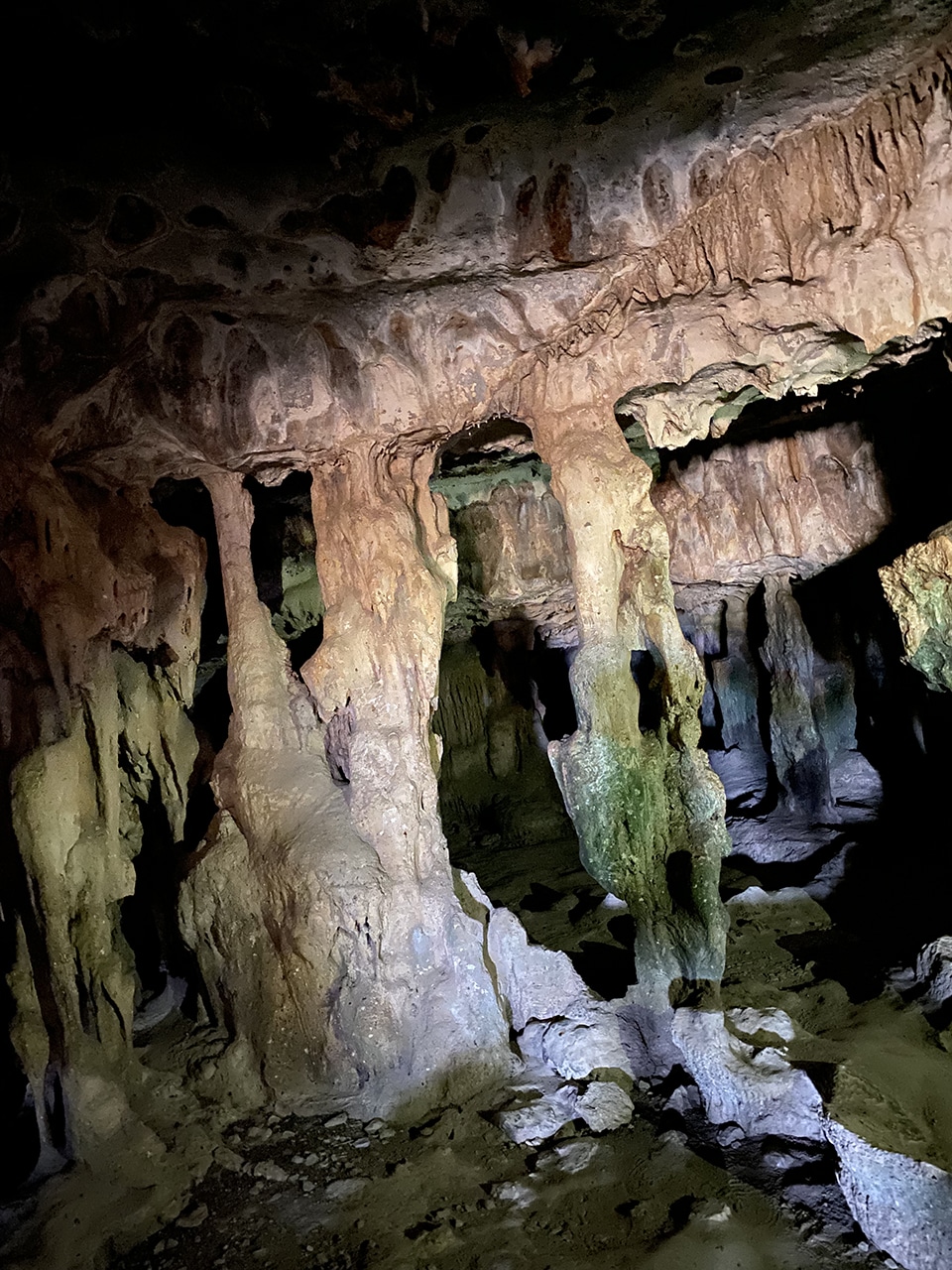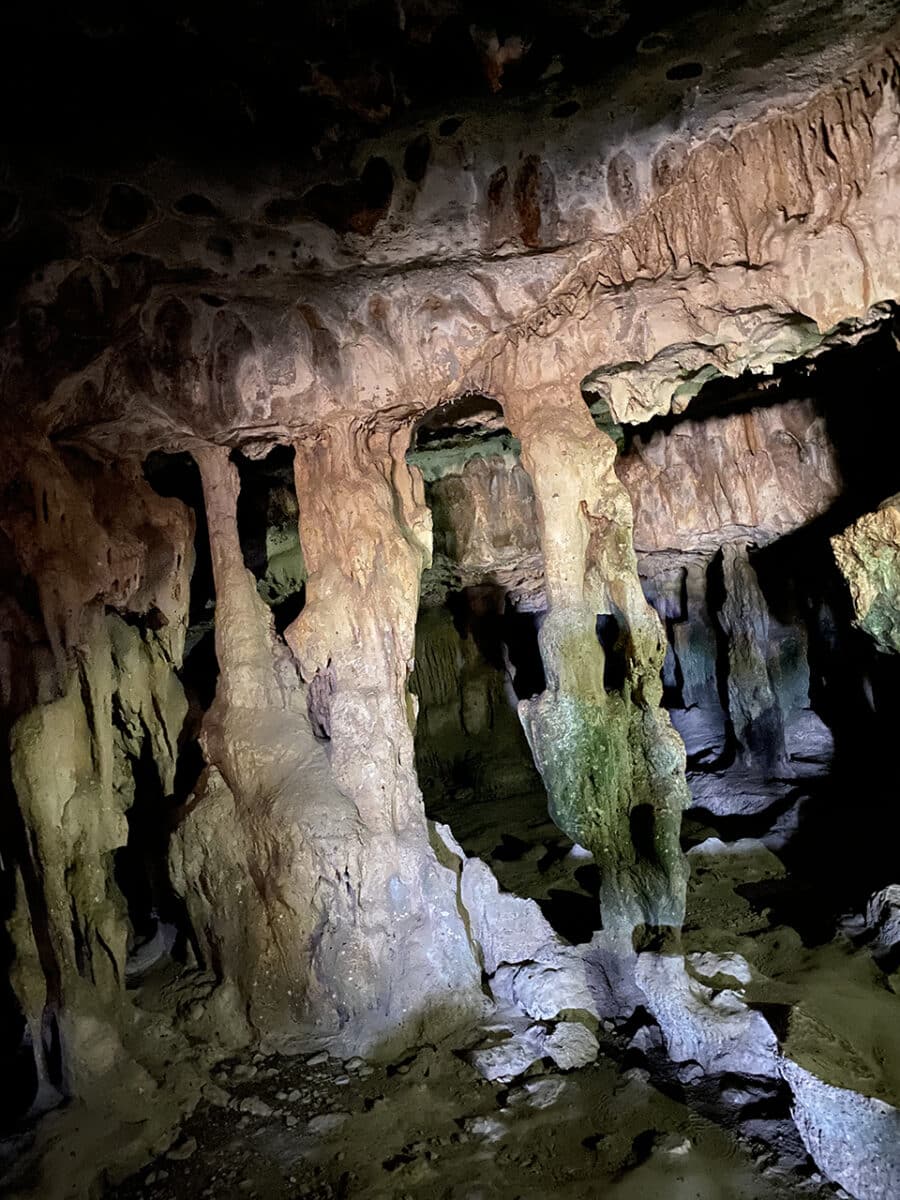 On the way to our last stop, Johnny had a surprise for us. He pulled over in a small layby. A small group of wild donkeys came running over to us. He handed us some bits of pineapple and gently the donkeys took this from us and happily munched away on it. It was a nice little extra that made us all smile, not to mention they were all super cute.
BEAUTIFUL BABY BEACH
We had wanted to visit this beach for a long time. The beach is difficult to get to unless you have a vehicle. It is set in a small cove-like setting with around 600 metres of white sand and metres of warm shallow water. It's an absolute paradise. It is perfect for snorkelling.
Baby Beach is also one of several places on the island which is known for seeing sea turtles and we would have loved to have spotted one, but unfortunately, we didn't. It's my dream to see one out in the wild, so we will have to try again some place else.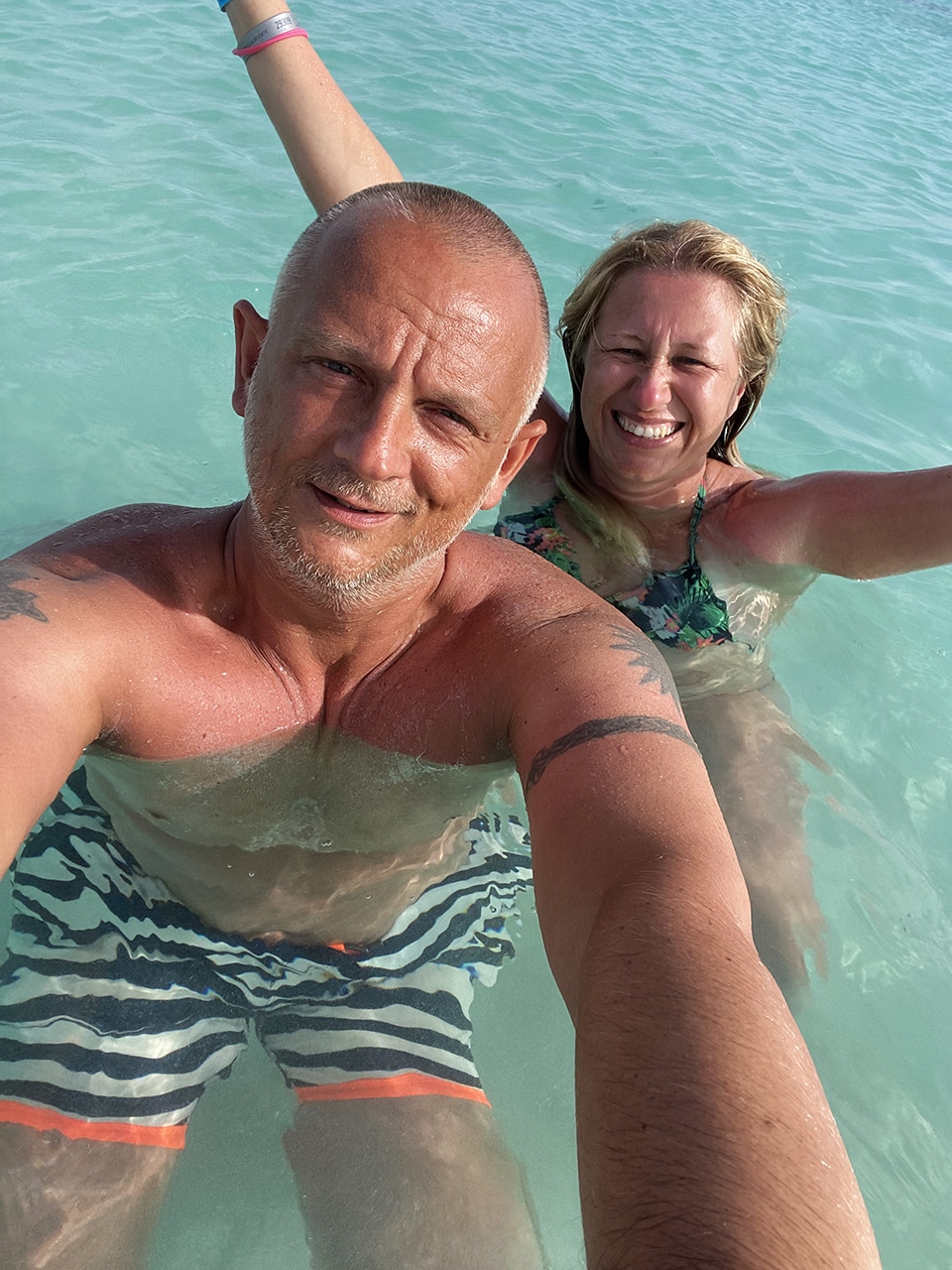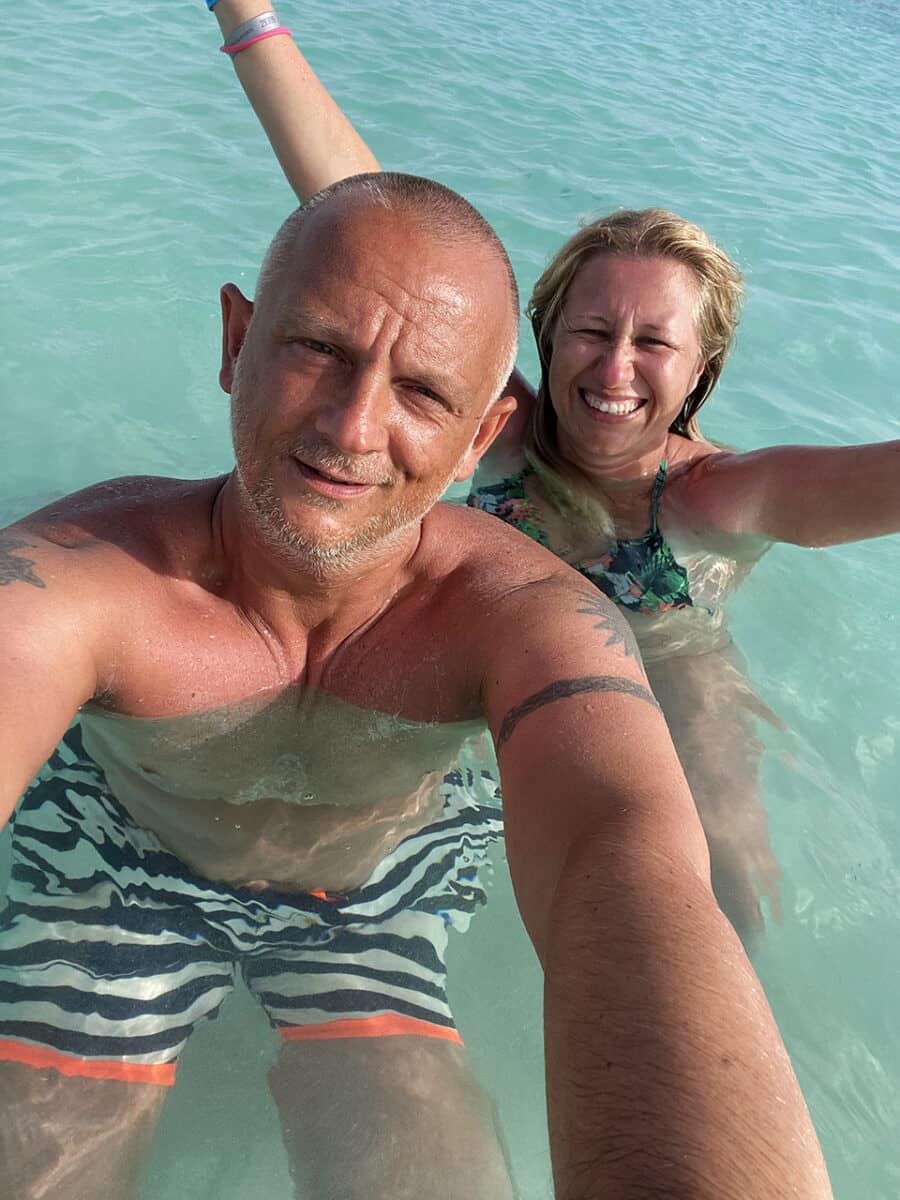 Our island adventure was now at an end and we were all dropped off back at our hotels. The trip absolutely shattered us. We had such a busy day; we had a few beers and then headed over to Wendy's, the American burger franchise, for our food that evening. Quick and easy. We were too tired to dress up for the hotel restaurant and couldn't be bothered to venture into the restaurants in town. Today had been lots of fun, though.
VISIT THE CAPITAL, ORANJESTAD
During our second week, we caught the local Arubus to Oranjestad. This only cost a couple of dollars each, each way, and the journey took around twenty minutes.
Get around the island by using the bright yellow local busses of Arubus, for more info and a list of timetables, visit Arubus N.V.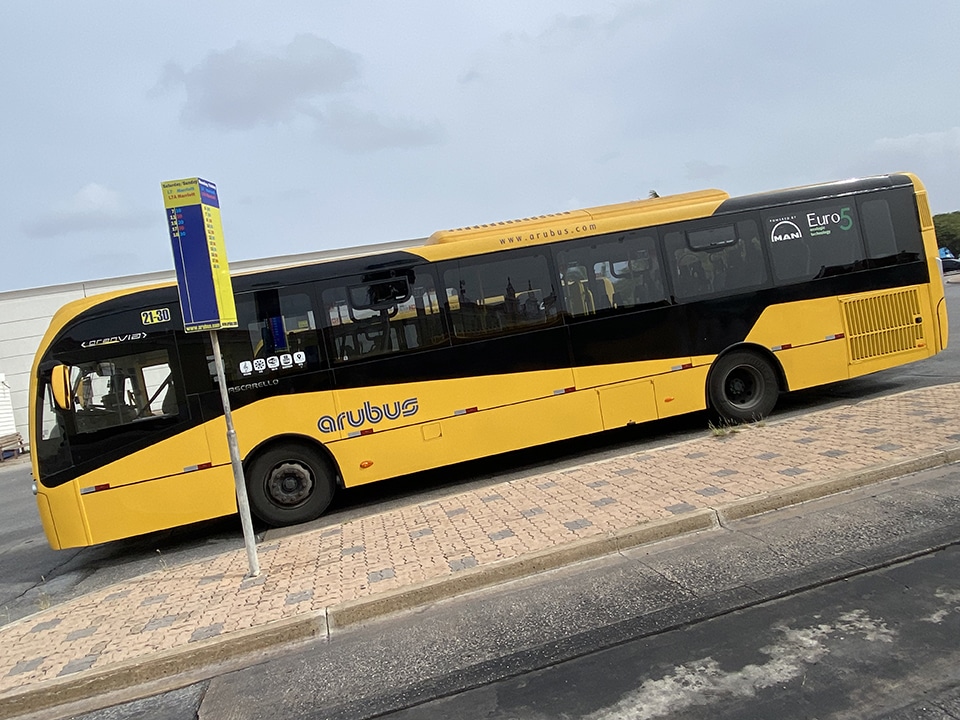 Arriving at the bus station, we had a short walk to the main strip with its brightly coloured buildings in pinks, yellows, greens, and blues. It looked really pretty. We made our way down to the harbour area where we saw Pelicans and lots of Iguanas, so of course we had to take photos of them.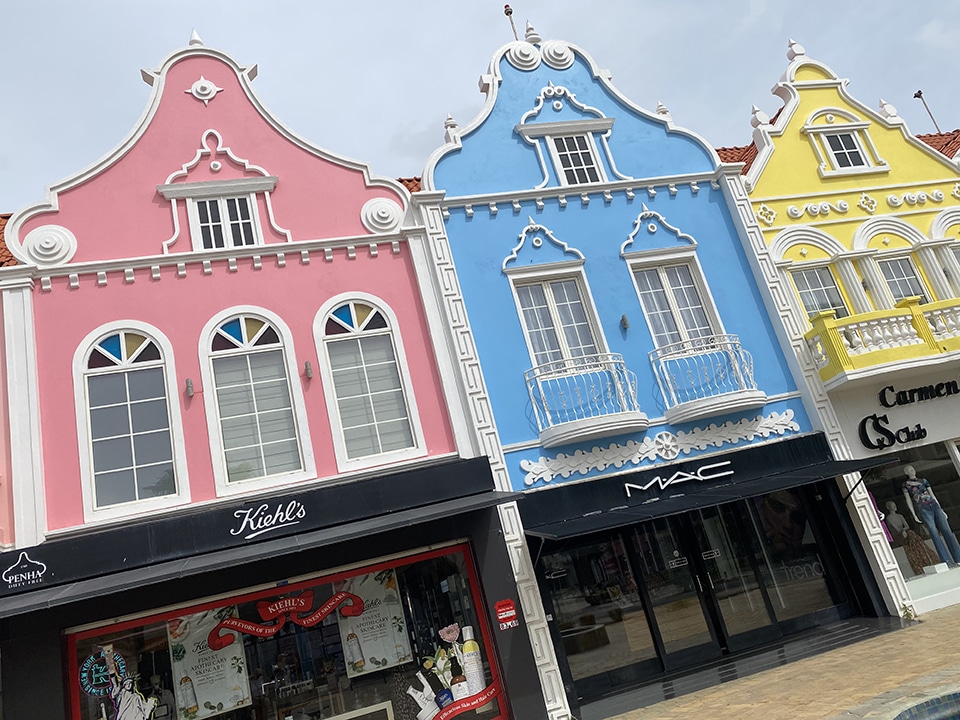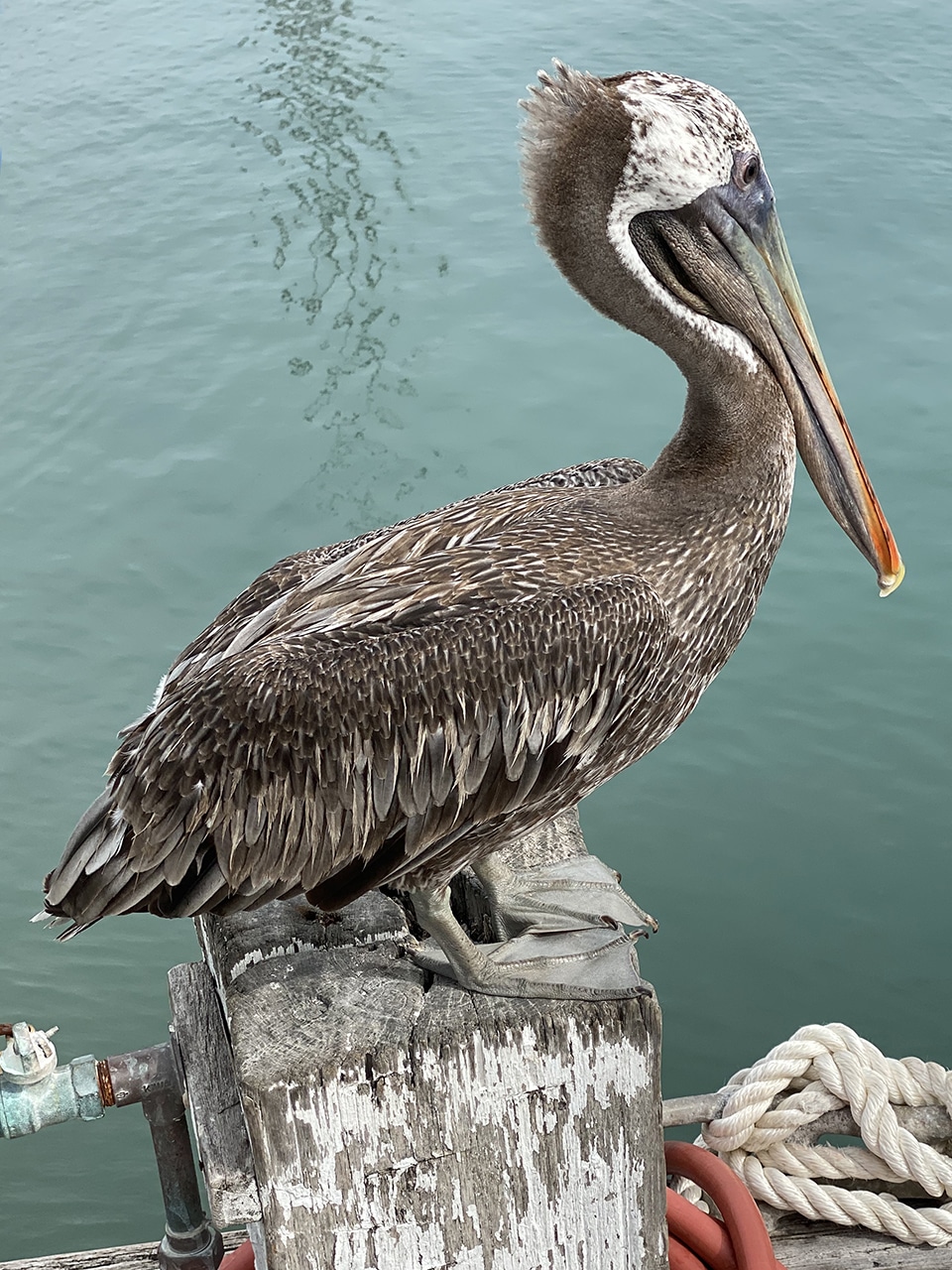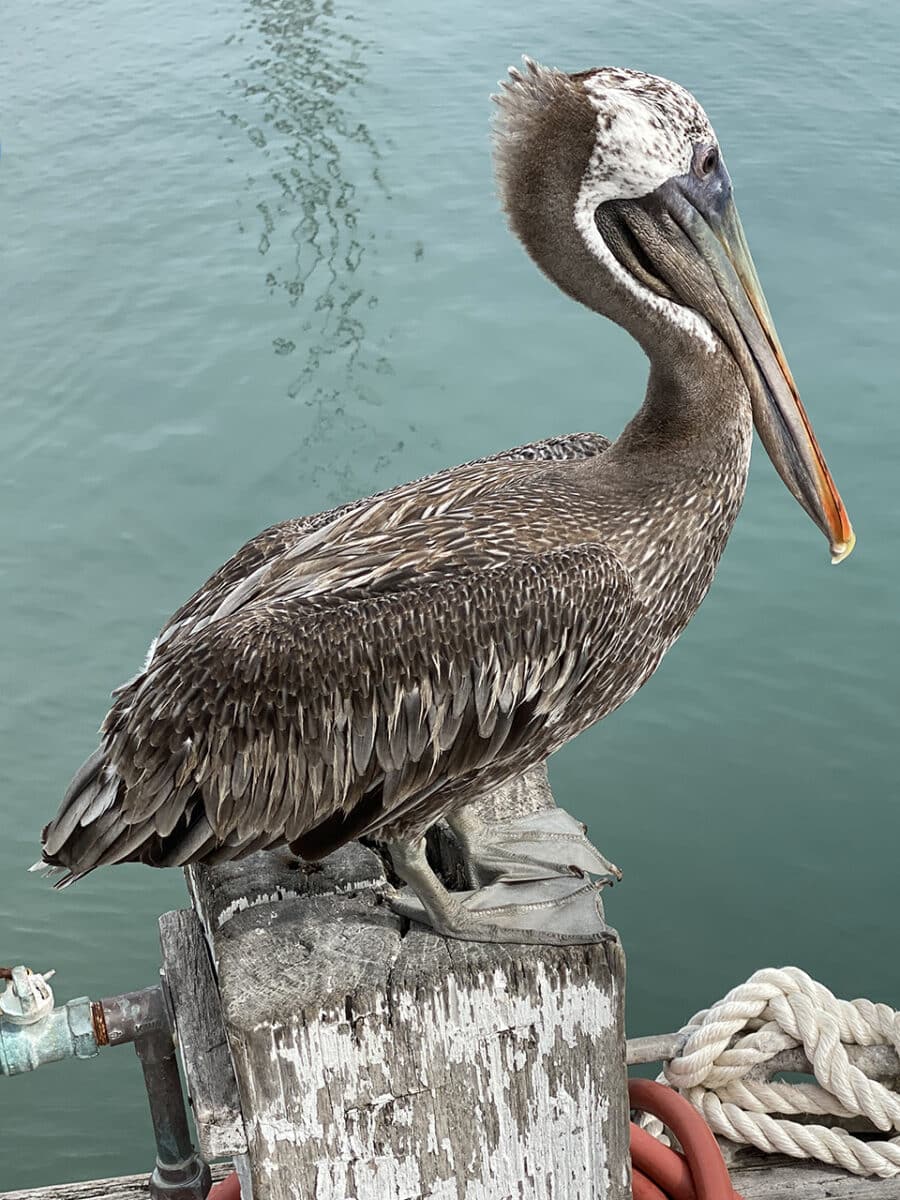 Aswell as the usual local and gift shops, Oranjestad is also home to designer shops like Gucci, Dolce & Gabbana and Prada, and these are located around the Marriott resort area.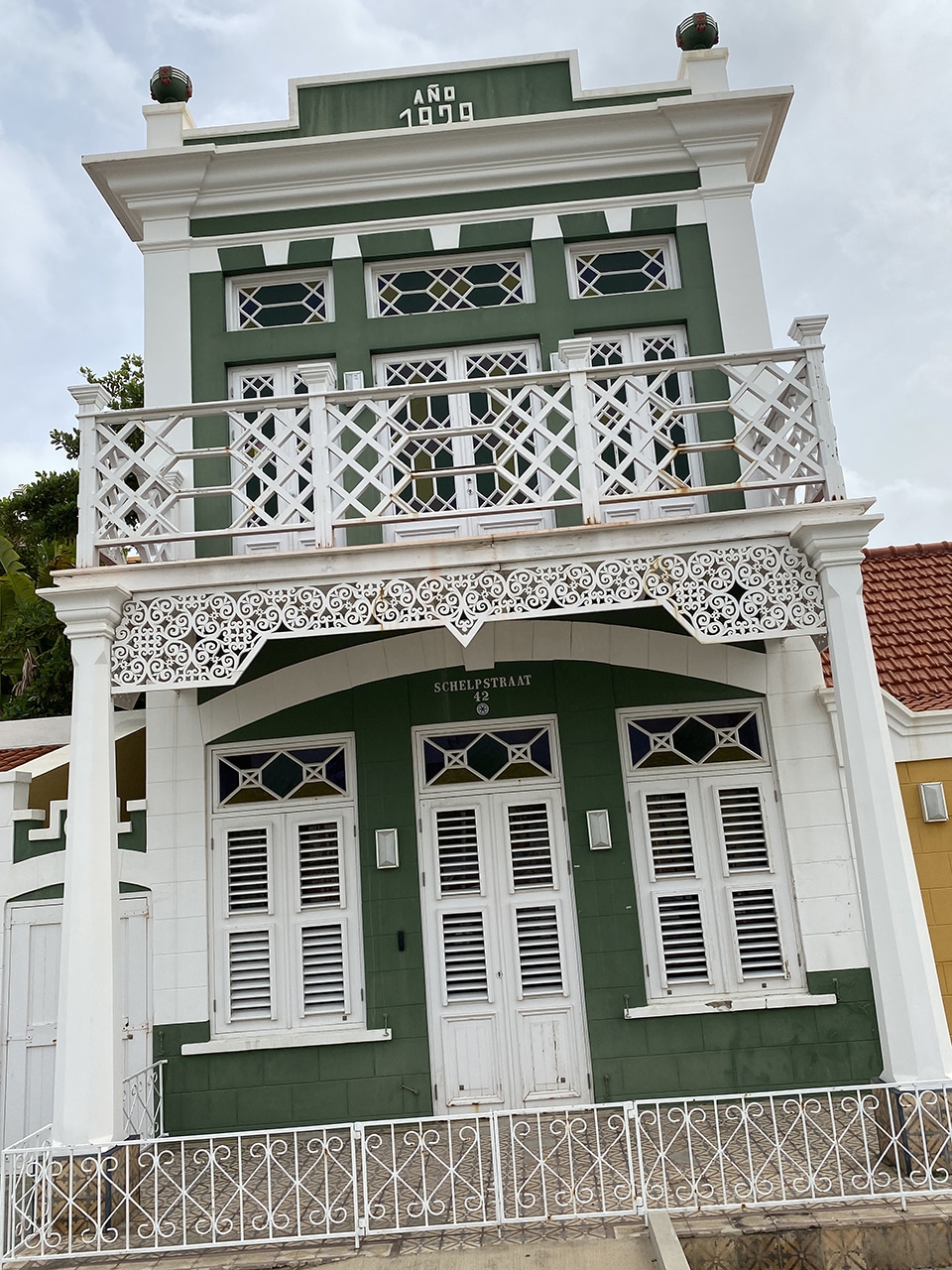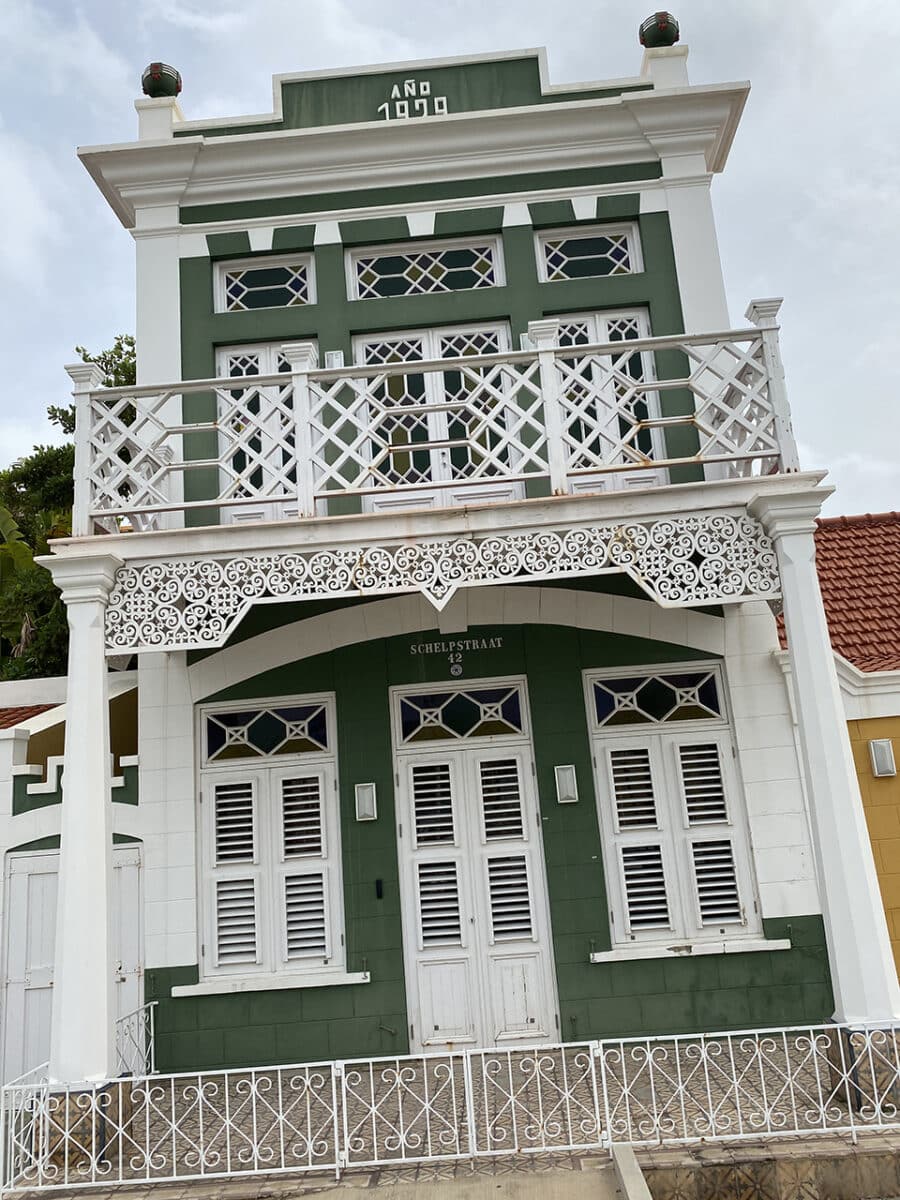 RIDE THE FREE TRAM
There is a free hop-on hop-off tram which makes several stops around the area, so we jumped on this. We sat on the top deck of the open-top tram taking in the sights.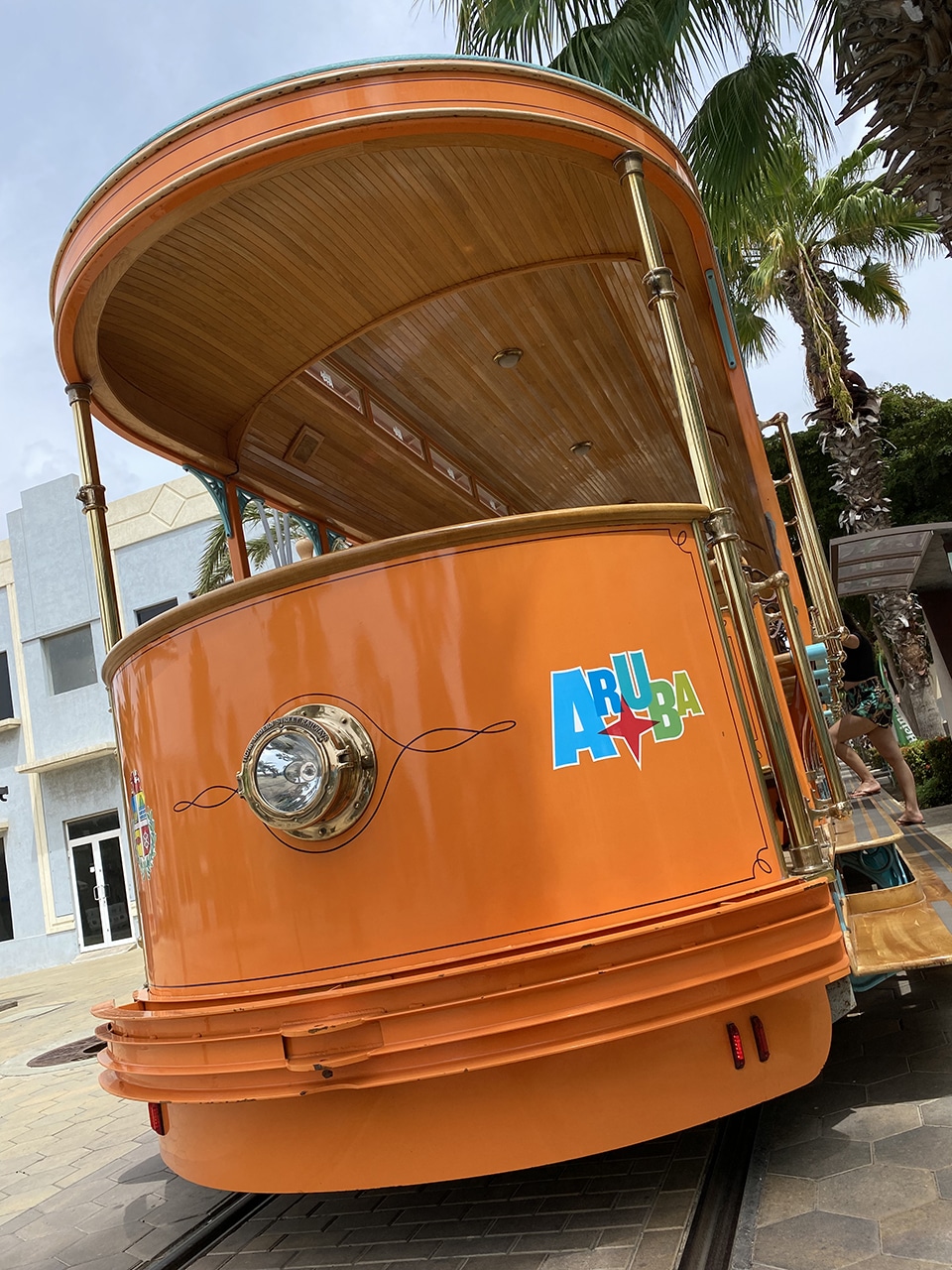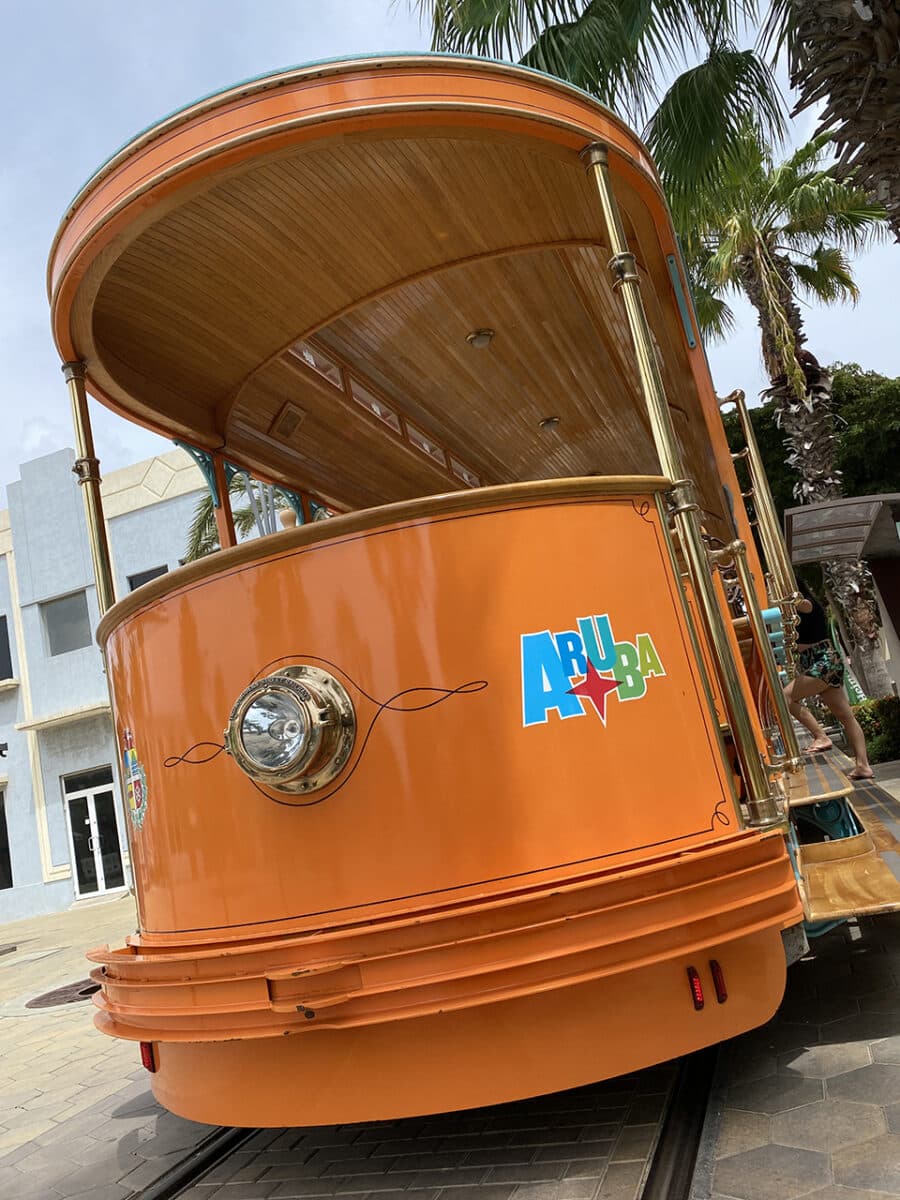 BUY SOME ARUBA ALOE
One shop you will find all over the island is the Aruba Aloe shop. Aruba is famous for its Aloe Vera. It was first brought over in 1840 by Dutch governor Van Raders. For over 125 years, Aruban Aloe is still one of the island's top exports.
There is a factory museum which you can visit and learn about how they grow and turn the Aloe into skin care products and its many other uses. Vicky purchased some soothing after sun lotion, after having it recommended by somebody in our hotel. She got a little sunburn on her shoulder and this helped with the pain.
IGUANAS ON THE BEACH
If you're anything like us, as much as we love the history, culture and architecture of the places we visit, we also like to hunt down any wildlife. There is nothing I like more than to be off exploring in search of all kinds of weird and wonderful creatures. I'm just as happy when we find local cats and dogs!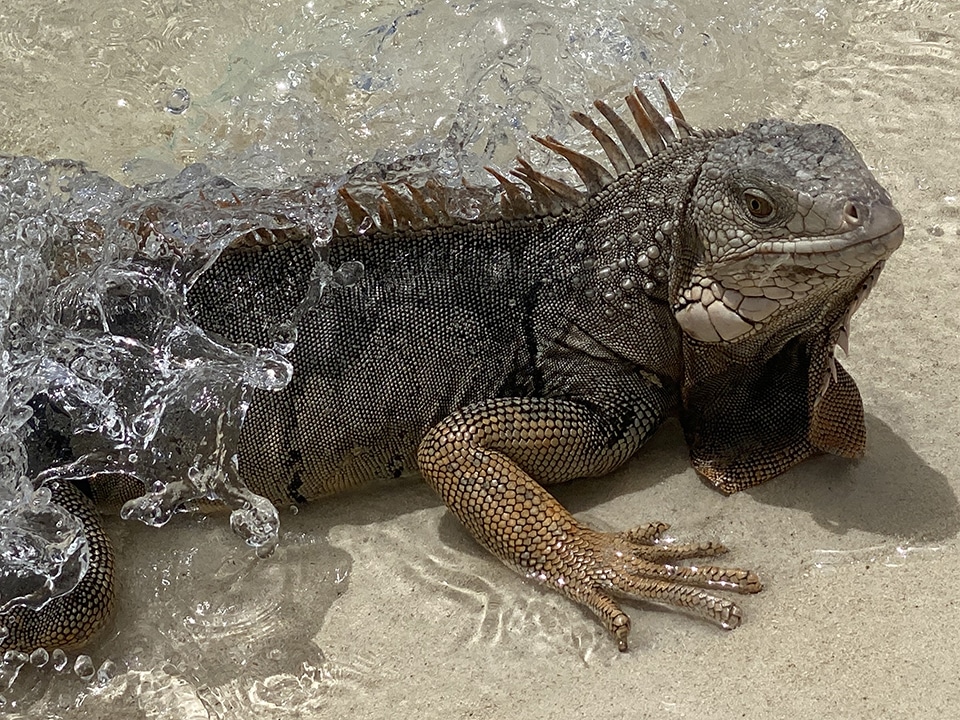 We had noticed whilst on the beach a couple of rather large Iguanas venture down onto the sand from time to time during the day. Obviously, most people were very excited to see them and they took plenty of photos. Me being me; I took it one step further. Every morning, I grabbed a selection of fruit, grapes, bananas and other bits from the breakfast buffet at the hotel. I took these to the beach and would wait for them to appear.
When they did, I would lay them out just in front of our sunbeds and watch them come running for their fruity feast. This drew several onlookers.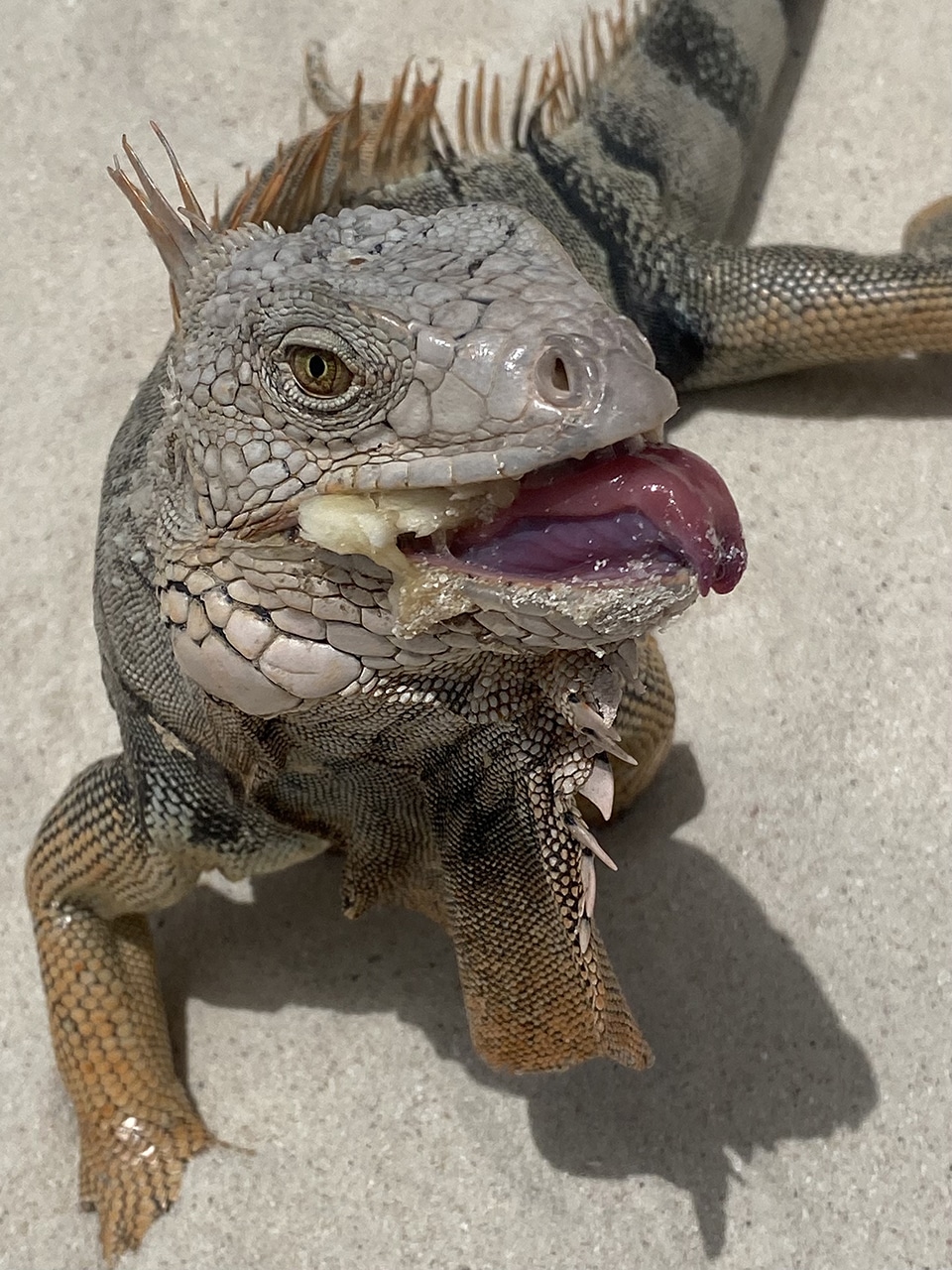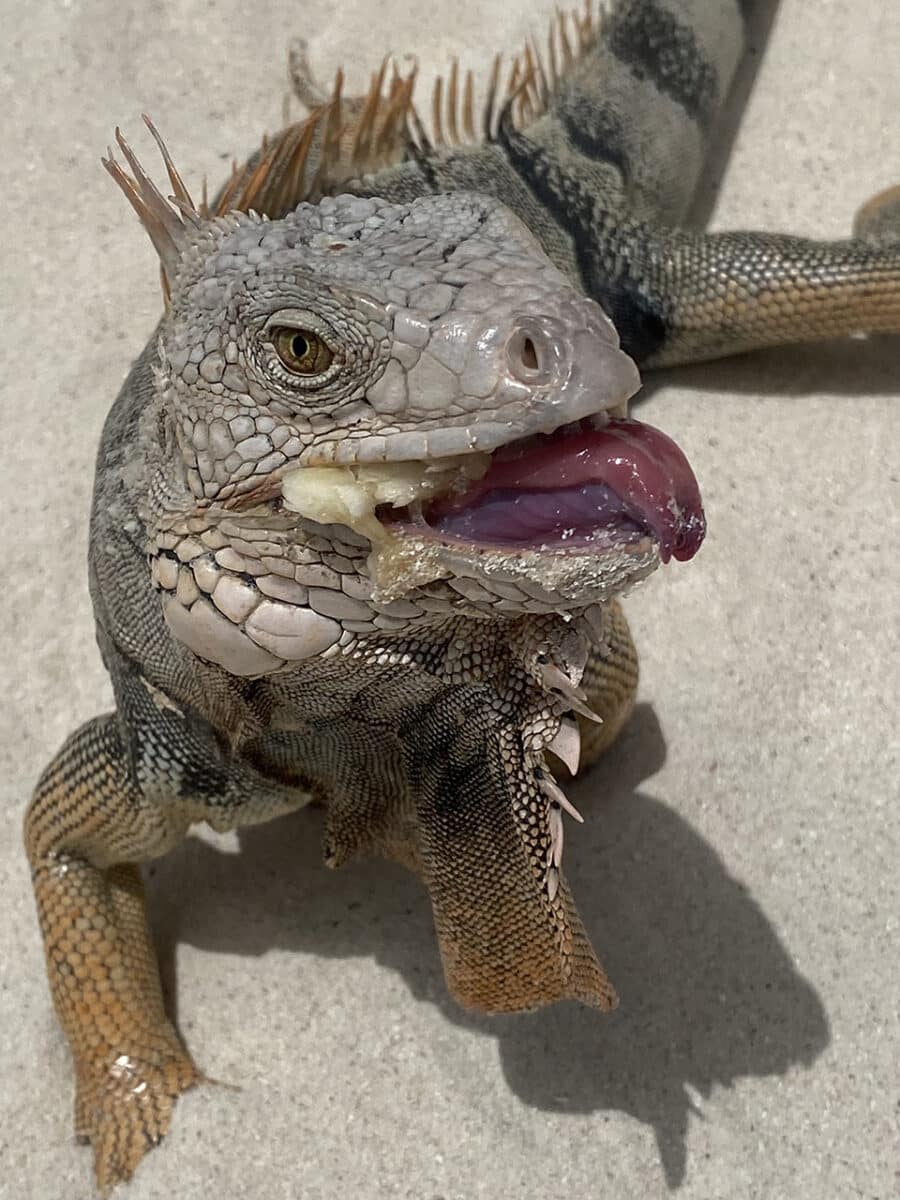 ENTERTAINING THE LOCAL LIZARD POPULATION
On our final day, we stayed by the pool. This was actually the first time we had used the pool area. So off we went to find a sunbed. I was armed with some fruit from the buffet, ready to feed the lizards once again.
It didn't take long for the local lizard population to appear, and not just the Iguanas. Several smaller, brightly coloured ones also joined in the feast. Some even hopped up onto the sunbed and took the fruit from my hand.
At one point, I even had them walking across my back and relaxing on the back of my legs. It was hilarious to see.
A NEW TATTOO FROM INKSPIRATION, ARUBA
Our last evening we got ready to eat out earlier than usual, as I had my new tattoo booked in. This took about an hour. I plan to add more to this piece at a later date. I was over the moon with it; the tattooist got this bang on. It's a shame we didn't get to see real Turtles though.
After this, we ate pizza at a nearby restaurant, which was lovely. Finding traditional Neapolitan style pizza here was a nice surprise and a treat. If you would like to visit the tattoo shop, head to The Village Mall, J.E. Irausquin Blvd 384-A.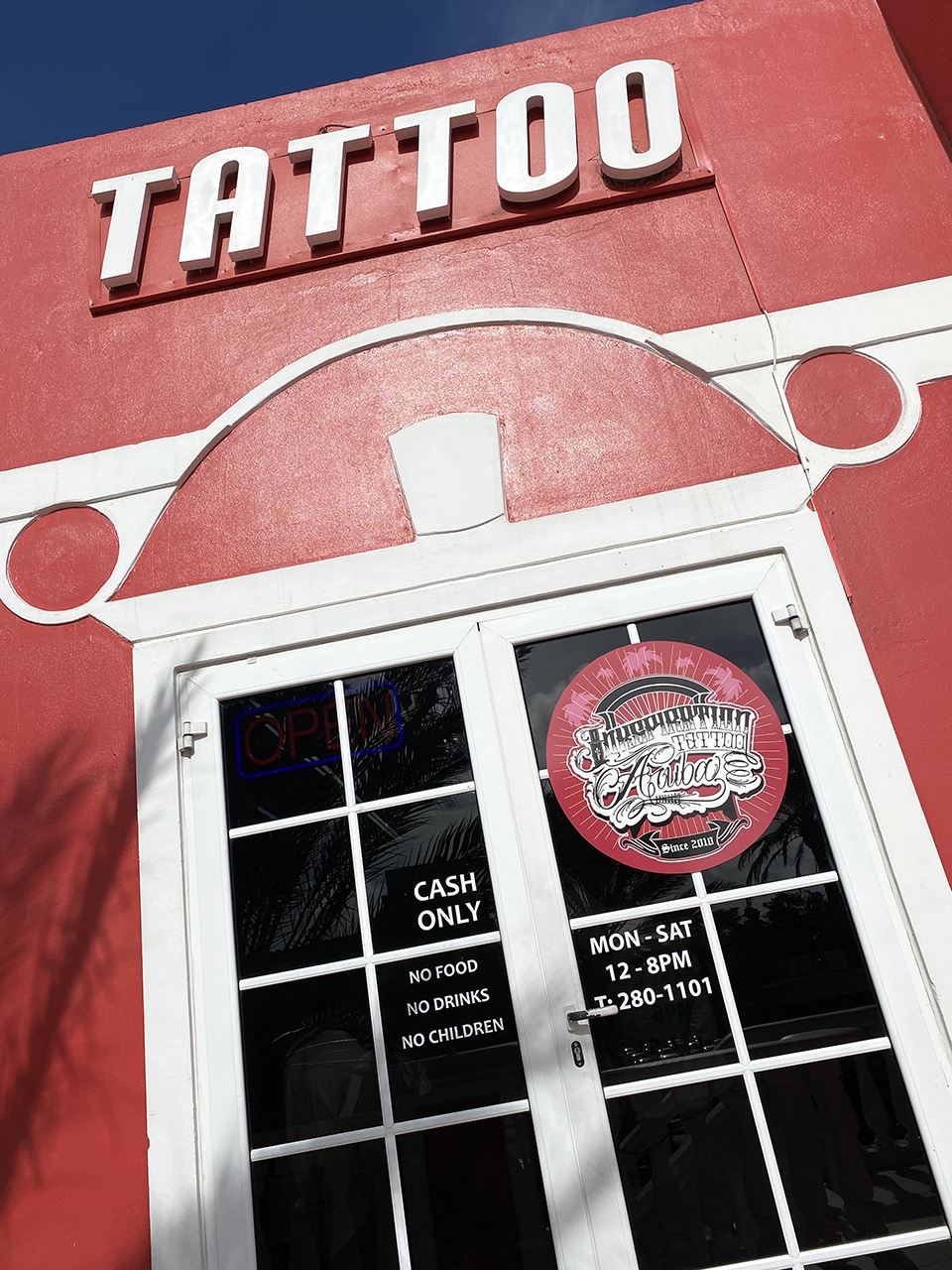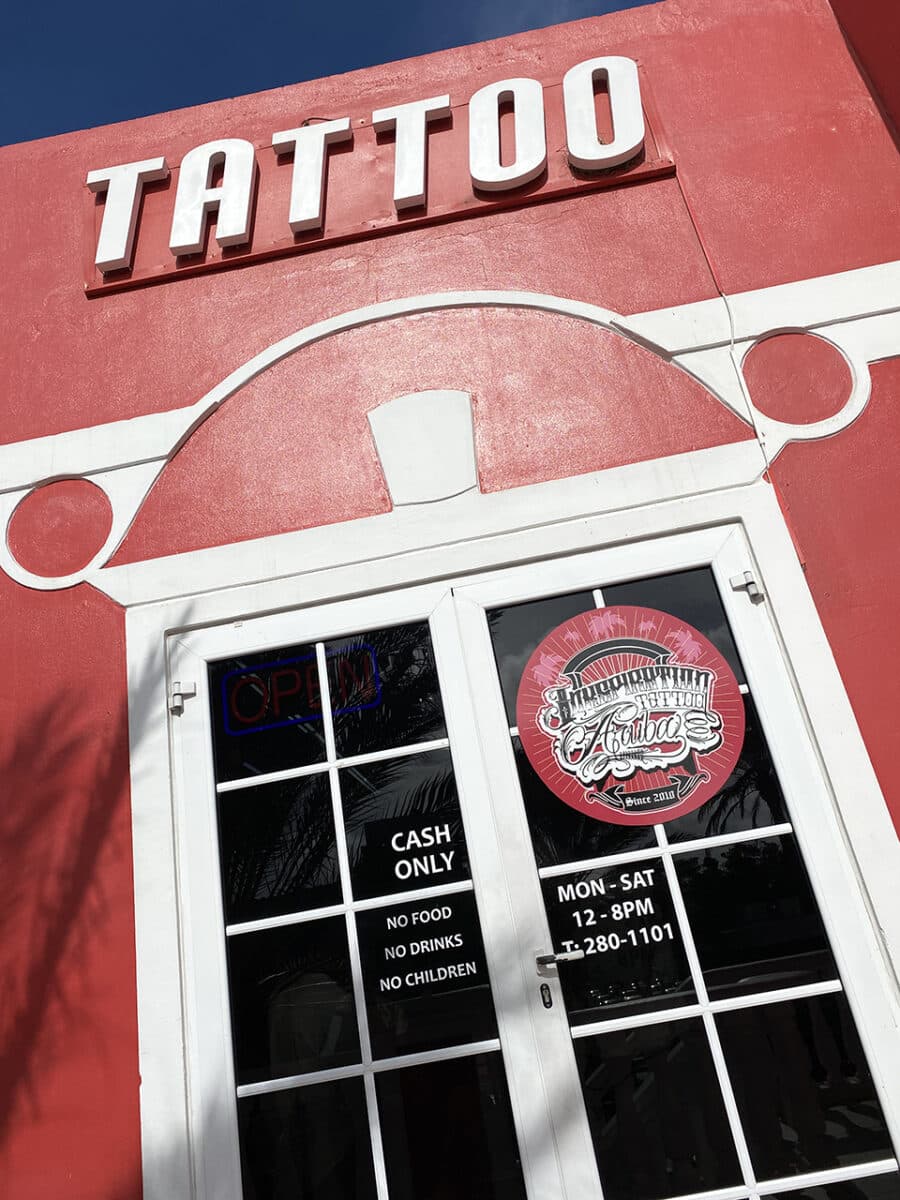 SAYING OUR GOODBYES TO ARUBA
One final walk back to our hotel before we started packing for home. We sat at one of the outside bar areas of the hotel relaxing with a drink reflecting on our two weeks here. How had it ended so fast? We loved every single second of it. The weather had been amazing, and we had so much fun. The people we met were so friendly and welcoming, I can see why when they live in such a beautiful place. Definitely living up to the tourist board's tagline of 'One Happy Island'.
I would really recommend Aruba to anyone wanting to go somewhere that has a little of everything. You can relax, party and go on adventures. It's great for people of all ages too.
Would I go back to Aruba? I would in a heartbeat. I wish we were there now to be honest.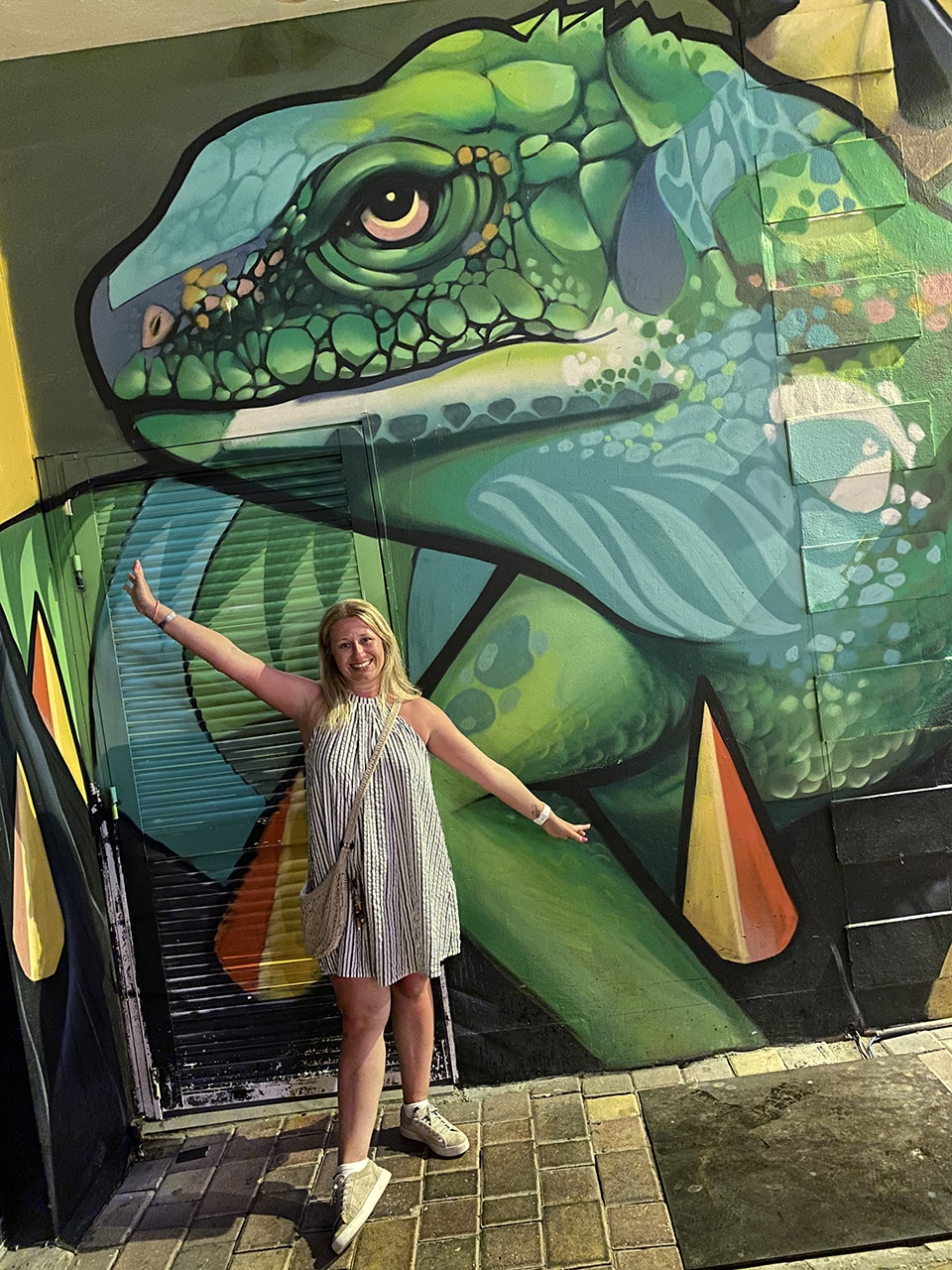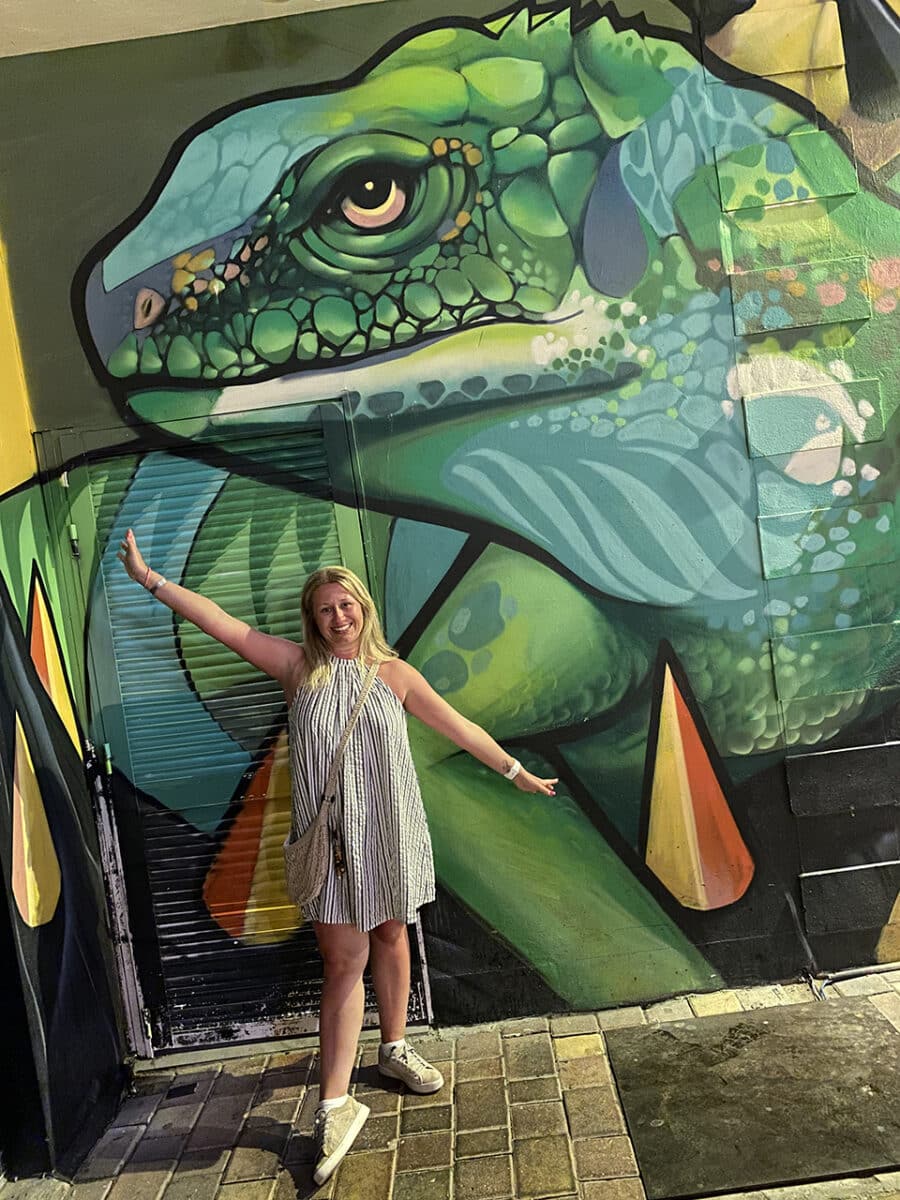 CAN YOU DRINK THE TAP WATER IN ARUBA?
Yes! The island has some of the best tap water anywhere in the world and has been awarded several times to prove it. The staff always gave us a glass of fresh, ice cold water as soon as we sat down to eat in all the restaurants we visited. I would assume because it was so hot, but also, maybe they were so proud of it.
CAN YOU USE APPLEPAY IN ARUBA?
Well, yes, and no, it seems. We managed to 'tap' our iPhones and use contactless payments in the hotel shopping area just fine. However, outside of the hotel, we couldn't use our iPhone as a payment option. We were told that the island wasn't set up for it. We had our debit cards, and we had cash, but just be aware of this when you visit.
EMBARKATION & DISEMBARKATION CARD (ED-CARD)
Before you travel to Aruba, you will need to fill in your Embarkation and Disembarkation card (ED-card). Get yours by filling in an online registration form: Aruba Online ED.
People from some countries may also be required to fill out a Visa application.
MORE IDEAS FOR YOUR ARUBAN ADVENTURE
Atlantis Submarine Expedition. Explore the Caribbean by voyaging 130 feet underneath the surface. Gaze at lush coral reefs up close. Spot tropical fish as only possible from beneath the surface.
Arikok National Park & Beach Horse Riding. Experience the spectacular panoramic scenery of Aruba's beaches on a horseback riding adventure from Noord. See a wide range of man-made and natural wonders, such as beautiful beaches, sand dunes, and a fantastic ocean view.
Mangel Halto and Baby Beach Snorkeling Tour. Enjoy Aruba's best snorkeling beaches, Mangel Halto and Baby Beach, on this snorkeling tour. Discover a variety of sea life, including angelfish, parrotfish, octopuses, and turtles, and have a snack.
---