This is the first time we have written a dedicated foodie post. We loved Venice so much and we had some amazing things to eat, so instead of just taking photos of our food; we thought we would give this a go. So, without further-a-do, this is, what to eat and where in Venice.
BREAKFAST IN VENICE
We stopped including breakfast options when we book our hotels and instead love to go out and grab what we can from the local coffee shops, cafes and bakeries. Even if included by the hotel as standard, we always venture out. Venice has an abundance of incredible places to get a bite to eat on a morning.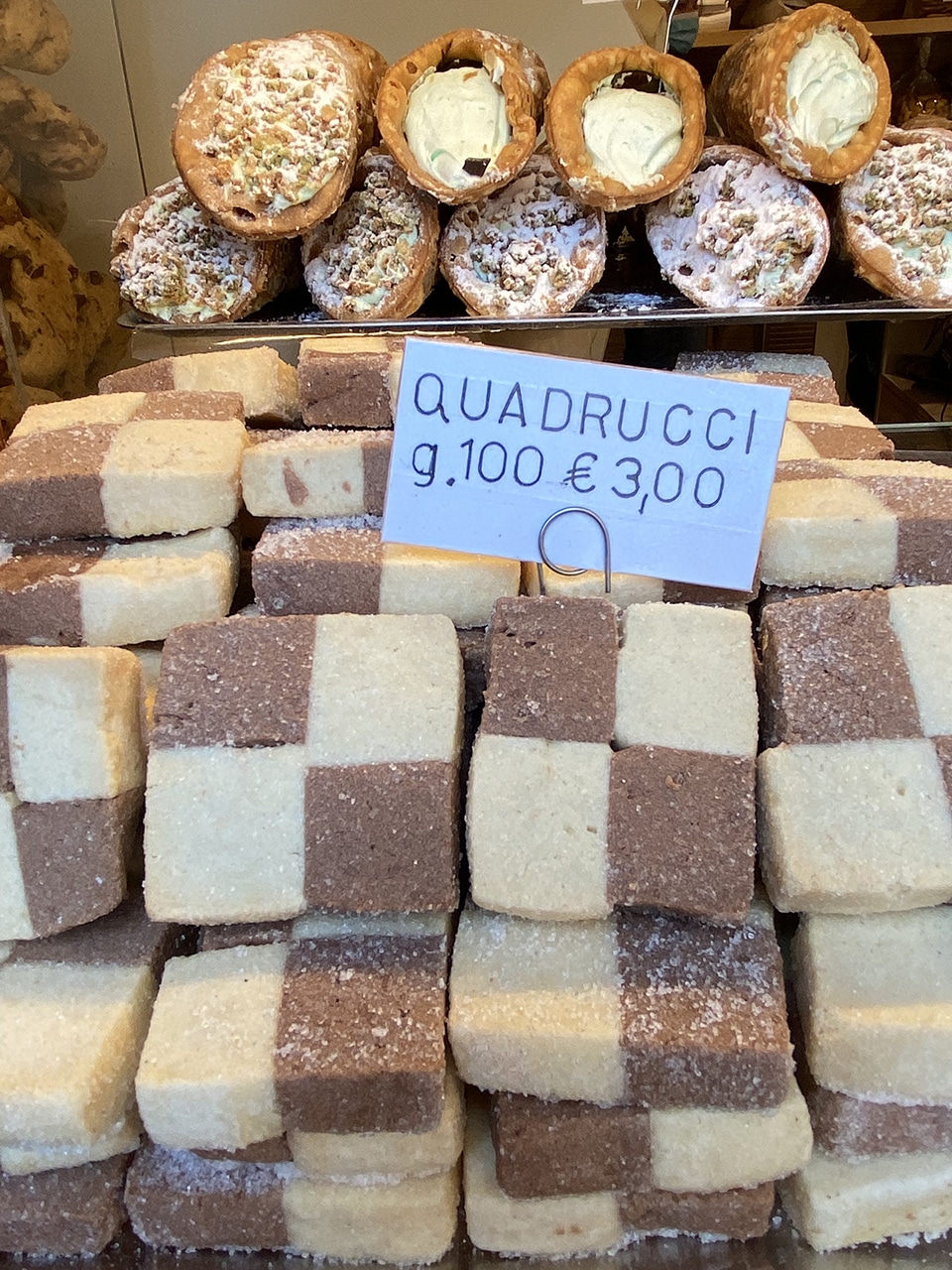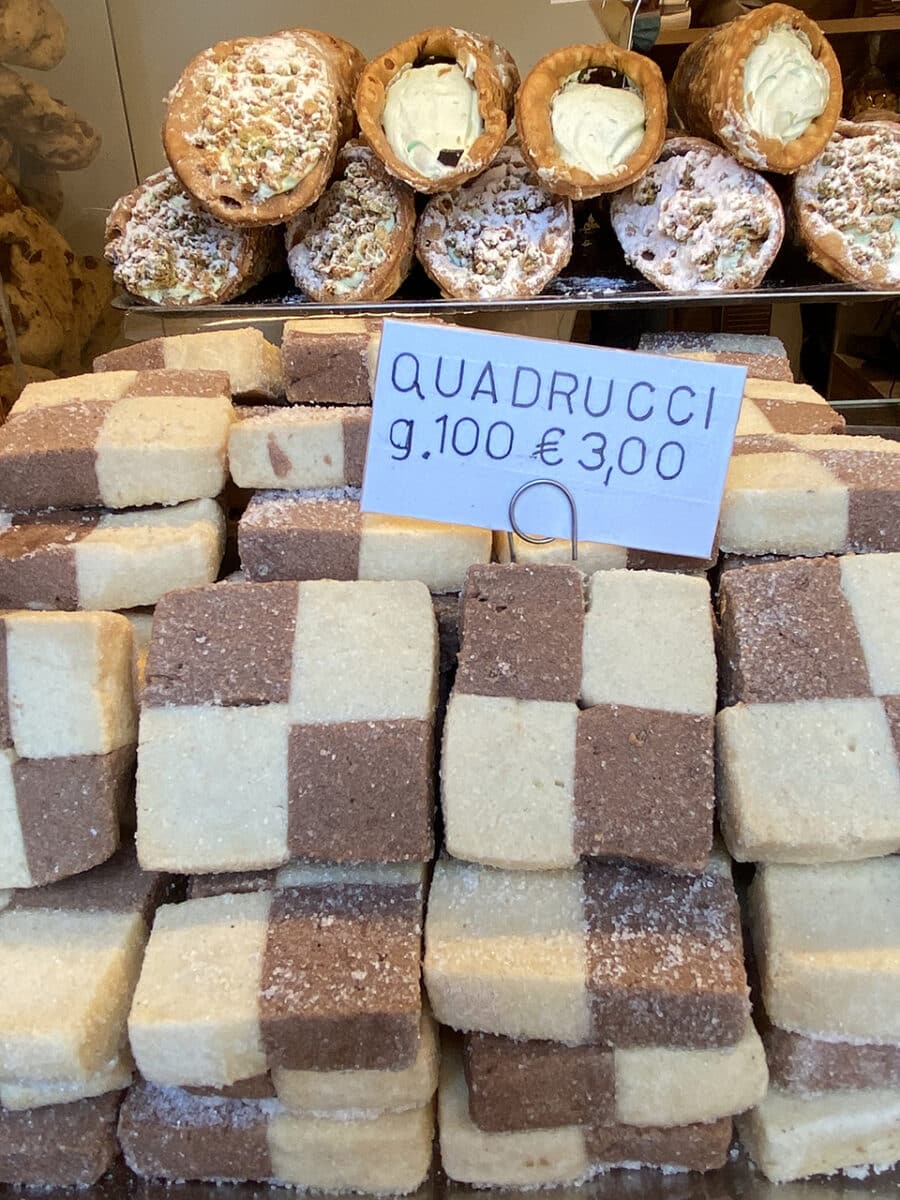 Our hunt for a place to eat breakfast for our first morning took us to Campo San Tomà, a small square close to the Banksy artwork. We found this cute little bakery; it had no visible name outside, and unfortunately, we lost the receipt. But it is next door to the Chiesa di San Tomà. Its window was full of tasty pastries, biscuits, and bread.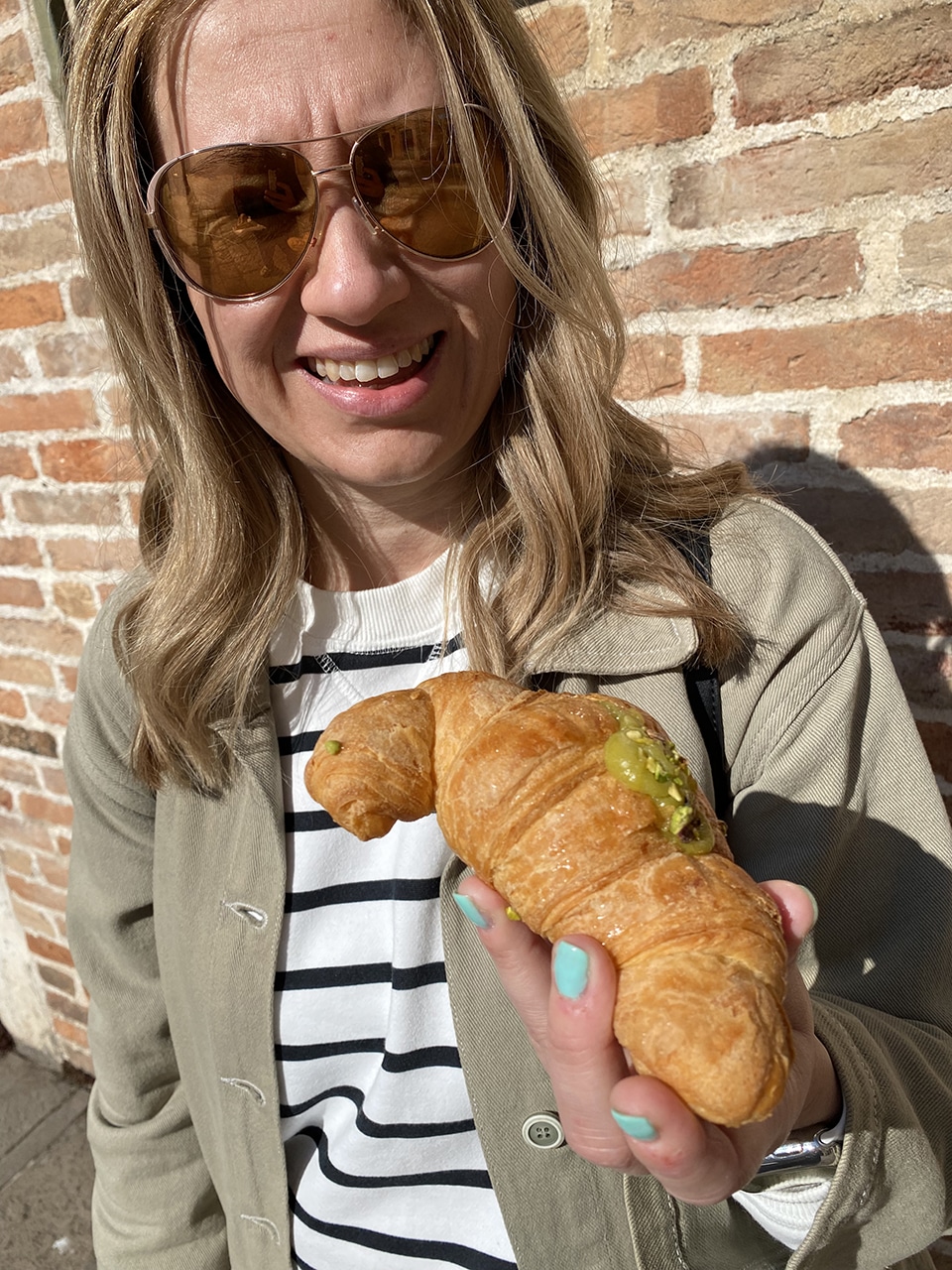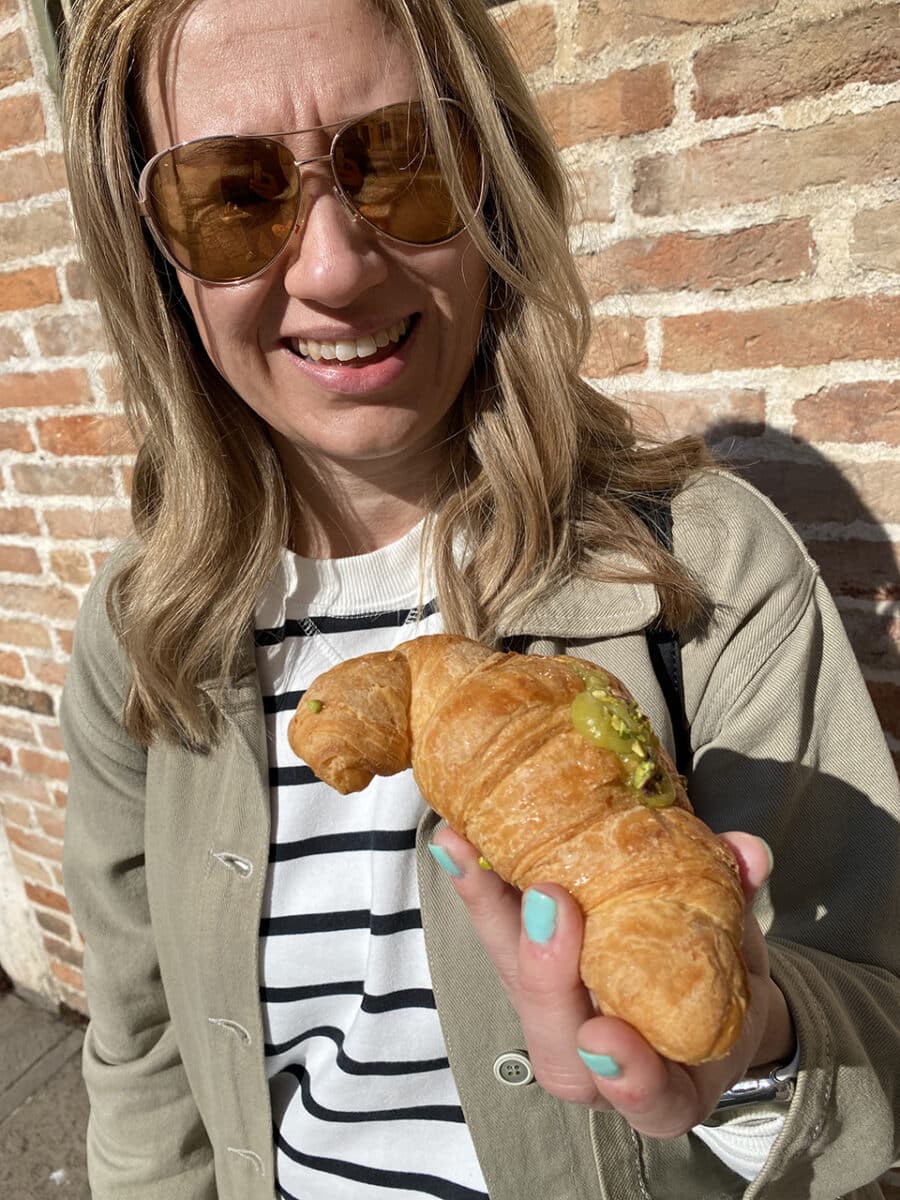 ---
EAT CANNOLI
I know Cannoli are traditionally Sicilian, but you can usually get great ones in other parts of Italy. These, along with Sfogliatella, are one Jasons favourite pastries to indulge in when we are here. Deep fried crispy shells filled with ricotta cream, sometimes with added chocolate chips. Either plane with candied fruit on each end, or dipped in things like pistachio cream and chocolate.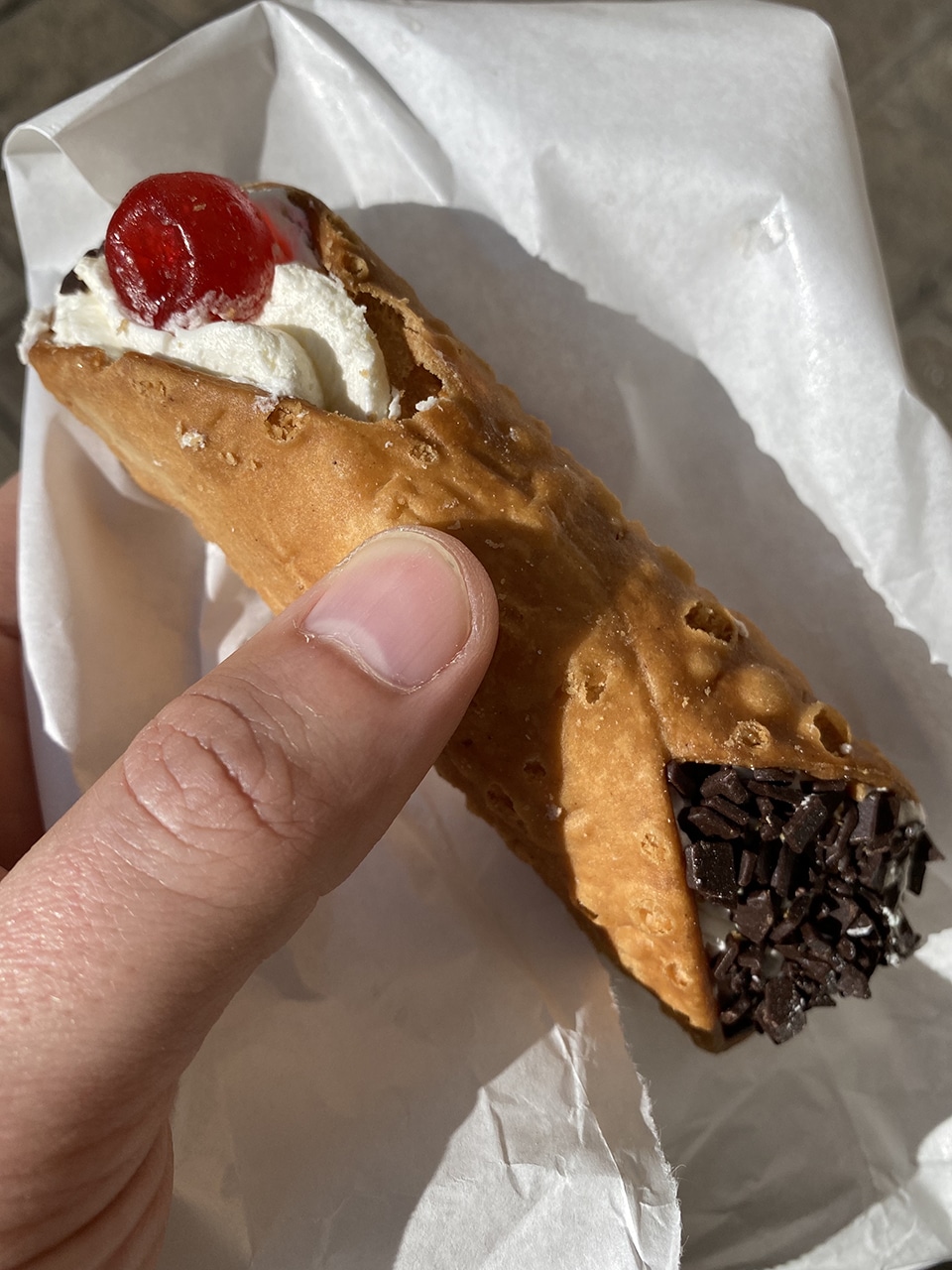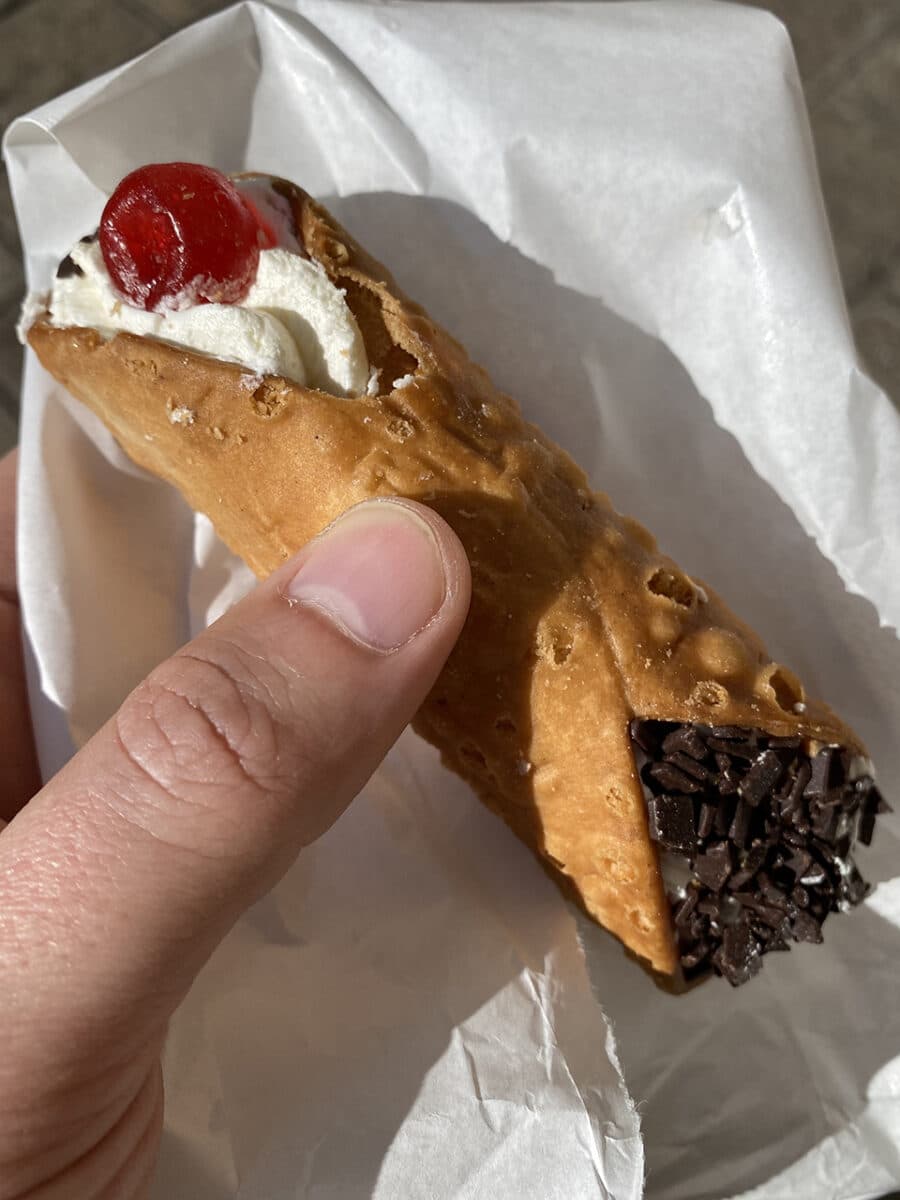 RIZZO PANE PASTICCERIA
Another great little place for breakfast, close to our hotel, was Rizzo Pane Pasticceria. Yet another bakery full of sweet and savoury snacks. These guys had everything: deli bites, pizzas, pies, biscuits (cookies) and sandwiches. A convenient place to grab a bite when you are exploring.
Across from Rizzo, was a small cafe bar. This is where we would grab our morning caffeine fix. There are hundreds of places like this across the city, so I am sure you will find a place that suits you during your visit. Jason always has espresso when in Italy, regardless of the time of day, whereas I will get a cappuccino in the morning and that's it.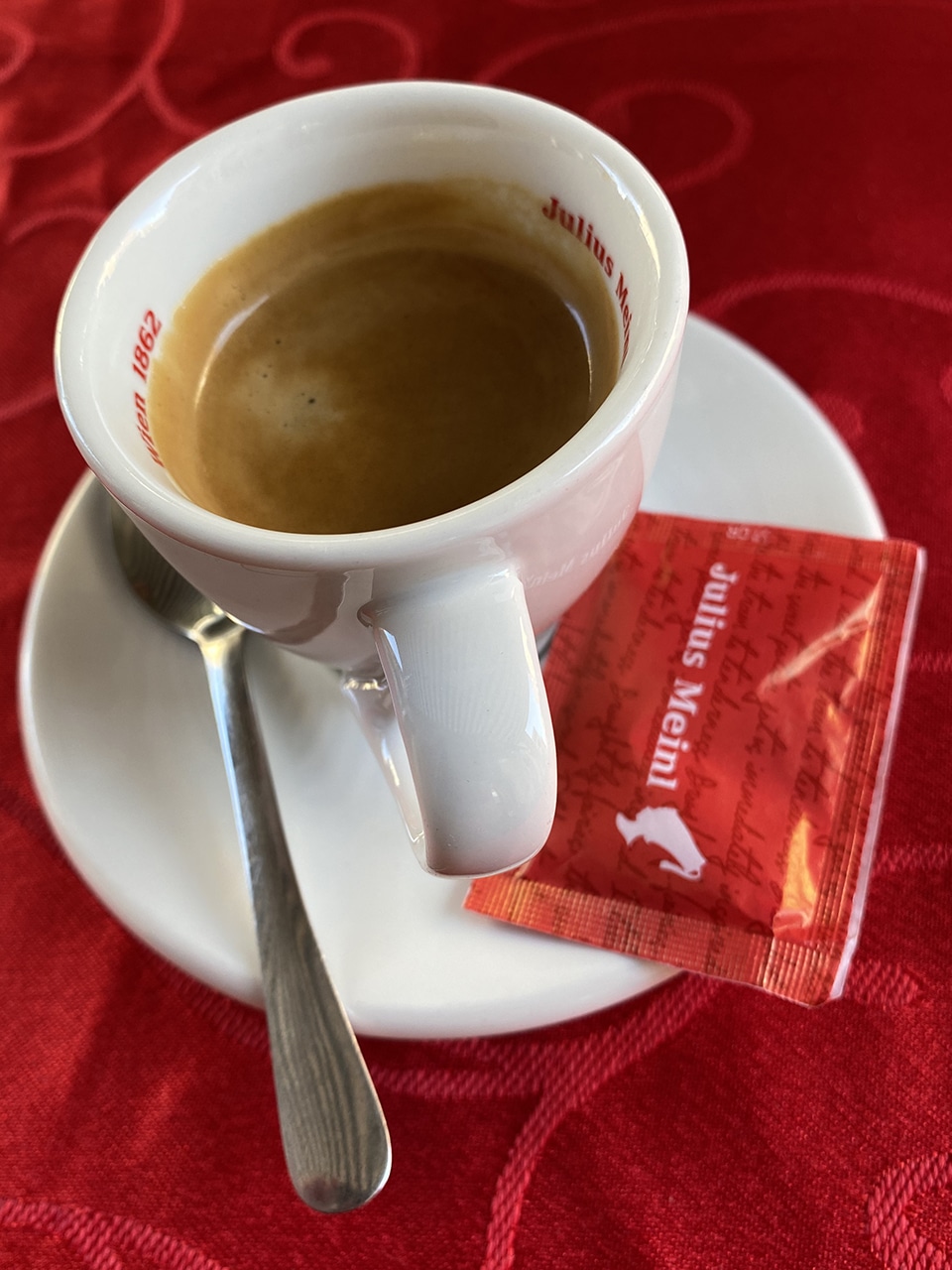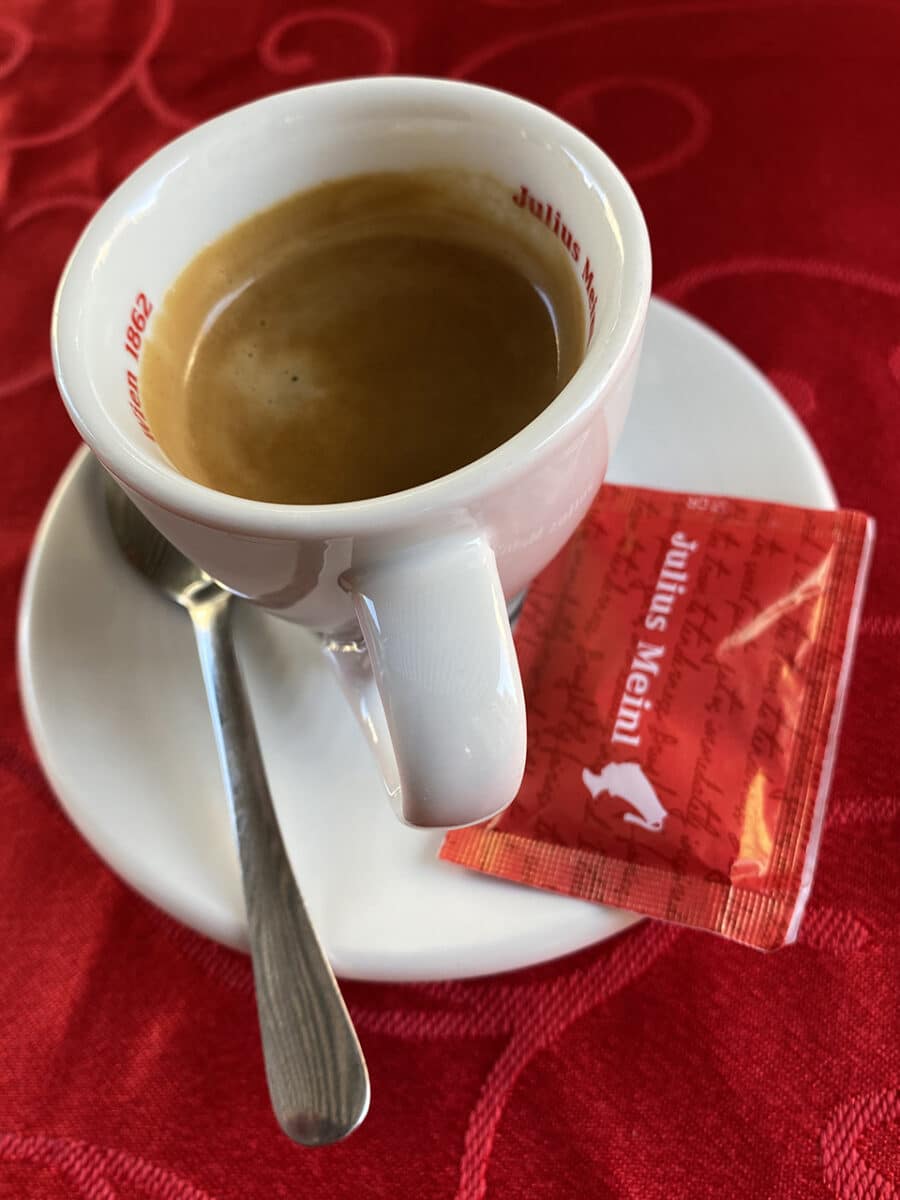 EAT CICCHETTI, THE VENETIAN VERSION OF TAPAS
If you're a fan of tapas, then you'll love Cicchetti (pronounced chee-KET-tee), Italy's tasty equivalent. There were many places offering it, and we couldn't wait to sit and try some.
CICCHETERIA VENEXIANA DA FRED E LUCA
We found a couple of places to eat Cicchetti, and we really enjoyed the food and the atmosphere. Ciccheteria venexiana da Luca e Fred is on the same street as Rizzo. This small family run business had a great feel to it, very welcoming.
It was full of locals, some just buzzing in and out for a small glass of what we think was wine. They asked for it, put money on the counter, drank it quick, exchanged pleasantries, then left. It was all very interesting to see. At the time of our visit, it looked like the Grandchildren were in to help too. This was nice and made it feel even more homely. Fancy some Cicchetti at Fred and Lucas? Visit them at Cannaregio, 1518.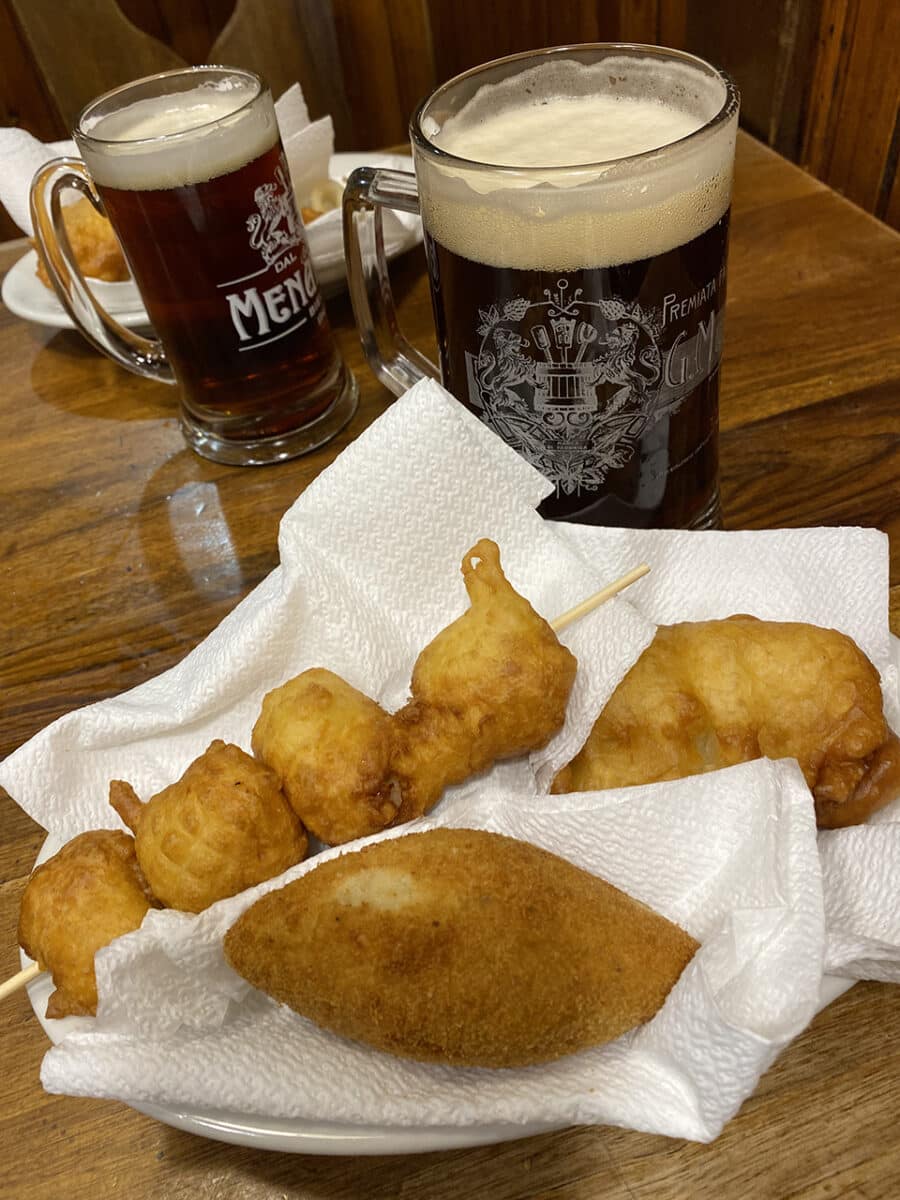 ---
CIP & CIOP
Another fab place we ate at was Cip & Ciop. A small Ciccheteria, hidden away and again full of locals. The food was cheap, the Aperol spritz was great too, and again, the atmosphere was superb. Both places are close to the train station and just off the Grand Canal.
At both places, we had a selection of fried seafood, Arancini with ragu and cheese fillings, small open sandwiches and pastries. Address: Lista Vechia dei Bari, 1162.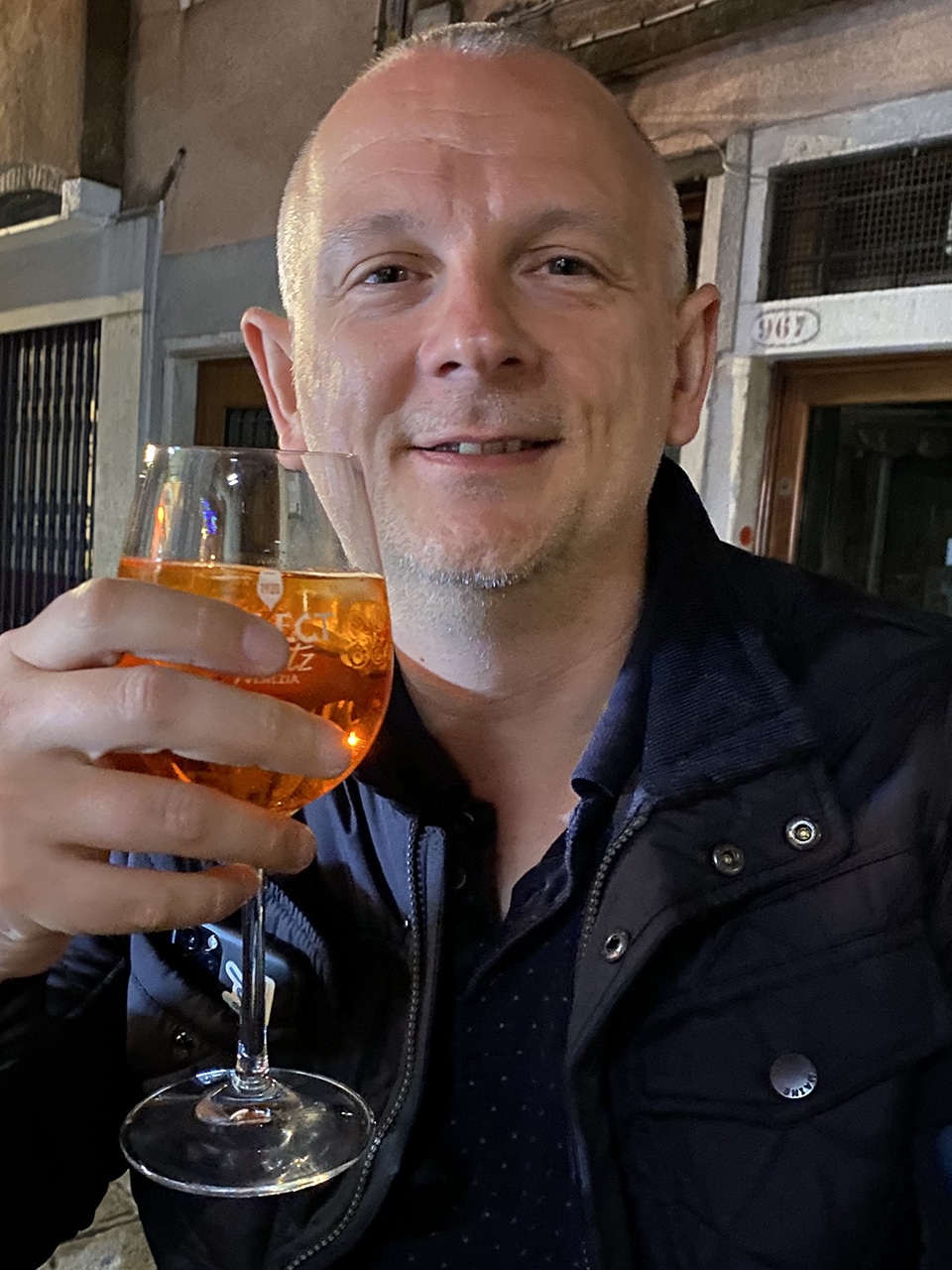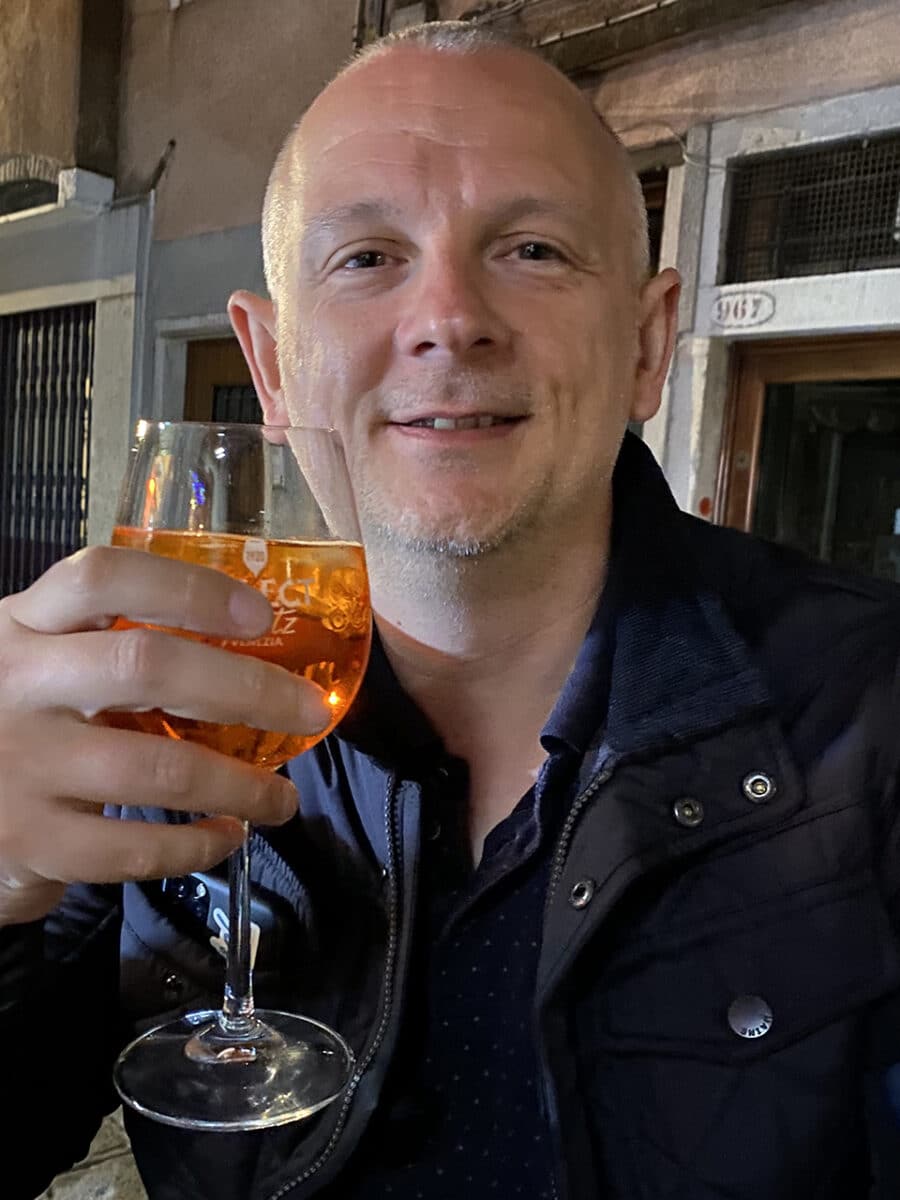 PIZZA AT 1000 GOURMET VENEZIA
Pizza in Italy is something else, and each region does it slightly different. So we didn't really know what to expect in Venice. I found a couple of places to eat, both selling Neapolitan style pizza, and I have to say, they were superb. The first of these places we would eat at would be 1000 Gourmet Venezia. Near to St Mark's Basilica.
Here, Jason chose a traditional Margerita pizza, and I opted for Bolognese with a fried pizza base. Just look at how fantastic they are, and both were delicious! Address: C. Specchieri, 475.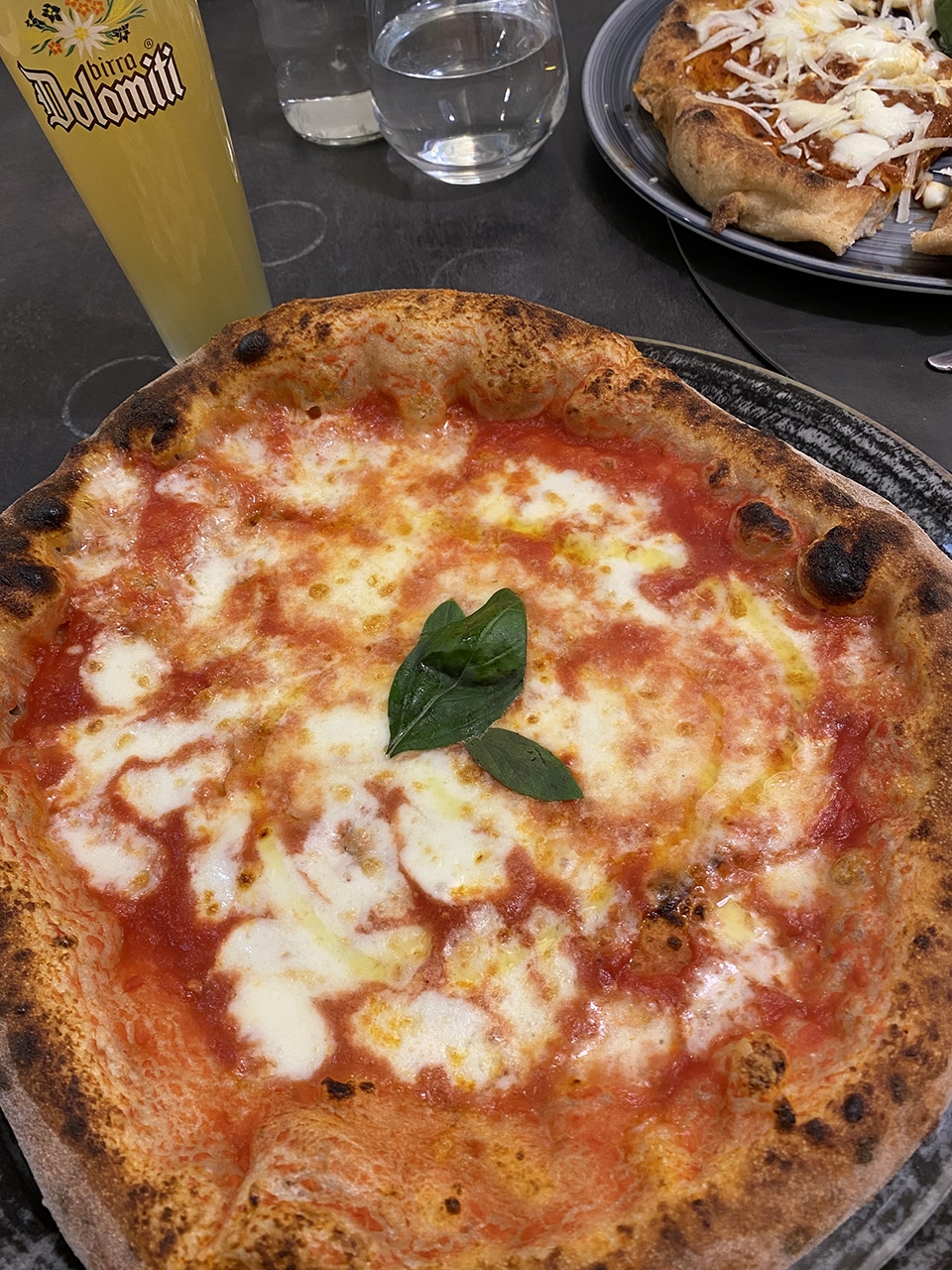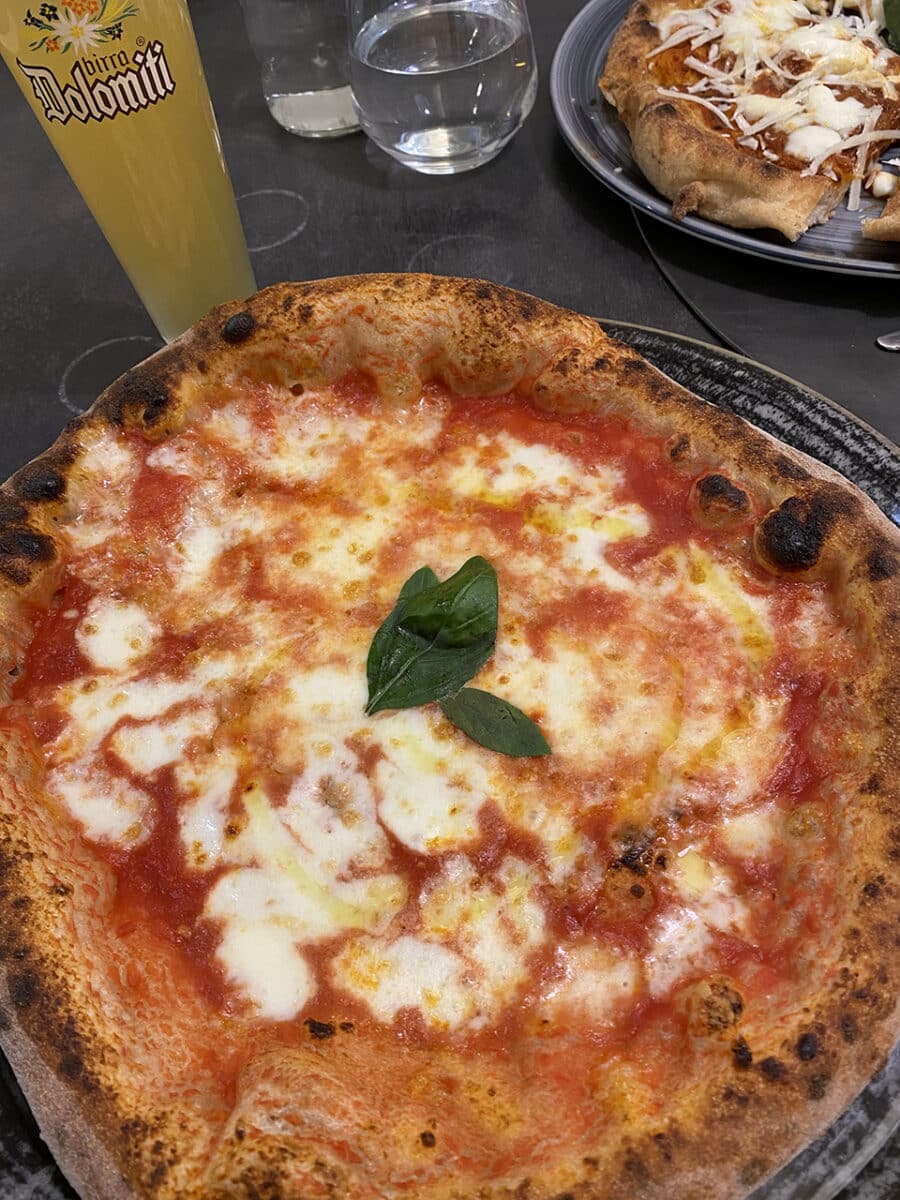 PIZZERIA TRATTORIA CONCA D'ORO
Branded as the very first pizzeria in Venice. It looked touristy, but to be honest, we were hungry, and what we saw on the plates of others made us want to try it.
Jason ordered a Calzone pizza, and I ordered ham, cheese and truffle. Again, these were perfect and so tasty. Jasons Calzone even had a fried egg hidden away inside.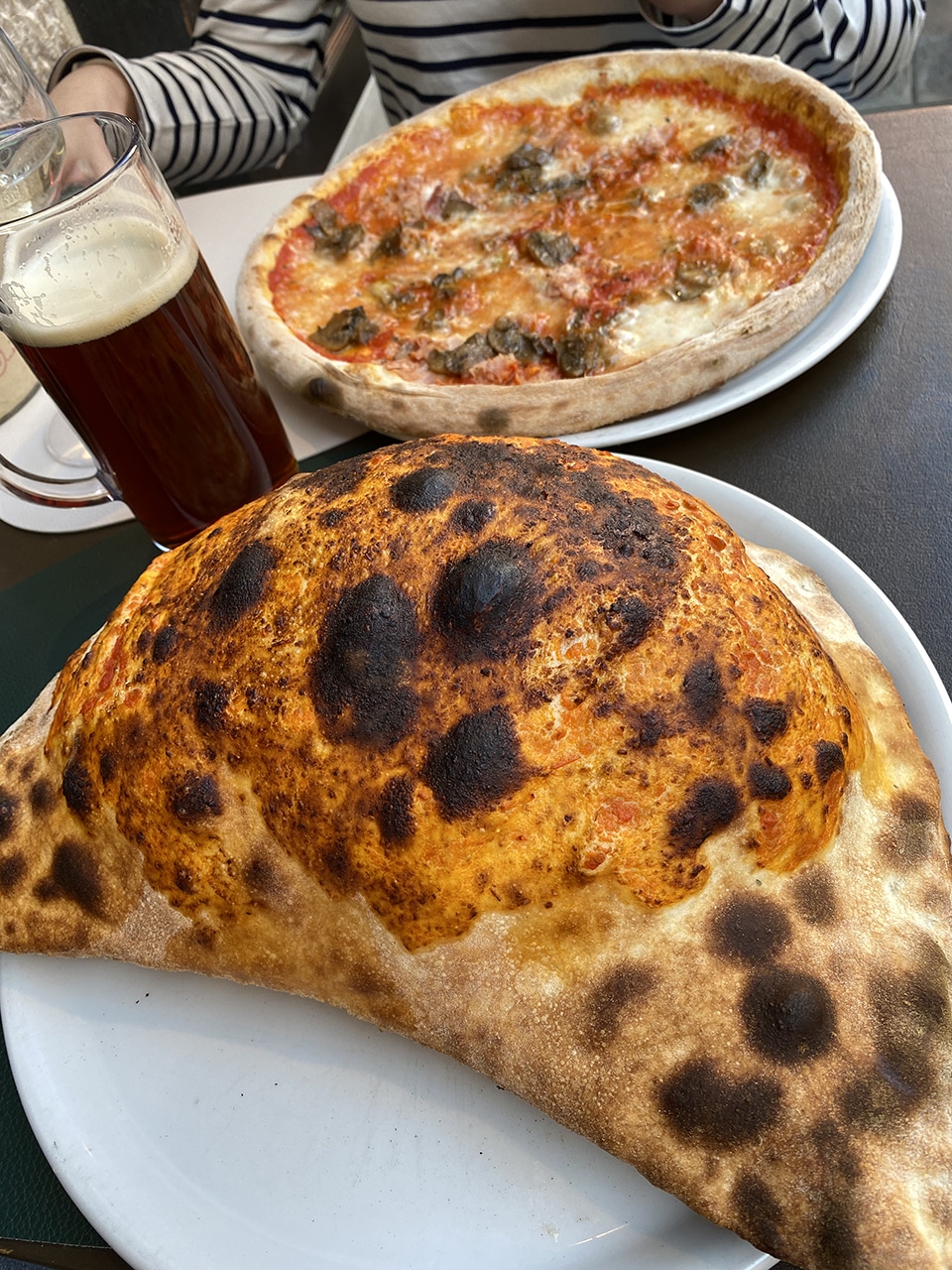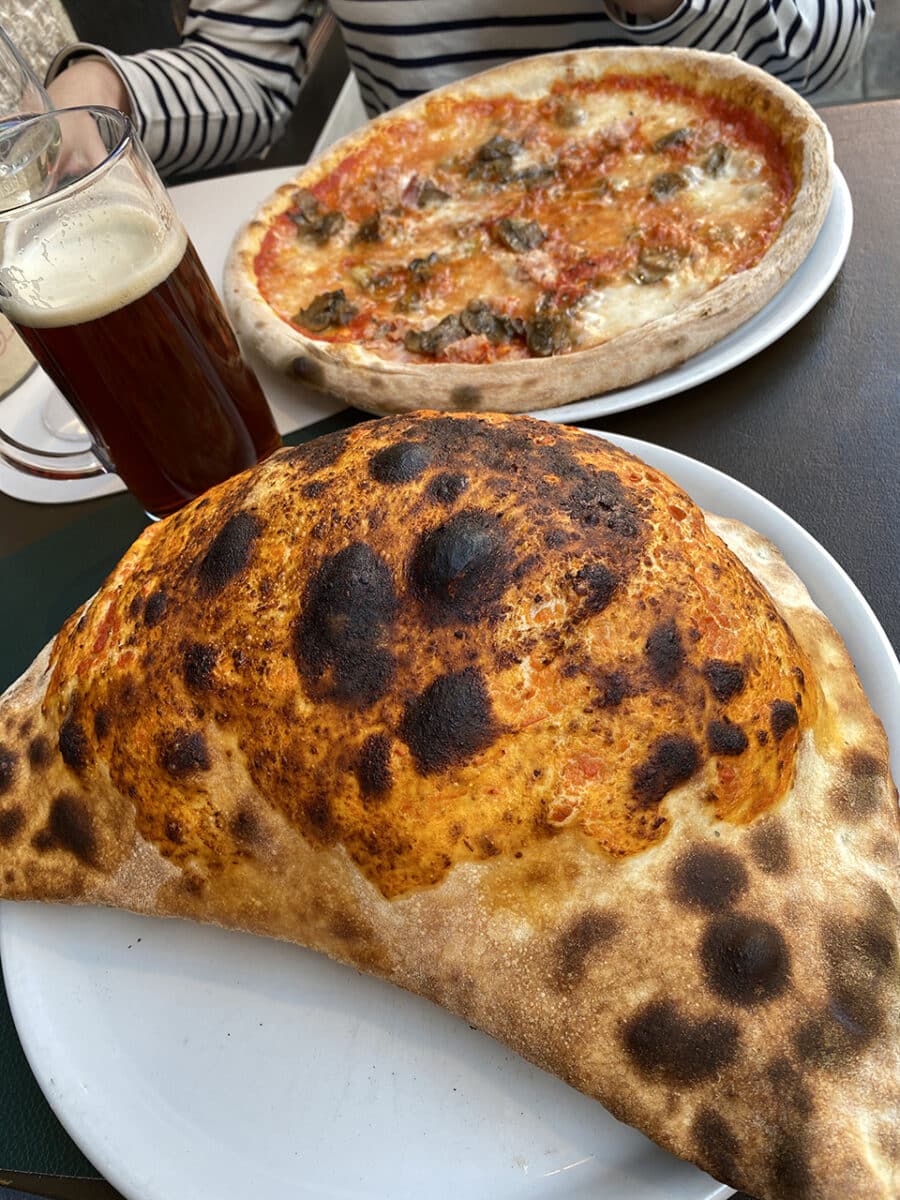 DELICIOUS VENCHI GELATO & CHOCOLATES
Another one of our favourite things to eat in Italy is, of course, gelato! We already knew of a place to get it from, having had it from there in Rome.
Venchi has many branches across Italy and is famous for making their gelato using high quality, fresh ingredients. The flavours are incredible and it tastes delicious. Venchi is a little more expensive than other more local sellers, but it is still worth it, known for their chocolates, you could also pick up some of these here too. Address: Calle dei Fabbri, 989.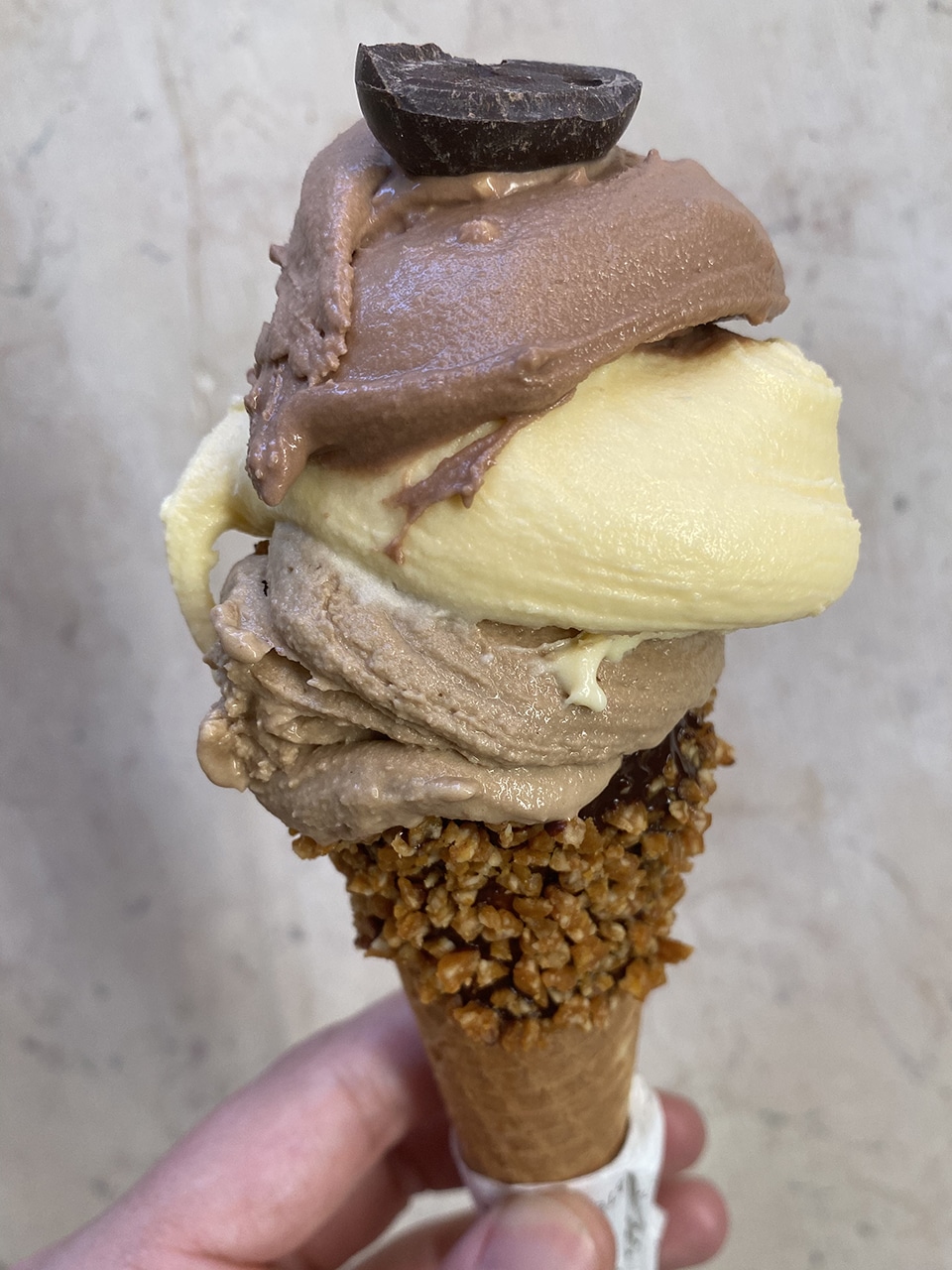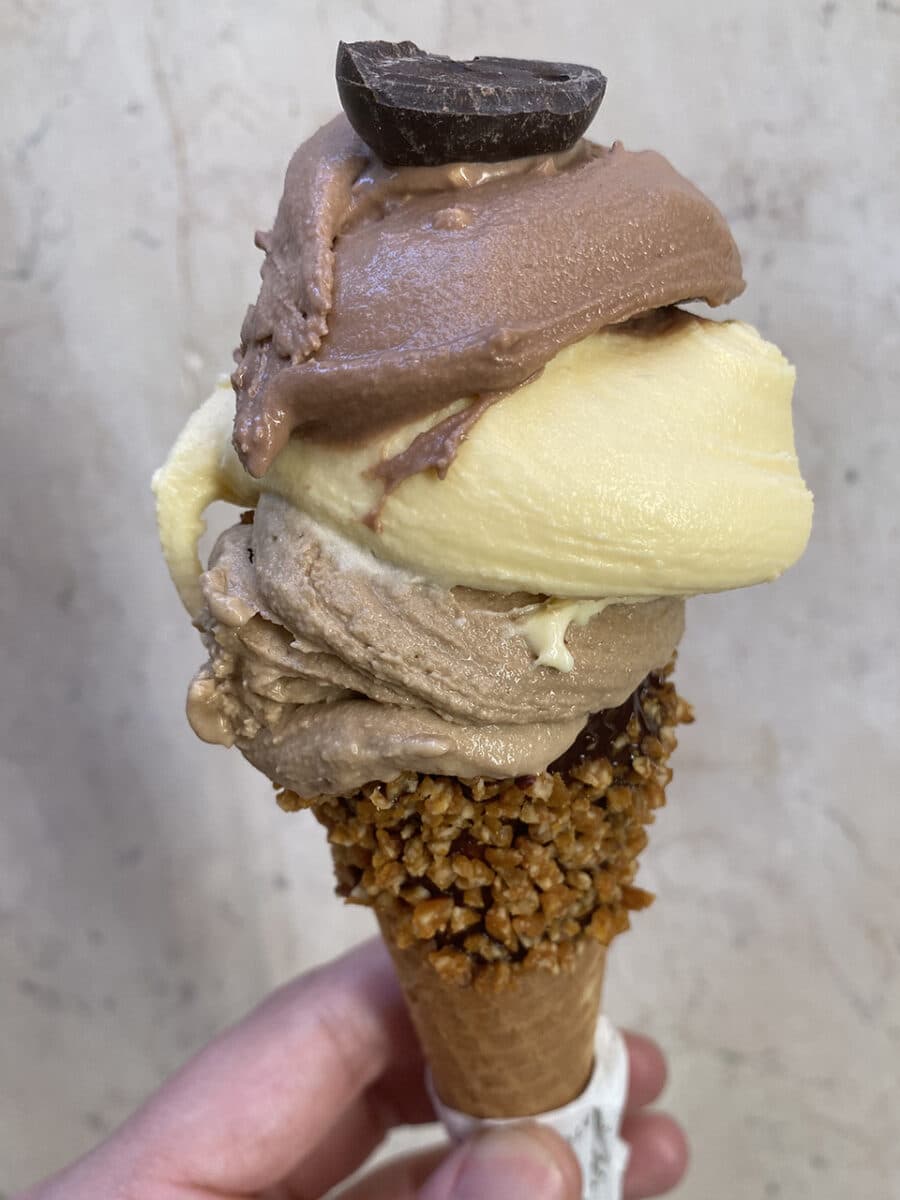 GELATERIA GALLONETTO
We found two more great places for gelato during our trip, one in Venice and one on the island of Burano. The first, Gelateria Gallonetto is a small family run business that was started a generation or two ago and the business opened in 1985. You can find them a short distance from Campo Santo Maria Formosa, on Salizada S. Lio, 5727.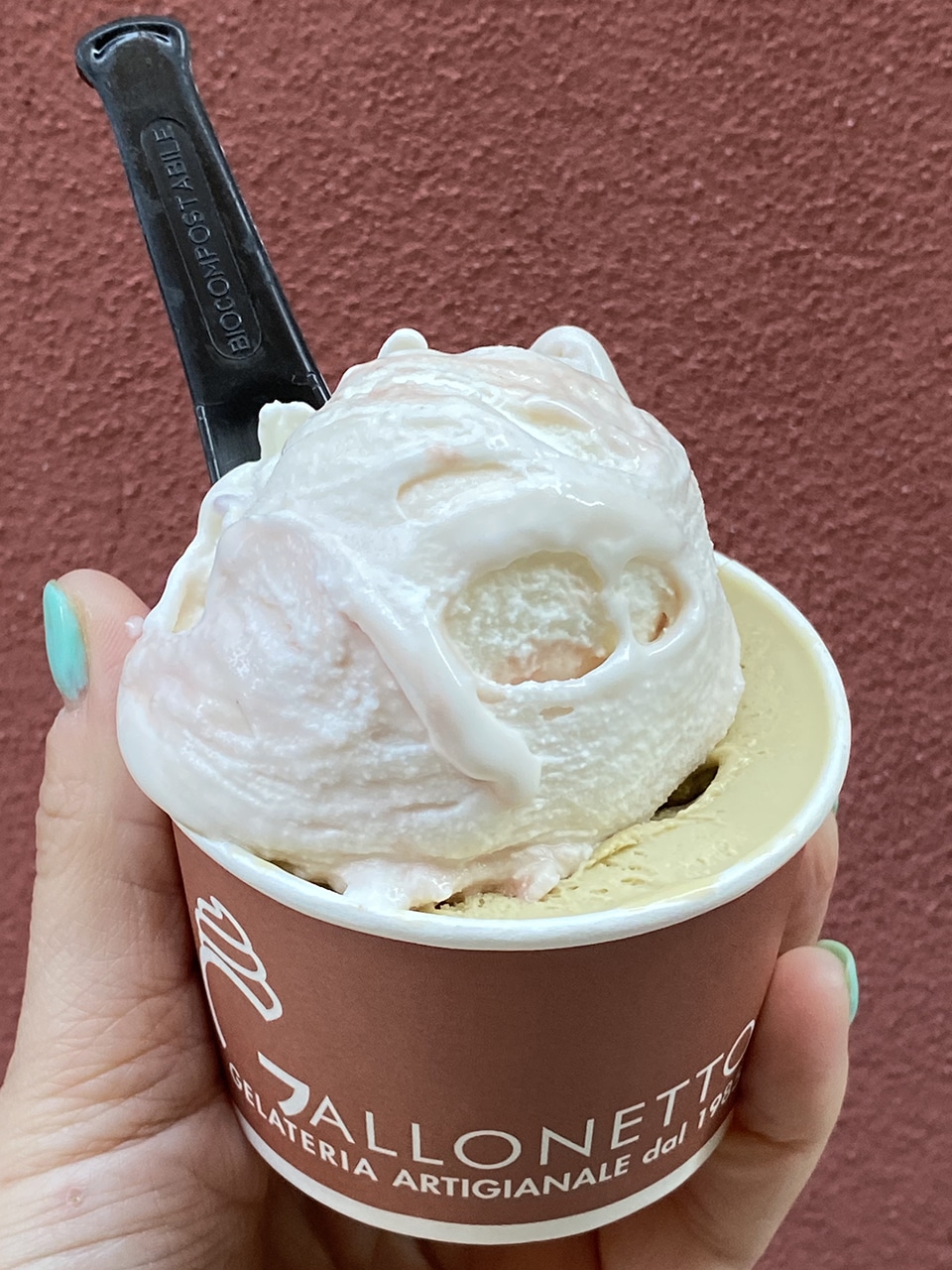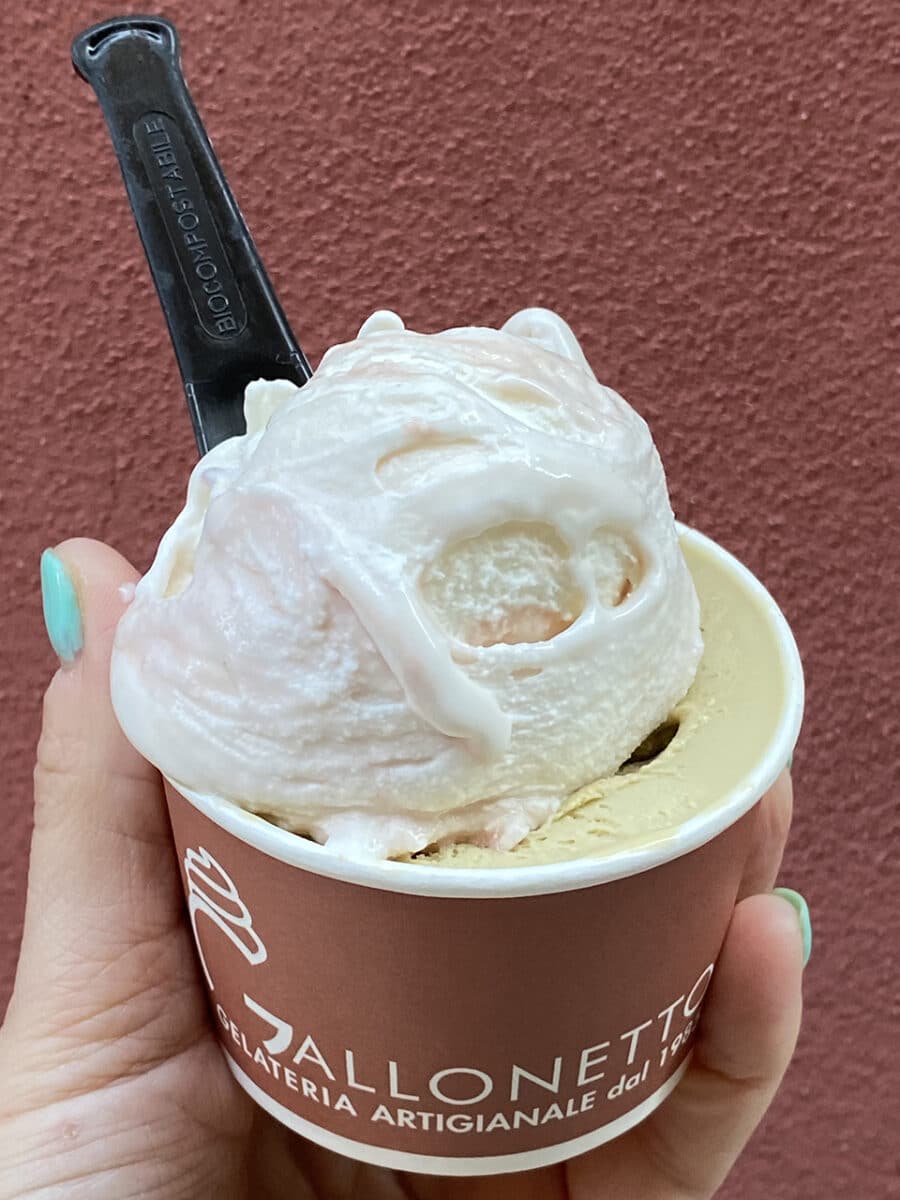 ---
MORE SWEET TREATS IN VENICE
If, like Jason, you have a huge sweet tooth, then you will look to get your fix at every opportunity. Bakery windows were full of cannoli, pastries and biscuits, cookies to you Americans. They were all shapes and sizes, chocolate covered, jam filled and adorned with nuts of many varieties.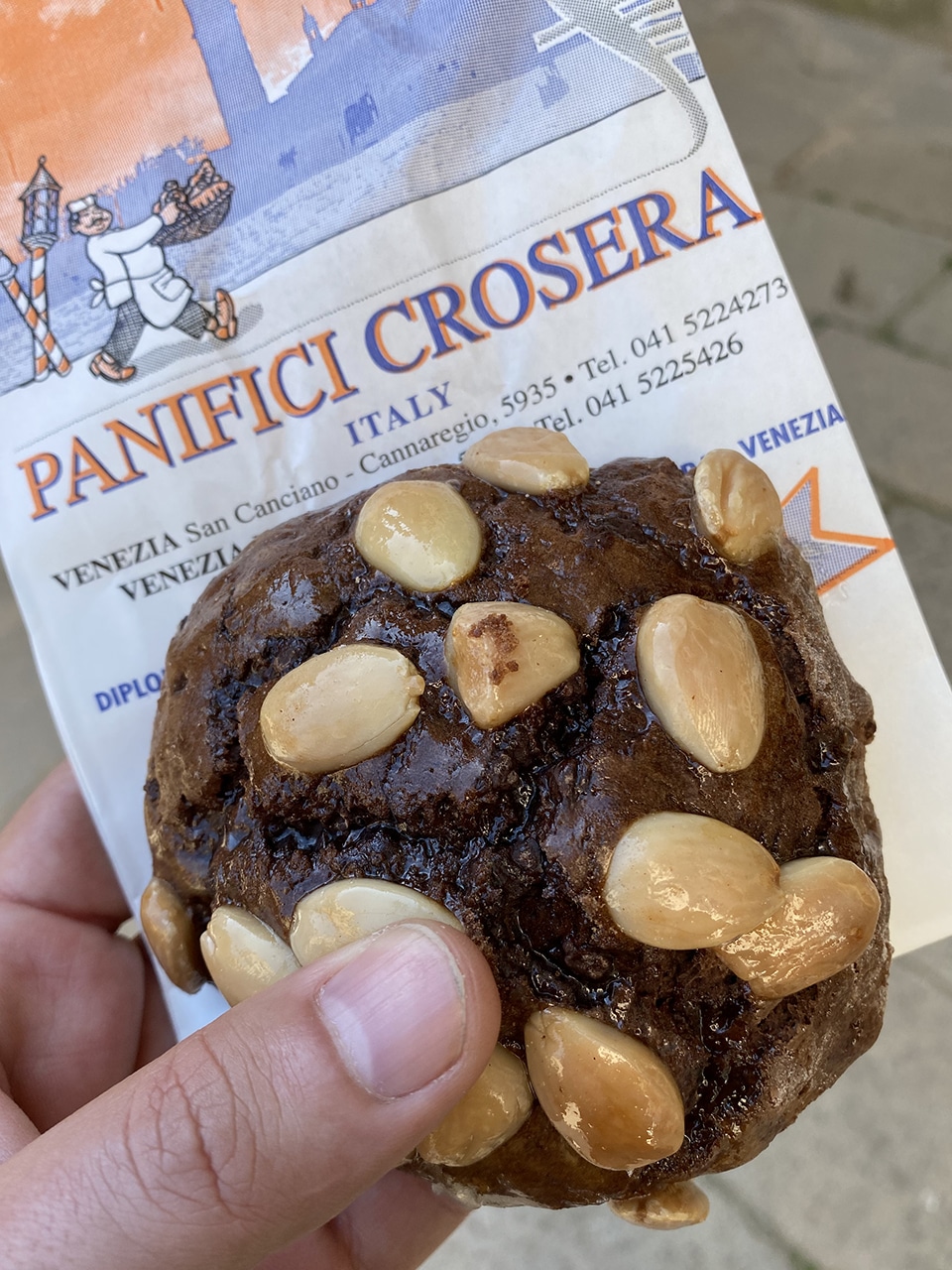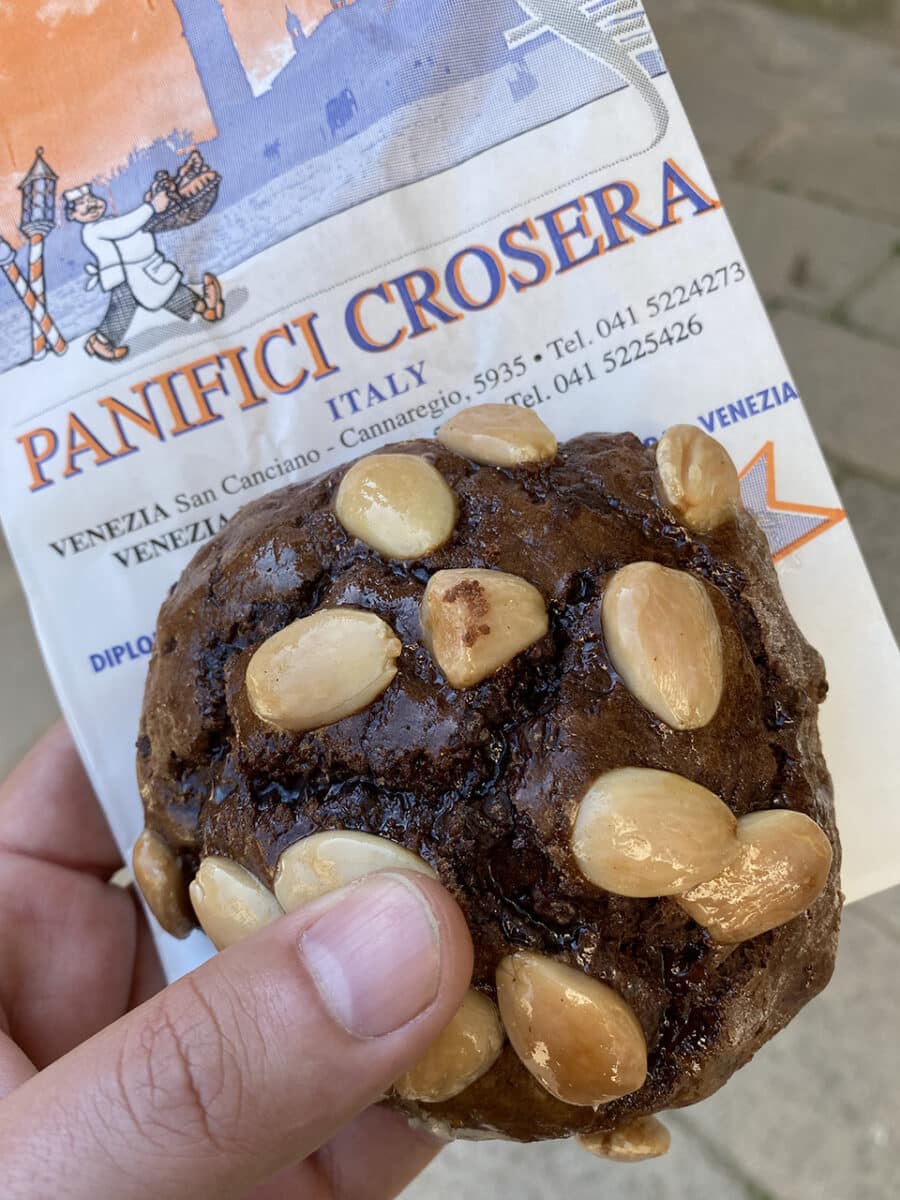 TRATTORIA DA MIMMO
We found a great little place close to our hotel called Trattoria da Mimmo; it was brightly lit, with modern decor, it was also full of locals, that's when you know the food is good.
The ravioli and the lasagne were absolutely delicious. Best of all, it was all reasonably priced. No bells and whistles, no silly extras on the plate to fill space, just good traditional Italian favourites and big portions. You can find them at Rio Terà S. Leonardo, 1372.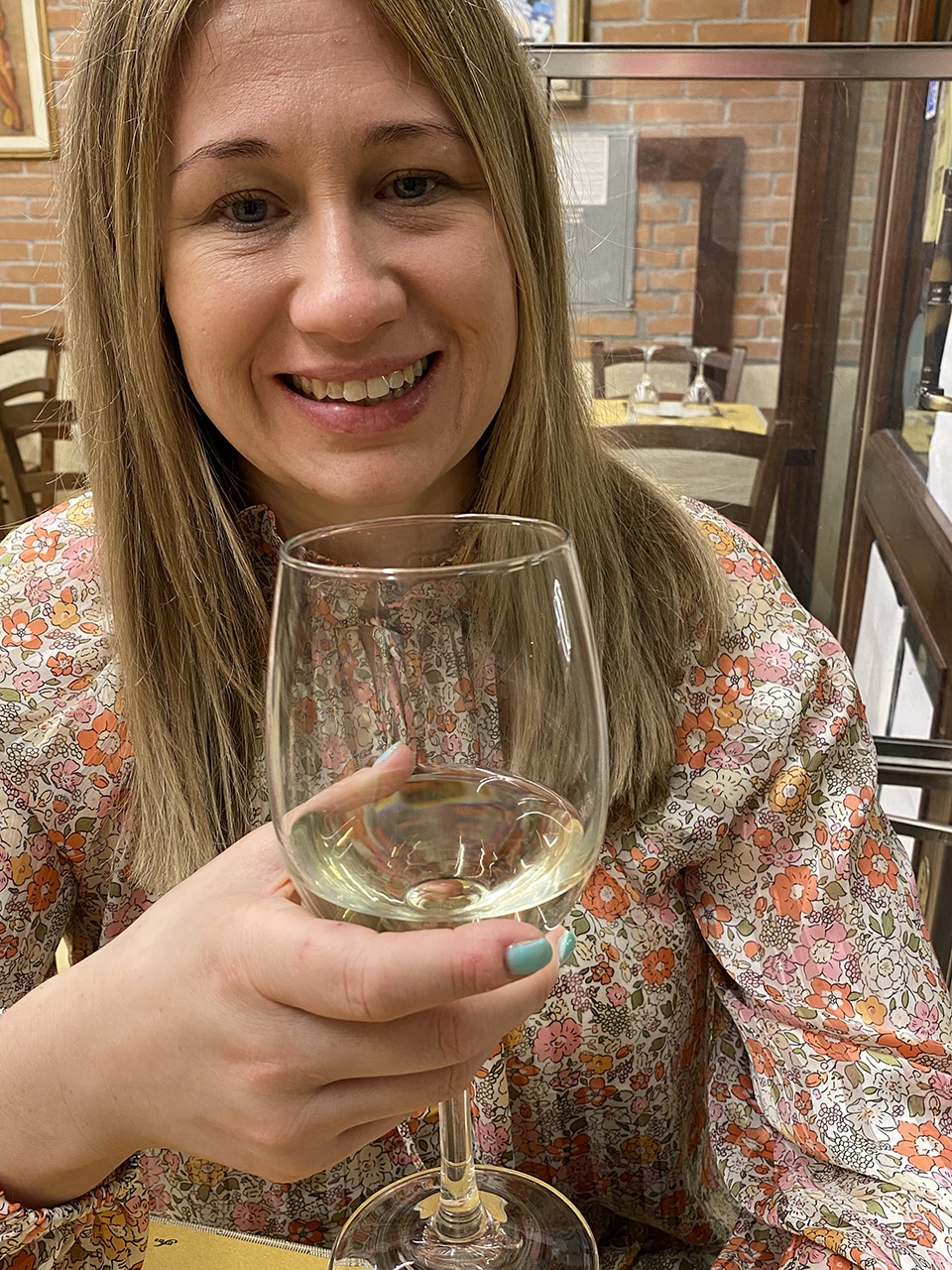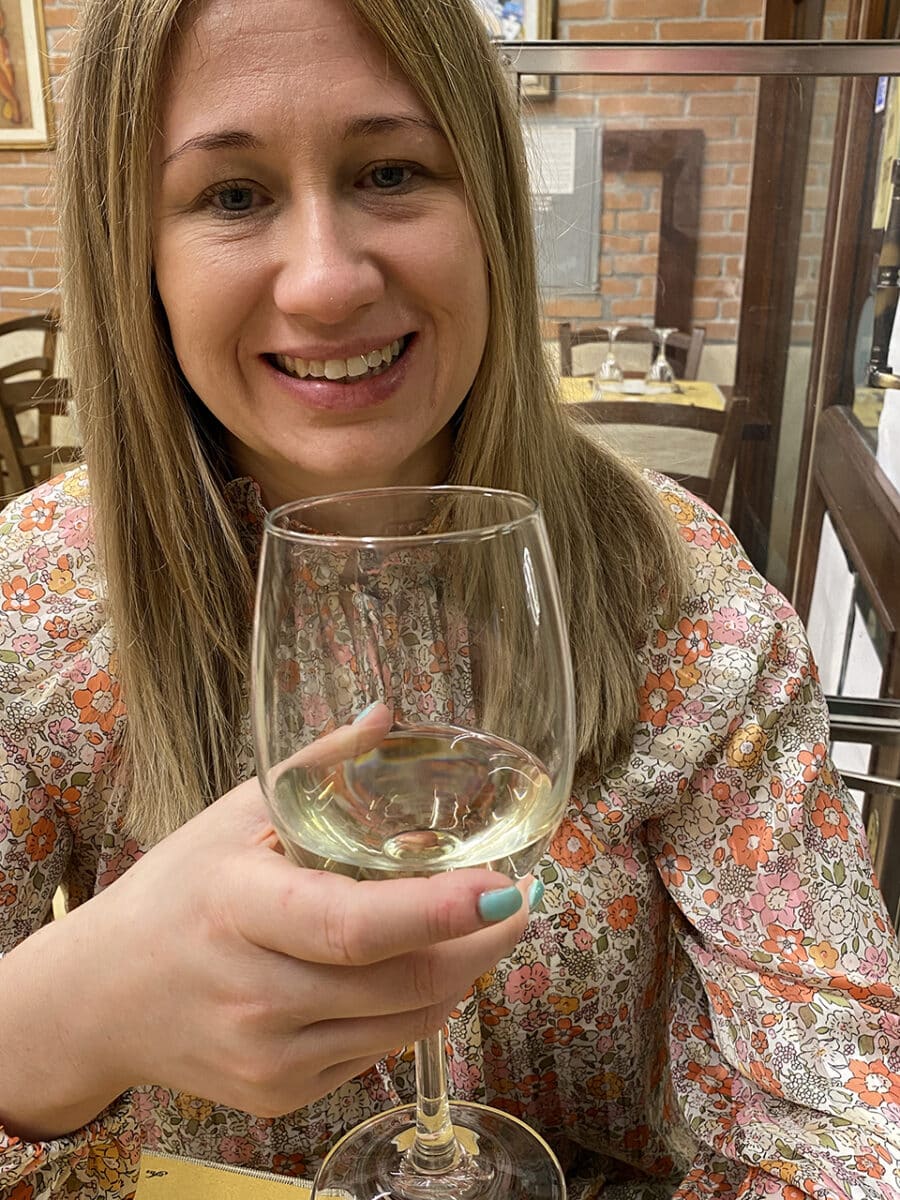 DRINK A SPRITZ
Ok, now we know Aperol spritz isn't for everyone. Are you a fan? We absolutely love them, and we had one at pretty much every place we ate at. A refreshing drink when exploring during the day, or nice to relax with in the evening alongside a dish of tasty nibbles, usually brought to you for free in some establishments.
The Spritz was first created in Venice in 1920. This wine-based cocktail is served as an apéritif using bitters, prosecco and soda water. It's a speciality in parts of Northern Italy.
We really enjoyed sharing our favourite places to eat and drink in Venice with you. We hope to add more posts like this soon. If you have a favourite place to eat in Venice? Let us know in the comment section below.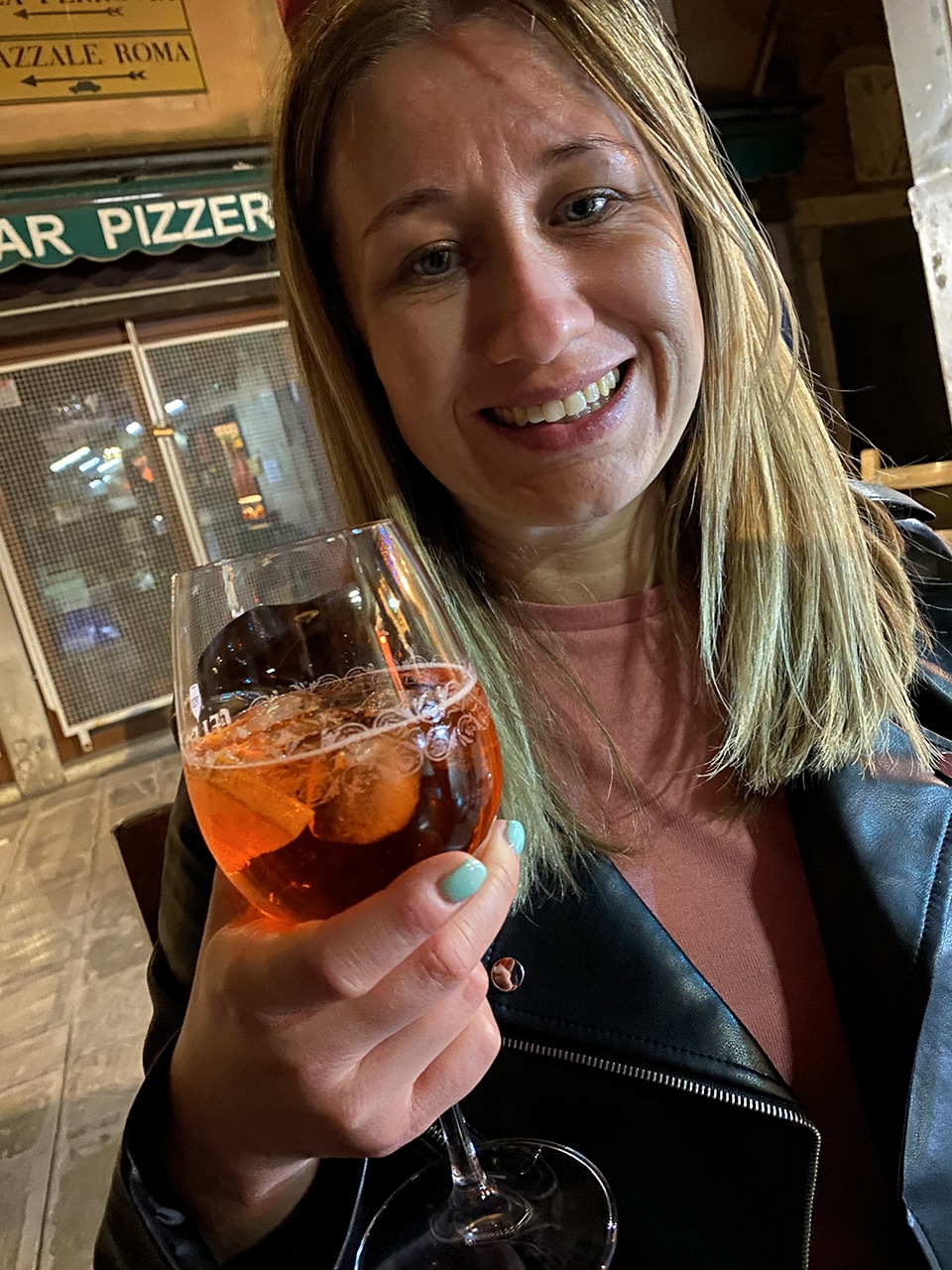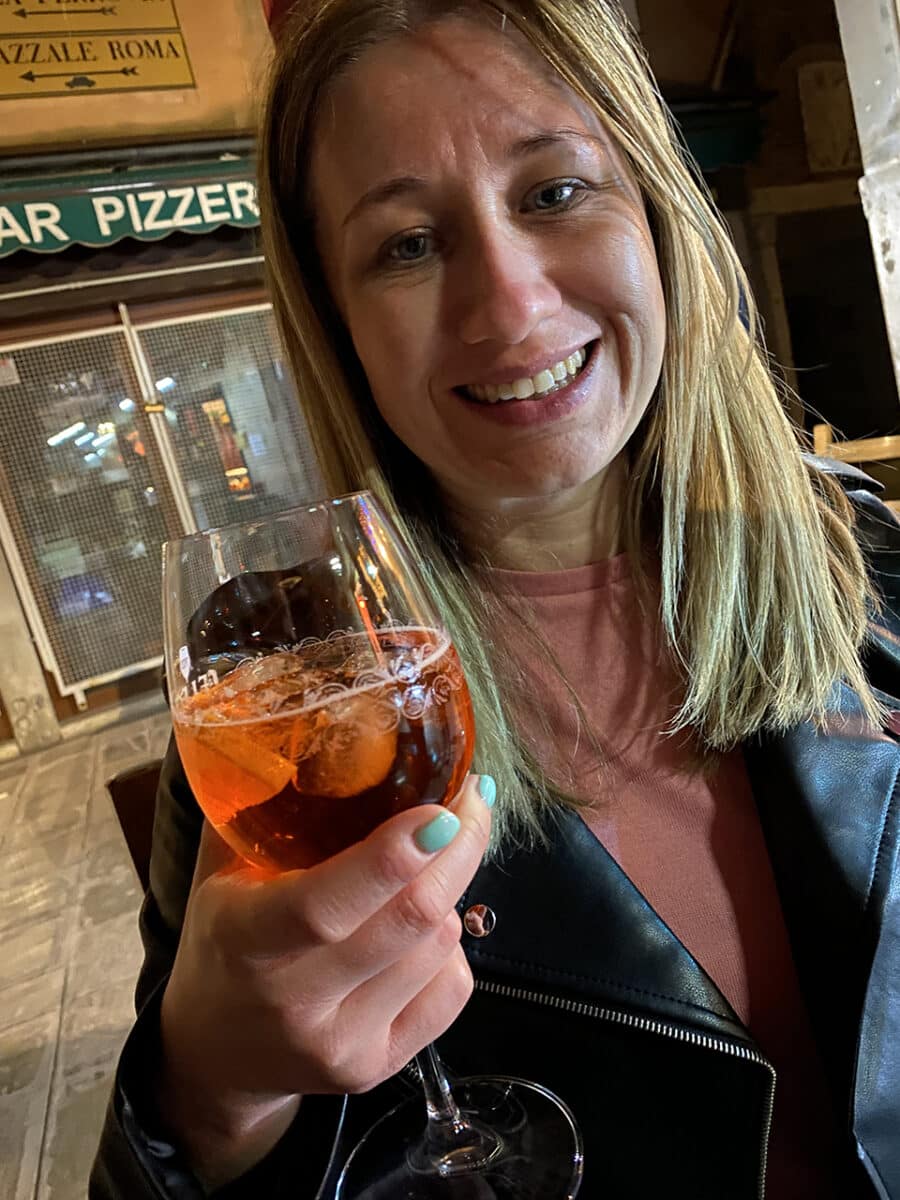 For more from this trip, read: 15 awesome things you can't miss in Venice, Italy.
MORE IDEAS FOR THE FOODIE IN YOU
Prosecco and wine tasting tour. Explore the wine-growing area of the Veneto region, renowned for its beauty and Prosecco. Visit 2 wineries and enjoy a light lunch with local products.
Take on a cooking class in Venice. Your chef, Carolyn, will share her passion for Italian food with you. She only prepares meals with high quality, locally sourced ingredients. The class will take place in her lovely house in the heart of Venice.
Learn how to make pasta and tiramisu. Immerse yourself in a private pasta and tiramisu making class in a welcoming home. Learn the secrets of the region's most famous pasta dishes and tiramisu and taste the fruit of your labor for lunch or dinner accompanied by local wines.
Food and wine tour with cicchetti tasting. Try the famous tapas-style Cicchetti dishes, sip on Italian wines and traditional drinks, and learn about Venice's unique culinary traditions on a guided food and wine tour.
---