When booking our three-day city break to Prague, we were looking for things to do in and around the city. We came across a few travel writers saying that they went travelling from Prague to Dresden with Flixbus.
This sounded like an incredible idea. It would also mean we would visit Germany for the first time. How could we pass up on the opportunity to visit two new countries on one trip? We had about eight hours to explore. Is Dresden a place worth visiting? Read on to find out. Spoiler alert, yes it is!
BOOKING YOUR TICKETS & USING THE FLIXBUS APP
We booked our return tickets online a couple of weeks in advance and could not believe how cheap they were. We did this via the app, downloadable on both Android and Apple devices. This then allows you to book, search all their routes, pay, and download your e-ticket.
Two adult return tickets cost just short of £50. We thought this was fantastic value for money. The journey into Dresden from Prague would take 2 hours.
We booked tickets to pick us up at 7.40am from the Prague ÚAN Florenc bus station, which would get us into Dresden for 9.30am. The route number you need to be looking out for on the timetable board is the 021 to Strasbourg.
---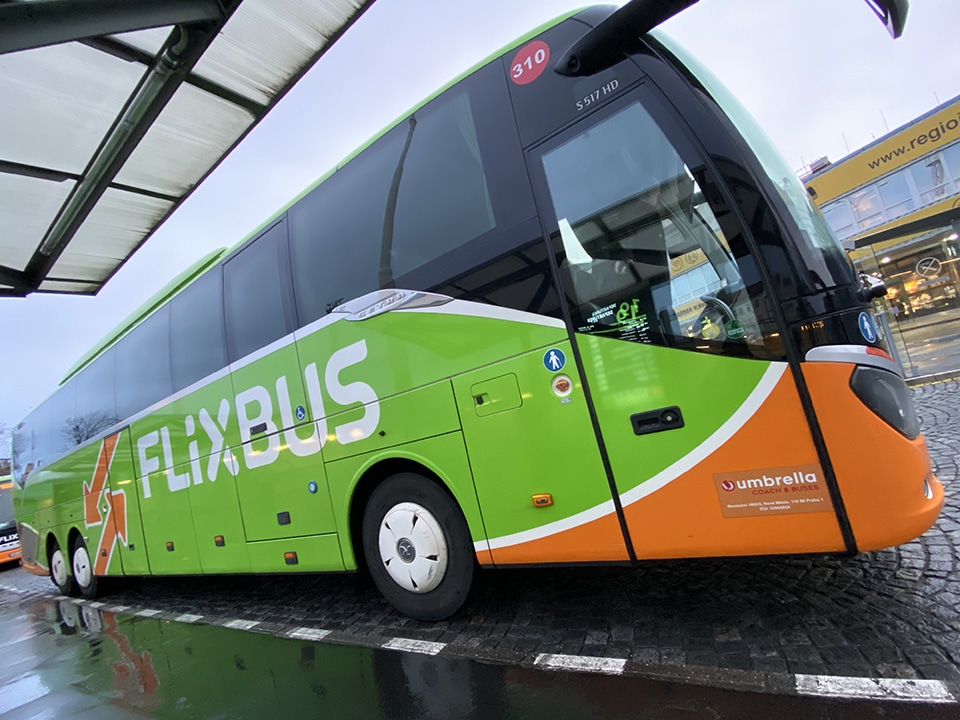 TRAVELLING FROM PRAGUE TO DRESDEN
The bus arrived promptly and when allowed; we had our ticket scanned and then we boarded. You have the choice when booking your tickets which seat to choose, and we did.
The bus was very comfy. Free Wi-Fi was available and USB charging points were available as well as plug points to charge laptops and other devices. Very well equipped for travel blogging. There was also the use of a toilet.
Some of the scenery on our journey was stunning. Vicky had her usual 'travel nap' on the way while I enjoyed the views. When we approached the German border, local police stopped us for passport checks, and when this was complete, we continued on our way.
Once we arrived in Dresden, we checked our travel guide to get our bearings. The drop off point is just outside the main train station and just a short walk from Dynamo Dresden FC.
SOME HISTORY
Dresden is the capital city of the German state of Saxony and has a very rich history. Between the 13th and 15th of February 1945, during World War II, allied bombers almost destroyed the city. It was under Nazi control. Almost 25,000 people died. Most of the buildings you see today are new or have been rebuilt from the ruins of this event.
VISIT THE FRAUENKIRCHE
Dresden has some very cool things to see. We started by visiting the Frauenkirche, a baroque style church that was reconstructed after being destroyed during the bombings of World War II. It is such a beautiful building, inside and out. Entrance into the church is free, but make sure you leave a donation on the way out.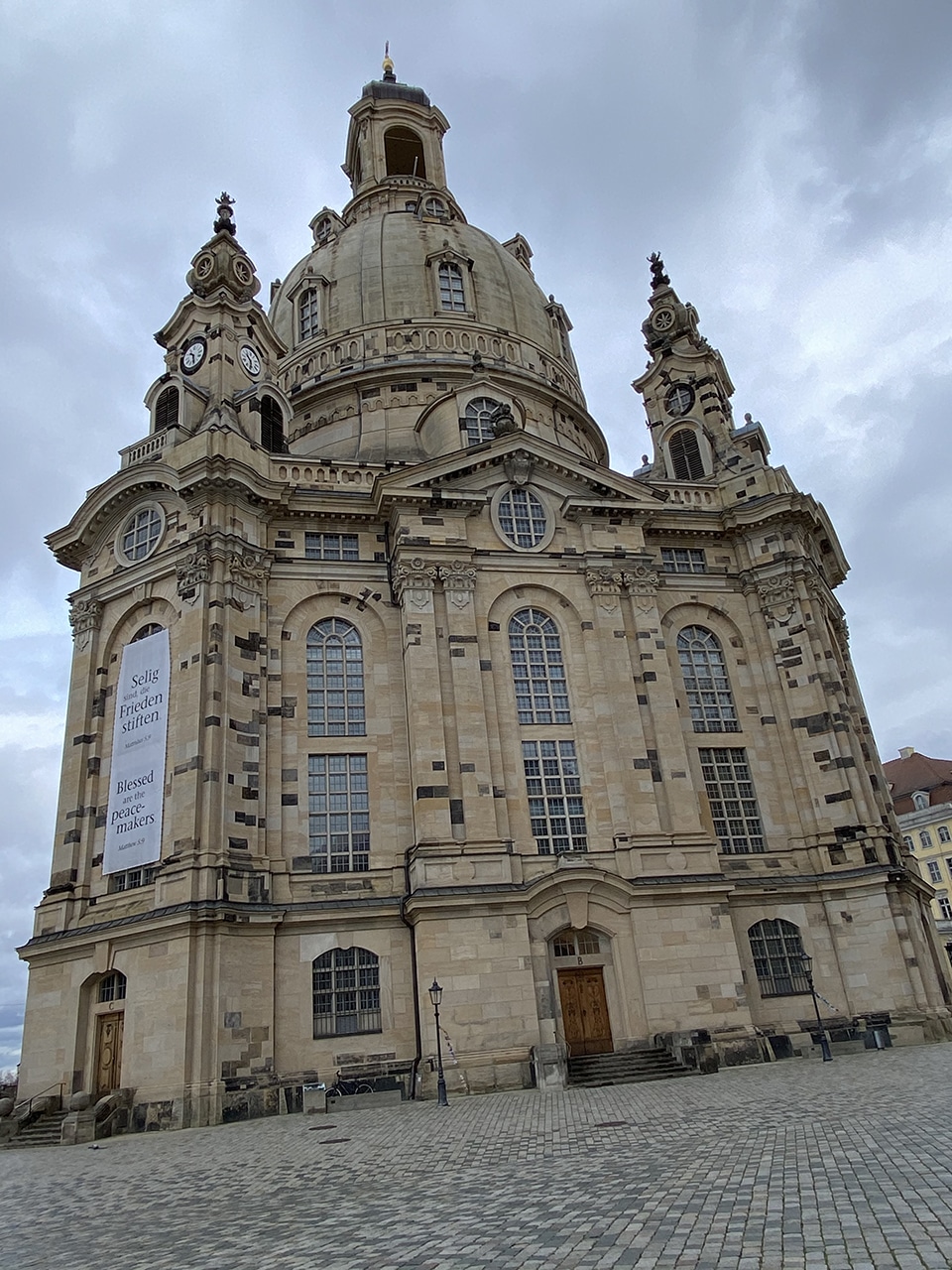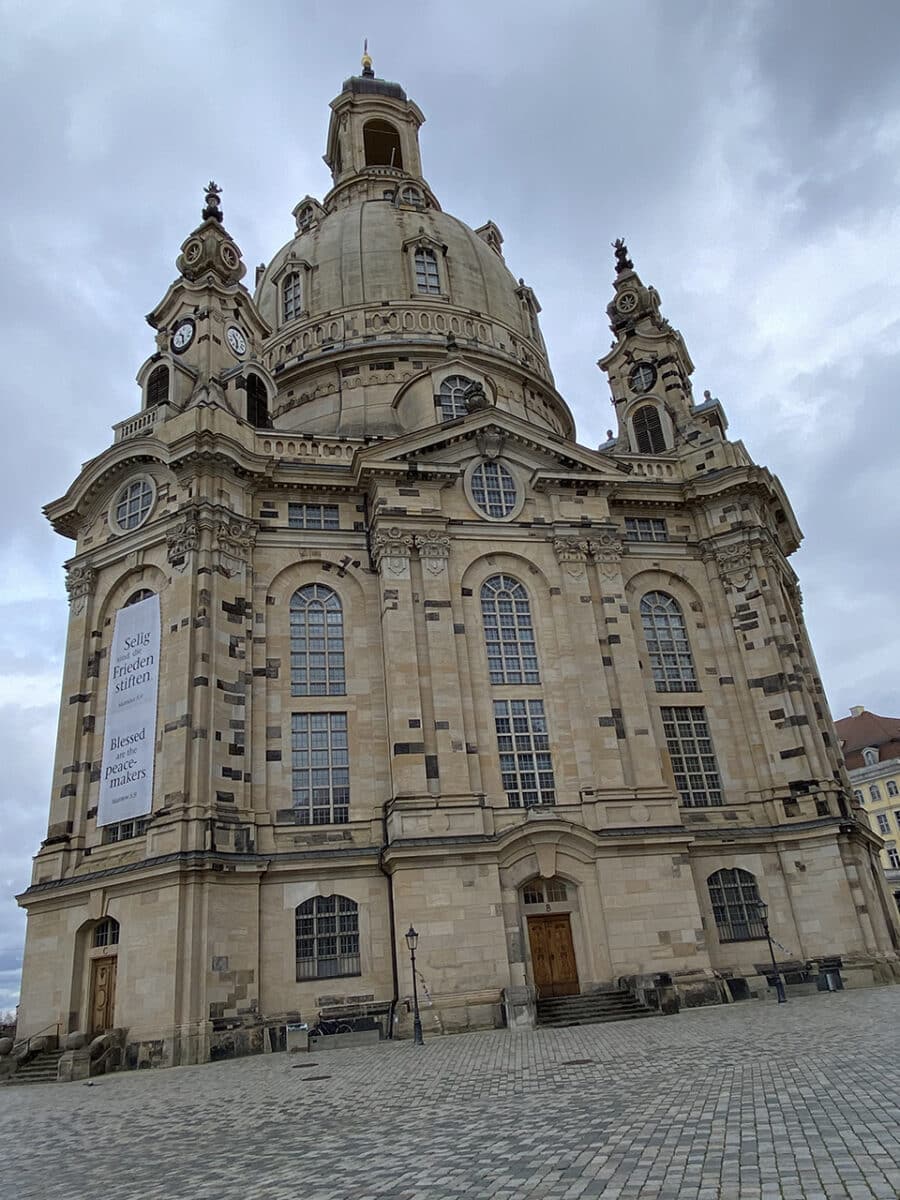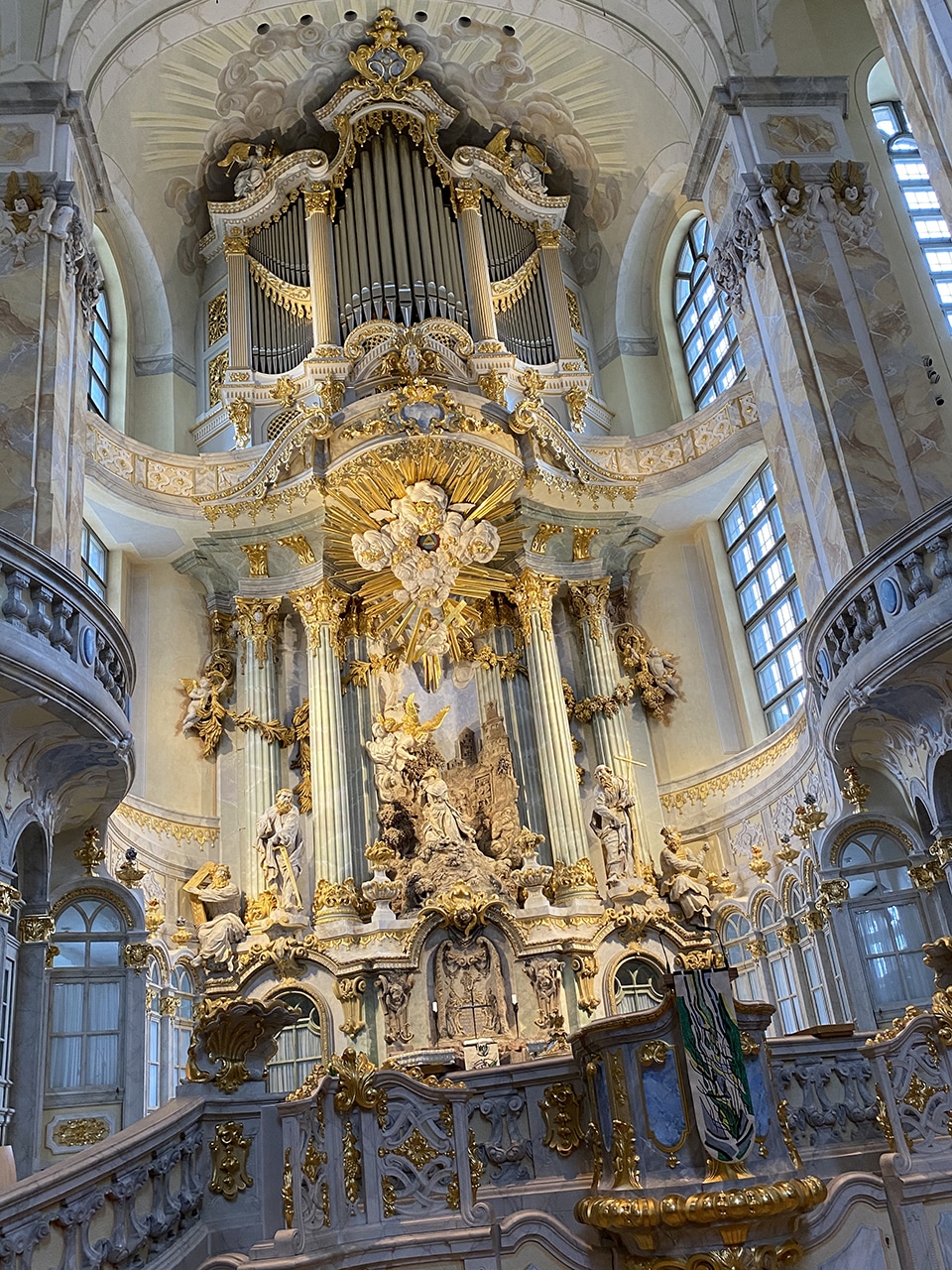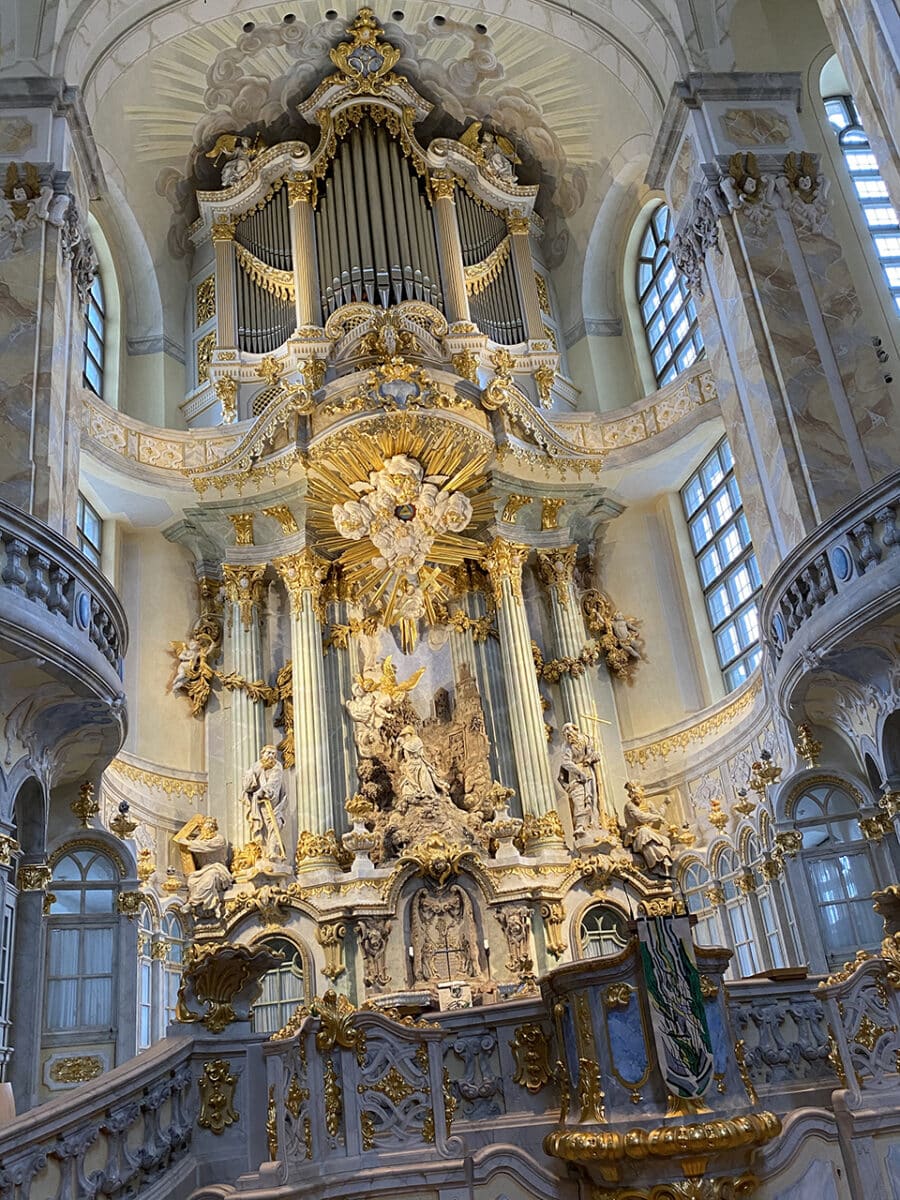 THE GOLDEN RIDER, RIVER ELBE & AUGUSTUS BRIDGE
After our visit to the Frauenkirche, we took a walk along the River Elbe. The river Elbe stretches from North West, Czech Republic and ends up flowing into the North Sea just past Hamburg.
The Augustus Bridge, Augustusbrücke, crosses the river. It was undergoing some maintenance work when we were there. But this would lead us to our next stop, the Golden Rider statue.
The Goldener Reiter is a famous statue covered in gold leaf and features King Augustus II dressed as a Roman figure riding a horse.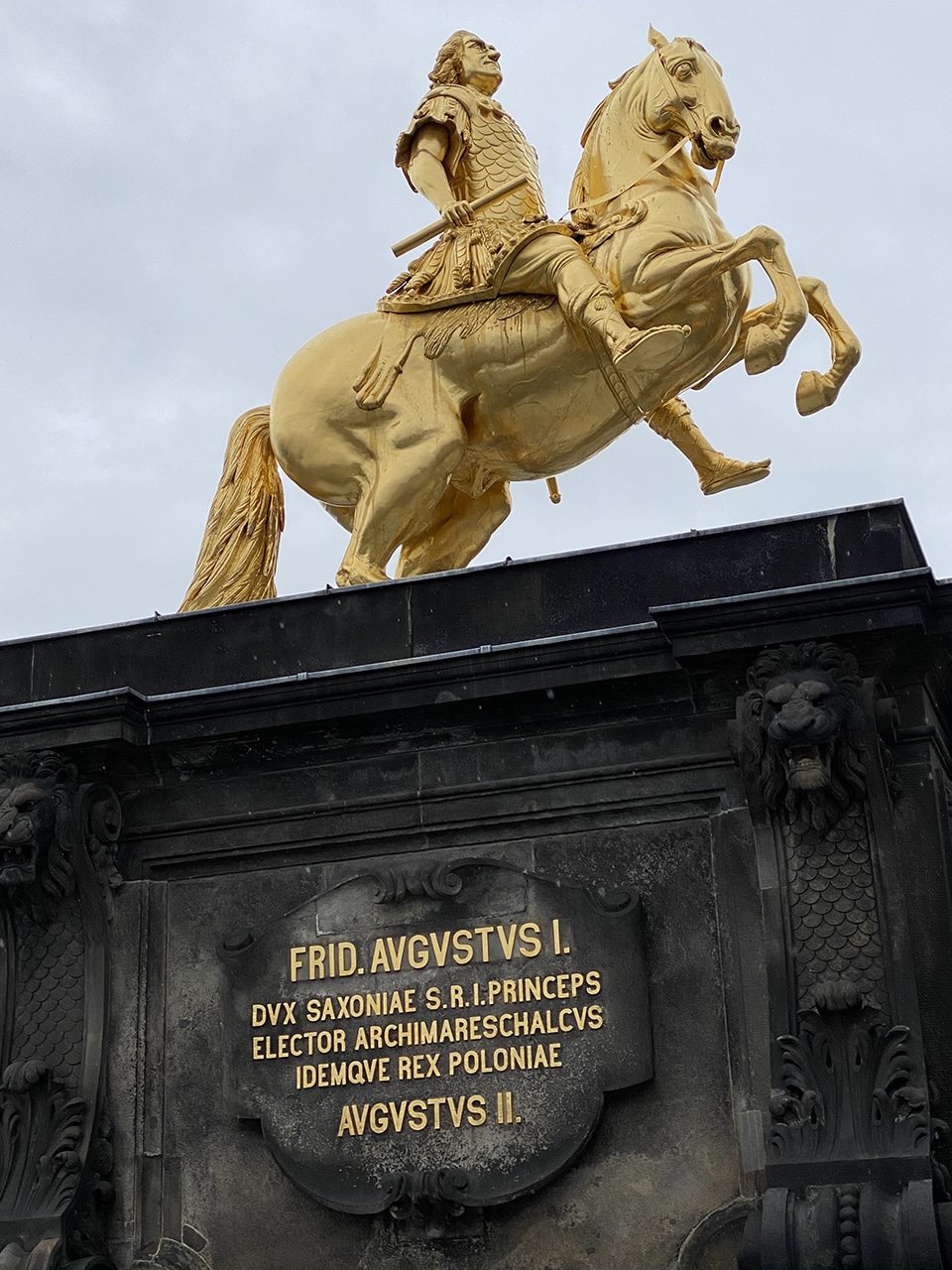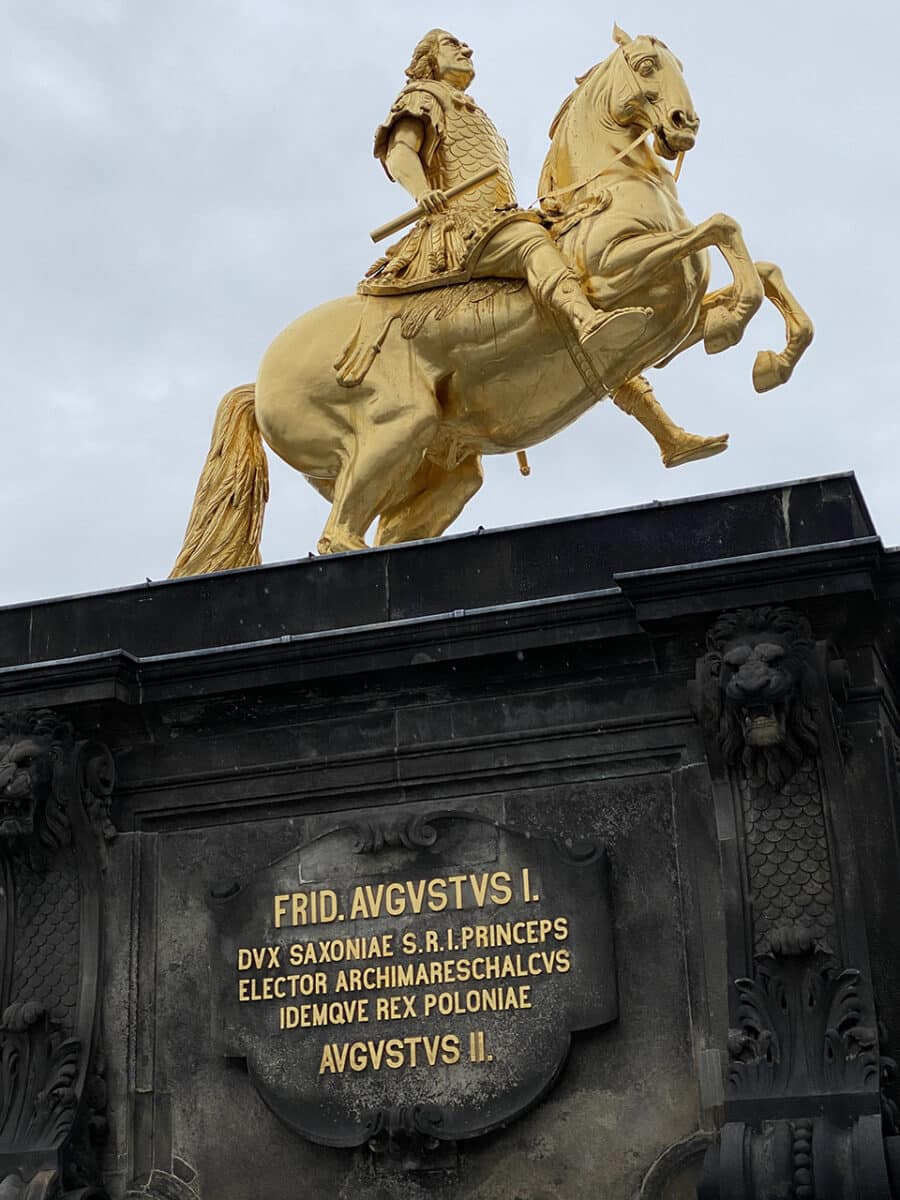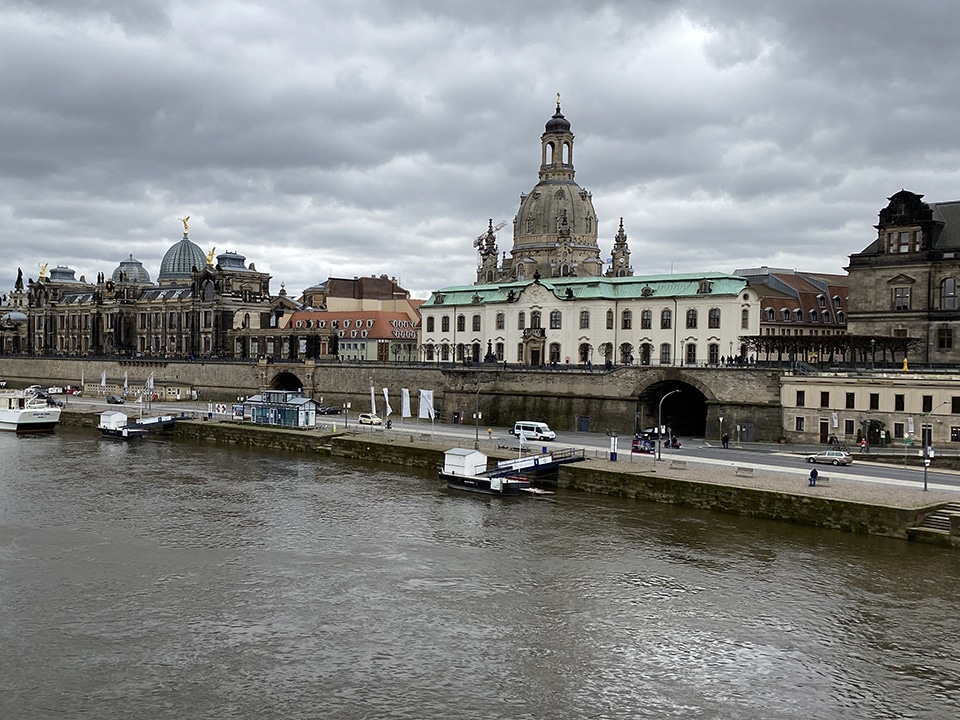 KATHOLISCHE HOFKIRCHE & FÜRSTENZUG
Back across the river, we would next check out Katholische Hofkirche, a large Roman Catholic church damaged and restored after bombings in World War II. Admission was free.
A short walk from the church is the incredible Fürstenzug. A huge porcelain mosaic that stretches the full length of the street and shows many Saxon rulers throughout the ages.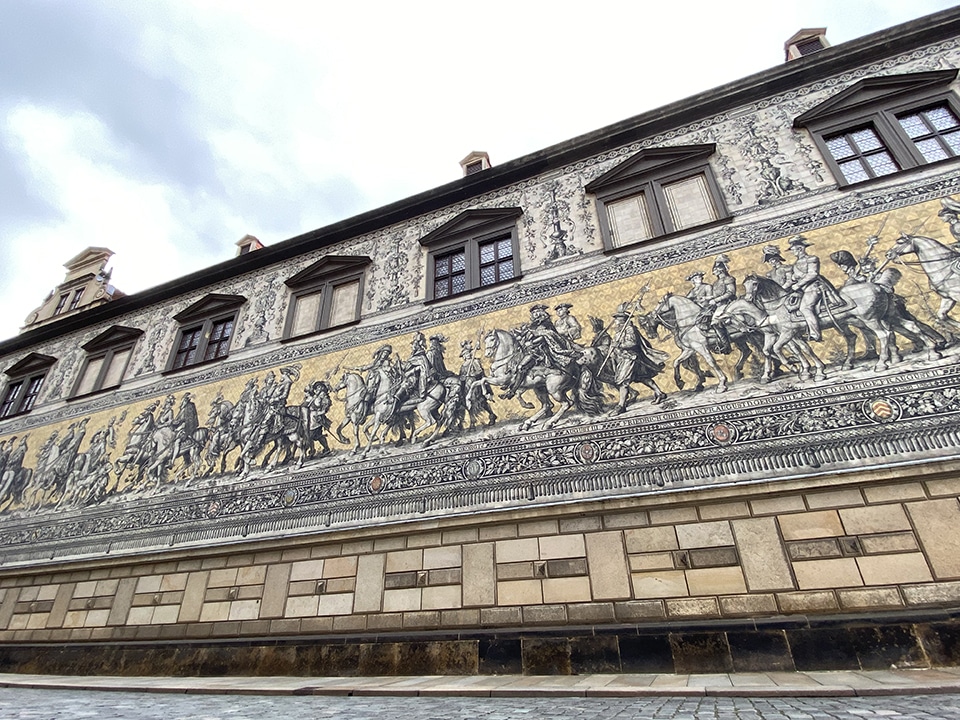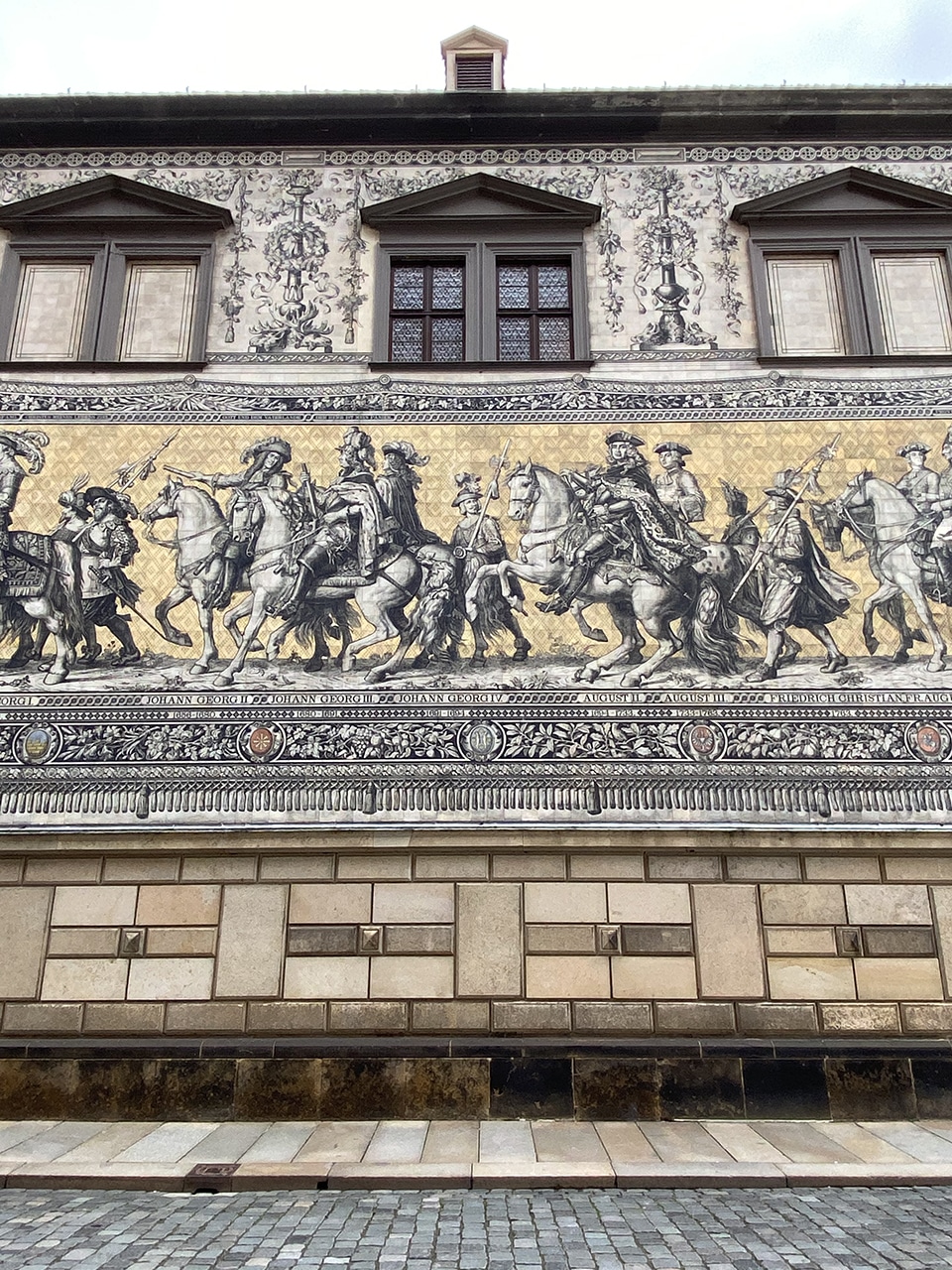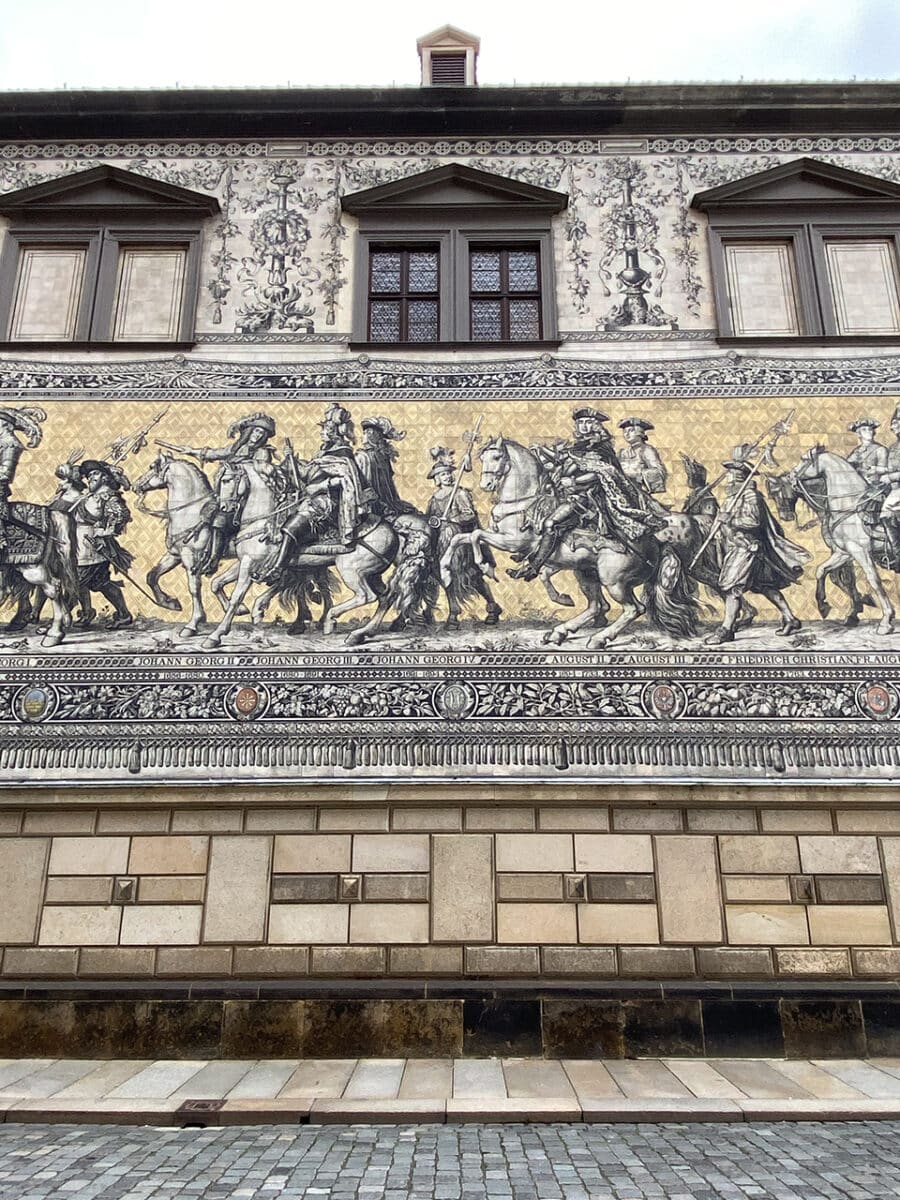 THE ZWINGER PALACE
The Zwinger building is a huge palatial complex. It features beautiful gardens, incredible architecture and is home to the Old Masters Picture Gallery and the Dresden Porcelain Collection. We had a quick look around here and made use of the café for coffee and cake. Every fifteen minutes, you can hear the chime of the small porcelain bells strike as the clock ticks round.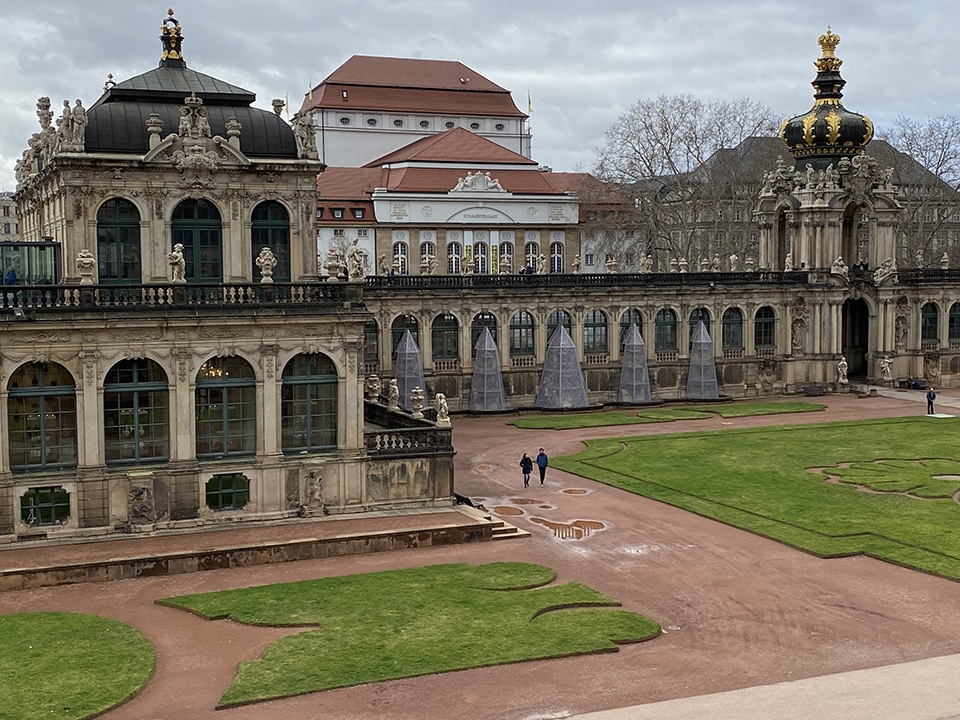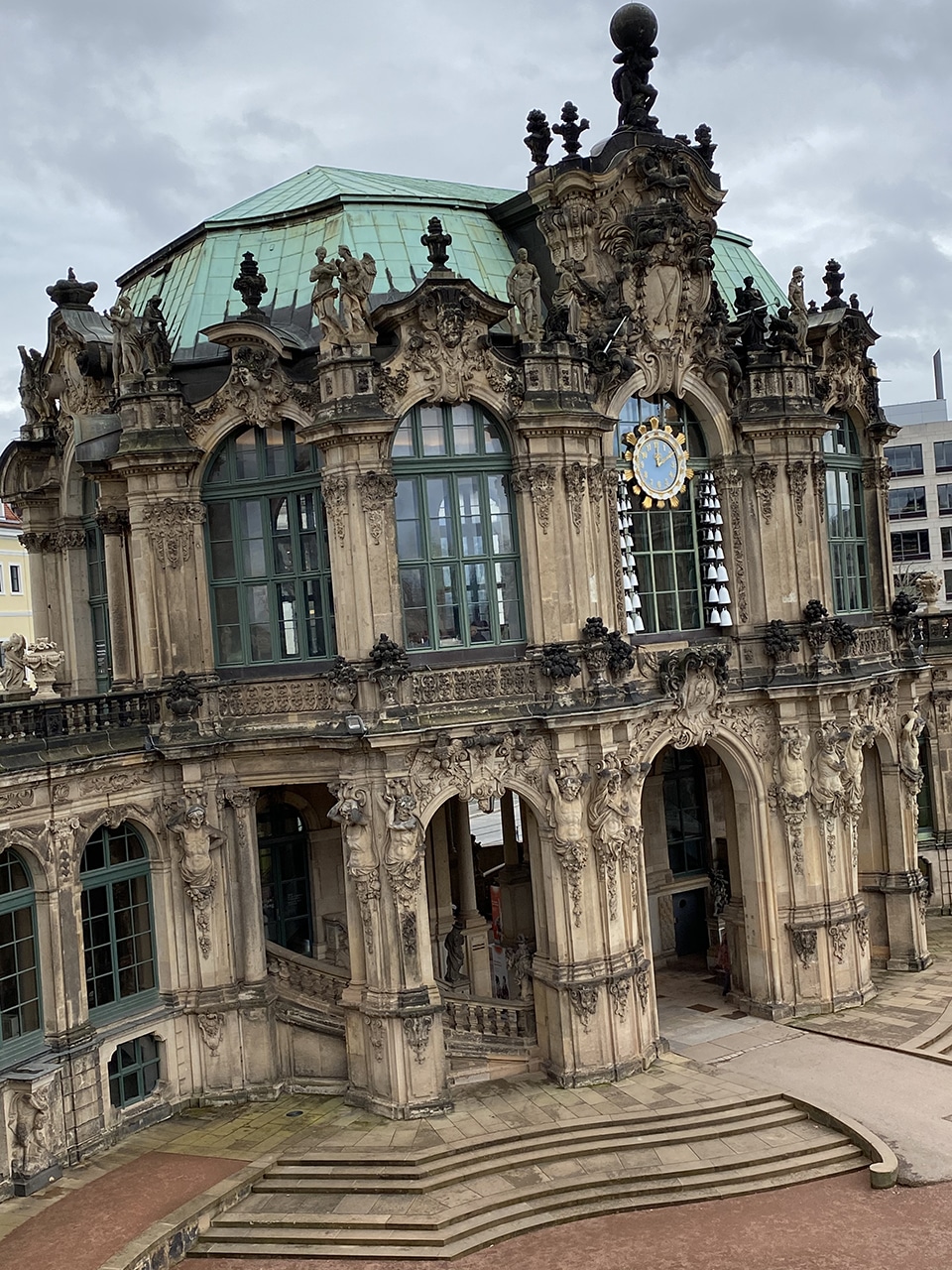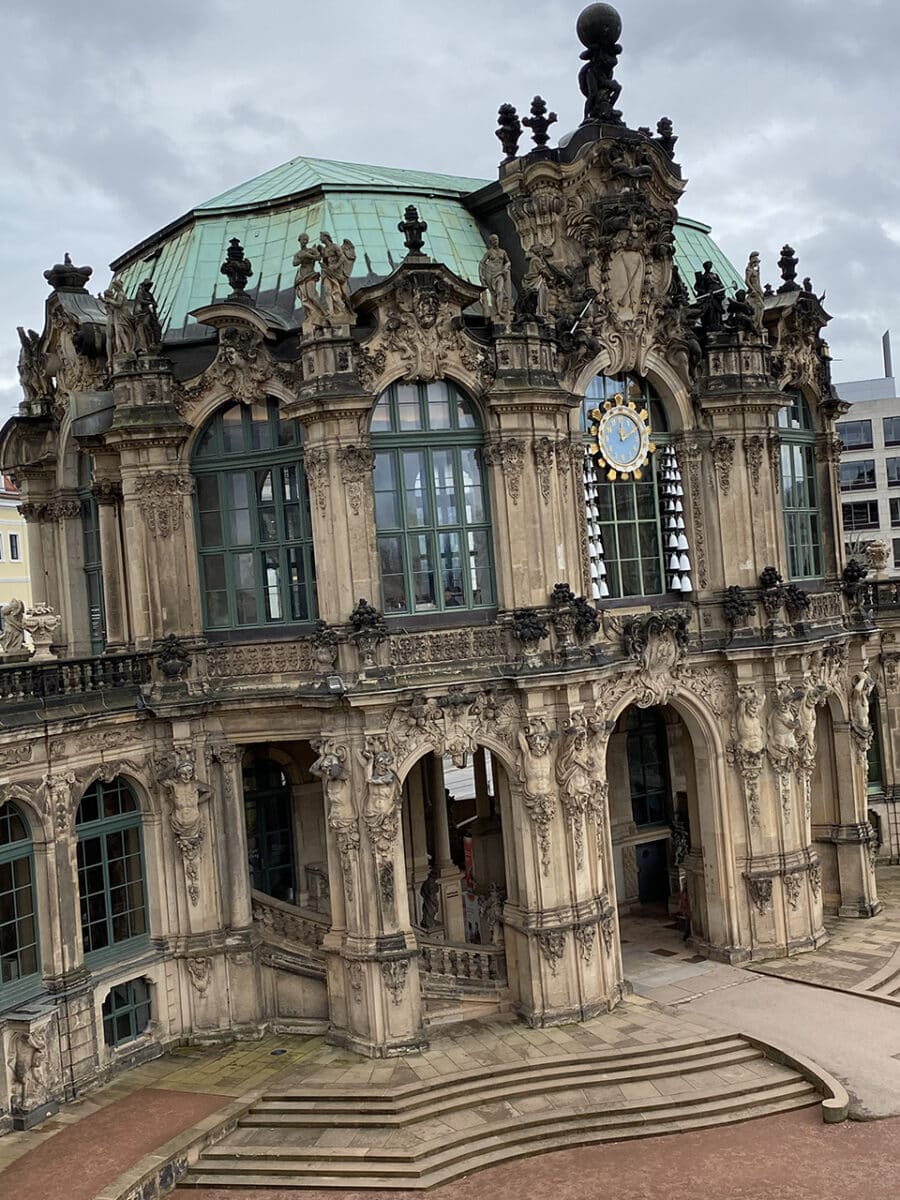 ADMIRE THE GERMAN ARCHITECTURE
Dresden has some beautiful buildings to admire. There is always something to catch your eye. There are serious looking statues, sculptures, and art around every corner and on every street.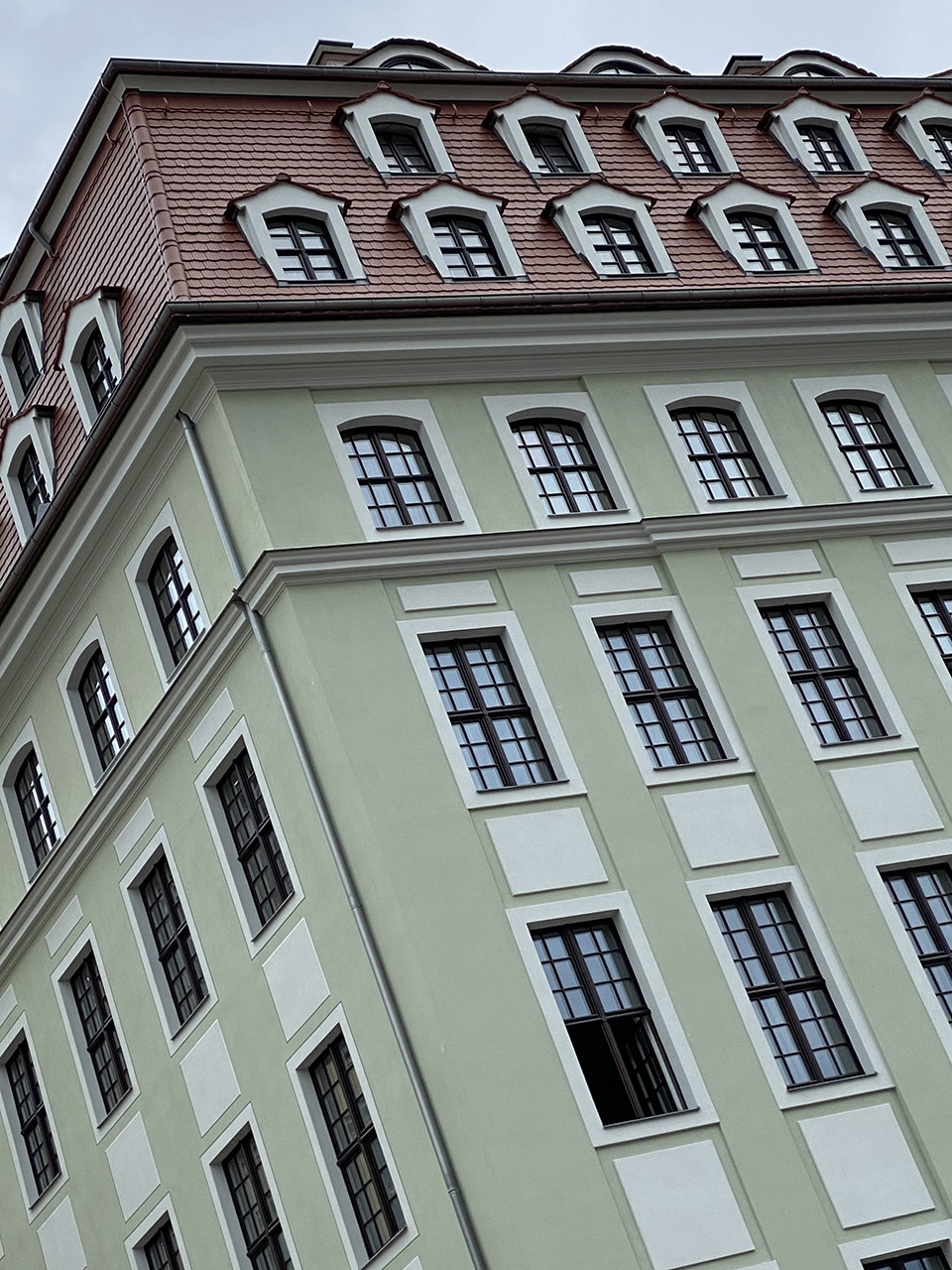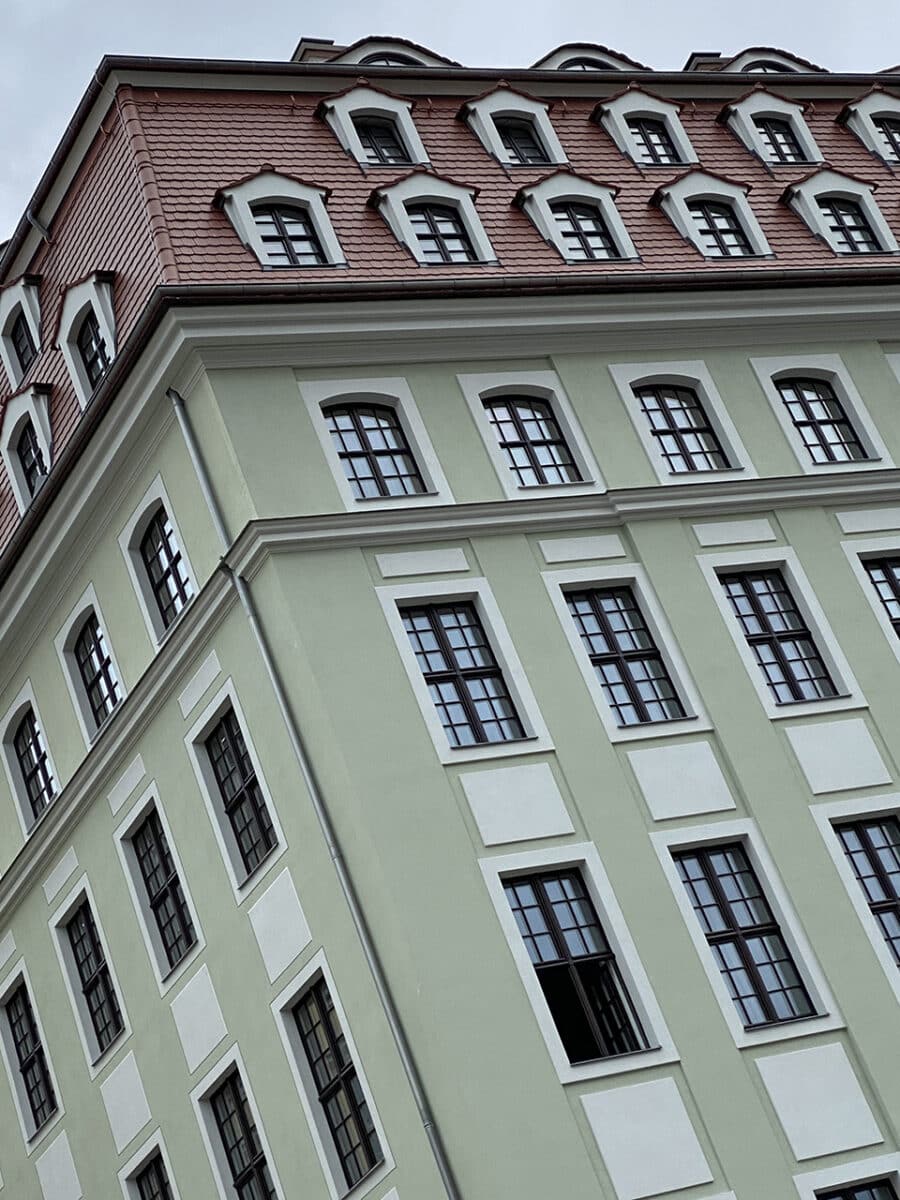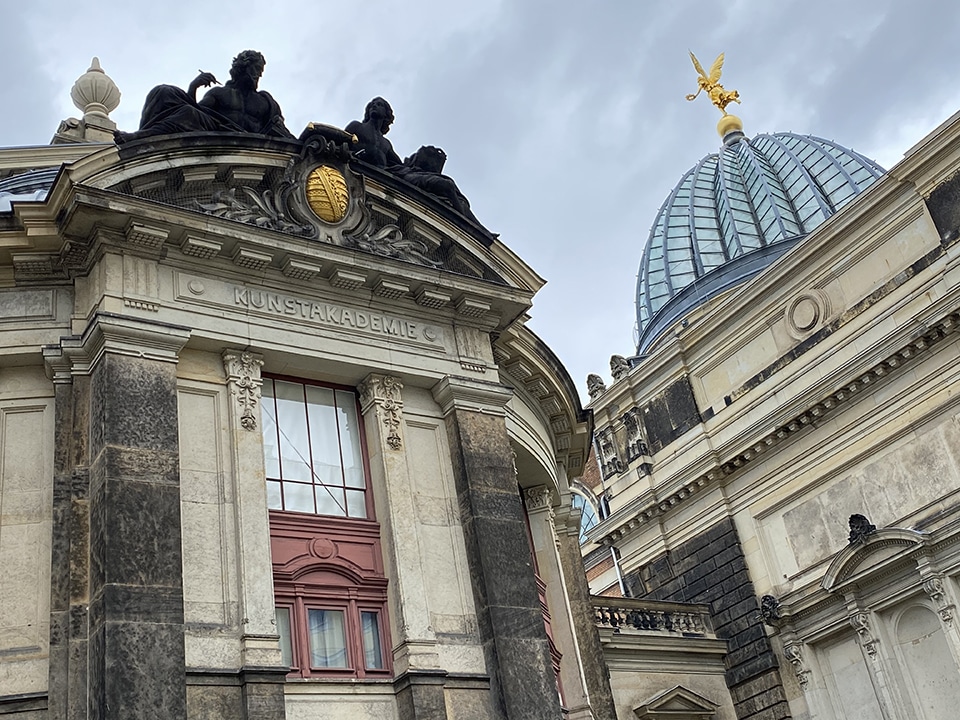 ---
TRADITIONAL GERMAN FOOD AND DRINK
One thing we have been wanting to do for a long time is visit Germany to eat some traditional food, and that is exactly what we did for lunch. We have many German food markets here in England at Christmas, but the food is never that great, or at least the stuff we have tried.
We found what looked like a great place to eat and did a quick Google search. It had some great reviews.
Freiberger Schankhaus is a bar on the corner of the Neumarkt. A great little place that serves an excellent selection of German beers and a menu full of traditional Saxon food, just what we wanted.
We both ordered two large glasses of Pilsner, and for food I ordered the Fried sausage with white cabbage and mashed potatoes and Vicky the Roast pork in beer sauce with pickled cabbage and dumplings. Good stodgy hearty food.
We were not disappointed. Seriously, if you visit Dresden, find this place. Eat and drink. It was exactly as I was hoping it would be. The food was bloody delicious, and great value for money. I will let the pictures do the talking. Two drinks and two meals for €36.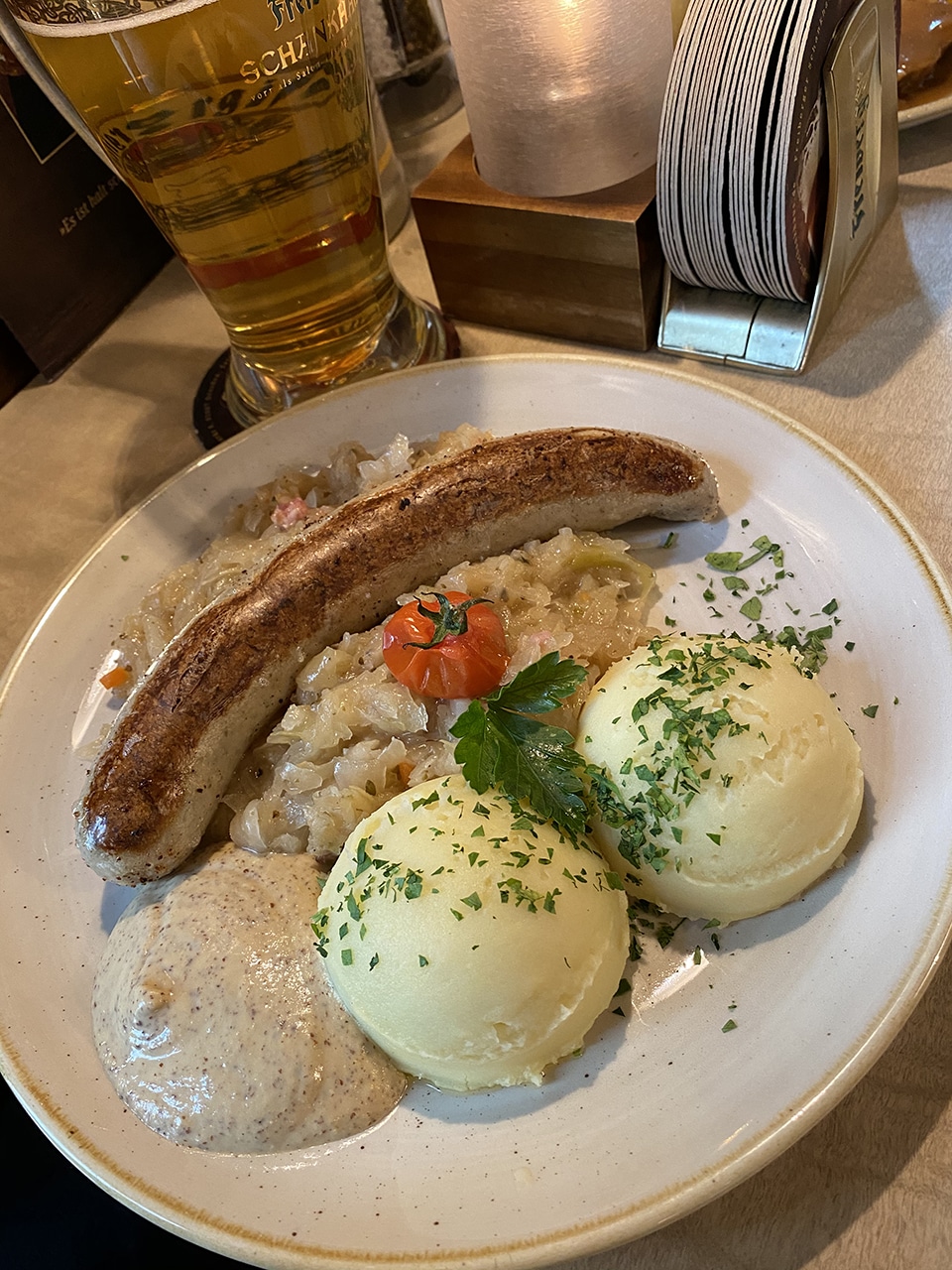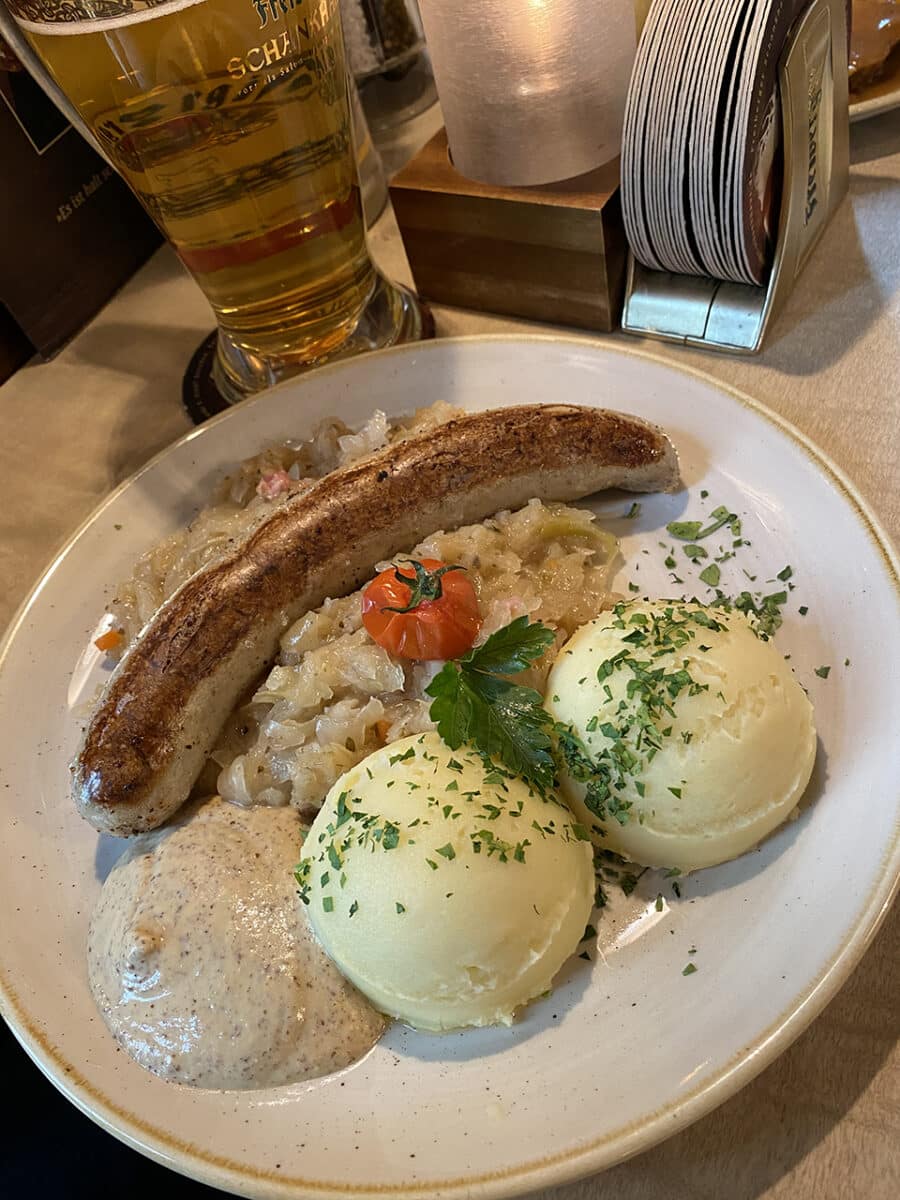 GO SOUVENIR SHOPPING
There are several good shopping centres and galleries here with many famous designer shops, well known and local. We made sure we had a look around and even made some purchases, including spending a fortune in the Lindt chocolate shop. Gift stores for knick-knacks and tourist goodies can also be found. We made sure we picked up another fridge magnet for our collection!
MORE AMAZING THINGS TO ADD TO YOUR DRESDEN TRIP
Because we only had a few hours to spend in Dresden, we did not get to do everything we wanted. Also, upon our return, we found plenty more activities that we wish we had known about beforehand. So, here are five more things to add to your Prague to Dresden with Flixbus itinerary.
The singing drainpipes of the Kunsthofpassage is an incredible art installation attached to the side of a beautiful, blue painted building. It is in the Neustadt and is one of five buildings all with something unique to offer.
Neustadt is an area in Dresden full of bars, art galleries, trendy shops and areas full of street art. It is home to beautiful Baroque architecture and is a popular place for the young and trendy locals. Definitely worth a visit.
Pillnitz Palace & Park. The palace and park lie next to the River Elbe. Surrounded by formal gardens, the castle was once the Summer residence of many kings of Saxony.
The Panometer. A large circular museum just outside the centre of the city. It houses a huge 360° panoramic painting of Dresden as it was in 1756, painted by Austrian artist Yadegar Asisi. If you love art, then this is for you.
Wuppertal Schwebebahn. If you are looking for something different to do, then why not ride the Dresden suspension railway? It links up two of Dresden's districts, Loschwitz and Oberloschwitz. Take in the city's scenery from above.
BOOK A TRIP WITH GET YOUR GUIDE
Dresden Royal Castle. Get access to most museums of the Royal Palace Dresden with this general admission ticket. Enjoy an optional audio guide to learn about the site as you explore.
Walking Tour. Why not take part in one of the historical walking tours, learn even more about this beautiful city?
Want to know more about Dresden? Be inspired, visit: Dresden Tourist Information.
OUR JOURNEY BACK TO PRAGUE
We had an incredible few hours in Dresden. Our bus picked us up at 17.50pm and we were back in the centre of Prague just before 8pm. I am sure there are a million things we did not get to see or do, but we enjoyed it ann would recommend this little trip to anyone.
Flixbus has over 400,000 daily connections to over 2500 destinations in 29 European countries. We have already planned out some other trips using the Flixbus App.
Visiting Dresden opened our eyes and has made us want to see more of Germany. There are several places already on our list to visit.
Visit Prague, look for incredible things to do in the capital city of Czechia: How to spend three days in Prague, Czech Republic.
---